July 16, 2020 at 12:00 am EDT | by Kathi Wolfe
Comparing McCarthy and Trump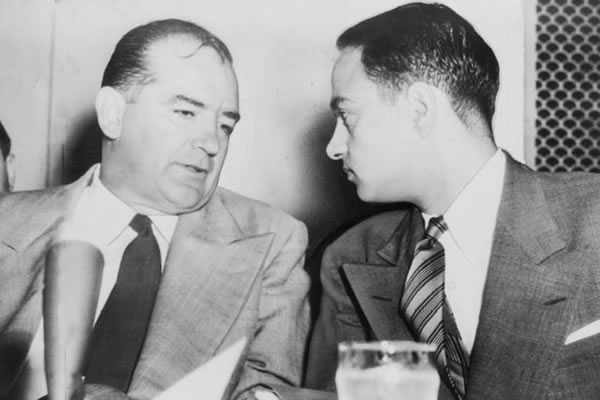 In 2005, I saw the movie "Good Night and Good Luck." Directed by George Clooney, shot in gorgeous black and white, featuring jazz singer Dianne Reeves, it's catnip to Mid-Century style aficionados. But, the movie is about the ugliness behind the era's glam. It tells the story of how legendary journalist Edward R. Murrow investigated and reported on demagogue Sen. Joe McCarthy on the CBS show "See It Now." In the midst of the Cold War, McCarthy waged a witch hunt against Communists and gay people.
Watching Murrow (played by David Strathairn) unmask McCarthy's demagoguery, I thought: This is horrible! But that was another time. Nixon had his enemies list. But McCarthy likely wouldn't happen again.
Wow, was I wrong! "Demagogue: The Life and Long Shadow of Senator Joe McCarthy" by Larry Tye is an account of McCarthy's rise to power to his fall (he was censured by the Senate in 1954). Chillingly, Tye, author of "Bobby Kennedy," shows the similarities between the demagoguery of McCarthy and Donald J. Trump.
McCarthy, Tye writes, is "one of the most reviled figures in U.S. history."
He's so reviled that an ism — "McCarthyism" — is named after him. McCarthyism, Tye says, is a synonym for "reckless accusation, guilt by association, fear-mongering, and political double-dealing."
Today, some folks haven't heard of McCarthyism. McCarthy died in 1957, more than 60 years ago. I wasn't surprised the other day when a 20-something friend looked at me blankly when I mentioned McCarthy. Many of us either weren't alive or were kids during McCarthy's heyday.
Still, some memories of McCarthy and his bullying tactics haven't died. When I was a teenager, my father (who voted for Republicans as often as he did for Democrats) told me to "watch out for hucksters selling fake conspiracies."
My Dad told me about a friend of his who'd had job problems because he'd been (falsely) suspected of being a communist.
McCarthy stoked paranoia and wallowed in (bogus) conspiracies. He promised to wage "a holy war against a communist 'conspiracy so immense and an infamy so black as to dwarf any previous venture in the history of man,'" Tye writes.
As Trump would decades later, McCarthy understood how to manipulate the press. Brandishing a piece of paper, he'd tell reporters that he had a list of 205 communist spies working in the U.S. State Department. During his four-year anti-communist, anti-gay crusade (from 1950 until the Senate condemned him in 1954), he waved his "list" of "traitors" about. There was one striking detail: McCarthy never let reporters see his list. Why? Because the list was fraudulent.
McCarthy played the press brilliantly, Tye told Terry Gross on NPR's "Fresh Air." He understood that if you lobbed one bombshell and that [proved] to be a fraud," Tye said, "rather than waiting for the press the next day to expose it as a fraud, he had a fresh bombshell ready to go."
McCarthy's false allegations devastated many lives. U.S. Sen. Lester Hunt killed himself because McCarthy tried to blackmail him because his son was gay. Many could no longer work or were imprisoned because McCarthy (and his supporters) said they were communists or queer. There were "the hundreds of thousands he browbeat into a tongue-tied silence," Tye writes.
"His targets all learned the futility of taking on a tyrant who recognized no restraints and would do anything – anything – to win," he adds.
Unfortunately, as Tye says, McCarthy with his bullying and conspiracy-mongering isn't an isolated phenomenon. "A uniquely American strain of demagoguery has pushed through the nation's veins from its founding days," he writes.
It's telling that McCarthy's chief legal counsel (a closeted gay man who died of AIDS) was Trump's lawyer and mentor in the 1970s. Trump learned his lessons in bullying and anti-gay, anti-immigration, racist fear-mongering all too well from Roy Cohn. Let's hope that in November Trump (like McCarthy) falls from power!
Kathi Wolfe, a writer and a poet, is a regular contributor to the Blade.