Studio's new audio play has nothing to do with holidays
'I Hate it Here' captures a world wracked by change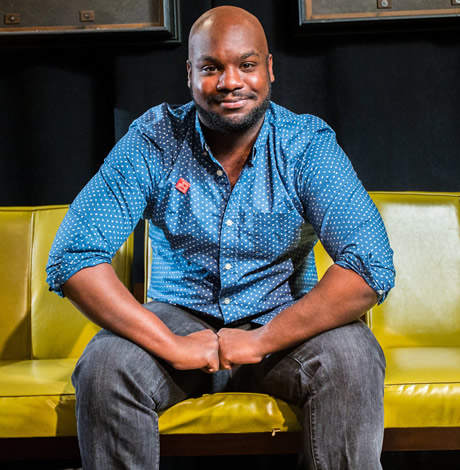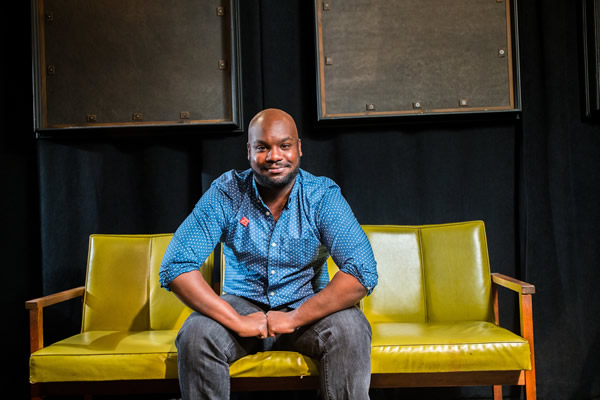 Ike Holter's new audio play "I Hate It Here: Stories from the End of the Old World" premieres just in time for Christmas. That the new work has zero to do with the holidays, leaves the out playwright pleased. "It's more of a wrap-up-the-year kind of play. And I think it's awesome that it's opening now."
Studio Theatre, which commissioned the award-winning Chicago-based writer to pen and direct the piece, describes it thusly: "With sharp humor and keen observation, Holter uses vignettes, monologues, and song to take listeners from an office to a wedding, high school, outdoor brunch, front porch, and more to capture the many ways it feels to live in a world wracked by changes both personal and systemic."
And while "I Hate It Here" never specifically mentions 2020, coronavirus or COVID-19, audiences will instantly know what it's about. "The idea was to do something like HBO's "Tracey Takes On" — to have many variations touching on the theme. It's not only about now, it's about three or 30 years from now, when change, disease and racial injustice breaks out," he says.
Mostly experienced in writing for stage, Holter, 35, digs the audio process. "What's freeing about writing for audio is that it tears across the idea of having one set or functionality – it's more about the idea, and there's no responsibility for the audience to keep up visually."
Without a single driving action, live audience, or intermission, he doesn't think of "I Hate It Here" as a play. He compares the work to an album with intros, outros and singles performed by an ensemble of seven actors.
And the characters he's written are people you might know – sort of average people, not borrowed from the headlines. His idea was to see how many different voices they could get in terms of region, racial backgrounds, and ages. The characters are of varied gender and sexual orientations, and have different views on what should or shouldn't be happening in the world, he says.
Holter adds, "Some are different from me and others are people who would chill with me often. I wanted a good palette."
That mélange of humanity is played by an exciting cast of actors who recorded their parts remotely from disparate spots across the country. They include Sydney Charles, Behzad Dabu, Kirsten Fitzgerald, Tony Santiago, Gabriel Ruiz, and Washington actors Jennifer Mendenhall and Jasen Wright, all of whom Holter had in mind when writing the play. "You can do that when you're both playwright and director," he says slyly.
A self-described comic book nerd, big film fan, and pop culture junkie, the prolific DePaul University alum began his career in Chicago's underground scene. His breakout play "Hit the Wall" was inspired by a longtime fascination with the Stonewall riots. "It's a funny, weird play that takes a dramatic turn. More a celebration than anything," he says. Also loosely moored to real life happenings, his acclaimed "Exit Strategy" follows the final desperate days of a condemned Chicago public school.
In addition to myriad stage pieces and plays, and a couple audio works, he's written for TV too. He served as a staff writer for "Fosse/Verdon," the excellent FX series produced by Lin-Manuel Miranda about the professional and romantic relationship of legendary director/choreography Bob Fosse and Broadway star Gwen Verdon.
When asked about live theater coming back, Holter replies flatly "I'll trust the science," before averring that he hopes when theater does come back, the many theaters that have made statements about Black Lives Matter and issues surrounding the election will make good on their promises of equity and inclusion. And that regional companies will produce theater that better reflects the demographics of their cities.
"Whether that be 2021, 2022, or whenever."
Rupert Murdoch's powers on full display in 'Ink'
Media baron helped pave the way for Brexit, Prime Minister Thatcher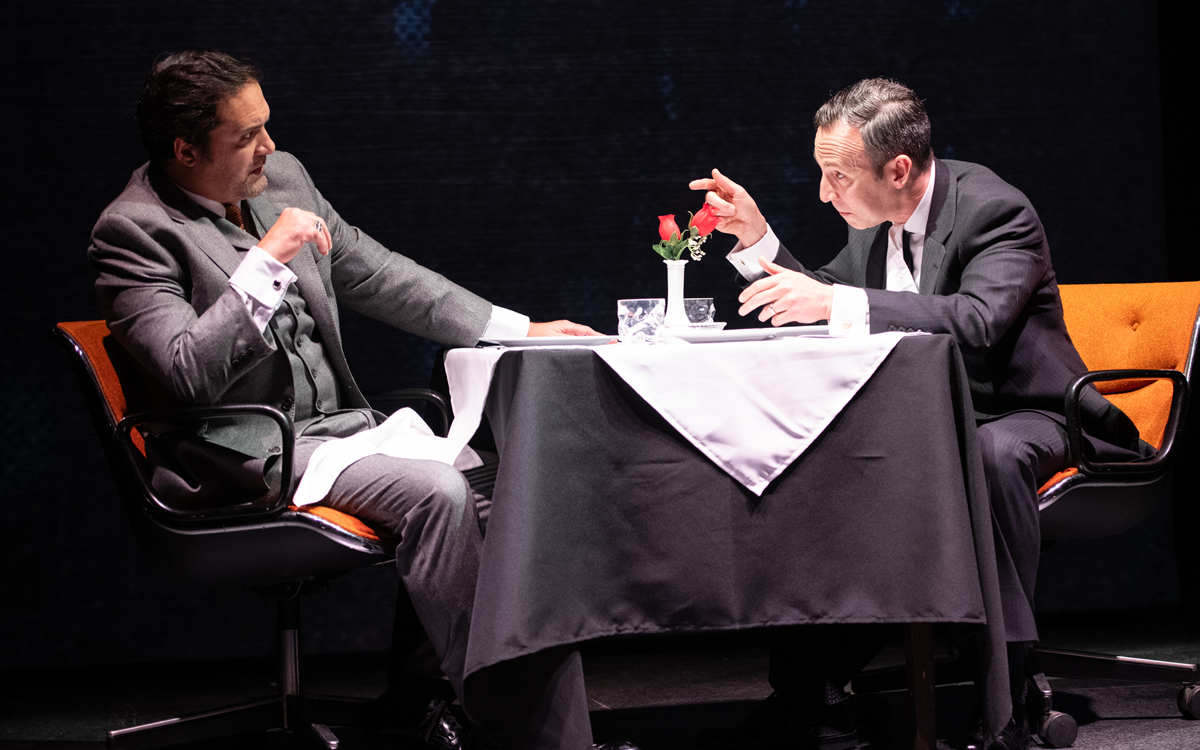 'Ink'
Through Sept. 24
Round House Theatre
4545 East-West Highway, Bethesda, MD 20814
$46-$94
Roundhousetheatre.org
Yes, Rupert Murdoch's loathsome traits are many, but his skills to succeed are undeniably numerous. 
In the first scenes of John Graham's West End and Broadway hit drama "Ink," an exciting year-long detail from the life of a burgeoning media baron, Murdoch's powers of persuasion are on full display.
It's 1969 London. Over dinner with editor Larry Lamb, a young Murdoch shares his plan to buy the Sun and rebrand the dying broadsheet, replacing the Daily Mirror as Britain's best-selling tabloid. What's more, he wants to do it in just one year with Lamb at the helm.
Initially reluctant, Lamb becomes seduced by the idea of running a paper, something that's always eluded him throughout his career, and something Murdoch, the outsider Australian, understands. Murdoch taunts him, "Not you. Not Larry Lamb, the Yorkshire-born son of a blacksmith, not the guy who didn't get a degree from Oxford or Cambridge, who didn't get a degree from anywhere. Not you."
Still, Lamb, played convincingly by Cody Nickell in Round House Theatre's stellar season-opener, a co-production with Olney Theatre Center, remains unsure. But Murdoch (a delightfully brash Andrew Rein) is undeterred, and seals the deal with a generous salary.
Superbly staged by director Jason Loweth, "Ink" is riveting. Its exchanges between Lamb and Murdoch are a strikingly intimate glimpse into ambition involving an ostensibly average editor and a striving money man who doesn't like people.
Once on board, Lamb is trolling Fleet Street in search of his launch team, played marvelously by some mostly familiar actors. He makes his most important hire — news editor Brian McConnell (Maboud Ebrahimzadeh) — in a steam bath. The remainder of the Sun's new masthead falls handily into place: Joyce Hopkirk (Kate Eastwood Norris) the women's page editor whose forward thinking is marred by her casual racism; Zion Jang plays Beverley Goodway, an awkwardly amusing young photographer; persnickety deputy editor Bernard Shrimsley (Michael Glenn) who learns to love ugly things; and an old school sports editor who proves surprisingly versatile, played by Ryan Rillette, Round House's artistic director.
At Lamb's suggestion, the team brainstorms about what interests Sun readers. They decide on celebrities, pets, sports, free stuff, and —rather revolutionarily for the time —TV. Murdoch is happy to let readers' taste dictate content and the "Why" of the sacred "five Ws" of journalism is out the window.
Murdoch is portrayed as a not wholly unlikable misanthrope. He dislikes his editors and pressman alike. He particularly hates unions. His advice to Lamb is not to get too chummy with his subordinates. Regarding the competition, Murdoch doesn't just want to outperform them, he wants to grind them to dust.
Loewith leads an inspired design team. Scenic designer Tony Cisek's imposing, inky grey edifice made from modular walls is ideally suited for Mike Tutaj's projections of headlines, printed pages, and Rein's outsized face as Murdoch. Sound designer and composer Matthew M. Nielson ably supplies bar noises and the nonstop, pre-digital newspaper clatter of presses, linotypes, and typewriters.
From a convenient second tiered balcony, the Daily Mirror's establishment power trio Hugh Cudlipp (Craig Wallace), Chris Lee Howard (Chris Geneback) and Sir Percy (Walter Riddle) overlook all that lies below, discussing new tactics and (mostly failed) strategies to remain on top.
Increasingly comfortable in the role of ruthless, sleazy editor, Lamb is unstoppable.
Obsessed with overtaking the Daily Mirror's circulation, he opts for some sketchy reportage surrounding the kidnapping and presumed murder of Muriel McKay, the wife of Murdoch's deputy Sir Alick (Todd Scofield). The kidnappers mistook Muriel for Murdoch's then-wife Anna (Sophia Early). Next, in a move beyond the pale, Lamb introduces "Page 3," a feature spotlighting a topless female model. Awesta Zarif plays Stephanie, a smart young model. She asks Lamb if he would run a semi-nude pic of his similarly aged daughter? His reaction is uncomfortable but undaunted.
For Murdoch's purposes, history proves he chose well in Lamb. By year's end, the Sun is Britain's most widely read tabloid. Together they give the people what they didn't know they wanted, proving the pro-Labour Daily Mirror's hold on the working class is baseless and paving the way for things like Brexit and a Prime Minister Thatcher.
"Ink" at Round House closes soon. See it if you can.
Local theater scene prepares for a season to remember
'Evita,' a Garland tribute, 'Night of the Living Dead' among highlights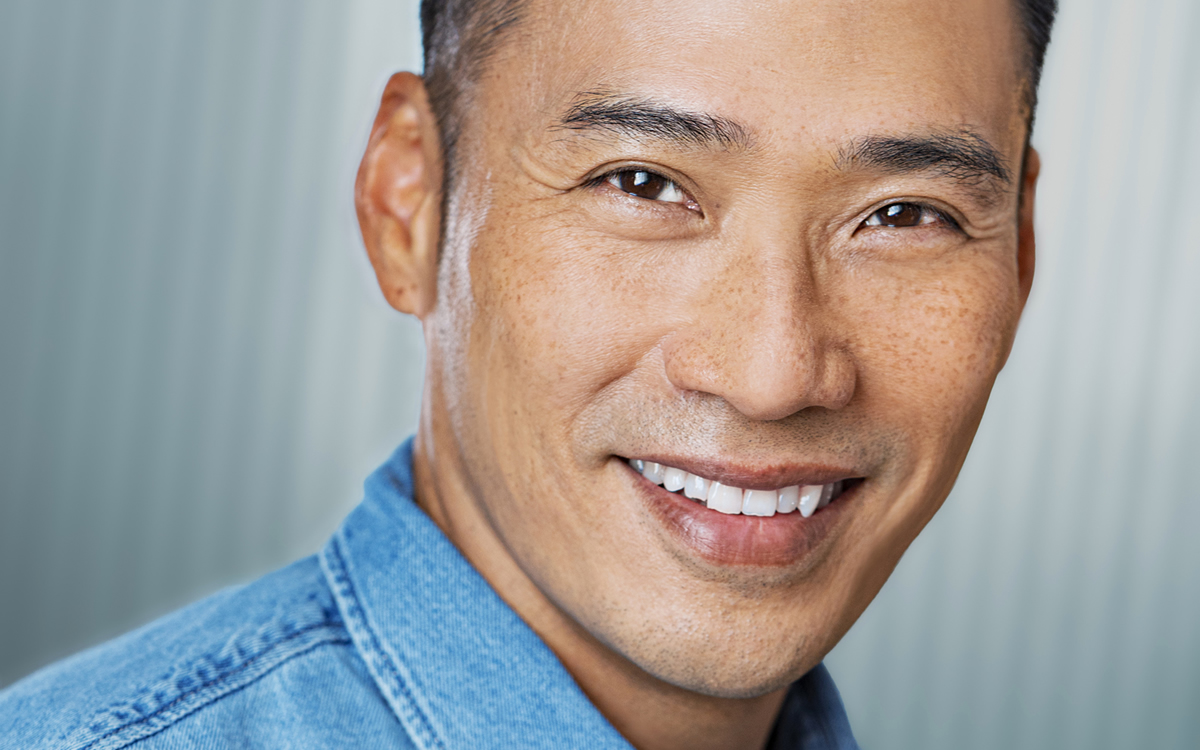 Mosaic Theater Company has already stepped into the fall season with Psalmayene 24's "Monumental Travesties" (through Oct. 1), a new D.C.- set comedy that explores race, memory, and disturbing statuary. Mosaic's out artistic director Reginald L. Douglas directs. Mosaictheatre.org  
At Round House Theatre in Bethesda, it's James Graham's "Ink" (through Sept. 24). A co-production with Olney Theatre, the smashing joint effort rivetingly rehashes the beginning of the relationship between burgeoning media tycoon Rupert Murdoch (Andrew Rein) and an increasingly ruthless British editor Larry Lamb (Cody Nickell). Olney's out artistic director Jason Loewith directs. Roundhousetheatre.org
Shakespeare Theatre Company rather uncharacteristically kicks off its season with a musical, Andrew Lloyd Webber's "Evita" (through Oct. 15). Produced in cooperation with Boston's American Repertory Theater and staged by young director Sammi Cannold, the show promises a new take on the rise and fall of Eva Peron (played by Shireen Pimental), Argentina's iconic first lady, both sainted and despised in equal measure. Shakespearetheatre.org 
Following the recent death of GALA Hispanic Theatre's beloved artistic director Hugo Medrano, the Columbia Heights company marks the opening of its 48th season with "Baño de luna/Bathing in Moonlight" (through Oct. 1), written and directed by Pulitzer Prize-winning out playwright Nilo Cruz.
The provocative drama (in Spanish with English surtitles) centers on the illicit romance between a handsome Catholic priest (Raúl Méndez) and talented pianist parishioner (Hannia Guillén). The cast also features Hiram Delgado, Luz Nicolás, and out actors Victor Salinas and Carlos Castillo. Galatheatre.org 
Studio Theatre marks its foray into foreign language with "Espejos: Clean" (through Oct. 22), a bilingual play with both Spanish and English supertitles by Christine Quintano. The new work takes a look at isolation and the power of being seen when two women from different worlds cross paths in touristy Cancún, Mexico. Studiotheatre.org
Through Oct. 8, Woolly Mammoth is premiering Sasha Denisova's "My Mama & The Full-Scale Invasion." Starring multiple Helen Hayes Award-winning out actor Holly Twyford as Mama, the 90-minute long, three-person piece describes an old Ukrainian woman's fantastical account of her experiences in the war with Russia. Woollymammoth.net 
Ford's Theatre presents the premiere production of playwright Pearl Cleage "Something Moving: A Meditation on Maynard" (Sept. 22 – Oct. 15).  The work reflects on Maynard Jackson's game-changing 1973 election and legacy as Atlanta's first Black mayor and strong gay ally. The 10-person ensemble cast includes queer actors Billie Krishawn and Tom Story. Seema Sueko directs. Fords.org
And a note to friends of Dorothy. For one night only at the Strathmore in Bethesda, it's the Liza Minelli-produced "Get Happy! Michael Feinstein Celebrates the Judy Garland Centennial" (Sept. 21). The good-time show features famed out pianist Feinstein performing Garland's hallmark songs along with big-screen film clips, never-before-seen photos, and rare audio recordings. Strathmore.org
The Edge of the Universe Theater is offering Harold Pinter's "The Caretaker" (Sept. 29 – Oct. 22) at The Writer's Center in Bethesda. The absorbing 1960 psychological study involving two brothers and a homeless man was Pinter's first commercial success. Stephen Jarrett directs. Universalplayers2.org 
On Capitol Hill, Taffety Punk Theatre Company presents Kelsey Mesa's intriguing new play "La Salpêtrière" (Sept. 28 – Oct. 15), a painful yet heartening exploration of one woman's experience as an inmate in the dreaded asylum known for its curious and publicly demonstrated methods of "treatment."
The four-person cast includes Fabiolla da Silva, Yihong Chen, Danny Puente Cackley, and celebrated local actor Kimberly Gilbert. Danielle A. Drakes directs. Taffetypunk.com
At 1st Stage in Tysons Corner, it's "The Chosen" (Sept. 28 – Oct. 15). Penned by Aaron Posner and Chaim Potak, it's the story of two Jewish teenage boys navigating friendship, family, and religion in 1940s Brooklyn. Artistic director Alex Levy directs. 1ststage.org
Arena Stage opens its season with "POTUS: or, Behind Every Great Dumbass Are Seven Women Trying to Keep Him Alive," (Oct. 13 – Nov. 12), Selina Fillinger's feminist farce describes a staff of women who keep their dim president and beleaguered country afloat. Directed by Margot Bordelon, the singularly female seven-member cast includes Felicia Curry, Naomi Jacobson, and Natalya Lynette Rathnam. Arenastage.org
Through Nov. 11, Constellation Theatre Company presents Sarah Ruhl's adaptation of Virginia Woolf's novel "Orlando," a trans tale of an amorous young nobleman who one night goes to sleep as a man and awakens the following morning as a woman. Nick Martin directs. Constellationtheatre.org 
Just in time for Halloween, Rorschach Theatre presents a reimagining of filmmaker George Romero's 1968 zombie cult classic "Night of the Living Dead" (Oct. 27-Nov. 19) with an "unforgettable theatrical experience with thrills and surprises for both horror fans and those new to the genre." Lilli Hokama directs.  Rorschachtheatre.com  
Lauren Yee's "King of the Yees" is making its D.C. premiere at Signature Theatre in Arlington through Oct. 22. It's not a musical (Signature's specialty), but a play, more specifically "a vibrant, semi-autobiographical comedy about community, culture and the connection between fathers and daughters." Out actor Grant Chang plays the playwright's father Larry Yee.
And then it's "Ragtime" (Oct. 24 – Jan. 7) directed by Signature's powerhouse artistic director Matthew Gardiner. With a score by Stephen Flaherty and Lynn Ahrens, and an adaption of E.L. Doctorow's novel by extraordinary gay playwright Terrance McNally (who succumbed to COVID complications early in the pandemic), the epic musical intertwines storylines from early 20th century New York including the scandal involving Evelyn Nesbit portrayed on celluloid in "The Girl on the Red Velvet Swing" with Joan Collins as the eponymous showgirl. Sigtheatre.org 
Broadway at the National continues with hits from the Great White Way including "Mrs. Doubtfire" (Oct. 10-15). Rob Mclure reprises his Tony Award-nominated performance as an out-of-work actor who poses as a Scottish nanny in a desperate attempt to stay in his kids' lives followed by "The Wiz" (October 24-29), a gospel/rock/funk infused take on "The Wizard of Oz" with a Tony Award-winning score by Charlie Smalls. Broadwayatthenational.com 
Theatre J presents Jenny Rachel Weiner's "The Chameleon" (Oct. 11- Nov. 5), directed by Ellie Heyman. Rampaging through questions of identity, representation, and the complications of assimilation, Weiner's new comedy centers on an aspiring actor poised for her big break, or so she hopes. Theatrej.org 
Along with promising works, Theatre Week (Sept. 21 – Oct. 8) is ushering in fall with a three-week-long celebration of the launch of the 2023-2024 theater season in the DMV. The festivities begin with Kickoff Fest, a free all-day event at Arena Stage on Saturday Sept. 23.
Throughout Theatre Week, more than 25 area productions will offer discounted tickets at $22, $40, and $60 through todaytix.com. More information is available at theatreweek.org.
Little Amal spreading refugee awareness across U.S.
12-foot figure brought to life by three puppeteers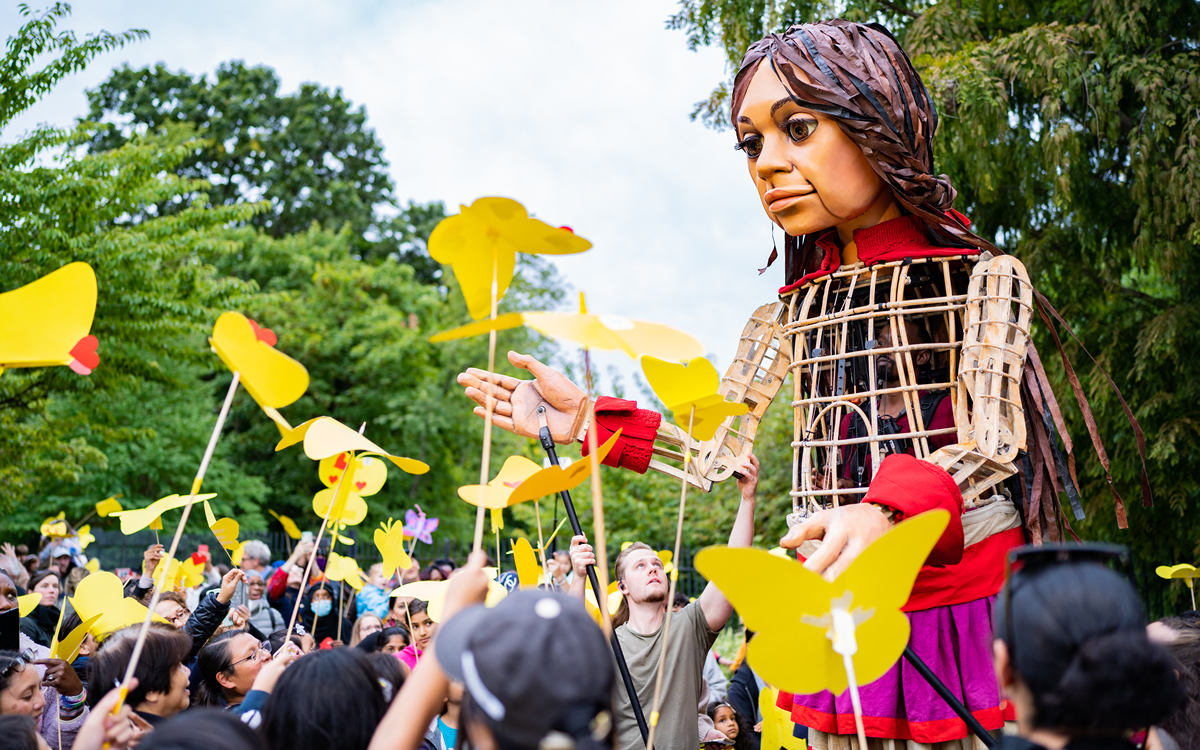 'Amal Walks Across America'
Sept. 17 and 19
walkwithamal.org
Since the summer of 2021, Little Amal, a 12-foot puppet portraying a 10-year-old Syrian refugee, has roamed far and wide spreading refugee awareness. After walking all over Europe, exploring the streets of New York City and Toronto, she is now trekking across America.
Created by internationally acclaimed artistic director Amir Nizar Zuabi in association with Handspring Puppet Company out of South Africa (famed for the brilliant puppetry behind "War Horse"), "Amal Walks Across America" highlights the cross-cultural experiences of the millions of refugee children fleeing war, violence and persecution throughout the globe, each with their own story.
Little Amal was inspired by an unaccompanied minor character who appeared briefly in "The Jungle," a play created in the former Calais jungle encampment in 2015.
As a sort of honorary ambassador/refugee, the very large puppet has clicked with audiences wherever she goes. And now through early November, Amal is visiting 35 towns and cities from the East Coast to San Diego where thousands of artists and arts organizations creating free public events are slated to show up to welcome her.
On Sept. 17 and 19, Amal will be in D.C. Her program includes stops at Lafayette Square (a high school marching band), Black Lives Matter Plaza (a Muslim children's choir and shared testimonies), McPherson Square, and Franklin Park where the Washington Performing Arts Children of the Gospel Choir perform, and the park is filled with family art activities such as sidewalk coloring books, an activation of letters to Amal from Planet Word, and fare from Immigrant Food.
Though ostensibly on her own, Amal is brought to life by three puppeteers: one inside her torso walking on stilts, and two operating the arms.
Ashley Winkfield, a multidisciplinary nonbinary artist based in Harlem, New York, handles one of the arms.
"Puppetry is my main art form. I sort of fell into it," they explain.
As an undergrad at University of North Carolina at Chapel Hill, they learned puppetry in a workshop of Basil Twist's "Rite of Spring." Twist liked what he saw and invited them to follow the production to Lincoln Center where they made their New York debut.
"Puppeteering involves choreography, dance, and movement, and also acting…all the things I love," says Winkfield, 31. "Through puppeteering I've done theater, singing, and travelled the world. I'm fortunate to do this craft."
Though not part of Little Amal's original European tour, they joined the walk with three weeks in New York (2022) followed by a shorter stint in Toronto (2023), and now they're part of the national gig.
When Amal arrives on the scene of an event, her team dresses her and checks mechanisms away from the gathering crowd. But once she stands and walks around the corner, it's show time. Before swarming her, fans and onlookers react with variations of surprise and excitement. Often local artists will present her with things they've made like outsized library cards, books, and flowers.
Winkfield describes the puppet as "beautifully articulated," especially for her large size: "People want to reach out and touch her beautifully sculpted hands; they're made from a hard material but still have a caressing ability to them."
Amal's message resonates with the puppeteer too.
"She brings the crisis face to face. She's a symbol of refugee children and all displaced people. Indigenous leaders I've met on the road, understand where she's coming from, and as a Black American, that's something I understand about my own family history, not knowing where I come from and what that means."
Winkfield hopes moving forward across the continent, the project will do more events with the queer community.
"As queer people, we very often have chosen family. Amal is discovering her identity on the road. She's searching for comfort and family."
Along the route, the project partners with different organizations and artists who help coordinate events. Winkfield rather blithely opines that it's "a logistical miracle" the way things come together.
"Anything can happen. As puppeteers we don't have a lot of information about the next event, so just like Amal, we're experiencing whatever's ahead with fresh eyes."