Gina Ortiz Jones gets nod to become Air Force under secretary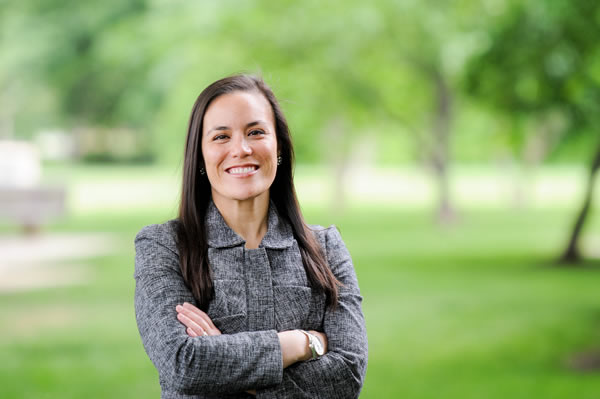 Gina Ortiz Jones, a lesbian Air Force veteran who served in the Iraq war before twice making an attempt to win a congressional seat representing Texas' 23rd congressional district in the U.S. House, has obtained the nod from President Biden to become the next Air Force under secretary.
Jones, whose nomination is subject to confirmation in the U.S. Senate, was announced as Biden's nominee for the role on Tuesday in a White House statement announcing a slew of choices for roles in the service. If confirmed, Jones will become the first woman of color to serve as Air Force under secretary.
During her 2020 congressional run, Jones ran in a district right on the U.S.-Mexico border as President Trump's immigration policy was front-and-center in the media
Jones told the Washington Blade in July 2019 the zero-tolerance border policy under President Trump was "shortsighted at best" and "cruel at worst."
"It's an economic crisis," Jones said at the time. "It's certainly a moral crisis when you think about what's happening in some of these detention centers and Texas 23 is on the frontline of this, I mean literally and figuratively."
When the National Republican Congressional Committee posted a picture of Jones with her spouse on its website for potential attacks against the candidate, LGBTQ rights advocates condemned it as homophobic attack. Jones ended up raising around $100,000 in campaign funds in the aftermath of the controversy.
The White House announcement on Jones comes days after news Biden intends to nominate two other LGBTQ nominees to high-ranking defense roles. Brenda Sue Fulton, a lesbian activist who fought for "Don't Ask, Don't Tell" repeal, obtained the nod to become assistant secretary of defense for manpower and reserve affairs, while Shawn Skelly, a transgender national security expert, obtained the nomination to become assistant secretary of defense for readiness,
Rep. Adam Smith (D-Wash.), chair of the House Armed Services Committee, praised the selection of Jones as Air Force under secretary and said she "served her country both in and out of uniform."
"If confirmed, Ms. Jones would be the first woman of color to serve as Under Secretary of the Air Force, marking yet another historic nomination as the Biden-Harris administration continues to prove their commitment to building a diverse Department of Defense that reflects the American population," Smith said.
Family of transgender woman who died in ICE custody sues federal government
Roxsana Hernández passed away in N.M. in 2018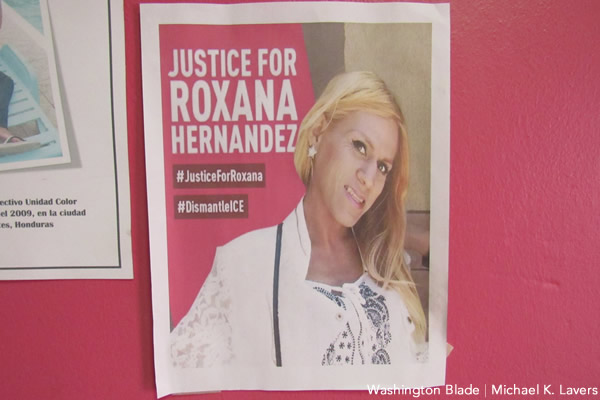 The family of a transgender woman with HIV who died in U.S. Immigration and Customs Enforcement custody in 2018 has sued the federal government.
The Transgender Law Center and two immigration lawyers — Daniel Yohalem and R. Andrew Free — in 2020 filed a lawsuit in U.S. District for the District of New Mexico against five private companies who were responsible for Roxsana Hernández's care.
The lawsuit named Management and Training Corporation, LaSalle Corrections, Global Precision Systems, TransCor America and CoreCivic as defendants. The Transgender Law Center, Yohalem and Grant and Eisenhofer Law on Wednesday petitioned the court to add the federal government to the lawsuit.
"This amended complaint adds the United States, including U.S. Immigration and Customs Enforcement (ICE), U.S. Customs and Border Protection (CBP), and the United States Department of Homeland Security (DHS) to the list of entities who had a direct role in Roxsana's death," said the Transgender Law Center in a press release.
Hernández, who was from Honduras, entered CBP custody on May 9, 2018, when she asked for asylum at the San Ysidro Port of Entry in San Diego. She arrived at the Cibola County Correctional Center, a facility in Milan N.M., that CoreCivic operates, a week later.
Hernández was admitted to Cibola General Hospital in Grants, N.M., shortly after she arrived at the privately-run detention center. Hernández died at Lovelace Medical Center in Albuquerque, N.M., on May 25, 2018.
The lawsuit, among other things, alleges Management and Training Corporation personnel "denied Roxsana and her fellow detainees food, water and restroom access throughout their transfer" from California to a facility in San Luis, Ariz., that LaSalle Corporations operates. The lawsuit also states Hernández did not receive necessary medical care from LaSalle Corporations, Global Precision Systems and TransCor personnel as they transported her to the Cibola County Correctional Center.
CoreCivic officers, according to the lawsuit, delayed Hernández's medical care once she was hospitalized.
An autopsy the New Mexico Office of the Medical Investigator performed concluded Hernández died from Castleman disease associated with AIDS.
A second autopsy that former Georgia Chief Medical Examiner Kris Sperry performed at the Transgender Law Center's request concluded the cause of death was "most probably severe complications of dehydration superimposed upon HIV infection, with the probable presence of one or more opportunistic infections." The second autopsy also found "evidence of physical abuse" that included bruising on Hernández's rib cage and contusions on her body.
"Defendants' discriminatory, negligent, and reckless acts and omissions: (a) caused Roxsana to suffer severe emotional and physical distress; (b) created an unreasonable risk that Roxsana's condition would deteriorate, especially in light of her known HIV-positive status; (c) caused Roxsana's condition to deteriorate; (d) diminished the opportunity for Roxsana's condition to improve; (e) caused her to lose her chance to survive and participate in the federal immigration process; and (f) ultimately, caused her death," reads the motion the Transgender Law Center filed on Wednesday.
"My sister came to the U.S. in search of safety and protection from the horrific violence she experienced as a trans woman in Honduras, and what she found instead was abuse, discrimination and neglect," said Hernández's sister, Jenny Hernández Rodríquez, in the Transgender Law Center press release. "The tragic fact that she is no longer with us is a direct result of that discrimination and neglect."
A spokesperson for the Department of Homeland Security — which oversees ICE and CBP — with whom the Washington Blade spoke on Thursday declined to comment.
Hernández's death sparked widespread outrage among immigration advocates. Her case also intensified calls for ICE to release all trans women in their custody.
The Transgender Law Center, the Rapid Defense Network and the Ballard Spahr law firm in April 2020 filed a class action lawsuit that demanded the release of all trans people in ICE custody.
More than 40 Democratic members of the U.S. House of Representatives in January 2020 called for ICE to release all trans people in their custody. Illinois Congressman Mike Quigley on Thursday during a House Appropriations Committee hearing asked Acting ICE Director Tae Johnson about the treatment of trans people in his agency's custody.
"We have made some efforts on sort of improving our training and identifying specific facilities which would focus on housing these individuals in a less restrictive environment but there's always more work we can do," said Johnson. "We're looking at all aspects of our vulnerable population to include transgender, and this is going to continue to be a priority for us as we move forward in assessing our detention framework."
A unit for trans women in ICE custody opened at the Cibola County Correctional Center in 2017. It closed in 2020.
Comings & Goings
Lane named senior counsel at Brady United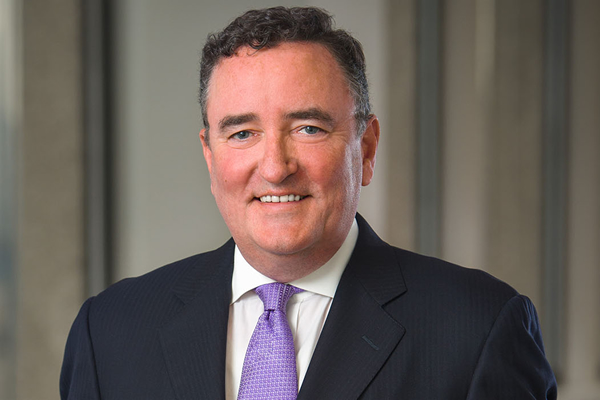 The Comings & Goings column is about sharing the professional successes of our community. We want to recognize those landing new jobs, new clients for their business, joining boards of organizations and other achievements. Please share your successes with us at [email protected].
Congratulations to Thomas Patrick Lane the new Senior Litigation Counsel and Director of Affirmative Litigation with Brady United. According to its website, Brady's mission is, "To unite all Americans against gun violence. We work across Congress, the courts, and our communities with over 90 grassroots chapters, bringing together young and old, red and blue, and every shade of color to find common ground in common sense. In the spirit of our namesakes Jim and Sarah Brady, we have fought for over 45 years to take action, not sides, and we will not stop until this epidemic ends. It's in our hands."
Jonathan Lowy, chief counsel and vice president of legal at Brady said, "The whole Brady team is thrilled to welcome Tom's skills as a trial lawyer and his leadership as a champion for justice and a voice for inclusivity and equal rights. Tom is one of the top litigators in the country, and has been a fighter his whole life who has proven himself undaunted by any challenge, including taking on the gun industry for its role in causing gun violence in America. Tom's expertise and insights into complex litigation involving emerging technologies, such as 3-D printed guns, "smart" technology, and online commerce, will bolster our fight for industry-wide change by holding companies accountable and forcing reforms that will make all Americans safer."
Upon accepting the position Lane said, "From my time as a prosecutor to private practice, I have seen the effects of gun violence and the importance of defending victims and survivors and upholding common-sense laws that keep our families and communities safe. I am excited to bring that background to Brady and to continue this important work nationwide."
Prior to joining Brady, Lane was a partner in the New York office of Winston & Strawn, LLP. Before that he was a partner in Thelen Reid Brown Raysman & Steiner LLP. He is recognized as one of the country's top intellectual property and new media lawyers. He tried the first Internet music case and the first Digital Millennium Copyright Act safe harbor case before juries. He has also served as a senior trial attorney in the office of the New York Kings County District Attorney.
Lane represented the City of New York in litigation against major gun manufacturers in the early 2000s. LawDragon named him as one of the 500 Leading Lawyers in America.
Lane earned his undergraduate degree from Hamilton College, Clinton, N.Y.; and his J.D. from Tulane University School of Law in New Orleans. He has created an endowed scholarship there for LGBTQ students to help law firms realize the importance of hiring diverse rosters of attorneys, and to honor the courage of his uncles Bernard Lane (an Army Ranger decorated with two Bronze Stars) and Richard Morrison (a recovered alcoholic who devoted his life to counseling others).
Both men were known for their toughness tendered by humor and both lived openly in loving relationships with same-sex partners in the 1970s. Lane is a former board member of the National LGBT Bar Association. He directs all external legal matters for the Tyler Clementi Foundation, whose mission is to end bullying in schools, workplaces, and faith communities.
IDAHOBiT events to promote intersectionality, resilience, allyship
HRC president to participate in virtual panel in Canada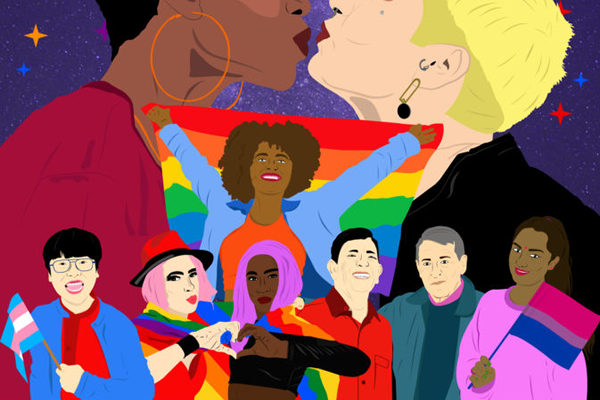 Intersectionality, resilience and allyship are among the themes that this year's International Day Against Homophobia, Biphobia and Transphobia events will highlight.
Dignity Network Canada and the Black Coalition for AIDS Prevention on May 17 will hold a virtual panel that will feature Human Rights Campaign President Alphonso David, Canadian Center for Gender and Sexual Diversity Executive Director Debbie Owusu-Akyeeah, Kaleidoscope Trust Executive Director Phyll Opoku-Gyimah, COC Nederland Executive Director Marie Ricardo and Rainbow Railroad Executive Director Kimahli Powell. The British High Commission and the Dutch Embassy in Canada have co-sponsored the event.
"We hope that this will be a really interesting and important conversation on intersectionality and transnational solidarity — and what it means for these leaders and their organizations during these times," reads a description of the event.
The U.N. LGBTI Core Group on May 17 will host a virtual IDAHOBiT event that will focus on ways to develop an "inclusive and diverse post-pandemic world." The World Bank Group, the International Monetary Fund, the European Bank for Reconstruction and Development, the Inter-American and Asian Development Banks host a similar IDAHOBiT commemoration.
"In order to heal from the economic, social, and public health dire impact the pandemic has had and still has, every plan of recovery must take into account a human-rights based, intersectional and gender responsive approach that addresses the specific needs of LGBTI persons in order not to leave them further behind," reads a description of the U.N. LGBTI Core Group event.
Several Russian LGBTQ rights groups on May 17 will hold a "Vaccine for Acceptance" event that seeks to bolster allyship in the country.
Retired South Africa Constitutional Court Justice Edwin Cameron on May 16 will moderate a virtual panel that will focus on religion and anti-LGBTQ violence.
Workplace Pride and the Dutch Embassy in Budapest on May 17 will host a symposium on LGBTQ-inclusive workplaces in Hungary. M.V. Lee Badgett, an economics professor at the University of Massachusetts, on the same day will participate in a webinar the U.S. Embassy in Singapore is hosting with Oogachaga, a local LGBTQ advocacy group.
Haver Srbija, a Serbian NGO, on May 15-16 will hold Falafel, a film festival that seeks to build "bridges and promotes Israeli, Jewish and LGBTQI culture and communities" and highlight "various social issues in the context of the fight against prejudice, discrimination, anti-Semitism, homophobia and xenophobia and encourages the audience to develop critical thinking on the issue of these topics." Proud Lebanon is slated to hold a series of six webinars between May 17-22 that will focus on feminism, LGBTQ rights and other topics.
The National Center for Sexual Education in Cuba will hold a series of virtual forums and other events through the month to commemorate IDAHOBiT.
CENESEX Director Mariela Castro, whose father is former Cuban President Raúl Castro, during a May 4 press conference in Havana said the IDAHOBiT events are part of the process of amending the country's family code to make it more equitable for LGBTQ Cubans. Mariela Castro said a bill to amend it will be introduced in the Cuban Parliament in July.
"I was able to appreciate that the majority of the population … is in favor of recognizing the rights of LGBTI+ people and especially the rights in the family sphere that include the possibility, the option, of marriage," said Mariela Castro during the press conference, according to Tremenda Nota, the Washington Blade's media partner in Cuba.
IDAHOBiT commemorates the World Health Organization's 1990 decision to declassify homosexuality as a mental disorder.
This year's events will take place against the backdrop of a pandemic that continues to exacerbate existing inequalities for LGBTQ people and other vulnerable groups around the world.
Consensual same-sex sexual relations remain criminalized in dozens of countries. Violence based on gender identity and sexual orientation remains rampant in the U.S. and throughout the world.