LGBTQ Africans struggle to navigate US asylum process
Ricky 'Rikki' Nathanson fled Zimbabwe, now lives in Md.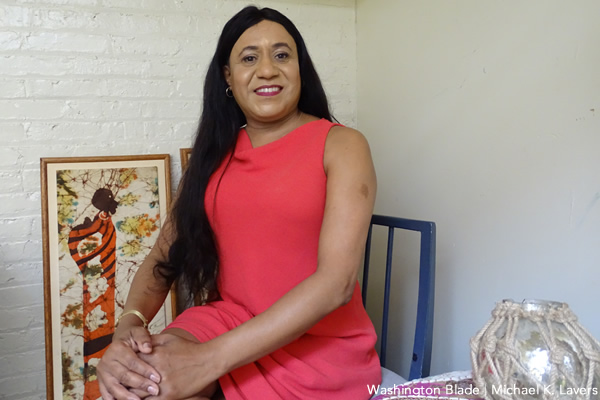 It is no secret that many LGBTQ individuals around the world live in fear of the negative implications that result from identifying outside the limits of cisgenderism and heteronormativity. For Africans living in Africa, this panic is even more pronounced as many are abused, jailed, or even murdered for simply existing as queer.
According to Global Citizen, homosexuality is still punishable by death in four countries on the African continent: Somalia, South Sudan, Mauritania, and Nigeria (in states where Sharia law applies). Only 22 out of the 54 countries on the African continent have legalized homosexuality, and South Africa is currently the only country where same-sex marriage is legally recognized by the government.
Although there has been some human rights progress for LGBTQ Africans, most recently with Angola decriminalizing same-sex sexual relationships, ill-sentiment toward queerness still runs rampant across the continent. So, many individuals are forced to leave their home countries and apply for asylum in Western countries like the U.S. and U.K., countries which, despite their queer-phobic cultures, are more accepting and safe to live in.
From Zimbabwe to Md.
Ricky "Rikki" Nathanson is a transgender activist from Zimbabwe who received asylum from the U.S. in February 2019. Before filing for asylum in the U.S., police officers had arrested her in Bulawayo, Zimbabwe, after she had used a women's restroom in a hotel. While in custody, the police officers physically tortured her and forced her to undergo invasive medical and physical examinations.
After her release from police custody, she filed a lawsuit against Zimbabwe's Home Affairs minister, the commissioner of the Zimbabwe Republic Police, the assistant commissioner of the Bulawayo Central Police Station and the leader of the Zimbabwe African National Union-Patriotic Front (ZANU-PF) party's Youth League, and later won this lawsuit. However, because of the mounting threats to her life in Bulawayo, she sought safety through the U.S.'s asylum process and relocated to the East Coast.
"When I compare myself to other people and friends who have been in similar situations to mine, my asylum process was extremely quick," Nathanson mentions when speaking of her journey toward winning asylum. "I think that the most strenuous thing for me was the actual interview; it was nerve-wracking."
Nathanson applied for asylum in 2018 after she attended OutRight Action International's annual summit in New York, the organization of which she is a board member. She won her case and received asylum approximately six weeks after — a fairly quick result compared to numerous other cases that can take years before a final decision is reached.
Nathanson's involvement with OutRight Action International proved to be a tremendous advantage as it provided her with an extensive network of friends in the U.S. who were able to support her asylum-seeking process and alleviate the stresses associated with it. This is usually not the case for many queer Africans who seek asylum in the U.S.
"The people at OutRight Action International were good to me, and they helped me with a bit of financial support. So, I was able to pay for my legal fees," says Nathanson.
In addition, Nathanson's lawyer, Elinor Tesfamariam, who is of Ethiopian descent and specializes in asylum cases, "knew what she was doing." Therefore, her expertise coupled with Nathanson's compelling story, provided for an airtight case that couldn't be contested.
In Nathanson's words, "My story spoke for itself."
Casa Ruby hired Nathanson shortly after she won her asylum case. She is currently the D.C. group's director of housing services.
What does applying for asylum involve?
The asylum process is demanding. Not only does one need legal representation, but they need financial resources to pay for said legal representation and also for their upkeep and wellbeing while in the U.S. This poses a challenge as one cannot apply for employment authorization until a year after they have completed the asylum application. So, this alienates many asylum seekers from severely needed employment and leaves them financially insecure as they navigate the torrent of preventing the possibility of having to return to their home country.
For those without strong connections in the U.S., a common way of finding help, whether financial or material, is through word of mouth. Because of their popularity, organizations like AsylumWorks have become safe havens and places of provision, fulfilling many asylum seekers' basic needs such as buying groceries, paying for rent, and purchasing gender-affirming clothes and cosmetics.
"When applying for asylum, it's really important to have efficient knowledge of the system; knowing what to do, who to contact, how to contact them, and how the system works," Nathanson mentions, regarding the legal aspect.
"For the process to work as smoothly as possible, you need assistance," she adds. "You need to be able to access a lawyer who will be able to file for you because the process is very particular, and any small mistake will result in your documents being returned to you. I have a friend of mine who forgot to sign a page and after he resubmitted his documents, he has been waiting 18 months for a response."
Because of how inconvenient the process can be, Nathanson's hope is that the current administration will revise the asylum process, especially the time it takes to win asylum.
How asylum seekers' needs are met
AsylumWorks is what Executive Director Joan Hodges-Wu calls "a holistic suite of wraparound services and support to help asylum seekers address unmet needs that can interfere with their ability to participate in the immigration legal process." The organization "empowers asylum-seekers to rebuild their lives with dignity and purpose," and provides much-needed community that helps them to feel seen and heard.
"When people think of asylum, they think of attorneys … but people forget that it is incredibly difficult to work with an immigration attorney and fully participate in the process if there are barriers impeding your ability to connect," says Hodges-Wu.
Through Prism, an LGBTQ support group, AsylumWorks is able to help queer asylum seekers meet their basic needs so that they can adequately focus their energy into the legal immigration process.
Prism provides community for LGBTQ asylum seekers by giving them the opportunity to meet with other queer asylum seekers and forge friendships that lighten the burden of acclimating to the U.S.
"One of the problems our LGBTQ clients face is that many of them are highly distrustful, naturally, of disclosing intimate parts of their history, and their true gender, or sexual orientation," Geoffrey Louden, Prism's facilitator, mentions. "Or even if they're not sure of that, coming to terms with, going into an immigration attorney and recounting their history."
Given this, Prism hosts weekly Zoom hangouts where individuals talk about any topics that interest them. Topics can range from introspective conversations about identity to light-hearted anecdotes about love prospects.
Prism offers a safe community for LGBTQ asylum seekers to be themselves, feel affirmed, and relate to others amid queer phobia, which can be prevalent in immigrant communities. So, regardless of how tough resettling in the U.S. may become, LGBTQ asylum seekers are guaranteed some sense of warmth and comfort in this organization.
Texas to resume abuse investigations into families with trans children
"To be clear the Supreme Court has not directed Commissioner Masters & DFPS to continue investigating parents of trans youth for child abuse"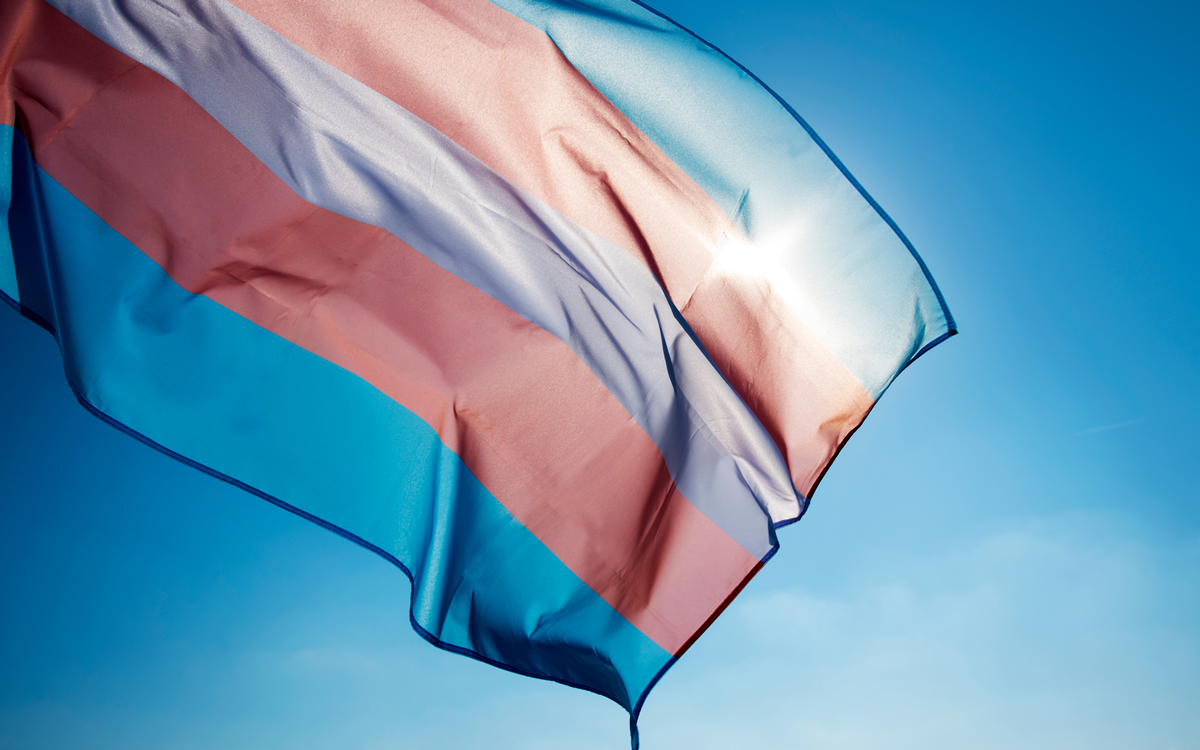 In a statement issued Thursday, the Texas Department of Family and Protective Services (DFPS) agency announced that it will resume abuse investigations into families with transgender kids.
"DFPS treats all reports of abuse, neglect, and exploitation seriously and will continue to investigate each to the full extent of the law," the statement read.
The Dallas Morning News reported that the DFPS statement, while not addressing the investigations into medical treatments for trans youth, indirectly indicated that these probes will now continue.
Current state law does not explicitly define gender affirming medical treatments, such as puberty blockers and hormone therapy as child abuse. A DFPS spokesman did not comment when asked if the agency plans to continue investigating such treatments as child abuse, the Dallas Morning News noted.
The Texas Supreme Court ruled last week that DFPS can continue to investigate families in the state who provide medically necessary care for their Trans children, excluding the parties in the litigation that brought the matter forward in a lawsuit filed in March.
In its decision, the court emphasized that neither Attorney General Paxton nor Governor Abbott has the power or authority to direct DFPS to investigate the provision of medically necessary lifesaving health care for transgender youth as child abuse. But the court limited the order blocking all investigations to the specific plaintiffs who filed suit.
Trans activist Landon Richie who has been deeply involved in the efforts to mitigate the anti-trans actions by Texas lawmakers and has led protests against the transphobic actions by Texas Governor Greg Abbott and Attorney General Ken Paxton told the Blade:
"To be clear, the Texas Supreme Court has not directed Commissioner Masters and DFPS to continue investigating parents of trans youth for child abuse. While the decision means now only the named plaintiffs in the lawsuit have protection, it reiterates that Attorney General Paxton's opinion and Governor Abbott's letter are not binding and not enforceable, meaning DFPS's actions moving forward are at the discretion of Commissioner Masters only and not the state leadership's directives. The Texas Supreme Court allowing for the district court to provide a temporary injunction is a good sign for people's protection.
It bears reminding families in Texas and around the country that today's decision (and yesterday's regarding gender-affirming care at UT Southwestern and Texas Children's) reaffirms what we already know: opinions are only opinions and the people in power cannot abuse that power to abuse trans people. We know decisions can change at a moment's notice and that this fight will take years, but to our families and communities under attack, please remain strong and take a moment to breathe. We're in this together. "
An employee of DFPS who was a litigant in the lawsuit is represented by the ACLU of Texas.
Brian Klosterboer, an attorney with the ACLU of Texas who is on the team representing that unnamed employee, said the state's decision to reopen the cases is unfortunate and unlawful. He said his team believes that the high court's decision removes any responsibility for Texans to report trans youth getting treatments, the Dallas Morning News reported.
"We are going to be closely monitoring what the agency does. We would encourage families that have any reason to believe that they have an investigation to seek legal help," Klosterboer said.
"Abbott's letter and Paxton's opinion did not change Texas law," he added. "Gender affirming health care is still legal in all 50 states."
"Don't Say Gay" student leader says school stopping run for student leadership
Jack Petocz organized a state-wide student protest against Florida's "Don't Say Gay" bill & annoyed administrators suspended him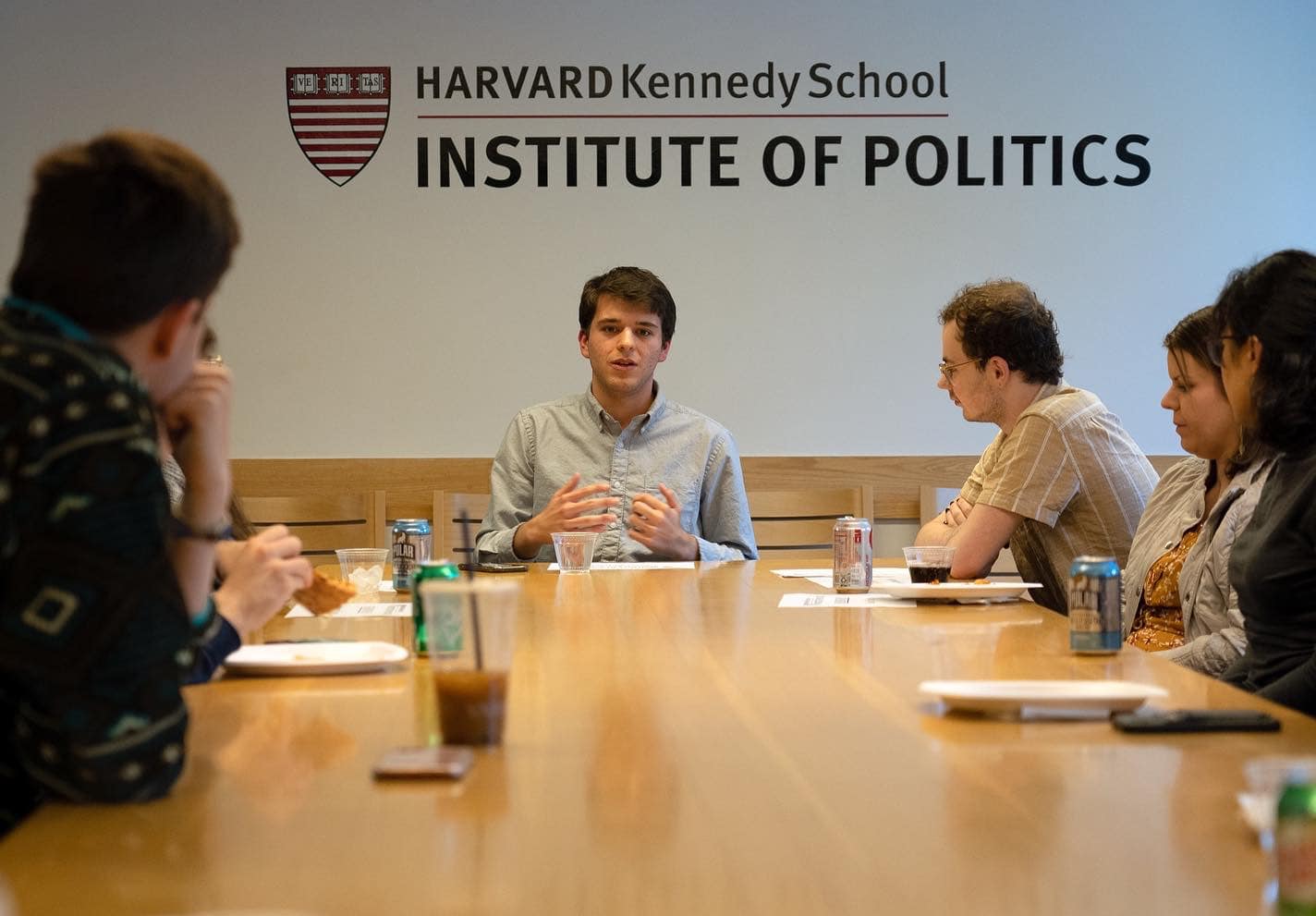 Jack Petocz, a Flagler Palm Coast High School junior, organized a state-wide student protest against Florida's "Don't Say Gay" bill this past March, and at his school, annoyed administrators suspended him.
On Tuesday, Petocz said that the school's disciplinary action is now preventing him from running for senior class president.
"When I returned, the administration assured me that no further disciplinary action would be taken. A month later, they broke this verbal agreement and placed a level 3 referral on my record. Now, due to this high level of discipline, I am being prevented from running for senior class president. I am continuing to be punished for standing up for my identity and against widespread hatred."
The suspension over the student walkout became a viral moment that propelled the 17-year-old into the national spotlight and into the national discourse over a spate of harsh laws targeting the LGBTQ+ community.
17-year-old Cameron Driggers, a student LGBTQ+ activist-organizer of the group Recall Flagler County School Board and co-leader of the walk-out, his friend's suspension inspired him to create a petition on Change.org to pressure Flagler Palm Coast High School Principal Greg Schwartz to rescind his seemingly arbitrary decision to suspend Petocz.
One protest at the school over its suspension of Petocz brought together a grizzled and proud Out gay U.S. Marine Corps veteran accompanied by his fellow vets, who alongside with Driggers and the other young adolescent activists protested in a rally in front of the school at the same time Petocz and his father were inside meeting with Flagler Palm Coast High School Principal Greg Schwartz, hoping to get him to rescind his seemingly arbitrary decision to suspend Petocz.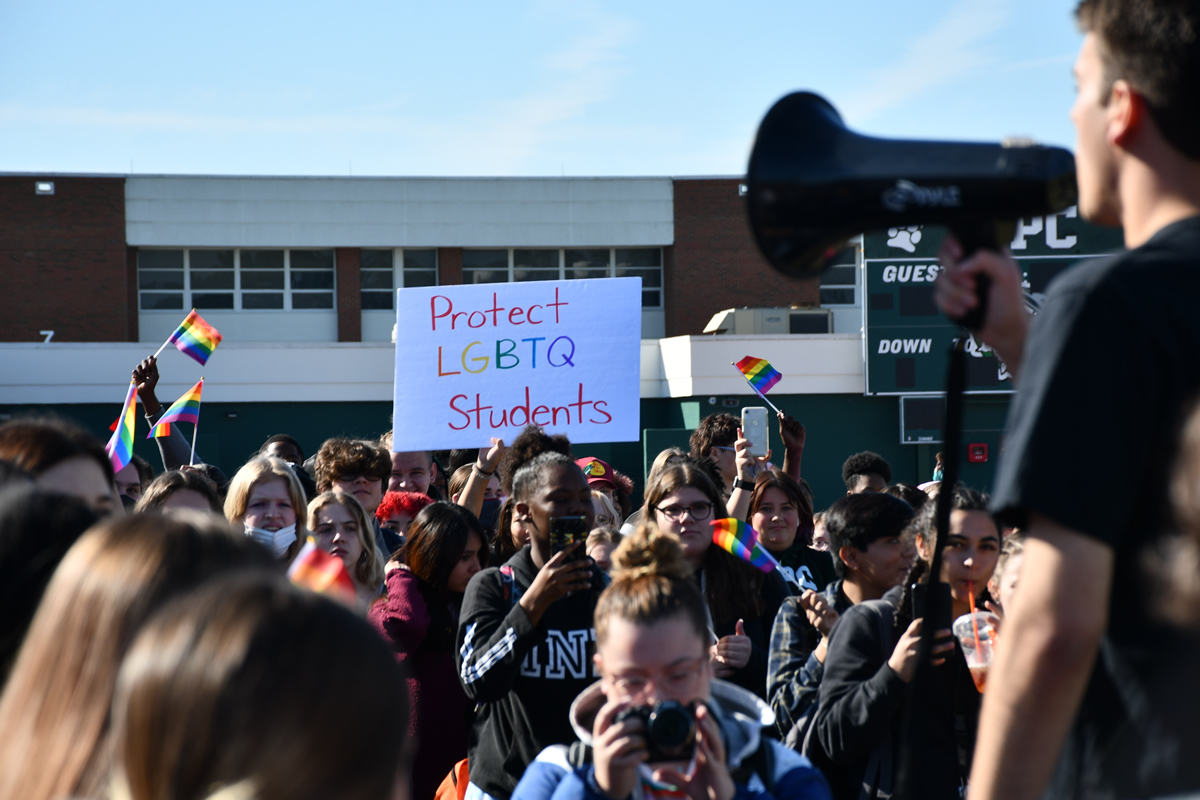 Later on during the day Driggers posted to the Change.org petition the news that Principal Schwartz had backed off.
"Recall FCSB is pleased to announce that Jack's suspension has ended and he is back on-campus. We are grateful for the thousands of people around the globe that shared, tweeted and protested in support of Jack, the organizer behind the state-wide Don't Say Gay Walkout. Over 7500 signatures were collected on a condemnation of Principal Greg Schwartz' conduct last Thursday. With Jack back on campus, Recall FCSB will continue to empower student leaders in and out of school," Driggers wrote.
Principal Schwartz also committed to removing the 'disciplinary action' from Petocz's school record.
On Tuesday, Petocz announced that Principal Schwartz and other school officials are barring him from running for an elected student office.
My name is Jack Petocz. I am the high school junior who led walkouts in opposition to the "Don't Say Gay" bill and was suspended for passing out pride flags. Now, I'm being prevented from running for senior class president. No matter what, I won't stop fighting for my community. pic.twitter.com/5lG6EYIXo2

— Jack Petocz (@Jack_Petocz) May 17, 2022
In response to the news, PEN America issued the following statement from Jonathan Friedman, director of the Free Expression and Education program:
"By going back on their word and imposing a red mark on Jack Petocz's disciplinary record, the Flagler Palm Coast High School administration appears bent on retaliating against him for organizing the walkout against the 'Don't Say Gay' bill. This is unconscionable. Jack exercised his right to protest as a citizen, and he led the walkout with the school's approval. No student ought to be intimidated or punished by school authorities for their political speech, and the school already told him he would not be disciplined. This is especially troubling alongside news of other efforts to censor or intimidate students raising their voices for LGBTQ+ rights across Florida. The leaders of Flagler Palm Coast High School should remove this infraction from his record so that he can run for class president just like any other student."
On Twitter, Petocz urged people to contact his school to get officials to reverse this latest decision.
If you want to help me fight, click the link below to send an email to administrators and the superintendent of my district. It's ridiculous queer kids have to be punished while fighting for our rights. https://t.co/oBOKZDLavb

— Jack Petocz (@Jack_Petocz) May 17, 2022
History making win- Out Lesbian could be Oregon's next governor
"This will be a three-way race for the highest office in our state, and this will be an election unlike anything any of us have ever seen"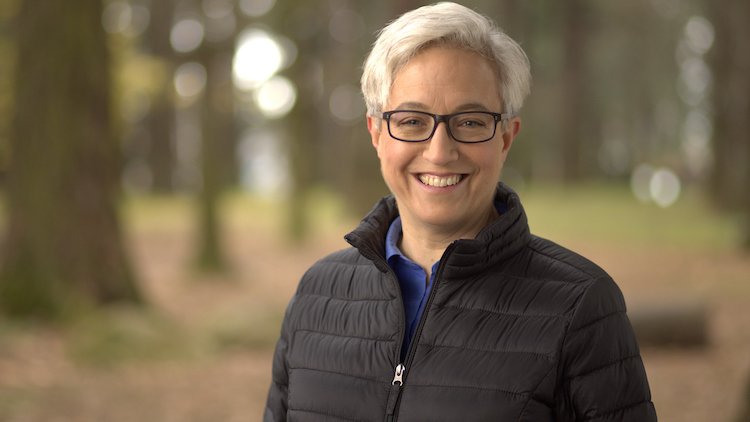 The Democratic gubernatorial primary Tuesday win by Oregon Speaker of the House Tina Kotek, who had announced her run for the governor's seat to replace incumbent Democratic Governor Kate Brown, who is term limited last September 1st, 2021, positions her to become the first Out Lesbian governor in the nation should she win the general election in November.
Kotek's win comes during an uptick in the elections nationwide as more candidates running for office identify as LGBTQ". More than 600 LGBTQ candidates are on ballots this year, according to the LGBTQ Victory Fund.
According to the Victory Fund, at least 101 people ran or are running for the U.S. Senate or U.S. House – with 96 still actively running as of February 21, 2022. That marks a 16.1 percent increase in LGBTQ Congressional candidates compared to the 2020 election cycle, when 87 people ran.
Speaking to her supporters after it became clear she had won over Oregon Treasurer Tobias Read, who was polling second among Oregonian progressives, "This will be a three-way race for the highest office in our state, and this will be an election unlike anything any of us have ever seen," Kotek said.
Republican state legislator Christine Drazan along with an independent candidate, Betsy Johnson are slated to be on the November ballot.
Last Fall when she announced her candidacy, she said, "I am running for Governor because I know that, together, we can reckon with the legacies of injustice and inequality to build a great future for Oregon." She also noted, "Oregonians are living through a devastating pandemic, the intensifying impacts of climate change, and the economic disruptions that leave too many behind. We must get past the politics of division and focus on making real, meaningful progress for families across our state."
"A victory for Tina would shatter a lavender ceiling and be a milestone moment in LGBTQ political history, yet she is running not to make history, but because there are few people as prepared and qualified to serve as Oregon's governor," said Mayor Annise Parker, President & CEO of LGBTQ Victory Fund. "Under Tina's leadership, Oregon has led in passing legislation to improve roads and education, raise the minimum wage and ensure all residents are treated fairly and equally. As governor, Tina will make Oregon a role model for the nation."