AHF opens clinic in Falls Church
Center offers 'state-of-the-art HIV/AIDS medical care and services'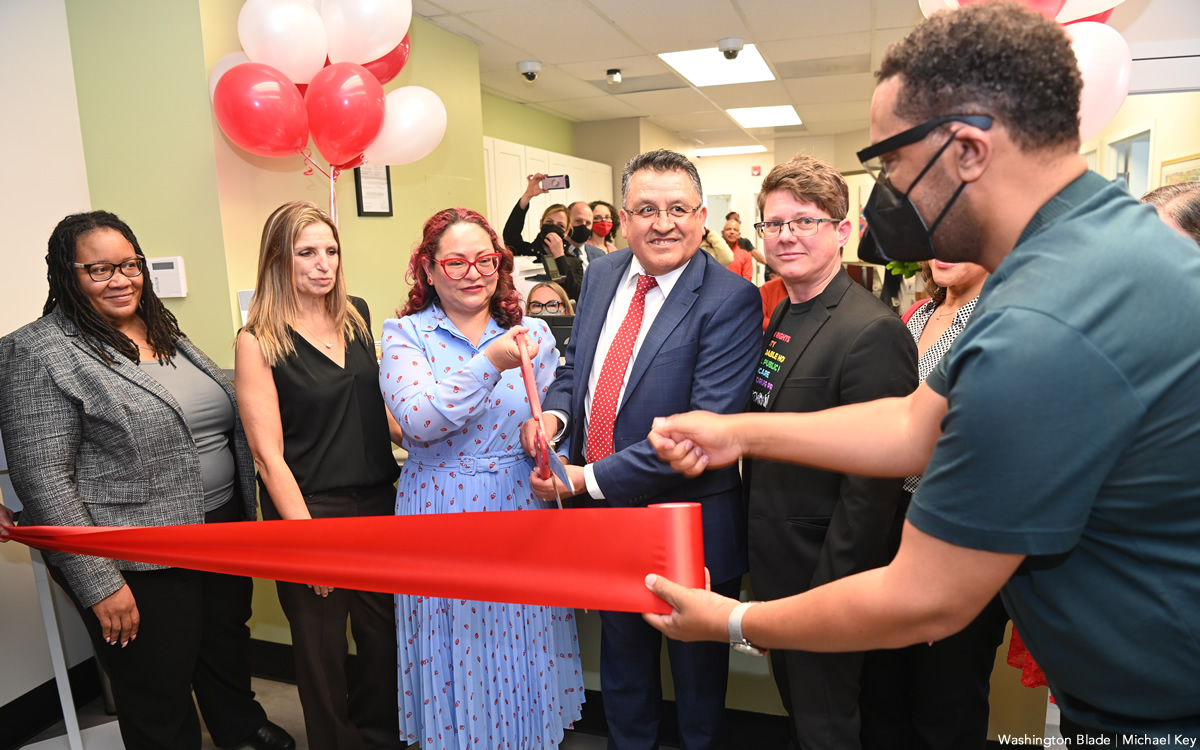 About 50 people attended a ribbon-cutting ceremony for a new AIDS Healthcare Foundation (AHF) clinic in Falls Church, Va., on Thursday, March 10. The health center offers "state-of-the-art HIV/AIDS medical care and services to patients regardless of their insurance status or ability to pay," according to an AHF statement.
Speakers at the ceremony included AHF Regional Director Michel McVicker, AHF Vice President Donna Tempesta, Virginia Department of Health Deputy Director Elaine Martin, D.C. Department of HIV/AIDS, Hepatitis, STD, Tuberculosis Administration (HAHSTA) Senior Director Clover Barnes, NOVA Salud Executive Director Hugo Delgado and Falls Church Healthcare Center AHF Medical Director Dr. Danbi Martinez.
"Today is an important day in HIV," McVicker told the crowd. "It is National Women and Girls HIV and AIDS Awareness Day. There are over 30 million people worldwide that are living with HIV and more than half of those are women and girls. We chose this day deliberately because we wanted to draw attention to the disparities that exist because of institutional sexism, racism and homophobia. These are the things that drive the epidemic that have allowed HIV to persist for decades despite the fact that we have science and medicine and resources to bring it to an end."
"In 1987, the AIDS Healthcare Foundation founders made a commitment to provide quality compassionate care to anyone affected by the HIV virus," the center's medical director Dr. Martinez said. "I am here today to announce that we want to continue that commitment here in the state of Virginia. I believe that we can make a positive impact in people's lives and that we will fulfill a need here."
The Falls Church facility located at 2946 Sleepy Hollow Rd., Suite 4B is the first AHF clinic in Virginia, though is now the fifth center open to clients in the DMV. Other AHF centers in the area include two centers in Washington, D.C.: the Blair Underwood Healthcare Center and Pharmacy at 2141 K St., N.W., Suite 707 and the Capitol Hill Healthcare Center at 650 Pennsylvania Ave., Suite 310; as well as two centers in Maryland: the Temple Hills Healthcare Center, 4302 St. Barnabas Rd., Suite D and the Wellness Center, 11 E. Lexington St., Suite 100 in Baltimore.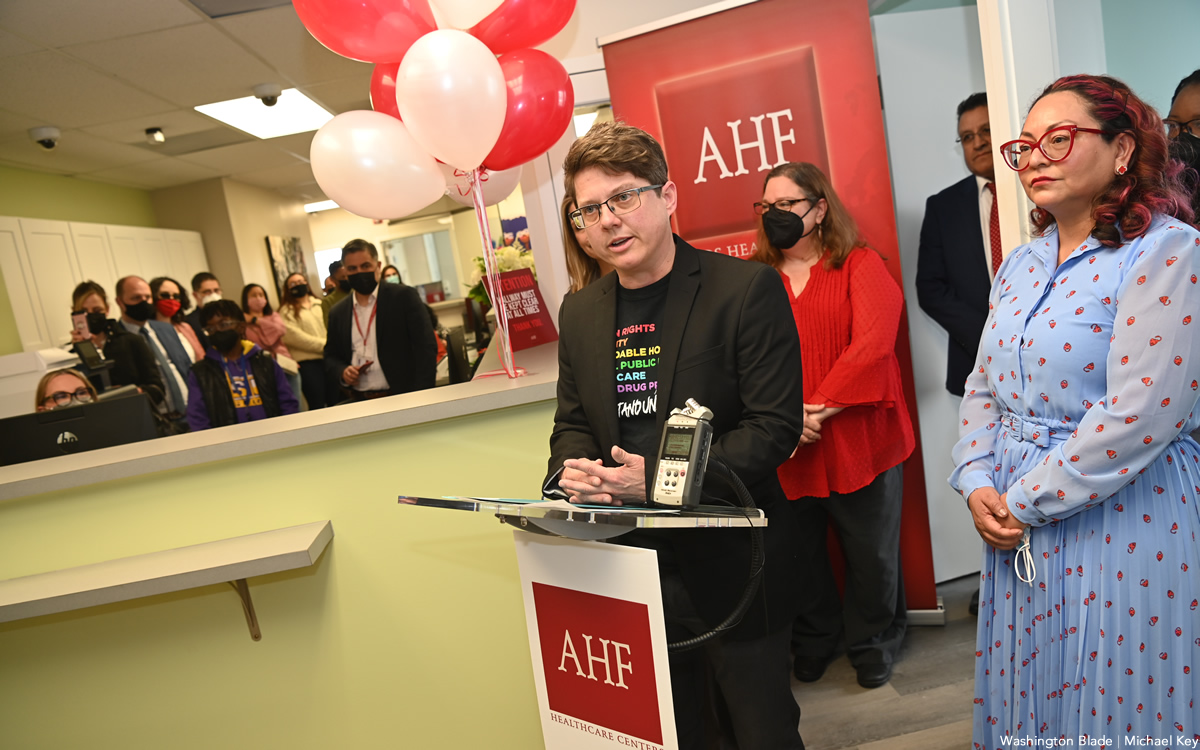 Va. delegate comes out as bisexual
Del. Kelly Convirs-Fowler spoke at Hampton Roads Pride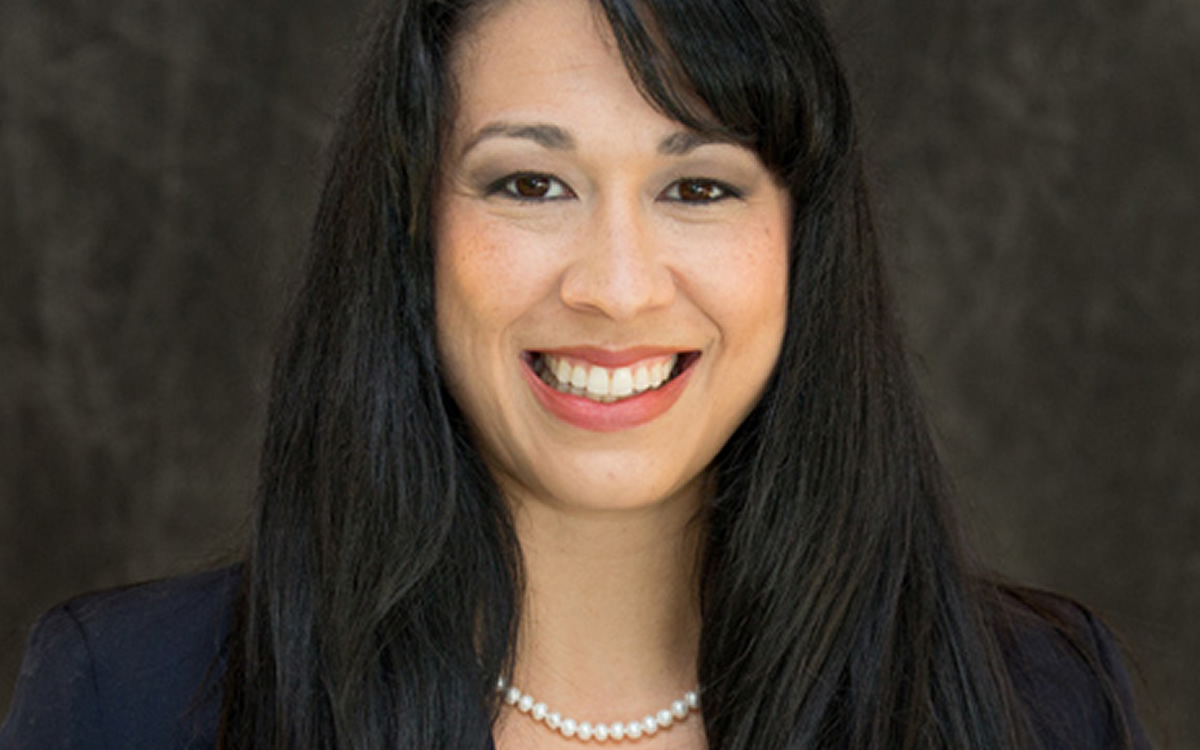 Virginia state Del. Kelly Convirs-Fowler (D-Virginia Beach) came out as bisexual on June 25 during an appearance at Hampton Roads Pride in Norfolk.
"I'm bisexual," the Virginia Beach Democrat told Pride attendees. "I just never felt like I could say that out loud."
I said what I said. I'm Proud. #HappyPrideMonth #loveislove #LGBTQ pic.twitter.com/urAalkWZM1

— Del. Kelly Convirs-Fowler (@FowlerforVA) June 28, 2022
Convirs-Fowler has represented Virginia's 21st House District since 2018.
State Del. Mark Sickles (D-Fairfax County) is gay and state Del. Dawn Adams (D-Richmond) is a lesbian. State Del. Danica Roem (D-Manassas) in 2018 became the first openly transgender person seated in any state legislature in the U.S.
"For those who don't know, Del. @FowlerforVA and I are both part of the Class of 2017 #RedToBlue legislators who flipped seats that Nov. 7," tweeted Roem on Monday. "We've both earned re-election twice since then and I couldn't be more proudof her declaration of Pride =)."
Equality Loudoun hosts its first Pride celebration
'Our plans for next year are going to be bigger, bolder'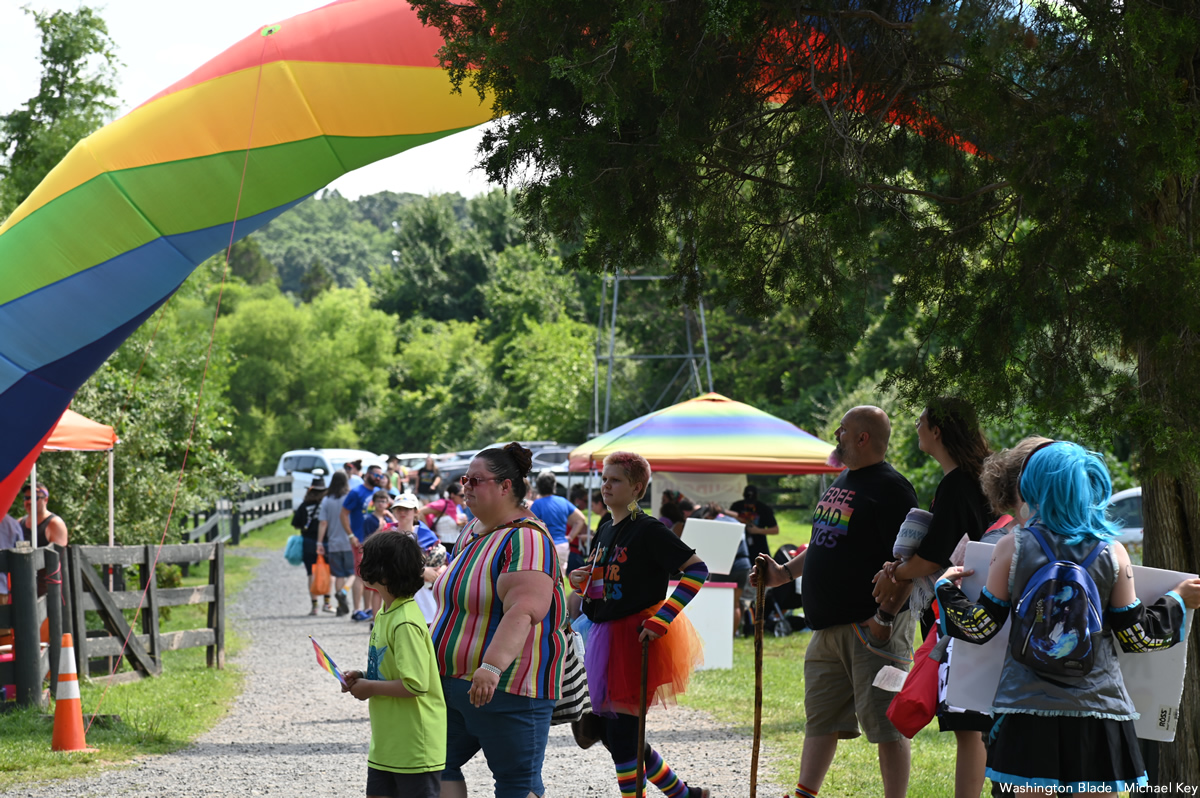 A year after a controversial brawl between parents and administration officials regarding the implementation of trans-friendly policies in public schools in Loudoun County, Va., a local LGBTQ organization hosted its inaugural Pride festival in solidarity with the area's LGBTQ community.
"Pride means a chance to show this county that the loud voices who have been standing against LGBTQ equality do not represent the voices of [everyone] in the [county]," said Cris Candiace Tuck, president of Equality Loudoun. "[A lot of us] here believe in equality."
Equality Loudoun hosted its Pride celebration on June 26 at Claude Moore Park in Sterling, Va.
When planning for Pride month festivities, the organization designed the events to reflect the diverse interests and identities of Loudoun County's queer population. There was a wide collection of vendors selling Pride merchandise, advocacy non-profit organizations and musical acts featured on the main stage.
There was also a "Loudoun Pride Drag Stage" event where the "hottest of Loudoun Royalty" showcased their musical talents.
"We want everyone to … recharge emotional batteries that have been drained," said Tuck.
Planning Equality Loudoun's Pride festival did not come without its fair share of surprises. Initially, the organization had planned for a smaller event. However, when more individuals began showing interest, the organization was forced to switch to a bigger venue to allow more vendors to attend.
"We had many vendors call in and we had to turn a [number] away," said Tuck.
The organization planned its festivities in 90 days, two weeks during which it raised $45,000 — three times as much as it had originally expected.
Equality Loudoun has its sights set on getting LGBTQ community members and allies connected to the resources the organization offers through education and health advocacy.
"Pride [will always be] a celebration of our heritage," said Tuck. "It's a moment to recognize what we have gained and lost."
Tuck said that ideas for next year are already underway.
"Our plans for next year are going to be bigger, bolder and brighter," he said.
Click HERE to see more photos from the event.
Youngkin backs abortion ban after 15 weeks of pregnancy
Republican governor supports exceptions for incest, rape and protecting mother's life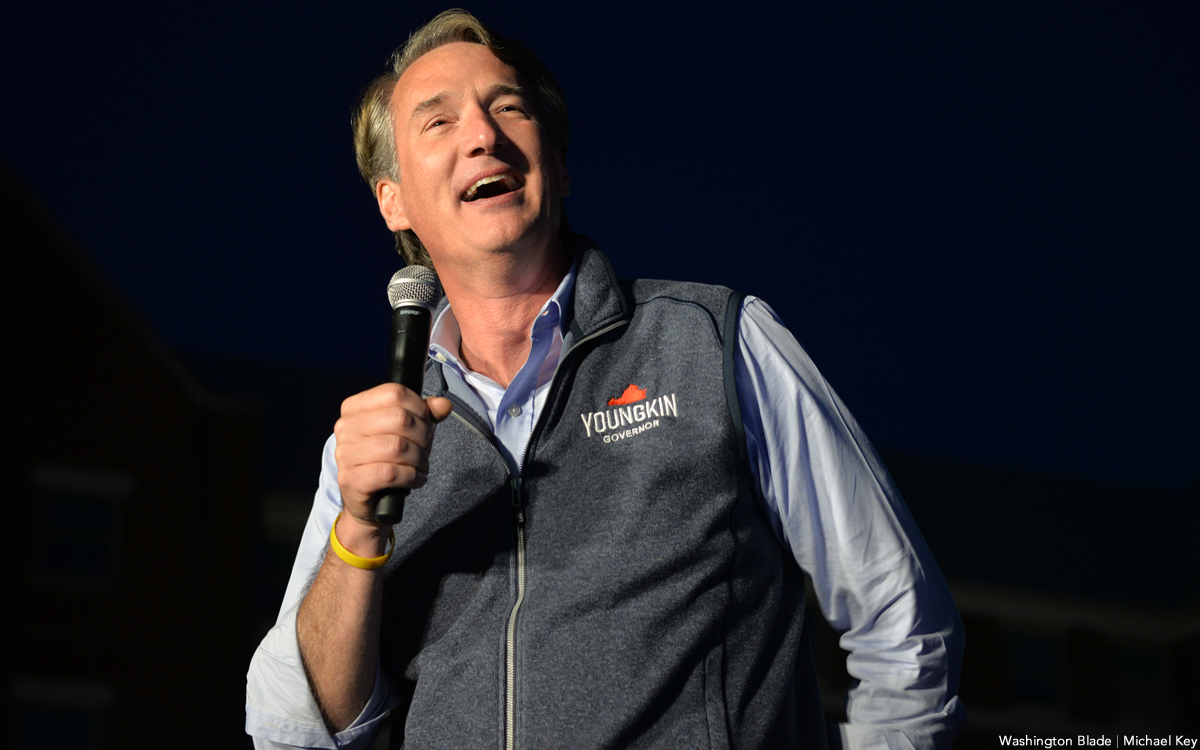 Virginia Gov. Glenn Youngkin in response to the U.S. Supreme Court ruling that overturned Roe v. Wade said he will seek to ban abortions in his state after 15 weeks of pregnancy.
"Virginians do want fewer abortions as opposed to more abortions," Youngkin told the Washington Post. "I am not someone who is going to jump in and try to push us apart … There is a place we can come together."
Youngkin, a Republican, took office in January.
His party controls the Virginia House of Delegates, but Democrats maintain a 21-19 majority in the state Senate.
"Today, the Supreme Court ruled in favor of Dobbs, giving power back to the states to make decisions on abortion," said Lt. Gov. Winsome Earle-Sears in a statement. "The court has recognized that the 1973 decision was an example of judicial and federal overreach. The important question of abortion has now been returned to statehouses across the country, in order for them to make their own policy decisions, which is exactly what the founding fathers envision when they wrote the 10th amendment to the Constitution."
"I applaud the court for recognizing this wrong and having the courage to correct it. I look forward to working with the governor and the General Assembly in the next legislative session on legislation that respects life," she added.
Abortion is currently legal in Virginia during the first and second trimesters.
Youngkin on Friday said he supports abortion exemptions in cases of rape, incest or if the mother's life is at risk.