Former FreeState Justice executive director denies allegations against them
Jeremy LaMaster denies they launched 'coordinated attack'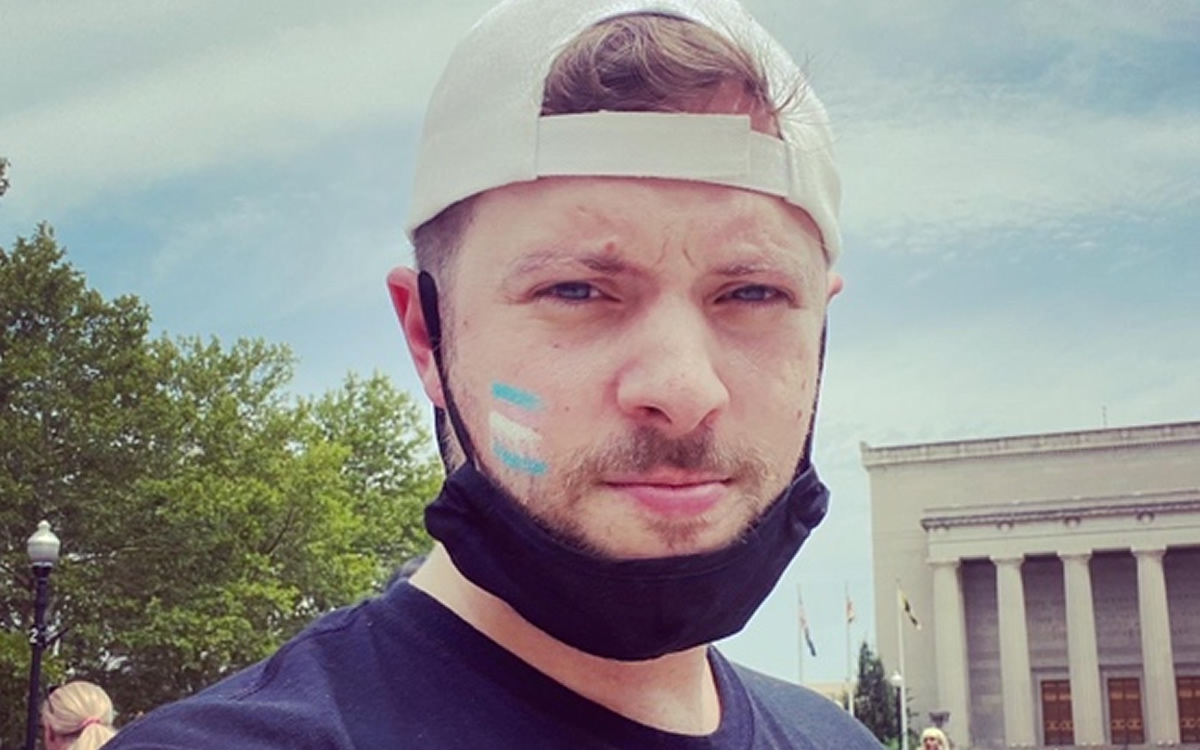 The former executive director of FreeState Justice on Tuesday denied they have launched a "coordinated attack" against their former organization.
Jeremy LaMaster on Sept. 19 announced their resignation after they said FreeState Justice"s board of directors declined their request to step down.
FreeState Justice two days later in a federal court filing against LaMaster said they "immediately began a coordinated attack on FreeState's operations; in particular, its IT assets" after they left a Sept. 16 meeting in which the board informed them they "were relieved of their duties, and the final two weeks of their employment were to be spent cooperating in the transition of FreeState's operations."
"When FreeState discovered LaMaster's improper interference, it terminated their employment effective immediately, ordered them to cease and desist and to rectify their actions," reads the court filing. "LaMaster did not abide and continued to hijack and misappropriate FreeState's IT infrastructure and documents."
"What would hacking into someone's email and deleting an email do," LaMaster told the Washington Blade during a FaceTime interview.
LaMaster, who uses they/them pronouns, told the Blade they started "working on this transition stuff" once they returned home from the Sept. 16 meeting and "I started getting error messages for our intake system."
"After the Sept 16 meeting, someone else, not me, began deactivating email accounts, including mine, breaking workflows for our client intake and other processes, causing a lot of problems for our IT infrastructure," said LaMaster on Wednesday in a follow-up text message.
LaMaster said they began to receive text messages on Sept. 18 about "criminal charges" and "allegations."
LaMaster told the Blade they tried to call now FreeState Justice Executive Director Phillip Westry on Sept. 18, but he did not accept his call.
"I sent an email to the team about this is what happened, this is what I was doing,'" said LaMaster. "Some of our things are down. Please let me know."
LaMaster said they sent a Slack message to Westry and now Deputy Executive Director Tina Jones on the morning of Sept. 20 in order to "help transition IT." LaMaster told the Blade they "learned about the restraining order and a number of IT issues and allegations when everyone else did."
LaMaster, who is representing themself, attended a court hearing in Baltimore on Monday.
LaMaster told the Blade that they said they could provide passwords to their FreeState Justice email account. LaMaster said they provided the passwords to all other software systems the organization uses.
LaMaster sent the Blade a screenshot of a text message thread between them and Jones.
"Please provide the the (sic) appropriate login credentials and administrator access to all FreeState Justice systems," Jones told LaMaster. "Please do not attempt to access any systems or the office."
"As I mentioned yesterday — I do not know the passwords off the top of my head and will need to either 1) test them or 2) reset them. This required accessing the systems," responded LaMaster. "I'm not being obtuse — but you've all made a large number of false (and impossible) accusation based on the very limited understanding of our tech, or tech in general (not being rude, but y'all know it's true.)
"Like I said, I think a phone call or Zoom, we can even record it so that I cam (sic) do/show exactly what I am doing," added LaMaster. "I'm here for the lawyer robot responses and the desire for retaliation to continue to block FreeState legal services delivery, and then turn around and blame you (sic) lack of cooperation and knowledge on me."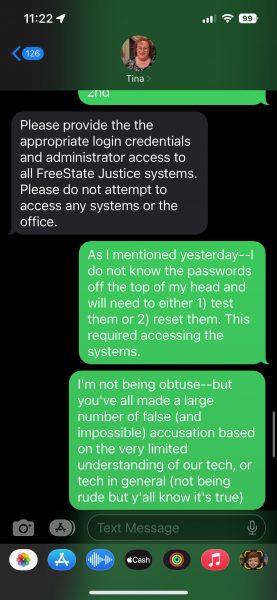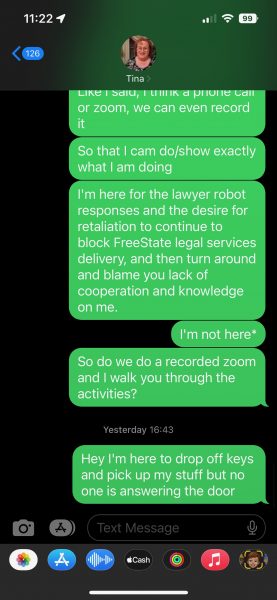 LaMaster told the Blade they were "supposed to return items and keys and such" to FreeState Justice's offices at 4:30 p.m. on Tuesday, but "no one was there." The text thread shows LaMaster texted Jones at 4:43 p.m. to let her know that they're "here to drop off keys and pick up my stuff, but no one is answering the door."
"They're still holding my personal belongings and not accepting my keys and FSJ (FreeState Justice) checks," LaMaster told the Blade.
Board has 'white supremacist culture'
LaMaster in June 2020 succeeded Mark Procopio as executive director.
LaMaster in their resignation letter said they stepped down after board members refused their request to immediately step down "due to persistent violations of our board handbook, consistent failures in their fiduciary responsibilities, and using positions of power to engage in partisan lobbying within FreeState Justice and their repeated refusal to add new members and leadership to the board."
LaMaster in his email noted they "exhausted every avenue over the past two years to get our board fully staffed and running, and I made good faith efforts to work with the board to ensure that our clients and low-income LGBTQ Marylanders remained at our center."
"Instead, the board has refused to accept any new board members since 2021 and refused to staff and run core board activities as per our handbook," wrote LaMaster. "Instead, they have worked to consolidate power and amend the board handbook in secret to lower the minimum number of board members required and ensure that our policy positions prioritize relationships with legislators, not the best interests of our clients and community. I have provided clear warnings and consistent concerns over these issues that were repeatedly ignored."
LaMaster reiterated his criticism of the board when they spoke with the Blade.
"As with most nonprofits, I'm sure if you talk to any executive director, they will tell you the large number of challenges that comes to board and nonprofit boards and cultivating and building them and supporting them. There have been chronic issues for two years now," they said.
"I think everyone gets a pass with the (COVID-19) pandemic, but at some point, stop getting passes," LaMaster added. "There was just a lot of really poor decision making that was costing the organization money, and really not fulfilling core responsibilities laid out in our board handbook."
LaMaster specifically noted the board's abrupt decision in May 2022 to stop offering COVID-19 vaccines to people experiencing homelessness after FreeState Justice's landlord "did a full Karen" and "went to the board and was complaining about a whole lot of things, the majority of which were not true."
"It basically screwed six or seven of our homeless clients out of getting their second dose," they said.
LaMaster also said board members did not take their calls for more advocacy on behalf of LGBTQ students in Maryland seriously. LaMaster further accused board members of threatening FreeState Justice's 501(c)(3) status because of their ties to politicians they didn't specifically identify.
"We don't exist to help politicians get easy wins and in the General Assembly," said LaMaster. "We exist to provide widespread advocacy work and transparent information to the community."
LaMaster also accused board members of engaging in unethical behavior.
They said Brianna January, the board's vice president, repeatedly asked FreeState Justice staff to secure funding that would allow her to be hired as the organization's policy director. LaMaster provided the Blade with a text message in which January asked them to hire her.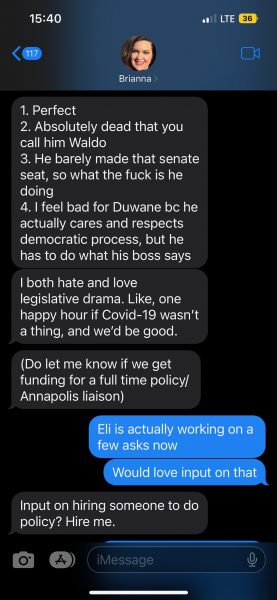 LaMaster further reiterated their previous claim the board engages in white supremacism.
"When I say white supremacist culture within the board, this response is case and point of that culture, of that type of culture," they said.
Westry on Wednesday declined to comment on LaMaster's allegations.
"FreeState Justice has provided comments on this issue to several publications about the ongoing litigation with Jeremy LaMaster," Westry told the Blade in an email. "We are in active litigation with LaMaster and will offer no further comment."
Two new gay Md. delegates outline agenda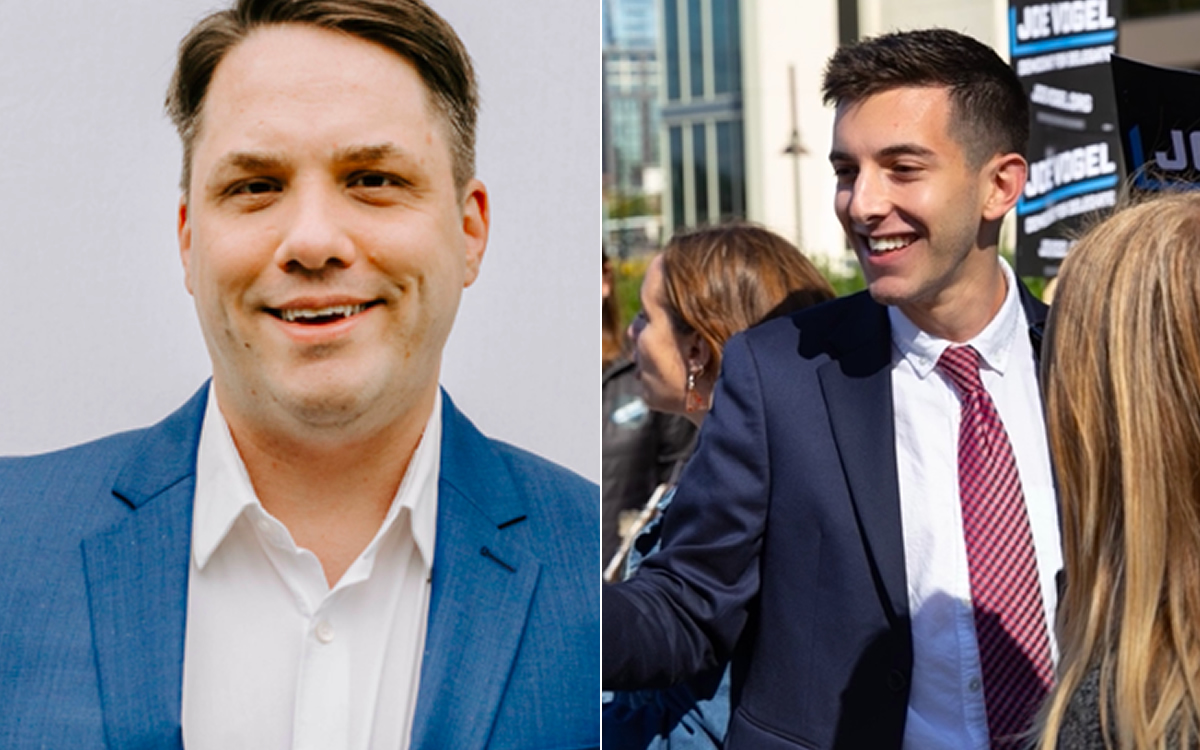 The two openly gay men who were elected to the Maryland House of Delegates last week spoke with the Washington Blade about their campaigns and what they plan to do once they're in office.
State Del.-elect Joseph Vogel will represent District 17 in Montgomery County. He said he is ready to bring a new direction to Annapolis.
"In this campaign, we listened," Vogel said. "Now I'm bringing their voices to Annapolis and gonna fight for the issues that are most important to the folks here in my district."
Vogel attended community events, held house parties and even went door to door to understand what his voters wanted out of him. 
One of his most memorable moments from the campaign came after his election.
He was immediately overwhelmed with messages from people across all of Maryland and across the U.S., saying how much his election means to them. Having an openly gay Latino elected official — Vogel was born in Uruguay and came to Maryland with his family when he was 3-years-old — has brought representation into politics that hasn't previously been there.
"I think now people are really excited and really hopeful about my time in office, I'm just committed to making sure that I don't let them down and that I work hard and really fight the good fight," Vogel said.
Now that he's been elected to office, Vogel's agenda includes addressing mental health issues in school, especially the lack of mental health professionals. He also hopes to address climate change.
Vogel hopes that, along with the issues he's tackling first, he leaves office as a delegate who was known to be accessible and approachable.
"I'm going to fight for you, no matter your age. I'm going to fight for you, no matter your sexuality," he said. "I'm going to fight for you regardless of your race, religion, ethnicities, where you live. I'm in this to fight for our entire community."
Kris Fair is first openly gay lawmaker from Western Md.
State Del.-elect Kris Fair has had a long career in the world of politics and nonprofits, including as executive director of Frederick Center, an advocacy and support organization for LGBTQ people. His campaign to represent District 3 in Frederick County proved successful.
This victory did not come without hard work.
Fair knocked on 11,500 doors with now state Sen.-elect Karen Lewis Young during the primaries and then turned around to hit another 5,000-6,000 once the general election campaign began.
"There are so many people that are at the door that are just like 'I feel so disconnected from the process, I feel like there's nobody here to represent me,'" Fair told the Blade. "So instead of shoving the issues down and trying to force them to tell me whether or not they're going to vote for me, which is an incredibly awkward 30 seconds, instead of just trying we tried to open up dialogue and we had an incredible response rate."
Fair did not have the same response to his sexual orientation as Vogel.
While Vogel saw the conversation around it as an addition to his campaign, Fair's sexual orientation became a major talking point during his conversations with parents about the Frederick County Board of Education. Discussing things like the LGBTQ-specific curriculum with which that parents have an issue became a big pill for Fair to swallow because he had to repeatedly hear attacks against his sexual orientation.
Luckily, not all moments on Fair's campaign were as solemn.
Returning from an LGBTQ conference in Dallas, Fair sat next to an Indian man on the plane and began to talk with him. He learned this stranger's life story: He was in the U.S. on a work visa and was visiting his sister in Frederick.
Fair offered the man a ride once they landed. 
"His sister heard that and said, 'You're about to get in some psycho's car' and my husband heard that and said, 'You're about to put a psycho in your car,'" Fair said.
Arriving at his new friend's home, Fair unknowingly walked into a 60th birthday celebration for the man's grandfather. He was invited inside. After standing around and chatting for some time, he really started to understand how much he was missing by not having constant communication or conversations with his voters, he never had the opportunity to create the vulnerability or break down the walls.
Moving past elections, Fair is ready to tackle hard issues like having a comprehensive constituent service system, giving citizens access to government funded entities like the DMV and help these people get what they need. He also hopes to implement an output treatment model in Maryland, giving those struggling with mental health issues an option to remove themselves from their current home and move into a treatment center. 
Two gay men elected to Md. House of Delegates
LGBTQ incumbents across state won re-election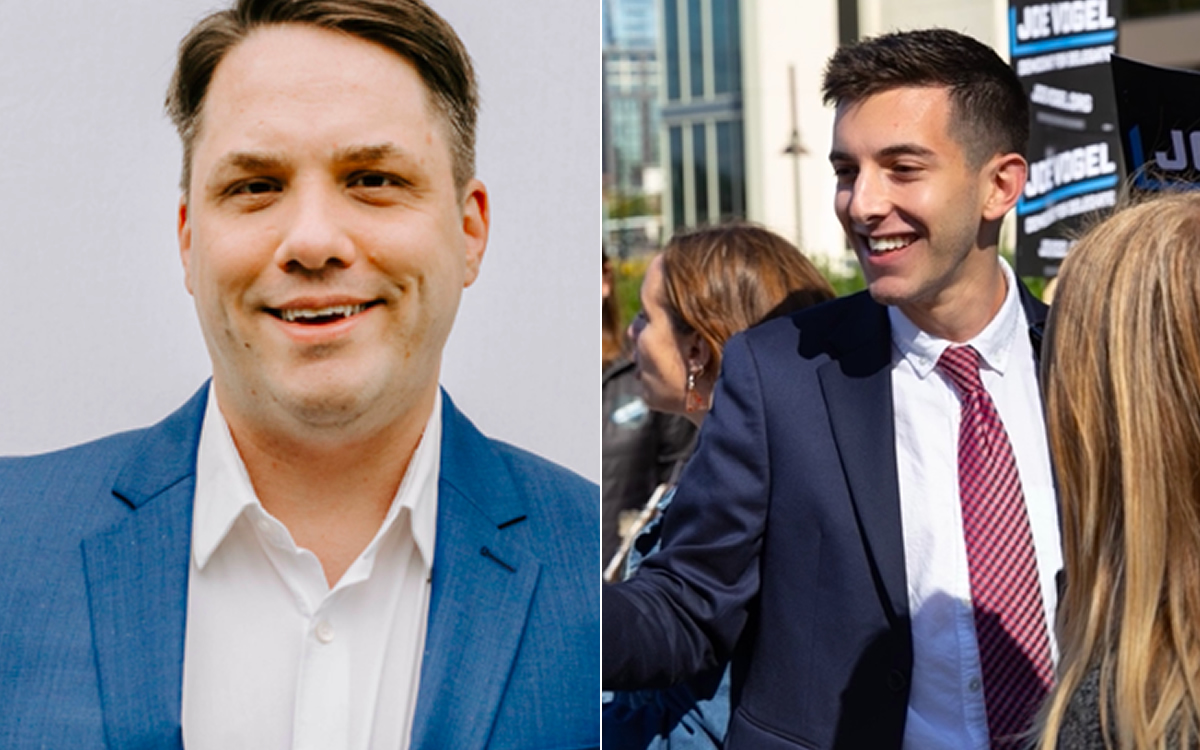 Two openly gay men won their Maryland House of Delegates races on Tuesday.
Kris Fair won his race in District 3 in Frederick County with 22.78 percent of the vote. He is the first openly gay man from Western Maryland elected to the General Assembly.
Joseph Vogel will represent District 17 in Montgomery County after he won with 26.59 percent of the vote.
State Sen. Mary Washington (D-Baltimore County) and state Dels. Gabriel Acevero (D-Montgomery County), Luke Clippinger (D-Baltimore City), Anne Kaiser (D-Montgomery County) and Bonnie Cullison (D-Montgomery County) won their respective races.
Montgomery County Circuit Court Clerk Karen Bushell, who is a lesbian, won re-election. Montgomery County Council Vice President Evan Glass won an at-large seat with 19.33 percent of the vote.
Bisexual woman makes history in Prince George's County
Krystal Oriadha on Tuesday became the first openly bisexual person elected to the Prince George's County Council when she won her District 7 race with 95.33 percent of the vote. Pamela Boozer-Strother, a member of the Prince George's County Board of Education, won re-election with 79.16 percent of the vote.
Howard County Register of Wills Byron Macfarlane won re-election.
April Christina Curley lost her race for the Baltimore City Board of School Commissioners. She would have been the first openly genderqueer person elected in the city if she had won.
Md. to legalize recreational marijuana
Question 4 passed by 65.51-34.49 percent margin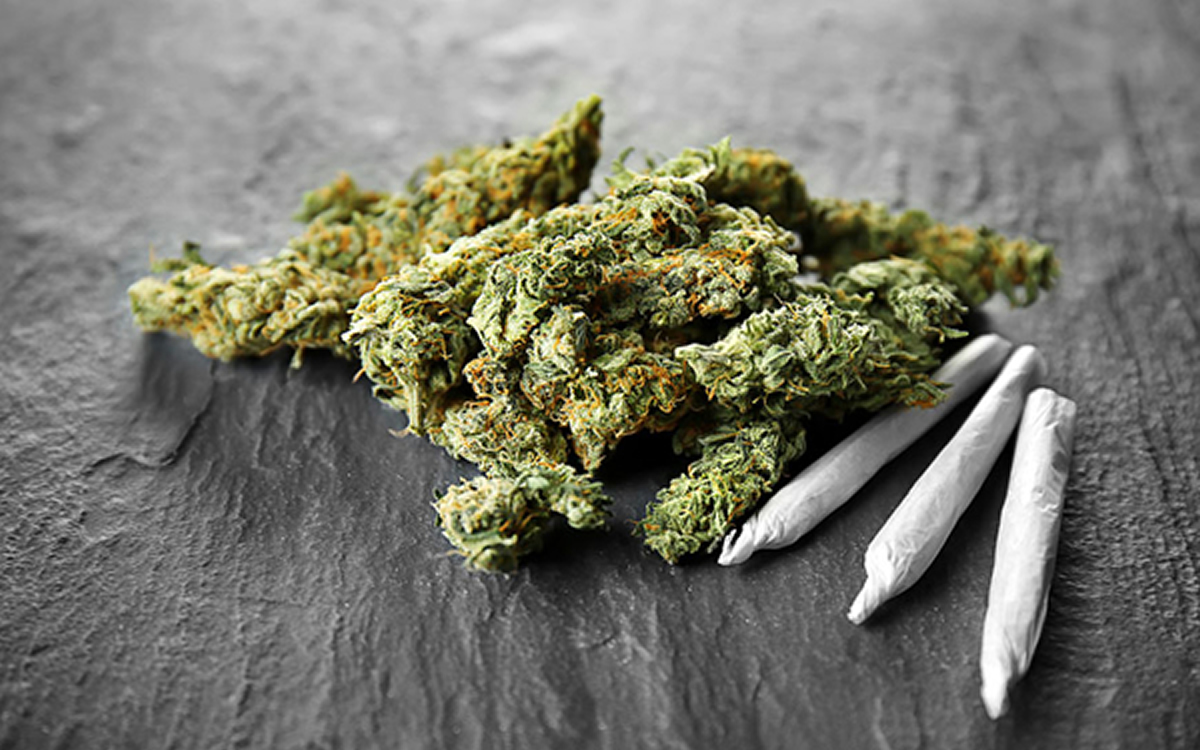 Voters in Maryland on Tuesday approved the legalization of recreational marijuana in the state.
Question 4, which sought to amend the Maryland Constitution, passed by a 65.51-34.49 percent margin.
Maryland will join Virginia, New Jersey, California, Colorado and more than a dozen other states that have legalized recreational marijuana. The nation's capital has also legalized recreational marijuana.