Barbara Walters dies at 93
Groundbreaking journalist interviewed Jazz Jennings, Ellen DeGeneres, among others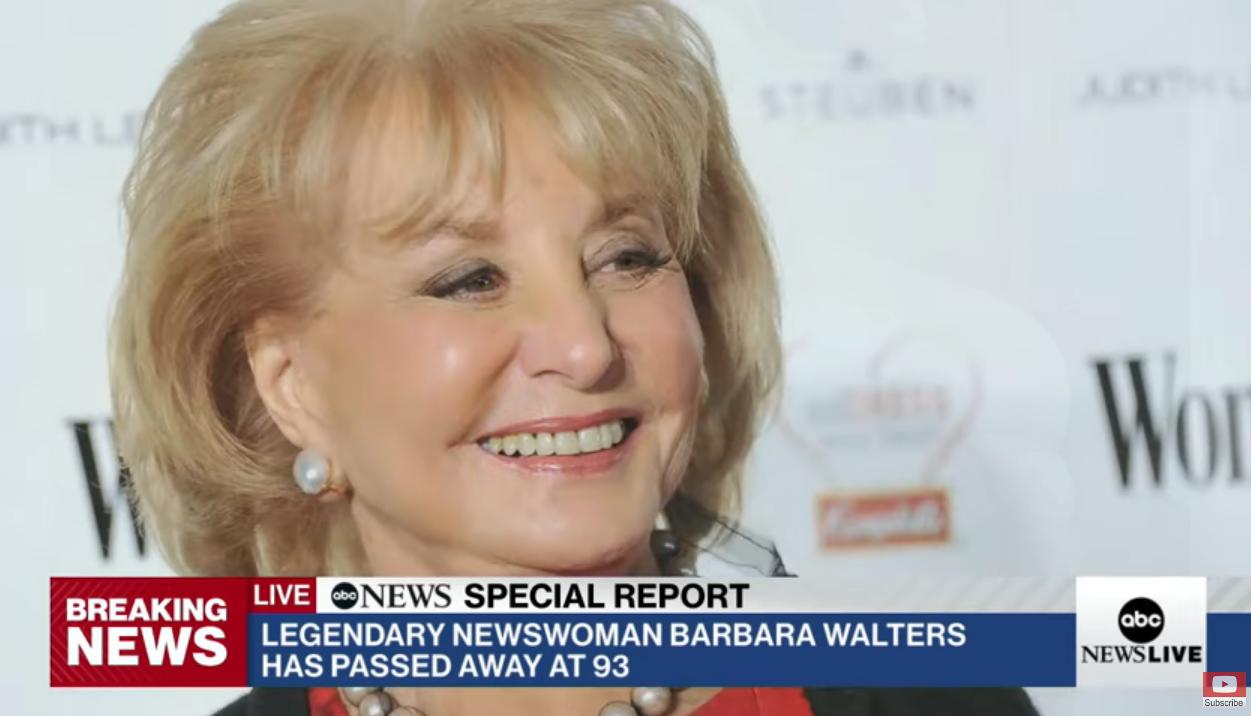 If ever there was a gold standard for American broadcast journalists the likely two top choices would be famed CBS reporter and anchor Walter Cronkite and the groundbreaking ABC News reporter and anchor Barbara Walters.
The news came late Friday that the latter, a legendary broadcast journalist had died peacefully surrounded by family and friends at her home in New York at age 93. Walters shattered the glass ceiling in her profession and became a dominant force in an industry once dominated by men. Walters is survived by her adopted daughter Jacqueline. 
Without a doubt Walters likely holds a record for the shear number of interviews of the rich and famous, political leaders, as well as celebrities from every walk of life and endeavor. Walters, who won 12 Emmy awards, 11 of those while at ABC News was inducted into the Television Hall of Fame in 1989.
In her 50-plus year career as a broadcast journalist she had earned nearly universal acclaim, respect and admiration for her work.
At ABC News as the co-anchor of the network's extremely successful award winning "20/20," she interviewed the people who made history in the mid 20th century into the early 21st century conducting her last interview, of then-businessman and potential presidential candidate Donald Trump, in 2015.
Walters began her national broadcast career on NBC's "Today" show as a reporter, writer and panel member before being promoted to co-host in 1974. Her rising popularity with viewers resulted in Walters receiving more airtime, and in 1974, NBC executives promoted her to be the co-host of the program, the first woman ever to hold such a title on an American news program
Walters joined ABC News in 1976 after, becoming the first female anchor on an evening news program. Three years later, she became a co-host of "20/20," and in 1997, she launched "The View."
Bob Iger, the CEO of the Walt Disney Company, which is the parent company of ABC News, praised Walters as someone who broke down barriers.
"Barbara was a true legend, a pioneer not just for women in journalism but for journalism itself. She was a one-of-a-kind reporter who landed many of the most important interviews of our time, from heads of state to the biggest celebrities and sports icons. I had the pleasure of calling Barbara a colleague for more than three decades, but more importantly, I was able to call her a dear friend. She will be missed by all of us at The Walt Disney Company, and we send our deepest condolences to her daughter, Jacqueline," Iger said in a statement Friday.
She made her final appearance as a co-host of "The View" in 2014, but remained an executive producer of the show and continued to do some interviews and specials for ABC News.
"I do not want to appear on another program or climb another mountain," she said at the time. "I want instead to sit on a sunny field and admire the very gifted women — and OK, some men too — who will be taking my place."
From American presidents to her famed interview with Egyptian President Anwar Sadat, along the way Walters touched on the lives of diverse and dynamic cross-section of humanity.
Her face to face conversations included face-to-face conversations with folks like actors Katharine Hepburn, John Wayne, Patrick Swayze, Fred Astaire. She spoke with musicians such as Michael Jackson, Justin Bieber, Barbra Streisand and, without missing a beat, the significant political figures of her day like Henry Kissinger, California Gov. Arnold Schwarzenegger, Vladimir Putin and Fidel Castro. Her interviews with Oprah Winfrey and Monica Lewinsky shot the network's ratings audiences through the roof.
The New York Times reported in 1999 that Walters' interview with Lewinsky, the former White House intern who was a key component in the impeachment trial of then President Bill Clinton, "attracted an average of 48.5 million viewers, and an estimated 70 million people watched all or part of the two-hour program, in about 33.2 million homes."
Walters directly asked Lewinsky, "You showed the president your thong underwear. Where did you get the nerve? I mean — who does that?" she said. She also asked the 25-year-old: "Where was your self-respect, where was your self-esteem?"
The list of people in front of the camera with her on the "Barbara Walters Specials" was breathtaking. Yet the stories of everyday folks, their lives, and struggles were a staple of her work searching out stories that needed to be told.
For the LGBTQ community, Walters often told the stories that painted a picture that was critical in putting a human face on an oft times maligned community. Her ABC documentary on transgender children originally broadcast in 2007, introduced the world to trans girl Jazz Jennings, who was at six years of age at the time, and her hugely supportive family.
The Hollywood Reporter noted in an honest interview, Ellen DeGeneres talked to Walters about everything from her movie career to her decision to come out as a lesbian. She also opened up about her stepfather sexually abusing her and how she broke through a window one night to get away. 
Walters in later years did have her share of detractors among younger journalists and writers including Alex Pareene, the former editor-in-chief of online news site Gawker and later a staff writer at The New Republic in 2019.
Pareene penned an unflattering profile of Walters on May 13, 2013, in Salon headlined "Good riddance, Barbara Walters."
He noted: "[…] current co-host of 'The View,' is a national icon and a pioneer, and probably as responsible as any other living person for the ridiculous and sorry state of American television journalism. She has announced her retirement a year in advance, so that a series of aggrandizing specials can be produced celebrating her long and storied career. So let's get things started off right, by reminding everyone how her entire public life has been an extended exercise in sycophancy and unalloyed power worship.
Pareene also took aim at her relationship with "Roy Cohn, the notorious scumbag McCarthyite mob attorney."
Writing about the relationship between the two Pareene notes: […] "she, legendarily, pretended to be seeing (romantically) Roy Cohn, the notorious scumbag McCarthyite mob attorney who was also, notoriously, a closeted gay man (who had persecuted closeted 'deviants' while working with McCarthy.) Cohn was one of the slimiest and most detestable characters of the entire 20th century.
He was finally disbarred, in part for his hospital visit to a dying and incapacitated millionaire in which Cohn held up the man's hand and had him 'sign' a codicil to his will naming Cohn the trustee of his estate. Despite his moral bankruptcy, Cohn remained a member of elite Washington and New York society his entire life.
Walters said she was and remained close to him because he helped her father with a legal matter when she was a girl. But this also seems to explain why they were 'dating' in the 1950s."
Did Cohn have a secret 'nice' side? She was asked.
"I would not use the word nice," she laughs. "He was very smart. And funny. And, at the time, seemed to know everyone in New York. He was very friendly with the cardinal, he was very friendly with the most famous columnist in New York, Walter Winchell, he had a lot of extremely powerful friends."
Barbara Walters dies at 93 l ABC News
White House hosts roundtable with transgender youth
Friday was International Transgender Day of Visibility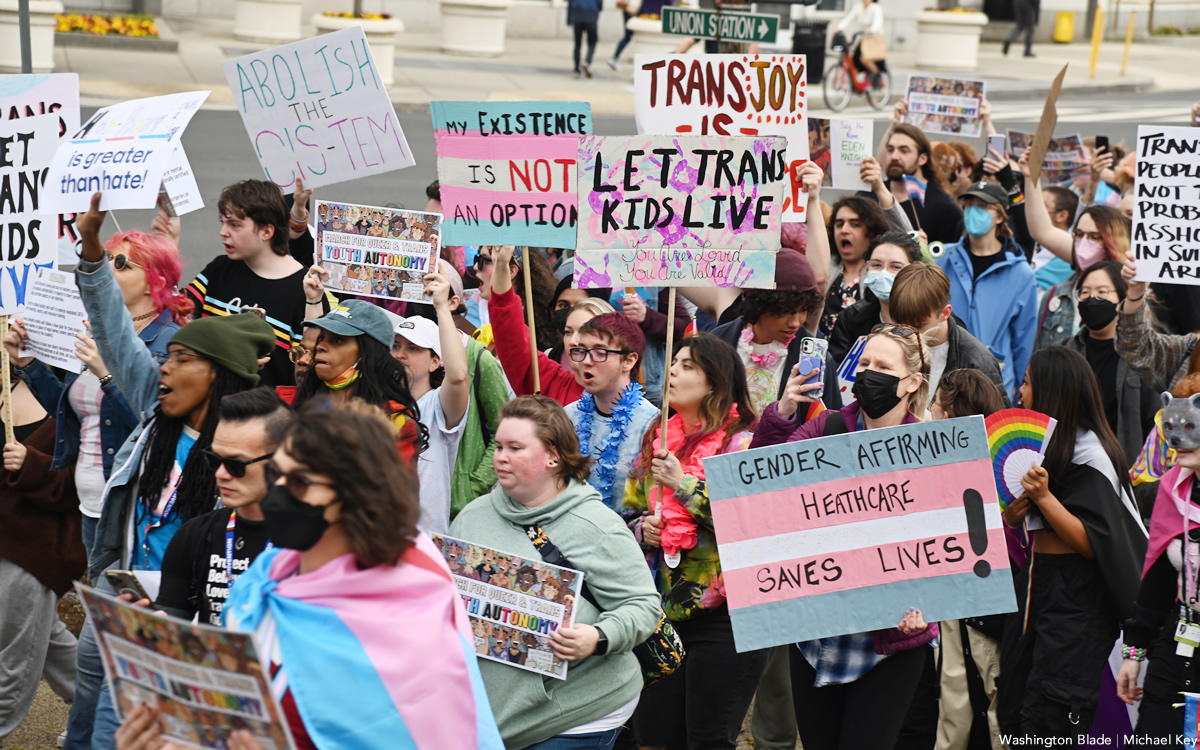 The White House said in a statement released Saturday said Presidential Domestic Policy Advisor Susan Rice and U.S. Surgeon General Vivek Murthy "hosted a roundtable at the White House Friday about the joys, hopes and challenges that transgender children are experiencing."
The roundtable took place on International Transgender Day of Visibility, an annual event occurring on March 31 dedicated to celebrating trans people and raising awareness of discrimination faced by trans people worldwide, as well as a celebration of their contributions to society.
This year's Transgender Day of Visibility was one of the largest in years.
Huge crowds gathered in cities across the U.S. in celebrations of visibility and protest as over 450 bills that target queer and trans youth are under consideration or have been passed by state legislatures.
"Transgender kids and their parents traveled to the White House from states that have attacked the rights of transgender kids, including Arizona, Texas and Virginia, and shared the devastating effects these political attacks are having on their mental health and wellbeing," reads a White House readout of the roundtable. 
"As one round table participant shared, it feels scary when the politicians elected to represent you don't care about your wellbeing. Families participating in today's roundtable also highlighted that transgender kids can thrive when parents love and affirm their transgender children, and when transgender kids have access to the support they need at school and in their communities," it notes. "Ambassador Rice and Dr. Murthy reiterated the Biden-Harris administration's commitment to standing up for the rights of transgender kids and their parents, and to challenging state laws that harm transgender kids. They also thanked the families for their unwavering advocacy and bravery in challenging these discriminatory laws."
Fla. lawmakers pass bill to expand 'Don't Say Gay' law
Hundreds of students protested in Tallahassee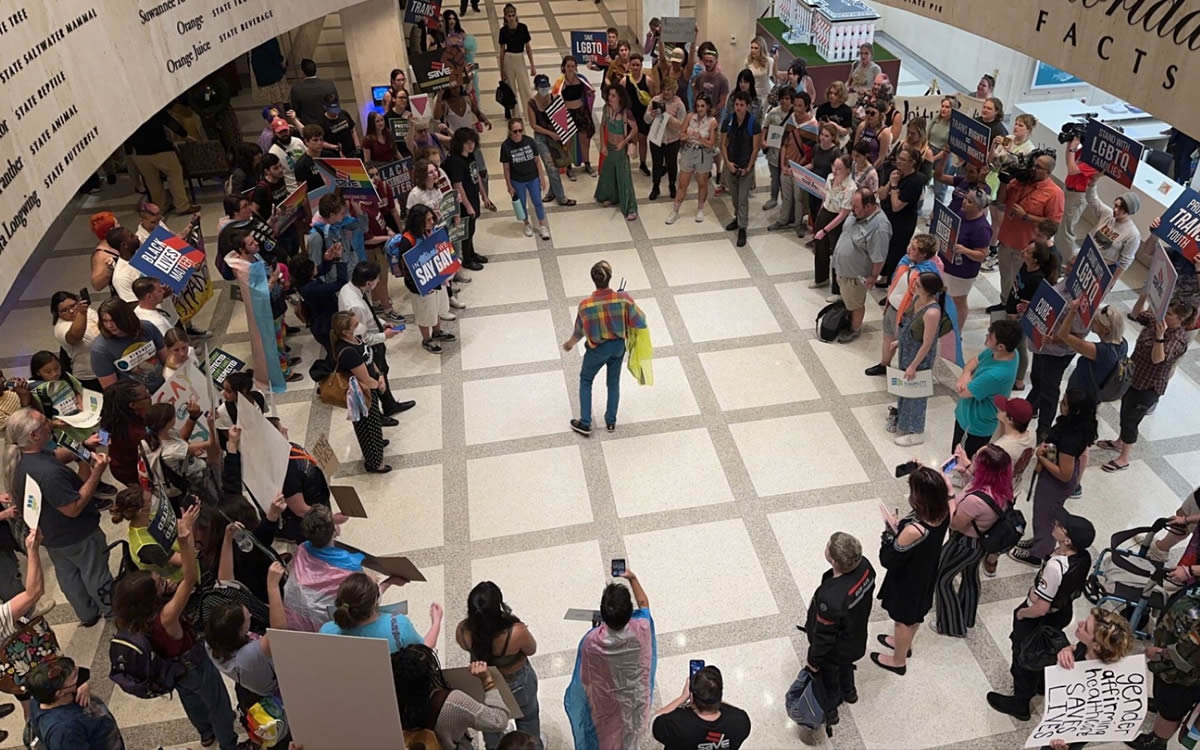 On International Transgender Day of Visibility, hundreds of students from across Florida descended on the Capitol to protest the legislature's fast-tracking of Gov. Ron DeSantis' agenda of book banning and classroom censorship and assaults on academic and medical freedom.
Buses arrived from Central and South Florida in a collaboration between high school, college and university students called the Student Unity Coalition.
Today, the FL House will vote on a bill to expand Don't Say LGBTQ, ban parents from telling schools how their child should be addressed, & allow anyone anywhere to challenge a book in FL's schools.

Outside, hundreds of students from across the state are arriving to protest. pic.twitter.com/G8wSwgjhDd

— Equality Florida (@equalityfl) March 31, 2023
Organizers marched the coalition from Florida State University campus into the halls of the Capitol building just as the House of Representatives voted 77-35 in favor of House Bill 1069, which would expand the "Don't Say Gay" law's censorship provisions through 8th grade, ban parents from requiring the school system use their child's correct pronouns, and escalating book bans, allowing one person from anywhere in the nation to challenge a book in a Florida school, prompting its immediate removal pending a lengthy review.
This legislative session (and DeSantis regime) in a nutshell: students chanting so loudly in the halls to demand equitable, safe schools that they briefly interrupt a floor rant from Rep. @RalphMassullo about kids identifying as cats and being provided litter boxes in class (?). https://t.co/3ym0DgkD62

— Brandon Wolf (@bjoewolf) March 31, 2023
"The students who mobilized in the hundreds today sent a clear message about the Florida they want to grow up in," said Equality Florida Senior Political Director Joe Saunders. "They want a Florida that values freedom — real freedom. Free states don't ban books. Free states don't censor LGBTQ people from society or strip parents of their right to ensure their child is respected in school. Students and families across Florida are fed up with this governor's agenda that has put a target on the backs of LGBTQ people. Shame on DeSantis' legislative cronies for peddling more anti-LGBTQ lies on the House floor today and ramming through an expansion of the censorship policies that have emptied bookshelves across the state and wreaked havoc on our schools. Shame on them for ignoring the voices outside demanding a state that respects all families and protects all students."
House passage of HB 1069 comes as last year's "Don't Say Gay" law wreaks havoc on Florida's schools and drives educators and families from the state. DeSantis' Florida has become synonymous with the sweeping book bans that are targeting books with LBGTQ characters or Black history themes, including "The Life of Rosa Parks" and "And Tango Makes Three." Students' graduation speeches have been censored.
Rainbow Safe Space stickers have been peeled from classroom windows. Districts have canceled long standing after school events and refused to recognize LGBTQ History Month.
The rampant right wing censorship has exacerbated Florida's exodus of educators, with vacant teacher positions ballooning to more than 8,000, and, according to a recent survey from the Williams Institute, has led a majority of LGBTQ parents in the state to consider leaving Florida altogether.
Students react to hearing the news of the bill's passage. pic.twitter.com/30aWe9SsUh

— Equality Florida (@equalityfl) March 31, 2023
On Thursday, parents and educators held a joint press conference outside the House chamber to decry this legislation and other proposals that would strip them, their students, and their families of the rights to academic and medical freedom.
That same day, Republicans lawmakers rejected numerous reasonable amendments to House Bill 1069, including a Parental Rights amendment by state Rep. Rita Harris that would have allowed parents to write a letter instructing schools on what pronouns their child should be addressed with, a clarifying amendment from state Rep. Ashley Gantt that would have finally defined the term "classroom instruction," which bill sponsor state Rep. Stan McClain acknowledged has been left undefined and vague, and a marriage equality amendment by state Rep. Michele Rayner-Goolsby that would have struck outdated and bigoted sex education language that mandates instruction on the benefits of "monogamous, heterosexual marriage."
The more than 150 high school and college students who rallied in Tallahassee filled the Capitol rotunda just before 1 p.m. ET, with their chants of "this is what democracy looks like" temporarily interrupting a disinformation-filled rant by GOP Representative, and sponsor of the bill to criminalize medical care for transgender youth, Ralph Massullo.
The "Don't Say Gay" expansion bill's Senate version, Senate Bill 1320, will move next to its final committee, Fiscal Policy.
Justice Department appeals federal judge's ACA ruling
Decision impacts PrEP, other preventative health services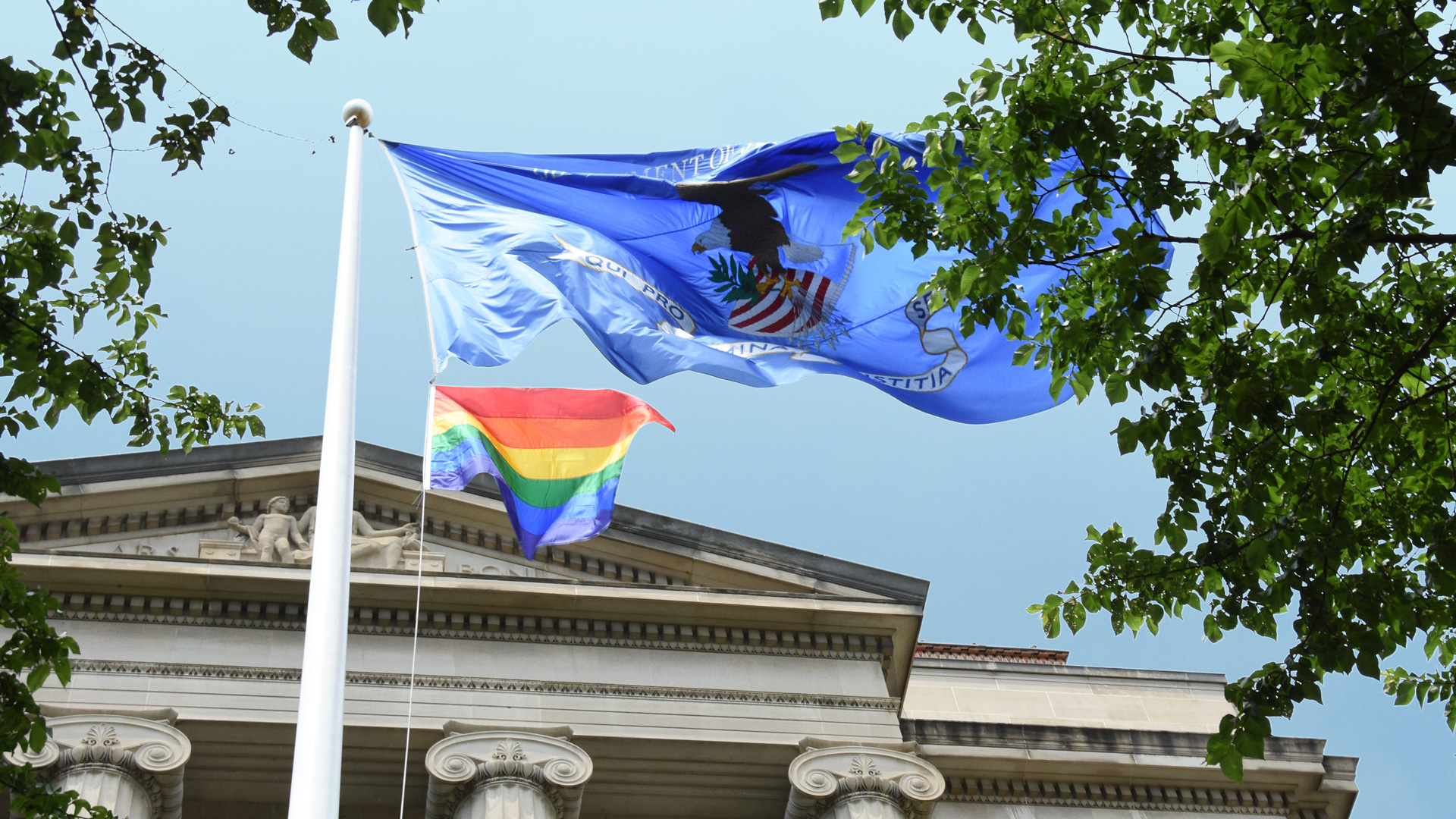 Justice Department attorneys filed a notice of appeal Friday with the 5th U.S. Circuit Court of Appeals on behalf of the Department of Health and Human Services after U.S. District Judge Reed O'Connor ruled that employers cannot be forced to cover specified preventive health care services under the Affordable Care Act.
Thursday's ruling means that more than 150 million Americans on employer-sponsored health plans will lose some cost-free coverage for immunizations, contraception, cancer screenings and PrEP.
O'Connor's ruling struck down the recommendations that have been issued by the U.S. Preventive Services Task Force regarding the preventive care treatments provisions required by the ACA directing insurers provide at no cost to the patient.
White House Press Secretary Karine Jean-Pierre released a statement on the Justice Department decision to appeal:
"The president is glad to see the Department of Justice is appealing the judge's decision, which blocks a key provision of the Affordable Care Act that has ensured free access to preventive health care for 150 million Americans. This case is yet another attack on the Affordable Care Act, which has been the law of the land for 13 years and survived three challenges before the Supreme Court.
 
Preventive care saves lives, saves families money, and protects and improves our health. Because of the ACA, millions of Americans have access to free cancer and heart disease screenings. This decision threatens to jeopardize critical care.
 
The administration will continue to fight to improve health care and make it more affordable for hard-working families, even in the face of attacks from special interests."
AIDS Healthcare Foundation President Michael Weinstein decried O'Connor's ruling saying:
"Stripping away access to preventive care will hurt tens of millions of Americans. These services are essential, and eliminating them will have dangerous consequences. While we expect this unconstitutional ruling ultimately will fail, the decision creates uncertainty and is a threat to public health.
"With this devastating ruling, a Trump-appointed judge placed the health of millions of Americans in extreme danger, based on an extremist political agenda. Undermining screenings and treatment for cancer, blood pressure, pregnancy, and mental health doesn't just hurt individuals — it damages the health of the entire country," California state Sen. Scott Wiener said.
"The effect of this decision on HIV prevention will be disastrous. In recent years, we've made incredible progress reducing the number of new HIV infections, largely because hundreds of thousands of people are now taking PrEP, an HIV prevention drug proven to be essentially 100 percent effective. This decision reverses that progress by allowing health plans to charge patients through the nose for this life-saving medication, raising barriers to access for the communities of LGBTQ people and people of color most at risk. Judge O'Connor will soon have thousands of new HIV cases on his conscience," Wiener added.
Equality California, the nation's largest statewide LGBTQ civil rights organization, released the following statement from Executive Director Tony Hoang in response to a ruling from O'Connor:
"Judge Reed O'Connor, already having attempted to invalidate the Affordable Care Act as a whole in 2018, has once again issued a ruling that puts the lives of Americans in danger. Preventive care is essential in helping to screen for potential severe health conditions and attempt to mitigate them — this ruling affects screenings for cancer, diabetes, STDs, cardiovascular disease, and so much more.
More than 150 million Americans currently have private insurance with coverage for preventive care under the ACA, yet a partisan judge in Texas is attempting to single handedly rollback access to these basic health care services. Equality California is committed to ensuring that these critical preventive services remain in place for the health of all Americans. We expect an appeal of this decision immediately. 
Thankfully, most health plans in California are unaffected by today's ruling because existing state law already requires health plans regulated in California to cover preventive services without cost sharing. Today's ruling may affect a small subset of employer-sponsored health plans that are not regulated by the state.
Equality California is proud to be sponsoring legislation with Assemblymember Rick Chavez Zbur and Insurance Commissioner Ricardo Lara, AB (Assembly Bill) 1645, which will strengthen existing law and go even further to ensure that Californians have access to essential preventive services, including STD screening and PrEP for HIV prevention. While right-wing judges and politicians are attempting to roll back our rights and inflict harm on LGBTQ+ people, California will continue doubling down to protect the health and safety of our communities."
Read the notice of appeal here: