HRC finds more than half of American trans youth will soon face barriers to healthcare
'LGBTQ+ people are living in a state of emergency.'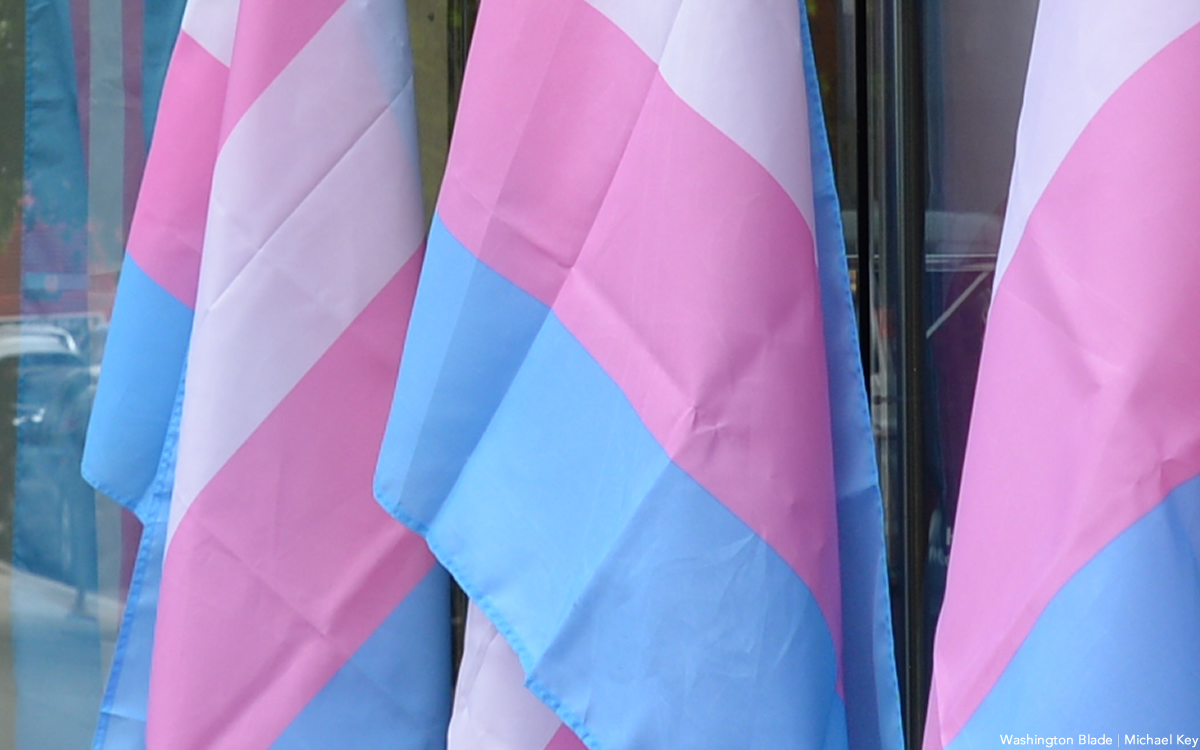 The Human Rights Campaign reported Wednesday that more than half of America's transgender youth are facing or will soon face barriers to access guideline-directed gender affirming healthcare.
The organization's finding comes as more than 10 states are on the verge of enacting healthcare bans for youth diagnosed with gender dysphoria, in some cases criminalizing physicians and parents for facilitating access to these healthcare interventions for young patients.
HRC's press release announcing the data noted gender affirming care is supported by medical organizations with relevant scientific and clinical expertise, groups with a combined 1.3 million member physicians and whose guidelines on treatment for minors are backed by decades of research.
Eight states have now enacted laws banning gender affirming care (Ala., Ariz., Ark., Iowa, Miss., S.D., Tenn., and Utah), while three have passed bans (Ga., Ky., and W.Va.) and six have advanced bans through one of the two chambers of their respective legislatures (Idaho, Ind., Kan., Mont., N.D., and Okla.), according to HRC.
The organization noted that Florida effectuated a ban through its Board of Medicine while Texas passed a law last year that deputizes the state's Department of Family and Protective Services "to investigate the provision or support of gender affirming care by parents, doctors, or others, as child abuse."
"LGBTQ+ people are living in a state of emergency," HRC Senior Vice President Jay Brown said in the press release. "Today's findings illustrate how the ongoing assault against transgender people is taking hold across the country and underscore how dire the situation is growing for our community by the day. "
"Now more than ever, we must fight back against extremism and hold anti-LGBTQ+ politicians accountable for bullying children and terrorizing our families," Brown said.
In states where bans have taken effect, for some minors who are currently receiving gender affirming care, such as those for whom traveling out of state to retain access to that care is prohibitively expensive or difficult, the law will effectively and forcibly de-transition them.
Because it significantly reduces the likelihood of self harm behaviors and suicide, gender affirming care is in many cases life saving. A study last year by the National Institutes of Health found a link between anti-trans legislation and "suicide- and depression-related Internet searches."
HRC reports more than 180 bills targeting the trans and nonbinary community have been introduced so far in 2023, of which more than 100 are healthcare bans for trans youth.
The White House has repeatedly spoken out against many of these bills and laws. During a press briefing Wednesday, White House Press Secretary Karine Jean-Pierre condemned Florida Gov. Ron DeSantis's proposal to expand the state's controversial "Don't Say Gay" law such that it would prohibit any discussion or classroom instruction of sexual orientation or gender identity in public school classrooms from kindergarten through grade 12.
During a briefing on March 10, Jean-Pierre discussed another Florida bill that proposes to "give the state the right to remove kids from their parents just because that kid is transgender.
"And just think about that. Just think about a kid who is sitting at home in this community who is listening and hearing elected officials talking about how they want to take away their rights or how they want to even threaten their parents with felony charges for seeking healthcare for their children," said Jean-Pierre.
58,000+ Transgender youth at risk of losing access to gender-affirming care
15 states have restricted access to gender-affirming care or are currently considering laws that would do so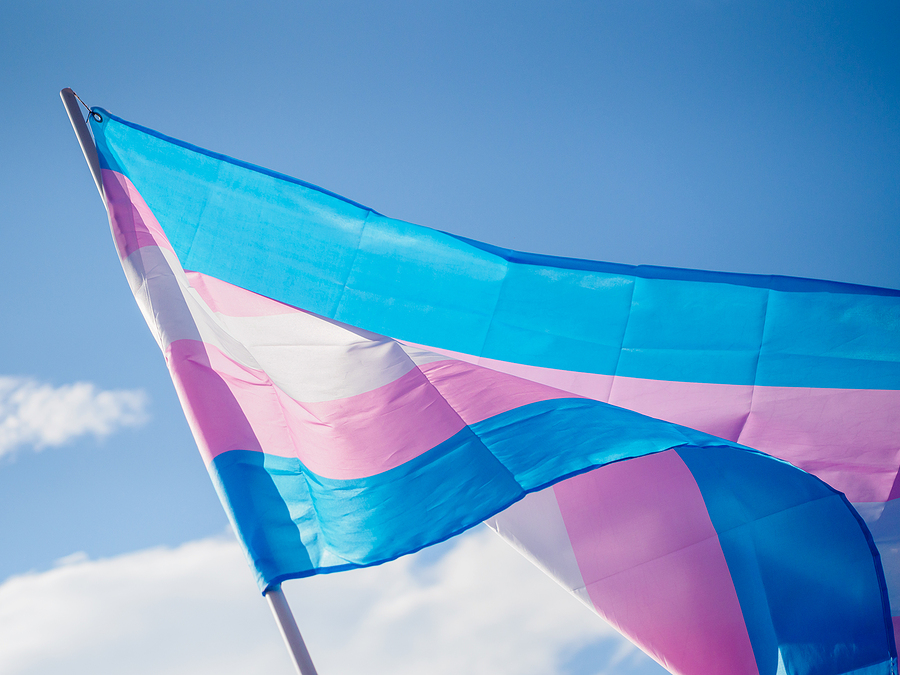 An estimated 58,200 transgender youth and young adults ages 13 and older in the U.S. are at risk of being denied gender-affirming medical care due to proposed and enacted state bans and policies, according to the Williams Institute at UCLA School of Law.
As of March 18, 2022, 15 states have restricted access to gender-affirming care or are currently considering laws that would do so. These bills jeopardize access to care for 54,000 transgender youth ages 13-17—nearly one-third of the estimated 150,000 transgender youth in the U.S. More than 4,000 young adults ages 18 to 20 in Alabama, North Carolina, and Oklahoma would also be at risk of losing access to gender-affirming care under proposed bills that would apply to young people over the age of 18.
The bills carry severe penalties for health care providers, and sometimes families, who provide or seek out gender-affirming care for minors. About half of the bills prohibit insurance companies from offering coverage or restrict the use of state funds for gender-affirming care.
In February 2022, the governor of Texas issued an order restricting access to gender-affirming medical care for transgender youth, classifying it as "child abuse" and directing the state's Department of Family and Protective Services to investigate any reported instances of health care providers or parents who provide or seek out gender-affirming care for children. The order impacts as many as 13,800 transgender youth in the state.
Gender-affirming medical care includes the use of hormones to delay puberty and to promote physical development that is consistent with a child's gender identity. It is recommended for transgender youth by the American Academy of Pediatrics and the Endocrine Society.
"A growing body of research shows that gender-affirming care improves mental health and overall well-being of transgender people, including youth," said lead author Kerith J. Conron, the Blachford-Cooper Distinguished Scholar and Research Director at the Williams Institute. "Efforts that support transgender youth in living according to their gender identity are associated with better mental health."
Prior research from the Williams Institute found that the risk of past-year suicide attempts was lower among transgender people who wanted and received gender-affirming medical care.
Poll: 6 in 10 Americans oppose 'Don't Say Gay' laws
62% of Americans oppose while 37% support it. Respondents who identify as LGBTQ overwhelmingly oppose this type of legislation, at 87%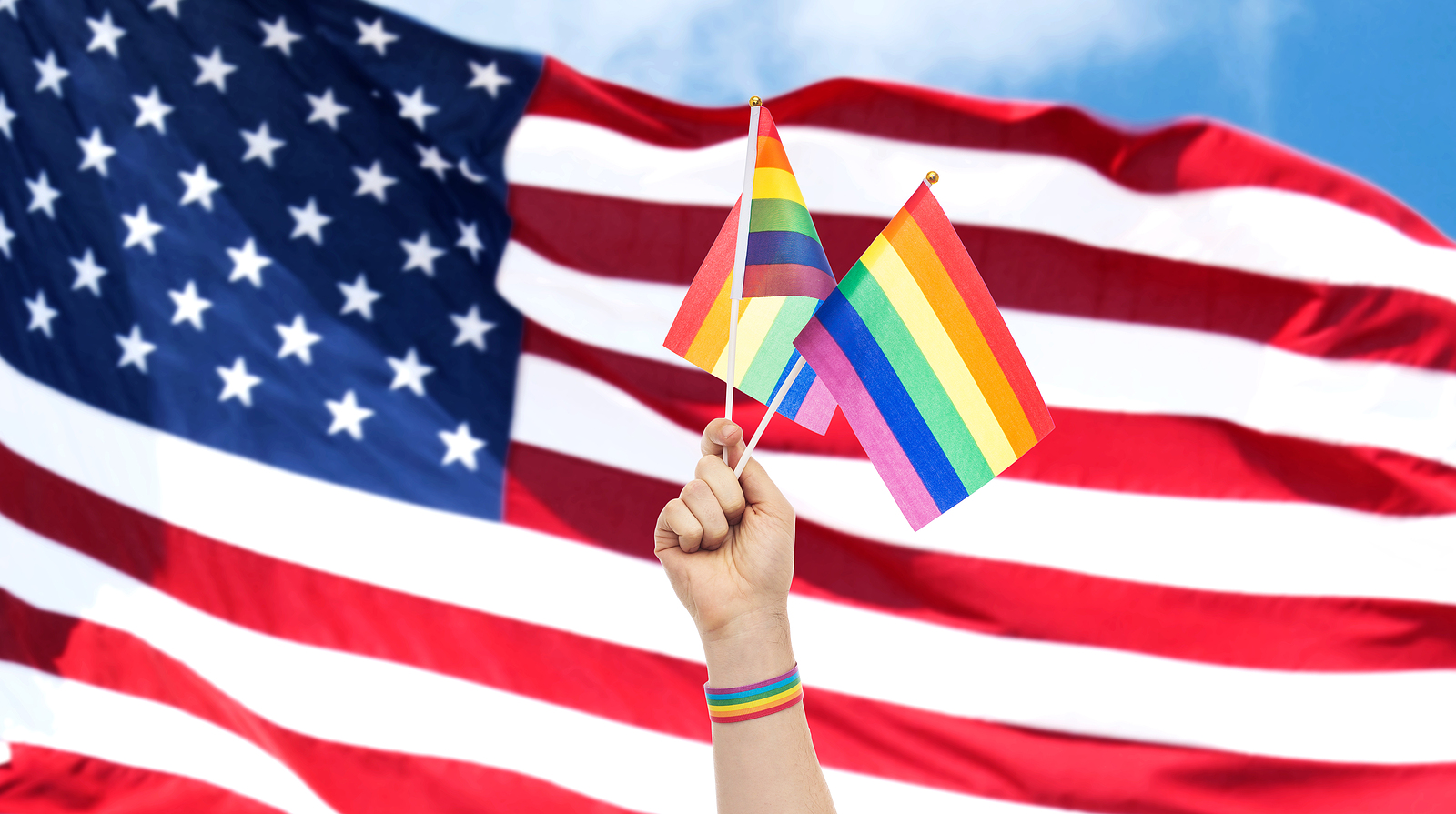 A new ABC News/Ipsos poll published Sunday found that more than 6 in 10 Americans oppose legislation that would prohibit classroom lessons about sexual orientation or gender identity in elementary school.
According to ABC News, 62% of Americans oppose such legislation, while 37% support it.
BREAKING: More than six in 10 Americans oppose legislation that would prohibit classroom lessons about sexual orientation or gender identity in elementary school, according to a new @ABC News/Ipsos poll. https://t.co/Oj7cgglRjj

— ABC News (@ABC) March 13, 2022
The results found that Republicans are more likely to support legislation that would prohibit classroom lessons about sexual orientation or gender identity in elementary school, with 61% of GOP identifiers supporting it compared to only 20% of Democrats and 35% of independents.
The polling was conducted within days of the Florida Legislature giving final approval to H.B. 1557, legislation that is titled "Parental Rights in Education" but widely labeled as the Don't Say Gay" bill, which would bar Florida schools from "instruction" about sexual orientation or gender identity in grades K-3 and otherwise not at "age-appropriate" levels.
The ABC News/Ipsos poll found; "Support for this type of legislation increases with age, but doesn't reach majority support in any age group. Among those 65 and older, 43% support the ban, while it falls to about a third among those under the age of 50."
ABC News also took note that respondents who identify as LGBTQ overwhelmingly oppose this type of legislation, at 87%. The poll oversampled people who identify as LGBTQ, with their responses then weighted to match their correct proportion in the general population. Among those who do not identify as LGBTQ, a majority (59%) also oppose the legislation.
Gallup: More Americans identify as LGBTQ+ than ever before
Gallup noted that its pre-2020 polling did not ask adults which category LGBTQ+ category they identified with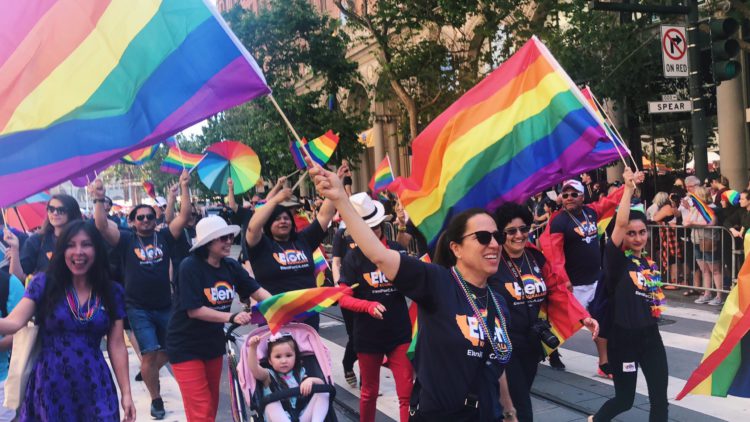 A record 7.1% of adults in the U.S. identify as LGBTQ+, which doubles the percentage from 10 years ago, a Gallup poll found.
The survey, released Thursday, notes that the "increase in LGBT identification in recent years largely reflects the higher prevalence of such identities among the youngest U.S. adults compared with the older generations they are replacing in the U.S. adult population."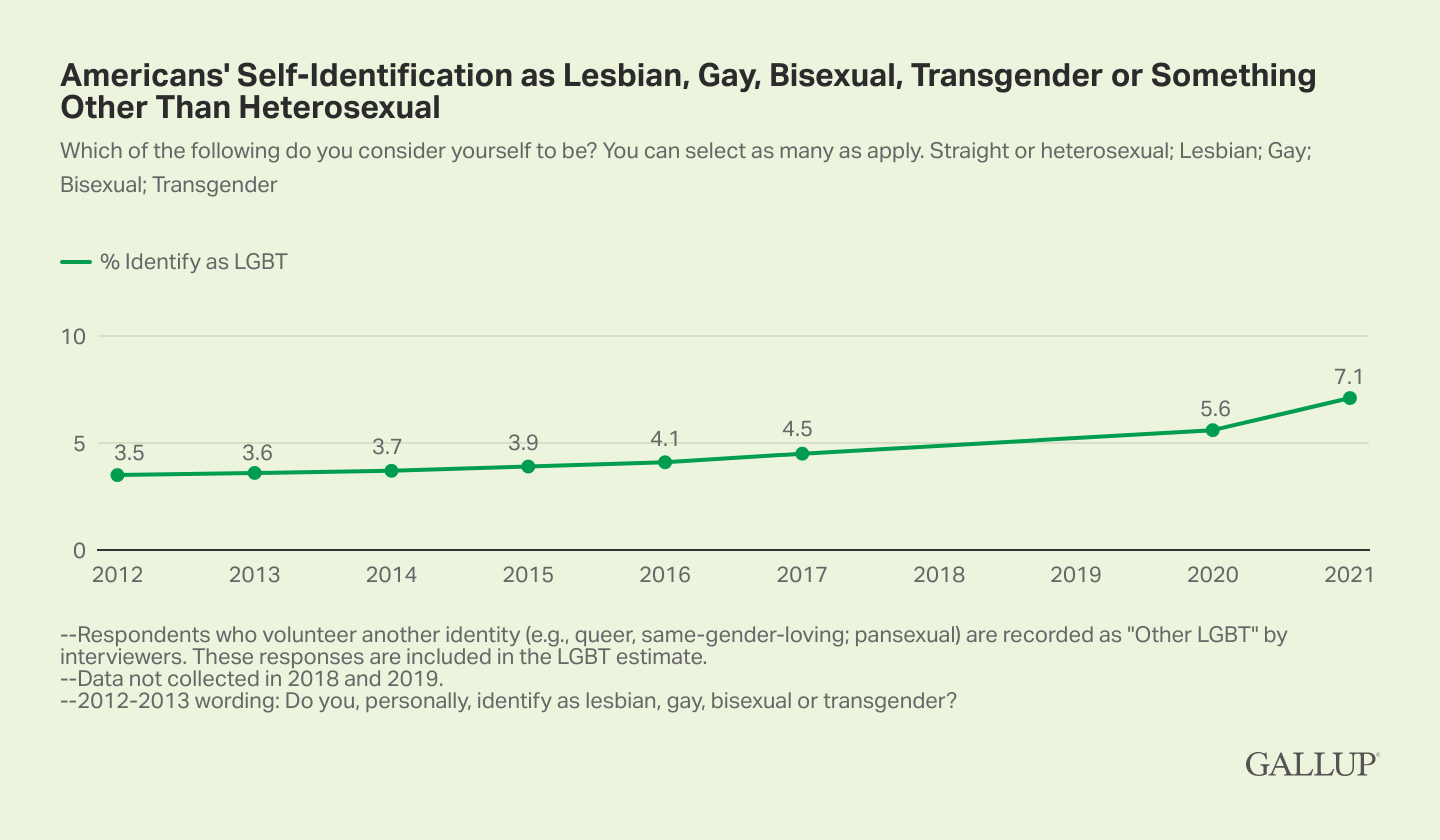 Generation Z, especially, fueled the increase, with nearly 21% of 18 to 25-year-olds identifying as LGBTQ+ – which is nearly double the proportion of millennials, born between 1981 and 1996, who do so, according to Gallup. The gap widens further when compared to older generations.
Gallup asked more than 12,000 U.S. adults how they identified last year to get the results. Around 86% of people said they are straight or heterosexual, while 6.6% did not offer an opinion. It has measured LGBTQ+ identification since 2012.
In Gallup's 2017 survey, Gen Z made up 7% of the national sample but accounted for 12% in its most recent poll as more from that generation reached age 18 over the past four years. The proportion of adults born before 1946 has fallen from 11% to 8% in the same period of time.

The high rate of LGBTQ-identifying adults results from young adults coming to terms with their sexuality or gender identity, as more and more Americans accept LGBTQ+ people and queer individuals enjoy increasing legal protection against discrimination, Gallup said.
The analytics giant also predicted that the proportion of LGBTQ+ Americans should exceed 10% in the near future.
"Given the large disparities in LGBT identification between younger and older generations of Americans, the proportion of all Americans who identify as LGBT can be expected to grow in the future as younger generations will constitute a larger share of the total U.S. adult population," Gallup noted.
Joni Madison, the interim president of the Human Rights Campaign, said the poll emphasizes "the need to codify legal protections against discrimination and implement LGBTQ+ inclusive data collection at federal, state, local and private levels."
"With more LGBTQ+ people than ever before living openly and embracing their identity, the fight for LGBTQ+ equality in America must continue to represent this ever-growing and beautiful community," she said.
Last year, as Gallup conducted the poll, more state legislatures introduced anti-LGBTQ+ bills than ever before in recent history. The Trans community felt the brunt of the legislative attacks, with bills aimed at banning Trans women and girls from sports and criminalizing gender-affirming care for minors showing up in statehouses all over the nation.
The rate of LGBTQ-identifying people was stable in older generations – traditionalists, born before 1946, baby boomers, born between 1946-1964, and Generation X, born between 1965-1980 – while it increased in younger ones, according to the poll.
There was a "modest uptick among" millennials, from 5.8% in 2012 to 7.8% in 2017 and 10.5% currently. The percentage of Gen Z who are LGBTQ+ nearly doubled since 2017, "when only the leading edge of that generation — those born between 1997 and 1999 — had reached adulthood."
"Should that trend within Gen Z continue, the proportion of U.S. adults in that generation who say they are LGBT will grow even higher once all members of the generation reach adulthood," Gallup said.
In addition, the survey found that bisexual was the most common identification among LGBTQ+ Americans, with more than half, 57%, indicating they are bisexual. Of the total population, 4% said that they were bisexual.
Gallup noted that its pre-2020 polling did not ask adults which category LGBTQ+ category they identified with, but other research organizations and Gallup's 2020 results have consistently found bisexual adults to be the most common LGBTQ+ people. Previous analyses showed bisexuals are much more likely to marry spouses or live with partners of a different sex, according to company.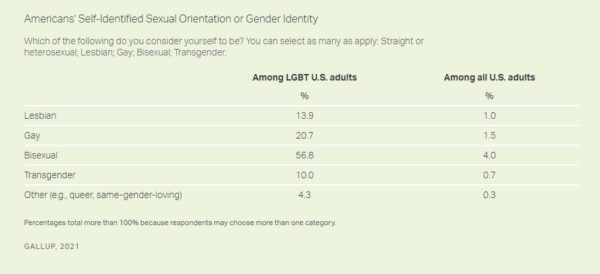 Meanwhile, 21% of LGBT Americans said they were gay, 14% lesbian, 10% transgender and 4% something else – all which accounted for under 2% of the total population.
Bisexual was the most common identifier in Gen Z, millennials, and Gen X. At the same time, older Americans are just as likely to say they are gay or lesbian as they are bisexual, the survey showed. Overall, 15% of Gen Z, 6% of millennials and nearly 2% of Gen X said they are bisexual.
Additionally, women are more likely to identify as bisexual than men. In contrast, men are more likely to identify as gay than bisexual and women are more likely to be bisexual than lesbian.