The relationship between the Evil Queen and Snow White in "Snow White and 175 Faeries," this year's holiday show for the Gay Men's Chorus of Washington, is, as you might expect, much different from the relationship the actors playing them have. The Queen, of course, wants Snow White killed, but the actors are enjoying a cross-generational camaraderie and mentorship.
Chip Crews, 59, who plays the Queen, says he has little in common with his character, the only female role in the cast, which he plays in drag.
"I'm tempted to say hardly anything [in common] at all because I'm such a lovely person," Crews says with a self-deprecating laugh. "I don't think I act like that but, in fact, I do understand her."
Jay Garvey, 25, whose Snow White is a male character in this parallel universe re-imagining, says he kids Crews, telling him Crews is "my mama." Crews has been in the Chorus for 19 years. This is Garvey's first show.
"When I'm there and Jay, who's absolutely charming, I have no trouble," Crews says. "I project as his rival, which I never would in real life. I don't want to be Jay. I can be up there on the stage and I think he is a little better looking than me after all, so I just decide I have to have him killed."
In the show's back story, the Queen is the widow of Snow White's father. The malevolence the Queen feels toward Snow White, presented here as a young, gay romantic lead, requires some acting, Crews says.
"The role here is to be threatening and the director has been very supportive about making her not just a bitchy drag queen," he says. "She orders Snow White killed and is delighted when she thinks it's happened. I don't know if there's been a time in my life when I've ordered somebody killed. I'd like to think I would never do that, but it's a fun thing to do on the stage."
This show, which debuts tonight in the Lisner Auditorium on the George Washington University campus and plays throughout the weekend, was conceived as a gay adaptation of the classic fairy tale. About 200 singers and actors will be on stage. Rehearsals began in late summer. Director John Moran, who has directed several shows for the Chorus since returning in 2005 after a lengthy hiatus, says several Chorus members conceived the show and fleshed it out together over many months.
"It's not like doing 'My Fair Lady' where you're presented with a script that many professionals have worked on and all the kinks are worked out," he says. "This arrives as a skeleton and you have to flesh it out. Sometimes it's as simple as just making sure it makes sense."
Those involved are describing this incarnation as "a musical farce." The evening will be divided into two halves. The first is more of a concert, featuring seasonal favorites like "Deck the Halls," "Sleigh Ride" and "Winter Wonderland." A contemporary song called simply "Snow," which Chorus member Stu Wales calls "beautiful" and "stirring," will also be performed. Then "Snow White" comprises the second half.
So what does "Snow White" have to do with Christmas?
"Overall the show is called 'Snow,' with the first half being very holiday oriented," says Jarred Harrison, who plays Nancy, one of the seven dwarves, re-imagined here as gay archetypes (the others are Sturdy, Cuddly, Spanky, Hose and Bitter). "Snow White fit in with the snow theme and the mini musical in the second act, it really brings a light holiday feel even though it's not specifically holiday oriented. But it's a fairy tale we all know and love and as with all GMCW shows, our goal is to entertain but we also try to advocate and educate about LGBT people and who we are and what we're about."
That will come about in a couple ways, cast members say.
Harrison calls Nancy, the "diva dwarf."
"We have fabulous costumes and choreography," he says. "It's very boy band meets 17th Street. The dwarves represent the gym rat, the leader of the pack, the uber queen. I think the audience will really recognize their friends and perhaps even themselves. It's really just a new and upbeat and very gay take on the original fairy tale."
Moran says it's not all fluff, though. The show climaxes with Prince Charming proposing to Snow White, a story point that the Chorus uses to make a point about same-sex marriage.
"Fairy tales always have a moral or a lesson to teach," he says. "That's what they do best."
Disco Funk Brunch at Crazy Aunt Helen's
Tara Hoot and DJ Phil Reese perform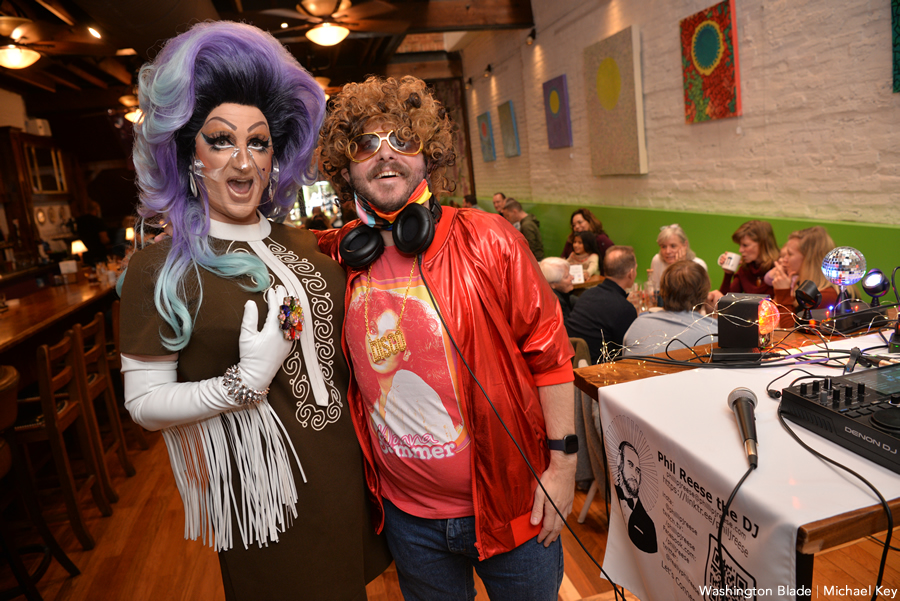 Drag queen Tara Hoot and DJ Phil Reese perform at the biweekly Disco Funk Brunch at the LGBT-owned Crazy Aunt Helen's on Sunday. For future showtimes, go to crazyaunthelens.com. (Blade photo by Michael Key)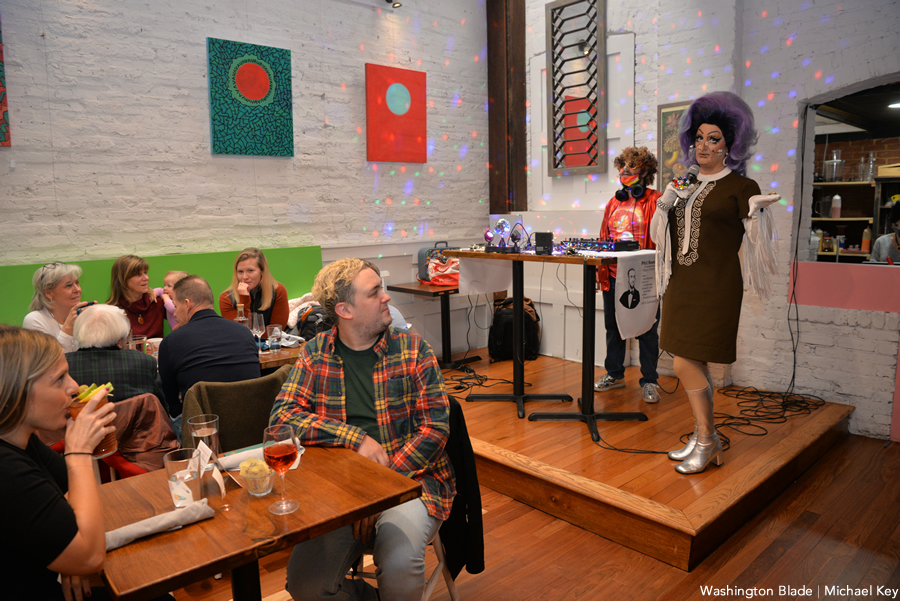 Blade's summer closing party set for Sept. 17 in Rehoboth
Benefits journalism scholarship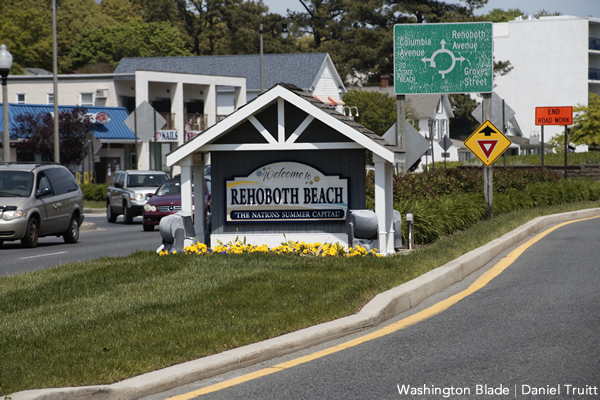 The Washington Blade's 15-year tradition of hosting a summer kickoff party in Rehoboth Beach was disrupted due to COVID restrictions. In lieu of that May event, the Blade is hosting a summer closing party on Friday, Sept. 17 at 6 p.m. at The Pines (56 Baltimore Ave., Rehoboth Beach, Del.).
Tickets are $20, which includes two drinks and appetizers. The event benefits the Blade Foundation's Steve Elkins Memorial Journalism Fellowship, a 12-week program in which an LGBTQ student journalist covers stories of interest to Delaware's queer community each summer.
All COVID safety protocols will be followed, including a requirement that attendees furnish proof of vaccination to gain entry.
If you are unable to attend you can make a donation to the Blade Foundation at BladeFoundation.org. Sponsors of the event include Delmarva Power and The Pines.
Rehoboth to close out summer with SunFest
Series of events to replace long-running Sundance due to pandemic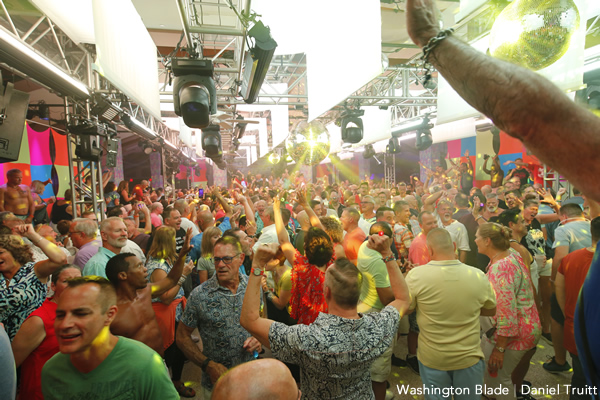 SunFest will feature a week of live performances, dances, and a live auction, sponsored by non-profit LGBTQ+ center CAMP Rehoboth.
The weeklong festival runs from Aug. 29 to Sept. 5 and is a change from the annual SunDance that CAMP Rehoboth has sponsored since 1988. This transformation began last year when the event was forced to go digital due to the coronavirus and the in-person events scheduled this year are important, according to development director and co-coordinator of SunFest Anita Broccolino.
"We love that community feel and the in-person makes all the difference in the world for us. Not being able to do it last year just reminded everyone how important we all are to one another," Broccolino said. "I think that bringing back these events this year is just huge for us and it will be extra celebratory as a result."
The festival begins with a 5k race and online auction opening on Sunday. Monday night features a give-back event at Iron Hill Brewery while Tuesday's agenda is still to be determined, said Broccolino. Diego's will host a Studio 54 give-back dance party on Wednesday and Thursday is the Port 251 women's give-back.
Live performances featuring the Skivvies, Randy Harrison and Diane Huey are scheduled for Friday night and Jennifer Holiday will follow with a performance on Saturday night, both at the Rehoboth Beach Convention Center. The festival closes out Sunday with auction pick-ups and Fun in the Sand and Sun, according to the CAMP Rehoboth website.
This event is also important to the organization's contributions to the community, said Broccolino.
"The essential services we provide for free to the community, which is a huge amount of health and wellness activities, as well as arts programming, a lot of youth programming and the community counts on us for those things. We never stopped during COVID, we made as much as we could virtual, but we took quite a hit not being able to raise those funds and awareness of the programs," Broccolino said. "We invite the entire community to come celebrate with us and make it to Rehoboth Beach, and let's make it joyful, and wonderful and make sure we're living up to the standards of all the people who helped found CAMP Rehoboth and live up to their legacy and beyond."