No DOMA repeal next year: Nadler
The sponsor of a bill that would overturn the Defense of Marriage Act said repeal won't happen in this Congress and that efforts next year will instead be focused on building support on the issue.
Rep. Jerrold Nadler (D-N.Y.) said in an interview with DC Agenda that lawmakers will work on passing other pro-LGBT bills next year, and could take up legislation to repeal DOMA — known as the Respect for Marriage Act — at the end of the two-year session starting in 2011.
"The Respect for Marriage Act is a bill that we can't pass right now; we know we can't pass it right now," he said.
Nadler said Congress won't take up the DOMA repeal next year because other LGBT-related bills, including the Employment Non-Discrimination Act, legislation providing partner benefits for LGBT federal workers and a repeal of "Don't Ask, Don't Tell," are taking precedence. Supporters hope to pass those measures by the end of 2010.
"The Respect for Marriage Act comes up after that, maybe at the end of the next Congress, maybe afterward," he said.
Nadler's legislation would overturn DOMA, allowing the federal government to recognize same-sex marriages. It also has a "certainty provision" that would allow same-sex couples to marry in one state and still receive federal benefits even if they move to another state where gay nuptials aren't recognized.
In lieu of passage in this Congress, Nadler said the task for supporters is to find more co-sponsors for the bill. As of Tuesday, the bill had 105 co-sponsors. Nadler predicted support would grow.
"And I think if some of these other bills pass, it'll become more — the idea becomes less avant garde," he said.
In response to Nadler's remarks that a DOMA repeal won't happen next year, Evan Wolfson, executive director of Freedom to Marry, said, "I don't think we should begin the conversation about when it's going to happen. I think we should begin the conversation with how do we build support and make it happen."
"There are two ways to talk about our movement," he said. "One is to talk about what it's really about, to actually make the case for inclusion and fairness and freedom, to talk about why marriage matters. … The other is to spend all our time talking about the chess game or the political horse race, and we spend too much time on the latter and not enough time doing the former."
Wolfson said supporters should begin the conversation "by each one of us calling our senators and member of Congress, asking them to sign on to the bill."
Strategic decisions
Nadler's prediction that a DOMA repeal won't happen by the end of next year comes after other key potential supporters have said other LGBT legislation will be a priority.
At the time the Respect for Marriage Act was introduced in September, Drew Hammill, a spokesperson for House Speaker Nancy Pelosi, said the speaker is "focused on legislative items that we can enact into law now," including ENDA.
And gay Rep. Barney Frank (D-Mass.) hasn't signed on as a co-sponsor to Nadler's bill, saying that lawmakers will instead focus on other LGBT issues this Congress and the bill's certainty provision could cause political problems for House members seeking re-election.
Nadler said he hasn't "had too many conversations" with Pelosi on the proposed DOMA repeal since it was introduced, but noted that the speaker has privately encouraged House members to co-sponsor the bill.
As for Frank, Nadler also said he hasn't spoken much with the Massachusetts lawmaker on the issue since the bill's introduction.
"We have a disagreement on the strategy on this obviously, as we had a disagreement on the strategy over the non-inclusive ENDA last [Congress] where we no longer have that disagreement," he said. "And, I presume, in the end, we will not have a disagreement on this."
Although supporters have said other bills will take priority this Congress, advocates for the DOMA repeal have hoped for congressional hearings on marriage by the end of next year.
But Nadler, who chairs a House Judiciary subcommittee with jurisdiction over marriage, said he wouldn't commit to holding hearings on the issue by the end of next year and would hear only testimony "when we think it's advantageous to do so."
"And that's a strategic decision, a tactical decision you have to make," he said. "As things go on, we'll have to see how things go. Right now, the thing is get the idea out there to get pressure built, to get more sponsors — and that's the way to go."
Asked whether Democratic leadership requested that he not hold hearings on marriage, Nadler replied, "No, they did not."
Nadler said he expects a Senate companion to the Respect for Marriage Act would be introduced early next year, noting there are a number of potential sponsors for the Senate legislation.
Advocates have named Sen. Russ Feingold (D-Wisc.) as a prime target in talks because he chairs a Senate Judiciary subcommittee with jurisdiction over marriage. Nadler said Feingold would "possibly" champion the Senate legislation.
Nadler said a Senate bill has yet to emerge so many months after the House introduction in September because potential supporters have been occupied with other tasks.
"Some of the people we're dealing with are very busy with a number of other things," he said. "There's not a sense of urgency, the sense that this bill has to have a Senate sponsor right now because it's going to pass right now, because it's not, so we're talking."
Even without a sense of urgency among lawmakers, Nadler said he thinks DOMA should be repealed because it's "a stain on the national honor."
"Even if you didn't have a lot of practical effects, which obviously it does have, it's wrong to keep such things on the books," he said. "The honor of the country demands we repeal it."
Same-sex marriage is only legal in five states throughout the country, but Nadler predicted that number would grow in coming years, and would include his home state of New York.
The Empire State was seen to be on the precipice of legalizing same-sex marriage, but the hopes of supporters were dashed last week when the state Senate killed a bill that would have granted marriage rights for same-sex couples. Nadler, who served in the New York Assembly for 16 years before being elected to Congress, said same-sex marriage will nonetheless be legalized in the state in a few years.
"I'd be very surprised if New York didn't pass a gay marriage bill in the next two years, and I've been studying New York politics for 40 years," he said. "And as long as we keep a Democratic governor and state Senate in the next election, we'll get a gay marriage bill relatively soon in New York."
As the number of states with same-sex marriage grow, Nadler said support for the Respect for Marriage Act also will build.
"Especially as a number of states have gay marriage, and the sky doesn't fall in, and nobody comes in and busts up regular marriages — other than what's busting up anyway — I think the issue will recede in the sense that people will lose their sense of the novelty," he said.
Gay immigration bill could join reform debate
Another bill Nadler is championing in the House is the Uniting American Families Act, which would enable gay Americans to sponsor their foreign partners for residency. With an effort to pass comprehensive immigration reform expected in Congress next year, advocates are trying to include UAFA as a provision in the larger legislation.
Nadler said the White House seems to want to take on immigration reform in the spring and said UAFA supporters will "make a major thrust to make this part of the comprehensive immigration reform debate."
The lawmakers drafting comprehensive immigration reform legislation are Rep. Zoe Lofgren (D-Calif.), Rep. Luis Gutierrez (D-Ill.) and Sen. Chuck Schumer (D-N.Y.). Nadler said it's "hard to say" whether those bills would include a UAFA provision upon their introduction.
"There are a lot of cross pressures and we haven't had those — we've started but we haven't finished those conversations at this point," he said.
But Steve Ralls, a spokesperson for Immigration Equality, said he's "optimistic" immigration reform measures will include UAFA at their debut because supporters, including other lawmakers, immigration groups and LGBT groups, have been lobbying for an inclusive bill for some time.
"I don't know what the final comprehensive immigration reform will look like, but I remain optimistic that it will include lesbian and gay families," he said.
In the event that comprehensive immigration reform legislation doesn't include UAFA when it debuts, Nadler said he's working on making sure there are votes in the House Judiciary Committee to amend the bill to include such a provision.
Nadler said he's "hopeful" there will be enough votes for an amendment, but added "that'll be a big fight, if necessary."
"I haven't taken any votes or whip counts or done any kind of that work, but certainly it will be something that we'll have to work at and the gay community and everybody will have to be pressuring the individual members of the committee," Nadler said. "A lot of the members of the committee, the Democratic members especially, say they're very great friends with the gay community … and this'll be an opportunity to show that they are, bar none."
One major obstacle that UAFA supporters will face is opposition from Catholic leaders. The U.S. Conference of Catholic Bishops has urged lawmakers to exclude the provision from immigration reform because church leaders support reform, but oppose the LGBT-specific provision.
Nadler said opposition to UAFA from Catholic leaders will make inclusion of the measure in the bill "a very difficult fight."
"So, there will be some who will be tempted to say, 'Wait a minute, let's not alienate some of our major supporters on this legislation to pass it,'" he said. "There'll be others of us saying, 'Hey, no, if you're doing a comprehensive bill, it's got to be comprehensive. You can't just leave certain people out."
Even with opposition from Catholic leaders, Ralls said the list of religious groups who support the inclusion of UAFA in immigration reform "is very long and diverse," and includes Quakers and Episcopalians.
"If the Conference of Catholic Bishops decides that they're willing to throw the immigrant community under the bus because of the inclusion of LGBT couples, I think that would be a shame because, at the end of the day, immigration reform can help millions of families — both gay and straight — and that should be Congress' priority."
Asked whether he would support immigration reform legislation that doesn't include a UAFA provision, Nadler replied, "I hope it doesn't come to that."
"All my efforts are designed to make sure it doesn't come to that, so I'm not going to get into what happens at that point," he said.
'We will see a fair amount of action'
During his Agenda interview, Nadler also addressed arguments that the Obama administration and Congress haven't made sufficient progress on LGBT issues since the start of this year.
The lawmaker said Congress has had a significant workload this year — including the passage of two annual budgets as well as stimulus and relief legislation for financial institutions — and that advocates for LGBT issues would be better to make judgments on Congress' work at the end of next year.
"I think it would be very fair by the time the election rolls around next October to say we haven't done enough on these issues," he said. "I think a lot of things have been fermenting and cooking. I think we will see a fair amount of action on these issues in next year's session."
Asked whether President Obama could have spoken more forcefully on LGBT issues since the start of his administration, Nadler replied, "I think he could have been more forthright on some of them." He declined to elaborate.
In response to recent criticism that lawmakers have been putting off action on ENDA, Nadler said some key supporters of the bill have been occupied with other issues. He noted the sponsor of the bill is Frank, who, as chair of the House Financial Services Committee, is also working on the Troubled Asset Relief Program legislation.
"Why aren't we doing ENDA right now?" he said. "But what else are some of the key people doing? They're over their heads with the financial reform, which no one anticipated six months ago. I suspect that once that is out of the way, which it should be soon, these kind of issues can come to the fore again."
But John Aravosis, a gay blogger who has been leading an LGBT boycott of the Democratic National Committee, criticized the notion that Congress hasn't acted on LGBT issues because lawmakers have been busy with other issues.
He said the Obama administration has found time to take swipes at the LGBT community by defending DOMA in court and, more recently, saying it couldn't follow a court order from the Ninth Circuit judge to provide health benefits to the partner of a lesbian federal employee.
"It's not enough just for them to say, 'It's been busy,'" he said. "Well, it hasn't been busy — or so busy that they couldn't take swipes at us."
Aravois commended Nadler for being outspoken on LGBT issues, but questioned whether Nadler would criticize a Democratic Congress as a Democratic lawmaker, and whether Congress would, in fact, take up LGBT issues next year.
"Good luck passing gay rights legislation right before an election," he said. "Democrats don't have balls in off years — they certainly don't have them right before elections, on gay issues especially."
With regard to the LGBT legislation that Congress would take up next year, Nadler expressed uncertainty about the prediction that Congress would repeal "Don't Ask, Don't Tell" next year as part of the authorization bill for the fiscal year 2011 defense budget. Frank told the media last month that was the way he envisioned repeal.
But Nadler said repeal through the defense budget might not be the best way to overturn "Don't Ask, Don't Tell." With the president calling for escalation of operations in Afghanistan, Nadler said such a provision would put more liberal members of Congress in a quandary over whether to vote for repeal and military operations at the same time.
"You don't want to put people in the position of saying, 'You vote against Afghanistan funding, you're voting against [repealing] "Don't Ask, Don't Tell,"' or vice-versa," he said. "So maybe you need a new option or something. These are tactical considerations, which you have to look at as things unfold."
Nadler said he, for example, didn't "like this idea of sending more troops to Afghanistan," although he supports a "Don't Ask, Don't Tell" repeal.
With public approval polls showing support waning for Democrats, Nadler predicted congressional Democrats will lose seats in the 2010 election, but added a hope that the party won't lose "too many" seats. He noted that the November results would largely depend on how well the economy is faring.
Even with Democrats potentially in danger, Nadler said he didn't think lawmakers would avoid LGBT issues next year to reduce a perceived risk of alienating voters before the election.
"I think we're going to face most of these issues this Congress, mostly next year," he said. "I'm assuming that the gay community is going to keep the pressure on. I mean, don't go to sleep because I said it as that. If the gay community keeps the pressure on, then I think that, yes, we'll probably face most of these issues."
Does a potential overturn of Roe imperil LGBTQ rights?
Some fear that Obergefell marriage decision could fall
The oral arguments before the justices of the United States Supreme Court had barely ended in the case brought by the state of Mississippi defending its law banning abortion after 15 weeks, Dobbs v. Jackson Women's Health Organization, when alarms were set off in legal circles as some argued that Obergefell v. Hodges — the same-sex marriage decision — would be in danger should the high court rule to overturn Roe v. Wade.
Florida State University law professor Mary Ziegler, appearing on NPR's 'Heard on All Things Considered,' told host Mary Louise Kelly that there was a basis for concern over whether the court would actually overrule its precedents in other cases based on the questions and statements raised during the hearing by the conservative members of the court.
Asked by Kelly if she saw a legal door opening Ziegler affirmed that she did. Kelly then asked her, "Them taking up cases to do with that. What about same-sex marriage?"
Ziegler answered, "Yeah, same-sex marriage is definitely a candidate. Justices Alito and Thomas have in passing mentioned in dicta that they think it might be worth revisiting Obergefell v. Hodges – the same-sex marriage decision.
"And I think it's fair to say that in the sort of panoply of culture war issues, that rights for same-sex couples and sexual orientation are still among the most contested, even though certainly same-sex marriage is more subtle than it was and than abortion was.
"I think that certainly the sort of balance between LGBTIQ rights and religious liberty writ large is a very much alive issue, and I think some states may try to test the boundaries with Obergefell, particularly knowing that they have a few justices potentially willing to go there with them."
As almost if to underscore the point raised by Ziegler during the hearing, Associate U.S. Supreme Court Justice Sonia M. Sotomayor pointed out that the high court has taken and "discerned" certain rights in cases from the Constitution.
Along with abortion, the court has "recognized them in terms of the religion parents will teach their children. We've recognized it in their ability to educate at home if they choose," Sotomayor said. "We have recognized that sense of privacy in people's choices about whether to use contraception or not. We've recognized it in their right to choose who they're going to marry."
In following up the cases cited by Justice Sotomayor, Associate U.S. Supreme Court Justice Amy Coney Barrett asked Mississippi Solicitor General Scott Stewart, who was defending the state's abortion law, whether a decision in his favor would affect the legal precedents in those cases cited by Justice Sotomayor.
In his answer to Justice Barrett, the state's Solicitor General said cases involving contraception, same-sex marriage and sodomy wouldn't be called into question because they involve "clear rules that have engendered strong reliance interests and that have not produced negative consequences or all the many other negative stare decisis considerations we pointed out."
However, Lambda Legal Chief Strategy Officer and Legal Director, Sharon McGowan had a different take and interpreted remarks by Associate U.S. Supreme Court Justice Brett Kavanaugh to mean that the decisions in Lawrence v. Texas, which decriminalized private sexual intimacy between same-sex couples, and Obergefell v. Hodges, which struck down remaining bans on the freedom of same-sex couples to marry, would actually justify overturning Roe v. Wade.
In a publicly released media statement McGowan noted: "During today's argument, Justice Kavanaugh suggested that two key Supreme Court decisions protecting LGBTQ civil rights—Lawrence v. Texas and Obergefell v. Hodges—support overruling Roe v. Wade and Planned Parenthood v. Casey.
'To that we say, NOT IN OUR NAME. LGBTQ people need abortions. Just as important, those landmark LGBTQ decisions EXPANDED individual liberty, not the opposite. They reflected the growing societal understanding of our common humanity and equality under law.
"Just as the Supreme Court in Brown v. Board of Education rejected the lie of 'separate but equal,' the Supreme Court's decisions in Lawrence and Obergefell appropriately overruled precedent where it was clear that, as was true with regard to race, our ancestors failed properly to acknowledge that gender and sexual orientation must not be barriers to our ability to live, love, and thrive free of governmental oppression. …
"These landmark LGBTQ cases, which Lambda Legal litigated and won, and on which we rely today to protect our community's civil rights, were built directly on the foundation of Casey and Roe. Our interests in equal dignity, autonomy, and liberty are shared, intertwined, and fundamental."
On Sunday, the Blade spoke with Shannon Minter, legal director for the National Center for Lesbian Rights, a national LGBTQ+ legal organization that represented three same-sex couples from Tennessee, whose case was heard by the U.S. Supreme Court along with Obergefell and two other cases.
Minter is urging caution in how people interpret the court arguments and remarks made by the justices.
"We should be cautious about taking the bait from anti-LGBTQ groups who falsely argue that if the Supreme Court reverses or undermines Roe v. Wade, they are likely to reverse or undermine Obergefell or Lawrence. In fact, that is highly unlikely, as the argument in Dobbs itself showed," he said.
"The only reason Justice Kavanaugh mentioned Obergefell and Lawrence, along with Brown v. Board of Education, was to cite them as examples of cases in which the Supreme Court clearly did the right thing. All of those decisions rely at least as strongly on equal protection as on fundamental rights, and even this extremely conservative Supreme Court has not questioned the foundational role of equal protection in our nation's constitutional law," Minter stressed.
During an interview with Bloomberg magazine, David Cortman, of the Scottsdale, Ariz.-based anti-LGBTQ legal group Alliance Defending Freedom, which has been listed by the Southern Poverty Law Center as an extremist hate group, said "two things in particular distinguish abortion from those other privacy rights: the right to life and the states' interest in protecting a child."
Cortman, whose group urged the justices to allow states to ban same-sex marriages, said those other rights may be just as wrong as the right to an abortion. "But the fundamental interest in life that's at issue in abortion means those other rights are probably not in any real danger of being overturned."
But Cortman is of the opinion that there is little impetus among the court's conservatives to take up challenges to those cases.
However, the fact that the six to three makeup of the high court with a conservative majority has progressives clamoring for the public to pay closer attention and be more proactively engaged.
Kierra Johnson, executive director of the National LGBTQ Task Force, in an emailed statement to the Blade underscored those concerns:
"Reports and analysis coming out of Wednesday's Supreme Court hearing on Dobbs v. Jackson Women's Health Organization are extremely disturbing and represent a threat to our individual constitutional rights to privacy and autonomy. There is no 'middle ground' on what the Constitution guarantees and what was decided decades ago with the Roe v Wade decision.
"This is about liberty, equality, and the rule of law, not the political or partisan views of those sitting on the bench. The unprecedented decision to remove a constitutional right recognized by the Supreme Court 50 years ago would set back civil rights by decades. ….
"Abortion access is essential, and a fundamental right under the U.S. Constitution. Bans on abortion are deeply racist and profoundly sexist – the harshest impacts fall on Black and Brown women and pregnant people and on our families and communities.
"If you think this decision will not affect you, think again: a wrong decision by the Supreme Court means you, too, will lose your bodily autonomy, your ability to own your own personal and community power. This is not just about abortion; it is about controlling bodies based on someone else determining your worthiness. This is a racial justice issue. This is a women's issue. It is an LGBTQ issue. It is a civil rights issue. These are our fundamental rights that are at stake."
Minnesota middle school principal ousted for displaying Pride flag
Critics ramped up attacks on the career educator- some compared her to the Devil after publicly associating with LGBTQ+ people and students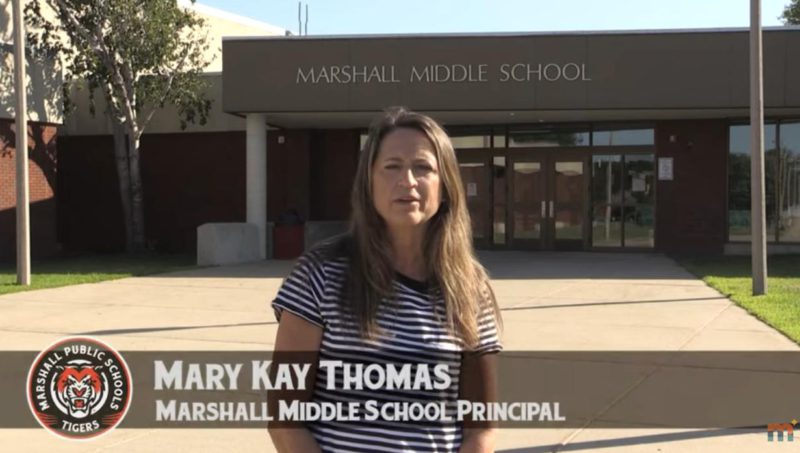 MARSHALL, Mn. — A former middle school principal in Minnesota who lost her job after displaying a Pride flag alleges in a federal lawsuit that the school system retaliated against her for supporting LGBTQ+ students.
Mary Kay Thomas filed the complaint against Marshall Public Schools in the U.S. District Court of Minnesota Tuesday after anti-LGBTQ+ middle school staff, parents, students and local clergy began efforts to remove the Pride flag that she put up in her middle school's cafeteria in 2020 as a part of an inclusiveness effort.
According to the lawsuit, Thomas has been a teacher and principal for more than three decades with a long track record of success. She held the principal position at Marshall Middle School for 15 years, receiving contract renewals, pay raises and praise for her performance.
"But when Thomas decided to display an LGBTQ Pride Flag in the school cafeteria in early 2020, everything changed," reads the complaint.
Thomas refused to take down the Pride flag as critics ramped up attacks on the career educator. The lawsuit alleges that some even compared her to the Devil after publicly associating with LGBTQ+ people and students.
"Sadly, the Marshall School District has sided with these critics," her lawyers wrote.
What followed was an "escalating series of adverse actions" taken by the Marshall School District, said the lawsuit. She claims that the school targeted her by threatening her employment, conducting a "bad-faith" investigation, putting her on indefinite involuntary leave, suspending her without pay and putting a notice of deficiency in her personnel file.
The complaint says that the deficiencies were "false, distorted, and/or related to Thomas's association with members of the LGBTQ community."
Thomas also claims that the District attempted to get her to quit by removing her as principal and assigning her to a "demeaning 'special projects' position."
At one point, Marshall Public Schools Superintendent Jeremy Williams, who is named as a defendant in the case, told Thomas he could "make this all go away" if she stepped down, according to the complaint.
The school removed the Pride flag in August 2021 after settling a lawsuit brought by residents who opposed it.
The Blade reached out to Williams for comment but did not receive a response. However, according to the Marshall Independent, Williams did release a statement on the matter.
"Marshall Public Schools is committed to the education of every child and has strong policies and practices in place against discrimination, against both students and staff members. The school district is committed to creating a respectful, inclusive, and safe learning and working environment for students, staff and our families," Williams said. "While the school cannot comment about the specific allegations made in the complaint, the school district strongly denies any allegation of discriminatory conduct. The school will vigorously defend itself against these allegations."
In addition, Thomas alleges that she resisted unwanted sexual advancements from school board member Bill Swope. She claims she told Williams about the sexual harassment.
As of Thursday, the school has not filed a response, and no hearing has been scheduled yet.
Thomas is seeking a jury trial, damages and reinstatement as principal of Marshall Middle School.
Matthew Shepard honored at National Cathedral
Daylong services held to mark his 45th birthday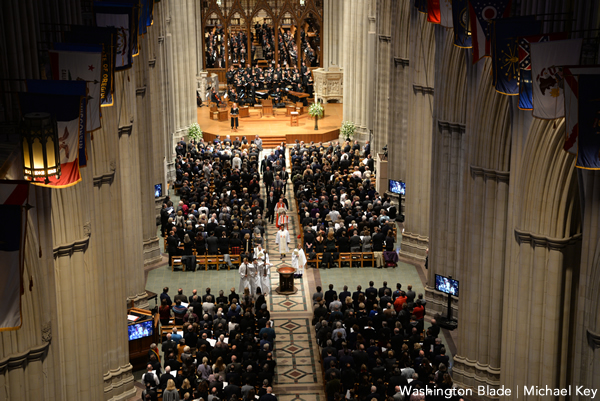 The parents of gay University of Wyoming student Matthew Shepard, who was murdered in a 1998 hate crime that drew international attention to anti-LGBTQ violence, were among those attending a day of religious services commemorating Shepard's 45th birthday on Wednesday at the Washington National Cathedral.
The services, which the Cathedral organized in partnership with the Matthew Shepard Foundation, included tributes to Shepard at the Cathedral's St. Joseph's Chapel, where his remains were interred in a ceremony in 2018.
"Matthew Shepard's death is an enduring tragedy affecting all people and should serve as an ongoing call to the nation to reject anti-LGBTQ bigotry and instead embrace each of our neighbors for who they are," the Very Rev. Randolph Marshall Hollerith, Dean of Washington National Cathedral, said at the time of Shepard's interment.
"In the years since Matthew's death, the Shepard family has shown extraordinary courage and grace in keeping his spirit and memory alive, and the Cathedral is honored and humbled to serve as his final resting place," Hollerith said.
The first of the Cathedral's Dec. 1 services for Shepard began at 7 a.m. with prayers, scripture readings, and music led by the Cathedral's Rev. Canon Rosemarie Logan Duncan. The service was live streamed on YouTube.
An online, all-day service was also held from 8 a.m. to 5 p.m. that Cathedral officials said was intended to "connect people around the world to honor Shepard and the LGBTQ community and pray for a more just world."
The Shepard services concluded with a 5:30 p.m. in-person remembrance of Shepard in the Cathedral's Nave, its main worship space. Among those attending were Shepard's parents, Dennis and Judy Shepard, who have said they created the Matthew Shepard Foundation to continue their son's support for equality for all.
A statement released by the Cathedral says a bronze plaque honoring Matthew Shepard was installed in St. Joseph's Chapel to mark his final resting place at the time Shepard was interred there in 2018.
Following the Cathedral's Dec. 1 services for Shepard, the Adams Morgan gay bar Pitchers hosted a reception for Dennis and Judy Shepard, according to Pitchers' owner David Perruzza.
One of the two men charged with Shepard's murder, Russell Henderson, pleaded guilty to the charge after prosecutors agreed not to seek the death penalty for him. The second of the two men charged, Aaron McKinney, was convicted of the murder following a lengthy jury trial.
Prosecutors said McKinney repeatedly and fatally struck Shepard in the head with the barrel of a handgun after he and Henderson tied Shepard to a wooden fence in a remote field outside Laramie, Wy., on Oct. 6, 1998. Police and prosecutors presented evidence at McKinney's trial that McKinney and Henderson met Shepard at a bar in Laramie on that day and lured him into their car, where they drove him to the field where authorities said McKinney fatally assaulted him.
Shepard died six days later at a hospital in Ft. Collins, Colo., where he was taken after being found unconscious while still tied to the fence.
In a dramatic courtroom scene following the jury's guilty verdict for McKinney, Dennis Shepard urged the judge to spare McKinney's life by not handing down a death sentence. He said that out of compassion and in honor of his son's life, McKinney should be allowed to live. The judge sentenced McKinney to two consecutive terms of life in prison without the possibility of parole, the same sentence given to Henderson.