Unfinished business as lawmakers prepare to convene
In the two and a half months since her appointment, Morgan Meneses-Sheets, the new executive director of Equality Maryland, has been visiting cities and towns across the state and introducing herself to the LGBT community.
Now, as the 2010 Maryland legislative session approaches — with significant unfinished business as it relates to LGBT issues — the DC Agenda, in partnership with Baltimore OUTLoud, sat down with Meneses-Sheets to talk about the political landscape and the strategies her organization intends to employ to advance pro-LGBT legislation.
The 2010 session begins Jan. 13 and runs through April 12. Equality Maryland's Lobby Day is scheduled for Feb. 8 in Annapolis.
Agenda: Since you were selected for the position of executive director at Equality Maryland, you have been going non-stop on a statewide tour, meeting people and organizations. How has this been valuable to you?
Morgan Meneses-Sheets: I am committed to ensuring that Equality Maryland truly represents the needs and interests of Maryland's LGBT community. Attending community events and making presentations has enabled me to start to build strong partnerships and have authentic conversations about the future of our organization and the LGBT movement.
The welcome receptions have been my coming out parties to introduce me to the community as the new director. They have offered me an opportunity to emphasize that we have a strong team in place and we are ready to get it done.
Agenda: You were successful in building a nationwide advocacy program from the ground up when you were with the Amputee Coalition of America. How did that experience, plus the experience gained from the other positions you held, prepare you for your role at Equality Maryland?
Meneses-Sheets: From day one with the ACA, I was charged with building a strong, grassroots network that would have the ability to generate enough pressure to impact the policy making process in each of the state legislatures. We were successful in passing over a dozen different bills to enhance access to care. It was all about doing the work to engage and develop our local supporters, identify and cultivate relationships with potential partners and being strategic each step of the way.
In January, we are launching the Equality Maryland Vision Task Force. The task force will be comprised of thought-leaders in various areas including development, communications, organizing and program development. The goal of the Task Force is to work with us to create a comprehensive strategic plan to ensure that we not only have the key votes, but also create true and lasting equality throughout the Free State.
Agenda: We head into 2010 with some restrained hopes based on the experience here in Maryland over the past several years concerning the signature issue of marriage equality. Is there any reason to be more hopeful this time around and if so, why?
Meneses-Sheets: We have built a strong foundation, but there is still work to be done. 2010 is a build year. We have to really invest in building a network of pro-equality activists, public officials and religious leaders through education and outreach efforts. We are working to design an ambitious and sophisticated PAC plan to ensure the election of candidates who believe in fairness and equality.
This year is about building momentum and putting the plans and tactics in place to take us through the elections into a legislative victory. We are also already laying out a wide-ranging strategy to ensure that we have the necessary public support to beat back a referendum aimed at rolling back our gains.
Activists must not only remain hopeful, but also be committed. We need Marylanders and all of our supporters to be in this with us for the long haul.
Agenda: We had a mixed year in 2009 concerning LGBT rights, especially marriage equality. New states legalized it while another, Maine, had it stripped away at the ballot box. And in New York it was defeated in a disheartening vote by the Senate. What lessons, if any, have you drawn from these two significant defeats?
Meneses-Sheets: We have certainly had our share of ups and downs over the past year, but the mere fact that our issues have been front and center in the public arena is a sign of progress. People are talking about LGBT equality. Lawmakers are really digging in on our issues in state legislatures, county councils and Congress.
The loss in Maine was devastating and yet we must remember that we lost by less than 30,000 votes. That is huge! New York was a disappointment and yet the week before the loss in the Senate, New York was also the site of a big step forward in case law. The New York Court of Appeals issued a favorable ruling on marriage recognition for same-sex couples. The Court of Appeals left in place lower courts' rulings applying New York's marriage recognition rule to marriages of same-sex couples.
According to a recent poll sponsored by Equality Maryland, for the first time a majority of Marylanders support passage of the Religious Freedom & Civil Marriage Protection Act. We are currently working with a number of funders and partners to launch a wide-scale plan to engage with partners in communities of color and communities of faith, as well as to build on our past successes with the Pride in Faith initiative and our strong partnership with the Maryland Black Family Alliance.
We have had some setbacks this year, but we have also had some huge steps forward. It is going to take time and hard work, but we are confident that equality will win out in the end. We are fighting for civil rights. That has never been easy, but it is certainly worth it.
Agenda: Besides marriage equality and transgender protection, what other legislation are you hoping to pass this year? And would you be willing to accept civil unions at this time?
Meneses-Sheets: Civil unions provide no guarantee that the protections will travel with them to other states. They are second-class protections. Equality under the law for same-sex couples means equal marriage rights. The same social, legal and financial benefits currently afforded to heterosexual couples in Maryland can only be replicated for same-sex couples by granting the same marriage license.
While we are still working with our legislative committee to finalize our agenda for 2010, there are a number of important issues that we would like to support in addition to anti-discrimination protections and marriage equality.
The Maryland Family Medical Leave Act would allow people to utilize leave for their brother, sister, grandparent, grandchild, or domestic partner. Family leave can be used to provide care to family members with serious health conditions or in the case of the birth of a child.
Agenda: You and your wife Rae married in Vermont … with the hope that, until marriage equality is passed here, Maryland will recognize our marriages from other jurisdictions. Now our next-door neighbor, Washington, D.C., is poised to [enact] same-sex marriages. We've been waiting a long time for Attorney General Doug Gansler to issue an opinion on whether Maryland can recognize our marriages.
What's holding the decision up? And what is Equality Maryland doing to put pressure on Gansler?
Meneses-Sheets: Many couples around our great state have made the trip to places like California, Massachusetts, Vermont and Connecticut to get a marriage license. But when they return home, this piece of paper may be suitable for framing, but does not come with any of the 400 or so benefits provided by the state for other married couples.
Equality Maryland has been working in coalition with groups like the ACLU and the National Center for Lesbian Rights to conduct research on past precedent and work with local legal scholars to submit supporting information and analysis to the Attorney General's office as part of this process. In November, we also solicited stories and pictures from local folks who received licenses in other states to submit as part of the public comment process.
There is legal precedent in the state of Maryland to honor the licenses of couples validly married elsewhere. The Attorney General's opinion will determine the legal possibility of building on that precedent to honor the licenses from other states or countries. The decision is pending.
Agenda: What are you hearing about the timing of the opinion's release?
Meneses-Sheets: In a recent interview with WTOP, Mr. Gansler suggested that the opinion would come out either before the session or early in the session. While we are all anxious to hear back, we know first hand from our recent dealings with the AG's office around the [Maryland Vehicle Administration] issue that they are bombarded with new requests and obligations every week as part of helping to do the business of the state.
The initial analysis by many prominent legal experts suggests that we are in a strong position as a state to provide legal recognition of out-of-state licenses. We are holding out for a positive opinion.
Agenda: What will be the impact of the legalization of same-sex marriage in D.C.?
Meneses-Sheets: This will be just one step in our journey toward full equality. Now that LGBT couples can obtain a marriage license by simply traveling to the District, Maryland must move forward in not only recognizing out-of-state marriages, but we must also pass the Religious Freedom & Civil Marriage Protection Act.
Agenda: Let's talk about Lobby Day, which is a significant event in the quest to gain equal rights in Maryland. There are those who have criticized the rally in the past for its declining turnout and logistical snafus, particularly in lighting and sound at the rally. Are there any steps you plan to take to remedy these concerns for the Feb. 8 event?
Meneses-Sheets: We had a record turnout in 2007 as part of the push around the Court opinion. After the very disappointing ruling, some folks were quite disempowered, but in recent months we have really seen an increase in excitement and commitment from our activists. Maryland is on a short list of states that have the potential to enact true marriage equality in the next couple of years. We just received a two-year grant to support enhancing our organizing around equal protections for transgender Marylanders. We are truly on the cusp of making sweeping changes, so we have an obligation to do all we can to not only build support, but also demonstrate the strong support for our legislative priorities.
Lawmakers need to talk with their constituents. They need to hear our stories — otherwise we are letting our opposition tell them who we are.
Agenda: We have a Democratic governor, the leaders of both legislative chambers are Democrats, and the overwhelming majority of the General Assembly are Democrats. We have made some important progress over the past four years or so, yet we cannot seem to wrest the two remaining big bills — marriage equality and transgender protections — from committee. Is there a strategy in place to move the bills so at least there could be an up-or-down vote?
Meneses-Sheets: While we should maintain perspective on the recent setbacks, we also have to realize that each loss gives our opposition another opportunity to claim a victory and gain ground. We are truly making progress, but we have to be smart about each step that we take. We have to lay the groundwork so that we can not only win on our important issues, but also protect and maintain those wins. We are taking the time to really think through every tactic, every target and every step along the way.
We will work to generate pressure at the grassroots level to push for co-sponsors and really ramp up support for our key issues. In many ways, 2010 will be a building year. We have work to do to continue to educate lawmakers, increase our organizing efforts and build the campaign we need to not only win, but also protect our victories.
Agenda: Does Equality Maryland plan any face-to-face meetings with the governor and/or Senate and House leaders on these issues?
Meneses-Sheets: We have been working with the governor's office around the MVA issue. We have also reached out to a number of leaders in the Assembly and Senate as we work to prepare for the upcoming session. We will continue to leverage every opportunity to sit down with key stakeholders and partners as we work to advance our legislative priorities.
Steve Charing is managing editor of Baltimore OUTLoud and can be reached via baltimoreoutloud.com.
Pride flags vandalized, stolen in Loudoun County town
'Bigoted efforts to terrorize members of our community will not stand'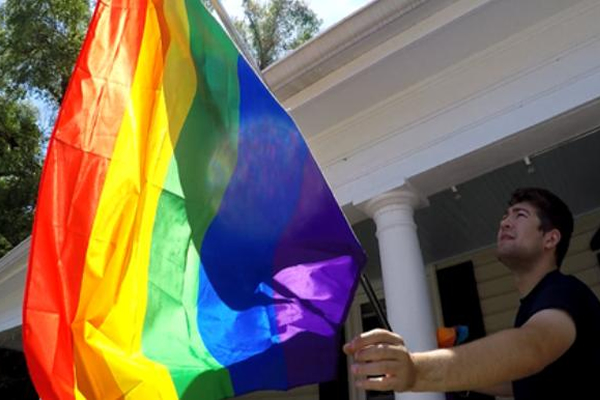 Vandals this week destroyed or stole Pride flags that Lovettsville residents had displayed on their homes.
Calvin Woehrie told WUSA the vandals used a blade to slash the Pride flag that was hanging from his house. The D.C. television station reported the vandals also targeted Woehrie's neighbors who are a lesbian couple with four children.
The Loudoun County's Sheriff's Office said the vandals damaged five Pride flags from three homes and they stole two more. A spokesperson for the Loudoun County's Sheriff's Office told WUSA the vandalism is being investigated as a possible hate crime.
"I wanted to address events that happened over the weekend, that are deplorable and devastating to the entire community," said Lovettsville Mayor Nate Fontaine in a letter he sent to town residents on June 16. "Over the weekend, there was destruction of property that specifically targeted our LGBTQ community. To make this even more heinous is that the destruction of property was done during Pride Month. To have property destroyed targeting members of our community is horrible and can be frightening for those targeted."
"For the individuals who committed these crimes, know that your bigoted efforts to terrorize members of our community will not stand," added Fontaine. "We are working closely with the Loudoun County Sheriff's Office and this has also been added as an agenda item for our June 24th Council meeting."
Glenn Youngkin, the Republican nominee to succeed Virginia Gov. Ralph Northam, on Saturday described the vandalism as "absolutely unacceptable."
"Whether someone is voicing an opinion or flying a flag, as Virginians — and as human beings — we must be respectful of one another," wrote Youngkin in a Facebook post.
"Politicians always seem to be pitting neighbor against neighbor, but I am committed to bringing people together around our shared values, like treating others the same way you want to be treated," he added. "We must all do better by respecting others' right to live their lives freely, without being targeted because of who they are."
WUSA reported Lovettsville residents bought Pride flags to replace the ones that had been vandalized and stolen.
Transgender man murdered in Va.
EJ Boykin was shot outside Lynchburg store on June 14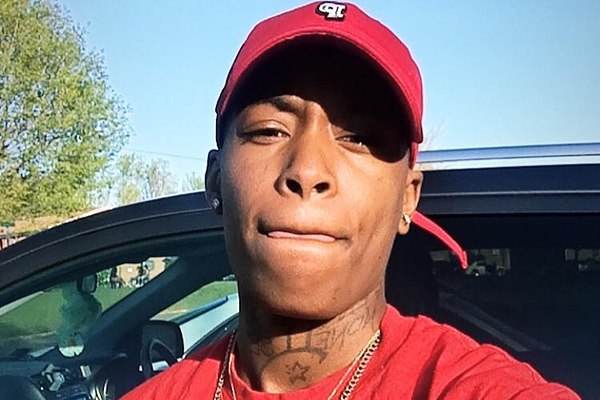 A transgender man was murdered in Lynchburg, Va., on June 14.
The News and Advance, a local newspaper, reported EJ Boykin, who was also known as Novaa Watson, was shot outside a Family Dollar store on the city's Fort Avenue at around 6 p.m. Boykin passed away at Lynchburg General Hospital a short time later.
A spokesperson for the Lynchburg Police Department told the News and Advance the shooting may have been the result of a domestic dispute. Authorities added there is no evidence to currently suggest the shooting was a hate crime based on Boykin's gender identity.
Pittsburgh Lesbian Correspondents reported Boykin was born and raised in Baltimore and was a student at Morgan State University. The blog said Boykin celebrated his 23rd Birthday on June 10, four days before his murder.
Tori Cooper, the director of community engagement for the Human Rights Campaign's Transgender Justice Initiative, in a statement notes Boykin is the fifth trans man reported killed in 2021. HRC notes at least 29 trans or gender non-conforming people are known to have been murdered so far this year.
"The level of fatal violence we've recorded this year is higher than we've ever seen," said Cooper. "All of these individuals deserved to live. We must strike at the roots of racism and transphobia, and continue to work toward justice and equality for trans and gender non-conforming people."
Comings & Goings
Jarvis lands lead consultant role at Meridian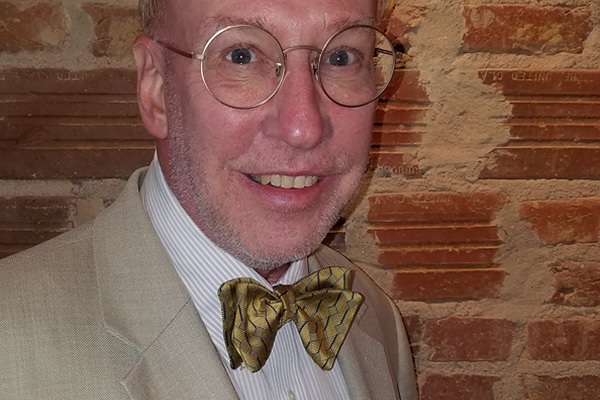 The Comings & Goings column is about sharing the professional successes of our community. We want to recognize those landing new jobs, new clients for their business, joining boards of organizations and other achievements. Please share your successes with us at: [email protected].
The Comings & Goings column also invites LGBTQ+ college students to share their successes with us. If you have been elected to a student government position, gotten an exciting internship, or are graduating and beginning your career with a great job, let us know so we can share your success.
Congratulations to Ted Jarvis on his new position as Lead Consultant with Meridian Compensation Partners, in D.C. He will work on executive compensation, governance research and development. When asked for a response to news of his new role, Jarvis told this story: "I was on the prowl for a new job, I contacted the CEO of Meridian, who worked closely with me during our years at Towers Perrin. After half an hour on the phone, he asked: 'Send me a list of things you really like to do.' I followed up with a list of activities that continually engage my interest. Within a few days he mailed me a job description that reiterated my list almost word-for-word. I feel truly blessed to have a job so aligned with what I enjoy doing. This is going to be great."
Prior to working for Meridian, Jarvis worked as Managing Director with Main Data Group in D.C. and Wilton Manors, Fla. He has also worked as Global Director of Executive Compensation Data, Research & Publications, Mercer, in D.C.; principal with Willis Towers Watson; and as a research consultant with McKinsey & Company. Jarvis is a member of the Lotos Club (New York); a benefactor at Drew University (Morristown, N.J.). He funded two undergraduate prizes (Wettstein Drama Prize; Norton Wettstein and Jane Brown Memorial Prize for Outstanding Academic Achievement); a benefactor, Woodmere Art Museum (Philadelphia): funded William Joseph Coverley-Smith Prize, awarded annually at the Juried Art Competition; and a benefactor, St. Thomas's Episcopal Church (Rochester, N.Y.).
Jarvis earned his MBA from The University of Chicago, Booth School of Business; his bachelor's (cum laude); his Ph.D. (ABD) major in music history, literature and theory from NYU. He earned a Fulbright Scholarship to the University of Vienna.