Why do so many Jews support gay marriage?
The law enacted last week, allowing same-gender couples to legally marry in the District of Columbia, is a governmental matter. Yet, as a member of the clergy, I've been asked over and over again about my religious opinion on the matter.
Of course, the spheres of spiritual and civil life often overlap. The Hebrew Bible includes many laws, such as those governing commerce or damages, which would be considered civil law in today's society. Further, the text demands its adherents step into the public sphere when the rights of historically oppressed groups are threatened. Members of the Jewish community have a long history of supporting – and working toward – civil rights for many who were once considered voiceless in society.
The rabbinic body of Reform Movement in Judaism, the denomination through which I was ordained, voted, in 1977, to oppose any legislation that would limit the civil rights of gay men and lesbians, quite a bold move at the time. In 1996, a smaller body of the same group, while denying religious marriage as it was traditionally understood, encouraged its members to welcome homosexual individuals and couples into their congregations and work toward inclusiveness at a time when parity seemed impossible. During this same year, the movement's leaders affirmed the rights of gay men and lesbians to have access to the institution of civil marriage.
Four years later, in 2000, the Reform Movement's rabbis voted overwhelmingly in favor of allowing the movement's clergy to officiate at same-sex commitment ceremonies. It's important to note that the Reform movement is not the only Jewish denomination that is supportive of either civil or religious marriage (or both) for same-gender couples. Members of the Reconstructionist Movement in Judaism as well as some Conservative Jewish leaders have also affirmed and worked toward civil and religious rights in this area.
Even if you've never read the Bible, you're likely aware of the verse from Leviticus (18:22) widely understood as banning male homosexuality. The verse is often translated: "You shall not lie with a male as one lies with a female; it is an abomination." Though the word abomination is an imperfect, and perhaps somewhat harsh, translation of the Hebrew original, the verse is correctly understood in its sociological context as placing homosexuality on the category of things that ought not be done.
With Jewish law so firmly in the "no" column, why have I and many of my colleagues said "yes" so loudly and clearly? I can only answer for myself, though I know that at least some of my views are shared by colleagues.
In the stage version of "Fiddler on the Roof," the main character, Tevye, in lamenting the encroachment of modern life on his small, yet comfortable existence, laments to his wife, "It's a new world, Golda." Judaism, though steeped in tradition, is an evolving religion. It is impossible for me, as a 21st century American Jew, to live by a strict interpretation of laws that were first introduced in a societal context completely foreign to modern experience not to mention current knowledge of gender and sexual identity formation.
I support civil and religious marriage not despite my understanding of Jewish tradition but because of it.
In the biblical story of creation, human beings are said to be made btzelem elohim, in the image of God. If we are all created to reflect God's goodness, then I believe we should all have equal access to God's bounty. Loving relationships are part of that bounty. In the second telling of the creation story, a partner is formed for Adam, the first man, because "It is not good for a human being to be alone." Though not all in our society have found partners, it seems like unspeakable cruelty to deny some who have the right to live and affirm that partnership.
Judaism is a religion based on a covenantal relationship – one between God and a people – and highly values covenants and oaths. In Judaism, marriage is known as kiddushin, or holiness. If two people, regardless of gender identity or sexual orientation, choose to sanctify their relationship and publicly and legally affirm their commitment to one another, it not only strengthens their individual bond, it serves to make our community stronger as well.
Rabbi Toby Manewith is with Bet Mishpachah. Reach her via betmish.org.
LGBTQ people are being hunted down in Afghanistan
Homosexuality punishable by death under Taliban Sharia law interpretation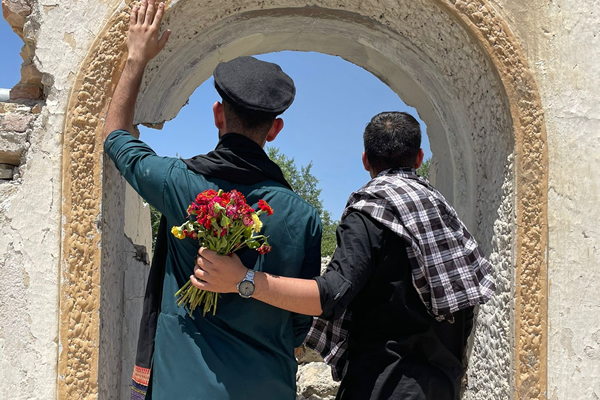 Kabul was known as one of the few "liberal" cities in Afghanistan. The word liberal is in quotation marks, and inflected, because it is liberal compared to the rest of the country. Now that the Taliban has taken over, most people who expressed themselves differently and openly are forced to adhere to Sharia law, completely change their ways, hide their identity, or be killed.
The U.S. State Department reported in 2020 that even before the Taliban took power in August, LGBTQ people in Afghanistan faced "discrimination, assault and rape" and "homosexuality was widely seen as taboo and indecent." Laws against lesbian, gay and transgender people made their existence illegal and punishable by up to two years in jail. Those laws were not always enforced, but they did leave LGBTQ people at risk of extortion and abuse by authorities, as reported by the U.K. government.
Even with the discrimination and abuse, LGBTQ people still had a sliver of space in society. Nemat Sadat, an LGBTQ Afghan author living in the United States said that gay, lesbian and transgender people helped the country's cultural life develop since the Taliban's last rule 20 years ago. But, most of these people built their lives quietly.
Now with the Taliban regime, their sliver of space in society is gone, there is no room to live quietly as an openly LGBTQ person. Under the Taliban's interpretation of Sharia law, homosexuality is punished by death.
In an interview with Reuters, Waheedullah Hashimi, a top decision maker for the Taliban said, "there will be no democratic system at all because it does not have a base in our country," and continued to say, "what type of political system should we apply in Afghanistan is clear. It is sharia law and that is it."
One source spoke to a 20-year-old university student who is lesbian in Afghanistan. Her family accepted her as a lesbian, but now the new Taliban leadership has put the lives of all of her family at risk. There is a new surge of violence against any lesbian, gay and transgender people. This includes anyone speculated of being lesbian, gay, or trans, and those who support them.
This young lesbian woman has gone into hiding. She is part of hundreds of LGBTQ people in Afghanistan who are pleading with advocates and organizations outside Afghanistan for help to escape the Taliban tyranny.
Nemat Sadat shares stories of lesbian, gay and trans people in hiding. He shared a story of a gay man who watched from his hiding place in the ceiling as Taliban fighters beat the friend who refused to disclose his location.
LGBTQ people in Afghanistan fear the risk of being arrested, beaten and killed. The Taliban made it clear that it is enforcing its strict religious laws against Afghanistan's LGBTQ citizens. In an interview with Germany's Bild newspaper, one Taliban judge said there were only two punishments for homosexuality: "stoning or being crushed under a wall."
LGBTQ people in Afghanistan are reporting that their friends, partners and members of their community are being attacked and raped. They also stated that Islamic fundamentalists and riotous groups are encouraged by the new tyranny and are on the hunt for LGBTQ people.
Another source shared that a gay man was targeted for his sexuality and then raped by his male attackers. That is a terrible paradox. He was raped by his male attackers, who criminalizing him for having same sex relations.
LGBTQ people are in hiding, desperately trying to get out of the country, and trying to erase any proof of their queer identity.
They feel abandoned by the international LGBTQ community. The Taliban is proving that the Western nations have normalized relations to their government. The Taliban and their supporters see this a proof of their victory. This leaves LGBTQ people defeated and fearing torture and death.
The U.S. government and other Western countries evacuated many people out of Afghanistan, including journalists, women's rights activists and those who worked with foreigners. But, LGBTQ activists said that nothing has been done for them. A source says about her situation, "we will definitely be killed. We are asking to be evacuated immediately from Afghanistan." To date, no safe route has been found.
Even underground measures to help LGBTQ people are challenging and near impossible. The Rainbow Railroad is a non-governmental organization helping LGBTQ people around the world escape persecution. Executive Director Kimahli Powell said evacuating LGBTQ people from Afghanistan is especially hard as they are often alone, in hiding, and unable to contact each other. If routes to get them out is nearly impossible, that still means those routes are somewhat possible. As difficult as it may be, we must find pathways to save these people and get them out.
The Taliban regime has established itself, knowing with certainty that the world will stand aside, albeit condemning and protesting, but not intervening. This is empowering jihadists across the world, especially in the Middle East. The Taliban has many allies and admirers, including the Palestinian Islamic Jihad (PIJ) and Hamas.
The leader of Hamas, Ismail Haniyeh, travelled from Palestinian territories to meet with Taliban leaders in Qatar. The Palestinian Islamic Jihad has a history of ties to the Taliban, even with radicals joining each other's organizations. Very public statements of congratulations were made between leaders of the Taliban, Hamas, and Palestinian Islamic Jihad, and all with full Iranian support.
The increase in brazen forcefulness of these groups reaches beyond Afghanistan, and spreads to the lands dominated by other similar groups. This causes an escalation of the threats to anyone who opposes Sharia law or who lives differently than what Sharia law allows. LGBTQ people in these lands are in peril.
If we do not help LGBTQ people in Afghanistan, the lives of LGBTQ people under other similar tyrannies face increased uncertainty and danger.
Since posting this video, I have been receiving direct messages from LGBTQ people in hiding in Afghanistan, and those who are seeking to be evacuated. They all share harrowing experiences of being attacked, raped, and threatened by Taliban, Islamic State and bullying groups.
Yuval David is an innovative actor, host and filmmaker with a creative mantra to entertain, uplift and inspire. He is a captivating performer and compelling storyteller who uses his platform for sharing narratives that affect social change, specifically on behalf of highly respected U.S. and international organizations that raise awareness for the marginalized and under-represented, inspired by his LGBTQ+ and Jewish identity, and his Israeli-American roots.
He can be reached through social media
Coming out is a life-long process
Oct. 11 is National Coming Out Day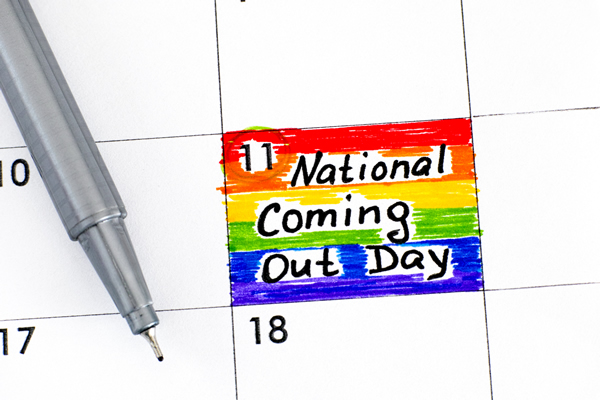 "Tell me about your coming out," my 30-something friend Seth recently said to me.
"It was more than a day!" I joked.
National Coming Out Day (NCOD) is on Oct. 11. The holiday, celebrated yearly on Oct. 11, was first observed on Oct. 11, 1988.
That date was the one-year anniversary of the 1987 queer rights march in Washington, D.C. More than half a million people were at the march, which was a turning point in the LGBTQ+ rights movement.
Robert H. Eichberg, a psychologist who died in 1995, and gay rights activist Jean O'Leary, who died in 2005, co-founded NCOD.
Things have progressed so far for us queers since then. We can marry and serve in the military. We're parents, cops, athletes, teachers and preachers.
In this era of marriage equality, it's tempting to wonder: What is all the fuss about coming out?
But, a reality check shows that coming out still matters.
A quick look through the news headlines reveals why staying in the closet is so hurtful and how unsafe it can still be to come out as LGBTQ+.
If you're of a certain age, you likely cried your eyes out when you watched the Disney movie "Old Yeller." Who could forget the scene when the young boy Travis (played by Tommy Kirk shoots "Old Yeller" because his dog has rabies? In 2019, the Library of Congress added
"Old Yeller" to the National Film Registry.
Kirk died on Sept. 28 at 79 at his Las Vegas home. Despite Kirk's popularity with fans, Disney didn't renew his contract because he was gay.
"I was caught having sex with a boy at a public pool in Burbank," Kirk told the gossip columnist Liz Smith. "We were both young, and the boy's mother went to Walt."
In the 1960s, there was no way that an out actor would have had a chance in Hollywood.
I wish I could say that everything's changed since Disney fired Kirk. But, this isn't the case.
In August, Jamel Myles, a fourth grader in Denver killed himself, the Denver Post reported. His mother told the Post that her son, who'd come out to her as gay, took his own life because he'd been bullied for a year.
"We are deeply committed to our students' well-being," a Denver Public Schools spokesman said in a statement.
Unfortunately, Jamal's story is far from unique. Nationwide, many LGBTQ+ students in the U.S. have been bullied. Nearly half (43 percent) of transgender youth have been bullied, according to the 2019 Youth Risk Behavior Surveillance survey. Nearly a third (29 percent) of trans youth, 21 percent of gay and lesbian youth and 22 percent of bisexual youth have attempted suicide, the survey reports.
Life is far more dangerous for queer folk in many places worldwide from Hungary to Ghana.
You could respond to this grim news by going to bed, staying under the covers—tucked in the closet.
But that would let homophobia and transphobia have the right of way. It would deny us the chance to joyfully, proudly, defiantly celebrate who we are.
Studies have shown that knowing us can help alleviate prejudice.
Family members, friends and colleagues may still feel uncomfortable around us because of our sexual orientation or gender identity.
But, it's hard to hate your non-binary 10-year-old granddaughter on Christmas morning. Or your gay buddy at the gym.
One of my fondest memories is when I came out to my Aunt Manci. I worried that she wouldn't accept my girlfriend. I needed have been anxious. "You're lucky," she said, "she loves you."
Coming out is a process that lasts a lifetime—from deciding if you want to be out in the third grade to ensuring that your loved ones won't erase your queerness from your obituary.
Coming out can be arduous. But, it's liberating! Let the revels begin! Happy National Coming Out Day! 
Kathi Wolfe, a writer and a poet, is a regular contributor to the Blade.
Dave Chappelle can kiss my Black gay ass
Comedian targets transgender people in new Netflix special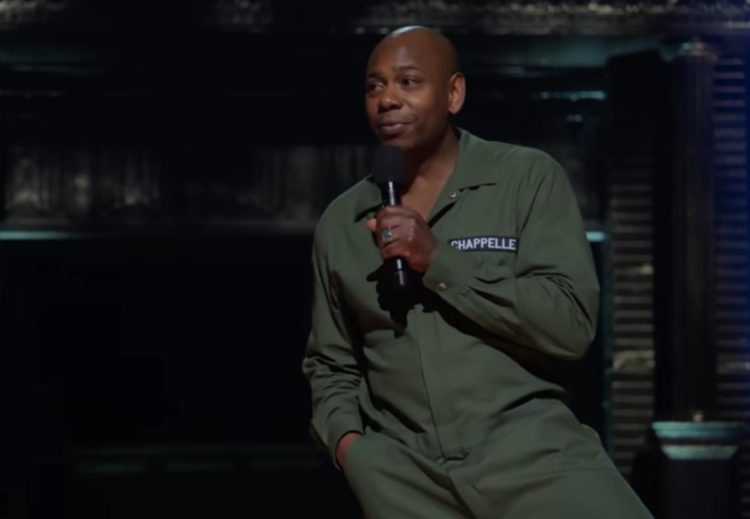 By Alvin McEwen — There is no other way to say this. Dave Chappelle is an ignorant son of a bitch whose embrace of stereotypes about LGBTQ people do more to hurt both the LGBTQ and Black community than any words or actions of the anti-LGBTQ right. 
First, a little background;
'Comedian Dave Chappelle's new Netflix special, The Closer, is his last for the service as he concludes a multi-project deal spanning several years and while he tries to pass it off as an examination of racism and LGBTQ issues, it comes across more as a hypocritical justification of a career spent making vulnerable people feel like shit. To cap off his numerous comedy specials, Chappelle pledged not to make jokes about the LGBTQ community any longer, offered to negotiate terms for rapper DaBaby, and announced he is a transgender exclusionary radical feminist (TERF) before launching into a derogatory diatribe about transgender women's genitals."
That's not all. Chappelle proceeded to attack all LGBTQ people:
Throughout the special, he repeatedly circles back to pitting racism against anti-LGBTQ animus. After pointing out that DaBaby had killed another man and still continued to perform and escaped punishment, but got "cancelled" after making incredibly derogatory comments about gay people, Chappelle made the comparison direct. "Do you see where I'm going with this?" he quipped. "In our country, you can shoot and kill a n****r, but you better not hurt a gay person's feelings!"
Then he proceeded with more junk:
"Gender is a fact," he continued. "Every human being in this room, every human being on Earth, had to pass through the legs of a woman to be on Earth. That is a fact. Now, I am not saying that to say trans women aren't women, I am just saying that those pussies that they got … you know what I mean? I'm not saying it's not pussy, but it's Beyond Pussy or Impossible Pussy. It tastes like pussy, but that's not quite what it is, is it? That's not blood, that's beet juice."
… In the end, he proclaims that he's done making jokes about "LBGTQ, LMNOPQXYZ people," saying "it is over." "I am not telling another joke about you," he said, "until we are both sure that we are laughing together."
"All I ask from your community, with all humility, will you please stop punching down on my community?"
I could say a lot of things about this man's ignorance, but I want to focus on one thing because it infuriated me the most. This comment:
"All I ask from your community, with all humility, will you please stop punching down on my community?"
That is the epitome of all of the bullshit LGBTQ people of color have had to deal with from Black heterosexual people—the entitlement mentality.
That's the belief that whenever there is talk about issues of the Black community, problems of the Black community, or the survival of the Black community, it's all about Black heterosexuals. God forbid you point to out that heterosexuality is not prerequisite of being Black. 
No matter how many times it is proven to some heterosexual Black people that LGBTQs of color exist, that we have families and children, and should be acknowledge as full members of the Black community, they will cling to their fantasies of toxic Black masculinity and oversexed Black femininity with as much passion as a demented Trump voter still holding on to the lie that he was cheated out of victory in the 2020 election. And there is no room in these fantasies for LGBTQ people of color.
For phony ideas of blackness to survive in the minds of some Black heterosexuals, people like me have to be mentally placed in a box where we are pulled out when they want someone to make fun of or even worse, assure themselves of how "tolerant" they are because they have chosen not to knock us upside the head or scream passages of the Bible at us which they themselves do not adhere to. 
The latter is even more insulting. That's when they give us false assurances that they "have no problem with our lifestyle" or our "sexual preferences." They want us to believe that, but the way they say it always makes me feel like dog shit on the sidewalk.
When it comes to LGBTQs of color and the Black community, some Black heterosexuals want to have the first, middle and last word in the conversation. LGBTQs of color are supposed to be silent. We are supposed allow ourselves to be dictated to and psychologically dissected to fulfill someone's bullshit ideas of what the Black people are supposed to be. The implication is that no real Black person is LGBTQ so we don't matter.
If you Black heterosexuals have no problem with us, then acknowledge us. Stop with this nonsense about LGBTQ and Black people being different. Whether you like it or not, our identities intersect in our daily lives and especially in our history. Does anyone think that it was only heterosexual Black people who went through slavery, segregation, lynchings, rapes and all of the uglies which come with historic systemic racism in America? Where the hell do you think we were when this stuff was happening? On an island somewhere? In outer space?  Do you think we don't feel the pangs of racism now? We do, but it is difficult for us to voice how it especially affects us because some of you heterosexual Black folks are dominating the conversation and won't let us get a word in edgewise.
If you would just shut up for a second and let us talk, you would hear how racism does affect LGBTQ people of color in a way it doesn't affect you.
Personally, I am both Black and gay. And as such, my life matters, my issues matters, my rage matters, and my need for justice matters. Not as either a Black person or a gay person, but as BOTH, together, inseparable. No one has the right to make me choose my identity.
Lastly, let me go back to Mr. Chappelle, because I haven't forgotten about him.
I would suggest, Mr. Chappelle, that before you start on another one of your stupid routines about LGBTQ people, take your bony ass to the library or better yet, google some names—Bayard Rustin, Monica Roberts, Barbara Jordan, Bessie Smith, Ma Rainey, Angela Davis, James Baldwin, Audre Lorde. You did not get to the place where you can make millions on stage talking shit solely on the backs of Black heterosexuals. And you need to know that.
Lastly, when you are done with that, go the bank and count your millions. Then google the number of Black trans men and women who have been murdered this year and the last. Read each of their names. Compare their lives to yours.
That way, you will truly understand when someone is punching down.
********************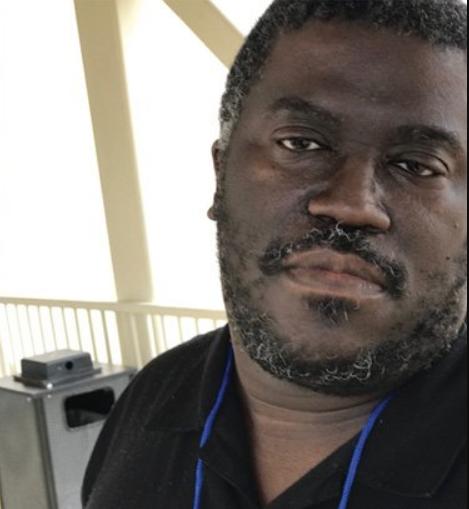 Alvin McEwen is 50-year-old African American gay man who resides in Columbia, SC. McEwen's blog, Holy Bullies and Headless Monsters, and writings have been mentioned by Americablog.com, Goodasyou.org, People for the American Way, Raw Story, the Advocate, Media Matters for America, Crooksandliars.com, Thinkprogress.org, Andrew Sullivan's Daily Dish, Melissa Harris-Perry, The Last Word with Lawrence O'Donnell, Newsweek, the Daily Beast, the Washington Blade, and Foxnews.com.
He is the 2007 recipient of the Harriet Daniels Hancock Volunteer of the Year Award and the 2010 recipient of the Order of the Pink Palmetto from the SC Pride Movement as well as the 2009 recipient of the Audre Lorde/James Baldwin Civil Rights Activist Award from SC Black Pride. In addition, he is a 3-time nominee of the Ed Madden Media Advocacy Award from SC Pride.
*********************
The preceding commentary was previously published at McEwen's blog, Holy Bullies and Headless Monsters, and is republished by permission.