Music makes us come together
D.C. is always home to more concerts than you could possibly write about. Here are some of the season's highlights.
Barns at Wolf Trap
1645 Trap Rd.
Vienna, Va. 22182

Spring highlights:
Antares -March 19
Jeri Sager – March 20
HAPA -March 23-24
Bastianello & Lucrezia -March 26
John Eaton -March 27
Shemekia Copeland -March 28
Richard Marx and Matt Scannell -April 6
Ruthie Foster and John Hammond -April 7
Moya Brennan -April 8
Los Angeles Guitar Quartet -April 9
Julie Murphy Wells -April 10
The Bad Plus -April 13
Livingston Taylor -April 15-16
Luke Brindley -April 22
Lucy Kaplansky -April 23
Buskin & Batteau -April 24
The Bobs -April 28
John McCutcheon -April 29
Bonnie Rideout -April 30
For more information: 703-255-1900 or wolf-trap.org
Black Cat
1811 14th St. N.W.
Washington D.C. 20009

Spring highlights:
Black Lips, Box Elders, The Vermilions -March 19
Close to the Edge featuring DJ Dredd -March 19
Fruit Bats, Blue Giant, The Singleman Affair -March 20
Right Round featuring DJ lilíe -March 20
Magik Markers, Buildings -March 21
The Ruby Suns, Toro y Moi -March 24
Jukebox The Ghost, Tally Hall, Skybox -March 25
The Saturday Night Dance Party -March 27
The So So Glos, The Pharmacy -March 28
The Smith Westerns, So Cow, The Cheniers -April 1
Sorted with DJ Stereo Faith -April 2
HomoSonic -April 4
Tim Barry, Red Clay River -April 5
Exit Clov, Gringo Star -April 8
High on Fire, Priestess, Black Cobra, Bison B.C. -April 11
Freddie T & The People, Brandon Bulter -April 12
Shortstack, Birds of Avalon, Suns of Guns -April 16
Ugly Purple Sweater, La Strada, Lucia Lucia -April 20
Bitch -April 29
Echo & The Bunnymen -April 30
These United States, The Mother Hips -May 15
Thee Silver Mt Zion Memorial Orchestra -May 19
For more information: 202-667-4490 or blackcatdc.com
Blues Alley
1073 Wisconsin Ave. N.W.
Washington D.C. 20007

Spring highlights:
Earl Klugh -March 20
Swing Shift -March 21
Sherrie Maricle & The Diva Jazz Trio -March 22
Gregg Karukas -March 23
Nicole Henry -March 24
Stanley Jordan -March 28
The Outer Bridge Ensemble -March 29
Dan Leonard -April 6
Dani Cortaza -April 7
Bucky Pizzarelli -April 8-10
James Madison High School Band -April 11
Richard Montgomery High School -April 12
Columbia Jazz Band -April 12
The Dave Brubeck Quartet -April 16-18
The World Famous Count Basie Orchestra -April 20-25
Yellowjackets -May 6-8
Teri S -May 12
Larry Coryell Power Trio -May 13-16
Marcus Young -May 18
Spyro Gyra -May 20-23
John Eaton -May 25
For more information: 703-549-7500 or bluesalley.com
DAR Constitution Hall
1776 D St., N.W.
Washington D.C. 20006

Spring highlights:
Fresh Fest with Salt-N-Pepa -March 20
The Moody Blues -March 26
Vampire Weekend -April 3
Phoenix -April 26
For more information: 202-628-1776 or dar.org/conthall
DC9
1940 Ninth St. N.W.
Washington D.C. 20009

Spring highlights:
Bonjour, Ganesh! -March 20
Barefoot Truth -March 21
My Disco -March 23
Miles Kurosky of Beulah -March 24
Natalia Clavier -March 27
A Sunny Day In Glasgow -March 28
today the moon, tomorrow the sun -March 29
The Appleseed Cast -April 13
The Mary Onettes -April 20
The Points -April 22
Nouveau Riche -April 24
Captured! By Robots -May 4
Eluvium -May 17
For more information: 202-483-5000 or dcnine.com
DC Center
1810 14th St. N.W.
Washington, D.C. 20009

Tom Goss Live: Launching his new Marriage Equality EP Politics of Love -April 1
For more information: 202-682-2245 or thedccenter.org
Folger Elizabethan Theatre
201 East Capitol St., S.E.
Washington D.C. 20003

Spring highlights:
Ballets and Brawls: French Music of Court and Countryside -March 19-March 21
A Musical Banquet: Songs for Lute, Voice and Viol -April 9-April 11
For more information: 202-544-7077 or folger.edu
GMU Center For The Arts
4373 Mason Pond Dr.
Fairfax, VA 22030

Spring highlights:
Schleswig-Holstein Festival Orchestra with Lang Lang -April 3
GMU Percussion Ensemble Concert -April 6
GMU Chamber Orchestra -April 13
Academy of St. Martin in the Fields -April 23-25
GMU Wind Symphony and Symphonic Band Spring Concert -April 27
Flutopia Flute Choir -May 4
For more information: 888-945-2468 or gmu.edu/cfa
Iota Restaurant & Bar
2832 Wilson Blvd
Arlington, VA 22201

Spring highlights:
Tom McBride and the Whig Party -March 19
Dead Heart Bloom with Aaron Thompson -March 20
David Ford -March 21
Amy Sullivan and the Whiskey Darlings -March 22
Justin Trawick -April 2
The U-Liners -April 3
El Ten Eleven -April 6
Caravan of Thieves -April 8
The Walkaways -April 24
Red Elvises -May 1
For more information: 703-522-8340 or iotaclubandcafe.com
Jammin' Java
227 Maple Ave. E.
Vienna, VA 22180

Spring highlights:
Steve Forbert -March 19
Dreaming of Eden + The Chuck Shaffer Picture Show -March 19
Al Petteway and Amy White -March 21
Collective Change – Haiti Benefit Concert -March 23
Jim Weiderís Project Percolator -March 24
The Hint -March 26
Sara Borges and the Broken Singles -March 26
Bill Emerson and Sweet Dixie Band -March 28
Army of Me -March 28
Pierre Bensusan -March 31
Benjy Davis Project -April 1
DC101ís Last Band Standing -April 6, April 13, April 21, April 27
Sara Watkins -April 20
Adrian Belew -April 22
Faze Electro Dance Party with Menya and Ypset and Santi -April 24
Graham Parker and the Figgs -May 1
Michelle Shocked -May 7
Boys Will Be Boys -May 8
Aqualung -May 9
Dan Navarro -May 14
Crash Test Dummies -May 16
For more information: 703-255-1566 or jamminjava.com
Kennedy Center
2700 F St. N.W.
Washington, D.C. 20566

Spring highlights:
The Washington Chorus performs Mozartís Requiem -March 26, Concert Hall
Vocal Arts Society: America Sings Festival Showcase -April 10, Concert Hall
Marietta Simpson -April 21, Concert Hall
Gospel Across America Special -April 24, Concert Hall
Escher Quartet -April 26, Concert Hall
Barbara Cookís Broadway Spotlight: Laura Benanti -April 30, Terrace
Vocal Arts Society: Christine Brewer and Craig Rutenberg -May 7, Concert Hall
Jennifer Koh and Reiko Uchida -May 9, Concert Hall
Mary Lou Williams Women in Jazz Festival -May 20-May 22, Terrace
For more information: 202-467-4600 or kennedy-center.org
Lisner Auditorium
730 21st St., N.W.
Washington, D.C. 20052

Spring highlights:
Grease: The Gay Men's Chourus of Washington presents a fully staged, all-male production of thie Broadway musical -March 19 thru March 21
Angelique Kidjo -March 27
Caetano Veloso -April 10
Rokia Traore -April 11
Time Machine -Mashina Vremeni -April 13
Music from the Crooked Road: Mountain Music of Virginia -April 16
Joe Bonamassa -April 23
Baaba Maal -April 29
The Fab Faux -May 22
For more information: 202-994-6800 or lisner.org
The Library of Congress-Thomas Jefferson Building
10 First St. S.E.
Washington, D.C. 20003

Spring highlights:
Jean-Guihen Queyras and Alexandre Tharaud -March 12
Curtis Contemporary Music Ensemble -March 15
Voces Intimae -March 26
Juilliard String Quartet -April 9
Henschel Quartet -April 14
Alexander String Quartet, Afiara String Quartet -April 16
Jack Quartet -April 30
Woodley Ensemble -May 14
Ensemble Caprice -May 28
Mahan Esfahani -May 29
For more information: 202-707-8000 or loc.gov/concerts
Lyric Opera House
140 West Mount Royal Ave.
Baltimore, Md. 21201

Spring highlights:
Norah Jones -March 30
David Gray -March 31
Angie Stone and Leela James -April 17
For more information: 410-685-5086 or lyricoperahouse.com
Merriweather Post Pavilion
10475 Little Patuxent Parkway
Columbia, MD 21044

Spring highlights:
My Morning Jacket -May 1
Sugarland -May 16
The Bamboozle Roadshow featuring All Time Low and Boys Like Girls -May 21
For more information: 800-551-SEAT or merriweathermusic.com
Music Center at Strathmore
5301 Tuckerman Lane
North Bethesda, MD 20852

Spring highlights:
The Celtic Tenors -March 12
Ari Allal -March 24
Naomi Kudo -March 25
US Royalty with DJ Will Eastman -March 26
Tom Wopat -March 28
David Garrett -March 31
E.M. Spencer -April 2
Sezen Aksu -April 4
Gato & the Palenke Music Co. -April 9
George Winston, A Solo Piano Concert -April 9
Romeo and Julia Koren -April 13
Songs of the Earth: Celebrating the 40th Anniversary of Earth Day -April 23
Patti LuPone presents ìThe Gypsy in my Soulî for Strathmoreís 2010 Spring Gala -April 24
Nancy Wilson -May 7
An Evening with Rosanne Cash and Mark OíConnor -May 8
For more information: 301-581-5100 or strathmore.org
National Philharmonic-Music Center at Strathmore
5301 Tuckerman Lane
North Bethesda, MD 20852

Spring highlights:
All Brahms -March 20, March 21
Brahms Requiem -March 27
From Mozart to Mahler -April 17, April 18
Vivaldiís Gloria -May 1
The Polish Masters and Schumann -May 22
For more information: 301-493-9283 or nationalphilharmonic.org
Ram's Head Live
20 Market Place
Baltimore, MD 21202

Spring highlights:
Charm City Devils -March 19
Mat Kearney & Ingrid Michaelson -March 20
Ben Folds -March 24
Mr. Greengenes -March 26
Julian Casablancas -March 28
The Fabulous Thunderbirds -March 31
The Big Pink with A Place To Bury Strangers -April 1
Artic Monkeys -April 7
Bone Thugs-N-Harmony -April 8
Steel Panther -April 9
Hotspur -April 10
2U: U2 tribute band -April 17
Mastodon -April 20
Jakob Dylan and Three Legs -April 22
Josh Gracin -April 23
Gogol Bordello -April 29-30
Who ís Bad: A Michael Jackson Tribute Band -May 1
Charlie Mars -May 12
Get the Led Out -May 15
For more information: 410-244-1131 or ramsheadlive.com
Ram's Head on Stage
33 West St.
Annapolis, MD 21401

Spring highlights:
Eddie from Ohio -March 19-20
The Machine Unplugged -March 20
Amos Lee -March 20
Celtic Crossroads -March 21
HAPA -March 22
Ledisi -March 27
Tower of Power -March 28
Alice Smith -March 31
Pat McGee -April 1
Rhett Miller -April 3
Keith Emerson & Greg Lake -April 5
Christopher Cross -April 10
Joan Osborne -April 11
Gary Wright -April 15
Sonny Landreth -April 16
Lalah Hathaway -April 18
Swing Out Sister -April 20
Ambrosia -April 21
Colin Hay -April 25
The Church -April 27
Mick Taylor -May 6
Sharon Jones & The Dap-Kings -May 7
Sia -May 8
Chris Botti -May 10-11
Vonda Shepard -May 12
Phil Vassar -May 14-15
Beth Nielsen Chapman -May 24
Toad the Wet Sprocket -May 29
For more information: 410-268-4545 or ramsheadonstage.com
Rock & Roll Hotel
1353 H St. N.E.
Washington, D.C. 20002

Spring highlights:
Junior League Band -March 19
Epic Dance Party with DJ Doc Rok -March 19
Garutachi with DJ Austin and DJ Ca$$idy -March 20
Bio Ritmo -March 20
Solar Powered Sun Destroyer -March 25
Shearwater, Wye Oak and Hospital Ships -March 26
Woods, Real Estate, Surf City -March 27
Japandroids, Love Is All, Tennis System -March 29
Gang Gang Dance, Highlife -March 30
Rattler -April 3
100 Monkeys -April 7
Pants Velour, Fuzzy G, The Canon Logic -April 10
ThíLegendary Shack*Shakers -April 13
Liars, Fol Chen -April 14
Trams Am, Nice Nice, Jonas Reinhardt -April 15
Mixtape -April 17
The Apples In Stereo -April 18
The Blue Line, Poor But Sexy, Drunk Tigers -April 23
Amanda Blank -April 24
Free Lobster Buffet -April 30
The Album Leaf, Sea Wolf -May 4
Imperial China -May 7
Patrick Wilson, Dovemen -May 8
Caribou, Toro Y Moi -May 10
Greg Laswell -May 24
Cobra Collective, Death by Sexy, Dead Heart Bloom -May 28
Black Dog Prowl -May 29
For more information: 202-388-ROCK or rockandrollhoteldc.com
The Birchmere
3701 Mt. Vernon Ave.
Alexandria, VA 22305

Spring highlights:
Average White Band -March 19-20
David Wilcox & Patty Larkin -March 21
Jonathan Butler -March 23
Carrie Newcomer & Peter Mayer -March 25
Jonatha Brooke & Lori McKenna -March 26
Ashford & Simpson -March 27
Anuhea & The Green -March 29
Bob Schneider -March 30
Robert Earl Keen -March 31
Keller Williams -April 2
Vivian Green -April 5
Keith Emerson & Greg Lake -April 6
Lizz Wright -April 7
Joan Osborne -April 8
Christopher Cross -April 9
Fourplay -April 12
Todd Rundgrenís Johnson -April 13
Michael McDonald -April 15
Guy Clark -April 17
Angie Stone -April 18
Swing Out Sister -April 19
The Wailiní Jennys -April 20
Colin Hay -April 23-24
Gentlemen of the Night -April 25
America: 40th Anniversary Tour -April 30, May 1
The English Beat -May 3
Kathy Mattea -May 6
Shawn Colvin -May 7
Shelby Lynne -May 11
Iris Dement -May 13
Chatham County Line -May 14
Virginia Coalition -May 15
Sweet Honey in the Rock -May 21-22
Toad the Wet Sprocket -May 27-28
Sonny Landreth & Tom Principato -May 29
Alex Bugnon -May 30
For more information: 703-549-7500 or birchmere.com
The Red & The Black
1212 H St. N.E.
Washington D.C., 20002

Spring highlights:
The Pubcrawlers -March 15
Rest Assured -March 17
Bellmer Dolls -March 19
One for the Team, The Prisms -March 21
YARN, Sgt Dunbar The Hobo Banned, Andrew Karnavas -March 25
Ravenous, FOX Japan, Caustic Casanova -March 26
Benyaro, Chris Merritt -March 28
Andalusian Dog -April 1
Shapiro, The Winter Sounds, Achtung Panda -April 4
East Coast Caravan -April 9
The Honeyguns -April 10
Lake Street Dive -April 13
Jounce -April 15
Horsehead -April 16
Deleon -April 17
For more information: 202-399-3201 or redandblackbar.com
The State Theatre
220 N. Washington St.
Falls Church, VA 22046

Spring highlights:
The Legwarmers -March 19-20
Tower of Power -March 26
Divas of Pop Dance Party -March 27
Rebirth Brass Band -March 31
The Soft Parade: The most authentic tribute to the Doors-April 2
The Legendary Rhythm and Blues Revue -April 3
Easy Star All-Stars -April 4
Anonymous -April 8
Cherry Poppin Daddies -April 15
Jimmy Thackery & The Drivers -April 18
Cowboy Junkies -April 23
The Machine -April 24
The Church -April 25, April 27
Taj Mahal Trio -May 1
Sematic and Charm City Devils -May 7
Donna The Buffalo -May 14
For more information: 703-237-0300 or thestatetheatre.com
Verizon Center
601 F St. N.W.
Washington, D.C. 20004

Spring highlights:
Alicia Keys -March 25
Bon Jovi with Dashboard Confessional -March 29
Nickelback -April 13
For more information: 202-628-3200 or verizoncenter.com
Warner Theatre
513 13th St., N.W.
Washington, D.C. 20004

Spring Lineup:
Norah Jones -April 2
Trans-Siberian Orchestra -April 11
Widespread Panic -April 20-21
Elvis Costello & The Sugarcanes -April 22
Mark Knopfler -May 2
For more information: 202-397-SEAT or warnertheatre.com
9:30 Club
815 V St., N.W.
Washington, D.C. 20001

Spring highlights:
Anvil w/Misstallica -March 20
The Dan Band -March 27
Wiz Khalifa -March 28
Nada Surf -April 2
Wale & KíNaan -April 4
Black Rebel Motorcycle Club -April 5
The Temper Tramp and Florence & The Machine -April 6
King Sunny Ade -April 7
Mayhem -April 7
Ted Leo and the Pharmacists -April 8
NEEDTOBREATHE w/Will Hoge & Matt Hires -April 9
US Air Guitar -April 10
Pick Up The Phone Tour featuring Blue October -April 11
George Clinton and PFunk -April 12
Badfish -April 14
Martin Sexon -April 16
Jedi Mind Tricks -April 17
Kidz In The Hall -April 18
The Disco Biscuits -April 20
Rock Bottom Remainders -April 21
Jovanotti -April 22
Jakob Dylan -April 23
AP Tour: Never Shout Never, Hey Monday, The Cab, Every Avenue, The Summer Set -April 25
Ozomatli -April 28
Motion City Soundtrack -April 28
Kaki King -April 29
Citizen Cope -April 30, May 1
Shout Out Louds -May 2
Sia -May 4
Corinne Bailey Rae -May 13
Dr. Dog w/ Deer Tick -May 14
For more information: 202-265-0930 or 930.com
Forget streaming, the holiday classics return to area stages
Bring your proof of vaccination and check out a local production this season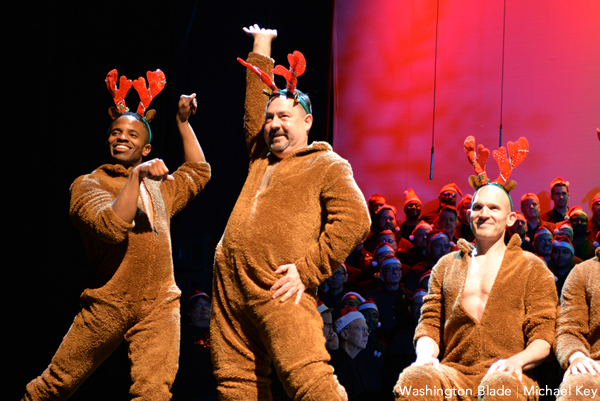 A year ago, the holiday season was streamed. But now, thanks to various protocols including masks and proof of vaccination, DMV theatergoers can come together and experience – live and in-person — both beloved classics and some promising new works. Here's a smattering of what's out there.
At Olney Theatre, Paul Morello is thrilled to bring back "A Christmas Carol 2021" (through Dec. 26), his solo adaptation of Dickens' ghost story. Concerning returning to a live audience, Morello says, "While this is technically a one-person show, it's really about the connection and collaboration with an audience, being in the same room, breathing in unison. I can't do this without an audience and for a story that thrives on redemption, mortality, isolation, the need for community and connection, and the things that matter most, the timing couldn't be better."
Olney also presents "Disney's Beauty and the Beast" through Jan. 2. This musical "tale as old as time" stars out actor Jade Jones as Belle and Evan Ruggiero plays the Beast. olneytheatre.org
For the holidays, Synetic Theater at Crystal City is reworking "Cinderella" (Nov. 27-Dec. 26). Led by an all-female team of creators, this festive take on the classic fairytale is inspired by Afro-Latino music and dance. Directed and adapted by Maria Simpkins who also plays the title role. synetictheater.org
Last year, because of COVID-19, Ford's Theatre presented "A Christmas Carol" as a radio broadcast, but now the fully produced play returns to the venue's historic stage through Dec. 27. A popular Washington tradition for more than 30 years, the thoroughly enjoyable and topnotch take on the Dickens' classic features Craig Wallace reprising the part of Scrooge, the miser who after a night of ghostly visits, rediscovers Christmas joy. fords.org
Another D.C. tradition guaranteed to put audiences in a holiday mood is the Washington Ballet's "Nutcracker," playing at the Warner Theatre through Dec. 26. Set to Tchaikovsky's enchanted score, this charming and superbly executed offering takes place in Georgetown circa 1882 and features a retinue of historic figures along with children, rats, fairies and a mysterious godfather. Choreography is by Septime Webre. washingtonballet.org
The Folger Consort, the superb early music ensemble in residence at the Folger, will be performing seven concerts of "A Medieval Christmas" (Dec. 10-18) at St. Mark's Church on Capitol Hill. A streaming version of the concert will also be available to view on-demand. folger.edu
At Lincoln Theatre, the Gay Men's Chorus of Washington, D.C. presents "The Holiday Show" (Dec. 4, 11, and 12) replete with tap-dancing elves, a dancing Christmas tree, snow, and a lot more. The fun and festive program's song list includes "Let It Snow! Let It Snow! Let It Snow!", "The 12 Rockin' Days of Christmas," and "Boogie Woogie Frosty." Featured performances range from the full Chorus, soloists, all GMCW ensembles, and the GenOUT Youth Chorus. gmcw.org
Arena Stage is marking the season with August Wilson's "Seven Guitars" (through Dec. 26), a drama about a small group of friends who gather following the untimely death of their friend, a blues guitarist on the edge of stardom. Directed by Tazewell Thompson, the production features an exciting cast that includes local actors Dane Figueroa Edidi and Roz White. arenastage.org
Creative Cauldron is serving up some holiday magic with "The Christmas Angel" (Dec. 9-19). Based on a little-known 1910 novel by Abbey Farwell Brown, it's the story of a lonely and bitter spinster who returns to happiness through a box of old toys. The commissioned new holiday musical is a collaboration of longtime musical collaborators and married couple Matt Conner and Stephen Gregory Smith (lyrics and book). creativecauldron.org
In keeping with the Yuletide spirit, the National Theatre presents two feel-good national tour musicals. First, it's "How the Grinch Stole Christmas!" (through Dec. 5), a musical take on Dr. Seuss' classic holiday tale featuring the hit songs "You're A Mean One, Mr. Grinch" and "Welcome Christmas."
Next up is "Tootsie" (Dec. 7-12), the hit musical based on the 1982 gender-bending film starring Dustin Hoffman as an out-of-work actor who disguises himself as a woman to land a role on a popular soap opera. The show boasts a Tony-winning book by Robert Horn and a score by Tony winner David Yazbek (The Band's Visit). thenationaldc.com
Keegan Theatre presents its annual holiday offering, "An Irish Carol" (Dec. 10-31). Set in a modern Dublin pub, the funny yet poignant original work (a nod to Dickens) tracks the changes in the life of a rich but miserable publican over the course of one Christmas Eve. keegantheatre.org
At Theater J, it's the Kinsey Sicks' "Oy Vey in a Manger" (Dec. 17-25). Blending drag, four-part harmony, and political humor, the "dragapella beautyshop quartet" brings its own hilariously irreverent view on the holidays. theaterj.org
And through Jan. 2, Signature Theatre continues to brighten the season with its production of Jonathan Larson's "Rent" directed by the company's out artistic director Matthew Gardiner and featuring out actor David Merino as Angel, a preternaturally energetic drag queen and percussionist. sigtheare.org
The Music Center at Strathmore, also in Bethesda, is presenting a wide range of musical holiday offerings including "Manheim Steamroller Christmas" (Dec. 3 and 4), a multimedia holiday tradition; Sarah Brightman in "A Christmas Symphony" (Dec. 6 and 7); "A Celtic Christmas with Séan Heely Celtic Band" (Dec. 11); Washington Bach Consort's "Bach's Epic Christmas Oratorio" (Dec. 11); the beloved "The Washington Chorus: A Candlelight Christmas" (Dec. 16 and 17); and last but not least "The Hip Hop Nutcracker" (Dec. 20), Tchaikovsky's classic reimagined with MC Kurtis Blow ("White Lines"). strathmore.org
And finally, something strictly for the kids: Imagination Stage presents "Corduroy" (Dec. 11-Jan. 24). Based on the beloved children's books by Don Freeman, it's the heartwarming story of a girl and her perfectly imperfect Teddy Bear. Best for ages 3-9. imaginationstage.org
BETTY returns to DC
Queer band to perform at City Winery Dec. 5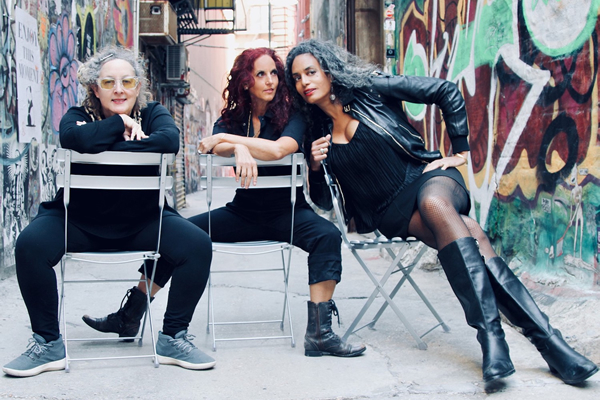 Pop-rock band BETTY is returning to their District homeland for a holiday show at City Winery on Dec. 5.  
Fronted by Alyson Palmer and sisters Elizabeth and Amy Ziff, the band who are "rule breakers" and "equality rockers" have been touring, writing, and advocating for social change through their music since 1986. The band has been featured in shows like "The L Word" and "Encyclopedia," and created their own off-Broadway show "BETTY RULES."
The D.C. show will kick off a tour that will bring the band to New York City, Cincinnati, and New Hope, Pa. Elizabeth, who identifies as lesbian, said it's been "incredible" to be in rehearsals for shows again after the pandemic put a hold on live music.
"We've been together for so long. We are a family and we hang out and we're friends and we play music together," she said. "It's our life."
Amy, who is queer, said she's excited to perform in the District where the band originally formed.
"It's so emotional because it's where we grew up," she said. "Not just musically, but it's where we came out."
Proof of vaccination is required at all shows. To purchase tickets, visit citywinery.com.
We waited eons for this? New Diana album is colossal disappointment
Saccharine sentiments sink largely self-penned effort from diva supreme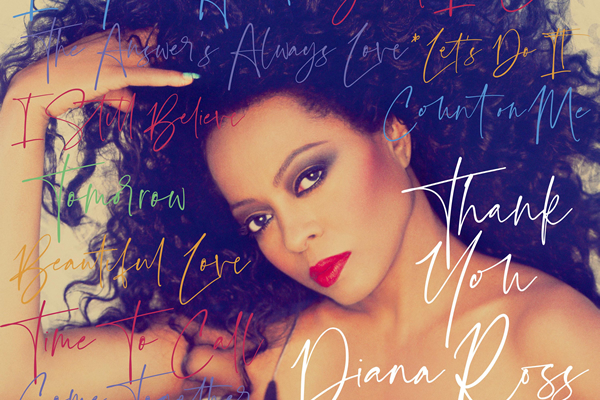 Diana Ross's solo albums are almost always inconsistent.
This isn't unusual among R&B/pop divas; start wading past the hits and the same could be said for the album tracks of Gladys Knight, Aretha Franklin, Dionne Warwick, et. al.
The few times she's made a start-to-finish solid effort, like 1991's "The Force Behind the Power," 1995's "Take Me Higher" or even 1985's "Eaten Alive," which works even with its campy title cut, they've never been huge sellers or featured any of her trademark hits.
However — and it pains me to say this — you have to go all the way back to 1983's "Ross" to find an album as bad as her new release "Thank You" (★½ out of four), her first album in 15 years and her first of new material in 22 years. Pre-COVID, she was highly active with touring (and played the D.C. region many times), but her studio work had ground to a total halt.
A few things trickled out from the vault, like 2006's delightful jazz album "Blue" (recorded in the early '70s), but there was nothing new. And while it was always great to see her on stage — she looks fabulous at 77 (although you'd never know it from the vintage photo used on the "Thank You" cover) — her show varied little from year to year and her vocals were occasionally pitchy.
So while it's great to finally have something new from the Motown legend — a studio workhorse all through the '60s, '70s and '80s — this extremely uneven new album is a musical Hallmark turd that never met a feel-good lyrical cliche too saccharine or an easy listening musical bed too insipid.
It's hard to place too much of the blame on Troy Miller (a veteran of Amy Winehouse's band), who produced the bulk of the tracks here, as Ross's fingerprints are all over it — she's billed as executive producer and, in a career first, she co-wrote nine of the 13 cuts. Though she took a few songwriting credits here and there over the years (she co-wrote four songs on her 1982 album "Silk Electric"), on most of her albums, her songwriting contributions are zero. And although two of those — the bouncy title cut and second single "If the World Just Danced" — are unequivocally the project's best tracks, Joni Mitchell she is not.
Here's the good news — she sounds amazing. There's a lustrous quality to her vocal work here, her range is truly impressive and the pitch never wavers. Some scoff, but I have always felt Ross is a great pop singer with considerable range and impressive interpretive abilities in a wide gulf of genres. She was never a Whitney or Celine, but she could coo ("Baby Love"), yearn ("Cryin' My Heart Out for You"), burn ("Muscles") and growl ("Swept Away") as well as anyone. This album's "Time to Call," though weak, gives her a chance to unfurl several melismas in her highest register and she kills it.
Stylistically, while varied, the album as a whole is numbingly mellow. Three cuts (the solid "If the World Just Danced," retro shuffle "I Still Believe" and horn-laden abomination "Tomorrow") are dance tracks and almost all the rest could legitimately be dubbed easy listening. There's cascading string work, decent (if hardly impressive) production and stylistic variation, but the flame dies out after the first two songs and, with such banal lyrics and painfully unimaginative melodies, never comes close to reigniting despite Ross's conviction. It's like seeing a truly good actress in a turkey of a play knowing she co-wrote it. You're rooting for her, but you've spent most of the outing wincing.
One might argue saccharine and Ross have gone hand in hand back to the days of "Reach Out and Touch" and "Ain't No Mountain High Enough" — true — but it's taken to a new low here. Of course, nobody expected Deepak Chopra-caliber insight, but with clunkers like "what is isn't/what isn't is" (on the Ross co-penned "All is Well"), "I'll be the pillow where your head will lay," (on daughter Rhonda's "Count on Me") or "the first time I saw your face …" (on mother's ode "Beautiful Love") — ripping off a lyric that blatantly should be illegal — this album's scaffolding is so weak, one positively groans at the amateurishness of the songcraft. This is the chorus of "Count on Me": "count on me/count on me/count on me/count on me."
Siedah Garrett, a respected songwriter who might have momentarily elevated the proceedings, delivers one of the album's worst cuts with the nauseatingly treacly "The Answer's Always Love."
I could go on, but you get the idea.
One might also argue, hey, couldn't we use a little positivity today? Cut Miss Ross some slack and just be glad she's back. True perhaps, but with material this weak and the thought of what this album could have been in more daring, imaginative hands, it's downright frustrating.
With little chance of making any kind of dent on U.S. (or U.K. for that matter) pop radio and in her late 70s, I'd hoped Miss Ross, with no fucks left to give, might have done something brash and daring, but this is called playing it safe folks and sadly it's a yawnfest.