16 Democratic senators uncommitted on ENDA
Despite uncertainties, House to forge ahead on job bias bill
With supporters of the Employment Non-Discrimination Act expecting a favorable House vote on the measure in May or June, LGBT lobbyists are turning their attention to 16 Democratic senators who have yet to sign on as co-sponsors of the legislation.
The bill, also known as ENDA, bars employment discrimination based on someone's actual or perceived sexual orientation and gender identity.
Its supporters say it's needed to end job discrimination in 29 states, where it remains legal to fire or refuse to hire someone who's gay, lesbian or bisexual. Supporters also note that employers in 38 states can fire or refuse to hire someone solely because of their gender identity or expression, a practice the bill would similarly prohibit.
Multiple sources have told DC Agenda that supporters in the Senate don't appear to have the 60 votes needed to overcome a filibuster that Republican opponents are expected to invoke to block an up or down floor vote.
"I've tried to get a sense of what's going on here," said Rep. Barney Frank (D-Mass.), ENDA's lead sponsor in the House. "But I think the best thing I can do about the Senate and ENDA is to get it passed [in the House] and send it over there."
Frank's advice for ENDA backers worried about the Senate is to "call senators and lobby them" rather than dwell too much on "arm chair strategizing."
But with the 2010 congressional elections fast approaching, only two GOP senators have so far committed to vote for ENDA, making it essential for supporters to line up most of the 16 uncommitted Democrats to secure the bill's passage in the Senate.
Nearly all political observers predict the Democrats' majorities in the House and Senate will shrink as a result of the November election, making it far more difficult to pass ENDA and other LGBT rights bills next year.
As of this week, there were 45 Senate co-sponsors of ENDA, along with chief sponsor Sen. Jeff Merkley (D-Ore.), bringing the total committed votes to 46. Of the 46, 42 are Democrats and two are independents. Maine senators Olympia Snowe and Susan Collins are the only Senate Republicans that have signed on as co-sponsors.
Thirty-nine Republican senators have declined to co-sponsor the bill compared to the 16 Democrats who chose not to become a co-sponsor. Sen. Jim Webb (D-Va.) signed on as a co-sponsor on March 10, reducing the number of uncommitted Democrats from 17 to 16.
For the first of a series of reports on the Democratic senators uncommitted on ENDA, DC Agenda contacted experts and activists in the states that five of those senators represent, seeking to assess how they would vote if the measure reaches the Senate floor sometime this year.
The five senators include Blanche Lincoln (D-Ark.), Mark Pryor (D-Ark.), Thomas Carper (D-Del.), Evan Bayh (D-Ind.), and Clare McCaskill (D-Mo.). Spokespeople for the five did not return calls this week seeking to determine their position on ENDA.
Many political observers in Arkansas believe Lincoln is facing an uphill fight in her re-election bid, with the state's lieutenant governor, Bill Halter, challenging her in the Democratic primary. As of April 1, each of four Republicans seeking the nomination to oppose her in the general election was ahead of her in a Rasmussen public opinion poll by margins of 51 percent to 36 percent.
Officials with the state's sole statewide LGBT group, Center for Artistic Revolution, did not respond to calls for comment by press time.
Hastings Wyman, editor of Southern Political Report, a recognized authority on politics and elections in the South, said support for ENDA would not help Lincoln in the current political environment.
"I can't say how she would vote on ENDA, but the politics would say it would help her if she did not vote for it," he said.
Wyman noted that Pryor, who is not up for re-election this year, has a record as a moderate on most issues, even though he projects an image of a conservative Democrat.
"I would not be surprised if he voted for it," he said.
Steve Elkins, executive director of Camp Rehoboth, an LGBT advocacy group and community center in Rehoboth Beach, Del., said he has spoken with Carper at gay-related events and believes the state's senior senator would vote for ENDA.
"He has been to Camp Rehoboth and has attended a number of LGBT events," including meetings of the state's LGBT Democratic group, Stonewall Democrats of Delaware, Elkins said. "There is no reason for me to think he would not vote for the bill."
Delaware's other senator, Democrat Ted Kaufman, who was appointed to fill the Senate seat vacated when former Sen. Joe Biden was elected vice president, is an ENDA co-sponsor.
By comparison, Indiana political consultant Mark St. John, a member of the board of the statewide LGBT group Indiana Equality, said Bayh has a longstanding reputation as a cautious politician and has yet to give any indication of how he would vote on ENDA.
"I wish I had a better answer," he said. "Evan is certainly Mr. Cautious on that issue … but this is not to say he would vote no on ENDA. He has always held his cards close to his chest."
St. John said Indiana Equality is lobbying Bayh to support both ENDA and a proposal to repeal "Don't Ask, Don't Tell," the law that bars gays, lesbians and bisexuals from serving openly in the military.
Although McCaskill's office has not responded to at least two inquiries from DC Agenda seeking her position on ENDA, A.J. Bockelman, executive director of the Missouri statewide LGBT group Promo, said McCaskill told members of the group at a meeting in Kansas City in February that she supports ENDA and would vote for it.
"We have talked to her office about the trans provisions in the bill and she is OK with that," Bockelman said.
Sources familiar with ENDA have said several senators and House members raised objections to the transgender provision, a development that prompted Frank to work with transgender activists to come up with proposed revisions in the bill's language pertaining to gender identity. The changes are expected to be disclosed when the House version of the bill is marked up in committee in late April or early May.
"Everyone signed off on the changes," said one transgender activist, who spoke on condition of anonymity. "We're not crazy about them, but they're acceptable and they'll help us get the bill passed."
6 killed in shooting at Christian school in Nashville
The shooter was identified as Audrey Hale, 28, of Nashville, according to police who identifies as transgender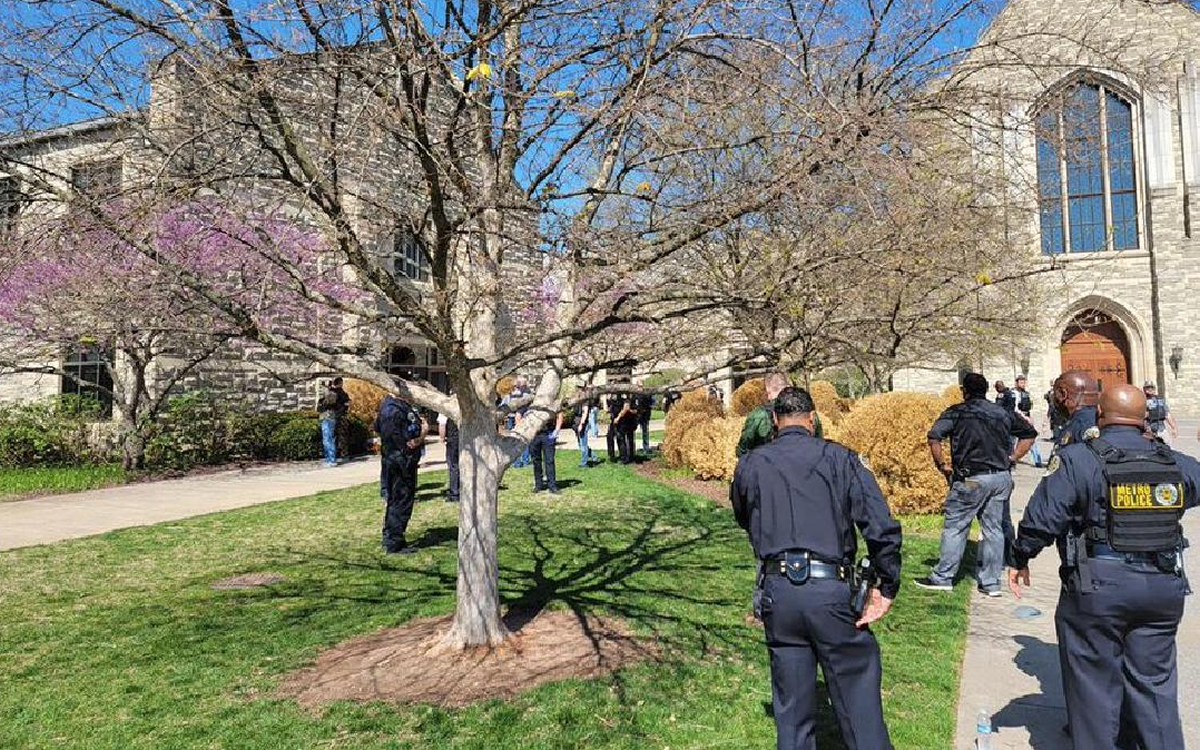 In a press conference Nashville Police Chief John Drake told reporters that earlier Monday morning a 28-year-old local female armed with two "assault-type rifles and a handgun," was killed by responding officers.
"At one point she was a student at that school," Chief Drake told reporters hours after the shooting at The Covenant School. "But unsure what year […] but that's what I've been told so far."
The shooter was identified as Audrey Hale, 28, of Nashville, according to the chief, who identifies as transgender.
According to Drake three children and three adults were killed in the shooting at The Covenant School on Burton Hills Boulevard, a private Christian school.
Children's Hospital Vanderbilt University Medical Center spokesperson John Howser told reporters "We can now confirm 3 children and 2 adults from the school shooting were transported to our Adult Emergency Department (The 2 adults) and (The 3 children) to the Pediatric Emergency Department at Monroe Carell Jr. Children's Hospital," Howser said adding "All 5 patients have been pronounced dead."
Police identified the three slain students as Evelyn Dieckhaus, Hallie Scruggs, and William Kinney, all age 9.
The three faculty members killed were Cynthia Peak and Mike Hill, both 61, and school head Katherine Koonce, 60.
At his only scheduled public event at the White House, President Joe Biden called the shooting "sick" and renewed his call for Congress to ban assault weapons.
Chief Drake noted that the shooter was killed on the school's second floor by his officers acknowledging that the victims were students and staff members of the school.
The school has students from preschool through sixth grade and on a normal day has about 200 students and 40 staff members on campus.
In a statement, Tennessee Gov. Bill Lee tweeted: "I am closely monitoring the tragic situation at Covenant. As we continue to respond, please join us in praying for the school, congregation & Nashville community."
I am closely monitoring the tragic situation at Covenant, & the @TNDeptofSafety & @TNHighwayPatrol are assisting local law enforcement & first responders at the scene.

As we continue to respond, please join us in praying for the school, congregation & Nashville community.

— Gov. Bill Lee (@GovBillLee) March 27, 2023
NBC News reported that just days ago, a 17-year-old suspect wounded two administrators at a Denver high school before he was found dead.
In February, three students were gunned down at Michigan State University. And in January, two students were fatally shot at a charter school in Des Moines, Iowa.
The Washington Post and other media outlets reporting that Rep. Andrew Ogles (R-Tenn.), who represents the Nashville district where the Covenant School is located, said Monday in a statement that he was "utterly heartbroken" by the mass shooting.
Gun reform activists including Fred Guttenberg, whose daughter Jamie was killed in the mass shooting at Marjory Stoneman Douglas High School in Parkland, Florida, on February 14, 2018, have called out Ogles for his hypocrisy posting tweets of Ogles posing with his children all carrying assault rifles in a 2021 family Christmas card photo:
The tragedy of the latest mass shooting is listening to Tennessee politicians who refuse to call it a shooting but who engaged in behavior that caused this to be more likely when they glorify guns. Tennessee Rep @AndyOgles, is this you with your family? pic.twitter.com/LJGnUKqJdA

— Fred Guttenberg (@fred_guttenberg) March 27, 2023
Vice president to visit three African countries that criminalize homosexuality
Ugandan lawmakers passed anti-homosexuality bill last week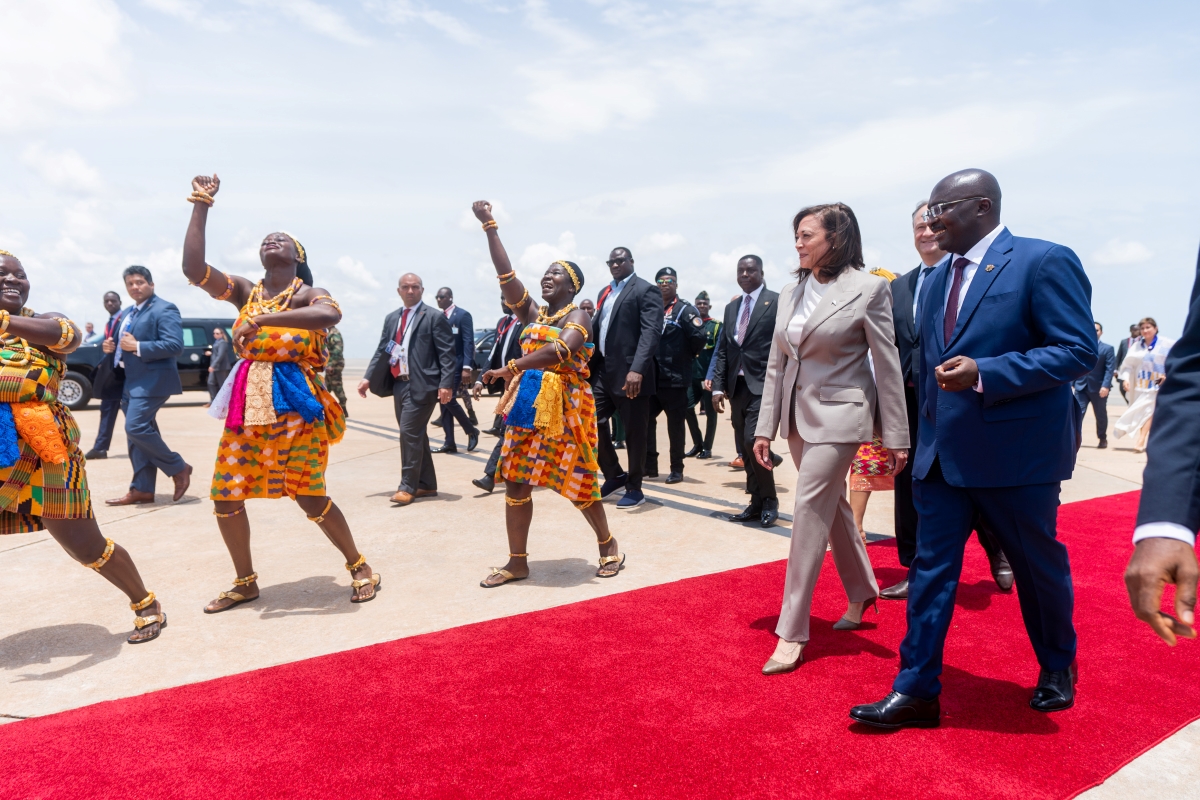 Vice President Kamala Harris this week will visit three countries in Africa that criminalize consensual same-sex sexual relations.
Harris and her husband, second gentleman Douglas Emhoff, arrived in Ghana on Sunday. They will travel to Tanzania and Zambia before returning to the U.S. on April 2.
Ghana, Tanzania and Zambia are among the dozens of countries in which consensual same-sex sexual relations remain criminalized.
The Washington Blade last week reported LGBTQ and intersex Ghanaians remain in limbo as lawmakers continue to debate the Promotion of Proper Human Sexual Rights and Ghanaian Family Values Bill that, would among other things, further criminalize LGBTQ and intersex people and make advocacy on their behalf and allyship illegal. A Ghanaian representative who spoke during a March 20 meeting that focused on the integration of LGBTQ and intersex rights into the U.N. Security Council's work said the body is not an appropriate venue to discuss them.
"You know that a great deal of work in my career has been to address human rights issues, equality issues across the board, including as it relates to the LGBT community," said Harris on Monday during a press conference with Ghanaian President Nana Afuko-Addo that took place in Accra, the Ghanaian capital. "I feel very strongly about the importance of supporting the freedom and supporting and fighting for equality among all people and that all people be treated equally. This is an issue that we consider and I consider to be a human rights issue and that will not change."
Tanzanian President Samia Suluhu, with whom Harris is scheduled to meet on Thursday, last month described LGBTQ rights as "imported cultures." The Tanzanian government has also banned children's books from schools because of their LGBTQ-specific content.
The State Department in 2019 recalled then-U.S. Ambassador to Zambia Daniel Foote after the Zambian government sharply criticized him for publicly defending a gay couple who had been convicted of violating the country's colonial-era sodomy law and sentenced to 15 years in prison.
Then-Zambian President Edgar Lungu later pardoned the couple. Current Zambian President Hakainde Hichilema, which whom Harris will meet on March 31, last September reiteated his government does not support LGBTQ and intersex rights.
Harris arrived in Africa less than a week after Ugandan lawmakers approved a bill that would further criminalize homosexuality and LGBTQ and intersex people. White House Press Secretary Karine Jean-Pierre said the measure if signed "would impinge upon universal human rights, jeopardize progress in the fight against HIV/AIDS, deter tourism and investment in Uganda, and damage Uganda's international reputation."
"The bill is one of the most extreme anti LGBTQI+ laws in the world," she said on March 22 during her daily press briefing. "Human rights are universal — no one should be attacked, imprisoned or killed simply because of who they are or who they love."
President Joe Biden in 2021 signed a memo that committed the U.S. to promoting LGBTQ and intersex rights abroad as part of the White House's overall foreign policy. Then-State Department spokesperson Ned Price later told the Blade the decriminalization of consensual same-sex sexual relations is one of the Biden-Harris administration's five priorities as it relates to LGBTQ and intersex rights overseas.
A senior administration official told reporters during a conference call that previewed Harris' trip that she "is very much focused on opportunities in Africa and a positive message and the great things we can do in partnership with African countries. And you're going to really see that as the theme of the trip, given Africa's role in the world and what we think can be done with Africans, for the sake of Africans in the United States and the rest of the world."

"But that doesn't mean that she would shy away from discussing difficult issues, and you know her track record on the LGBTQ issue," added the official. "She spent her whole career fighting for rights of overlooked and marginalized people, including LGBTQ people."
The official further stressed the Biden-Harris administration "is very clear about the right for all people to live free of harm and discrimination and to realize their full potential and to fully participate in society."
"The vice president has been clear about that throughout her engagements in the United States and elsewhere in the world, and it won't be any different when she is in Africa," added the official. "We have said, you know, including in recent days — expressed the concerns we have about certain developments that we've seen on the African continent, whether it's laws or practices that are anti-LGBTQ. And that's not consistent with what this administration stands for."
The official also said they "don't think that is a choice between taking a firm stand on that set of really important issues and the big positive opportunity that the vice president sees in Africa and she's going to emphasize on this trip."
The Blade will provide further updates of Harris' trip as they become available.
LGBTQ protections added to N.M. Human Rights Act
Governor Michelle Lujan Grisham signed House Bill 207 on Friday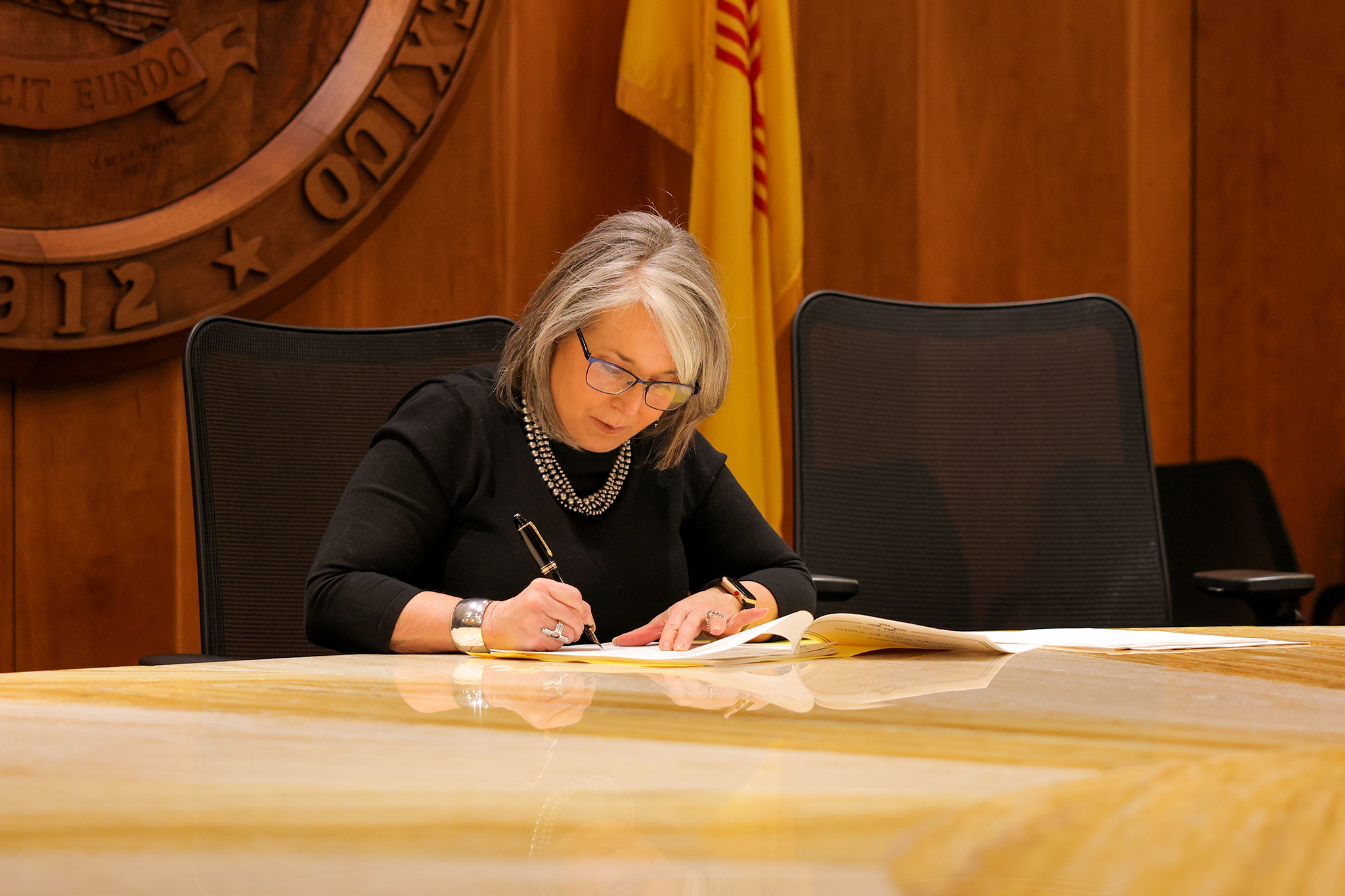 New Mexico Gov. Michelle Lujan Grisham signed House Bill 207 into law on Friday that expands protections for LGBTQ New Mexicans under the state's Human Rights Act. For transgender residents, Grisham also signed House Bill 31, a measure that removes the requirement that name changes be published in a newspaper.
The Santa Fe New Mexican newspaper reported that HB 31 also lets people 14 and older petition a district court for a name change and prohibits the court from requiring notice to the applicants' parents if it finds notice would jeopardize the applicant's safety.
"While hundreds of bills have been introduced across the country to restrict the rights of queer and trans people, New Mexico is committed to making our state a safer place for everyone by closing a loophole to ensure our taxpayer dollars cannot be used to discriminate against our LGBTQ+ friends and neighbors," state Rep. Kristina Ortez (D-Taos) said in a statement.
We're so glad to say that #HB31 and #HB207 -passed by #nmleg – is officially signed into law by @GovMLG! We will continue to love, affirm, and protect all #LGBTQ people here!#EQNM30th pic.twitter.com/3eUx5LLlvC

— Equality New Mexico (@equalitynm) March 25, 2023
State Rep. Christine Chandler (D-Los Alamos), the sponsor of HB 31, noted that the measure will benefit trans New Mexicans seeking to change their names as well as ensure safety for victims of domestic violence who may change their names to be more secure.
"Removing this antiquated publishing requirement protects New Mexicans' privacy and allows them to safely move on with their lives," Chandler said.
These measures are the latest in legislation passed this session to protect LGBTQ New Mexicans as well as women's rights.
On March 16, Grisham signed into law House Bill 7, the Reproductive and Gender-Affirming Health Care Act, which prohibits public bodies, including local municipalities, from denying, restricting, or discriminating against an individual's right to use or refuse reproductive health care or health care related to gender.
"New Mexicans in every corner of our state deserve protections for their bodily autonomy and right to health care," said Grisham as she signed HB 7. "I'm grateful for the hard work of the Legislature and community partners in getting this critical legislation across the finish line."
"Trans and nonbinary individuals deserve the support and care necessary to survive and thrive," said Ortez, who co-sponsored HB 7. "Protecting gender-affirming health care is a critical part of making sure trans and nonbinary New Mexicans can succeed in school, establish healthy relationships with their friends and family, and live authentically as themselves."
"In New Mexico we value the freedom and dignity of making your own personal decision about reproductive and gender-affirming health care," said Ellie Rushforth, the American Civil Liberties Union of New Mexico managing reproductive rights and gender equity attorney. "Now more than ever it is critical that New Mexicans and our neighbors have access to the full spectrum of health care in every corner of our state. We thank the governor for supporting and signing HB 7 into law. This is lifesaving legislation."