HIV leadership that will be missed
What Dr. Hader's departure means for our community

Well, she's gone.
With great sadness I learned earlier this month of Dr. Shannon Hader's sudden resignation as director of the HAHSTA, effective July 15. Her imminent departure has left numerous leaders in the HIV/AIDS community wondering: How could this happen, just as we gain momentum to turn the corner on the HIV/AIDS crisis and only a couple years before D.C. takes center stage as host of the 2012 International AIDS Conference?
At the June 14 meeting of the Gertrude Stein Club, Mayor Adrian Fenty dodged questions regarding the circumstances surrounding Dr. Hader's departure and what steps he had taken, if any, to retain her — adding to speculation that dynamics within his administration and the DOH may have played a role in her leaving.
Larry Bryant, co-chair of DC Fights Back, an organization that was influential in Dr. Hader's hiring, echoed the position of other community leaders that the Fenty administration offered "little support of Dr. Hader" during her tenure and resisted the undertaking of a more comprehensive HIV/AIDS strategy, including interventions that would go much further than before. As a result, "her hands were tied" by a local government that lacked the funds and the vision to realize the full potential of a more integrated, multi-agency approach needed to address this public health emergency.
Whatever the reason for her departure, I agree with Council member David Catania that her loss is "catastrophic." However, I am hopeful that our community can weather this transition, if we act on the vision she has left for us and press our politicians to treat HIV/AIDS like the "No. 1 health priority" it is. We cannot be spectators.
Dr. Hader bravely assumed the helm of the beleaguered HIV/AIDS administration in 2007, at a time when DOH's repeated failures and mismanagement of the crisis were emblazoned across the front of the Washington Post on a weekly basis. But after her arrival, she took the unprecedented step of overhauling D.C.'s approach to HIV/AIDS and STD surveillance, transforming it into one of the country's most rigorous and extensive epidemiological systems that is the envy of most state health departments.
Her wise investment in a data-supported, science-driven strategy to fight HIV/AIDS has been the lynchpin of our recent successes and will remain one of her lasting legacies. As a member of the HIV Prevention Community Planning Group, I saw first-hand how the recent epidemiological data were instrumental in justifying a greater prioritization of CDC funds to the District's MSM population.
She also convened a series of in-depth discussions among local leaders to develop an MSM HIV Action Plan that should be released this summer. At her behest, HAHSTA has already started to implement recommendations drawn from these discussions, including a request for grant applications that aim to support MSM-targeted condom distribution and social networking interventions. All of these efforts indicate that Dr. Hader is leaving us in a good position for the time being; but at this pivotal moment we must seize this opportunity, lest we risk wasting valuable time to utilize available data.
Dr. Hader's interim replacement, Dr. Nnemdi Kamanu Elias, needs to build on this momentum and not just maintain the status quo. I have confidence that Dr. Elias has the experience to succeed in her temporary post. However, if we simply tread water until the position is filled, which I fear may be delayed until after the coming mayoral election, we risk backsliding on countless problems still brewing, including a housing wait-list of 600-700 HIV-positive individuals long, a desperate need to improve HIV testing, inconsistencies in the supply of free condoms and lube, and a call for more robust linkages to care for newly diagnosed patients.
I hope that by 2012, D.C. will be a shining example of how to effectively turn the tide against this disease, sending a powerful message to the international HIV/AIDS communities through its implementation of a cohesive plan that mirrors the National AIDS Strategy, a mayor that conveys steadfast support of the director of HAHSTA, and a local government that champions more innovative and integrated approaches to this ever-evolving epidemic.
Dr. Hader's vision has laid the foundation for achieving this goal. Now it is up to us to finish the job. Thank you, Dr. Hader. Your leadership will be sorely missed.
Daniel O'Neill is chair of the DC Center's HIV Prevention Working Group. Reach him at [email protected]
National Gay & Lesbian Chamber of Commerce Certifies Brown, Naff, Pitts Omnimedia, Inc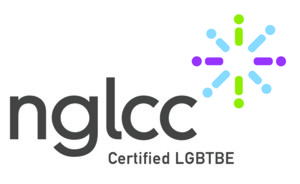 Washington, D.C. — Brown, Naff, Pitts Omnimedia, Inc, the parent company of the Washington Blade and Azer Creative, announced today it has been certified by the National Gay and Lesbian Chamber of Commerce (NGLCC) as an LGBT Business Enterprise. The NGLCC supports and advocates for diversity and inclusion for LGBT-owned businesses. With this certification the Blade's parent company joins more than 510 business and 134 corporate partners of the NGLCC.
Brown, Naff, Pitts Omnimedia, Inc. owns and operates the Washington Blade, the oldest and most acclaimed LGBT newspaper in the country. In 2012, the company launched Azer Creative, a full-service design firm. The company employs more than a dozen full-time LGBT staff.
"We are excited to become one of the 500 LGBT businesses across the country certified by NGLCC," said Lynne Brown, the Blade's publisher and a co-owner of the company. "The LGBT community has been part of our company from the beginning and we look forward to continue that for many years to come."
The Washington Blade was founded in 1969 and is known as the "newspaper of record" for the LGBT community both locally and nationally. Visit washingtonblade.com for more information. Azer Creative is a full-service graphic design firm based in Washington, D.C. Visit azercreative.com for more information. 
Vote now for the 2013 Best of Gay DC!
Choose in dozens of categories among hundreds of nominees, and make your voice heard!
Nominate the 'Best of Gay D.C.' now!
Dozens of categories cover all the best for LGBT Washington. Who deserves the prize this year?