Obama AIDS strategy targets gay, bi men
White House plan calls for shifting HIV prevention to high-risk groups
A long-awaited National HIV/AIDS Strategy document the White House released this week calls for devoting more funds and attention to HIV prevention programs that target four high-risk population groups, especially gay and bisexual men.
In unusually blunt language, the 45-page strategy document that took 15 months to prepare says state and federal AIDS prevention programs have so far failed to adequately target gay and bisexual men and transgender people.
"Given the starkness and the enduring nature of the disparate impact on gay and bisexual men, it is important to significantly reprioritize resources and attention on this community," says the document. "The United States cannot reduce the number of HIV infections nationally without better addressing HIV among gay and bisexual men."
The document adds, "As with gay and bisexual men, transgender individuals are also at high risk for HIV infection. … Yet, historically, efforts targeting this specific population have been minimal."
Other high-risk groups the strategy calls for targeting are blacks, Latinos and substance abusers.
The National HIV/AIDS Strategy and an accompanying 35-page Federal Implementation Plan call for reducing the overall number of new infections by at least 25 percent over the next five years; increasing access to medical care and "optimizing health outcomes" for people living with HIV; and reducing HIV-related health disparities.
"The United States will become a place where new HIV infections are rare and when they do occur, every person, regardless of age, gender, race/ethnicity, sexual orientation, gender identity, or socio-economic circumstance, will have unfettered access to high quality, life-extending care, free from stigma and discrimination," the implementation plan declares as its goal.
The strategy and implementation document were released Tuesday amid a flurry of activity at the White House, which included a morning briefing on the document for the media and AIDS activists. Among those conducting the briefing were Melody Barnes, director of the White House Domestic Policy Council; Kathleen Sebelius, secretary of the Department of Health & Human Services, and Jeff Crowley, the gay director of the White House Office of National AIDS Policy.
Later in the day, President Obama hosted a reception in the White House East Room for about 150 national and community activists working on HIV/AIDS issues.
"From activists, researchers, community leaders who've waged a battle against AIDS for so long, including many of you here in this room, we have learned what we can do to stop the spread of the disease," Obama told the gathering.
"We've learned what we can do to extend the lives of people living with it. And we've been reminded of our obligations to one another — obligations that, like the virus itself, transcend barriers of race or station or sexual orientation or faith or nationality," he said.
"So the question is not whether we know what to do, but whether we will do it, whether we will fulfill those obligations, whether we will marshal our resources and the political will to confront a tragedy that is preventable."
The president was interrupted briefly during his remarks by a man in the audience who shouted, "Mr. President," prompting Obama to promise to talk with him after finishing his speech at the reception.
"Let's hold on, you can talk to me after — we'll be able to talk after I speak," Obama said. "That's why I invited you here, right? So you don't have to yell."
The audience member was later identified as Charles King, president and CEO of Housing Works, a New York City-based AIDS group that sometimes organizes AIDS-related protests involving arrests spurred by civil disobedience.
After completing his remarks, the president walked to where King was standing and spoke with him as news photographers hovered over the two.
King could not be immediately reached and it was not clear what he and Obama said to each other. But his brief interruption of Obama's speech drew attention to concerns raised by some AIDS activists that the National HIV/AIDS Strategy does not include a call for significant new funds to fight the AIDS epidemic.
At the White House briefing earlier in the day, Sebelius and Crowley announced that the Obama administration would allocate $30 million to implement the strategy from a disease prevention fund created by the Affordable Care Act. The act is one of two landmark bills that Congress passed earlier this year to put in place the president's sweeping health insurance reform proposals.
Sebelius and Crowley also noted that the administration would arrange for a separate emergency supplemental appropriation of $25 million to fund the struggling AIDS Drug Assistance Program, which provides life-prolonging anti-retroviral drugs for low-income people with HIV/AIDS who lack health insurance.
AIDS activists have criticized the administration and Congress for declining so far to appropriate $126 million in emergency funds for ADAP this year, an amount that state AIDS office directors believe is needed to provide drugs for 2,300 people who are on ADAP waiting lists in at least a dozen states.
The AIDS Healthcare Foundation, which bills itself as the largest global AIDS organization providing medical care to people with HIV/AIDS, held a separate news conference in Washington on Tuesday to criticize the AIDS strategy document.
Michael Weinstein, the group's president, called the proposed $30 million allocation for the National HIV/AIDS Strategy and the $25 million proposed for ADAP grossly inadequate. He also said that the strategy document contained few if any new ideas and would likely "collect dust at the Library of Congress."
But officials with other national AIDS organizations did not share Weinstein's assessment of the strategy, calling it an important first step and a first-of-its-kind effort to prioritize federal AIDS programs.
"Today, the Obama administration took a significant step forward in the domestic battle against HIV/AIDS," said AIDS Action, a national AIDS advocacy group, in a statement.
The statement said that, if properly implemented, the strategy would become "the first truly effective, comprehensive national plan in response to the U.S. HIV/AIDS epidemic, now in its 30th year."
Michael Ruppal, executive director of the AIDS Institute, another national advocacy group, praised the strategy as an "ambitious" effort to curtail the domestic U.S. AIDS epidemic.
"The strategy will serve as a meaningful roadmap to reduce the number of HIV infections in the U.S., provide care to those who need it, and help reduce the stigma and disparities often associated with HIV/AIDS," Ruppal said.
But he added, "Now we must turn our collective energies to implementing it with the necessary leadership and resources to achieve its goals and provide results for people who are currently living with HIV/AIDS or may be affected in the future."
Cornelius Baker, former executive director of D.C.'s Whitman-Walker Clinic and a member of Obama's Presidential Advisory Council on HIV/AIDS, issued a statement in his role as an official with the National Black Gay Men's Advocacy Coalition.
He said the coalition considers the National HIV/AIDS Strategy and its accompanying implementation plan "significant steps forward in our nation's effort to end the HIV epidemic."
"Black gay men represent one of the most highly impacted populations and suffer the greatest disproportionate burden of the disease," Baker said. "The National HIV/AIDS Strategy represents a major advance in its recognition that black gay men must be a focal point of attention if the United States is to make progress in reversing the trends of the HIV epidemic."
In addition to the strategy and implementation documents, Obama issued a separate presidential memorandum to the heads of more than a dozen executive branch departments and agencies, establishing goals and timetables for carrying out the strategy.
The Obama memorandum designates six departments and agencies as "lead agencies" for implementing the strategy. They include the Department of Health & Human Services; Department of Justice; Department of Labor; Department of Housing & Urban Development; Department of Veterans Affairs; and the Social Security Administration.
The White House Office of National AIDS Policy, in consultation with the Office of Management & Budget, is assigned the task of monitoring the progress of the strategy's implementation and setting the administration's priorities for the project, the memo says.
At the White House briefing Tuesday, Crowley acknowledged that the National HIV/AIDS Strategy doesn't initially call for providing significant new funds in the fight against AIDS, although he and Sebelius noted that the administration is committed to continue its existing proposals for increases in the federal AIDS budget in fiscal year 2011 and future years. The two also said the expansion of health insurance coverage for people who currently can't afford it under the Obama health care legislation passed by Congress will greatly boost treatment and care for people with HIV/AIDS between now and 2014.
Crowley said the economic downturn and other competing spending needs made it important for the strategy to focus on ways to better use existing resources.
"Gay and bisexual men have comprised the largest proportion of the HIV epidemic in the United States since the first cases were reported in the 1980s, and that has not changed," says the strategy document. "They still comprise the greatest proportion of infections nationally."
To further show why greater resources must immediately be shifted to HIV prevention programs aimed at gay and bisexual men, the strategy document lists these facts:
• gay and bisexual men of all races are the only group in the United States where the estimated number of new HIV infections is rising annually;
• they are 44 to 86 times more likely to become infected with HIV than other men, and 40 to 77 times more likely to become infected than women;
• approximately one-half of the 1.1 million persons living with HIV in the United States are gay and bisexual men, and they account for the majority (53 percent) of new HIV infections each year;
• and high rates of HIV among gay men are found not only in large urban areas. More than half of all AIDS cases diagnosed in the United States are among gay and bisexual men irrespective of town or city size.
Jose Zuniga, president of the International Association of Physicians in AIDS Care, praised the strategy document's call for participation by non-government entities and individuals to help implement the strategy, saying more than 13,000 members of his group worldwide and more than 5,000 U.S. members "stand ready" join in the effort.
"[W]e have a ready army of seasoned advocates — public health experts, clinicians and allied healthcare and laypeople providers, AIDS service organizations, community and faith-based organizations, academic institutions, and professional associations — that can help to accelerate implementation and thus allow for more quickly achieving many of the National HIV/AIDS Strategy's objectives," he said.
Office of National AIDS Policy Director Phillips: Congress must increase funding
'Without congressional funding we can't get there'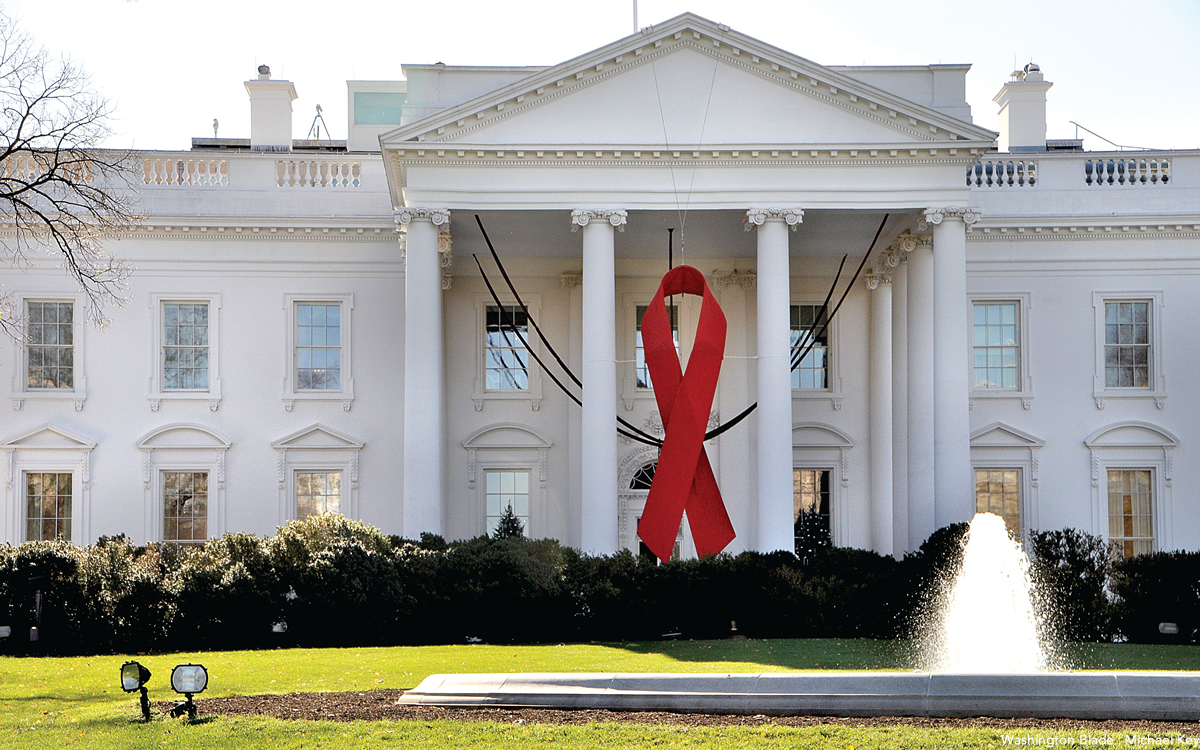 Harold Phillips, director of the White House Office of National AIDS Policy (ONAP), said Monday that Congress must increase funding to end the HIV/AIDS epidemic, including for programs designed around the lives and needs of Americans who are living with the disease.
"We have the support of the Biden-Harris administration, and we have the support at HHS, but without congressional funding we can't get there," said Phillips, who delivered his remarks during the AIDS United annual AIDSWatch conference in Washington, D.C.
Phillips echoed remarks by other speakers in calling for Congress to increase appropriations funding for the U.S. Department of Health and Human Services (HHS) Ryan White HIV/AIDS Program, but he also emphasized the importance of "making space for people living with HIV in other aspects of the budget."
Consistent with the Biden-Harris administration's focus on employing a whole-of-government approach, Phillips said stakeholders must understand that while "HIV is, yes, a public health threat," the disease is also "the result of systemic and structural racism," an intersectional problem requiring more than narrowly focused biomedical or public health responses.
Therefore, he said, these conversations about matters like HIV's impact on Black lives, or considerations for aging folks who are living with the disease, must be held at places like the White House Gender Policy Council, the National Economic Council, and the U.S. Department of Labor.
"When we talk about ending HIV as a public health threat," Phillips said, "we also want to end HIV such that it's not the defining characteristic for people living with HIV and that they can have access to housing, access to employment, good mental health and substance abuse treatment."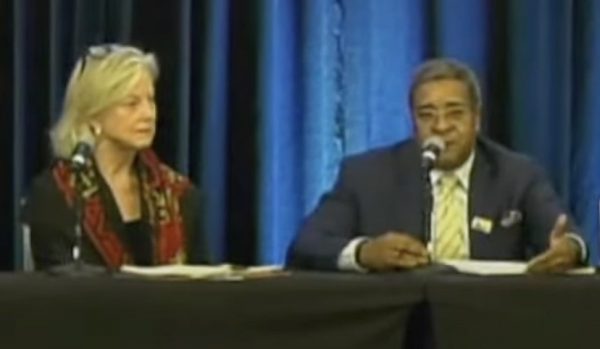 Under Phillips's leadership, data on these considerations for those living with HIV/AIDS will be measured for the first time with ONAP's rollout of new quality of life indicators in the National HIV/AIDS Strategy Federal Implementation Plan.
"There's an indicator in there that's self-reported quality of life," Phillips said, which asks respondents to consider, "how do I feel?" This is important, he added, because people living with HIV may have positive lab results but still feel poorly.
Phillips advised those AIDSWatch participants who are slated to meet with members of Congress and their staffs after hosting a rally on the grounds of the U.S. Capitol Tuesday morning to "build a common bond" with lawmakers by emphasizing the human impact of the appropriations funding for which they are advocating.
An AIDS United spokesperson told the Washington Blade by email Monday that 187 congressional meetings have been scheduled for Tuesday.
Phillips also noted that while "conversations need to happen in Washington, there's also conversations that need to happen on the state and local level," where "we're finding a level of hate and stigma and discrimination that's on course to try to either stop our progress or take us backwards."
Speaking before Phillips, Equality Federation Public Health Policy Strategist Mike Webb stressed the importance of policies under consideration by state and local lawmakers. "Our access to PrEP shouldn't be based on a patchwork of laws by the states," they said, and HIV-related legislative proposals in many cases would "add criminalizing aspects."
Laws already on the books that "criminalize the transmission of, or perceived exposure to, HIV and other infectious diseases," the Movement Advancement Project writes, "create a strong disincentive for being tested for HIV, and result in adverse public health outcomes."
Phillips and the Biden administration have made modernizing or repealing those laws a top priority.
Biden budget earmarks funds for HIV along with new programs for PrEP, hepatitis C
Budget seen as preview of Biden's reelection campaign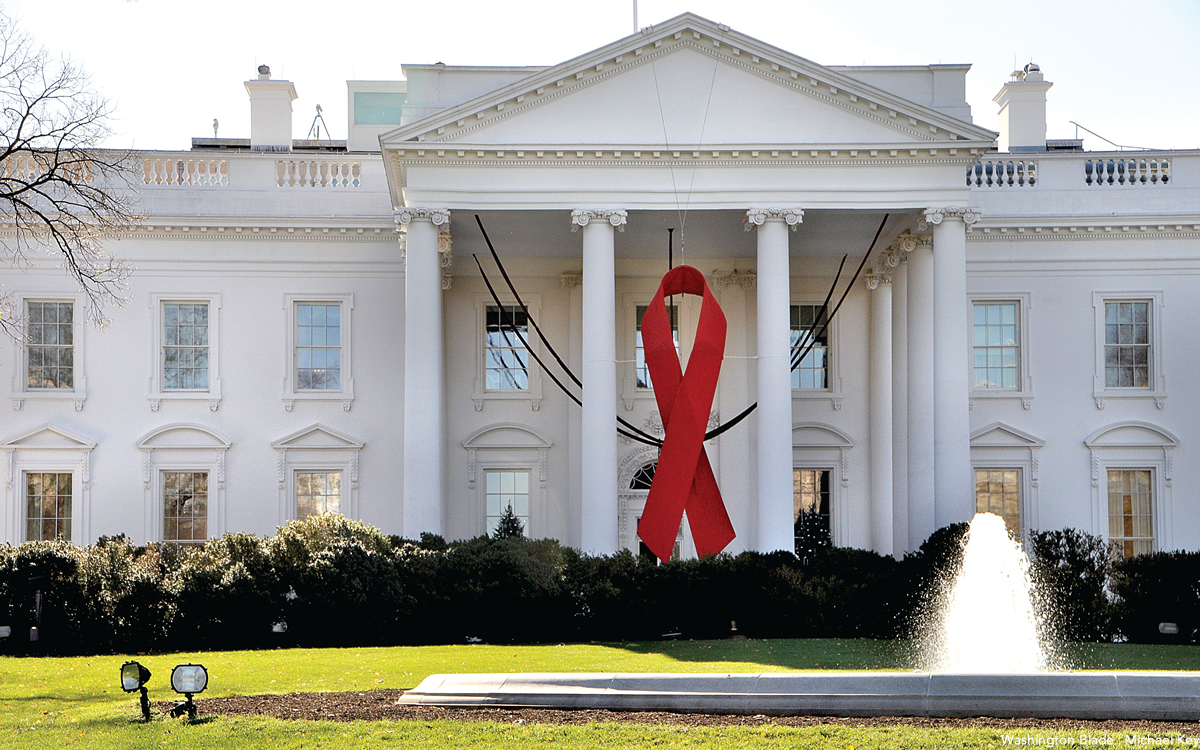 The $6.8 trillion budget unveiled by President Joe Biden on Thursday includes increased investment in existing programs to fight HIV/AIDS, along with new initiatives to expand access to HIV prevention medications and eliminate hepatitis C.
U.S. House Republicans are expected to kill the proposal, which is nevertheless seen as a possible blueprint for the major themes to come in Biden's expected reelection campaign.
Major focus areas of the plan include deficit reduction, increased taxes for the wealthy, and increased spending on the military and other endeavors to compete with China.
The HIV + Hepatitis Policy Institute praised the budget in a press release Thursday, writing that it will "significantly increase the federal resources necessary to end both HIV and hepatitis C."
The group's president, Carl Schmid, said Biden "recognizes the historic role the federal government must play, and the investments needed to end infectious diseases."
First, the plan would bolster funding for the Trump-era Ending the HIV Epidemic in the United States initiative by $313 million, bringing the total to $850 million. Second, it would debut a "ten-year $9.7 billion nationwide PrEP delivery program" and a "historic initiative to eliminate hepatitis C."
PrEP, or preexposure prophylaxis, is a medication regimen that reduces the risk of contracting HIV. According to the HIV + Hepatitis Policy Institute, only 30 percent of patients who could benefit from the drug are taking it.
The new hepatitis C program "seeks to provide outreach, testing, and curative medications to the estimated 2.4 million people living with hepatitis C, many of whom are unaware of their infection."
Gov. Newsom: Calif. will not do business with Walgreens after decision to not distribute abortion pill
20 Republican state attorneys general threatened to sue Walgreens for offering mifepristone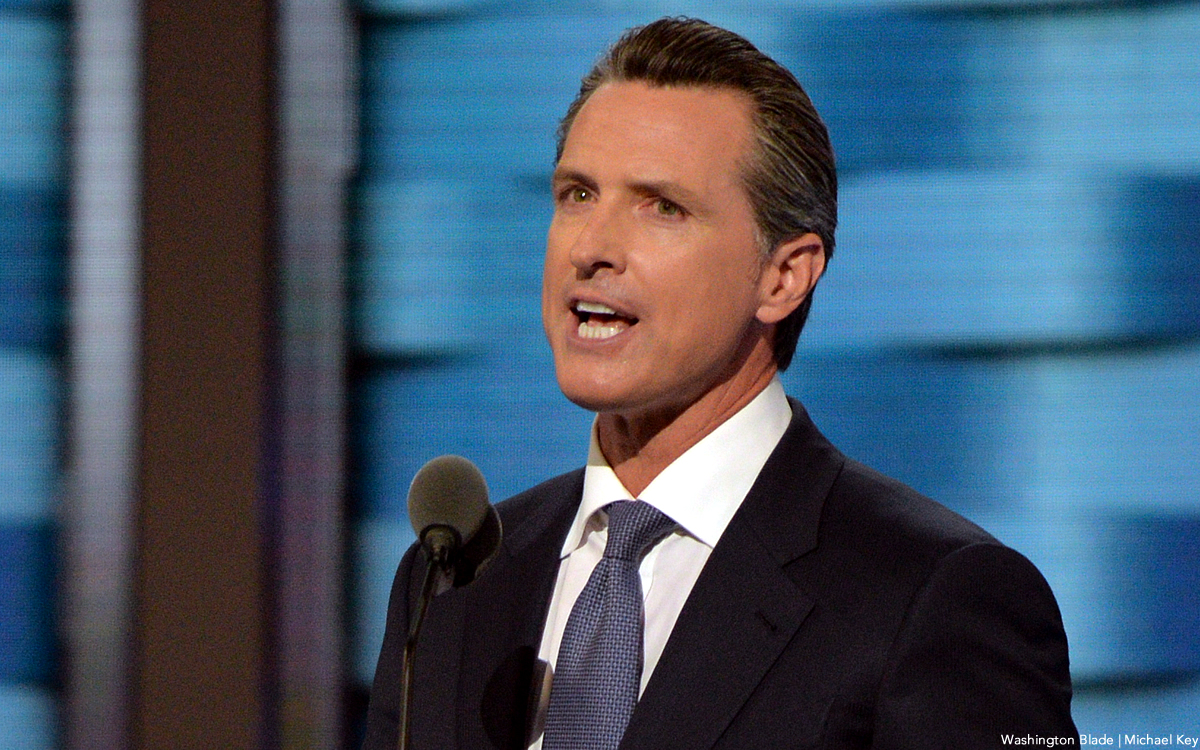 Gov. Gavin Newsom (D-Calif.) announced on Monday that California will not do business with Walgreens following the company's announcement of its decision on Friday to not distribute the abortion pill mifepristone in 20 states.
The move comes amid pressure from conservative lawmakers and threats of legal action against Walgreens and CVS from 20 Republican state attorneys general, who claimed in a Feb. 1 press release that selling mifepristone is "unsafe and illegal."
Mifepristone is still legal in several of the states where Walgreens has decided to stop providing it in response to the specter of lawsuits from state attorneys general: Alaska, Iowa, Kansas and Montana.
Newsom's office told NPR that California will review "all relationships between Walgreens and the state," but declined to provide more specifics.
"California won't be doing business with @walgreens – or any company that cowers to the extremists and puts women's lives at risk," Newsom wrote in the tweet. "We're done."
California won't be doing business with @walgreens — or any company that cowers to the extremists and puts women's lives at risk.

We're done.https://t.co/OB10cYfm8H

— Gavin Newsom (@GavinNewsom) March 6, 2023
"Elected officials targeting pharmacies and their ability to provide women with access to safe, effective, and FDA-approved medication is dangerous and just unacceptable," White House Press Secretary Karine Jean-Pierre said during a briefing on March 3.
"The administration will continue to stand by the FDA's expert judgment in approving and regulating medications. And in the face of barriers to access and concerns about safety of patients, healthcare providers, and pharmacists, we will continue to support access to this critical medication within the limits of the law," Jean-Pierre said.
Meanwhile, Judge Matthew Kacsmaryk of the U.S. District Court for the Northern District of Texas is expected to soon rule on a case challenging the safety of mifepristone that advocates for reproductive justice fear could lead to a nationwide injunction prohibiting the sale and distribution of the abortion drug.
Medical experts have slammed the Texas plaintiffs' lawsuit, arguing that mifepristone's safety and efficacy have been well demonstrated for years. Kacsmaryk, who was appointed by former President Donald Trump, is nevertheless expected to rule in their favor.
"The plaintiffs who have no legitimate standing have hand-picked him to hear this case that has no merit because they know what they're getting with Judge Kacsmaryk," Sen. Ron Wyden (D-Ore.) said last month.
Jean-Pierre addressed the case during a press briefing on March 1: "The decision would be unprecedented, as you know, and devastating to women's health. And we may find ourselves in uncharted territory," she said.
"And so, we're closely — closely working with the Justice Department and DHS — HHS on this, on how to be prepared for any range of outcome or potential outcomes," Jean-Pierre added.