The joy of giving
Fleming finds meaningful work directing Bohnett Foundation's LGBT grants

Michael Fleming spent a lot of time on planes last week.
After leaving his home in Los Angeles, he flew to Boston to attend a dinner for LGBT officials receiving leadership training at the Harvard Kennedy School of Government.
On Friday, he traveled to D.C. to speak with Latino college students taking part in a Capitol Hill internship program with the Congressional Hispanic Caucus Institute. Before the day was out, he was on his way to New York to visit the city's LGBT Community Center.
But for Fleming, who serves as executive director of the David Bohnett Foundation, the busy travel schedule isn't unusual. He told the Blade he travels about 50 percent of the time for work.
"It's totally valuable if you realize at the end of that flight, you're meeting with really impressive and interesting people doing important work," he said.
In the position he's held since 2000, Fleming is charged with decision-making and oversight for grants that gay billionaire philanthropist David Bohnett makes to social justice causes through the foundation he chairs.
For 2010, Fleming estimates the Bohnett Foundation's total amount of donations will top $5 million. Among the causes that are a priority for the organization are LGBT rights, gun control and the arts. Even animal language research gets a cut.
But donations to LGBT causes, Fleming said, land the most money, accounting for about 65 to 70 percent of the organization's annual donations. Fleming noted that LGBT work is important for the foundation because such efforts are "very personal" for him and Bohnett, who are both gay.
"I think we're passionate about it because it's our lives and our rights and I think, as a funder, it's the most important work we can be doing," Fleming said.
Fleming said organizations that are working to advance same-sex marriage in the wake of Proposition 8 have been a priority for the Bohnett Foundation.
Funds are being directed to Equality California, the National Center for Lesbian Rights and Lambda Legal, he noted, as well as toward the ongoing legal battles and public education campaigns in California.
"So if this matter comes up on the ballot again, you've laid groundwork for victory next time," Fleming said.
Fleming married his spouse, the Cuban-born Los Angeles Superior Court Judge Luis Lavin, in October 2008 when same-sex marriage was briefly legal in California.
After marriage rights for gay couples were taken away following the passage of Prop 8, Fleming said the measure's success was "poignant for everyone who got married" before its passage.
"We realized how lucky we were to be able to [get married], but I think it's especially poignant realizing that so many of our friends and colleagues now do not have the ability to do the same thing we did," he said.
In addition to supporting groups working specifically to advance same-sex marriage, Fleming said the Bohnett Foundation provides funding to just about every national LGBT group, including the Human Rights Campaign.
In particular, Fleming said the foundation is a major contributor to HRC's Historically Black Colleges & Universities Program, which educates students in leading viable LGBT programs on campus.
"It's been another program that gets young people — those who are [attending] historically black colleges and universities — to come to D.C.," Fleming said. "There's training that they go through. They learn about the political process; they learn how to take those skills back to the campus."
Michael Cole, an HRC spokesperson, said the "continued generosity" of the Bohnett Foundation has enabled the program for seven years to "combat homophobia and intolerance on campuses where they too often run rampant."
"When we started the program, there was only a single campus with an LGBT student group and now we work to support 26 such groups at [historically black colleges and universities]," Cole said.
The Bohnett Foundation has also provided many local LGBT community centers throughout the country with cyber centers, or areas where LGBT people can access computers and the Internet free of charge. Fleming estimated that the foundation has provided funds and equipment for more than 70 cyber centers throughout the country.
"Some are in big cities, but there others that are in medium-sized cities, or smaller places," he said.
The D.C. Center is among the facilities to receive a cyber center from the Bohnett Foundation.
David Mariner, executive director of the Center, said the donation of six new computers, a flatbed scanner and a color laser printer has been a very important part of the D.C. Center.
"What the cyber center does is give people an opportunity to access the Internet and find out about resources in the community that are available to them," he said.
Mariner said the cyber center has been integral to the D.C. Center's career development program and has allowed local LGBT residents to work on their resumes and job searches.
Political giving
Fleming wears another hat, serving as Bohnett's political director and advising him on political candidates that would advance LGBT rights and social justice causes.
A major donor to the Democratic Party, Bohnett last year donated $30,400 to the Democratic National Committee, according to Federal Election Commission reports. Other donations have gone to the few Democratic candidates that could take Republican seats this fall, including a $2,000 contribution to Missouri Secretary of State Robin Carnahan, who's seeking to become the state's next U.S. senator.
Other recipients of Bohnett's donations are gay congressional candidates. Bohnett gave Steve Pougnet in California, the mayor of Palm Springs who's running for Congress, $4,800 last year. David Cicilline in Rhode Island, the mayor of Providence who's running for Congress, received $2,400.
Fleming said donations to the gay congressional candidates are important for Bohnett because they "stand a very good chance" of winning their races.
"We've long been … supporters of the [Gay & Lesbian] Victory Fund," Fleming said. "It's been one of the chief tenets of the Victory Fund that it's really terrific to have friends, but it's even better to have folks from our own community elected."
Although there has been criticism that the Obama administration and Congress have not moved quickly enough on pro-LGBT legislation, Fleming said this perceived lack of progress hasn't been a factor in his advice as Bohnett's political director.
"I don't just say, 'Well, this administration may have let us down on this item,'" Fleming said. "I look at things in totality [and say], 'Well, they may have succeeded here and succeeded there.'"
Sean Theriault, a gay government professor at the University of Texas, Austin, said even donating $30,000 to the Democratic National Committee in the grand scheme is "small potatoes."
"Now, if he bundles that money with other 'gay money,' it gives him just that much more clout," Theriault said. "What it probably buys him is access to politicians who are already supportive of the gay rights agenda."
While he wears two hats, Fleming said that Bohnett's donations to political candidates and the foundation's contributions to social justice causes are really one-and-the-same mission.
"At the end of the day, those things are all tied together," Fleming said. "What he believes in when he gives money to really terrific non-profit programs are also things that he would care about our elected leaders paying attention to."
'Relationships are primary'
While the fruits of contributing to candidates and campaigns are difficult to witness firsthand — except on election night or when pro-LGBT bills become law — keeping an eye on work resulting from the foundation's contributions is a different story.
Fleming was able to witness such work upon his visit to the Congressional Hispanic Caucus Institute, where about 30 Latino college students last week gathered to hear from various speakers as part of their internship program.
As part of a $25,000 grant, the Bohnett Foundation paid for two Latino college students to attend the internship program: Jefrey Valasquez from Mount Saint Mary College in New York, and Rolando Rodriguez from Columbia University.
Waiting at the event for his turn to speak, Fleming was dressed in a summer grey suit, sensible attire for the 100-degree temperatures. Behind his silver spectacles was a face bronzed with a California tan.
When his turn to speak came, Fleming introduced himself to the students and noted how impressed he was with the students' resumes. An organizer said that only 30 out of 396 applicants were accepted.
Fleming described the students as people who have already achieved much. He advised them to focus on the relationships they build over the course of their careers.
"My sense is that everything in life is about relationships," Fleming said. "Relationships are primary; everything else is secondary."
As an example, Fleming recounted that he first knew Bohnett as someone who worked out at his local gym in Los Angeles. That relationship ultimately landed him a position running the foundation.
Fleming also recalled how Bohnett in 1999 closed a huge deal after GeoCities — an early social networking website he founded — was sold to Yahoo for about $3 billion. A few months after the sale, Fleming said Bohnett invited him for breakfast after a workout.
"It was the worst restaurant," Fleming recalled. "You made $3 billion. Why'd he take me to this dump?"
Fleming said Bohnett asked him to help him give away his money and wrote down on a napkin the social justice causes deserving of donations.
"He says, 'I got $4 billion. Do you want to help me?'" Fleming said. "Something's telling me go to the gym more often."
Since he accepted the position, Fleming said the Bohnett Foundation has made donations to various causes, including leadership-training programs like the one in which the students attending the event were engaged.
Fleming said he takes particular pride in the Bohnett Foundation's contributions to the Latino internship program because the Latino community often goes unfunded by other foundations. He noted that the average allocation of philanthropic dollars to non-Latinos per year is $62, while those in the Latino community receive around $4.20.
"Some of these foundations are not paying attention," Fleming said. "I'm going to go out and rely on all of you to go out there and pay attention. Those numbers have to increase. There's no excuse why they won't."
Fleming also stressed the importance of minority groups, including LGBT people, realizing that they're part of a common coalition.
Recalling the fight in 2008 over Prop 8, Fleming said those advocating for the California measure sought to disrupt the coalition of traditionally progressive groups.
"And folks who don't [want] people like me to get married — when they have to go look for a community that they thought would be their friend and vote against [Prop] 8, who'd they target?" Fleming asked the audience.
One of the students responded, "African Americans."
"And?" Fleming asked.
"Latinos," said another student.
"And they spend ridiculous sums of money trying to have a conversation in the Latino communities," Fleming said. "The good news is that at end of the day, there was this poll out in the past week about marriage equality in California, and they're the one minority community that's over 50 percent in favor of it."
Fleming said that those who care about LGBT civil rights are the same people who care about other people's civil rights.
"The same folks who want to target you guys against me are the same ones that paint me as a middle-aged white guy and say, 'Oh, you should [vote] this way on immigration,'" Fleming said. "They will break us up, they will target us. They will split us any way they can. Our communities, whatever communities we think we belong to, are much bigger than just one group, just one small group."
Fleming said touring the country to see the benefits of his work is "overwhelming" because it's far more informative than looking at grant reports.
"I think when you're funding something," he said, "especially an internship, especially something that involves young people, nothing compares to meeting them and hearing their stories and hearing what they learned working in Washington for the summer."
Biden, Harris, deliver remarks for White House Office of Gun Violence Prevention
Pulse survivor Brandon Wolf among those who spoke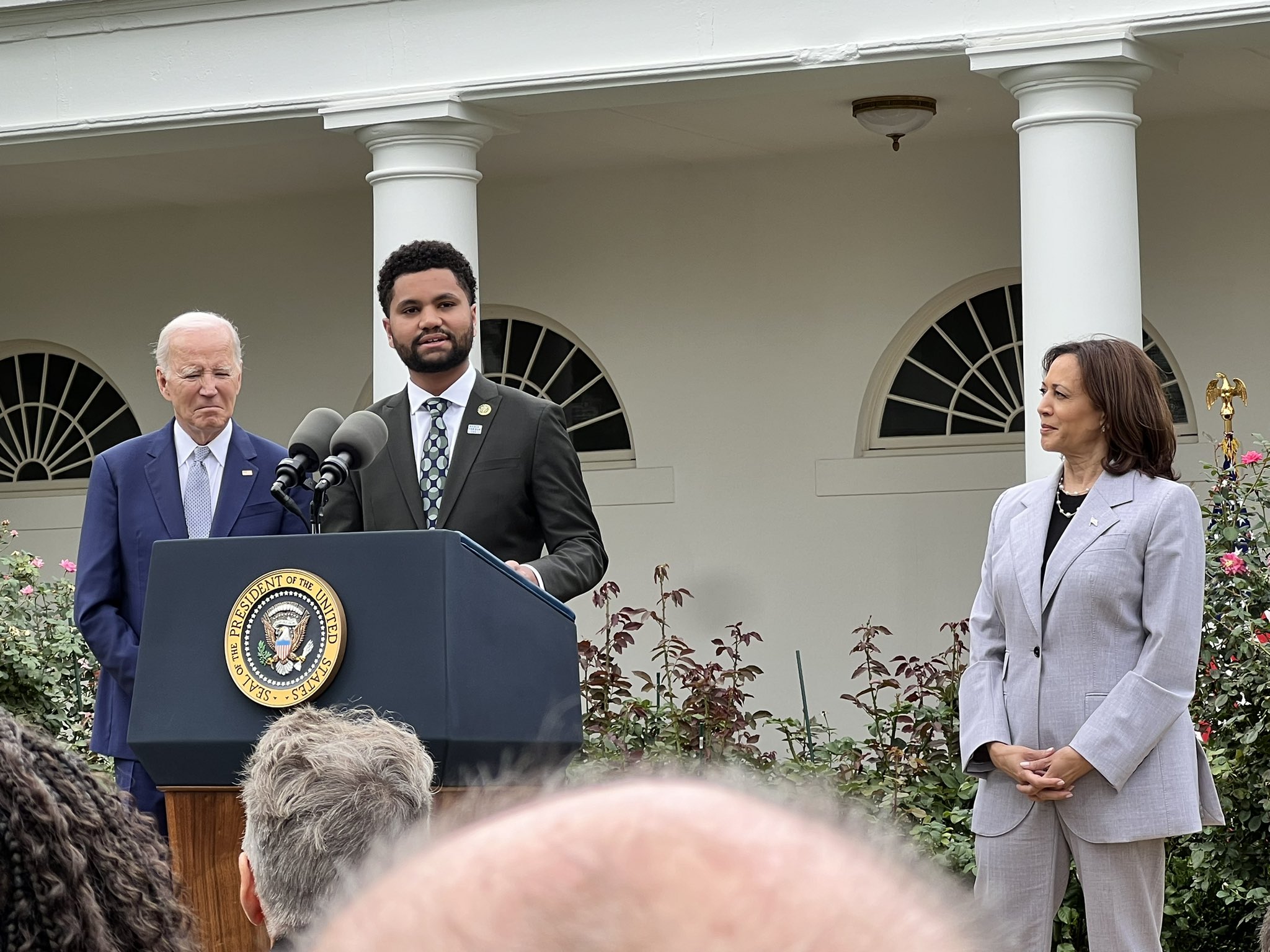 President Joe Biden, Vice President Kamala Harris, and U.S. Rep. Maxwell Frost (D-Fla.) addressed an audience from the Rose Garden of the White House on Friday to honor the establishment of a first-ever White House Office of Gun Violence Prevention.
In a press release Thursday announcing the move, the administration said its aim is to implement and expand the provisions of last year's Bipartisan Safer Communities Act along with those contained in the president's executive orders targeting issues of gun violence.
Additionally, Biden explained in his remarks, the office will coordinate more support for survivors, families and communities, including mental health services and financial aid; identify new avenues for executive action; and "expand our coalition of partners in states and cities across America" given the need for legislative solutions on the local and state level.
Harris, who will oversee the office, pledged to "use the full power of the federal government to strengthen the coalition of survivors and advocates and students and teachers and elected leaders to save lives and fight for the right of all people to be safe from fear and to be able to live a life where they understand that they are supported in that desire and that right."
The vice president noted her close experiences with the devastating consequences of gun violence in her work as a federal prosecutor, San Francisco district attorney, California attorney general and in her current role.
Biden's comments also included highlights of his administration's accomplishments combatting gun violence and a call to action for Congress to do more. "It's time again to ban assault weapons and high capacity magazines," he told lawmakers.
The president also credited the the work of advocates including those who were gathered at the White House on Friday: "all of you here today, all across the country, survivors, families, advocates — especially young people who demand our nation do better to protect all; who protested, organized, voted, and ran for office, and, yes, marched for their lives."
Taking the stage before introducing Biden, Frost noted that "Right before I was elected to Congress, I served as the national organizing director for March for Our Lives, a movement that inspired young people across the nation to demand safe communities."
"The president understands that this issue especially for young people, especially for marginalized communities, is a matter of survival," the congressman said. And the formation of this office, "comes from Pulse to Parkland," he said, adding, "we fight because we love."
Human Rights Campaign National Press Secretary Brandon Wolf, a survivor of the 2016 Pulse nightclub shooting, which was America's second deadliest mass shooting and the deadliest against the LGBTQ community, shared a comment with the Washington Blade after Friday's ceremony:
"Seven years ago, when my best friends and 47 others were murdered at our safe place — Pulse Nightclub — we promised to honor them with action. This is what that looks like. This deep investment in the fight to end gun violence matters, and I cannot wait to see Vice President Harris lead these efforts. We can blaze the path toward a future free of gun violence. And today marked an important step in that direction."
Federal judge: drag is 'vulgar and lewd,' 'sexualized conduct'
Ruling 'bristles with hostility toward LGBTQ people'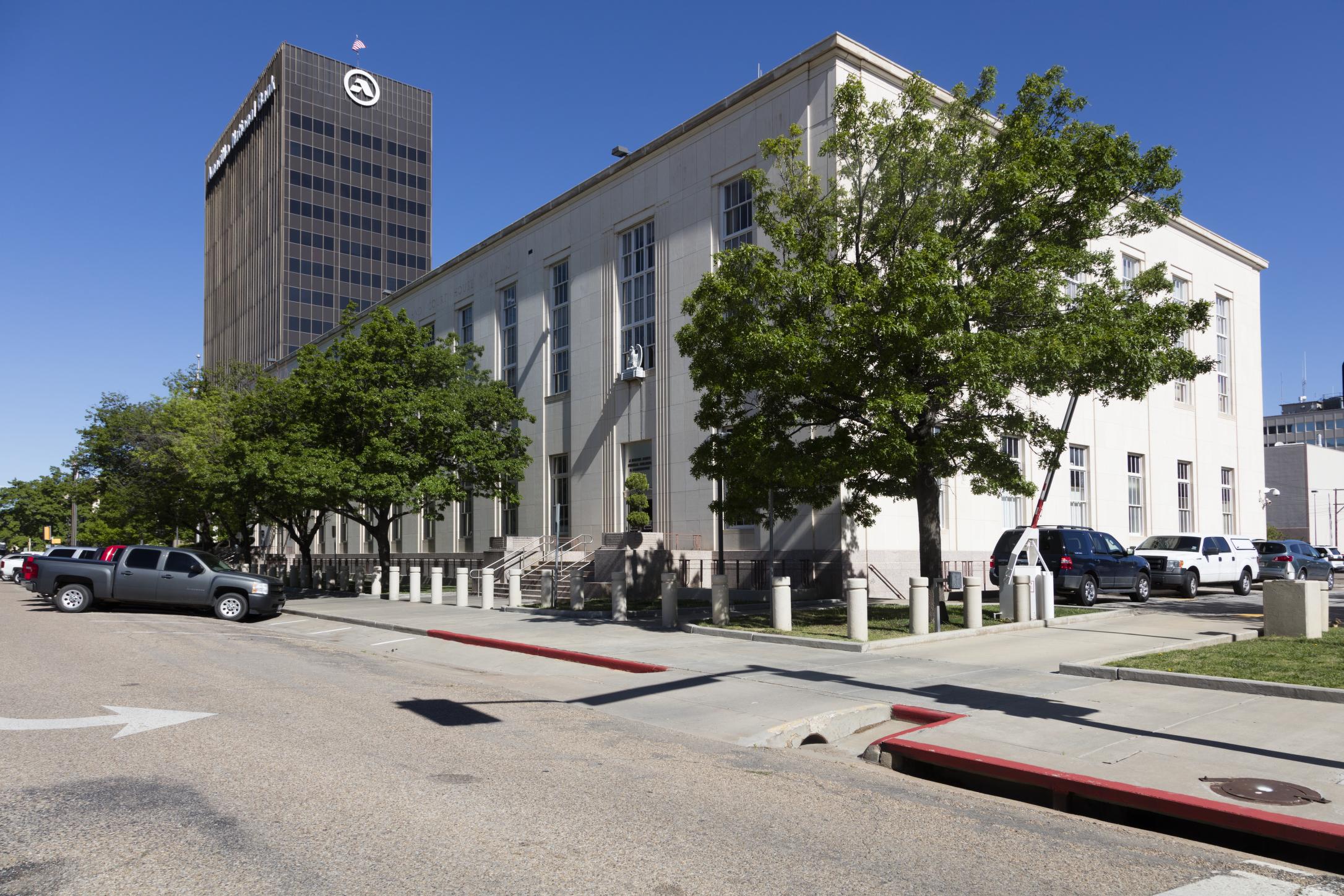 Judge Matthew Kacsmaryk of the U.S. District Court for the Northern District of Texas issued a ruling Thursday denying relief to a group of university students who sought to host a drag show over the objections of their school's president.
A Trump appointed jurist with deep ties to anti-LGBTQ and anti-abortion conservative legal activists, Kacsmaryk argued that drag performances probably do not constitute speech protected by the First Amendment.
As Slate Senior Writer Mark Joseph Stern wrote on X, this conclusion "conflicts with decisions from Texas, Florida, Tennessee and Montana which held that drag is constitutionally protected expression."
"It also bristles with undisguised hostility toward LGBTQ people," he added.
Kacsmaryk's 26-page decision describes drag performances as lewd and licentious, obscene and sexually prurient, despite arguments the plaintiffs had presented about the social, political, and artistic merit of this art form.
Judge Matthew Kacsmaryk refuses to grant relief to Texas college students who may be punished for hosting a drag show.

His condemns drag as "vulgar and lewd" "sexualized conduct" that harms children and is likely unprotected by the First Amendment. https://t.co/UPeolMfGON

— Mark Joseph Stern (@mjs_DC) September 22, 2023
As the Human Rights Campaign recently wrote, "drag artists and the spaces that host their performances have long served as a communal environment for queer expression."
The group added, "It is a form of art and entertainment, but, historically, the performances haven't only served to entertain, but also to truly advance the empowerment and visibility of LGBTQ+ people."
Nevertheless, anti-LGBTQ conservative activists and organizations have perpetuated conspiracy theories about members of the community targeting children for sexual abuse including by bringing them to drag performances.
Among these is a group with ties to the Proud Boys that was cited by Kacsmaryk in his ruling: Gays Against Groomers, an anti-LGBTQ and anti-transgender extremist group, according to the Anti-Defamation League and Southern Poverty Law Center.
Harris to oversee White House Office of Gun Violence Prevention
Goal is to implement and expand upon legislation, executive actions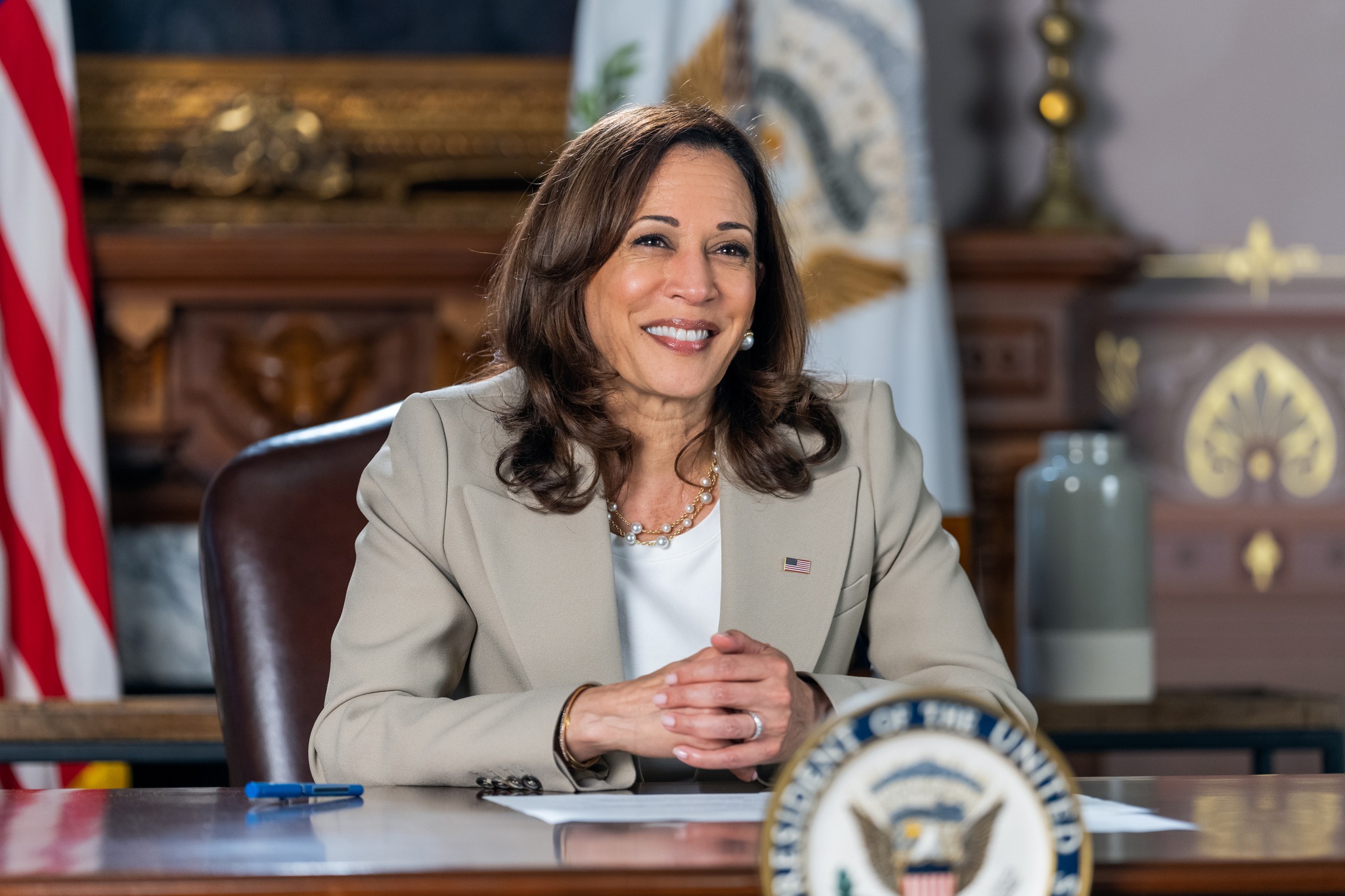 The White House announced Thursday evening that President Joe Biden on Friday will establish the first-ever White House Office of Gun Violence Prevention, to be overseen by Vice President Kamala Harris.
The office will focus on implementing and expanding upon executive and legislative actions, including the Bipartisan Safer Communities Act, "to reduce gun violence, which has ravaged communities across the country."
Serving under Harris will be Stefanie Feldman, "a longtime policy advisor to President Biden on gun violence prevention," and "leading gun violence prevention advocates Greg Jackson and Rob Wilcox."
"Every time I've met with families impacted by gun violence as they mourn their loved ones, and I've met with so many throughout the country, they all have the same message for their elected officials: 'do something,'" Biden said in a statement.
The president noted his signing of last year's bipartisan gun violence prevention law, a flagship legislative accomplishment for the administration, along with his issuance of more executive actions than any president in history to address this problem.
Calling these "just the first steps," Biden said the establishment of the White House Office on Gun Violence Prevention will "build upon these measures and keep Americans safe."
He also urged Congress to do more by passing legislation requiring universal background checks, and baning assault weapons and high capacity magazines.
In a statement, Harris said, "This epidemic of gun violence requires urgent leadership to end the fear and trauma that Americans experience every day."
"The new Office of Gun Violence Prevention will play a critical role in implementing President Biden's and my efforts to reduce violence to the fullest extent under the law," she said, "while also engaging and encouraging Congressional leaders, state and local leaders, and advocates to come together to build upon the meaningful progress that we have made to save lives."
"Our promise to the American people is this: we will not stop working to end the epidemic of gun violence in every community, because we do not have a moment, nor a life to spare," the vice president said.