Ros-Lehtinen unsure about LGBT bills under GOP control
A Republican lawmaker known for her support for the LGBT community said Wednesday she's unsure about the fate of pro-gay bills should the GOP win a majority in the U.S. House in November.
Ileana Ros-Lehtinen (R-Fla.) told the Blade following her remarks at the National Log Cabin Republicans annual dinner in D.C. that she doesn't know what will happen with pro-LGBT legislation as she took a dig at the current Democratic majority for not moving forward.
"I don't know what will happen with Republicans," she said. "I know what's happening now. I don't really get an opportunity to get to vote on those [bills] very often on the floor."
Asked whether she thinks pro-LGBT legislation would advance in a Republican-controlled House, Ros-Lehtinen replied, "The Democrats are in control. I don't know that they've gone forward. … I guess you should ask [U.S. House Speaker] Nancy Pelosi why they haven't gone forward."
Ros-Lehtinen is a co-sponsor of many pro-LGBT bills, including the Employment Non-Discrimination Act and the Domestic Partnership Benefits & Obligations Act as well as legislation that would repeal"Don't Ask, Don't Tell."
The Florida lawmaker could be the Republican leading the way for this legislation if the GOP takes control of the U.S. House in November as many pundits predict. On Sept. 17, Nate Silver, a political analyst and founder of the FiveThirtyEight blog, estimated Republicans have a 63 percent chance of winning the U.S. House.
Asked whether she'll champion pro-LGBT bills in a Republican-controlled House,  Ros-Lehtinen replied, "I think that there are a lot of champions in a bi-partisan way on these issues. I would not consider myself a champion of anything, but I'm proud to support the bills. But right now, it's Democrat control, so you got to ask Nancy what's up."
New York Gender Recognition Act passes heads to Governor Cuomo
"We are protected by a constitution. Nowhere does it say that these rights don't apply to one group of people."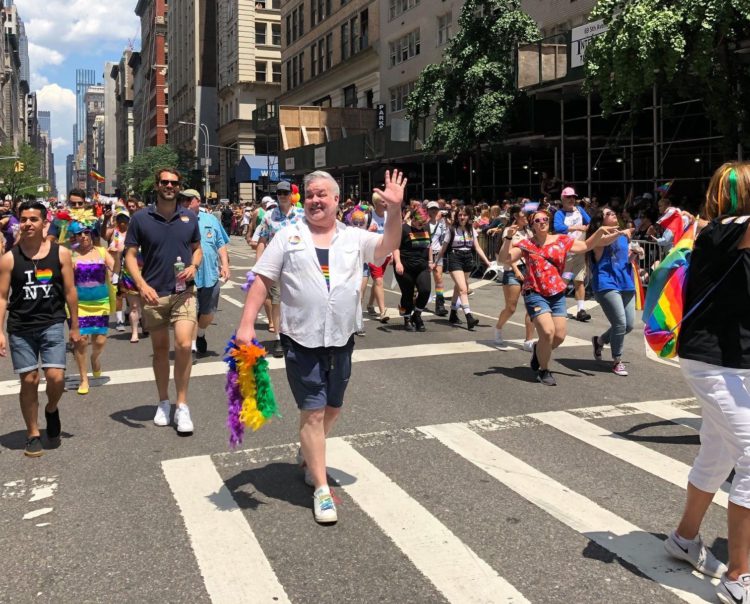 ALBANY, NY. – With a final push shepherded by openly gay New York State Assemblymember Daniel O'Donnell, (D), the New York State Assembly passed New York Senate Bill S4402 and its Assembly companion bill A5465, the Gender Recognition Act. The legislation now heads to New York's Democratic Governor Andrew Cuomo who is expected to sign the measure.
The legislation allows for an "x" designation on the state's driver's licenses. The measure would also help waive an outdated rule requiring people to publish a notification in a newspaper when they change their name in the state.
"Today is a proud day for New York State, as we secure our standing as a leader in LGBTQ rights and ensure that transgender, non-binary, and intersex New Yorkers have the equality and dignity they deserve," O'Donnell said. "No one should face overwhelming financial, medical, and bureaucratic barriers simply to have their existence officially recognized. These obstacles only serve to make people's lives harder and more dangerous, particularly for trans New Yorkers of color who too often have limited resources, face disproportionate rates of violence, and are already marginalized by our legal system. I am deeply honored to carry this important bill and thank all of the trans, non-binary, and intersex advocates who have worked tirelessly to shape and support it."
On Tuesday, June 8, the State Senate passed S4402, which was co-sponsored by openly gay State Senator Brad Hoylman. In an interview published the same day by The Hill, when asked about the GRA, O'Donnell noted that transgender rights is one of his life pursuits, and that there is still much work to be done.
"When marriage equality was passed, I knew there would be a backlash. I didn't know the backlash would be directed at trans people, or involve bathrooms. So, there's work to be done. Last year, we passed a bill that said if a bathroom only has one toilet, anyone is allowed to use it, to prevent people from being threatened or beaten up for using the wrong bathroom," he said. "We are supposed to be free, and we're all living in America where we are protected by a constitution. Nowhere does it say that these rights don't apply to one group of people," he added.
Happy Pride to all!!! 🌈🏳️‍⚧️🏳️‍🌈🏳️‍⚧️💫✨ https://t.co/9YTFBzQdo0

— Danny O'Donnell (@Danny_ODonnell_) June 11, 2021
Gay City News reported that the legislation drew praise from LGBTQ legal advocates who have long fought for reform. Andy Marra, who is the executive director of the Transgender Legal Defense & Education Fund (TLDEF), said TLDEF worked to secure key elements of the bill, including waiving the requirement for medical documentation as well as the removal of the publication requirement in newspapers.
"Along with our colleagues at the Empire Justice Center and the Gender Recognition Act Coalition, TLDEF worked closely with state lawmakers to craft some of the most inclusive legislation to date," Marra said in an email to GCN. "This bill can now serve as a model for other states across the country."
Gallup Poll shows 70% approval for same-sex marriage
The issue has been less prominent in U.S. politics, and public support for same-sex marriage has continued to increase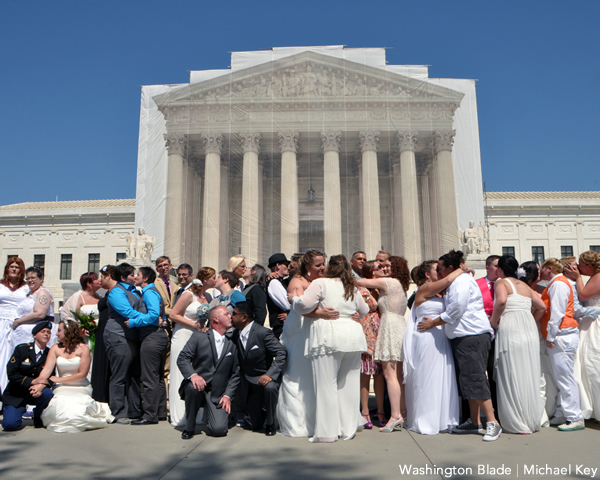 WASHINGTON – New polling released by Gallup Tuesday showed that 70% of those Americans surveyed approved of same-sex marriage, a new milestone in the trend of approval since 1996 when Gallup first polled Americans on recognition of same-sex marriages, which then only registered a 27% approval.
According to the data kept by the firm, the upward trend steadily increased with a majority approval in 2011, followed by a 60% rating at the time of the U.S. Supreme Court's Obergefell v. Hodges decision in 2015.
Gallup noted; "Since then, the issue has been less prominent in U.S. politics, and public support for same-sex marriage has continued to increase. Gallup has recorded other shifts in Americans' ideas on marriage over time, historically, including expanded support for interracial marriage, which had 87% approval as of Gallup's 2013 update."
Republicans, who have consistently been the party group least in favor of same-sex marriage, show majority support in 2021 for the first time (55%). The latest increase in support among all Americans is driven largely by changes in Republicans' views, Gallup reported.
Democrats have consistently been among the biggest supporters of legal same-sex marriage. The current 83% among Democrats is on par with the level of support Gallup has recorded over the past few years.
This could suggest that support for gay marriage has reached a ceiling for this group, at least for now. Meanwhile, support among political independents, now at 73%, is slightly higher than the 68% to 71% range recorded from 2017 to 2020.
First gay Black man elected in Texas; Beats anti-LGBTQ incumbent
"Jalen shattered a lavender ceiling in Texas, and it came as right-wing state legislators target LGBTQ people."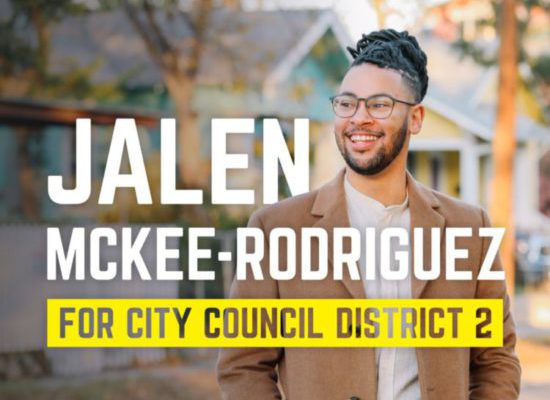 SAN ANTONIO, TX. – Jalen McKee-Rodriguez, a high school math teacher and graduate student who has lived in San Antonio since 2013, beat his former boss and incumbent in the runoff race for the San Antonio City Council. With his victory, McKee-Rodriguez became the first out gay Black man ever elected in the state of Texas.
McKee-Rodriguez once worked for his opponent, incumbent City Councilwoman Jada Andrews-Sullivan, but left her office in 2019 after facing retaliation for reporting anti-gay discrimination and harassment. Just last week, poll watchers heard two pastors who endorsed Andrews-Sullivan tell congregants voting for McKee-Rodriguez would be a "sin."
"Jalen shattered a lavender ceiling in Texas, and it came as right-wing state legislators target LGBTQ people and people of color with bigoted policies aimed at rallying their extremist political base," said former Houston Mayor Annise Parker, President & CEO of LGBTQ Victory Fund. "We need more people of color, young people and LGBTQ people in state and local government who will ensure politicians look to improve the lives of Texans, not further marginalize them. Jalen's victory is a rejection of the homophobic and racist politicking so fashionable in Austin and it will inspire more LGBTQ Black leaders to run and win."
McKee-Rodriguez graduated from the University of Texas at San Antonio, (UTSA) with a BA in Communication in 2017 and will graduate with a Masters of Education in Educational Leadership and Policy Studies this year. McKee-Rodriguez married his husband Nathan, a pharmacy technician, in 2018, and the couple owns a home in the suburban San Antonio Northeast Crossing neighborhood.