A dismal future under GOP control?
Advocates fear 'zero probability' of pro-gay advances in next Congress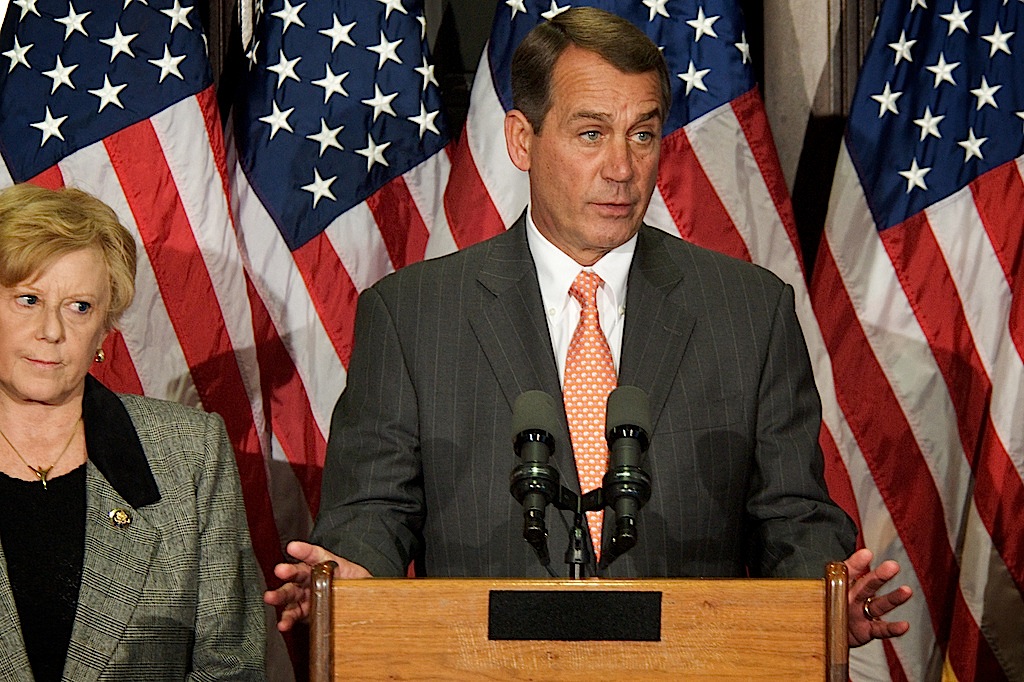 LGBT rights supporters are bracing for a freeze on pro-gay legislation in the next two years if — as many pundits predict — Republicans take control of the U.S. House and Democrats have a reduced majority in the Senate.
Patrick Egan, a gay New York University political science professor, said what he sees for outstanding pro-LGBT legislation in the 112th Congress is "not a pretty picture."
"I would say nothing's going to happen," Egan said. "You can see how difficult it was getting any kind of pro-gay legislation out of two houses that were solidly controlled by Democrats, and the picture's just going to get worse to the extent that Republicans gain power on Capitol Hill."
Egan said he couldn't identify which bills — such as the Domestic Partnership Benefits & Obligations Act or the Employment Non-Discrimination Act — have a greater chance of passing than others because he thinks, "the probability of all of them is zero."
"I'm just so pessimistic about anything moving at all that I actually don't think that question is very meaningful," he said.
Michael Cole, a spokesperson for the Human Rights Campaign, drew on the record of Republican control throughout the 1990s and early 2000s in his prediction of what could happen next year.
"We saw what Republican leadership looked like in the House, and that was when we had a Federal Marriage Amendment being debated, it's when we saw [the Defense of Marriage Act] passed, it's where we saw a slew of efforts that delayed our progress," Cole said.
Cole said the possibility of a hostile Congress underscores the need for LGBT rights supporters to work to elect friendly lawmakers during the campaign season.
"I don't want to be too fatalistic about where things are going to end up because while there's six weeks until the election, six weeks is a long time, and no one can honestly say they'll know what's going to happen," Cole said.
Still, political experts across the board are predicting that Republicans will achieve enough gains in the U.S. House on Election Day to take a majority in the chamber.
Nate Silver, founder of the FiveThirtyEight blog, estimated last week that Republicans have a 65 percent chance of taking the House. His model projects that Republicans will go from holding 188 seats to approximately 223 seats and give them a narrow majority.
Earlier this month, Cook Political Report on its website also identified Republicans as modest favorites to take control of the House.
"The Cook Political Report's current outlook is for a Republican net gain of at least 40 seats," the website states. "A turnover of 39 seats would tip majority status into Republican hands."
Such an outcome would lead to the retirement of U.S. House Speaker Nancy Pelosi (D-Calif.) and the ascension of House Minority Leader John Boehner (R-Ohio) to her role.
Many Washington insiders are anticipating that House Democrats will be facing bad news on Election Day. At a recent D.C. fundraiser where Pelosi didn't appear at the expected time, attendees joked that she was delayed because she was trying to get rid of a tape-measure wielding Boehner from her office.
Cole said the possibility of Boehner taking control of the House would be bad news for LGBT people and noted HRC has previously given the minority leader — as well as others in Republican leadership, such as Reps. Eric Cantor (R-Va.) and Mike Pence (R-Ind.) — a "0" on its congressional scorecards.
"These are the people who would be deciding the agenda of what gets to the floor," Cole said.
Ileana Ros-Lehtinen (R-Fla.), a lawmaker known for her support for the LGBT community and co-sponsor of numerous pro-LGBT bills in Congress, said she's unsure of what will happen with these bills if her party takes control of the House as she criticized the current Democratic majority for not taking action.
"I don't know what will happen with Republicans," she told the Blade last week. "I know what's happening now. I don't really get an opportunity to get to vote on those [bills] very often on the floor."
Ros-Lehtinen was also reluctant to say that she'd be the champion of pro-LGBT legislation under GOP control in the House.
"I think that there are a lot of champions in a bi-partisan way on these issues," she said. "I would not consider myself a champion of anything, but I'm proud to support the bills. But right now, it's Democrat control, so you got to ask [U.S. House Speaker] Nancy [Pelosi] what's up."
Even with fears and uncertainty about how a GOP-controlled Congress would handle LGBT issues, the Republicans haven't been emphasizing social issues in their quest to retake Congress.
The House Republicans' "Pledge to America," which was unveiled last week, notably has little to do with social issues and instead plays up economic policy.
The pledge has one line saying Republicans will work to defend "traditional marriage." Other issues, such as "Don't Ask, Don't Tell," aren't mentioned in the document.
Brian Moulton, HRC's chief legislative counsel, wrote in a blog posting last week that the document shows LGBT people wouldn't fare well under a Republican-controlled Congress.
"While the document focuses heavily on economic issues, its 'pledge' also includes hostility to LGBT equality, promising support for 'traditional marriage' and, in a thinly veiled attack on LGBT advances through legislation and the courts, criticizing actions that 'thwart the will of the people and overturn their votes and their values,'" Moulton said.
Even under Republican control, options would be available to the Democratic minority to work to pass pro-LGBT legislation.
One possibility would be to pass bills through a discharge petition, a maneuver that could bring legislation that's bottled up in committee to the House floor. Supporters of pro-LGBT bills in the Democratic minority could find Republican moderates to sign the discharge petition to obtain 218 signatures needed to move forward with the legislation.
But Egan was skeptical about the use of a discharge petition to pass pro-LGBT legislation and said he doesn't think moderate Republicans would join such an effort.
"The few moderate Republicans who are left are going to be worried about a primary challenge from their right in the cycle," Egan said. "One of the true ways to invite a primary challenge from your right-wing is to vote for LGBT-friendly legislation."
As Democrats face dismal prospects in the House, LGBT rights supporters may be able to look to a Democratic-controlled Senate to advance pro-gay legislation.
In the Senate, where only one-third of the seats are up for grabs during any given election cycle, the forecast is better for the Democrats, although Republican gains are still expected.
Silver estimates that Republicans have an 18 percent chance of taking the Senate. Still, his model projects Democrats will go from having 59 seats in the chamber to having an estimated 52.2 seats.
The reduced Democratic majority in the Senate may mean that the 60-vote threshold needed to overcome a filibuster in the chamber could be further out of reach.
Still, Democratic control in the Senate could provide the opportunity of amending larger pieces of legislation with pro-LGBT measures in the chamber in the hopes that such language would survive in conference committee for both chambers to approve and send to the president's desk.
Such a tactic would be similar to how the Senate in 2000 amended major defense legislation with a hate crimes protections measure as a way forward. The hate crimes measure didn't become law that year and only made it into the books last year as part of defense legislation signed by President Obama.
But Egan was skeptical about the prospects of being able to move forward with pro-LGBT legislation in the Senate even by amending larger legislation.
"That sort of tactic tends to be blocked by Republican senators who are social conservatives, and I would imagine that would continue to happen in the next session," Egan said.
Egan said he expects a number of Democratic senators will be replaced after Election Day with "hard-core social conservatives" and said the scenario under which pro-LGBT legislation advances under those circumstances seems "really unlikely."
With a possible block on pro-LGBT legislation in the upcoming Congress, eyes could be on Obama to make administrative changes beneficial to the LGBT community as opposed to having to rely on enacting legislation.
Matt Foreman, program director for LGBT and immigrant rights at the Haas Jr. Fund, said the Obama administration has at its disposal the means to help the LGBT community regardless of the election results in November.
"There are dozens and dozens of ways in which the Obama administration can continue to change federal policies and practices to improve the response of the federal government to needs of LGBT people," Foreman said.
Foreman said he thinks advocates often elevate legislation over potential policy changes, such as funding for community centers and anti-violence programs as well as determining how a family is defined in the health care reform and how jobs programs treat LGBT applicants.
"All of those things are incredibly important to people, so I think that even if strong anti-LGBT majorities take control of Congress, there will still be lots and lots of opportunities to make progress within the administration," Foreman said.
6 killed in shooting at Christian school in Nashville
The shooter was identified as Audrey Hale, 28, of Nashville, according to police who identifies as transgender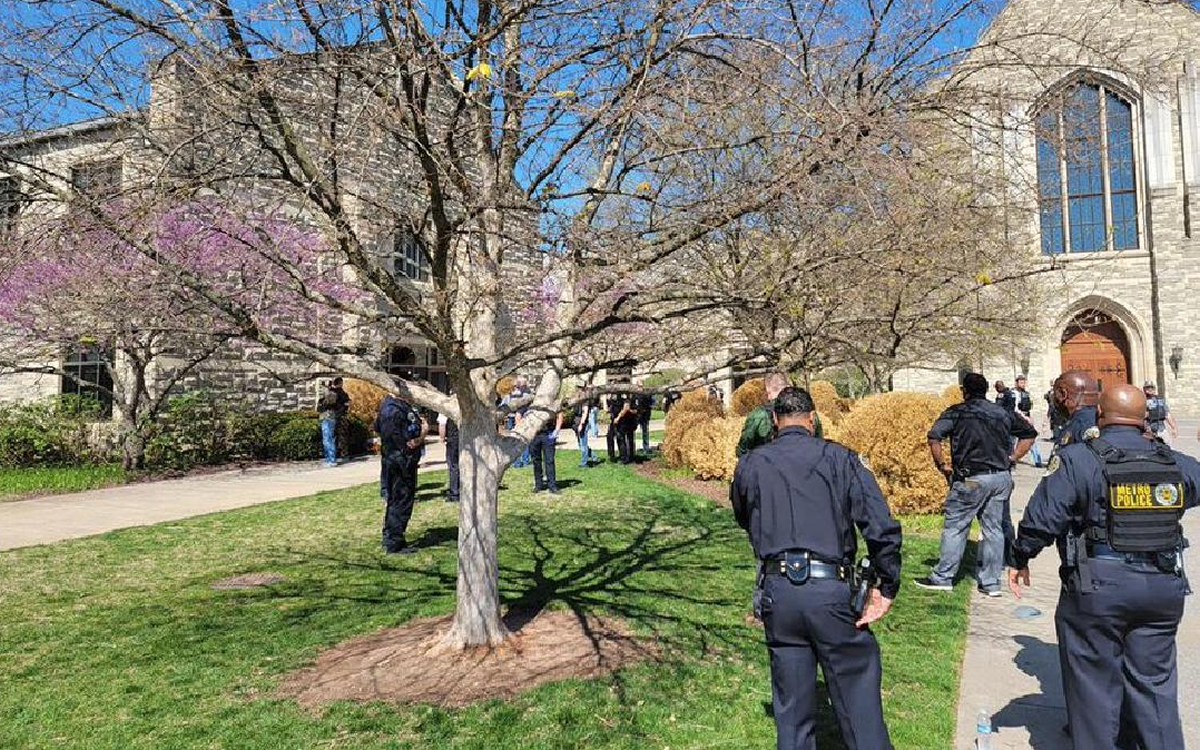 In a press conference Nashville Police Chief John Drake told reporters that earlier Monday morning a 28-year-old local female armed with two "assault-type rifles and a handgun," was killed by responding officers.
"At one point she was a student at that school," Chief Drake told reporters hours after the shooting at The Covenant School. "But unsure what year […] but that's what I've been told so far."
The shooter was identified as Audrey Hale, 28, of Nashville, according to the chief, who identifies as transgender.
According to Drake three children and three adults were killed in the shooting at The Covenant School on Burton Hills Boulevard, a private Christian school.
Children's Hospital Vanderbilt University Medical Center spokesperson John Howser told reporters "We can now confirm 3 children and 2 adults from the school shooting were transported to our Adult Emergency Department (The 2 adults) and (The 3 children) to the Pediatric Emergency Department at Monroe Carell Jr. Children's Hospital," Howser said adding "All 5 patients have been pronounced dead."
Police identified the three slain students as Evelyn Dieckhaus, Hallie Scruggs, and William Kinney, all age 9.
The three faculty members killed were Cynthia Peak and Mike Hill, both 61, and school head Katherine Koonce, 60.
At his only scheduled public event at the White House, President Joe Biden called the shooting "sick" and renewed his call for Congress to ban assault weapons.
Chief Drake noted that the shooter was killed on the school's second floor by his officers acknowledging that the victims were students and staff members of the school.
The school has students from preschool through sixth grade and on a normal day has about 200 students and 40 staff members on campus.
In a statement, Tennessee Gov. Bill Lee tweeted: "I am closely monitoring the tragic situation at Covenant. As we continue to respond, please join us in praying for the school, congregation & Nashville community."
I am closely monitoring the tragic situation at Covenant, & the @TNDeptofSafety & @TNHighwayPatrol are assisting local law enforcement & first responders at the scene.

As we continue to respond, please join us in praying for the school, congregation & Nashville community.

— Gov. Bill Lee (@GovBillLee) March 27, 2023
NBC News reported that just days ago, a 17-year-old suspect wounded two administrators at a Denver high school before he was found dead.
In February, three students were gunned down at Michigan State University. And in January, two students were fatally shot at a charter school in Des Moines, Iowa.
The Washington Post and other media outlets reporting that Rep. Andrew Ogles (R-Tenn.), who represents the Nashville district where the Covenant School is located, said Monday in a statement that he was "utterly heartbroken" by the mass shooting.
Gun reform activists including Fred Guttenberg, whose daughter Jamie was killed in the mass shooting at Marjory Stoneman Douglas High School in Parkland, Florida, on February 14, 2018, have called out Ogles for his hypocrisy posting tweets of Ogles posing with his children all carrying assault rifles in a 2021 family Christmas card photo:
The tragedy of the latest mass shooting is listening to Tennessee politicians who refuse to call it a shooting but who engaged in behavior that caused this to be more likely when they glorify guns. Tennessee Rep @AndyOgles, is this you with your family? pic.twitter.com/LJGnUKqJdA

— Fred Guttenberg (@fred_guttenberg) March 27, 2023
Vice president to visit three African countries that criminalize homosexuality
Ugandan lawmakers passed anti-homosexuality bill last week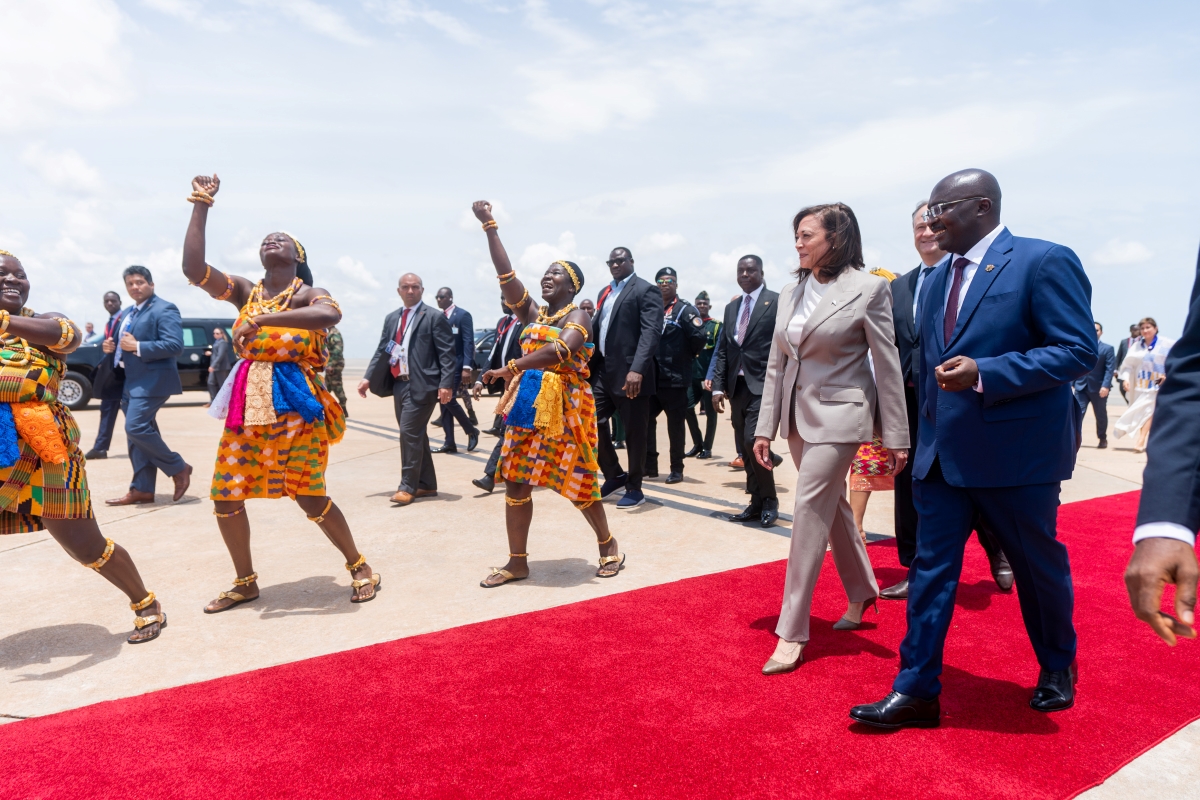 Vice President Kamala Harris this week will visit three countries in Africa that criminalize consensual same-sex sexual relations.
Harris and her husband, second gentleman Douglas Emhoff, arrived in Ghana on Sunday. They will travel to Tanzania and Zambia before returning to the U.S. on April 2.
Ghana, Tanzania and Zambia are among the dozens of countries in which consensual same-sex sexual relations remain criminalized.
The Washington Blade last week reported LGBTQ and intersex Ghanaians remain in limbo as lawmakers continue to debate the Promotion of Proper Human Sexual Rights and Ghanaian Family Values Bill that, would among other things, further criminalize LGBTQ and intersex people and make advocacy on their behalf and allyship illegal. A Ghanaian representative who spoke during a March 20 meeting that focused on the integration of LGBTQ and intersex rights into the U.N. Security Council's work said the body is not an appropriate venue to discuss them.
"You know that a great deal of work in my career has been to address human rights issues, equality issues across the board, including as it relates to the LGBT community," said Harris on Monday during a press conference with Ghanaian President Nana Afuko-Addo that took place in Accra, the Ghanaian capital. "I feel very strongly about the importance of supporting the freedom and supporting and fighting for equality among all people and that all people be treated equally. This is an issue that we consider and I consider to be a human rights issue and that will not change."
Tanzanian President Samia Suluhu, with whom Harris is scheduled to meet on Thursday, last month described LGBTQ rights as "imported cultures." The Tanzanian government has also banned children's books from schools because of their LGBTQ-specific content.
The State Department in 2019 recalled then-U.S. Ambassador to Zambia Daniel Foote after the Zambian government sharply criticized him for publicly defending a gay couple who had been convicted of violating the country's colonial-era sodomy law and sentenced to 15 years in prison.
Then-Zambian President Edgar Lungu later pardoned the couple. Current Zambian President Hakainde Hichilema, which whom Harris will meet on March 31, last September reiteated his government does not support LGBTQ and intersex rights.
Harris arrived in Africa less than a week after Ugandan lawmakers approved a bill that would further criminalize homosexuality and LGBTQ and intersex people. White House Press Secretary Karine Jean-Pierre said the measure if signed "would impinge upon universal human rights, jeopardize progress in the fight against HIV/AIDS, deter tourism and investment in Uganda, and damage Uganda's international reputation."
"The bill is one of the most extreme anti LGBTQI+ laws in the world," she said on March 22 during her daily press briefing. "Human rights are universal — no one should be attacked, imprisoned or killed simply because of who they are or who they love."
President Joe Biden in 2021 signed a memo that committed the U.S. to promoting LGBTQ and intersex rights abroad as part of the White House's overall foreign policy. Then-State Department spokesperson Ned Price later told the Blade the decriminalization of consensual same-sex sexual relations is one of the Biden-Harris administration's five priorities as it relates to LGBTQ and intersex rights overseas.
A senior administration official told reporters during a conference call that previewed Harris' trip that she "is very much focused on opportunities in Africa and a positive message and the great things we can do in partnership with African countries. And you're going to really see that as the theme of the trip, given Africa's role in the world and what we think can be done with Africans, for the sake of Africans in the United States and the rest of the world."

"But that doesn't mean that she would shy away from discussing difficult issues, and you know her track record on the LGBTQ issue," added the official. "She spent her whole career fighting for rights of overlooked and marginalized people, including LGBTQ people."
The official further stressed the Biden-Harris administration "is very clear about the right for all people to live free of harm and discrimination and to realize their full potential and to fully participate in society."
"The vice president has been clear about that throughout her engagements in the United States and elsewhere in the world, and it won't be any different when she is in Africa," added the official. "We have said, you know, including in recent days — expressed the concerns we have about certain developments that we've seen on the African continent, whether it's laws or practices that are anti-LGBTQ. And that's not consistent with what this administration stands for."
The official also said they "don't think that is a choice between taking a firm stand on that set of really important issues and the big positive opportunity that the vice president sees in Africa and she's going to emphasize on this trip."
The Blade will provide further updates of Harris' trip as they become available.
LGBTQ protections added to N.M. Human Rights Act
Governor Michelle Lujan Grisham signed House Bill 207 on Friday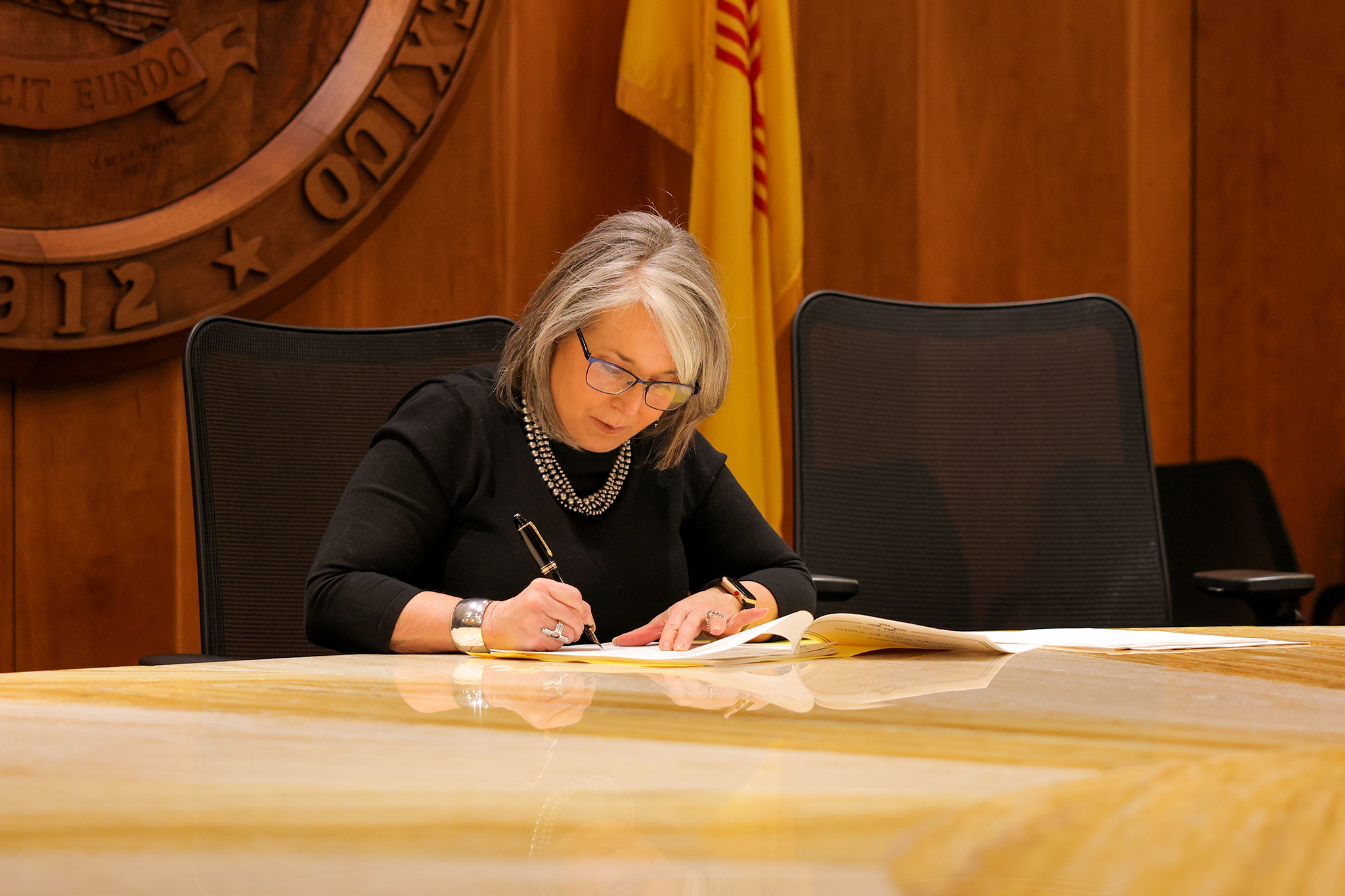 New Mexico Gov. Michelle Lujan Grisham signed House Bill 207 into law on Friday that expands protections for LGBTQ New Mexicans under the state's Human Rights Act. For transgender residents, Grisham also signed House Bill 31, a measure that removes the requirement that name changes be published in a newspaper.
The Santa Fe New Mexican newspaper reported that HB 31 also lets people 14 and older petition a district court for a name change and prohibits the court from requiring notice to the applicants' parents if it finds notice would jeopardize the applicant's safety.
"While hundreds of bills have been introduced across the country to restrict the rights of queer and trans people, New Mexico is committed to making our state a safer place for everyone by closing a loophole to ensure our taxpayer dollars cannot be used to discriminate against our LGBTQ+ friends and neighbors," state Rep. Kristina Ortez (D-Taos) said in a statement.
We're so glad to say that #HB31 and #HB207 -passed by #nmleg – is officially signed into law by @GovMLG! We will continue to love, affirm, and protect all #LGBTQ people here!#EQNM30th pic.twitter.com/3eUx5LLlvC

— Equality New Mexico (@equalitynm) March 25, 2023
State Rep. Christine Chandler (D-Los Alamos), the sponsor of HB 31, noted that the measure will benefit trans New Mexicans seeking to change their names as well as ensure safety for victims of domestic violence who may change their names to be more secure.
"Removing this antiquated publishing requirement protects New Mexicans' privacy and allows them to safely move on with their lives," Chandler said.
These measures are the latest in legislation passed this session to protect LGBTQ New Mexicans as well as women's rights.
On March 16, Grisham signed into law House Bill 7, the Reproductive and Gender-Affirming Health Care Act, which prohibits public bodies, including local municipalities, from denying, restricting, or discriminating against an individual's right to use or refuse reproductive health care or health care related to gender.
"New Mexicans in every corner of our state deserve protections for their bodily autonomy and right to health care," said Grisham as she signed HB 7. "I'm grateful for the hard work of the Legislature and community partners in getting this critical legislation across the finish line."
"Trans and nonbinary individuals deserve the support and care necessary to survive and thrive," said Ortez, who co-sponsored HB 7. "Protecting gender-affirming health care is a critical part of making sure trans and nonbinary New Mexicans can succeed in school, establish healthy relationships with their friends and family, and live authentically as themselves."
"In New Mexico we value the freedom and dignity of making your own personal decision about reproductive and gender-affirming health care," said Ellie Rushforth, the American Civil Liberties Union of New Mexico managing reproductive rights and gender equity attorney. "Now more than ever it is critical that New Mexicans and our neighbors have access to the full spectrum of health care in every corner of our state. We thank the governor for supporting and signing HB 7 into law. This is lifesaving legislation."