Will time run out for 'Don't Ask' repeal?
New optimism as Reid commits to vote, but hearings loom

Supporters of "Don't Ask, Don't Tell" repeal continue to fret about having enough time to pass a measure to overturn the military's gay ban before year's end even as Senate leadership has committed to a vote on the issue during the lame duck session of Congress.
An announcement last week from Senate Majority Leader Harry Reid (D-Nev.) that he would bring major defense legislation with repeal language to a vote bolstered the confidence of supporters as they acknowledge significant hurdles remain in reaching the finish line.
Aubrey Sarvis, executive director of the Servicemembers Legal Defense Network, said he's "hopeful" that Congress will be able to enact repeal, but acknowledged that "the clock is our enemy."
"I'm fearful of time running out on the bill before it's finished or the prospects of strong opposition from a core group of senators who don't want to see anything happen in the lame duck," Sarvis said.
Debate on the defense authorization bill traditionally takes about two weeks in the Senate. Given that slightly more than one month remains in the legislative session this year, time for a debate and vote in the Senate — as well as time for conferencing the legislation — would have to be compressed to move forward.
"Normally, that would involve several weeks or months," Sarvis said. "For us to succeed here, all those elements, debate on the floor, conference, votes in the two chambers on the conference report would have to be compressed to about eight or 10 days on the floor, in conference and back to the two chambers. That's part of the challenge."
Sarvis said he expects the defense authorization bill would likely come to the floor after the Senate Armed Services Committee holds hearings on the Pentagon "Don't Ask, Don't Tell" report. Levin has said he wants to hear testimony early in December.
"If the hearing is [Dec.] 2, I could see a scenario where the leader might make the motion on Friday the third, or, if the hearing is the sixth, then maybe the next day," Sarvis said.
One major question is whether enough senators will vote in the affirmative to reach the 60-vote threshold to move forward with debate on the legislation. In September, a previous attempt to move forward with the measure failed by a vote of 56-43.
A senior Democratic aide, who spoke to the Washington Blade on condition of anonymity, expressed confidence about being able to move forward with the fiscal year 2011 defense authorization bill.
"I think that we may be close to having 60 votes to begin debate on the bill," the aide said. "I've seen some positive signs from unexpected Republicans in recent days."
Sarvis said the ability to move forward will depend on whether at least a handful of Republicans are willing to break ranks with their caucus.
"If you just look at Democrats, the numbers don't add up to 60," Sarvis said. "I don't care how you slice it. So, if we can persuade a handful of Republicans, and I think we can, we will hit 60."
A number of senators who are seen as key to moving forward with "Don't Ask, Don't Tell" repeal have said they want to see an open amendment process in place.
In September, when Senate leadership made an earlier attempt to bring the legislation to the floor, a number of senators said they were voting "no" because they didn't feel the Republicans could offer a sufficient number of amendments to the legislation.
Last week, Sen. Joseph Lieberman (I-Conn.), the sponsor of repeal language in the Senate, expressed confidence during a news conference about having at least 60 votes to move forward — provided certain conditions are met with the amendment process on the Senate floor.
"I am confident that we have more than 60 votes prepared to take up the defense authorization bill with the repeal of 'Don't Ask, Don't Tell' if only there will be a guarantee of a fair and open amendment process," Lieberman said.
Lieberman said he's received assurances from Sens. Susan Collins (R-Maine) and Richard Lugar (R-Ind.) — as well as "others privately" — that they would vote for moving forward with the defense authorization bill if a more open amendment process is in place.
The amendment process these senators are seeking remains somewhat nebulous. What standard for the process are these fence-sitting seeking to win their support for moving forward?
Asked about this during the news conference, Lieberman said the exact terms are up for negotiation.
"It's hard to put a number on it now," Lieberman said. "That's what I hope is going to be negotiated. Of course, we'll do our best to encourage Sen. Reid to reach out to allow a somewhat larger number."
Some Democrats speculate the call for a change in the amendment process could be an excuse for some fence-sitting senators to vote "no" on moving forward with the defense authorization bill.
Jim Manley, a Reid spokesperson, said the senator has "always been committed to having a fair debate and votes" on the defense authorization bill and specifically on the "Don't Ask, Don't Tell" provision.
"We are prepared to proceed in a way that would allow Senators on both sides to voice their concerns and to offer relevant amendments to the bill," Manley said.
Manley said critics of "Don't Ask, Don't Tell" are spinning "a myth" that Reid "is somehow trying to bypass debate on this critical issue."
The Democratic aide said this call for a more open amendment process could enable some senators to vote against moving toward final passage of the bill after the legislation comes to the floor.
"You could have … some Republicans using process arguments to say, "No, we haven't had enough debate time and I cannot support moving toward final passage of the bill yet,'" the aide said. "The Republicans might just try to run out the clock."
The aide said a fair amendment process in the Senate has "never, ever meant" that debate can continue "as long as anybody wants to continue the debate, as long as there are amendments to be talked about and voted on."
Sarvis noted that unlike in September, Reid has said the DREAM Act, an immigration-related bill, wouldn't be offered as an amendment to the defense authorization the next time around and would instead come to the floor as standalone legislation.
"By doing so, he has shown his good faith in proceeding toward a fair and open manner in which senators on both sides of the aisle have an opportunity to offer amendments," Sarvis said.
Sarvis also said Reid's commitment to allow amendments on the "Don't Ask, Don't Tell" and abortion-related provisions in the defense authorization bill was evidence of the majority leader's commitment to fairness during debate on the legislation.
It's possible that in exchange for repealing "Don't Ask, Don't Tell," Senate leadership will have to agree to a vote on amendments that would rile the White House, such as a measure related to the terrorist detention facility at Guantanamo Bay or an amendment to try terrorist suspects by military commission.
Sarvis said he doesn't "think it's any secret" that Republicans may be looking at amendments like that.
"Are there some Republicans who would like to put the administration on the hot seat with respect to some amendments?" Sarvis said. "Perhaps. But my hope would be that when the 'Don't Ask, Don't Tell' provisions are debated on the floor that amendments [in that nature] would not be in the mix or part of that debate."
The Democratic aide said deals are often cut at late stages in the game, but he doesn't think opponents of "Don't Ask, Don't Tell" repeal in the Senate would allow moving forward with ending the law even with an agreement to have a vote on those issues.
"My sense is that [Sen. John] McCain and [Sen. Lindsey] Graham and their crew are dead set on stopping the repeal of 'Don't Ask, Don't Tell,'" the aide said. 'I don't think that they're willing to deal that away."
As these questions linger, eyes will be on several key senators to determine whether the chamber can reach the 60-vote threshold needed to move forward when the legislation comes before the Senate again.
The offices of both senators Lieberman mentioned as "yes" votes under a different amendment process — Collins and Lugar — said they would be open to moving forward with the defense authorization bill if certain conditions are met.
Mark Helmke, a Lugar spokesperson, said the senator hasn't taken a position on "Don't Ask, Don't Tell" and is waiting for the Pentagon report on the issue, which is now set for release on Nov. 30.
"He is in favor of having a full debate on the matter as part of the defense authorization bill if there is a consent agreement for timed debate and votes on a number of issues," Helmke added.
Kevin Kelley, a Collins spokesperson, confirmed the Maine senator was concerned about what she perceived as the lack of an open process the last time the legislation was brought up for a vote.
"In September, she was disappointed that the Democratic majority leader chose to shut down debate and exclude Republicans from offering any amendments to the defense authorization bill, which contains the repeal language," Kelley said. "She believes that was unfair and contrary to the rules and tradition of the Senate."
Still, Kelley maintained that Collins agrees with Defense Secretary Robert Gates and Chairman of the Joint Chiefs of Staff Adm. Mike Mullen that the military's gay ban "should be repealed" and recalled that the senator voted in favor of a repeal amendment in committee during the spring.
Another senator who could be in play is Sen. Lisa Murkowski (R-Alaska). Fresh off her re-election win as an independent write-in candidate in her state, Murkowski isn't beholden to the far right for her victory on Election Day. She also didn't vote one way or the other on the motion to proceed on the defense authorization bill when it came before the Senate in September.
A local TV station in Alaska reported last week that Murkowski was in a position to vote to advance the defense authorization bill. But Michael Brumas, a Murkowski spokesperson, later clarified that this support is dependent on the result of the Pentagon report.
"Sen. Murkowski would not oppose a defense authorization bill that includes a repeal of ['Don't Ask, Don't Tell'] if the Pentagon study shows that repeal is supported by the troops, doesn't hurt performance, morale or recruitment and the military allows for an orderly transition," Brumas said.
Additionally, Brumas said the manner in which Senate leadership handles the amendment process would be important for Murkowski's support.
"If the majority attempts to push it through allowing little or no debate or votes on amendments, Sen. Murkowski would be inclined to oppose those efforts," Brumas said.
One surprise senator who could vote to move forward with the defense authorization bill is Sen. John Ensign (R-Nev.). Last week, LGBT advocates asserted one of his staffers informed them that he wants to repeal "Don't Ask, Don't Tell" and would vote for cloture on the defense authorization bill.
Laura Martin, communications director for the Stonewall Democratic Club of Southern Nevada, said she and other activists met with Margot Allen, Ensign's regional representative on military issues, who informed the group of the senator's position.
"The first question was about 'Don't Ask, Don't Tell' and his staffer said he supports repeal," Martin said. "We asked her to clarify three times and she said he will vote in the affirmative on the defense authorization with 'Don't Ask, Don't Tell' repeal in it."
Jennifer Cooper, an Ensign spokesperson, later said the senator was awaiting the Pentagon report "to see if any changes to this policy can or should be done" with regard to "Don't Ask, Don't Tell." She also said he wants to hear testimony from the military service chiefs.
"Also, he plans to review all of the merits of the Defense Authorization bill before voting one way or another; hopefully it will be a fully open amendment process," she added.
Other senators that are seen as being in play are moderate Republicans Scott Brown (R-Mass.), George Voinovich (R-Ohio) and Olympia Snowe (R-Maine). The two Democratic senators who joined Republicans in voting "no" in September on moving forward with the defense authorization — Arkansas Sens. Mark Pryor and Blanche Lincoln — could also change their votes.
None of these senators' offices responded to the Blade's request to comment on how they would vote on the defense authorization when it comes up during the lame duck session.
The slightly different composition of the Senate also raises questions about the votes from Sen. Joe Manchin (D-W.Va.), who assumed his seat after winning election on Nov. 2, and Republican Senator-elect Mark Kirk of Illinois, who is set to take his seat during the lame duck session of Congress.
During his campaign, Manchin said he wants to wait to hear from military leaders before moving forward with "Don't Ask, Don't Tell" repeal. As a U.S. House member, Kirk voted against an amendment that would have repealed the military's gay ban when it came to the floor in May.
Neither the office of Manchin nor Kirk's transition team responded to the Blade's request for comment on the issue.
Biden, Harris, deliver remarks for White House Office of Gun Violence Prevention
Pulse survivor Brandon Wolf among those who spoke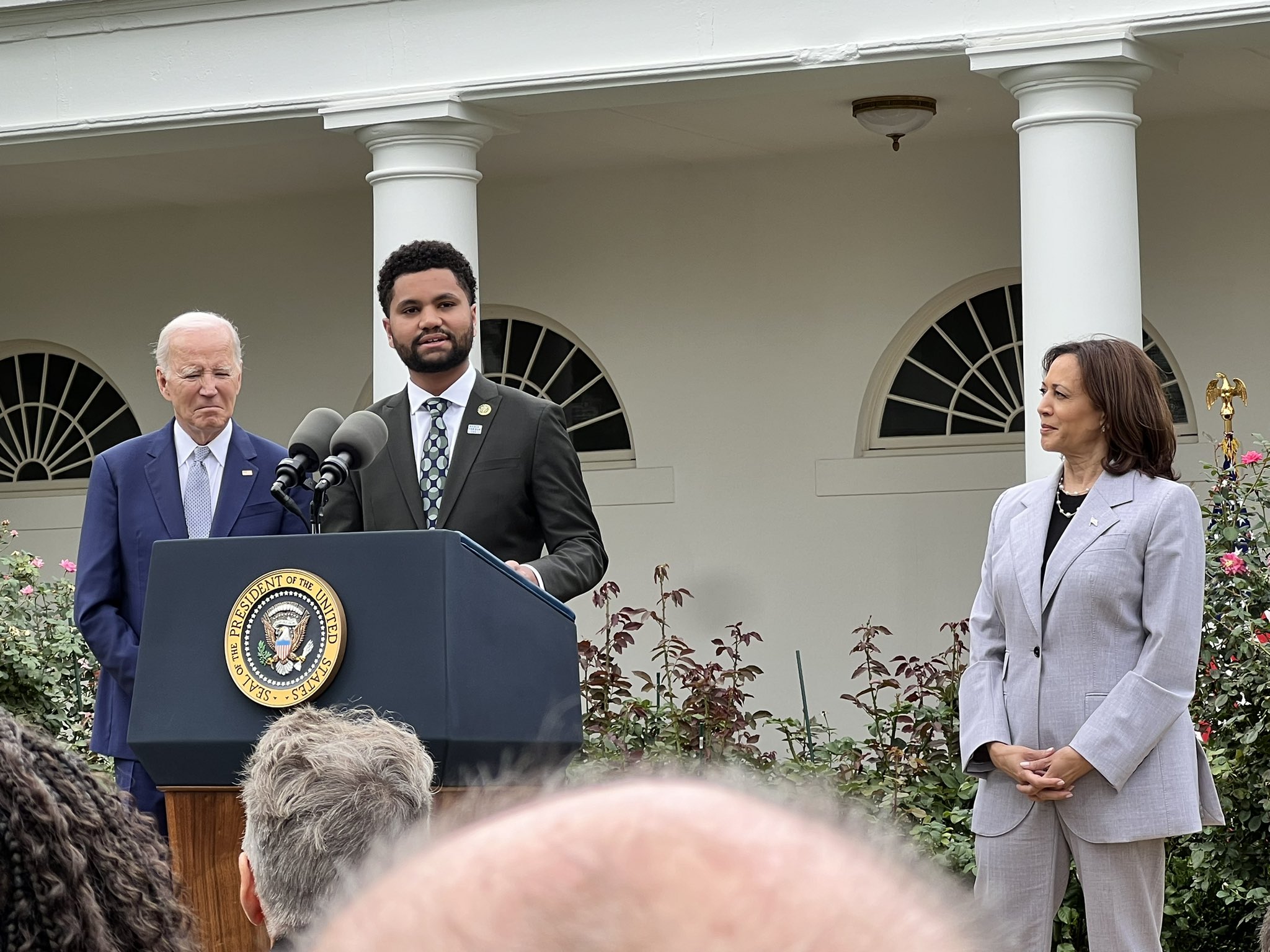 President Joe Biden, Vice President Kamala Harris, and U.S. Rep. Maxwell Frost (D-Fla.) addressed an audience from the Rose Garden of the White House on Friday to honor the establishment of a first-ever White House Office of Gun Violence Prevention.
In a press release Thursday announcing the move, the administration said its aim is to implement and expand the provisions of last year's Bipartisan Safer Communities Act along with those contained in the president's executive orders targeting issues of gun violence.
Additionally, Biden explained in his remarks, the office will coordinate more support for survivors, families and communities, including mental health services and financial aid; identify new avenues for executive action; and "expand our coalition of partners in states and cities across America" given the need for legislative solutions on the local and state level.
Harris, who will oversee the office, pledged to "use the full power of the federal government to strengthen the coalition of survivors and advocates and students and teachers and elected leaders to save lives and fight for the right of all people to be safe from fear and to be able to live a life where they understand that they are supported in that desire and that right."
The vice president noted her close experiences with the devastating consequences of gun violence in her work as a federal prosecutor, San Francisco district attorney, California attorney general and in her current role.
Biden's comments also included highlights of his administration's accomplishments combatting gun violence and a call to action for Congress to do more. "It's time again to ban assault weapons and high capacity magazines," he told lawmakers.
The president also credited the the work of advocates including those who were gathered at the White House on Friday: "all of you here today, all across the country, survivors, families, advocates — especially young people who demand our nation do better to protect all; who protested, organized, voted, and ran for office, and, yes, marched for their lives."
Taking the stage before introducing Biden, Frost noted that "Right before I was elected to Congress, I served as the national organizing director for March for Our Lives, a movement that inspired young people across the nation to demand safe communities."
"The president understands that this issue especially for young people, especially for marginalized communities, is a matter of survival," the congressman said. And the formation of this office, "comes from Pulse to Parkland," he said, adding, "we fight because we love."
Human Rights Campaign National Press Secretary Brandon Wolf, a survivor of the 2016 Pulse nightclub shooting, which was America's second deadliest mass shooting and the deadliest against the LGBTQ community, shared a comment with the Washington Blade after Friday's ceremony:
"Seven years ago, when my best friends and 47 others were murdered at our safe place — Pulse Nightclub — we promised to honor them with action. This is what that looks like. This deep investment in the fight to end gun violence matters, and I cannot wait to see Vice President Harris lead these efforts. We can blaze the path toward a future free of gun violence. And today marked an important step in that direction."
Federal judge: drag is 'vulgar and lewd,' 'sexualized conduct'
Ruling 'bristles with hostility toward LGBTQ people'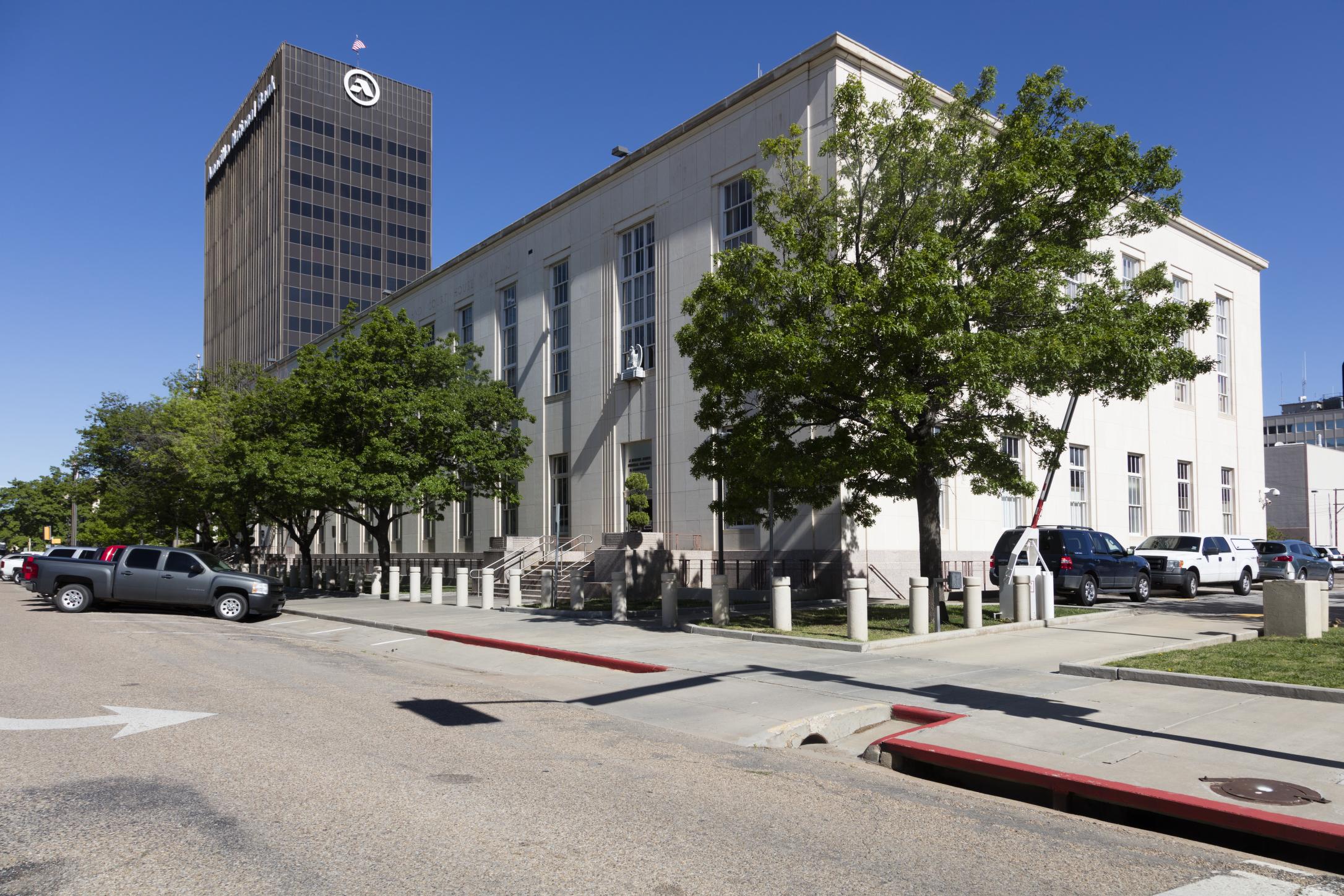 Judge Matthew Kacsmaryk of the U.S. District Court for the Northern District of Texas issued a ruling Thursday denying relief to a group of university students who sought to host a drag show over the objections of their school's president.
A Trump appointed jurist with deep ties to anti-LGBTQ and anti-abortion conservative legal activists, Kacsmaryk argued that drag performances probably do not constitute speech protected by the First Amendment.
As Slate Senior Writer Mark Joseph Stern wrote on X, this conclusion "conflicts with decisions from Texas, Florida, Tennessee and Montana which held that drag is constitutionally protected expression."
"It also bristles with undisguised hostility toward LGBTQ people," he added.
Kacsmaryk's 26-page decision describes drag performances as lewd and licentious, obscene and sexually prurient, despite arguments the plaintiffs had presented about the social, political, and artistic merit of this art form.
Judge Matthew Kacsmaryk refuses to grant relief to Texas college students who may be punished for hosting a drag show.

His condemns drag as "vulgar and lewd" "sexualized conduct" that harms children and is likely unprotected by the First Amendment. https://t.co/UPeolMfGON

— Mark Joseph Stern (@mjs_DC) September 22, 2023
As the Human Rights Campaign recently wrote, "drag artists and the spaces that host their performances have long served as a communal environment for queer expression."
The group added, "It is a form of art and entertainment, but, historically, the performances haven't only served to entertain, but also to truly advance the empowerment and visibility of LGBTQ+ people."
Nevertheless, anti-LGBTQ conservative activists and organizations have perpetuated conspiracy theories about members of the community targeting children for sexual abuse including by bringing them to drag performances.
Among these is a group with ties to the Proud Boys that was cited by Kacsmaryk in his ruling: Gays Against Groomers, an anti-LGBTQ and anti-transgender extremist group, according to the Anti-Defamation League and Southern Poverty Law Center.
Harris to oversee White House Office of Gun Violence Prevention
Goal is to implement and expand upon legislation, executive actions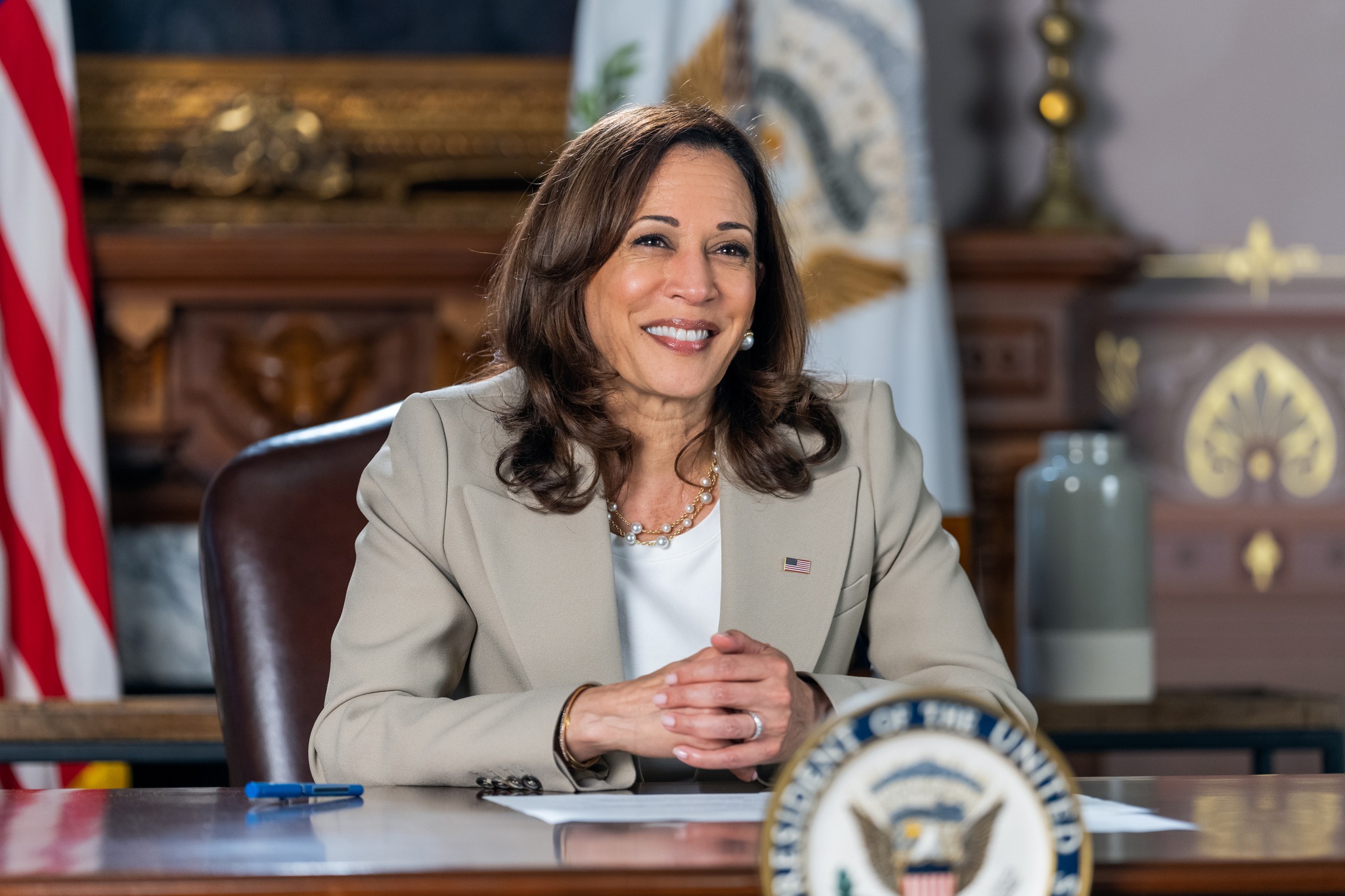 The White House announced Thursday evening that President Joe Biden on Friday will establish the first-ever White House Office of Gun Violence Prevention, to be overseen by Vice President Kamala Harris.
The office will focus on implementing and expanding upon executive and legislative actions, including the Bipartisan Safer Communities Act, "to reduce gun violence, which has ravaged communities across the country."
Serving under Harris will be Stefanie Feldman, "a longtime policy advisor to President Biden on gun violence prevention," and "leading gun violence prevention advocates Greg Jackson and Rob Wilcox."
"Every time I've met with families impacted by gun violence as they mourn their loved ones, and I've met with so many throughout the country, they all have the same message for their elected officials: 'do something,'" Biden said in a statement.
The president noted his signing of last year's bipartisan gun violence prevention law, a flagship legislative accomplishment for the administration, along with his issuance of more executive actions than any president in history to address this problem.
Calling these "just the first steps," Biden said the establishment of the White House Office on Gun Violence Prevention will "build upon these measures and keep Americans safe."
He also urged Congress to do more by passing legislation requiring universal background checks, and baning assault weapons and high capacity magazines.
In a statement, Harris said, "This epidemic of gun violence requires urgent leadership to end the fear and trauma that Americans experience every day."
"The new Office of Gun Violence Prevention will play a critical role in implementing President Biden's and my efforts to reduce violence to the fullest extent under the law," she said, "while also engaging and encouraging Congressional leaders, state and local leaders, and advocates to come together to build upon the meaningful progress that we have made to save lives."
"Our promise to the American people is this: we will not stop working to end the epidemic of gun violence in every community, because we do not have a moment, nor a life to spare," the vice president said.