D.C. Center shouldn't rely on city funding
Budget deficit, earmark disfavor preclude taxpayer help for group
Complaints by the D.C. Center for the LGBT Community over a lack of District government funding strike a notably out-of-tune chord in the context of a huge ongoing local budget deficit and the nationwide reexamination concerning the limits of the taxpayer dole and appropriate government spending.
Recent public statements by the Center's executive director intimating that his personal political support, and the endorsement by a local political operative and Center board member, of Vincent Orange's victorious campaign in last month's special election for a D.C. Council At-Large seat somehow portend that government assistance will soon be forthcoming have made this even more apparent.
Such political naiveté is nothing more than wishful thinking. The group needs to stop whining and face reality.
Ever since the D.C. Council cancelled funding earmarks for private organizations and withdrew a proposal in the summer of 2009 to grant the group half-a-million dollars to spend on purchasing a property — in order to close a then-puny $6 million city budget gap — the subsequent relentless indignant chorus emanating from the Center has sounded mostly like a bad Donna Summer song refrain from the '80s.
Having recently closed a nearly $200 million budget shortfall and facing another deficit well over $300 million, the city cannot afford to earmark taxpayer money for private groups. Nor should it even if it could.
A prominent local LGBT community activist famously remarked a while back that the Center is "a solution in search of a problem." Rank-and-file community reaction to the idea has consistently remained lukewarm at best, skeptical and in opposition at worst.
After the original community center organizing group formed nearly 10 years ago frittered away a hefty sum totaling in the hundreds of thousands of dollars raised through special events and spent on studies and surveys and travel to other cities, a new group sharing the belief that Washington needed a permanent community "headquarters" began more than 5 years ago.
Since that time, the Center has gone from being an online virtual resource to renting downtown business district office space to utilizing storefronts made available by a local real estate development firm on a temporary basis in the high-rent U Street commercial area. The Center currently spends $2,500 a month to lease retail space at 1318 U Street, N.W., in a second generous deal with a prominent local residential and commercial real estate developer. Due to the company's plans to begin construction of a major hotel project on the site, the Center will need to relocate within the next year.
Cue the chorus again.
Regardless of how you evaluate the necessity or priority of purchasing a building to house a community center – or the actual usefulness of such a center – perhaps the group's employees and board members should approach their objective more like a small business and discontinue the ongoing public hue and cry pleading for government underwriting.
Actually, business-friendly D.C. Council member Orange — the newest addition to an anti-tax-increase coalition who won election on a platform to reign in and reform government spending — might agree.
Both a rethinking of the physical plant requirements and a creative new approach to shared-usage opportunities with other existing community groups and non-profit organizations would be more productive than constantly begging for D.C. tax dollars.
Or maybe exploration of potential longer-term partnerships with businesses in less expensive and development-intensive areas of the city might, in fact, better serve those where the availability of a LGBT community center able to offer the limited resources the project can realistically provide would be of greatest benefit.
And a simple Hint from Heloise: remember to give credit and express public appreciation to the businesses that have generously supported the Center to date, rather than posing as a pitiable put-upon victim being "thrown out on the street" again.
Just sayin.'
Mark Lee is a local small business manager and long-time community business advocate. Reach him at [email protected].
National Gay & Lesbian Chamber of Commerce Certifies Brown, Naff, Pitts Omnimedia, Inc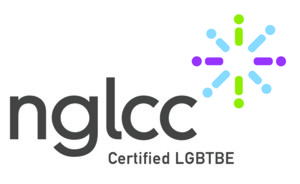 Washington, D.C. — Brown, Naff, Pitts Omnimedia, Inc, the parent company of the Washington Blade and Azer Creative, announced today it has been certified by the National Gay and Lesbian Chamber of Commerce (NGLCC) as an LGBT Business Enterprise. The NGLCC supports and advocates for diversity and inclusion for LGBT-owned businesses. With this certification the Blade's parent company joins more than 510 business and 134 corporate partners of the NGLCC.
Brown, Naff, Pitts Omnimedia, Inc. owns and operates the Washington Blade, the oldest and most acclaimed LGBT newspaper in the country. In 2012, the company launched Azer Creative, a full-service design firm. The company employs more than a dozen full-time LGBT staff.
"We are excited to become one of the 500 LGBT businesses across the country certified by NGLCC," said Lynne Brown, the Blade's publisher and a co-owner of the company. "The LGBT community has been part of our company from the beginning and we look forward to continue that for many years to come."
The Washington Blade was founded in 1969 and is known as the "newspaper of record" for the LGBT community both locally and nationally. Visit washingtonblade.com for more information. Azer Creative is a full-service graphic design firm based in Washington, D.C. Visit azercreative.com for more information. 
Vote now for the 2013 Best of Gay DC!
Choose in dozens of categories among hundreds of nominees, and make your voice heard!
Nominate the 'Best of Gay D.C.' now!
Dozens of categories cover all the best for LGBT Washington. Who deserves the prize this year?