Showtime for Shi-Queeta
Special Saturday installment of Nellie's drag brunch planned this weekend

These girls are glamazons. Their drag queen motto is simple: "hair and paint make a man what he ain't."
And their den mother, the inimitable Miss Shi-Queeta Lee, is a local phenomenon, an indefatigable impresaria who keeps them in line, ready for even more recognition if their D.C.-based reality TV show goes on area television later this year.
But in the meantime they appear every Sunday at Nellie's Sports Bar — and for this weekend's Capital Pride also on Saturday — as the stars of the weekly "drag brunch," which continues to pack in people, into the big first floor corner room framed by big windows looking out onto U Street N.W. Shi-Queeta's aim is always to keep them looking their best, and as the growing band of drag brunch regulars can attest, these girls do, each of them — five in all, including Shi-Queeta Lee (or SQL, for short).
But who is this Wonder Woman?  She has been a Blade favorite, winning this paper's reader's choice as Best Drag Performer in 2006. In 2009 she appeared at the People's Inaugural LGBT Gayla, on the eve of the swearing in of President Barack Obama. Now she appears to be nearly everywhere at once. She not only headlines the Sunday drag brunch but in addition hosts Tuesday night's drag bingo, also at Nellie's, and she is the "Diva of Town," appearing there as a cast member of the Danceboutique's drag shows every Friday and Saturday night. But where did it all begin, before the person born and raised as Jerry Van Hook became Shi-Queeta Lee, and how did this persona emerge?
"There ain't too much to say about Jerry," she says today, "because Shi-Queeta done took Jerry over."
But the answer to his life in female impersonation is more complicated that that and it begins to unfold in Gretna, Va., on a farm near that small town south of Lynchburg. He was born there in 1964, the fifth of six siblings, and he seems always to have been conscious of his feminine side, saying, "I was a real country girl then, because I was a girl there, too!" But growing up, "No one called me fag or punk, and I wasn't bullied," he says. "They just didn't know what to call me."
He was a farm boy for sure. "We would get up at 5 a.m. to slop the hogs, feed the chickens and milk the cows," he recalls. His father owned the farm but he was also a tobacco sharecropper. By high school, he recalls, "we were known as the black 'Brady Brunch,'" since they had a live-in Alice (their aunt), like the TV sitcom of the early 1970s.
While he loved drama and music in high school, and excelled in art, he also played basketball and tennis, and in the first half of high school he played cornerback on the football team's defensive line and ran the ball also as tailback. Later he also was a team cheerleader. After graduating, he went to the University of Pittsburgh Art Institute to study commercial art there, but two months later he returned home. He was, he says, "homesick" and he didn't like the colder temperatures.
First he found work at a local show factory, learning how to make women's shoes. He says that he continued to draw, especially family portraits, but he stopped pursuing it as a career, though he still has "that creative vision, which you have to have doing drag." Eventually, an uncle who lived in Washington visited and told young Jerry that "you should live in D.C." And so, the youth packed his bags on Christmas Day in 1985 and moved, living with his uncle for a few months, while he took several short-term jobs until he found his calling, in hospitality and food service, becoming first a busboy and then a waiter at Planet Hollywood.
Soon he was also helping train crews for the restaurant chain, which flowered in the mid-1990s backed by film stars Sylvester Stallone, Arnold Schwarzenegger and Bruce Willis. During its heyday, "That's when I got to see the world for free," he recalls, traveling to Atlanta and Orlando  as well as to France and Indonesia. Later he worked for BET (Black Entertainment Television) when it opened its own Caribbean-style restaurants.
Later he began an acting career also, in road shows on what he calls the "chittlin' circuit."
He took a job as wardrobe and costume designer for a play starring the actor Billy Dee Williams, "The Maintenance Man," and also as an extra in the play, which was about a high-priced male escort. Van Hook admits that later, as a drag queen, he also worked "for a few years" as a male escort. It's something he says, that many drag queens do so "at some point, if you need some faster cash to make ends meet," and there are always customers, generally straight men who sometimes frequent gay bars "to fulfill that sexual fantasy."
In the meantime, he was also pitching for the D.C.-area gay softball team, the JR Gamecocks, and at the end of one season, in October 1998, he was chosen by the team to appear in a drag show, the Magic Tournament, a pageant sponsored by the North American Gay Amateur Athletic Alliance. Looking back, Shi-Queeta says, "It was considered to be camp, like a Halloween costume, you just put on a wig and lipstick and you just did it yourself." But Van Hook, as he was still then known, told his team that if he would appear in the show, he would take it seriously, "as a real drag queen."  So he decided "to hire a professional drag queen to put me together," the late Chynna Pen Darvis who became what he calls his "drag mother."
That first pageant appearance was Shi-Queeta's "breakthrough moment." The name Shi-Queeta was the choice of his softball team coach at the time, Chip Brown. This was because Jerry was still living in Anacostia at the time, and "Chip thought I needed, tongue-in-cheek, a ghetto-type name." As Shi-Queeta, he won each of the four categories.
"I didn't expect to win," he says, "But when I did win, I couldn't put a pump down because I was walking on air."
She began appearing at several D.C. gay bars like Bachelor's Mill, the original Ziegfeld's, Omega and Chaos, where she hosted a drag bingo until it closed in 2008. Town co-owner Ed Bailey suggested she approach Doug Schantz, co-owner of Nellie's Sports Bar.
"I talked to Doug," she says, "and he gave me a trial basis on a Tuesday night, and when he saw what money we could make at 8 p.m. on that night, it was heaven sent."
Next came the Sunday drag brunch, which began in January 2010 at Nellie's, though Shi-Queeta had pioneered an earlier version at the old Cada Vez, then at 14th and U streets N.W. At Nellie's, it's become so popular that she says "it's now hard to get a reservation."
The six girls shimmy and sashay through their lip-synch numbers, bejeweled and in full and flawless makeup and plumage with get-ups like bright red Minnie Mouse hair bows and polka-dot sashes, and sequined skin-tight lavender minidresses. It's all illusion of course, though one of them announces, "If there's a plastic surgeon in the house, give me your card, I need a real rack!"
Schantz says Lee and his cooks make a great combination.
"She brims with vivacious entertainment," he says. "(That and) the inspiriing dishes keep guests singing for more."
Shi-Queeta herself appears at the end in a flared, floor-length evening gown singing the Diana Ross classic, "I'm coming out, I want the world to know, and want to let it show!" And that's exactly what Shi-Queeta plans, as producer and creator of the proposed new reality TV series, "Drag City D.C.," featuring her and five of her girls, Epiphany Bloomingdale, LaCountress Farrington, Chanel Devereaux, Tyria Iman and Raquel Savage Black, in a "Real Housewives"-stye show that has already completed production on three short pilots as "teasers." Shi-Queeta hopes they will begin to air eight completed, 30-minute episodes later this year on local cable — DCTV public access on Comcast channel 95 and in Arlington, Va., on Comcast channel 69. She's hoping the stations will also run more episodes of her talk show "Spill da Tea With Shi-Queeta Lee."
"We will tell the ins and outs of our lives," says Shi-Queeta, in her persona as CEO of Van Hook Productions. "But also how we are giving back to the community, one show at a time." In one of the shows the girls put together 200 bags of groceries for Food and Friends, and in another they perform a drag show on roller-skates as a benefit for SMYAL. In the third, they join a pole-dancing and belly-dancing class, "to show us keeping fit," says Shi-Queeta, "so we can fit into our girdles."
Nellie's Sports Bar is at the corner of 9th and U Streets, NW. For more information on the Sunday Drag Brunch, which is offered every Sunday from 11 am to 4 pm, for $20 per person, visit nelliessportsbar.com.  For more information on the "Drag City DC" TV show, visit dragcitydc.com.
'Star Trek' actress Nichelle Nichols dies at 89
George Takei tweets 'we lived long and prospered together'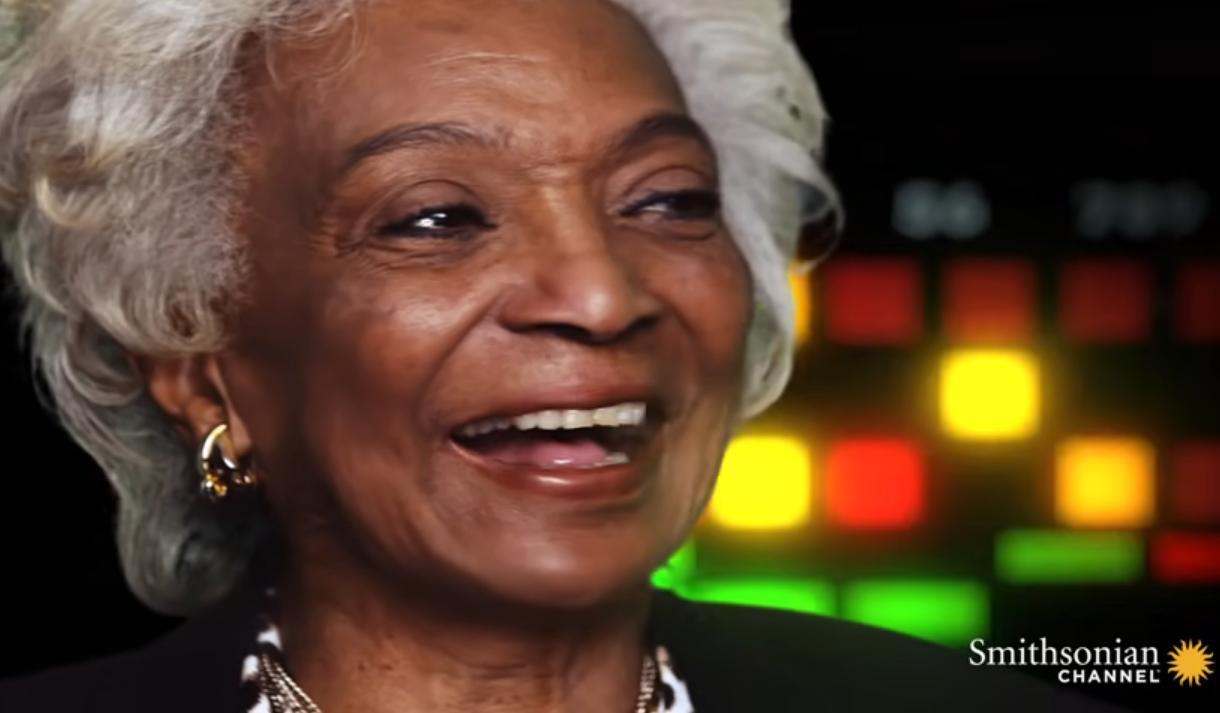 She was a groundbreaking cultural icon who broke barriers in a time of societal upheaval and battling for the civil rights of Black Americans. An actress, a mother and thoroughly devoted to the legions of fans of "Star Trek," Nichelle Nichols, Star Trek's Lt. Nyota Uhura, has died at 89.
The announcement on her Facebook page by her son read:
Sunday, July 31, 2022
Friends, Fans, Colleagues, World
I regret to inform you that a great light in the firmament no longer shines for us as it has for so many years.
Last night, my mother, Nichelle Nichols, succumbed to natural causes and passed away. Her light however, like the ancient galaxies now being seen for the first time, will remain for us and future generations to enjoy, learn from, and draw inspiration.
Hers was a life well lived and as such a model for us all.
I, and the rest of our family, would appreciate your patience and forbearance as we grieve her loss until we can recover sufficiently to speak further. Her services will be for family members and the closest of her friends and we request that her and our privacy be respected.
Live Long and Prosper,
Kyle Johnson
Nichols was born in Robbins, Ill., in 1932, according to her IMDb page. Legendary composer Duke Ellington "discovered" Nichols and helped her become a singer and dancer. She later turned to acting, and joined Gene Roddenberry's "Star Trek," where she played Uhura from 1966 to 1969.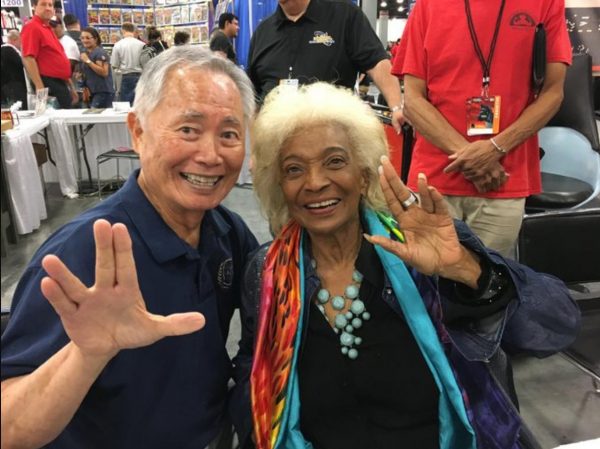 It was in that role of Uhura that Nichols not only broke barriers between races, most famously her onscreen kiss, the first between a Black person and a white person, with castmate William Shatner, who played Capt. James T. Kirk, but she also became a role model for young Black women and men inspiring them to seek out their own places in science, technology, and other human endeavors.
In numerous interviews over the years Nichols often recalled how the Rev. Martin Luther King, Jr., was a fan of the show and praised her role and personally encouraged her to stay with the series.
When the first series ended Nichols went on to become a spokesperson for NASA, where she "helped recruit and inspire a new generation of fearless astronauts." She later reprised her role in several successful "Star Trek" films and continued to advocate for the advancement of Black Americans especially in the areas of science and technology.
We celebrate the life of Nichelle Nichols, Star Trek actor, trailblazer, and role model, who symbolized to so many what was possible. She partnered with us to recruit some of the first women and minority astronauts, and inspired generations to reach for the stars. pic.twitter.com/pmQaKDb5zw

— NASA (@NASA) July 31, 2022
Formerly a NASA deputy administrator, Frederick Gregory, now 81, told the Associated Press he once saw an advertisement in which Nichols said "I want you to apply for the NASA program."
"She was talking to me," he recounted. The U.S. Air Force pilot would apply and later become the first African American shuttle pilot.
President Joe Biden weighed in Sunday afternoon on her passing in a statement issued by the White House:
"In Nichelle Nichols, our nation has lost a trailblazer of stage and screen who redefined what is possible for Black Americans and women.

A daughter of a working-class family from Illinois, she first honed her craft as an actor and singer in Chicago before touring the country and the world performing with the likes of Duke Ellington and giving life to the words of James Baldwin.

During the height of the Civil Rights Movement, she shattered stereotypes to become the first Black woman to act in a major role on a primetime television show with her groundbreaking portrayal of Lt. Uhura in the original Star Trek. With a defining dignity and authority, she helped tell a central story that reimagined scientific pursuits and discoveries. And she continued this legacy by going on to work with NASA to empower generations of Americans from every background to reach for the stars and beyond.

Our nation is forever indebted to inspiring artists like Nichelle Nichols, who show us a future where unity, dignity, and respect are cornerstones of every society."
Nichols son said that services will be private for family members and her closest friends.
In 2008 the actress at a news conference, coordinated by the filmmakers of the motion picture "TRU LOVED," in honor of the more than 900 students at Los Angeles' Miguel Contreras Learning Complex's School of Social Justice who participated in the GLSEN Day of Silence.
Nichelle Nichols speaks on LGBTQ rights:
Her fellow castmate and life long friend, openly Out actor George Takei shared his sadness on hearing of Nichols' passing on Twitter:
We lived long and prospered together. pic.twitter.com/MgLjOeZ98X

— George Takei (@GeorgeTakei) July 31, 2022
From the September 2016 edition of the Smithsonian Channel: "Star Trek's decision to cast Nichelle Nichols, an African American woman, as major character on the show was an almost unheard-of move in 1966. But for black women all over the country, it redefined the notions of what was possible."
Star Trek's Nichelle Nichols on Uhura's Radical Impact:
Emma Corin becomes first nonbinary person featured on cover of American Vogue
The star of The Crown opened up about their identity.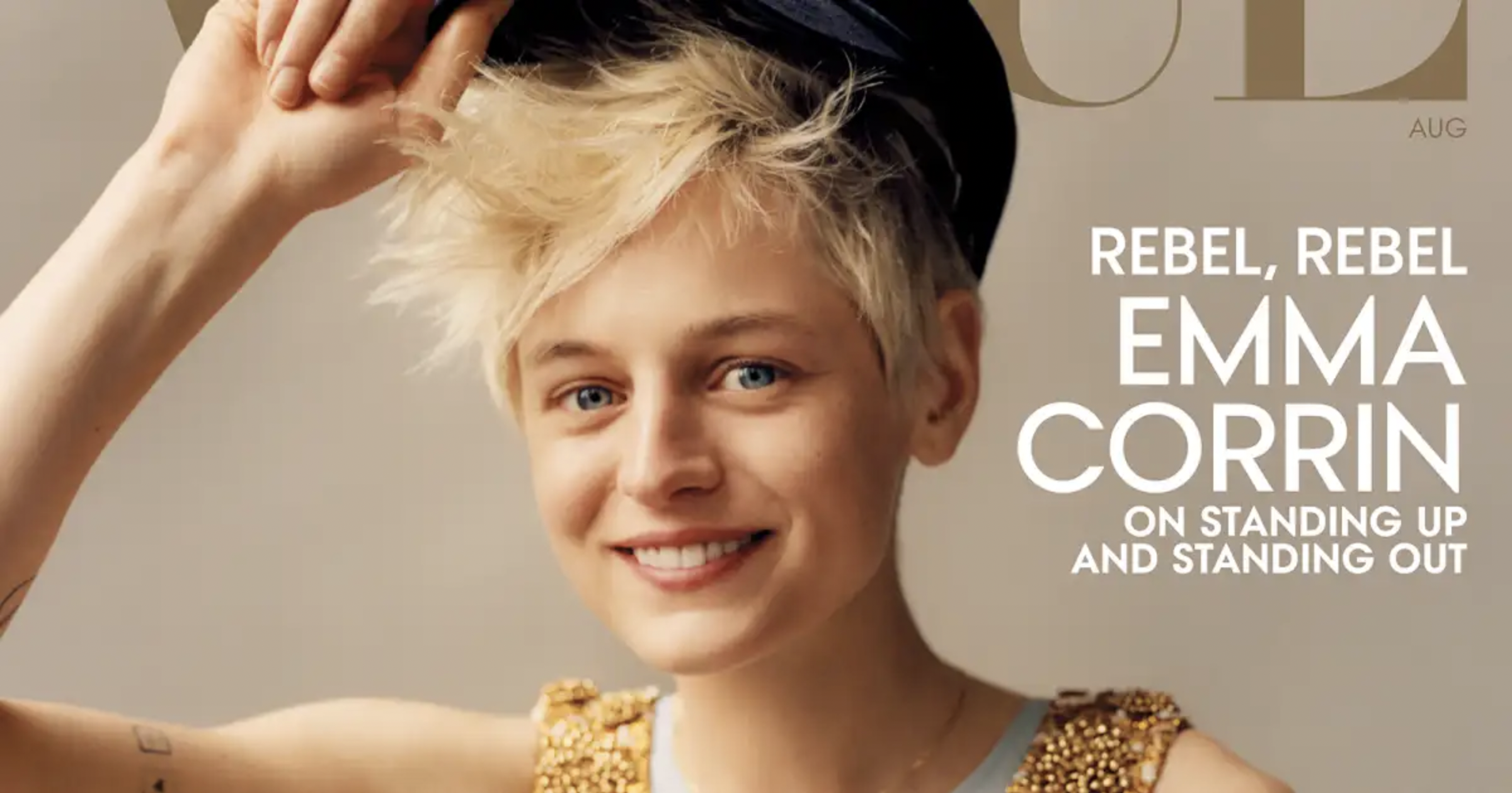 Emma Corin was announced as the cover star of the August edition of Vogue. It's the first time a nonbinary person is featured on the cover of American Vogue.
Corin posted the cover photo and wrote, "My grin really says it all! A huge honour to be your August cover."
In early 2021, Corin quietly came out as a queer and nonbinary, changing pronouns to "she/they" in their instagram bio. Currently Corin sticks to pronouns "they/them."
"I feel much more seen when I'm referred to as 'they,' but my closest friends, they will call me 'she,' and I don't mind, because I know they know me," Corin explained during the interview with Vogue.
Corin stated that they've still gone on dates with various kinds of people and set no limit on who they date. "I like people," they simply said and shrugged.
Corin also shared some of their dating experiences. "My first date with a girl, they were like, Oh! You're a baby queer!" Corin said, "It was amazing. We actually didn't end up seeing each other again, but she really gave me the lowdown."
Besides, Corin was frank about their conflicting feelings towards gender and sexuality issues. "I'm working out all this complex gender and sexuality stuff. And yet, I'm seeing a guy? That feels very juxtaposed, even if I'm very happy."
Corin is known for playing Diana on the Netflix series The Crown.
Become a Blade Member Today
Your financial contribution will make vital LGBTQ journalism possible at a time when clear, concise news is needed more than ever.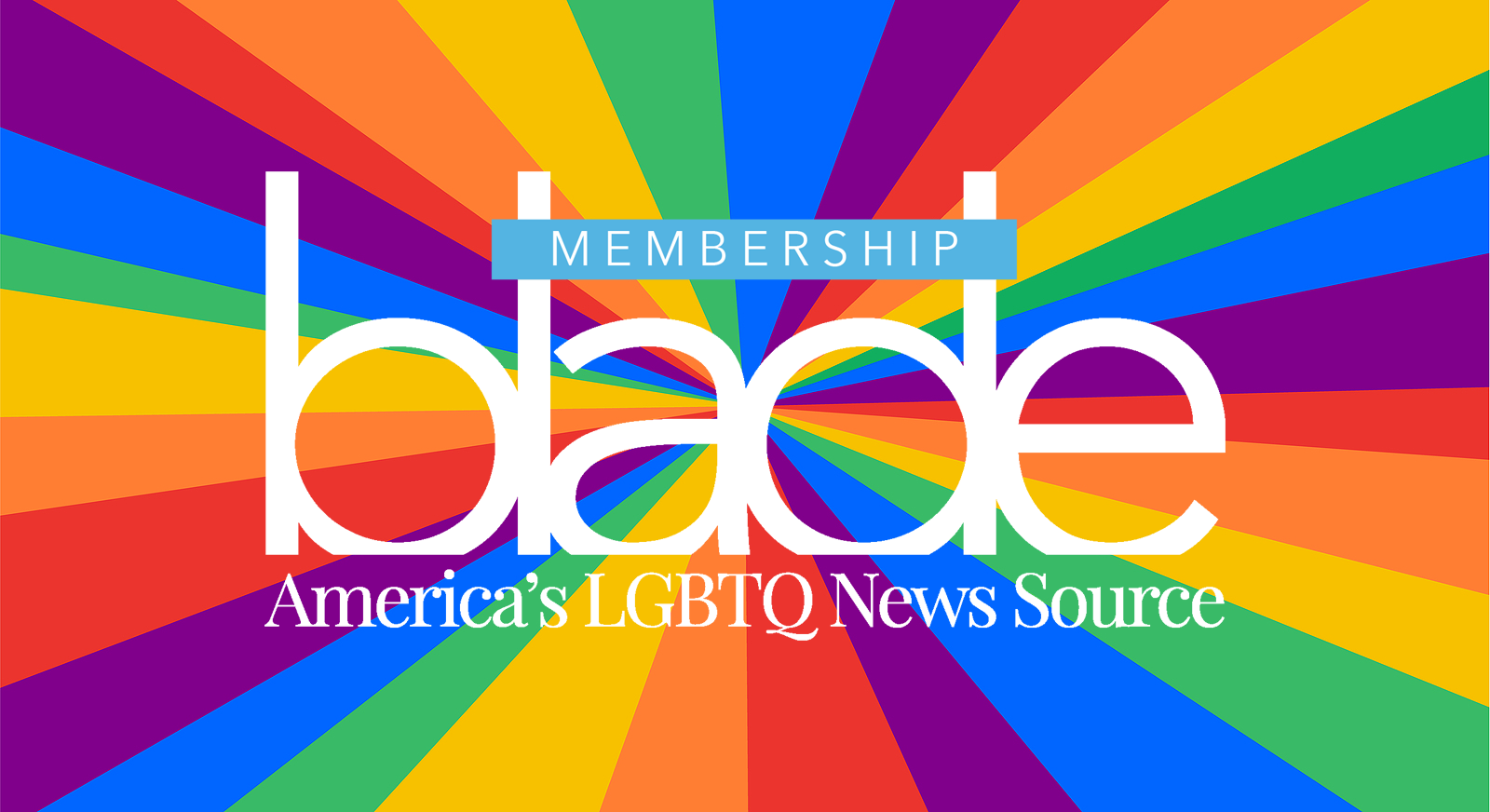 APRIL FOOLS!
But you can support LGBTQ Journalism by becoming a Blade Member today!