Judge rules against Choi in 'vindictive' prosecution claim
Gay activist on trial for arrest over White House protest

A federal judge ruled on Oct. 11 that gay former Army Lt. Dan Choi cannot argue in his ongoing trial that he was targeted for "selective" or "vindictive" prosecution following his arrest last year for chaining himself to the White House fence in a protest against "Don't Ask, Don't Tell."
In a 17-page decision, Chief Judge Royce Lamberth of the U.S. District Court for the District of Columbia overturned an earlier ruling by Magistrate Judge John Facciola that allowed Choi's lawyers to pursue allegations of selective or vindictive prosecution in the trial, which began Aug. 29.
Lamberth's decision, among other things, granted a petition by prosecutors for a Writ of Mandamus, a formal and unusual request challenging a ruling of a trial judge by appealing to a higher court or to another judge with greater authority.
Under Lamberth's decision, Facciola is prohibited from "considering selective or vindictive prosecution as a defense to the merits of the prosecution," prohibited from "allowing evidence as to either claim" and barred from entertaining any motion filed by Choi to dismiss the case based on selective or vindictive prosecution.
Facciola is presiding over a non-jury trial in which Choi is being prosecuted for a misdemeanor charge of disobeying a lawful police order to disperse from the White House fence. Although the prohibition against Choi's use of a defense based on selective or vindictive prosecution is a blow to the defense, one of his attorneys, Norman Kent, said Sunday that the defense will move forward on other grounds and that Choi's defense team remains confident that Choi will be found not guilty.
Choi was the only one of a group of protesters arrested during the November 2010 protest that did not agree to plead guilty to the charge in exchange for having the case dismissed if they weren't arrested again at the White House within a four-month period.
Through his attorneys, Choi has argued that he had a constitutional right to handcuff himself to the White House fence. The attorneys also have contested the government's case on a technicality, saying police ordered Choi to disperse from the sidewalk. They note that Choi was standing on an elevated ledge on which the White House fence is attached, not the sidewalk itself and thus Choi was not legally bound to obey the police order.
Lamberth said in his decision that prosecutors were correct in arguing that under longstanding court rules of evidence, a case alleging selective or vindictive prosecution must be initiated in a pre-trial motion, not during the trial itself.
Choi's attorneys — Kent of Fort Lauderdale, Fla., and Robert Feldman of New York — have argued that they lacked sufficient evidence of selective or vindictive prosecution prior to the start of the trial. The two said persuasive evidence of a selective-vindictive prosecution only emerged during their cross-examination of government witnesses during the trial itself.
Following strong opposition by the prosecutor in the case, Facciola ruled on Aug. 31 that preliminary evidence existed to show a selective or vindictive prosecution could have occurred against Choi. Facciola ruled that Choi's lawyers could go forward with using selective-vindictive enforcement as a defense.
Feldman and Kent argued that Choi's decision to handcuff himself to the White House fence in November 2010 was identical to two prior White House protests in which he and others handcuffed themselves to the fence. They noted that while prosecutors charged Choi in the earlier protests under a local municipal statute that carried no jail time, in the November 2010 protests, they charged Choi under a more stringent federal statute that includes a possible sentence of six months in jail.
Feldman and Kent alleged that prosecutors chose the more stringent statute in the November case because Choi's protests were embarrassing the Obama administration over the gays in the military issue. They said the harsher prosecution was in retaliation for Choi's political message that the White House wasn't moving fast enough to repeal "Don't Ask, Don't Tell."
Assistant U.S. Attorney Angela George, the lead prosecutor in the case, disputed that assertion, saying the government prosecuted Choi for refusing to obey a lawful order by police to move away from the White House fence. She said Choi's political message was irrelevant to the government's case and had no role in the decision to prosecute him.
In court briefs, George said prosecutors charged Choi under a more stringent law in the November case because it was the third time in less than a year that he had been arrested for the same illegal conduct and the government has legal discretion to select different statutes or regulations under which to make an arrest in such a case.
Facciola put the trial on hold on Aug. 31 after George said the government would take the unusual step of challenging his ruling through a Petition for a Writ of Mandamus. Under U.S. District Court rules, the court's chief judge rules on such a petition.
Kent told the Blade on Oct. 16 that following consultation with Choi he and Feldman are strongly considering appealing Lamberth's decision to the U.S. Court of Appeals for D.C. He said Choi's legal team would make a final decision on whether to file an appeal by Oct. 20, a deadline set by Judge Facciola for the two sides to inform the court whether an appeal will be made or whether the trial will resume.
Choi enjoyed widespread support from LGBT activists when he worked with the LGBT direct action group GetEqual last year in a series of non-violent civil disobedience protests at the White House and other locations to pressure Congress and the Obama administration to push harder for repeal of "Don't Ask, Don't Tell."
But since Obama signed legislation approved by Congress repealing "Don't Ask, Don't Tell" and since the repeal took effect on Sept. 20, some activists have questioned the rationale for Choi's decision to demand a trial in the current case. Some have asked why Choi is contesting the type of civil disobedience arrest that most other protesters acknowledge involves breaking a law and choose to resolve by paying a small fine or agreeing to a plea offer like the one prosecutors made to Choi.
Gay rights attorney and television commentator Mark Levine called non-violent civil disobedience arrests an important and historic tradition in the U.S. civil rights movement made famous by Martin Luther King Jr. in his efforts to end racial discrimination. Levine said the benefit of drawing public attention to an injustice comes from the arrest itself, "not a long drawn out trial that has the potential for wasting court resources that would be better used for something else."
Choi has said he chose to take his case to trial because he believes his action handcuffing himself to the White House fence is protected by his First Amendment right to free speech and should not be considered an illegal act.
Va. bill would restrict transgender students access to school bathrooms
State Del. John Avioli (R-Stanton) introduced House Bill 1126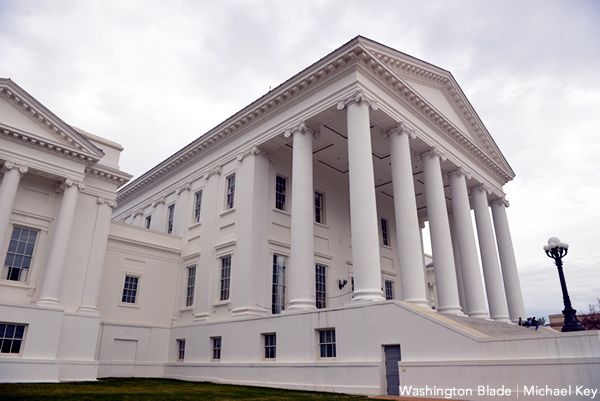 A Virginia lawmaker has introduced a bill that would restrict the ability of transgender students and school board employees to use bathrooms and other facilities in public schools that are consistent with their gender identity.
House Bill 1126, which state Del. John Avoli (R-Stanton) introduced, would require "each school board to adopt policies to require each student and school board employee to have access to restrooms, locker rooms and other changing facilities in public school buildings that are shared only by members of the same biological sex; lodging accommodations during school-sponsored trips that are shared only by members of the same biological sex; and a single-user restroom, locker room, or other changing facility in a public school building, upon request, if the school can reasonably accommodate such a request."
Avoli introduced HB 1126 on Jan. 12 on the same day the Virginia General Assembly's 2022 legislative session began with Republicans in control of the House of Delegates. Republican Gov. Glenn Youngkin took office on Jan. 15.
State Sen. Travis Hackworth (R-Tazewell County) last month introduced Senate Bill 20, which would eliminate the requirement that school districts must implement the Department of Education's trans and non-binary student guidelines. State Del. Danica Roem (D-Manassas), who in 2018 became the first openly trans person seated in any state legislature in the U.S., told the Washington Blade last week that she expects SB 20 "would be dead on arrival" in committee.
Equality Virginia, a statewide LGBTQ rights group, on its website notes HB 1126 is among the bills that it opposes.
Democrats still have a 21-19 majority in the state Senate, and they have signaled they will oppose any effort to curtail LGBTQ rights in Virginia. Outgoing Equality Virginia Executive Director Vee Lamneck last week said their organization "will work with the Senate's pro-equality majority to act as a crucial back stop against harmful legislation and efforts to roll back our hard-earned wins passed during the last two years."
Equality Virginia announces new executive director
Narissa Rahaman will succeed Vee Lamneck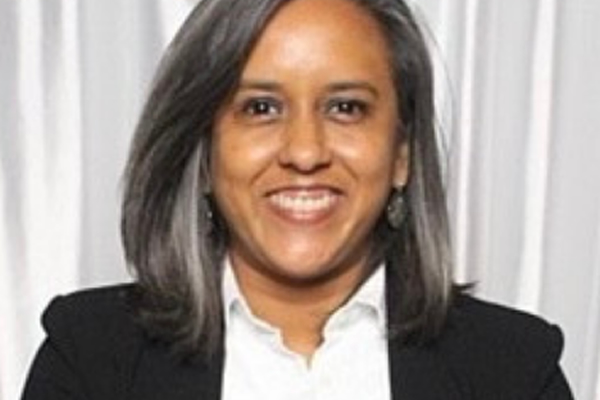 Equality Virginia on Saturday announced Narissa Rahaman will be the organization's new executive director.
Rahaman, who was previously the Human Rights Campaign's Associate Regional Campaign Director, will succeed outgoing Executive Director Vee Lamneck on Feb. 2. Rahaman was born in Barbados and raised in Florida.
"Narissa also has 10+ years of experience in long-term strategic planning, multi-state organizing efforts, coalition management, and staff development, which make her an exceptional individual for the role of executive director," said Equality Virginia in its announcement. "We are confident that under her leadership, the organization's success and impact will continue to flourish as will our commitment to racial justice."
Equality Virginia announced Rahaman will succeed Lamneck on the same day that Republican Gov. Glenn Youngkin took office amid concerns he will seek to curtail LGBTQ rights in Virginia.
Equality Virginia's annual lobby day will take place virtually on Jan. 25. The organization's annual Commonwealth Dinner is scheduled to take place in Richmond on March 26.
Glenn Youngkin sworn in as Va. governor
Republican backed teacher who opposed trans student guidelines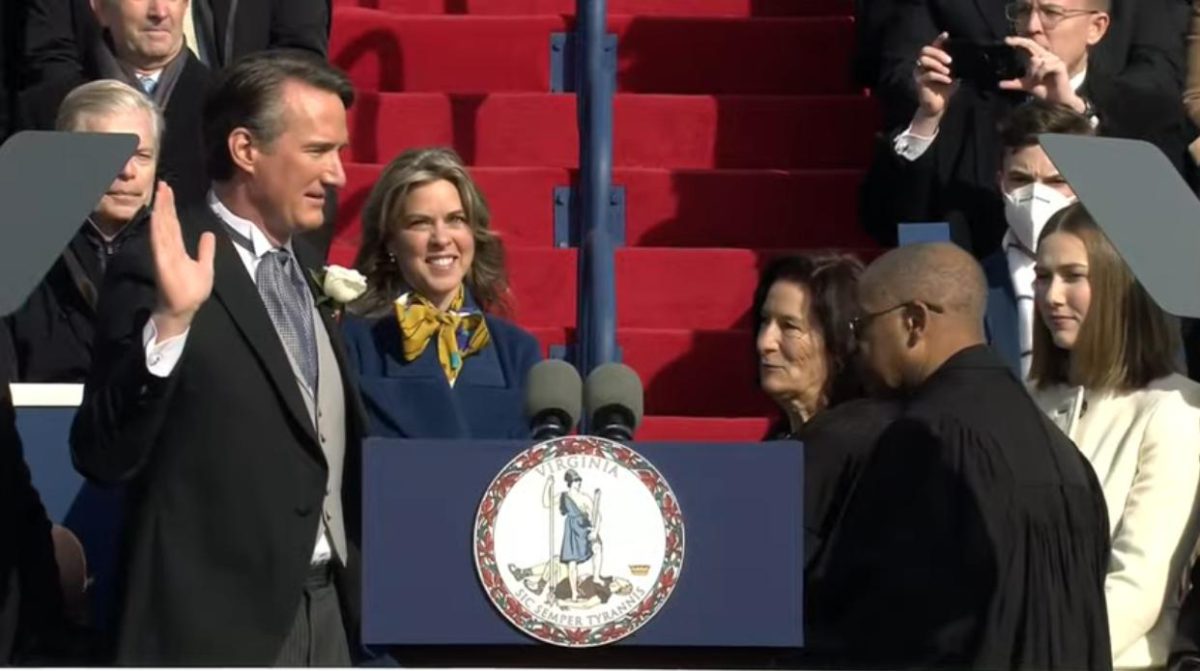 Republican Virginia Gov. Glenn Youngkin took office on Saturday amid concerns that he will seek to curtail LGBTQ rights in the state.
"Today we gather not as individuals, not as Republicans and Democrats," said Youngkin after his swearing in. "Today we gather as Virginians."
Former Gov. Ralph Northam and U.S. Sen. Tim Kaine (D-Va.) are among those who attended the ceremony that took place at the State Capitol. Terry McAuliffe, who Youngkin defeated in the general election, did not attend because of a COVID-19 scare.
Youngkin during his campaign against McAuliffe expressed support for Tanner Cross, a gym teacher at a Leesburg elementary school who was suspended from his job after he spoke out against Virginia Department of Education guidelines that are designed to protect transgender and non-binary students. Youngkin has also said he does not support allowing trans children to play on sports teams that are consistent with their gender identity.
Youngkin on Thursday named Elizabeth Schultz, an anti-LGBTQ former member of the Fairfax County School Board, to his administration.
"We will remove politics from the classroom and focus on the essentials," said Youngkin in his inaugural speech, without specifically mentioning LGBTQ students.
He added "parents should have a say in what is taught in schools."
Youngkin has also expressed his opposition to marriage equality, but stressed it is "legally acceptable" in Virginia and would "support that" as governor.
Lieutenant Gov. Winsome Sears and Attorney General Jason Miyares also took office on Saturday.
Winsome, a former member of the Virginia House of Delegates, is the first woman and first female of color elected lieutenant governor. Miyares, a former House member whose mother was born in Cuba, is Virginia's first Latino attorney general.
Youngkin in his inaugural speech noted "the people of Virginia just elected the most diverse leadership" in the state's history. Youngkin's first executive order ends "the use of" so-called "critical race theory" (which is not taught in Virginia schools) and other "divisive concepts" in Virginia's public schools.
The General Assembly's 2022 legislative session began on Wednesday.
Republicans control the House by a 52-48 margin. Democrats have a 21-19 edge in the Virginia Senate.