Queery: Garrett Peck
The local author and Prohibition expert answers 20 gay questions

Author Garrett Peck had drastically different experiences writing his two Prohibition-themed books.
"The Prohibition Hangover: Alcohol in America from Demon Rum to Cult Cabernet," his 2009 work, took six years. He wrote it first, then found a publisher. But the follow-up, "Prohibition in Washington, D.C.: How Dry We Weren't," was done in six weeks and came out in March. Obviously he had a good running start on the topic from the first book, but it was still a mammoth undertaking.
"There's nothing like a deadline to focus you," he says. "This was around last Thanksgiving, so there went my Christmas, but I'm actually really happy with the way it turned out."
Look for him Tuesday at the National Press Club for its annual "Book Fair and Authors' Night" on Tuesday when he and about 90 other authors will sell and sign their latest books. It's at 5:30 p.m. in the ballroom. Tickets are $5 at the door and the public is welcome.
And yes, Peck enjoys drinking himself. His favorites vary by season and the meal at hand. It good be whisky, a Manhattan or beer.
"I couldn't pick a favorite," he says. "It's like asking for my favorite ice cream or favorite song. I like too many to choose a favorite."
The 43-year-old Sacramento, Calif., native works as a market analyst for Verizon by day, though he'd love to write full time if possible. He says the publishing industry is in too much flux for that to be realistic. For now, he's happy to "just keep getting published."
He came to the area for grad school 17 years ago and stayed. Peck is single and lives in Arlington. He enjoys traveling, hiking, yoga and cooking in his free time.
How long have you been out and who was the hardest person to tell?
I came out in 1995. My dad was the hardest to tell, being from the panhandle of Nebraska, but he took it pretty well. I had told the other members of my family first, so I knew where they all stood.
Who's your LGBT hero?
Larry Slagle. He's a dear friend of mine, and he's been out since the 1950s. He reminds me how important it is to maintain perspective — that there was once a time when being out could be hazardous to one's career or life, and how far we've come in so short a time. The days when gays are fully inclusive in society truly cannot be far away — we will live to see it. It will be a great day.
What's Washington's best nightspot, past or present? 
I tend to like places that are quality drinking establishments, where they make the cocktails by hand rather than the soda gun, and where the music isn't too loud to talk. I'm awfully fond of The Passenger in Mount Vernon, as well as Bar Pilar on 14th Street. Nightclubs aren't so much my thing — I can't seem to stay awake past 11. As for the most fun I've ever had at a nightspot, that was the short-lived event called "Bent," which thrived for one year in 1996 at the Andalusian Dog at 14th and U. They played '80s retro music, and when we danced, it felt like the floor would cave in.
Describe your dream wedding.
I honestly haven't given this much thought. I'm single, and probably a little too comfortable with that status for my own good. So I don't know…maybe something fun and frugal, like a weekend in Provincetown with close friends.
What non-LGBT issue are you most passionate about?
History. I've got a long list of book topics I'd like to write, all historic non-fiction. I also lead this oddball historic tour called the Temperance Tour, which hits Prohibition-era sites in the nation's capital. We go places that most Washingtonians have walked past but never really noticed. Did you know we have a Temperance Fountain, right at 7th & Penn? (temperancetour.com)
What historical outcome would you change?
The assassination of Abraham Lincoln. He's my favorite president, and for a man who had only served as a one-term congressman, he turned out to be a remarkable wartime leader with a real vision for the country. He held the Union together against pro-slavery forces that wanted to tear it apart. I really wish he could have lived and seen through his vision for Reconstruction.
What's been the most memorable pop culture moment of your lifetime?
The fall of the Berlin Wall in November 1989. I had spent the year before in Germany at a German armed forces officers college in Hamburg. I had traveled a number of times to East Germany and seen how oppressive the communist regime was. That the wall would come down through nonviolent resistance was simply stunning. It was the closest thing I've ever seen to a miracle.
On what do you insist?
That we be see the humanity in all of God's children, including people you don't really like or would even consider an enemy. When was the last time you acknowledged a homeless person or offered them a kind word? Their lives may be broken, but they are no less valuable as people than you and me.
What was your last Facebook post or Tweet?
"Reading a book – one with pages. So anachronistic."
If your life were a book, what would the title be?
"Throwing Spaghetti at a Wall: My Life as a Writer"
If science discovered a way to change sexual orientation, what would you do?
No way. And miss the off-chance that Ricky Martin might need a step-father for his children?!
What do you believe in beyond the physical world? 
Is there an afterlife? I hope, but who honestly knows? I'm Christian (I go to Foundry UMC), but am increasingly agnostic the more I learn about the actual origins of the church. … But I've seen enough things in my life that I can't quite explain, and while I have doubts, I'm willing to let God have the benefit of my doubts. And yeah, I see a book about this in my future.
What's your advice for LGBT movement leaders?
Don't despair, whatever setbacks come our way. We're going to win this.
What would you walk across hot coals for?
Publishing books is akin to walking across hot coals. It's not something you do overnight or over a month, but over years. It is a struggle. But it is oh so totally worth it.
What LGBT stereotype annoys you most?
That all of us have toy dogs like pugs and coddle them like children. Some of us actually have cats that we coddle like children.
What's your favorite LGBT movie?
Billy Wilder's "Some Like It Hot" was absolutely hilarious and way ahead of its time — and it took place during Prohibition. It's one of those movies you watch and fall off the couch laughing. Jack Lemmon seemed to honestly enjoy being in drag.
What's the most overrated social custom?
Tipping. It would be nice if service were included in the price, just like in Europe. It would also be nice if bartenders and waiters earned a living wage, healthcare and retirement benefits — most simply don't, which is why it's a job (rather than a career) for the young.
What trophy or prize do you most covet?
The National Book Award, of course! (That's like winning the Oscar for Best Picture.)
What do you wish you'd known at 18?
That it's OK to come out. That people will still love you and accept you for who you are. And as difficult and worrisome as the process can be, it has a huge impact on all around you. Coming out is like dropping a rock in a pond: the ripples will carry you forward through your entire life.
Why Washington?
I came here for grad school and fell in love with the city in a week. It's a great place to have a career, the gay community is sizable and integrated into the larger society, and we have so much culture — much of it free. For us history dorks, it is ground zero. People are better educated here and have a greater awareness of our past than most other cities.
Become a Blade Member Today
Your financial contribution will make vital LGBTQ journalism possible at a time when clear, concise news is needed more than ever.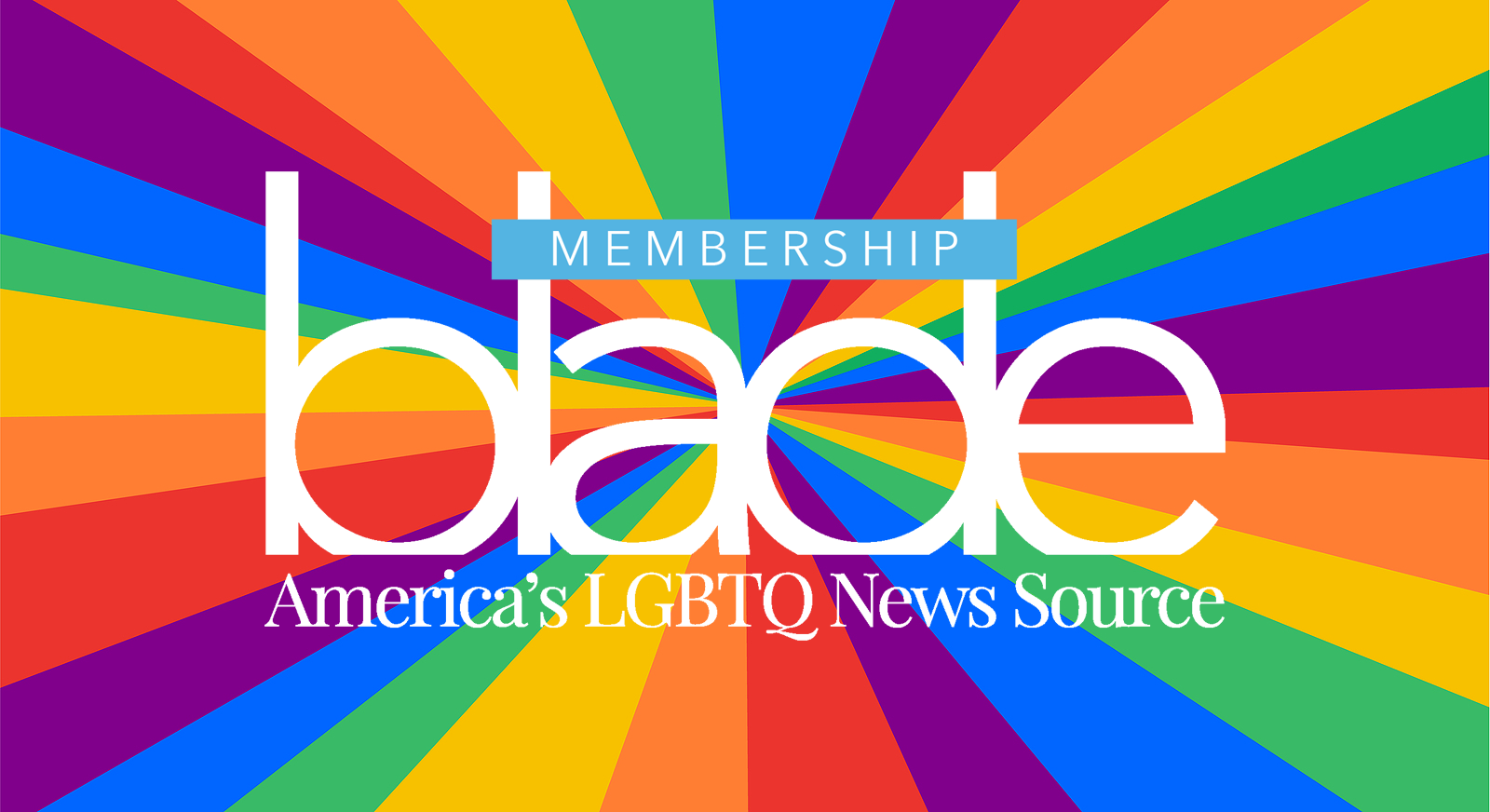 APRIL FOOLS!
But you can support LGBTQ Journalism by becoming a Blade Member today!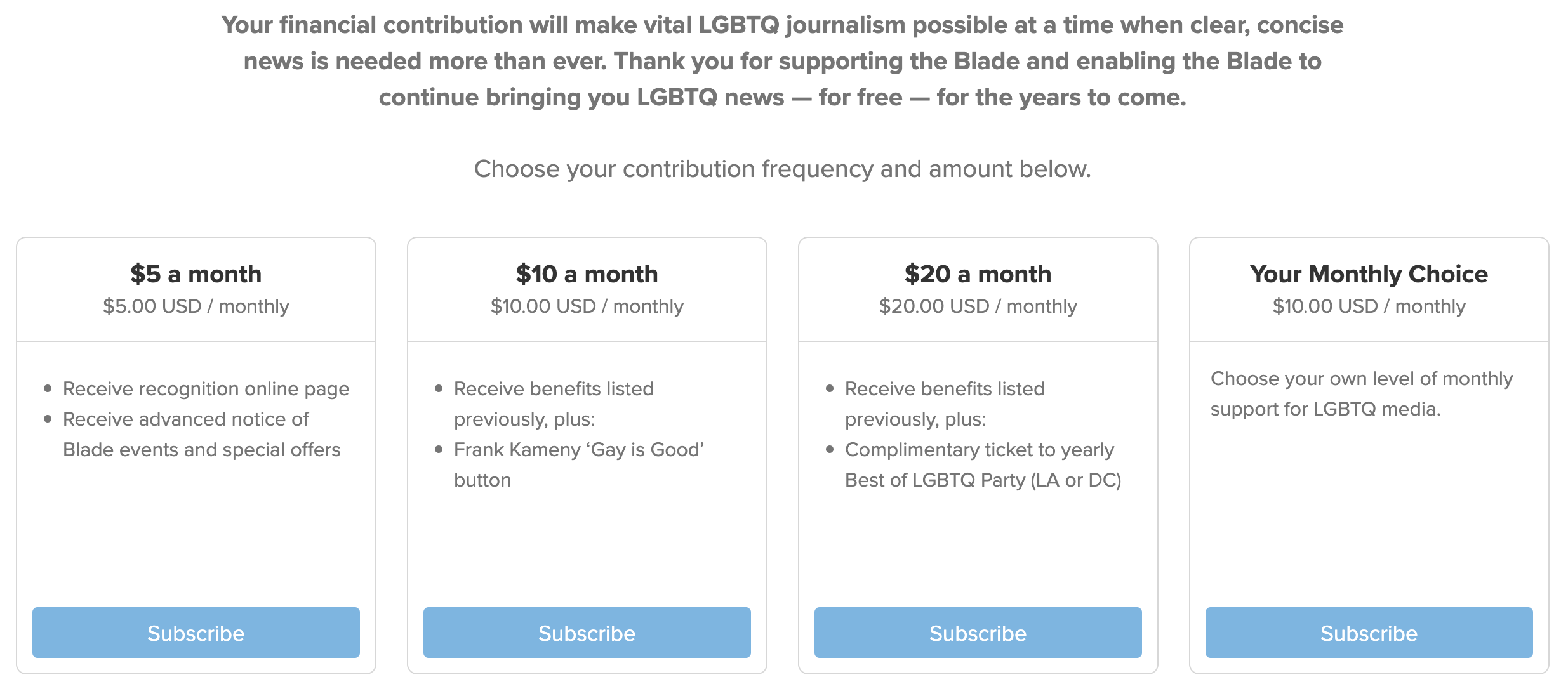 Beyonce vs. Rihanna dance party
Music provided by DJ Just Different at Union Stage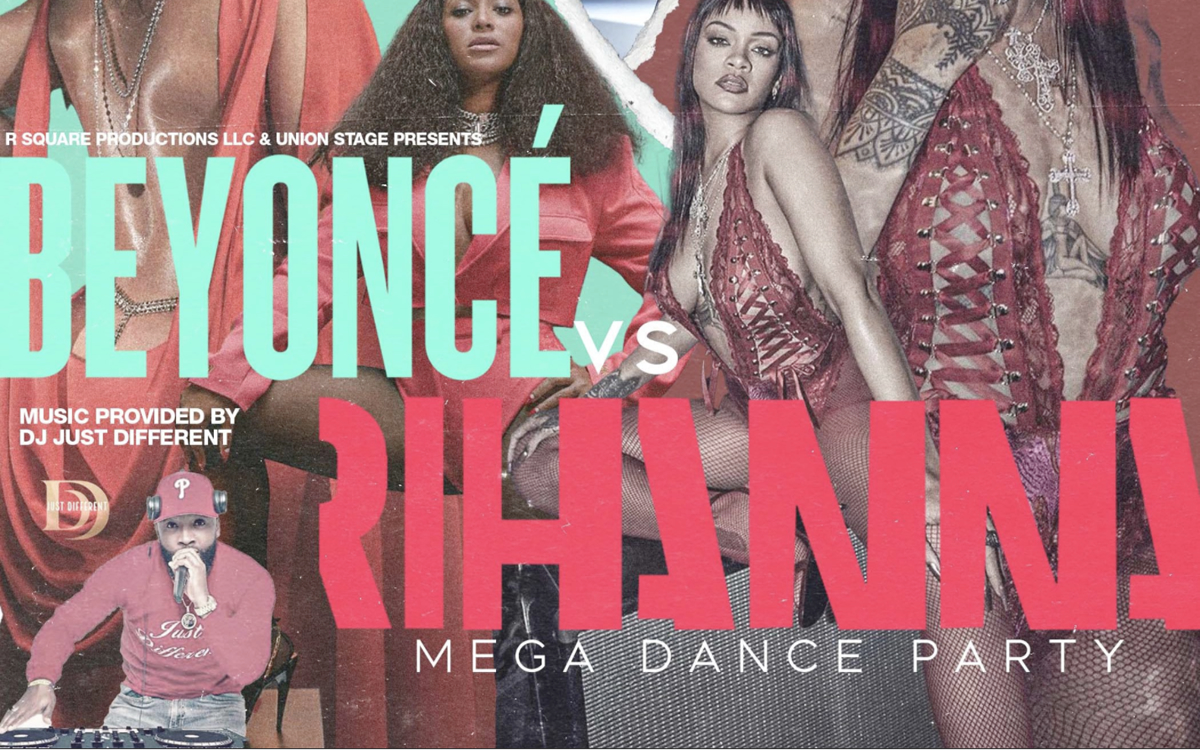 R² Productions LLC and Union Stage are teaming up to host R² Productions' inaugural "MEGA Dance Party" on Thursday, Feb. 24 at 7 p.m. at Union Stage at The Wharf.
The event will be a night full of dancing to music by pop stars Beyonce and Rihanna. DJ Just Different will be performing at the event.
General Admission tickets cost $25 and Premier Plus tickets cost $35. For more information about ticket purchases, visit Union Stage's website.
The evolution of the open house
The more sophisticated the advertising, the more the events flourished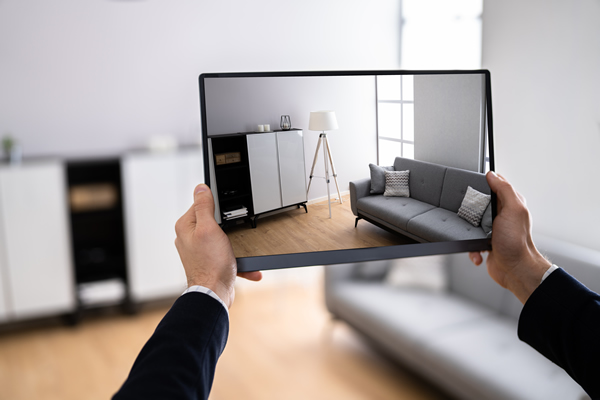 In the early 20th century, there were no exclusive agreements between a seller and a real estate agent. Any broker who knew of someone wanting to sell could participate in an "open listing" by planting his sign in the yard of that person and competing with agents from other brokerages who did the same. To the victor who obtained a buyer went the spoils of commission.
The rules began to change in 1919, when being a real estate broker now required a license. An agent might handle only one property at a time exclusively, but an "open for inspection" period could be used to introduce a model home or new community to the buying population.
According to the National Association of Realtors, Dallas homebuilder, Howdy Howard, hosted one of the most successful open houses of all time in the 1950s. During the first 12 days of the event, an estimated 100,000 people attended, drawn by free sodas and the ultimate prize for the buyer – a new Cadillac.
Soon, brokers began hiring additional agents who could handle multiple properties. Unlike Howard's marathon open house, agents would now host them for a few hours at a time, usually on a Sunday, to whet the appetite of the buyer pool.
Classified advertisements with a description of a property would be placed in a local newspaper and potential buyers would review them with their morning coffee to decide which houses to visit later in the day.
Marketing in newspapers went from a few lines of black and white text to a photo of a home's exterior, to a multi-page spread that included both photos of houses and the agents who represented them.
The more sophisticated the advertising became, the more the open house flourished as a marketing tool, not only for the home itself, but also for the agent and the brokerage. It allowed agents to prospect for buyers for that home and others, and converse with neighbors who might want to sell their homes as well.
Soon, the sign-in sheet was born, used by the agent to capture the contact information of a potential client or customer and to let the seller know who had visited his home. While sign-in sheets or cards are still used, some agents have gravitated to electronic applications, using a tablet computer instead of paper for the same purpose.
Fast forward to the early 2000s in D.C., when open houses became the primary source of showing property. An agent would enter a property into the multiple listing service (MLS) on a Thursday, entertain no showings until Saturday, host an open house on Sunday afternoon, and call for offers either Sunday night or Monday. The open house allowed agents to send their buyers rather than accompany them and serve multiple clients at once.
The delayed showing day strategy referenced above has since been supplanted by the MLS's Coming Soon status. Agents can now email or text links to upcoming properties to their clients in advance of showing availability and the clients can view photos, read property descriptions and disclosures, and schedule future visits accordingly.
Enter COVID-19. Due to the proliferation of the virus and the subsequent lockdown, the real estate world had to accommodate new public health requirements.
One of the first things to go was the open house. Even agent showings were constrained, with visitors limited to an agent plus two people and additional requirements for wearing masks and disposable shoe covers and gloves.
Overlapping appointments were not allowed, showings were limited to 15 to 30 minutes, and bottles of hand sanitizer sprung up on kitchen counters everywhere.
Ultimately, technology and ingenuity provided new marketing avenues for agents that included 3-D virtual open houses, Facetime and Duo viewings, videos, property websites and QR codes. Many of these marketing techniques remain, even though traditional open houses are coming back post-lockdown.
But are they really necessary? Certainly not for all types of properties.
I believe the days of using a public open house to procure a buyer are limited. Agent security has become a concern and the desire for in-person viewings during a specific day or time has waned.
On the other hand, Internet marketing and social media have a much wider reach, so much so that some people now feel comfortable buying a home – probably the most expensive item they will ever purchase – without even stepping into it until after closing.
After all, if we can work in sweatpants or pajamas while Zooming corporate meetings, how can naked virtual reality house hunting be far behind?
Valerie M. Blake is a licensed Associate Broker in D.C., Maryland, and Virginia with RLAH Real Estate. Call or text her at 202-246-8602, email her via DCHomeQuest.com, or follow her on Facebook at TheRealst8ofAffairs.