January 24, 2012 at 1:43 pm EST | by Lou Chibbaro Jr.
O'Malley says marriage bill brings dignity, religious freedom
At a gathering on the steps of the governor's residence in Annapolis, Maryland Gov. Martin O'Malley on Tuesday called on the state's residents and lawmakers to join him in supporting his newly drafted same-sex marriage bill.
With about 50 supporters of the bill standing behind him, including same-sex couples, clergy members, and state labor leaders, O'Malley said the bill provides a proper balance between "equal protection under the law" and "religious freedom."
His remarks came on the day after he officially introduced the Civil Marriage Protection Act into the Maryland General Assembly and minutes after he hosted a breakfast in the governor's residence for representatives of the coalition of organizations and clergy backing the bill.
"There is a broad coalition, and many are arrayed on the steps here with me, and they are all supportive of the bill I introduced last night on civil marriage equality in the state of Maryland," he said.
"All of us want the same thing for our children. Marylanders of different religious beliefs, Marylanders of all walks of life all want the same thing for our children. We want our children to live in loving, stable, committed households that are protected equally under the law," he said.
Anticipating what political observers in the state capital expect to be an aggressive campaign to oppose the bill by religious groups, including leaders the Catholic Archdiocese of Maryland, O'Malley stressed that his bill provides expanded protections for religious institutions and people of faith.
"We also believe that we can protect religious freedom and rights equally under the law," he said. "Other states have found a way to do this. We can find a way to do this too. And that common ground that allows us to move forward is dignity — the human dignity of every single person," he said.
Among those who spoke at the gathering in addition to O'Malley were Rev. Starlene Joyner Burns, founder of a Christian ministry in Bowie, Md.; Ezekiel Jackson, an official with the Service Employees International Union Local 1199 of Maryland; and State Senator Rich Madaleno (D-Montgomery County, one of seven out gay members of the General Assembly.
Also speaking were O'Brian Banner, 28, and Daryl Fields, 27, who identified themselves as a gay couple from New Carrollton, Md., near D.C., who hope to marry in their home state.
"We've been together for five years," Banner said. "We moved here two years ago from North Carolina with the hope of a better opportunity."
Like most other couples, Banner said, he and his partner would like to realize "the American dream – to get married, adopt children, and own a home."
Others attending the gathering included out gay House of Delegate members Luke Clippinger (D-Baltimore), Heather Mizeur (D-Montgomery County), Mary Washington (D-Baltimore), and Peter Murphy (D-Charles County).
Mizeur called O'Malley's strong support for the same-sex marriage bill a "tremendous" development that would greatly increase the bill's prospects for passing.
Also in attendance was Sister Jeannine Gramick, co-founder of the Mt. Rainier, Md., based New Ways Ministry, an LGBT supportive Catholic organization. Gramick said opposition to the same-sex marriage bill by Catholic Church officials in Maryland would be offset by support for same-sex marriage rights and LGBT equality by a "solid majority" of rank and file Catholics in Maryland.
"The momentum is growing and there's a lot of hard work to do," said O'Malley, in assessing the bill's chances of passage in the legislature's 90-day legislative session. "But we are going to be successful in this legislative session."
Sultan Shakir, campaign manager for Marylanders for Marriage Equality, the coalition of LGBT, civil rights, labor, and religious groups leading the effort to pass the bill, said he expects both the State Senate and House of Delegates to vote on the bill before the end of February.
He noted the Senate Judicial Proceedings Committee is scheduled to hold a public hearing on the bill on Jan. 31. Shakir and Madaleno said the committee is expected to vote to send the bill to the full Senate shortly after the hearing and a Senate vote could take place within a week or two.
"We have the votes to pass it in the Senate," said Madaleno.
Once cleared by the full Senate, which approved the bill last year, Shakir said it will go to the House of Delegates, which he expects to vote on the measure sometime before the end of February.
"All of us are engaging in on-the-ground efforts to move hearts on this issue and to generate votes when we get to the House of Delegates," said Mizeur, one of the lead sponsors of the bill in the House.
"And we know it's going to be a challenge again," she said. "No one is taking this for granted. It's not a done deal. But we definitely feel like it's Maryland's moment and we're going to make this happen."
The bill died in the House of Delegates last year when supporters determined they didn't have the votes to pass it and voted to send it back to committee.
With O'Malley's changes this year that he says have strengthened the bill's "religious liberties" provisions, supporters say they are hopeful several House members who declined to support the measure last year will help to pass it this year.
When asked at the news conference what he sees as the main difference between last year's bill and this year's measure, O'Malley said, "The protections of religious liberty are more explicit in this bill."
He added, "In fact, they may be more explicit in the bill than they had been in any other bills around the country. I know that our legislative team was drawing upon the experience in other states that have passed this measure and they found a way to protect rights equally while also protecting religious liberties."
Sen. Jamie Raskin (D-Montgomery County), one of the lead sponsors of the bill, said he was studying the bill's new wording when contacted by the Blade Tuesday afternoon.
Raskin, an American University law professor, said O'Malley's version of the bill appears to have added to a provision he and members of the Senate Judicial Proceedings committee put in the bill last year in an effort to accommodate religious organizations and churches.
The provision allows organizations like the Catholic group Knights of Columbus to decline to provide public accommodations such as rental of a hall for a gay wedding, Raskin said.
"Arguably under current law the Knights of Columbus hall has to be open to everyone if it is a place of public accommodation," he said. "So there was a small sacrifice in public accommodations law to bend over backwards to accommodate religiously oriented institutions. It has not gone much further than that."
Raskin added, "We haven't entered into an examination yet into what the governor's bill means. But I don't think it goes much further than that. And I think the marriage equality side can swallow our misgivings on that because we're trading it for a long overdue vindication of everybody's right to participate in institutional marriage."
The anti-gay National Organization for Marriage, which lobbies against same-sex marriage laws throughout the country, has rejected the type of compromise language described by Raskin, saying same-sex marriage laws are unacceptable regardless of whether they include religious exemption provisions.
NOM President Brian Brown has said his organization works to defeat any lawmakers that vote for same-sex marriage because marriage must be "preserved" as a union only between a man and a woman.
Lou Chibbaro Jr. has reported on the LGBT civil rights movement and the LGBT community for more than 30 years, beginning as a freelance writer and later as a staff reporter and currently as Senior News Reporter for the Washington Blade. He has chronicled LGBT-related developments as they have touched on a wide range of social, religious, and governmental institutions, including the White House, Congress, the U.S. Supreme Court, the military, local and national law enforcement agencies and the Catholic Church. Chibbaro has reported on LGBT issues and LGBT participation in local and national elections since 1976. He has covered the AIDS epidemic since it first surfaced in the early 1980s. Follow Lou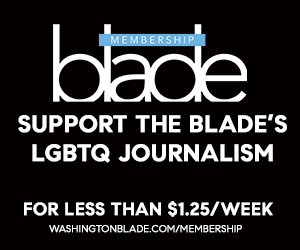 Sign Up for Blade eBlasts