Latino LGBT community center to open in D.C.
Casa Ruby to provide services, welcoming 'home' in Columbia Heights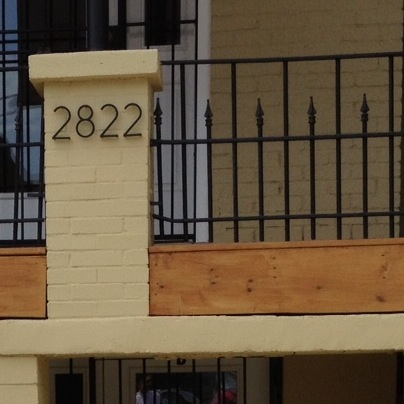 A Latino LGBT community services center called Casa Ruby is scheduled to open its doors in D.C.'s Columbia Heights neighborhood on June 6, according to transgender activist Ruby Corado, the new center's founder and director.
Corado said the center will operate in a 750-square-foot office space on the lower floor of a converted townhouse at 2822 Georgia Ave., N.W. She said the rented office comes with additional outdoor patio space in the rear of the building, which is located a few blocks from the Columbia Heights Metro station.
"It's going to be an LGBT center with a primary focus on Latinos, which is the population that I have been working with," said Corado, a native Spanish speaker. "But it's open to everybody."
Corado said the city's existing LGBT Community Center on the 1300 block of U Street, N.W., has been welcoming to the LGBT Latino community. But similar to most other LGBT groups in the D.C. metropolitan area, Corado said the existing center lacks Spanish speaking staff or volunteers. She said a sizable number of LGBT Latinos in the area aren't fluent in English.
"Right now there is nothing for the Latino LGBT community that is run by LGBT Latinos," Corado said.
According to Corado, each of the new center's five-member volunteer staff will be fluent in English and Spanish.
David Mariner, executive director of the LGBT Community Center on U Street, said the Latino GLBT History Project rents office space at the center and other LGBT Latino groups have used the center's space for various activities.
He said the center doesn't have the resources at the present time to hire a Spanish speaking staff person.
"I love Ruby and look forward to working with her," Mariner said.
Among other things, Corado said she envisions Casa Ruby as a one-stop community service center for Latino LGBT people that will provide support and referrals to other service providers on such matters as immigration issues, substance abuse, domestic violence, counseling, employment services and HIV/AIDS education and prevention.
Corado said she decided to use her name for the center's title to create an atmosphere of support and comfort and a place where people can socialize as well as seek services.
"I want this to this to sort of be a home," she said. "I want them to feel this is their place. If they don't have anything out there for their needs like a place to stay I want them to come and I will help them find that."
Corado said she used her own personal funds to secure the lease and finance the start-up of the center. She said she established Casa Ruby as a project of Latinos En Accion, an LGBT organization she helped to found several years ago as a non-profit corporation with a 501 C (3) tax-exempt status.
Under the structure of the new center, supporters can make tax deductable donations, she said.
She said she has been speaking with D.C. government officials, including officials with the Office of Latino Affairs, over the possibility of obtaining city grants for various services.
Supporters of the center have already donated interior design services and furniture, computers and a flat-screen TV.
She said Casa Ruby will host a grand opening reception at the center starting at noon on June 6. She is hopeful that Mayor Vincent Gray will be among the notables attending the opening ceremony.
"I'm using my life savings to sustain this project for the next year," said Corado. "I'm doing it because I believe there is a need for it and we can make a difference for the community we're all a part of."
She added, "I want to repeat that although the primary focus is with Latinos, it's for everybody. That's why I call it Casa Ruby because many people know me. And I want people to know that it's a home for everybody."
Mariner said the D.C. Center's effort to seek a larger space in the city's Reeves Municipal Building less than a block from its current office moved ahead last week when it submitted its formal bid for the new space.
"We're cautiously optimistic," he said.
The center's bid is part of an official invitation by the city for potential tenants to offer a level of rent they are willing to pay for vacant office space at the Reeves Building. Mariner said the invitation, or request for proposal (RFP), was open to both non-profit organizations like the center or commercial businesses such as retail stores or restaurants. He said the center's bid stresses that the center would provide an important community service that most businesses don't offer and the city should give special consideration to granting the center a lease in the building.
The center is being forced to leave its current space in 2013, when the building in which it's located will be razed to make way for a new hotel.
Nellie's agrees to $5,000 fine, 7-day license suspension over brawl
Penalty prompted by security guard dragging Black woman down stairs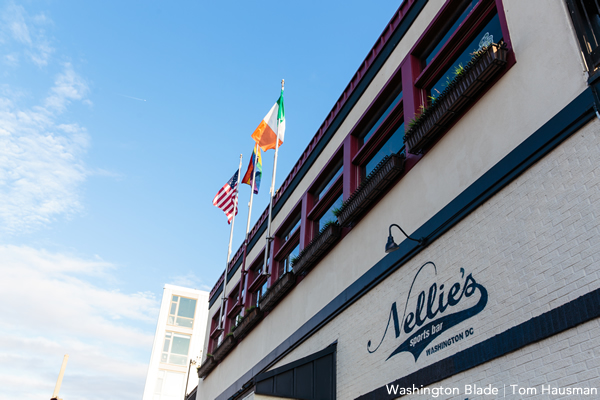 The D.C. Alcoholic Beverage Control Board on Wednesday, Oct 20, approved a compromise agreement it reached with Nellie's Sports Bar that calls for the U Street, N.W. gay bar to pay a $5,000 fine and serve a seven-day license suspension over a June 13 incident in which a Black woman was dragged down a flight of stars by a Nellie's security guard during a brawl between Nellie's customers.
The agreement calls for a license suspension of 24 days with 17 days to be suspended and seven days to be served "so long as the Respondent does not commit any violations within (1) year from the date of this Order," the ABC Board declared in a three-page order confirming the agreement.
The order states that the license suspension will be served from Dec. 20-26 of this year. It also states that Nellie's must pay the fine within 120 days from the date of the order. If the fine is not paid during that time "its license shall be immediately suspended until all amounts owed are paid."
As a final stipulation of the agreement, the ABC Board states that Nellie's must file a "legally compliant security plan" within 10 calendar days of the Oct. 20 order.
The security plan requirement stems from an earlier finding by the city's Alcoholic Beverage Regulation Administration related to the June 13 incident that Nellie's was in violation of several provisions of the city's liquor law, including a provision that a security plan that meets the standards of the city's liquor regulations is in place.
An ABRA investigation of the June 13 incident found, among other things, that "multiple assaults occurred inside the establishment while the licensee was engaged in a method of operation conducive to unlawful conduct."
The action by the Nellie's security guard, which took place during the city's LGBTQ Pride weekend, was captured on video taken by one of the customers on their phone. The video went viral on social media, prompting a series of protests against the bar by LGBTQ activists and Black Lives Matter advocates.
Nellie's issued an apology for the incident the following day and announced it had fired the private security company whose employee, who is Black, dragged Keisha Young, 22, down the stairs. Nellie's also announced it would temporarily close for business to assess what had happened and develop plans for reopening as a safe space for all members of the community. It reopened 35 days later, with protesters continuing to assemble outside the bar for several more weeks.
When the five-member ABC Board on Oct. 20 held a roll call vote to approve what is officially called an Offer-In-Compromise or OIC agreement with Nellie's that includes the fine, license suspension, and other provisions, gay ABC Board member Edward Grandis voted against the agreement, becoming the only member to do so.
A video recording of the virtual ABC Board meeting available through YouTube shows that Grandis expressed general support for the decision by both the board and Nellie's to reach a compromise agreement. But he said he objects to the license suspension requirement.
"In this particular regard, when the facts and the testimony indicate that the licensee on its own initiative without any knowledge, at least in the testimony, of prompting from the government or MPD or any party, to itself close for 35 days during – generally – the pandemic when so many companies lost their companies and their employees lost their jobs and the neighborhoods lost their establishments, I really believe that this particular situation shows that the licensee took this event seriously and accordingly in a manner that hopefully will prevent it from happening again or have better security measures to avoid this type of situation in the future," Grandis told his fellow board members.
"And I just wanted the record to show I'm supportive of the OIC generally, but I don't believe it was constructed in a way that indicates what this licensee has done since that incident," Grandis said.
Nellie's owner, Douglas Schantz, and Nellie's attorney, Andrew Klein, couldn't immediately be reached for comment.
Klein, who spoke at the ABC Board hearing on Wednesday, said in response to a question by Grandis that Nellie's reluctantly agreed to the fine and license suspension, which he called "excessive," among other things, because Schantz wants to put the matter behind him and to "heal" and "move on" with the community.
The ABC Board's action came one day after the Washington City Paper announced that Nellie's Sports Bar finished in second place among its readers in its annual Best of D.C. contest for the category of "Best Gay Bar/Club/Lounge."
UDC hosts event recognizing LGBTQ support at HBCUs
Seven campuses participate in annual event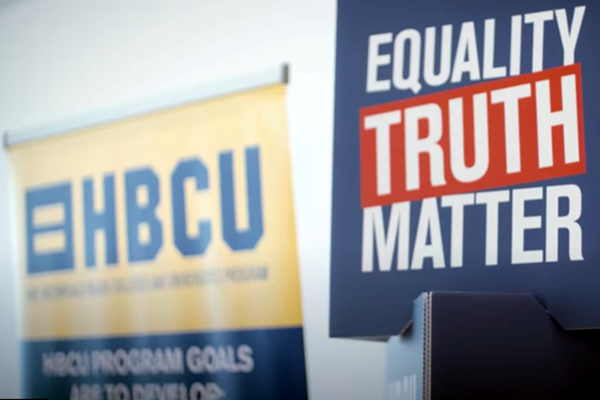 The University of the District of Columbia on Wednesday, Oct. 20, hosted one of seven "Out Loud Day" events highlighting LGBTQ visibility and inclusion at Historically Black Colleges and Universities (HBCUs) on college campuses throughout the country.
The Human Rights Campaign Foundation, the educational arm of the national LGBTQ advocacy group Human Rights Campaign, said in a statement that it created the annual Out Loud Day event three years ago to "celebrate LGBTQ+ people and develop innovative inclusion efforts" at the nation's historically black colleges and universities.
"It is also a day to take stock of all the challenges that LGBTQ+ students face in their daily lives at HBCUs and to have discussions on how to foster even more inclusion on their campuses," said Leslie Hall, the HRC HBCU Program Director in a statement.
"This is the third time that the Human Rights Campaign has hosted the day, and we couldn't be more excited to continue to expand upon the LGBTQ+ inclusion work we have been doing for years alongside HBCU administrations and student leaders," Hall said.
Rishard Butts, HRC's HBCU Program Senior Manager, told the Washington Blade that the UDC event included in-person activities that began at 5 p.m. on its campus in Northwest D.C. Among the events were an open dialogue session covering LGBTQ topics of interest to student participants. He said another session focused on LGBTQ figures in history, including those who were Black, and their impact on historic developments locally or worldwide.
He said a third session included a trivia contest in which student participants received small prizes for answering questions about LGBTQ topics of interest to the community.
Butts noted that the HBCU Out Loud Day event was taking place at UDC a little over two years after the university celebrated the grand opening of its Center for Diversity, Inclusion & Multicultural Affairs. At the time of its opening, the Center said it would provide services and a space to meet and socialize for "students of all sexual orientations and gender identities/expressions."
According to Butts, the concept for Out Loud Day at historically black colleges and universities began, in part, as a response to National Coming Out Day, which he said is not something that all LGBTQ people of color could do.
"So, we flipped this day around and instead of putting the responsibility of someone coming out, we put the responsibility on everyone to celebrate everyone," he said. "So, it's HBCU Out Loud Day so everyone is 'out loud', and everyone is proud, and everyone is celebrating and uplifting the stories of LGBTQ people and it's not just the responsibility of the person who is out or coming out."
Gay man attacked, beaten by neighbors in Northeast D.C.
Police list incident as hate crime but courthouse 'backlog' could delay arrests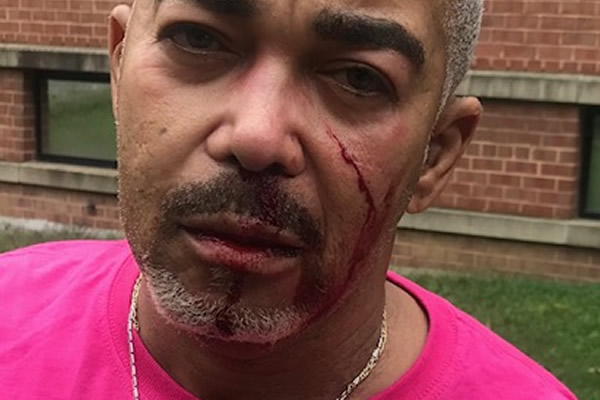 A woman, her daughter, and a man believed to be the daughter's father repeatedly punched a gay man in the face while the mother called him a "Jewish faggot" and other anti-gay slurs during an Oct. 13 incident on the grounds of an apartment building where the victim and the two women live, according to the victim and a D.C. police incident report.
The victim, Antonio Zephir, 51, told the Washington Blade the incident began after the mother began shouting anti-gay slurs at him as he walked past her and his roommate outside the Northwood Gardens Apartments at 4870 Fort Totten Dr., N.E. at about 12:40 p.m. on Wednesday, Oct. 13.
Zephir identifies the mother as Aurlora Y. Ellis in court papers seeking a restraining order against her that he filed in D.C. Superior Court. He said she had acted in a hostile way toward him before the assault incident.
"For several months, every time Ms. Ellis sees me, she shouts homophobic slurs and I continued to ignore her," Zephir told the Blade in an email.
He said that minutes before the Oct. 13 attack, Ellis yelled the words "Jewish faggot" when he walked past her as she was talking to his roommate, Steven Johnson. Zephir said it is well known among his neighbors at the apartment complex that he is of the Jewish faith.
"I responded with not-so-kind words. She ran towards me and assaulted me with hard punches toward my face," Zephir wrote in his email to the Blade.
"I punched back in an attempt to defend myself," he wrote. "Mr. Johnson tried to break us up when her daughter Latera Cox and [Cox's] father assaulted me," according to Zephir's account of the incident. "Ms. Ellis yelled, 'Call the police, you bitch faggot. They're not going to do anything. This isn't over yet."
At that point, Ellis, her daughter Latera Cox, and the man Zephir believes to be Cox's father fled the scene, Zephir told the Blade.
The D.C. police incident report, which lists the assault as a suspected hate crime, says, "All three suspects then fled east bound" on the 4800 block of Fort Totten Dr., N.E.
Zephir said he immediately called police, who arrived on the scene and took a report on the incident. The report obtained by the Blade lists the incident as a simple assault, which is a misdemeanor under D.C. law.
But Zephir said a detective working on the case told him this week that police were looking into speeding up the process of obtaining warrants for the arrest of the three attackers based, in part, on the injuries Zephir suffered from the attack. He provided the Blade with a medical report issued by the Washington Hospital Center, where his roommate took him to the emergency room the day following the attack, in response to severe pain he was experiencing to his face and head.
The report from the hospital, which treated and released him on Oct. 14, says he was diagnosed as having a fractured nose; a fracture of the "interior orbital wall," which is the bone surrounding one of his eyes; subconjunctival hemorrhage or bleeding of his left eye; and "laceration of oral cavity" which means an injury inside his mouth caused by trauma from the assault.
Zephir told the Blade that the same detective told him last week that due to a "backlog" in cases at the D.C. Superior Court, it could take between one and two months for police and prosecutors to obtain warrants for the arrests of the two women and the man who assaulted him.
A police spokesperson told the Blade the case remains under active investigation. A spokesperson for the Office of the U.S. Attorney for the District of Columbia, which acts as the prosecutor for adult criminal cases in D.C., said he would look into whether the office could publicly comment on the status of efforts to obtain arrest warrants for the three attackers.
Zephir said rumors had surfaced prior to the assault incident that Ellis may have access to a gun. Based on what he feared was a threat by Ellis when she told him during the attack that "this isn't over yet," he said he persuaded his roommate to drive him to the courthouse on the same day as the attack to apply for a court restraining order to prevent Ellis from harming him again.
Court records show he also filed a civil complaint against Ellis, Ellis's daughter, and Ellis's roommate, Linda Miller, who Zephir says in the complaint acted as an "enabler" for Ellis' hostility toward him.
The complaint, which is a civil lawsuit that Zephir wrote by hand and filed by himself without hiring a lawyer, calls for $18,000 in damages.
"I have nightmares," Zephir told the Blade. "I can't believe it happened. I keep reliving the experience over and over and over in my head," he said. "And I feel like I'm a prisoner in my own apartment. I don't feel safe because I, honest to God, feel like she is going to bodily harm me and I might be, God forbid, murdered."
Ellis, Cox, and Miller could not immediately be reached for comment.