D.C. officials mark National Gay Men's HIV/AIDS Awareness Day
Gray and others spoke at a press conference in Freedom Plaza
Mayor Vincent Gray stressed Thursday during a press conference at Freedom Plaza to mark National Gay Men's HIV/AIDS Awareness Day that testing positive for the virus no longer amounts to "a death sentence."
"If you get into treatment and stay in treatment, you can live as long a life as anybody else," he said.
First held by the National Association of People with AIDS in 2008, National Gay Men's HIV/AIDS Awareness Day seeks to raise awareness of the epidemic's impact on men who have sex with men. NAPWA President Frank Oldham, Jr., who has lived with HIV since the late 1980s, noted that the epidemic has killed 280,000 gay men since the Centers for Disease Control and Prevention reported the first cases of what became known as AIDS in 1981.
"We're here today because 280,000 gay men — white gay men, black gay men, Latino gay men, Asian and Pacific Islander gay men have lost their lives to AIDS since the beginning of the epidemic," he said. "We honor them and we're here to save the gay men who are living today from destruction by HIV and AIDS."
Roughly 20,000 D.C. residents have been diagnosed with HIV — and more than 10,000 Washingtonians have died from AIDS — since the city's first known case in 1983.
Although Department of Health statistics indicate that new HIV diagnoses dropped 36 percent among white Washingtonians and 24 percent among black men in D.C. between 2006 and 2010, 2.7 percent of city residents were still living with the virus at the end of 2010. DOH interim director Dr. Saul Levin noted that between 14 and 20 percent of gay and bisexual men — and an estimated 30 percent of black MSM — in the nation's capital live with HIV. He further pointed out that a third of all new HIV/AIDS cases were transmitted through MSM.
"Like the mayor, NAPWA has been a voice and a conscience of both the District and the nation in ensuring HIV's discussed, prevention programs and treatment being the goal we must achieve and continue to achieve," said Levin. "I've seen many of my friends in the gay community grapple with the epidemic since the 1980s. We need to make sure that now when we have these great medications that make it a chronic disease, that we do not see new people coming in and getting HIV/AIDS. And if they do, we need to get them into treatment as soon as possible."
Doctor Gregory Pappas of the DOH's HIV/AIDS, Hepatitis, Sexually Transmitted Disease and Tuberculosis Administration joined Jeffrey Richardson, director of the Mayor's Office of GLBT Affairs; Venton Jones of the National Black Gay Men's Advocacy Coalition; David Mariner, executive director of the D.C. Center for the LGBT Community and other HIV/AIDS service providers and activists at the press conference.
"We recognize that when one discovers that they've tested positive, it's no longer a death sentence, but far too many people have become cavalier about it," said former Mayor Sharon Pratt Kelly. "And so what is the purpose of today? To remind everybody that we can still move forward, but we can do it with the two T's: testing and treatment. Well you've got to test, and then you've got to treat. We've got to encourage people to recognize that this is something that impacts all of us and all of us therefore need to test and treat. And eventually it won't be the two T's; it will be the one C for the cure."
Bowser's highest-level adviser resigns after sexual harassment allegation
Female staffer accuses John Falcicchio of longstanding abuse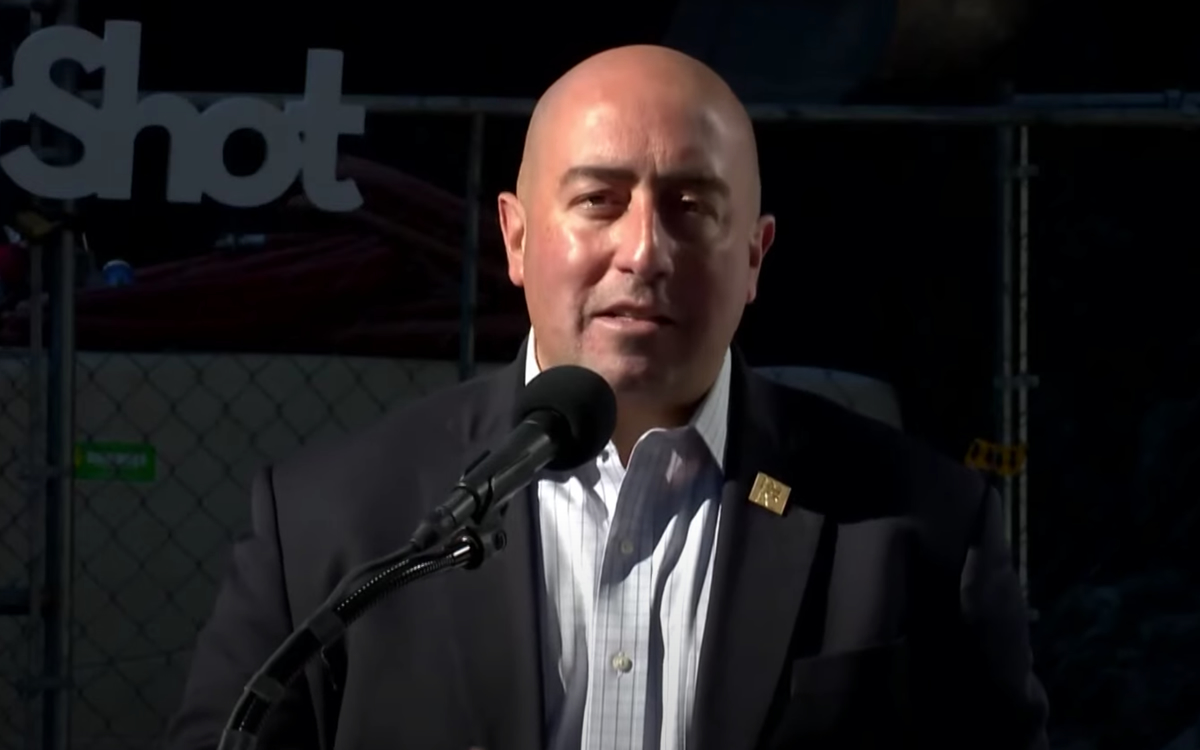 Lawyers representing a D.C. government employee shook up the city's political establishment on Monday when they announced that the employee filed a sexual harassment complaint against John Falcicchio, the now former D.C. Deputy Mayor for Planning and Economic Development and Mayor Muriel Bowser's longtime chief of staff.
The attorneys, Debra Katz and Kayla Morin, did not identify the city employee.
The announcement by Katz and Morin in a press release came shortly after Mayor Bowser issued her own announcement at a news conference on the same day. The mayor confirmed that Falcicchio's sudden resignation last Friday, March 17, followed her decision to launch an investigation into allegations against Falcicchio.
But Bowser said issues surrounding her longtime adviser's departure amounted to "a sensitive matter that includes privacy concerns" that prevented her from disclosing why she initiated the investigation and why Falcicchio abruptly resigned.
She said the investigation was being conducted by the city's Office of Legal Counsel, which is "following established policies and procedures" and that all relevant D.C. government staff members were fully cooperating with the investigation.
"I can also tell you that this investigation does not involve any allegations of improprieties related to business transactions," Bowser told reporters attending the news conference, which was initially called to celebrate the completion of the city's 9th Street, N.W. protected bike lane project and to discuss updates on the Capital Bikeshare program.
"I have every confidence in my new chief of staff, Lindsey Parker, and in our new Interim Deputy Mayor for Planning and Economic Development, Keith Anderson," Bowser said at the news conference. "And I have immense confidence in the 37,000 employees of the D.C. government who will keep us moving forward," she said.
Parker has served as the city's chief technology officer since 2019 and as assistant city administrator since 2022. Anderson has served as director of the D.C. Department of General Services, which oversees the city's buildings and properties.
"We represent an employee of the District of Columbia who came forward to report serious allegations of sexual harassment by former Chief of Staff and Deputy Mayor for Planning and Economic Development John Falcicchio," the statement released by attorneys Katz and Morin says.
"It is our understanding that this behavior is longstanding, and our client is cooperating fully with the investigation, which Mayor Bowser initiated immediately," the statement continues. "Our client is courageous. She came forward to ensure accountability and protect other women," it says. "Given the gravity of our client's allegations – which involve unwelcome advances and sexual contact – we ask the media to respect her privacy," the statement says.
It concludes by encouraging "everyone affected" to contact Maia Ellis, the Associate Director of the Mayor's Office of Legal Counsel, who's leading the investigation, at [email protected].
Katz is a founding partner and Morin is an associate of the D.C. law firm Katz Banks Kumin, which specializes in sexual harassment law, whistleblower law, and employment law, according to a write-up on its website.
Md. Senate approves transgender rights bill
Maryland House of Delegates passed similar measure on Saturday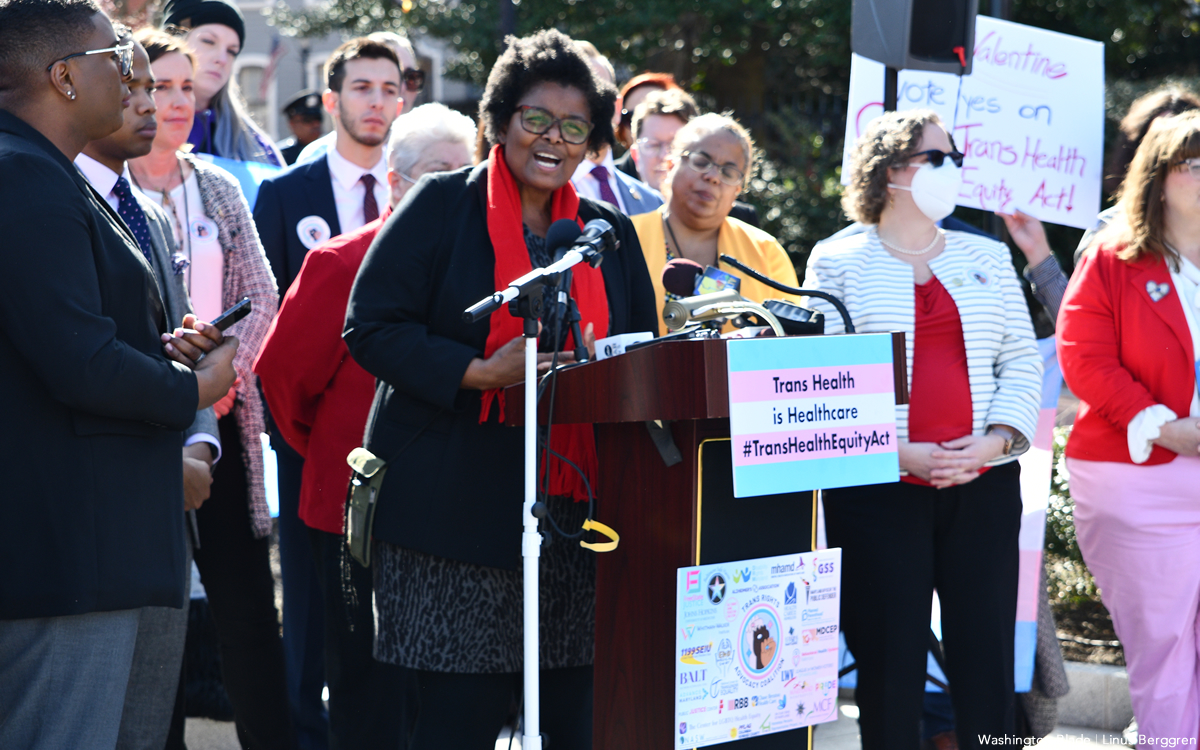 The Maryland Senate on Monday approved a bill that would require the state's Medicaid program to cover gender-affirming treatment for transgender people.
Senate Bill 460 or the Trans Health Equity Act passed by a 31-15 vote margin.
"Requiring, beginning on Jan. 1, 2023, the Maryland Medical Assistance Program to provide gender-affirming treatment in a nondiscriminatory manner; requiring that the gender-affirming treatment be assessed according to nondiscriminatory criteria that are consistent with current clinical standards; prohibiting the issuance of an adverse benefit determination related to gender-affirming treatment unless a certain experienced health care provider has reviewed and confirmed the appropriateness of the determination; etc," reads a summary of the bill.
The Maryland House of Delegates on Saturday passed a similar measure.
Md. House of Delegates approves transgender rights bill
State Medicaid program would be required to cover gender-affirming treatment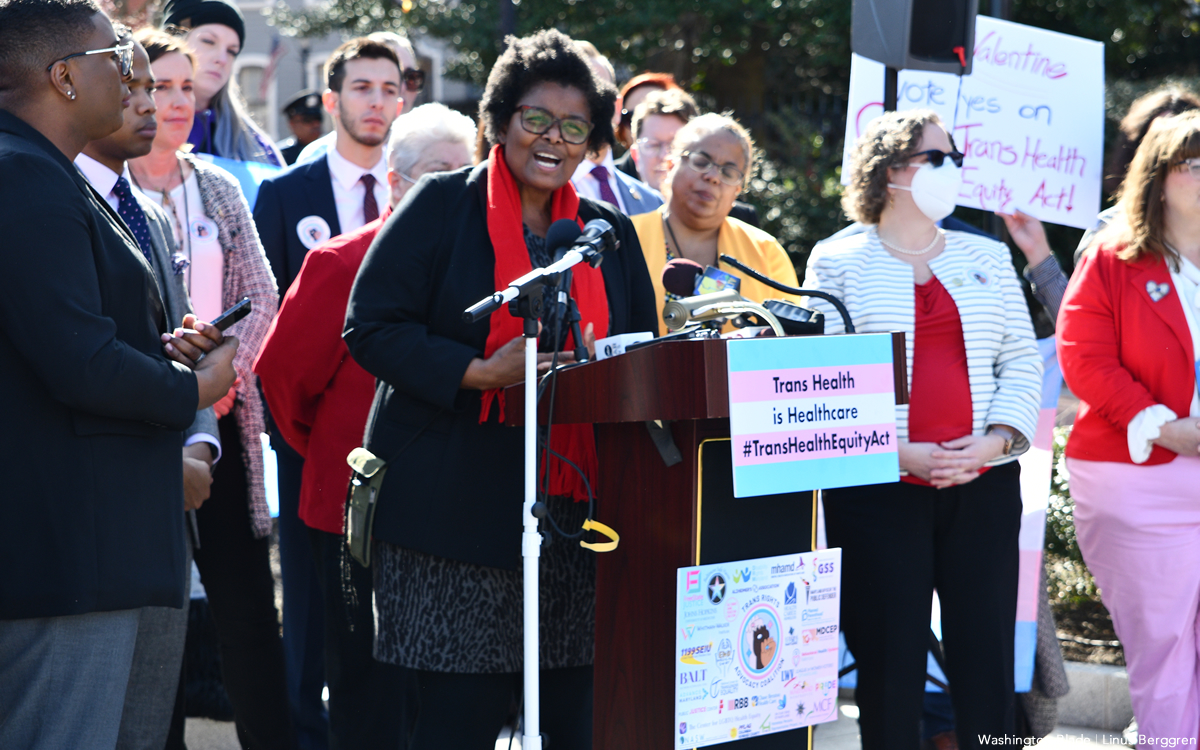 The Maryland House of Delegates on Saturday approved a bill that would require the state's Medicaid program to cover gender-affirming treatment for transgender people.
House Bill 283, or the Trans Health Equity Act, passed by a 93-37 vote margin. The measure now goes before the Maryland Senate.
"Proud that the MD House of Delegates passed the Trans Health Equity Act with such a strong majority," tweeted state Del. Anne Kaiser (D-Montgomery County), who introduced HB 283.
Proud that the MD House of Delegates passed the Trans Health Equity Act with such a strong majority. #TransHumanity pic.twitter.com/1E8MoDFQex

— Anne R. Kaiser (@DelegateKaiser) March 18, 2023