October 8, 2012 at 9:34 pm EDT | by Kevin Naff
O'Malley, Ayanbadejo meet marriage supporters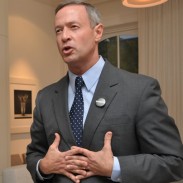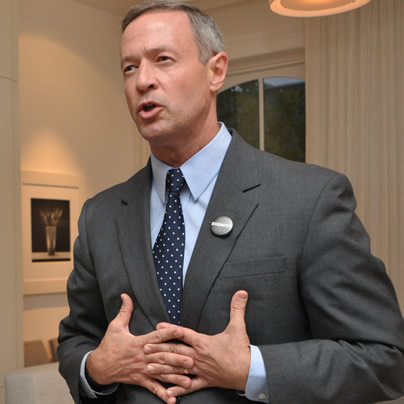 Maryland Gov. Martin O'Malley and Baltimore Ravens linebacker Brendon Ayanbadejo came together Monday night at a Baltimore bar to meet and thank supporters of the state's marriage equality law.
Ten winners were chosen in a raffle for the opportunity to meet O'Malley and Ayanbadejo in a small group setting at Mother's bar in Federal Hill. Some of the winners seemed surprised by the crush of photographers and TV crews that awaited Ayanbadejo, who arrived with his family, including two small children.
Ayanbadejo, who has made headlines for several years as an outspoken supporter of marriage equality, told reporters that he views the fight as the next chapter in the advancement of civil rights in America. His teammate, center Matt Birk, caused a stir last week when he announced his opposition to marriage rights for gay couples in two videos produced in conjunction with the referenda battles in Maryland and Minnesota, Birk's home state.
"I haven't talked to Matt about it," Ayanbadejo said, noting that his kids play tennis and participate in gymnastics with Birk's kids.
O'Malley, dressed casually in a fleece and sipping a beer on a chilly and wet Baltimore night with the Orioles playing the New York Yankees in a playoff game just blocks away, greeted Ayanbadejo as he arrived. Ayanbadejo told the governor that he follows him on Twitter, to which O'Malley replied that he's been following the Raven on the gridiron.
Ayanbadejo, who has garnered national attention for his marriage support — a relative rarity among active NFL players — later told the Blade that he is tentatively headed to California during the Ravens bye week later this month to appear on Ellen DeGeneres's talk show. He said the lesbian host has mentioned him a couple of times on her show and invited him to appear as a guest.
O'Malley spoke briefly to reporters, reiterating his support for marriage equality. He signed the marriage bill into law in March; it was later petitioned to the November ballot. Recent polls show growing support for the law, though the opposition's TV ad campaign just began this week and a Baltimore Sun poll showed that 10 percent of voters remain undecided.
In remarks to the Blade, O'Malley said he wasn't concerned about the impact of another referendum — a measure to expand the state's gaming law — on the marriage fight. Some advocates have expressed concern that casino companies spending tens of millions of dollars to turn out conservative voters who object to gambling on religious grounds could have a negative impact on the marriage referendum.
"I don't see that," O'Malley told the Blade. "I see the airwaves being more crowded but I don't see one impacting the other." He added that West Virginia gaming interests are working to "keep Maryland from being competitive" by opposing the gaming expansion, something O'Malley aggressively pushed for.
O'Malley also applauded Ayanbadejo's support for the marriage law.
"It's great to see him stand up for equality," he said.