Reduced mortality rates for married gay men
Danish study shows wide-reaching health benefits of legal protections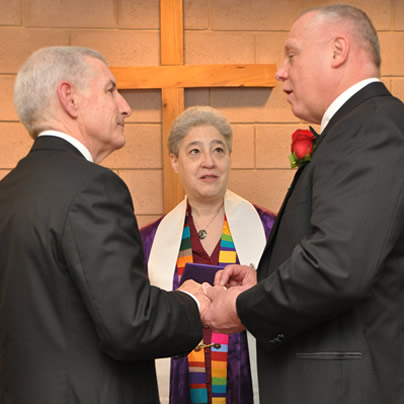 COPENHAGEN — The mortality rate for men in same-sex marriages has dropped markedly since the 1990s according to a Danish study published recently in the International Journal of Epidemiology. Women in same-sex marriages, however, have emerged as the group of women with the highest mortality rates in recent years, the study found.
In 1989, Denmark implemented the world's first national law on registered same-sex partnerships. For the first several years, the Journal reported, mortality rates for those in such marriages, were markedly elevated but since 1996 and the advent of effective anti-retroviral therapy for those with HIV/AIDS, mortality for men married to men has dropped to a level below that of unmarried men or divorced men.
Researchers attributed the higher mortality rates for women married to women to suicide and increased breast cancer risks for lesbians. Researchers at the Statens Serum Institut used Denmark's Civil Registration System to follow 6.5 million adults who lived in Denmark for any period between 1982 and 2011.
Researchers said being married to or living with a member of the opposite sex resulted in the lowest mortality rates overall.
Biden's update to HIV strategy hailed for recognizing racism as health issue
New blueprint outlines plan from 2022 to 2025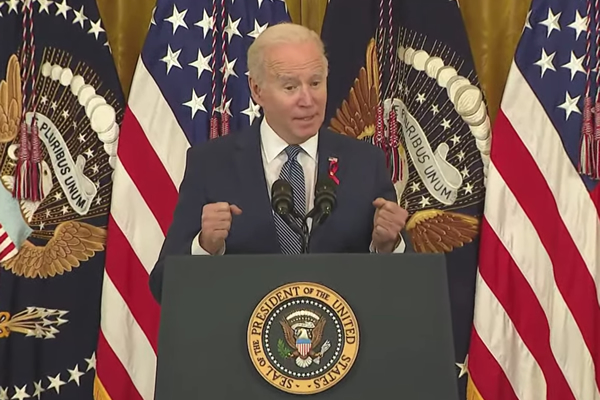 A recent update to the National HIV Strategy by the Biden administration is getting good reviews from advocates in the fight against HIV/AIDS, who are praising the new blueprint for recognizing challenges in the epidemic and racism as a public health issue.
Carl Schmid, executive director of the HIV & Hepatitis Policy Institute and member of the President's Advisory Council on HIV/AIDS, assessed the update as "very, very positive," saying it built on components of a previous iteration of the strategy issued during the Trump administration and made new ones.
"I think the community is extremely pleased," Schmid said. "There's a new component…racism is a public health issue. So, all these positive — the disparities, which is just so big. Anytime you're addressing HIV, you're always addressing disparities."
Schmid also said the updated blueprint — which articulates a plan from 2022 through 2025 and was issued last week to coincide with the first World AIDS Day during the Biden administration — makes outreach to the private sector.
"I think that's good because it's the people who influence society like technology companies, people who have high gay and bisexual employees, like [the] travel industry, get them all involved," Schmid said. "So, and that, I think should help with the stigma."
Schmid also hailed the strategy for its promotion of the Affordable Care Act as a tool to fight HIV/AIDS, which he said was absent in the iteration of the report under former President Trump.
President Biden, in remarks on World AIDS Day last week before advocates in the fight against HIV/AIDS in the East Room the White House, said the uptrend strategy is "a roadmap for how we're going to put our foot on the gas and accelerate our efforts to end the HIV epidemic in the United States by the year 2030."
"That's the goal," Biden added. "And it centers on the kind of innovative, community solutions — community-driven solutions that we know will work."
Consistent with his administration's stated commitment to racial equity and recognizing disparities among diverse groups, including LGBTQ people, Biden said the plan ensures "the latest advances in HIV prevention, diagnosis and treatment are available to everyone, regardless of their age, race, gender identity, sexual orientation, disability, or other factors."
"Critically, this strategy takes on racial and gender disparities in our health system that for much too long have affected HIV outcomes in our country — to ensure that our national response is a truly equitable response," Biden said.
The updated blueprint is the fourth iteration of the National HIV Strategy, which was first issued during the Obama administration, then updated during the Obama years and again during the Trump administration before the Biden administration unveiled the version last week.
The 93-page strategy makes recognition of racism as a public health issue a key component of the plan to fight HIV/AIDS, calling it a "serious public health threat that directly affects the well-being of millions of Americans."
"Racism is not only the discrimination against one group based on the color of their skin or their race or ethnicity, but also the structural barriers that impact racial and ethnic groups differently to influence where a person lives, where they work, where they play, and where they gather as a community," the strategy says. "Over generations, these structural inequities have resulted in racial and ethnic health disparities that are severe, far-reaching, and unacceptable."
Data shows racial disparities remain a significant obstacle in thwarting the HIV/AIDS epidemic. According to the Centers for Disease Control & Prevention, new HIV infections in the United States declined by 8 percent between 2015 and 2019, with much of the progress due to larger declines among young gay and bisexual men in recent years.
But although HIV infections among young gay and bisexual men have dropped 33 percent overall, with declines in young men among all races, the CDC finds "African Americans and Hispanics/Latinos continue to be severely and disproportionately affected."
A senior Biden administration official, speaking last week on background in a conference call with reporters to promote the HIV strategy, said in response to a question from the Washington Blade the recognition of racism "as a serious public health threat" was a key difference from previous iterations of the blueprint.
"There are several updates in this," the official said. "And some of those new features or new areas of focus have come about from both community input as well as sitting down with our federal partners and thinking about also the priorities of this administration, where there is a focus on equity, there is a focus on addressing stigma and discrimination and ensuring that also marginalized populations have access to healthcare, and that we are also working to ensure that the voices of those with lived experience are part of our response."
Jennifer Kates, director of global health & HIV policy for the Kaiser Family Foundation, said the recognition of social and racial disparities is a key component of the updated strategy.
"One area in which the updated strategy stakes out new and stronger ground is in its explicit focus on the social/structural determinants of health," Kates said. "The strategy doesn't just mention them but seeks to address them through a variety of objectives. This is a departure and an important one."
Kates, however,.cautioned: "Of course, the devil will be in the details and there will always be a tension between what the federal government itself can do and the power that state and local jurisdictions actually have."
One aspect of note during Biden's remarks on World AIDS Day was his articulation of 2030 as the target date to beat HIV, with the goal of reducing new infection rates by 90 percent in that year. That 2030 goal was established by health officials during the Trump administration, but Biden had campaigned on 2025 — much to the skepticism of some observers.
The Department of Health & Human Services, in response an inquiry from the Blade on whether a decision was made to forgo 2025 and stick with 2030 as the target date, deferred comment to the White House, which didn't immediately respond.
Schmid, who was among those during the election who expressed skepticism of the 2025 target date, said he spoke to the White House after an initial Blade report on the changed target date and was told the administration determined 2025 was "not feasible."
"That was a campaign statement," Schmid said. "I said then that it was not realistic, and I think others agreed with me particularly because of COVID, and we were during the campaign, but he said it and sometimes people say things during the campaign that they might not always live up to because it was unrealistic."
Schmid, however, downplayed the importance of Biden articulating a different target date to beat HIV/AIDS compared to the one he promised during the presidential campaign, saying the initial date had demonstrated his "strong commitment" on the issue.
Now that the Biden administration has issued the new strategy, the work turns toward implementation, which would mean acting on the blueprint in conjunction with the Ending the HIV Epidemic initiative already underway.
Schmid said the next step in the process is making sure funding is robust, HIV testing continues despite the coronavirus pandemic — and working to make PrEP more accessible.
Key to the effort, Schmid said, would be new legislation introduced before Congress to set up a national PrEP program, one introduced by Rep. Bonnie Watson Coleman (D-N.J.), another by Rep. Adam Schiff (D-Calif.) and another by Sen. Tina Smith (D-Minn.). Those bills, Schmid said, would ensure the uninsured have access to PrEP and health plans cover them without cost.
"I've been focusing a lot on that," Schmid said. "It would be great to get the administration's support for these as well, and money in the budget to implement these national PrEP programs."
Dignity Washington opens new center in Dupont Circle
Proceeds from sale of old building used to expand programming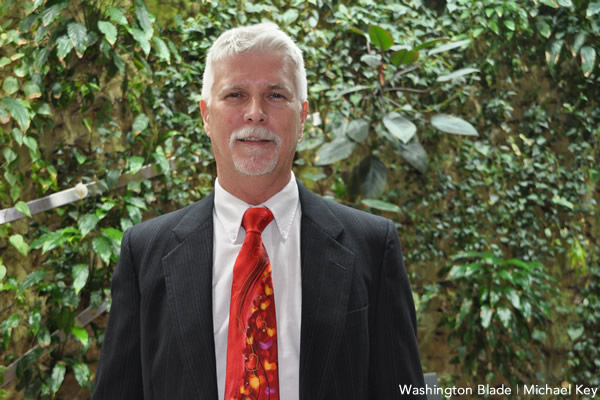 The local LGBTQ Catholic organization Dignity Washington recently opened its new Dignity Center office and community meeting space at a Dupont Circle condominium building that includes first-floor offices for small businesses and community organizations.
Dignity Washington President Tom Yates said the new space at the Imperial House condominium building at 1601 18th Street, N.W., is currently being used as Dignity's office headquarters and for meetings of the group's board and committees. He said as COVID-related restrictions are relaxed the space will be used for various events and possible use by other LGBTQ community organizations.
Yates said the group purchased the 1,700-square-foot office space in March of this year, eight months after selling its former Dignity Center building at 721 8th St., S.E., in the Barracks Row section of Capitol Hill. Dignity officials have said the Capitol Hill building was larger than the space the group needed and the proceeds from its sale would provide funds to expand its programs.
"Dignity Washington, making use of the fiscal support made possible by the change of properties, hopes to become more active speaking truth to power of the Catholic Church," Yates told the Blade. "The new facility is only a handful of blocks from the Cathedral of St. Matthew," he said, referring to one of the city's largest Catholic churches.
Noting the Catholic Church's historic lack of support for the LGBTQ community, Yates said the proximity of the new Dignity Center would help the group's mission of showing "the local same-sex community that one can be both Catholic and same-sex loving."
Yates said Dignity Washington, founded in 1972, is the largest chapter of the national LGBTQ Catholic organization Dignity USA.
Dignity Washington, among other things, organizes a weekly 6 p.m. Sunday Mass for LGBTQ Catholics and their friends and families at St. Margaret's Episcopal Church at 1830 Connecticut Ave., N.W.
Hong Kong activist dismisses calls to boycott Gay Games
WTA suspended China tournaments after tennis player disappeared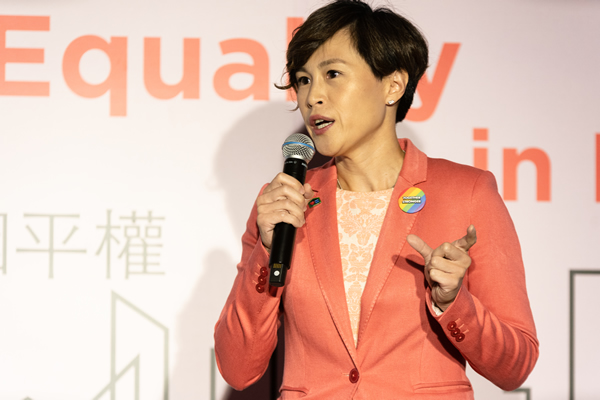 An LGBTQ activist in Hong Kong on Tuesday dismissed calls to boycott the 2023 Gay Games over China's human rights record.
"In Hong Kong, the team behind Gay Games has really worked tirelessly to bring it to Hong Kong and it will be a very good opportunity to showcase diversity and people working together and the human spirit at its best," Gigi Chao told the Washington Blade during a telephone interview from Hong Kong. "So, if it all gets rather political and if you twist the sentiments of what they want China to be, it will just really not work."
Chao is the co-founder of Hong Kong Marriage Equality, a group that seeks to extend marriage rights to same-sex couples in the former British colony. Chao also founded the Faith in Love Foundation, a group that seeks to increase awareness of LGBTQ issues in Hong Kong.
Chao is a member of the OutRight Action International board of directors. Chao is slated to speak in the group's annual summit that will take place virtually this week.
"All eyes are peeled on the events of next year: The Beijing Olympics, the relationship between Beijing and the U.S. as relationships either improve or sour over the course of the next 12 months and also trade and the global economic situation … it's not a rosy picture by all means," Chao told the Blade. "Everybody is bracing for the worst in terms of how the world recovers from COVID, but LGBTIQ rights continue."
Chao said Dennis Philipse, a Hong Kong resident who co-chairs Gay Games Hong Kong, and his colleagues "want the Gay Games to be a celebration of the human spirit in terms of sport."
"In Hong Kong, there's certainly no shortage of people engaged in sport and enjoying sports," said Chao.
Gay Games Hong Kong in September announced the postponement of the quadrennial event until 2023 because of the pandemic. The Federation of Gay Games, which oversees the Gay Games, awarded the games to Hong Kong over D.C. and Guadalajara, Mexico.
Hong Kong was a British colony until China regained control of it in 1997.
Upwards of 2 million people took part in pro-democracy protests that took place in Hong Kong in 2019.
Hong Kong's National Security Law, which, according to human rights activists, makes it easier for authorities to punish anyone who challenges the Chinese government, took effect in 2020. Hong Kong Chief Executive Carrie Lam, who is closely aligned with the Chinese government, supports the statute.
The Women's Tennis Association last week announced the suspension of tournaments in Hong Kong and throughout China in response to the disappearance of Peng Shuai, a Chinese tennis star, after she publicly accused former Vice Premier Zhang Gaoli of sexual assault. The Biden administration on Monday announced a diplomatic boycott of the 2022 Winter Olympics that are slated to take place in Beijing in February.
"The Federation of Gay Games continues to monitor the situation in Hong Kong regarding COVID-19, the National Security Law and all other aspects that affect the safety and security of our event," Sean Fitzgerald, co-president of the Federation of Gay Games, told the Blade in a statement after the Women's Tennis Association announced it had suspended all of its tournaments in China. "We are committed to hosting Gay Games 11 in Hong Kong in November 2023."
Chao acknowledged Gay Games organizers are "facing a lot of opposition from all directions." Chao also noted Hong Kong's government is "not actually positively promoting it."
"If we can get really high-profile athletes to participate, I think that's going to be a huge call for everybody to participate," said Chao.