Sodomy laws remain on books in 17 states, including Md. and Va.
Trans women, gay men prosecuted under 'loophole' in Supreme Court ruling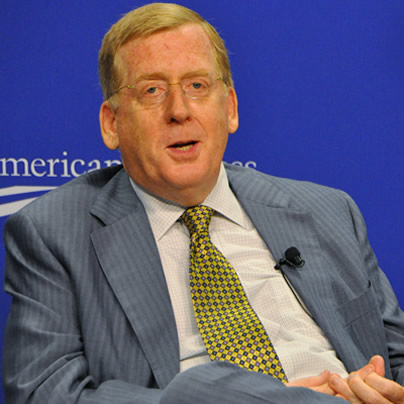 Laws that make it a crime for consenting adults to engage in sodomy remain on the books in 17 states and continue to be enforced in several of those states 10 years after the U.S. Supreme Court declared such laws unconstitutional.
Last week, the Montana Legislature gave final approval of a bill to repeal that state's sodomy law. (A spokesperson for the state's Democratic governor, Steve Bullock, said Bullock was scheduled to sign the bill on Thursday, which would lower the number of states with sodomy laws from 18 to 17.)
According to LGBT activists and gay rights attorneys, most of the cases in which police and prosecutors enforce sodomy or "crime against nature" statutes involve marginalized groups such as transgender sex workers or gay men arrested by undercover police officers for engaging in or soliciting sex in parks or other public places.
But the author of a comprehensive report on the continued enforcement of state sodomy laws released in 2011 by the national LGBT advocacy group Equality Matters said many of the cases involve arrests of men who merely seek to invite another willing male partner to their home for a sexual encounter where prostitution is not involved.
Equality Matters researcher Carlos Maza, author of the report "State Sodomy Laws Continue to Target LGBT Americans," told the Blade that although sodomy laws apply to straights as well as LGBT people in all but four of the states that have them, LGBT people are targeted far more often than straights.
"LGBT people in Michigan continue to be charged with crimes for public speech, in which they let another person know they are interested in private, unpaid sex with another adult," the report quotes Michigan gay rights attorney Rudy Serra as saying in the Michigan publication Pride Source.
"Bag-A-Fag (undercover decoy cop) operations, where police officers pretend to be gay men cruising for unpaid, consensual sex continue in Michigan," the report quotes Serra as saying. "LGBT people are still at risk of spending 15 years in state prison for acts that are perfectly legal in most other states."
Serra told the Blade in an interview that someone convicted under Michigan's sodomy law, called the Abominable and Detestable Crime Against Nature statute, and a separate "Gross Indecency" law, also must register with the state as sex offenders.
He said despite the fact that the Lawrence v. Texas decision renders these laws unconstitutional, the Michigan State Bar, which every lawyer is required to join, has retained written instructions about how juries should deliberate over cases in which a person is charged and brought to trial under the sodomy and Gross Indecency laws.
Gary Buseck, legal director of the New England-based litigation group Gay & Lesbian Advocates & Defenders, said he is not aware of any cases in which the Massachusetts sodomy law has been enforced against people for private, consensual, non-commercial sex since the 2003 Lawrence decision.
But he said the Massachusetts law continues to be used, although rarely, by police against gays in cases of "public" sex.
"We have always understood that in straight 'lovers' lanes,' the police traditionally just shoo couples away and that's that," he told the Blade. "With gay men there has traditionally been the ebb and flow of sting efforts or entrapment efforts or enhanced enforcement efforts at what become identified as gay cruising areas."
Buseck added, "Occasionally, men will still be charged with a felony sodomy [in Massachusetts]. But we have not been aware in recent years of any district attorneys who will go forward with such a case."
In at least one case in North Carolina in 2008, police arrested two gay men under that state's sodomy statute for allegedly engaging in consenting sex in the privacy of one of their homes. The case outraged gay activists in the state, who noted it was similar to the Lawrence v. Texas case in which the Supreme Court supposedly overturned state sodomy laws.
A prosecutor eventually dropped the charges against the men after determining that the arrest by officers of the Raleigh Police Department violated the Lawrence v. Texas ruling.
The Raleigh News and Observer and other news media outlets reported that police got involved in the case after the men became involved in an incident of domestic violence and one of them called police.
In the course of a police investigation, one of the men said the other sexually assaulted him, according to media accounts. But a police official told media outlets the incident appeared to be "a case of a consensual act that may have gotten out of hand."  Instead of charging one of the men with sexual assault, police charged both men with violating the sodomy statute.
The News and Observer reported at the time that the man who claimed he was sexually assaulted said he was grateful that the sodomy charge was dropped but said he had been humiliated over being accused of a crime listed as a Class 1 felony — sodomy — punishable by up to two years in prison.
"The reality is the process of being arrested for these laws is extremely damaging to the people who get caught up in the system," Maza told the Blade. "And the only real solution is to have those laws taken off the books."
Added Maza, "Unfortunately a lot of people don't have the motivation to get that done when things like marriage and employment discrimination are being discussed in state legislatures."
Maza and gay rights attorneys familiar with Maryland said they were not aware of Maryland's sodomy law being enforced since the late 1990s. [See separate Blade story on Maryland's sodomy law.]
The Virginia sodomy law, which also remains on the books, has been enforced against gays and straights charged with offenses related to public sex or sex with minors, attorneys familiar with the Virginia Crimes Against Nature law have said. A federal appeals court ruled last month that the Virginia statute was "facially" or completely unconstitutional and could no longer be enforced under any circumstances.
The Equality Matters report notes, however, that police and prosecutors in some states, including Michigan and Texas, have continued to enforce sodomy laws despite the fact that state courts have joined the U.S. Supreme Court in invalidating those laws.
"Even in states where these statutes are never enforced, anti-LGBT animosity is fanned by government recognition that LGBT people are viewed as criminals in the eyes of the law," Maza states in the Equality Matters report. "This animosity helps create the conditions for anti-LGBT hate crimes as well as disproportionate rates of suicide among non-heterosexual youth," the report says.
Lawrence loophole?
Some gay rights attorneys, including Washington, D.C. attorney Paul Smith, who successfully argued the Lawrence case before the Supreme Court, have expressed concern that prosecutors and lower court judges are misinterpreting language in the Lawrence decision.
According to these attorneys, certain prosecutors and judges are claiming a passage in the Lawrence decision penned by Justice Anthony Kennedy, who wrote the majority opinion in the case, provides a broad loophole that gives them authority to continue enforcing their state sodomy laws in cases involving public sex, sex with minors, or prostitution-related sex.
The passage in question states, "The present case does not involve minors. It does not involve persons who might be injured or coerced or who are situated in relationships where consent might not easily be refused. It does not involve public conduct or prostitution. It does not involve whether the government must give formal recognition to any relationship that homosexual persons seek to enter. The case does involve two adults who, with full and mutual consent from each other, engaged in sexual practices common to a homosexual lifestyle."
Virginia Attorney General Ken Cuccinelli, who defended Virginia's sodomy law against a court challenge this year, has cited the so-called loophole in his arguments urging the Fourth Circuit U.S. Court of Appeals in Richmond to uphold the statute. The court instead declared the law unconstitutional based on the Lawrence decision and refused Cuccinelli's request that the full 15-judge court reconsider the decision handed down by a three-judge panel.
Cuccinelli has yet to disclose whether he plans to ask the U.S. Supreme Court to consider the case as a final appeal.
Gay rights attorneys say that Kennedy's passage appearing to limit the scope of the Lawrence decision to non-commercial, consenting sex among adults in private appears reasonable on its face. Smith, for example, told the Blade he and the other attorneys who helped him prepare the Lawrence case before the high court did not call for a ruling that went beyond invalidating state sodomy laws for private, consenting, non-commercial sex between adults.
But gay rights attorneys say they do not think Justice Kennedy and the justices who ruled with him intended that gays be singled out for harsher treatment than straights for identical infractions through the enforcement of state sodomy laws.
In the Equality Matters report, Maza points out that prosecutors in some states, especially Louisiana, have used sodomy laws to push for harsher penalties against LGBT suspects using sodomy laws than they would for heterosexual suspects accused of engaging in the exact same behavior, such as prostitution or public sex.
In Louisiana, the report says, people accused of engaging in prostitution could be charged either under the state's anti-prostitution law or under the solicitation provision of the Louisiana "Crime Against Nature" law, which criminalizes oral and anal sex.
The Crime Against Nature statute carries a longer prison term than the prostitution law, the report says, and unlike the prostitution statute, people convicted under the Crime Against Nature law must register as sex offenders, even if the sex is between consenting adults.
Activists say some of Louisiana's transgender women and young gay men who have been rejected by their families for being gay or transgender engage in prostitution as a means of survival. Activists say members of these two groups have been among those most frequently charged under the Crime Against Nature law in Louisiana.
The Center for Constitutional Rights, which has provided legal assistance to people charged under Louisiana's crime against nature law, has criticized law enforcement officials for seeking to enforce the law up until last year, when a state court ruled it could no longer be enforced based on the Lawrence decision.
"[T]he only reason our clients are registered sex offenders is that they were convicted under the provisions of a 200-year-old statute that condemns non-procreative sex acts and sex acts traditionally associated with homosexuality, solely on grounds of moral disapproval," the group said in a statement.
The Equality Matters report says one of the most dramatic examples of how a state sodomy law can inflict a harsher penalty on LGBT people surfaced in Kansas in 2004. In a case known as State v. Limon, a Kansas state appellate court cited the so-called Lawrence loophole or "exemption" for minors in a ruling upholding a trial court conviction of an 18-year-old male charged with engaging in consensual oral sex with a 14-year-old boy. Both had been living in the same residential school facility for mentally challenged youth.
If the 14-year-old had been a girl rather than a boy, the 18-year-old would have been charged under a Kansas "Romeo & Juliet" law. That law calls for a young adult charged with having sex with a minor whose age is within four years of the young adult to receive a far more lenient sentence under the state's statutory rape law if the sex is consensual. The 18-year-old, who was charged and convicted under the Kansas criminal sodomy law, was sentenced to 17 years in prison.
His conviction was later overturned by the U.S. Supreme Court on grounds that the Kansas sodomy law was unconstitutional based on the Lawrence decision.
"The reality is that, in many states, enforcement occurs sporadically, typically at the discretion of particular police officers," said Maza in discussing the rationale for enforcing sodomy laws.
"Even though the laws are clearly unconstitutional, their existence in the legal code gives officers the cover they need to arrest and prosecute gay people," he said. "Sometimes officers simply choose to ignore Lawrence altogether in an attempt to enforce state sodomy laws as if the decision never occurred."
Although the majority of sodomy cases are eventually dismissed, Maza said, the fact that people are still charged under the laws, and few people until recently were aware of this taking place, demonstrates that LGBT organizations should take a far more aggressive approach in addressing the issue.
"Only fully repealing these measures ensures that LGBT Americans will be protected from arbitrary and discriminatory legal treatment," Maza said.
Following is a list of the states that had sodomy laws on the books as of early this week.
Montana's governor was expected to sign a bill this week to repeal that state's sodomy law, making Montana the first state to repeal its sodomy statute through legislation in many years.
An asterisk indicates the state sodomy law only applies to gay sex.
Alabama
Florida
Georgia
Idaho
Kansas*
Louisiana
Maryland
Massachusetts
Michigan
Minnesota
Mississippi
Montana*
North Carolina
Oklahoma*
South Carolina
Texas*
Utah
Virginia
LGBTQ activists alarmed over concurring opinion in abortion ruling
Justice Thomas calls for 'reconsideration' of marriage, sodomy rulings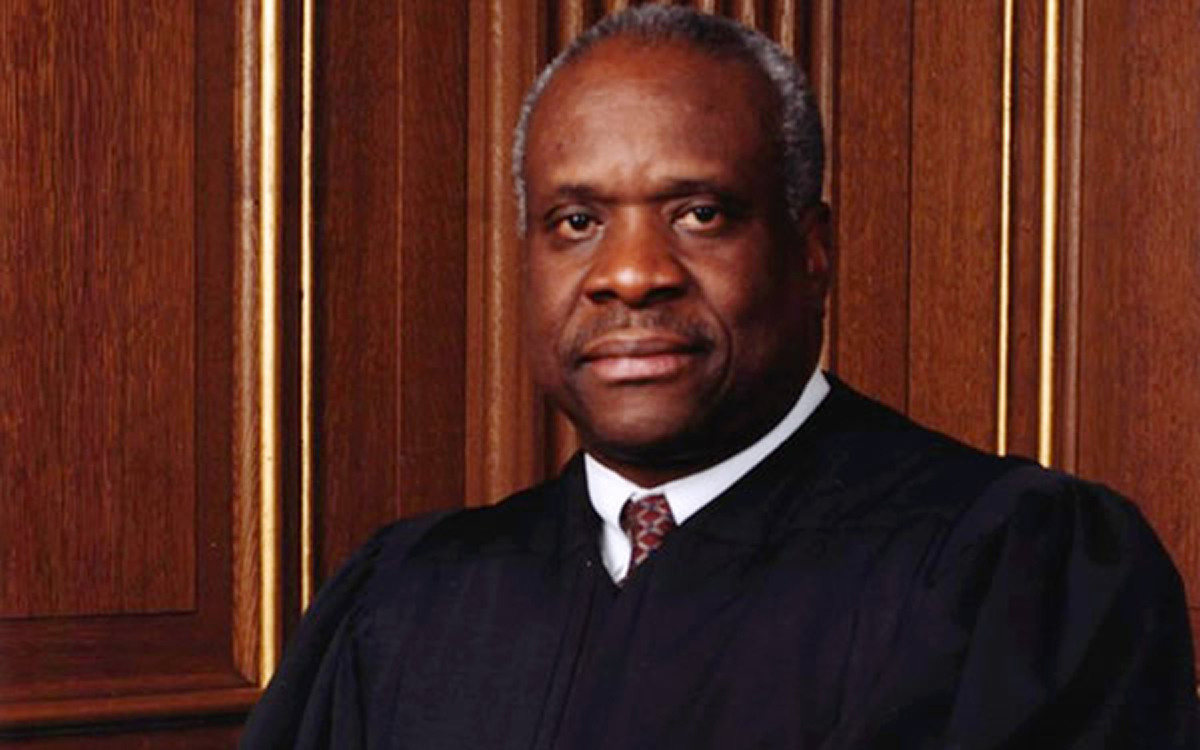 LGBTQ activists have expressed alarm over a concurring opinion issued on Friday by U.S. Supreme Court Justice Clarence Thomas calling for the high court to "reconsider" previous decisions overturning state sodomy laws and legalizing same-sex marriage as a follow-up to the court's controversial ruling on Friday to overturn the Roe v. Wade decision on abortion rights.
In an action that drew expressions of outrage from abortion rights advocates and strong support by right-to-life advocates, the Supreme Court handed down a 6-3 ruling on Friday overturning the fundamental right to an abortion that the court established nearly 50 years ago in its landmark decision known as Roe v. Wade.
In his concurring opinion, Thomas said he supports the high court's majority opinion overturning Roe v. Wade. He states that he agrees with the ruling that nothing in the majority opinion "should be understood to cast doubt on precedents that do not concern abortion."
But he also states that in potential future cases, "we should reconsider all of this Court's substantive due process precedents, including Griswold, Lawrence, and Obergefell."
He was referring to the past Supreme Court Griswold ruling that overturned state laws banning or restricting birth control such as contraceptives; the high court's 2003 Lawrence v. Texas ruling that overturned state laws banning sodomy between consenting adults; and the 2015 Obergefell ruling that legalized same-sex marriage nationwide.
"Justice Thomas's concurring opinion is obviously concerning, but it is important to note that not one other justice agreed with him," said Sarah Warbelow, legal director of the Human Rights Campaign, the nation's largest LGBTQ rights advocacy group. "In fact, the majority took pains to disagree with him and clarify that this opinion relates only to abortion. Justice Thomas stands alone," Warbelow told the Washington Blade in a statement.
"With that said, we know that if the court was willing to overturn 50 years of precedent with this case, that all of our constitutional rights are on the line," Warbelow said. "Lawmakers will be further emboldened to come after our progress. So, we must be vigilant in protecting our hard-won rights — we're ready."
Paul Kawata, executive director of the National Minority AIDS Council (NMAC), said the Supreme Court ruling overturning Roe v. Wade would have a "disastrous effect" on healthcare for women, especially women of color. He said the ruling could also lead to future rulings that adversely impact LGBTQ people and other minorities.
"We have no doubt that the conservative supermajority on the court will not stop with Roe," Kawata said in a statement. "Justice Thomas's chilling concurring opinion makes it very clear that the court could target other rights provided by the court — marriage equality, contraception access, and LGBTQ+ intimacy in private to name a few," he said.
Biden labels Supreme Court ruling on Roe v. Wade 'a sad day for court'
"Imagine, woman having to carry a child that's a consequence of incest, with no option" to terminate the pregnancy, Biden said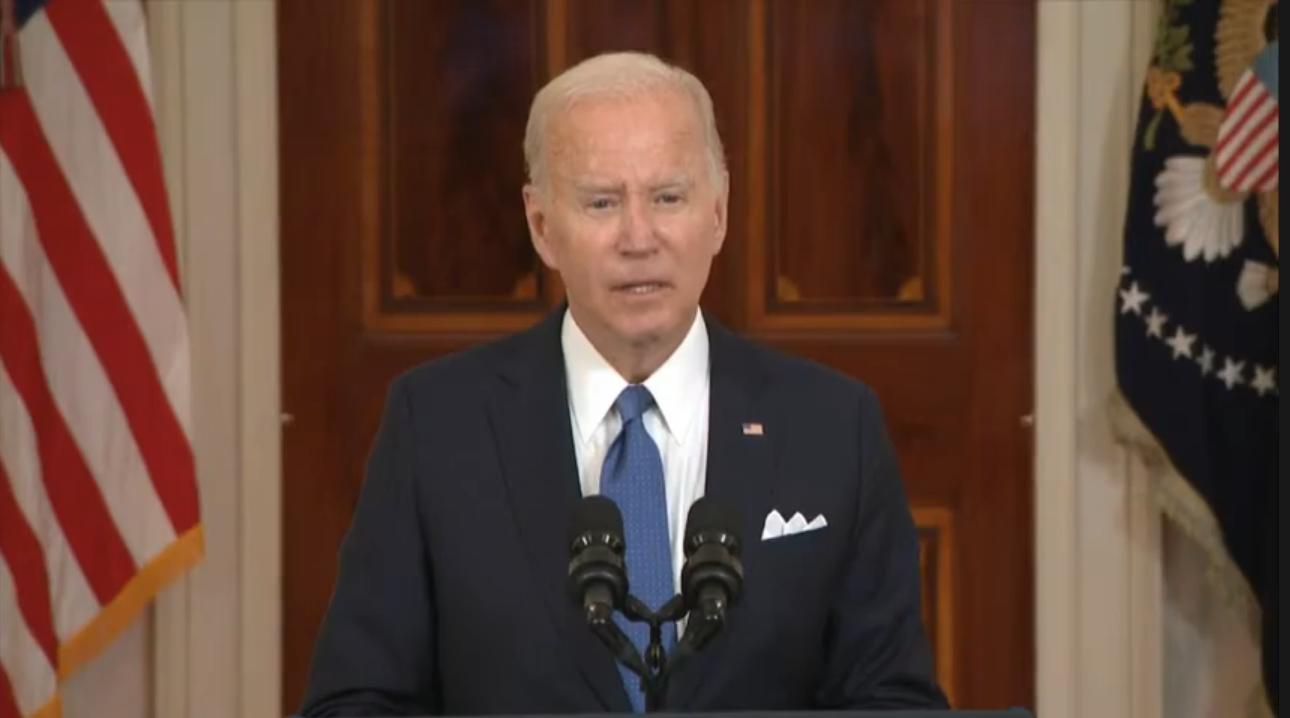 WASHINGTON – Just after the Supreme Court's conservative majority moved to overturn the constitutional right to abortion on Friday in a 6-3 ruling, President Joe Biden vowed to protect American women from prosecution for traveling to other states to terminate their pregnancies.
Thirteen states have made or will soon make abortion illegal, some without exceptions for rape and incest, following today's ruling. After a draft of that ruling was leaked in May, some state legislatures considered bills to prevent women from circumventing their restrictions on abortion.
"If any state or local official high or low tries to interfere with a woman exercising her basic right to travel, I will do everything in my power to fight that unamerican attack," Biden said.
Delivering his remarks from the Great Cross Hall of the White House, the President looked visibly upset, particularly when discussing the extreme abortion bans in some states that will now be allowed to go into effect.
"They are so extreme that women can be punished for protecting their health; that some women and girls will be forced to bear their rapists' child," Biden said. It was at this point that he appeared to go off-script to share his personal feelings on the ruling and its implications. "It just stuns me," he said. "Imagine, woman having to carry a child that's a consequence of incest, with no option" to terminate the pregnancy.
Biden called for those who share his anger and outrage – many who gathered on the steps of the Supreme Court in protest – to remain peaceful. He urged Americans to vote to give Democrats in Congress the majority that will be necessary for them to codify the constitutional right to abortion first established by the Supreme Court's 1973 ruling in Roe v. Wade and overturned today with the decision in Dobbs v. Jackson Women's Health.
Biden warned of the "dangerous path the court is taking us on," pointing to Justice Thomas's comments in the decision that "In future cases, we should reconsider all of this court's substantive due process precedents, including Griswold, Lawrence, and Obergefell."
Should the court revisit the precedents established by those cases, it could mean constitutional protections for the return of laws banning birth control, sodomy and same-sex marriage.
Biden noted Americans' constitutional right to abortion was affirmed in multiple decisions by the Supreme Court, endorsed by justices who were appointed by presidents from both parties.
"It was three justices named by one president, Donald Trump, who were the core of today's decision to upend the scales of justice and eliminate a fundamental right for women in this country," Biden said.
President Biden speaks on Supreme Court decision to overturn Roe v. Wade:
Full transcript:
REMARKS BY PRESIDENT BIDEN
ON THE SUPREME COURT DECISION
TO OVERTURN ROE V. WADE
Today is a — it's not hyperbole to suggest a very solemn moment. Today, the Supreme Court of the United States expressly took away a constitutional right from the American people that it had already recognized.

They didn't limit it. They simply took it away. That's never been done to a right so important to so many Americans.

But they did it. And it's a sad day for the Court and for the country.

Fifty years ago, Roe v. Wade was decided and has been the law of the land since then.

This landmark case protected a woman's right to choose, her right to make intensely personal decisions with her doctor, free from the inter- — from interference of politics.

It reaffirmed basic principles of equality — that women have the power to control their own destiny. And it reinforced the fundamental right of privacy — the right of each of us to choose how to live our lives.

Now, with Roe gone, let's be very clear: The health and life of women in this nation are now at risk.

As Chairman and Ranking Member of the Senate Judiciary Committee, as Vice President and now as President of the United States, I've studied this case carefully. I've overseen more Supreme Court confirmations than anyone today, where this case was always discussed.

I believe Roe v. Wade was the correct decision as a matter of constitutional law, an application of the fundamental right to privacy and liberty in matters of family and personal autonomy.

It was a decision on a complex matter that drew a careful balance between a woman's right to choose earlier in her pregnancy and the state's ability to regulate later in her pregnancy. A decision with broad national consensus that most Americans of faiths and backgrounds found acceptable and that had been the law of the land for most of the lifetime of Americans today.

And it was a constitutional principle upheld by justices appointed by Democrat and Republican Presidents alike.

Roe v. Wade was a 7 to 2 decision written by a justice appointed by a Republican President, Richard Nixon. In the five decades that followed Roe v. Wade, justices appointed by Republican Presidents — from Eisenhower, Nixon, Reagan, George W. [H.W.] Bush — were among the justices who voted to uphold the principles set forth in Roe v. Wade.

It was three justices named by one President — Donald Trump — who were the core of today's decision to upend the scales of justice and eliminate a fundamental right for women in this country.

Make no mistake: This decision is the culmination of a deliberate effort over decades to upset the balance of our law. It's a realization of an extreme ideology and a tragic error by the Supreme Court, in my view.

The Court has done what it has never done before: expressly take away a constitutional right that is so fundamental to so many Americans that had already been recognized.

The Court's decision to do so will have real and immediate consequences. State laws banning abortion are automatically taking effect today, jeopardizing the health of millions of women, some without exceptions.

So extreme that women could be punished for protecting their health.

So extreme that women and girls who are forced to bear their rapist's child — of the child of consequence.

It's a — it just — it just stuns me.

So extreme that doctors will be criminalized for fulfilling their duty to care.

Imagine having — a young woman having to ch- — carry the child of incest — as a consequence of incest. No option.

Too often the case that poor women are going to be hit the hardest. It's cruel.

In fact, the Court laid out state laws criminalizing abortion that go back to the 1800s as rationale — the Court literally taking America back 150 years.

This a sad day for the country, in my view, but it doesn't mean the fight is over.

Let me be very clear and unambiguous: The only way we can secure a woman's right to choose and the balance that existed is for Congress to restore the protections of Roe v. Wade as federal law.

No executive action from the President can do that. And if Congress, as it appears, lacks the vote — votes to do that now, voters need to make their voices heard.

This fall, we must elect more senators and representatives who will codify a woman's right to choose into federal law once again, elect more state leaders to protect this right at the local level.

We need to restore the protections of Roe as law of the land. We need to elect officials who will do that.

This fall, Roe is on the ballot. Personal freedoms are on the ballot. The right to privacy, liberty, equality, they're all on the ballot.

Until then, I will do all in my power to protect a woman's right in states where they will face the consequences of today's decision.

While the Court's decision casts a dark shadow over a large swath of the land, many states in this country still recognize a woman's right to choose.

So if a woman lives in a state that restricts abortion, the Supreme Court's decision does not prevent her from traveling from her home state to the state that allows it. It does not prevent a doctor in that state — in that state from treating her.

As the Attorney General has made clear, women must remain free to travel safely to another state to seek the care they need. And my administration will defend that bedrock right.

If any state or local official, high or low, tries to interfere with a woman's ex- — exercising her basic right to travel, I will do everything in my power to fight that deeply un-American attack.

My administration will also protect a woman's access to medications that are approved by the Food and Drug Administration — the FDA — like contraception, which is essential for preventative healthcare; mifepristone, which the FDA approved 20 years ago to safely end early pregnancies and is commonly used to treat miscarriages.

Some states are saying that they'll try to ban or severely restrict access to these medications.

But extremist governors and state legislators who are looking to block the mail or search a person's medicine cabinet or control a woman's actions by tracking data on her apps she uses are wrong and extreme and out of touch with the majority of Americans.

The American Medical Association and the American College of Obstetricians and Gynecologists wrote to me and Vice President Harris stressing that these laws are not based on — are not based on evidence and asking us to act to protect access to care. They say by limiting access to these medicines, maternal mortality will climb in America. That's what they say.

Today, I'm directing the Department of Health and Human Services to take steps to ensure that these critical medications are available to the fullest extent possible and that politicians cannot interfere in the decisions that should be made between a woman and her doctor. And my administration will remain vigilant as the implications of this decision play out.

I've warned about how this decision risks the broader right to privacy for everyone. That's because Roe recognized the fundamental right to privacy that has served as the basis for so many more rights that we have come to take — we've come to take for granted that are ingrained in the fabric of this country: the right to make the best decisions for your health; the right to use birth control — a married couple — in the privacy of their bedroom, for God's sake; the right to marry the person you love.

Now, Justice Thomas said as much today. He explicitly called to reconsider the right of marriage equality, the right of couples to make their choices on contraception. This is an extreme and dangerous path the Court is now taking us on.

Let me close with two points.

First, I call on everyone, no matter how deeply they care about this decision, to keep all protests peaceful. Peaceful, peaceful, peaceful. No intimidation. Violence is never acceptable. Threats and intimidation are not speech. We must stand against violence in any form regardless of your rationale.

Second, I know so many of us are frustrated and disillusioned that the Court has taken something away that's so fundamental. I know so many women are now going to face incredibly difficult situations. I hear you. I support you. I stand with you.

The consequences and the consensus of the American people — core principles of equality, liberty, dignity, and the stability of the rule of law — demand that Roe should not have been overturned.

With this decision, the conservative majority of the Supreme Court shows how extreme it is, how far removed they are from the majority of this country. They have made the United States an outlier among developed nations in the world. But this decision must not be the final word.

My administration will use all of its appropriate lawful powers. But Congress must act. And with your vote, you can act. You can have the final word. This is not over.

Thank you very much. I'll have more to say on this in weeks to come. Thank you.
U.S. Supreme Court overturns Roe v. Wade
Justices issued 6-3 ruling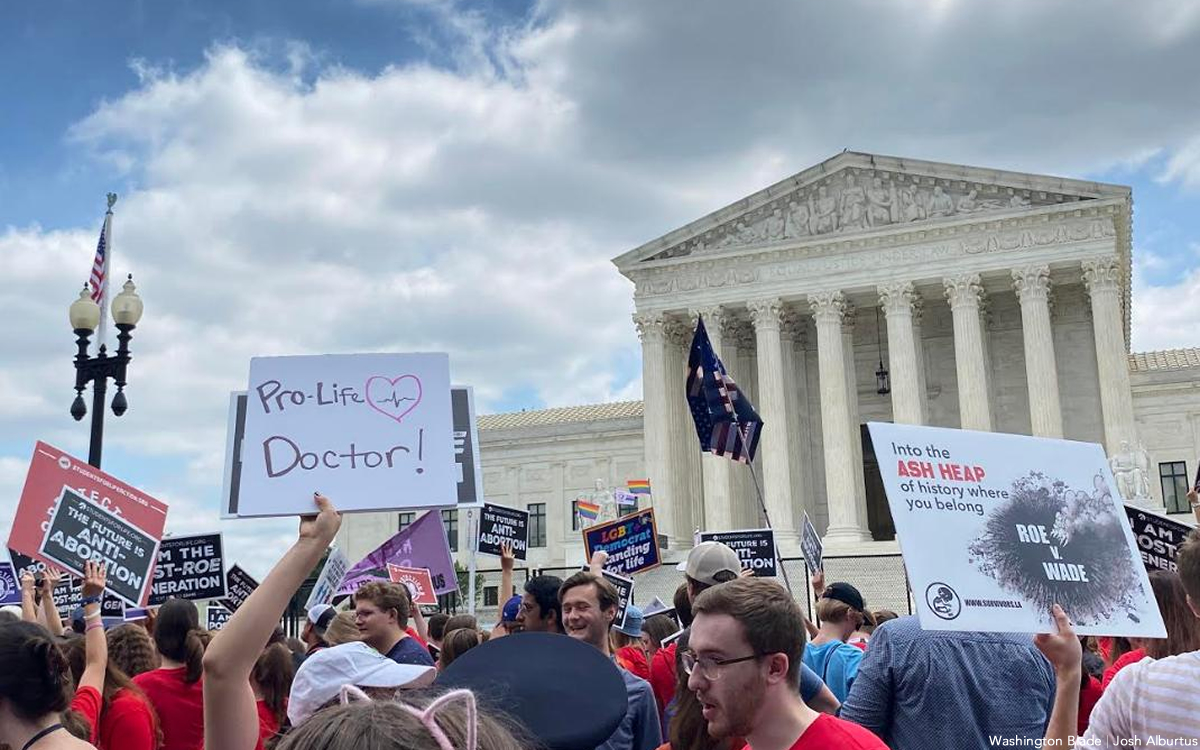 The U.S. Supreme Court on Friday in a 6-3 ruling overturned Roe v. Wade.
Justice Clarence Thomas in the decision said the Supreme Court should also reconsider the decisions in the Obergefell and Lawrence cases that extended marriage equality to same-sex couples and the right to private, consensual sex.
LGBTQ rights groups were quick to condemn the ruling.
"Today the Supreme Court issued a devastating ruling in Jackson Women's Health Organization v. Dobbs — a huge setback to our long-standing fundamental right to bodily autonomy," said National LGBTQ Task Force Executive Director Kierra Johnson. "This decision by the conservative majority on the bench also marks the beginning of the vital work to re-establish our constitutional foundation for reproductive justice and freedom. We must redouble our work to protect access to abortion and reproductive justice at the state and national levels. We will never give up."
"When the Supreme Court is willing to throw 50 years of precedent out the window, it proves that we are at an exceedingly dangerous, unprecedented moment. The court's majority opinion does not reflect the will of our nation — two thirds of whom support Roe v. Wade —but instead fulfills an extreme, out of step, ideological agenda. And it shows that all of our rights are on the line right now, as state lawmakers will be further emboldened to test the limits of our hard-won civil rights," added interim Human Rights Campaign President Joni Madison. "Women are under attack, LGBTQ+ people are under attack, BIPOC people are under attack, and we are justifiably outraged. We cannot relent — we must fight back."
Jim Obergefell, a candidate for the Ohio House and the lead plaintiff in the landmark Supreme Court case that affirmed marriage equality as the law of the land, issued the following statement today following news that the Supreme Court overturned Roe v. Wade.
"It's a sad day for womens' rights. This U.S. Supreme Court continues to erode the rights of citizens at an alarming rate. We are facing a health and human rights crisis in this country and as a result countless lives will be at risk. Women deserve responsive leaders who support reproductive justice. Leaders who respect their basic right to have control over their own body. The reality is that women today will have less rights than their own mothers. We are going backwards and it's both enraging and terrifying to see the excessive government overreach that this court is imposing on our country."
In his remarks on the Supreme Court ruling, President Joe Biden speaking live from the Great Cross Hall in the White House said at one point, "It just stuns me," adding that poor women would be hit the hardest by the decision. "This is a sad day for the country in my view but it does not mean the fight is over."
He called on Congress to restore abortion protections into law and pointed to the November midterm elections, saying, "this fall, Roe is on the ballot."
He urged protests to be conducted peacefully and said violence is never acceptable.
"This decision must not be the final word," Biden said.
Biden's remarks ended at 12:49 p.m. EST after speaking for nearly 12 minutes. He did not respond to shouted questions from reporters about the ruling and the future of the Supreme Court.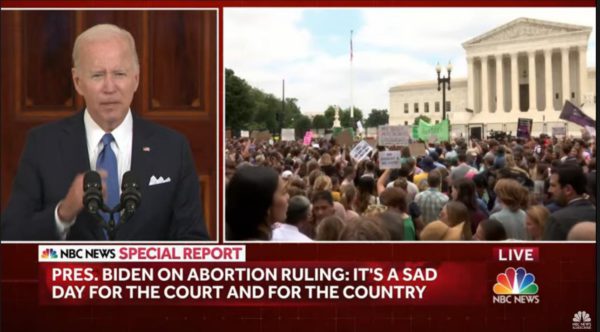 U. S. Attorney General Merrick Garland released a statement condemning the high court's ruling.
"The Supreme Court has eliminated an established right that has been an essential component of women's liberty for half a century — a right that has safeguarded women's ability to participate fully and equally in society. And in renouncing this fundamental right, which it had repeatedly recognized and reaffirmed, the court has upended the doctrine of stare decisis, a key pillar of the rule of law.
"The Justice Department strongly disagrees with the court's decision. This decision deals a devastating blow to reproductive freedom in the United States. It will have an immediate and irreversible impact on the lives of people across the country. And it will be greatly disproportionate in its effect — with the greatest burdens felt by people of color and those of limited financial means. "
The attorney general went on to warn that acts of violence in the wake of today's ruling will not be tolerated.
"Advocates with different views on this issue have the right to, and will, voice their opinions. Peacefully expressing a view is protected by the First Amendment. But we must be clear that violence and threats of violence are not. The Justice Department will not tolerate such acts."
Shannon Minter, the legal director for the National Center for Lesbian Rights told the Washington Blade in an email that "Justice Thomas's concurrence is an open assault on the landmark precedents that have transformed the place of LGBTQ people in our society. Historically, the Supreme Court has relied on substantive due process to protect essential liberties such as the freedom to decide whether to conceive a child, to marry or be in an intimate relationship with the person of one's choice, to raise children as one sees fit, and to travel or move anywhere in the country."
"These are among our most basic and cherished freedoms, and Justice Thomas is urging the court to scrap them all. While the majority opinion does not go that far, it is full of landmines that appear to lay a foundation for future decisions that may cast these fundamental rights into question or eliminate them altogether. Today's decision is even more alarming than the leaked opinion and strongly suggests that this is only the beginning of a radical campaign to undo decades of precedent. The question is no longer if this court is willing to jettison other fundamental freedoms, but how quickly they are likely to do so, and which ones are likely to be on the chopping block first," Minter added.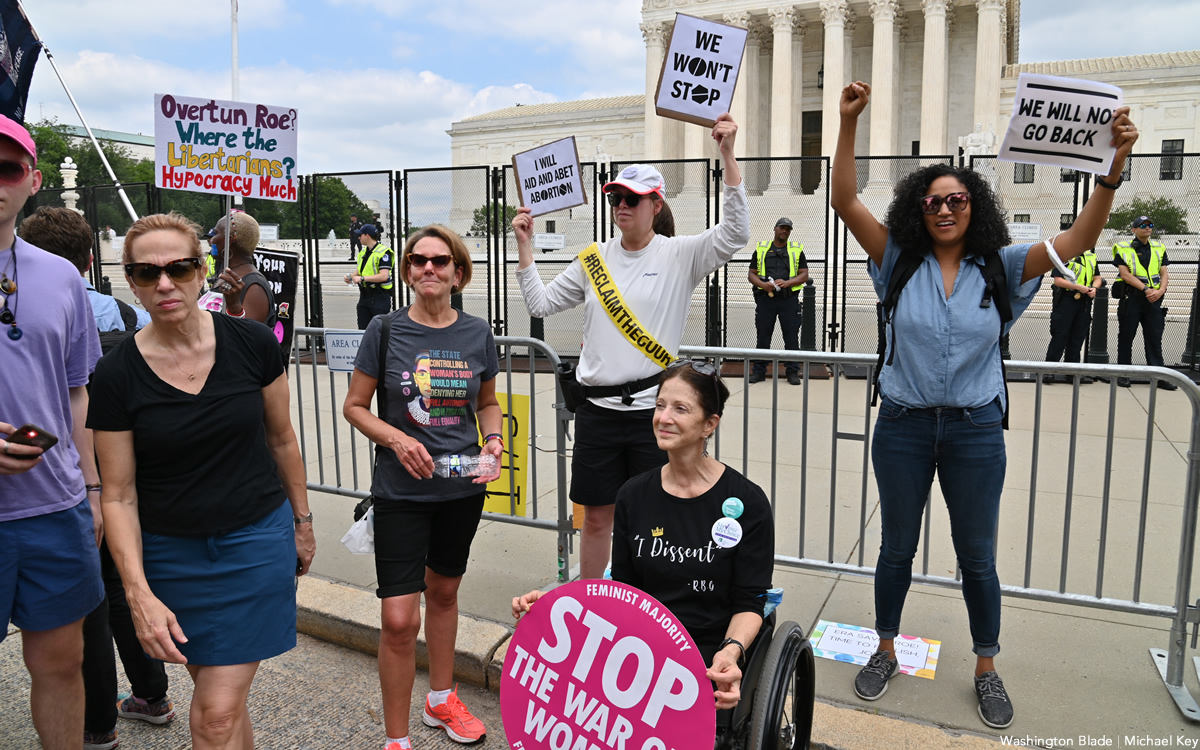 Read the Supreme Court's opinion: