Gay U.S. journalist challenges Russia LGBT rights record
Kremlin-owned RT took Jamie Kirchick off air after segment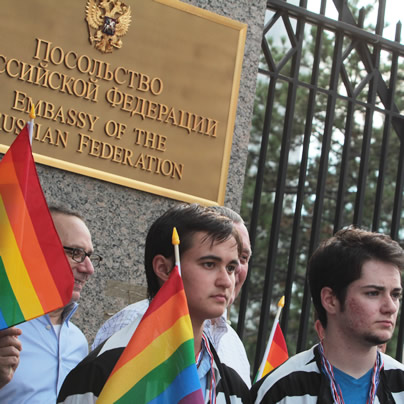 Jamie Kirchick, a writer-at-large for Radio Free Europe who has worked at other publications that include The New Republic, wore rainbow suspenders as he appeared on RT, which is funded through the Kremlin, to discuss the sentencing of former U.S. Army private Bradley Manning whom a military judge at Fort Meade, Md., last month found guilty of leaking classified documents to Wikileaks.
"Being here on a Kremlin-funded propaganda network I'm going to wear my gay pride suspenders and I'm going to speak out against the horrific anti-gay legislation that Vladimir Putin has signed into law, that passed unanimously by the Russian Duma that criminalizes homosexual propaganda," Kirchick said. "It effectively makes it illegal to talk about homosexuality in public. We've seen a spate of violent attacks on gay people in Russia."
Anchor Yulia Shapovalova interrupted Kirchick and asked him about Manning.
"I'm not really interested in talking about Bradley Manning," Kirchick said. "I'm interested in talking about the horrific environment of homophobia in Russia right now. I'm interested in talking about the horrific environment of homophobia in Russia right now, and to let the Russian gay people know that they have friends and allies in solidarity from people all over the world, and that we're not going to be silenced in the face horrific repression that is perpetrated by your paymaster, Vladimir Putin. That's what I'm here to talk about."
Kirchick further criticized Shapovalova and her network for not reporting on the country's LGBT rights record, although RT did air a segment on calls to boycott the 2014 Winter Olympics that will take place in Sochi, Russia, in February on August 12.
"I don't know how as a journalist that you can go to sleep at night seeing what happens to journalists in Russia who are routinely harassed, tortured and sometimes killed by the Russian government," Kirchick said. "I find that abominable. You should be ashamed of yourself. Everyone across this network should be ashamed of yourself."
Kirchick's comments come against the backdrop of growing outrage over the country's LGBT rights record that threaten to overshadow the 2014 Winter Olympics that will take place in Sochi, Russia, in February.
Kirchick did not immediately respond to the Washington Blade's request for comment, but RT took him off the air after the segment. He said on his Twitter account the network called the taxi company that had brought him to its studio in Stockholm, Sweden, from where he appeared on the segment and told it to drop him off on the side of a highway that leads to the Swedish capital's airport.
RT posted a clip of the segment on its Google+ account under a headline that criticized Kirchick.
"James Kirchick joined RT's live discussion panel on the Bradley Manning verdict," it reads. "Instead he went off on a self-promoting rant that was not even tangentially related to the matter at hand."
RT told the Blade late on Wednesday it invited Kirchick to appear on the segment after he wrote an op-ed in the New York Daily News that criticized Manning and his supporters after the judge found him guilty in the Wikileaks case. The network described the verdict the verdict and the former Army private's sentencing as "obviously the major international news event."
"Mr. Kirchick decided to instead use this time to express his opinion on LGBT rights, a matter which, while important, was entirely unrelated to the subject of the panel," RT told the Blade. "Regretfully, RT had no other recourse but to continue the discussion without him."
RT also disputed Kirchick's claim the driver it had hired dropped him off along a highway outside the Stockholm airport.
"Logistics management by RT is often part of the agreement when required for a person's appearance in an RT broadcast," the network told the Blade. "After Mr. Kirchick tried to sabotage RT's broadcast, it's rather surprising that he expected us to pay for his taxi ride."
A gay American journalist on Wednesday challenged Russia's LGBT rights record during an interview with a Russian television network.
Corte Suprema de Justicia de Honduras impide que personas LGBTQ puedan casarse y tengan derechos civiles 
Organizaciones presentan nuevos recursos de inconstitucionalidad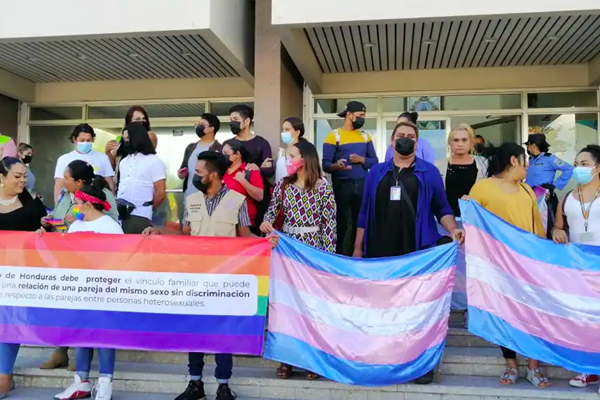 Reportar sin Miedo es el socio mediático del Washington Blade en Honduras. Esta nota salió en su sitio web el 20 de enero.
TEGUCIGALPA, Honduras — Líderes LGBTIQ+ enfrentaron un hecho de discriminación hoy al presentarse en la Corte Suprema de Justicia, donde los guardias de seguridad los reprimieron y cerraron los portones de acceso vehícular y peatonal, impidiéndoles ingresar al edificio para presentar los recursos de inconstitucionalidad sobre el matrimonio igualitario.
En una marcha pacífica, más de 50 personas de la diversidad sexual organizadas en mesas de acceso a la justicia de Honduras salieron del bulevar las Fuerzas Armadas hacia las instalaciones del Poder Judicial para pedirles a los magistrados de la Sala de lo Constitucional que acepten un nuevo recurso tras el fallo anunciado esta semana y presentado en 2018 por las organizaciones Cattrachas y Somos CDC.
Durante los 10 minutos en que se interrumpió el acceso al palacio judicial, lxs activistas denunciaron agresiones verbales del personal de seguridad de la Corte. Al final ingresaron por el portón vehícular. Se instalaron en las gradas de la entrada principal e hicieron un plantón pacífico, durante el cual exclamaron: "Sí se pudo", después de lo cual se permitió que líderes LGBTIQ+ ingresaran a la sala a presentar el nuevo recurso.
Las mesas de acceso a la justicia para población LGBTIQ+ están integradas por Arcoiris, Somos CDC, Asociación Kukulcán, colectivo feminista Ixchel, Somos Trans, Colectivo Violeta, Muñecas de Arcoiris, Grupo Lésbico y Bisexual LITOS de Honduras entre otras.
La directora de Muñecas de Arcoíris, JLo Córdova, y sus compañeras trans marcharon y exigieron a la corte respeto a los derechos civiles de las personas LGBTIQ+ en Honduras.
"No esperamos nada de una clase política opresora", dijo el activista de la Asociación Arcoíris, Donnis Reyes, quien recalcó que el fallo de la CSJ no es nada nuevo, ya que por más de 12 años el Partido Nacional de Honduras ha influenciado las decisiones del Poder Legislativo y Judicial.
"Estamos pidiendo que se deroguen ciertos artículos anticonstitucionales y no están basados en derechos", dijo la directora ejecutiva de la organización feminista Ixchel, Lucía Barrientos, quien se refiere a la opinión consultiva sobre identidad de género, igualdad y no discriminación a parejas del mismo sexo presentada por la Corte IDH.
La Corte IDH ha indicado que existe un vínculo indisoluble entre igualdad y no discriminación y se ha establecido la dificultad de separarlos por cuanto el incumplimiento de uno (igualdad) acarrea necesariamente la verificación de la prohibición del segundo (no discriminación).
En ese sentido, la Corte IDH ha indicado que, en función del reconocimiento de igualdad ante la ley, se prohíbe todo tratamiento discriminatorio. Este principio rector y derecho fundamental fue acertadamente introducido en nuestra Constitución en su artículo 60.
"La falta de reconocimiento jurídico de la realidad conformada por las parejas homosexuales es un atentado contra la dignidad de sus integrantes porque lesiona su autonomía y capacidad de autodeterminación al impedir que su decisión de conformar un proyecto de vida en común produzca efectos jurídico-patrimoniales, lo cual significa que, dado un régimen imperativo del derecho civil, quedan en una situación de desprotección que no están en capacidad de afrontar", resolvió la Corte Suprema de Justicia de Honduras.
La CSJ declaró no ha lugar los recursos de Inconstitucionalidad vía acción y por razón de contenido, ambos contra el Decreto No. 176-2024, emitido por el Congreso Nacional de la República, en fecha 28 de octubre del año 2004, mediante el cual reformó el artículo 112 de la Constitución de la República y el artículo 45 del Código de Familia.
El fallo fue notificado en la tercera semana de enero, a pocos días de la culminación del gobierno nacionalista de Juan Hernández, pero la sentencia fue emitida en abril de 2021, dos meses después (28 de junio) de la sentencia histórica del caso "Vicky Hernández y otros versus Honduras" por la Corte IDH, donde condena al Estado de Honduras por el asesinato de la líder trans de San Pedro Sula y ordena una serie de reparaciones que incluye otorgar, a través de la vía administrativa, el cambio de nombre de las personas trans, así como otra serie de derechos.
Reportar sin Miedo habló con activistas, quienes dijeron: "Hubo un retraso injustificado en la notificación de la sentencia".
En América Latina, 10 países reconocen algún tipo de uniones del mismo sexo. El matrimonio entre personas del mismo sexo es legal en Argentina, Brasil, Chile, Colombia, Costa Rica, Ecuador, México, Uruguay y en los territorios dependientes de Guayana Francesa e islas Malvinas. Bajo una perspectiva del derecho comparado, el reconocimiento de las uniones homosexuales se ha dado a través de dos vías: la judicial (a través de sentencias de tribunales judiciales) y la legislativa.
Sin embargo, en Honduras el artículo 112 Constitucional, en su párrafo primero, literalmente dice: "Se reconoce el derecho del hombre y de la mujer, que tengan la calidad de tales naturalmente, a contraer matrimonio entre sí, así como la igualdad jurídica de los cónyuges. Solo es válido el matrimonio civil celebrado ante funcionario".
Two LGBTQ people named to Chilean president-elect's Cabinet
Gabriel Boric and his government takes office on March 11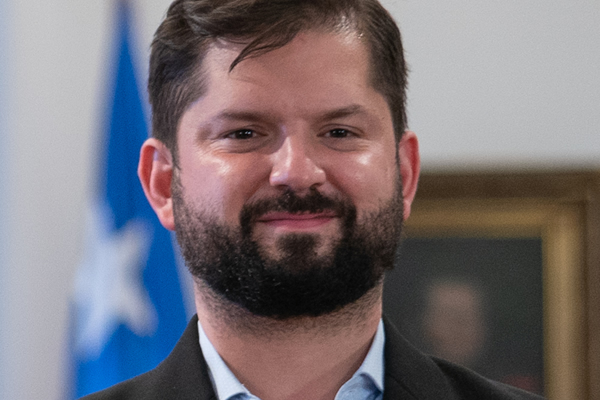 Chilean President-elect Gabriel Boric on Friday named two openly LGBTQ people to his Cabinet.
Marco Antonio Ávila, who is a gay man, will be the country's education minister. Alexandra Benado, who is a lesbian, will be Chile's sports minister.
Javiera Zúñiga, a spokesperson for Movilh (Movimiento de Integración y Liberación Homosexual), a Chilean LGBTQ rights group, applauded Boric for naming Ávila and Benado to his Cabinet.
"The visibility of sexual orientation and gender identity is no longer an impediment to access any position in Chile," said Zúñiga in a press release. "Sexual orientation and gender identity are irrelevant for the positions, whether they are public or private. Capability is the only thing that matters."
Boric and his government will take office on March 11. Chile's marriage equality law goes into effect the day before.
Florida House committee passes "Don't Say Gay" bill
Equality Florida quickly condemned the measure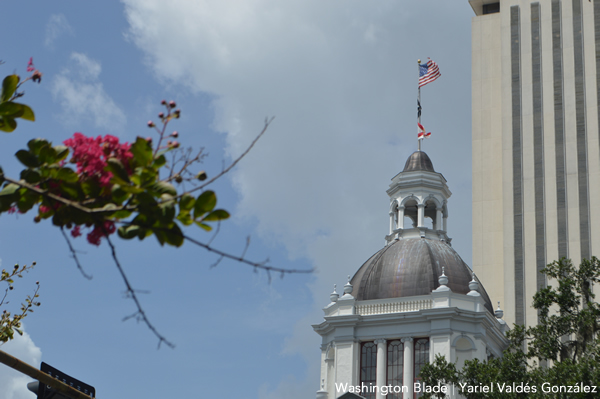 The Republican majority Florida House Education and Employment Committee on Thursday passed House Bill 1557, the Parental Rights in Education bill, colloquially referred to as the "Don't Say Gay" bill advancing the measure to the full House.
HB 1557 and its companion bill, Senate Bill 1834, would ban classroom discussions about sexual orientation and gender identity in schools, erasing LGBTQ identity, history, and culture — as well as LGBTQ students themselves.
The bill also has provisions that appear to undermine LGBTQ support in schools and include vague parental notification requirements which could effectively "out" LGBTQ-identifying students to their parents without their consent.
"The Trevor Project's research has found that LGBTQ youth who learned about LGBTQ issues or people in classes at school had 23 percent lower odds of reporting a suicide attempt in the past year. This bill will erase young LGBTQ students across Florida, forcing many back into the closet by policing their identity and silencing important discussions about the issues they face," said Sam Ames, director of advocacy and government affairs at the Trevor Project. "LGBTQ students deserve their history and experiences to be reflected in their education, just like their peers."
In an email to the Los Angeles Blade, Brandon J. Wolf, the press secretary for Equality Florida noted; "Governor DeSantis' march toward his own personal surveillance state continues. Today, the Don't Say Gay bill, a piece of legislation to erase discussion of LGBTQ people from schools in Florida, passed its first committee and became another component of an agenda designed to police us in our classrooms, doctor's offices, and workplaces. Make no mistake — LGBTQ people are your neighbors, family members, and friends. We are a normal, healthy part of society and we will not be erased."
This will kill kids, @RonDeSantisFL. You are purposefully making your state a harder place for LGBTQ kids to survive in. In a national survey (@TrevorProject), 42% of LGBTQ youth seriously considered attempting suicide last year. Now they can't talk to their teachers? https://t.co/VtfFLPlsn3

— Chasten Buttigieg (@Chasten) January 20, 2022
The Trevor Project's 2021 National Survey on LGBTQ Youth Mental Health found that more than 42 percent of LGBTQ youth seriously considered attempting suicide in the past year, including more than half of transgender and non-binary youth.
According to a recent poll conducted by Morning Consult on behalf of The Trevor Project, 85 percent of transgender and non-binary youth — and two-thirds of all LGBTQ youth (66 percent) — say recent debates about state laws restricting the rights of transgender people have negatively impacted their mental health.
When asked about proposed legislation that would require schools to tell a student's parent or guardian if they request to use a different name/pronoun or if they identify as LGBTQ at school, 56 percent of transgender and non-binary youth said it made them feel angry, 47 percent felt nervous and/or scared, 45 percent felt stressed, and more than 1 in 3 felt sad.
If you or someone you know needs help or support, the Trevor Project's trained crisis counselors are available 24/7 at 1-866-488-7386, via chat at TheTrevorProject.org/Get-Help, or by texting START to 678678.