Marriage equality in all 50 states?
Some say Obama's post-DOMA decisions pushing country in that direction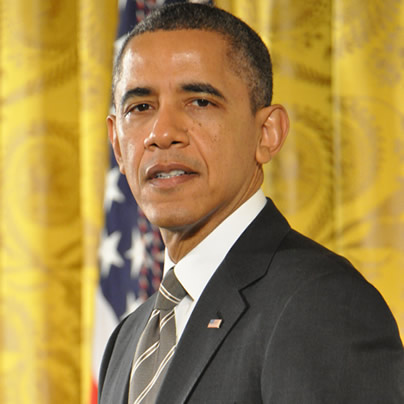 New policy decisions from the Obama administration in the wake of the Supreme Court decision striking down the Defense of Marriage Act are providing benefits for gay couples in a way that some observers say is advancing the pace toward national marriage equality.
In the months after the ruling in June, the U.S. government has announced historic decisions in affording the federal benefits of marriage to same-sex couples who are legally wed. Shortly after the decision, the U.S. Office of Personnel Management granted spousal health and pension benefits to gay federal employees, and just last week, the Pentagon announced it was implementing the benefits along the same lines for gay U.S. service members.
But to receive these benefits, gay couples must be in legal marriages as opposed to any other form of legally recognized relationship, such as civil unions or domestic partnerships. OPM announced in a series of memos in July couples in these unions aren't eligible for federal benefits. And part of its rollout for same-sex spousal benefits, the Pentagon granted up to 10 days leave to allow same-sex couples to travel to a marriage-equality state to wed as opposed to honoring domestic partnerships for the purposes of benefits — retracting a pledge earlier in the year to provide them.
These changes mean gay couples living in the seven states that only offer civil unions or domestic partnerships — Colorado, Illinois, New Jersey, Oregon, Nevada, Hawaii and Wisconsin — will be left out in the cold in terms of federal benefits unless they travel to a marriage-equality state to wed and return. That doesn't take into account rules for certain benefits — Social Security, taxes and family and medial leave — that for the time being extend only to legally married gay couples only if they currently reside in a state that recognizes their union and not to those who apply for them in non-marriage equality states.
The Obama administration's insistence that gay couples be married to receive federal benefits is creating the policy that some observers say is leading the way toward national marriage equality by encouraging more states to adopt marriage rights for gay couples.
Lanae Erickson Hatalsky, a lesbian and director of social policy and politics for the centrist group known as Third Way, said this approach is an "organized way" to implement he Supreme Court's decision against DOMA, but may also strategically advance marriage equality. In particular, she said it'll demonstrate before the state courts hearing marriage equality litigation that civil unions aren't marriage under the law.
"I think that's pretty smart for state litigation purposes and also for ease of administration," Erickson Hatalsky said. "The more we continue to make kind of a second-class status available at the federal level, the harder it's going to be to take that step to what we all know is the goal. So, I think this is a pretty strategic way to kick things in that direction, whereas if you offer essentially a federal domestic partnership or civil unions, it undermines some of those arguments for why we do need marriage."
In addition to battling for marriage equality in state courts in New Jersey, New Mexico and Illinois, LGBT advocates are pushing ahead with the legislative route for marriage equality in numerous states.
In New Jersey, advocates are seeking to overturn Gov. Chris Christie's veto, and in Illinois, there's a push underway to pass same-sex marriage legislation in the State House before the extended legislative session ends on Aug. 30. Lawmakers in Hawaii have also recently also met about passing marriage equality in the Aloha State. Each of these states already has civil unions.
Dan Pinello, who's gay and a political scientist at the City University of New York, said the Obama administration's decision to grant benefits only to legally married couples provides an incentive for lawmakers in these states to legalize same-sex marriage.
"The practical political effect of limiting federal benefits to legally married same-sex couples will be substantially to increase the pressure on states like Illinois and New Jersey to embrace marriage equality fully," Pinello said.
But the prevailing notion among observers is that the Obama administration is extending benefits only to married gay couples  because the Windsor decision allotted for that change and any push toward national marriage equality as a result of that implementation is incidental.
Richard Socarides, a gay New York attorney who was an LGBT adviser for former President Clinton, said he thinks the Obama administration is not intending to advance same-sex marriage or to undermine civil unions through its implementation of the DOMA decision.
"Probably neither intentionally," Socarides said. "Just doing what they think is legally appropriate."
CUNY's Pinello similarly said the Obama administration had little room in the way it's implementing the decision because the majority opinion made no mention of civil unions.
"I don't think that the Obama administration has much choice in the matter, because Justice Anthony Kennedy's majority opinion in U.S. v. Windsor explicitly limits the Court's decision to marriages," Pinello said. "Civil unions and domestic partnerships aren't within the holding of the ruling."
Asked whether the administration had intended to advance marriage equality through its implementation of the DOMA ruling, a White House official, speaking on condition on anonymity, said the administration "is working to implement the Supreme Court's ruling in compliance with the law."
"The president has directed the attorney general to work with the Cabinet to review all relevant federal statutes to ensure this decision and its implications for federal benefits and obligations are implemented swiftly and smoothly," the official added.
Still, the administration's method of enhancing marriage rights for gay couples is a drastic change from President Obama's declaration as a candidate in 2008 that civil unions "represent the best way to secure that equal treatment," a position he held before evolving to embrace marriage equality last year.
And implementing the DOMA decision only for married couples doesn't explain why the Pentagon withdrew domestic partners benefits after pledging to implement them in February. Defense Secretary Chuck Hagel said in the memo last week announcing the implementation of the benefits that domestic partnership benefits are "no longer necessary to remedy the inequity that was caused by Section 3 of the Defense of Marriage Act."
Christie says couples in civil unions should receive fed'l benefits
Meanwhile, at the other end of the spectrum is Chris Christie, whose recent brief in the New Jersey lawsuit seeking marriage equality, known as Garden State Equality v. Dow, contends civil unions within New Jersey should be included among the unions to which the federal government awards benefits. The argument is made in a brief arguing that the court shouldn't grant summary judgment in favor of marriage equality in New Jersey.
"The examples are endless," the brief states. "Suffice it to say that a sizable, but indeterminate, number of the over 1,000 benefits and responsibilities that were inapplicable to civil union couples because of DOMA are now available to them because they are spouses, husbands, wives, widows or widowers under New Jersey law."
Arguably, his attorney's brief is shifting the debate another way by encouraging the expansion of civil unions in its argument that states with civil unions should be rewarded with the federal benefits of marriage.
Gregory Angelo, executive director of Log Cabin Republicans, refuted the assertion of his organization's sometime ally Christie, saying says marriage equality is the way to go in New Jersey and would clear up any confusion about awarding federal benefits of marriage in the state.
"Civil unions are not the same as civil marriage," Angelo said. "In the wake of the DOMA decision we said that the focus was going to be on the states and that's where we're focused. The Obama administration's decision to grant federal marriage benefits to gay couples also shows that there are gray areas emerging since the Court overturned Section 3 of DOMA. The best, cleanest, strongest way to ensure benefits is through legislative action."
Plans are also set for a legislative fix to ensure that couples in domestic partnerships and civil unions can receive certain federal benefits. Rep. Linda Sanchez (D-Calif.) earlier this month introduced the Social Security Equality Act, which in addition to clarifying that married gay couples nationwide should receive Social Security benefits would also ensure they flow to couples in civil unions.
Additionally, Rep. Mark Pocan (D-Wis.) is expected to soon reintroduce the Domestic Partnership Benefits & Obligations Act — and the new version, according to a House aide in his office, is slated to provide gay federal employees in civil unions or domestic partnerships, like those in Wisconsin, with the federal benefits of marriage.
As this discussion is underway, the Human Rights Campaign is arguing that the federal benefits of marriage in some circumstances — notably Social Security benefits — should be available to gay couples in civil unions if they're living in a state that recognizes them as spouses.
Michael Cole-Schwartz, an HRC spokesperson, said his organization is pursuing a dual track advocating for marriage equality in all 50 states as it pushes for federal recognition of civil unions for certain benefits.
"Under most federal laws, benefits are designed to flow to married couples, which is why civil unions and domestic partnerships have always been insufficient," Cole-Schwartz said. "The issue is that marriage needs to be available to couples in every state so that no couple is denied recognition from the federal government. However there are cases where if a state recognizes a member of a civil union as a spouse under state law, federal benefits can flow to that person. We are advocating that those benefits be available to couples in civil unions and we await further guidance from federal agencies as to their plans for those situations."
Elected officials turn out for annual Equality NoVa Ice Cream Social
Northern Virginia LGBTQ group stresses 'political awareness, education'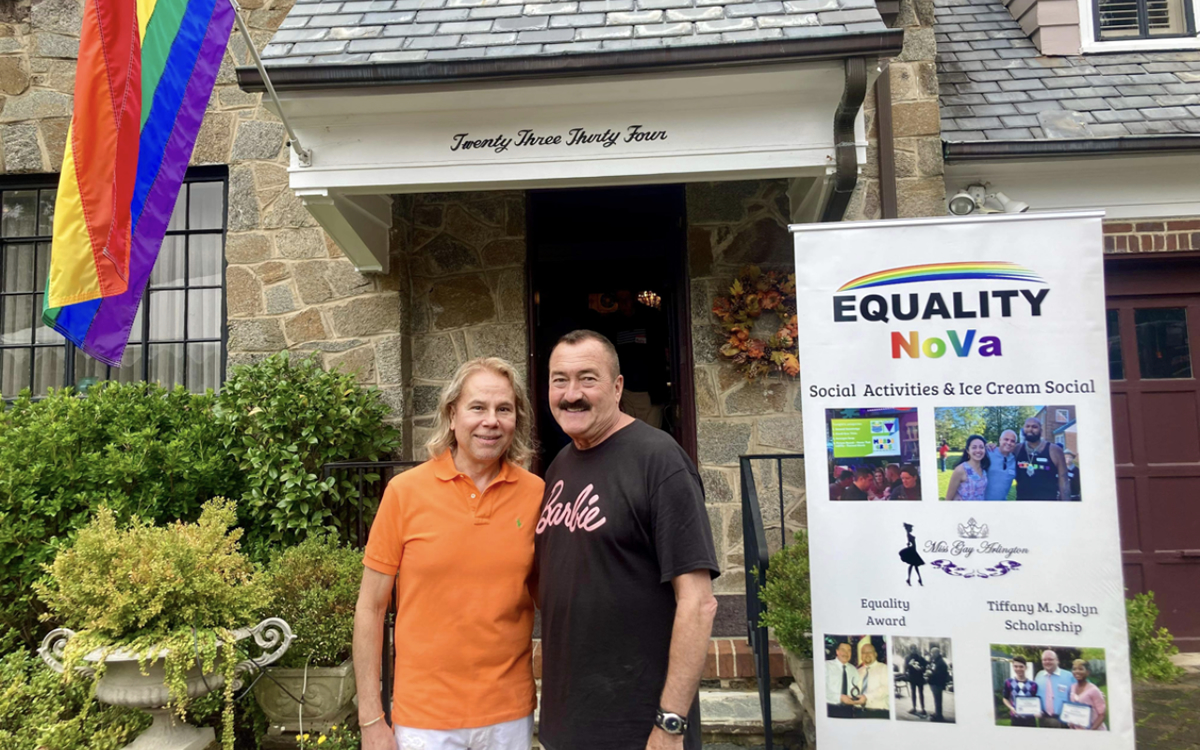 Four LGBTQ supportive members of the Virginia General Assembly and two candidates running for seats on the Arlington County Board were among more than 100 people who turned out on Sunday, Sept. 24, for the LGBTQ organization Equality NoVa's annual Ice Cream Social.
The event was held at the Arlington, Va. home of Freddie Lutz, owner of the Arlington gay bar and restaurant Freddie's Beach Bar, and Lutz's husband, Johnny Cervantes.
Daniel Hays, president of Equality NoVa, told those attending the event in introductory remarks that Equality NoVa, which recently changed its name from the Arlington Gay and Lesbian Alliance (AGLA), was founded in 1981 and is the oldest continuously operating LGBTQ organization in Virginia.
In an announcement in April the group said the name change came after it had taken on for some time the activities and representation of the now-defunct LGBTQ groups in Alexandria and Fairfax counties and had expanded its operations to cover most if not all the regions known as Northern Virginia.
Hays noted that the group is a nonpartisan organization that doesn't endorse candidates for public office but organizes educational and political awareness events and awareness campaigns on issues impacting LGBTQ people related to statewide and local government agencies and officials.
The elected officials attending the event were Virginia House of Delegates members Charniele Herring (D-Alexandria & Fairfax), Elizabeth Bennett-Parker (D-Alexandria & Arlington), and Vivian Watts (D-Fairfax).
Also attending was Virginia State Sen. Barbara Favola, a Democrat whose district includes parts of Arlington, Fairfax, and Loudoun Counties.
Joining the state lawmakers attending the Equality NoVa social were Arlington County Board candidates Maureen Coffey and Susan Cunningham and Arlington County School Board candidate Miranda Turner.
Many of those attending the event said they were rooting for the re-election of Herring, Bennett-Parker, Watts, and Favola in the upcoming Virginia elections in November. All members and candidates for the General Assembly will be on the ballot in an election that political observers say could decide which party controls both houses of the state legislature.
Currently, Democrats control the 40-member Virginia Senate by a margin of 22-18 seats. Republicans currently control the House of Delegates by a margin of 51 to 46 seats, with three vacancies in the 100-member House.
With Virginia Gov. Glenn Youngkin (R) putting in place through executive action public school policies that LGBTQ activists consider hostile and discriminatory for transgender students, LGBTQ activists are hopeful that a Democratic takeover of the House of Delegates would result in a reversal of Youngkin's school policy.
Some of the activists attending the Equality NoVa event said they were fearful that a Republican takeover of the state Senate and if Republicans retain control of the House of Delegates could result in the General Assembly approving the type of anti-LGBTQ legislation passed in Florida and other states.
Gay journalist murdered inside Philadelphia home
Josh Kruger's death has left city 'shocked and saddened'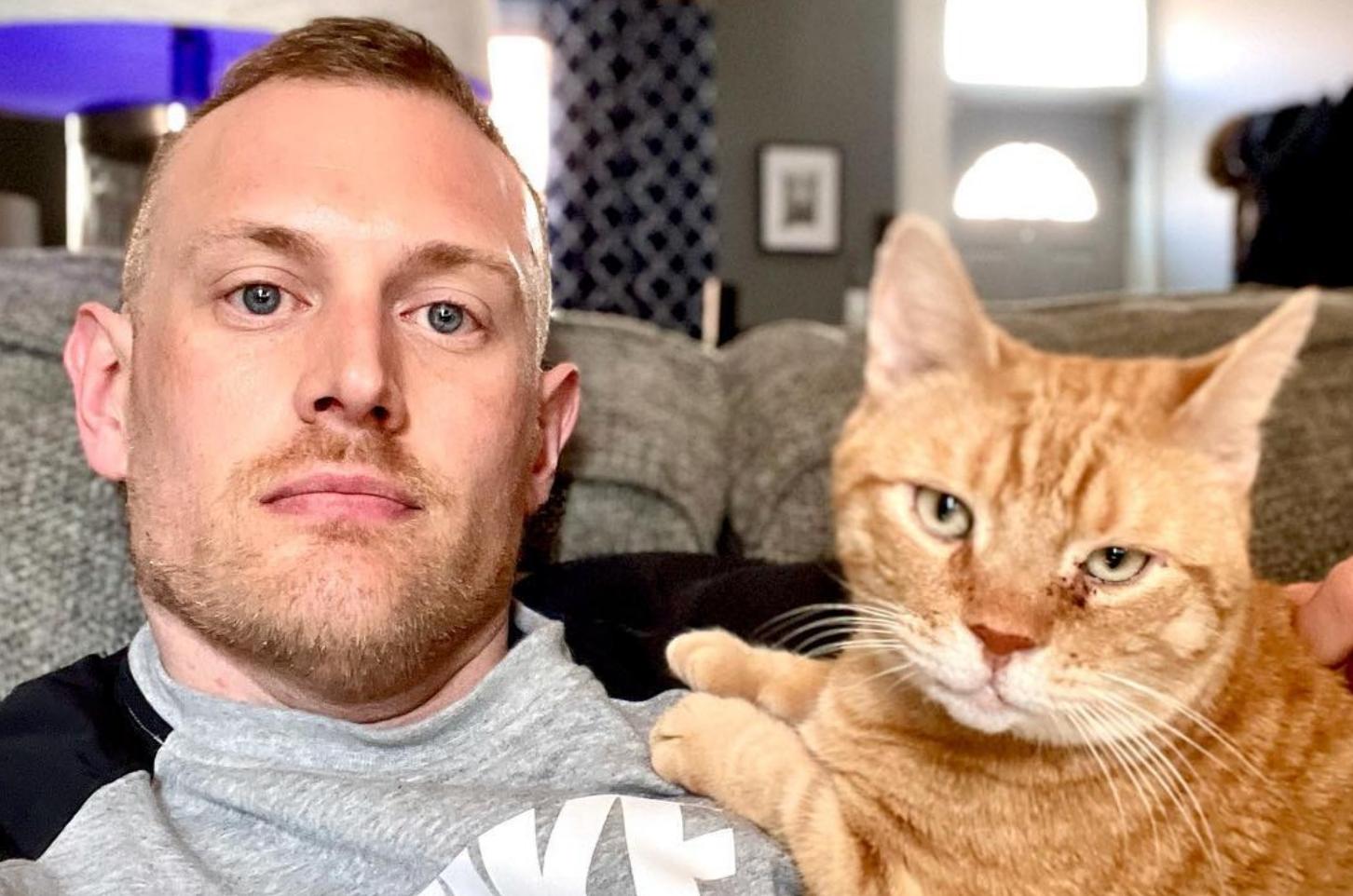 An openly gay journalist was shot to death in his Point Breeze neighborhood home in the 2300 block of Watkins Street in South Philadelphia early Monday morning.
According to Officer Shawn Ritchie, a spokesperson for the Philadelphia Police Department, 39-year-old Josh Kruger was shot at about 1:30 a.m. and collapsed in the street after seeking help. Kruger was transported to Penn Presbyterian Hospital where he was pronounced dead at 2:13 a.m.
Police said that Kruger was shot seven times throughout the chest and abdomen and that no weapons were recovered nor have any arrests been made. Homicides investigators noted that there was no sign of forced entry and the motive remains unclear.
Philadelphia District Attorney Larry Krasner said in a statement:
"Josh Kruger lifted up the most vulnerable and stigmatized people in our communities — particularly unhoused people living with addiction. As an openly queer writer who wrote about his own journey surviving substance use disorder and homelessness, it was encouraging to see Josh join the Kenney administration as a spokesperson for the Office of Homeless Services.
Josh deserved to write the ending of his personal story. As with all homicides, we will be in close contact with the Philadelphia police as they work to identify the person or persons responsible so that they can be held to account in a court of law. I extend my deepest condolences to Josh's loved ones and to all those mourning this loss."
WHYY reported Kruger had written extensively with bylines in multiple publications, including the Philadelphia Inquirer, Philadelphia Magazine, the Philadelphia Citizen, WHYY, and Billy Penn.
CBS News reported that Kruger overcame homelessness and addiction to work for five years in city government, handling Mayor Jim Kenney's social media and serving as the communications director for the city's Office of Homeless Services.
He left city government in 2021 to return to journalism, according to his website.
"He was more than just a journalist," Kendall Stephens, who was a friend and neighbor of Kruger's, told CBS News. "He was more than just a community member. He was somebody that fought that great fight so many of us are not able to fight that fight because we're too busy sheltered in our own homes wondering if someone is going to knock down our doors and kill us the same way they killed him. The same way they tried to kill me. And we're tired of it."
Kenney said in a statement that he is "shocked and saddened" by Kruger's death.
"He cared deeply about our city and its residents, which was evident in his public service and writing. Our administration was fortunate to call him a colleague, and our prayers are with everyone who knew him."
Shocked and saddened by Josh Kruger's death. He cared deeply about our city and its residents, which was evident in his public service and writing.

Our administration was fortunate to call him a colleague, and our prayers are with everyone who knew him. https://t.co/dnRxQ0Ic3W

— Mayor Jim Kenney (@PhillyMayor) October 2, 2023
The District Attorney's LGBTQ+ Advisory Committee issued the following statement:
"Many of us knew Josh Kruger as a comrade who never stopped advocating for queer Philadelphians living on the margins of society. His struggles mirrored so many of ours — from community rejection, to homelessness, to addiction, to living with HIV, to poverty — and his recovery, survival, and successes showed what's possible when politicians and elected leaders reject bigotry and work affirmatively to uplift all people. Even while Josh worked for the mayor, he never stopped speaking out against police violence, politicized attacks on trans and queer people, or the societal discarding of homeless and addicted Philadelphians.
We are devastated that Josh's life was ended so violently. We urge anyone who has information that could lead to an arrest and prosecution for Josh's murder to contact the Philadelphia Police or the DA's Office directly. LGBTQ+ Philadelphians experience violence of all kinds every day; few people used their platforms to remind powerful people in government of that reality as effectively as Josh Kruger did. Josh and the communities he advocated for every day of his life deserve nothing less than justice and accountability for this outrageous crime."
Pope Francis says he is open to blessings for same-sex unions
Pontiff vehemently opposed marriage equality in native Argentina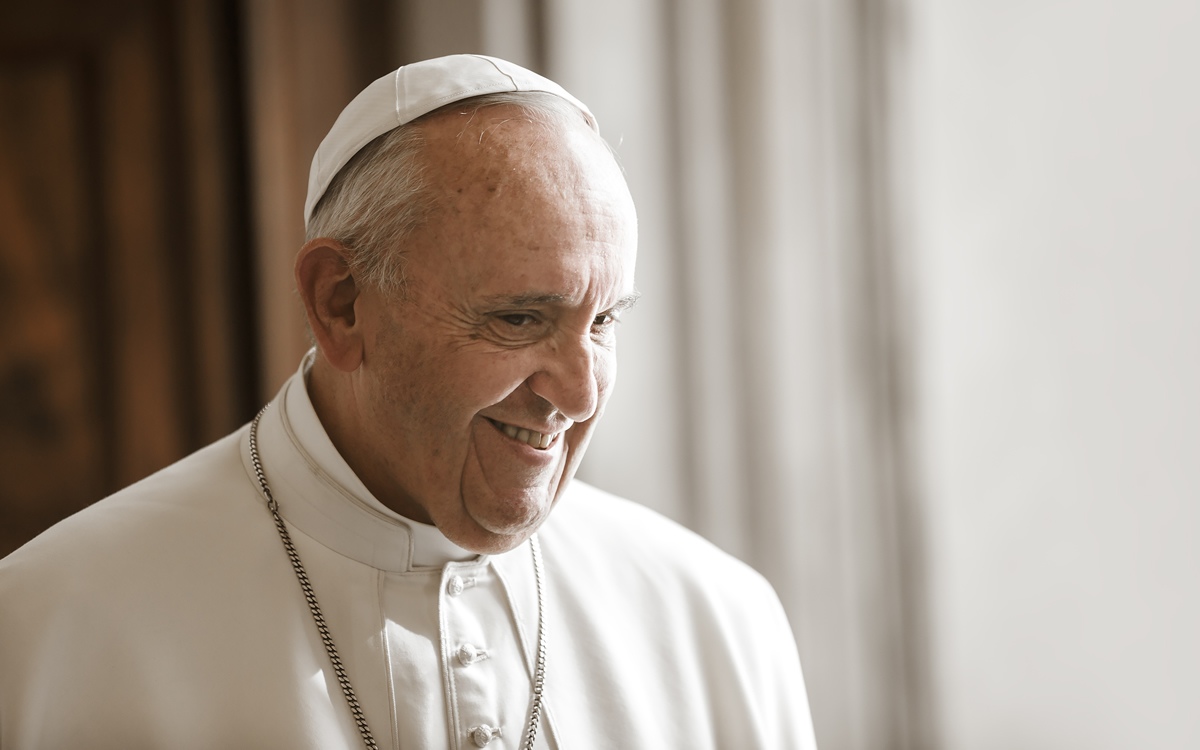 Pope Francis has said he is open to the possibility that the Catholic Church would allow blessings for same-sex unions.
The Vatican's Dicastery for the Doctrine of the Faith on Monday released a letter that Francis wrote to five cardinals who urged him to reaffirm church teaching on homosexuality ahead of this week's Synod on Synodality, a meeting during which LGBTQ Catholics, women in the church and other issues will be discussed.
Francis wrote the letter on July 11.
The Associated Press reported Francis said "such (same-sex) blessings could be studied if they didn't confuse the blessing with sacramental marriage."
"This new step, outlined in a document released on Oct. 2 by the Vatican's Dicastery for the Doctrine of the Faith, allows for pastoral ministers to administer such blessings on a case-by-case basis, advising that 'pastoral prudence' and 'pastoral charity' should guide any response to couples who request a blessing," noted Francis DeBernardo, executive director of New Ways Ministry, a Maryland-based organization that ministers to LGBTQ Catholics, on Monday in a press release. "It also indicates that permitting such blessings cannot be institutionalized by diocesan regulations, perhaps a reference to some dioceses in Germany where blessings are already taking place with official and explicit permission. 'The life of the church,' the pope writes, 'runs through many channels in addition to the standard ones,' indicating that respecting diverse and particular situations must take precedence over church law."
DeBernardo in the same press release said the "allowance for pastoral ministers to bless same-gender couples implies that the church does indeed recognize that holy love can exist between same-gender couples, and the love of these couples mirrors the love of God."
"Those recognitions, while not completely what LGBTQ+ Catholics would want, are an enormous advance towards fuller and more comprehensive equality," he said. "This statement is one big straw towards breaking the camel's back of the marginalized treatment LGBTQ+ people experience in the church."
The Vatican's tone towards LGBTQ and intersex issues has softened since Francis assumed the papacy in 2013.
Francis has publicly endorsed civil unions for same-sex couples, and has said laws that criminalize homosexuality are "unjust." Church teachings on homosexuality and gender identity have nevertheless not changed under Francis' papacy.
Francis earlier this year told a newspaper in his native Argentina that gender ideology as "one of the most dangerous ideological colonizations" because "it blurs differences and the value of men and women."
The pope was the archbishop of Buenos Aires when a law that extended marriage rights to same-sex couples in Argentina took effect in 2010. Francis was among those who vehemently opposed the marriage equality bill before then-President Cristina Fernández de Kirchner signed it.