Pro-LGBT Christians distance themselves from anti-gay summit
More religious leaders add their voices to the NALT Christian Project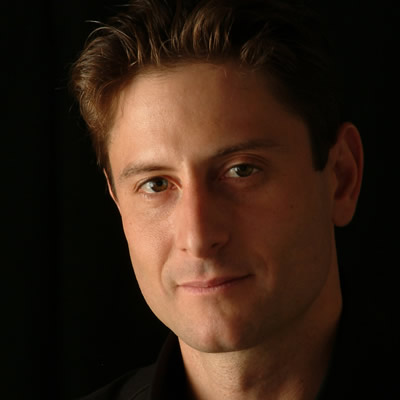 One day before a conference hosted by the anti-gay Family Research Council is set to take place, Christian leaders are turning up the volume on their message that the social conservative group doesn't speak for everyone and their faith, in fact, welcomes LGBT people.
On Thursday, religious leaders affiliated with the "Not All Like That" Christian project held a news conference at the National Press Club to decry the anti-gay sentiment often expressed by others in their religion and leaders at the upcoming Values Voter Summit.
Rev. Gary Hall, dean of the National Cathedral in D.C., which earlier this year made the decision to conduct same-sex weddings, said it's not enough for the religious to say they accept LGBT people, but also embrace them.
"It's really important for the church to say, first, that sexuality is good and that sexuality is a gift, and that human beings are called to live out their sexuality freely and responsibility and creativity and compassionately and ethically with other people," Hall said.
Heading up the conference was Wayne Besen, executive director of Truth Wins Out, who attributed the current gridlock in Washington to the kind of vitriol coming from the religious-right in American politics.
"I ask you: are politics in America more civil, more humane, dare I say more Christ-like since the infusion of the religious right?" Besen said. "The answer is clear, Washington, and much of the country, is angrier, more dysfunctional and more fractured than ever. It's time for change."
The Values Voter Summit is set to take place in the Omni Shoreham Hotel in D.C. and will feature prominent conservatives like the National Organization for Marriage's Maggie Gallagher, Sen. Marco Rubio (R-Fla.), Sen. Ted Cruz (R-Texas) and Rep. Michelle Bachmann (R-Minn.). Another prominent speaker is Ben Carson, a conservative neurosurgeon who once compared LGBT advocacy to endorsing pedophilia and bestiality.
Michael Keegan, president of the People for the American Way, said the upcoming Values Voter Summit marks the "high holidays of extremism" for leaders of the religious right.
"They are extremists that have pushed vicious smears against progressives, against immigrants, against non-Christians, and, I think, most importantly, and most frequently, members of the LGBT community," Keegan said.
Brent Childers, executive director of Faith in America, expressed regret that he once partnered with organizations that held anti-gay views and decried that their actions are contributing young LGBT people's decision to take their lives.
"If a pastor or church member asks you to partner with that message coming from those anti-gay religious organizations, tell them that you do not want to make a mockery of your faith," Childers said, "because the message that would cause that type of harm cannot be sanctioned by the Christian faith."
The news conference highlighted new videos for that NALT Christian Project, which aims to provide a voice for Christians who want to post online videos of themselves to proclaim they're "not all like that" in terms of holding anti-gay views. Among the new videos were from Rev. Gene Robinson, the first openly gay Episcopal bishop.
In response to the Washington Blade's inquiry on the news conference, the Family Research Council replied  by sending its own video depicting Dan Savage, a co-founder of the NALT Christian Project, as bully to Christian teens. The video includes Savage using profanity as he rails against the religious right.
Besen responded to the video by saying that the Family Research Council is seeking to deflect attention away from its "insidious message" by taking Savage's comment grossly out of context.
"Savage may use naughty words, but he is correct to point out FRC's naughty behavior," Besen said. "Furthermore, Savage has never worked to strip fundamentalist Christians of their rights, while FRC is a lobby group that works tirelessly to keep LGBT people as second class citizens."
Following the news conference, Besen told the Blade he thinks progress can be made in encouraging religious leaders to be more pro-LGBT because younger people of faith, like other young people, tend to be more accepting. Still, Besen noted there's still challenges.
"There's still a heavy price to pay if you come out in support of equality, you could have a divisive issue, you could lose your job," Besen said. "We're starting to see the change where we you can speak out, I believe, but it's going to take a lot of work."
Victory Fund honors Maine House speaker at D.C. conference
Ryan Fecteau is gay Catholic University alum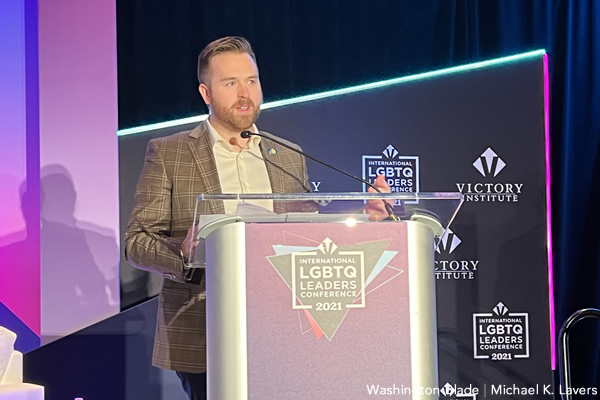 The Victory Fund on Saturday honored Maine House Speaker Ryan Fecteau on the last day of its International LGBTQ Leaders Conference in D.C.
Fecteau — an openly gay Catholic University of America alum — won a seat in the Maine House of Representatives in 2014. He became the chamber's speaker in 2018.
"Hate and intolerance will not derail us," said Fecteau after Florida state Rep. Carlos Guillermo Smith presented him with the Tammy Baldwin Breakthrough Award, which is named after U.S. Sen. Tammy Baldwin (D-Wis.). "Our community will not be intimidated."
The Victory Fund on Friday honored Guatemalan Congressman Aldo Dávila, a gay man who is living with HIV.
Rachel Levine: Efforts to deny health care to trans youth are 'politics'
Former Pa. health secretary opened Victory Fund conference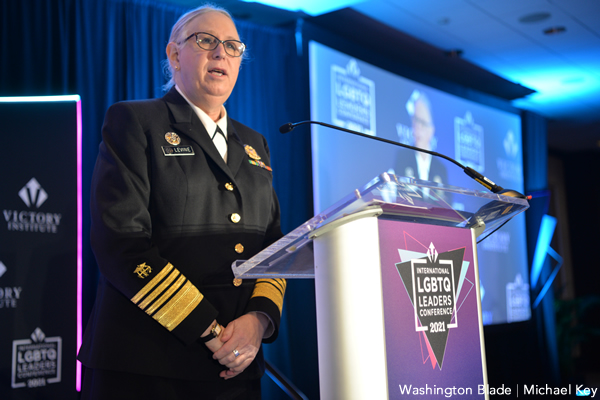 Assistant Health Secretary Rachel Levine on Thursday criticized efforts to prevent transgender youth from accessing health care.
"Unfortunately, some have fought to prevent transgender youth from accessing the health care that they need," she said in a speech she delivered at the opening of the Victory Fund's 2021 International LGBTQ Leaders Conference that took place in-person at the JW Marriott in downtown D.C. "This is politics and this politics has no place in health care and public health and they defy the established standards of care written by medical experts."
Levine was Pennsylvania's Health Secretary until President Biden nominated her to become assistant secretary of health.
She became the first openly trans person confirmed by the U.S. Senate in March. Levine in October became a four-star admiral in the U.S. Public Health Service.
The conference will take place in-person and virtually through Sunday.
VIDEO: Biden addresses advocates on World AIDS Day
President says end to transmission 'within striking distance'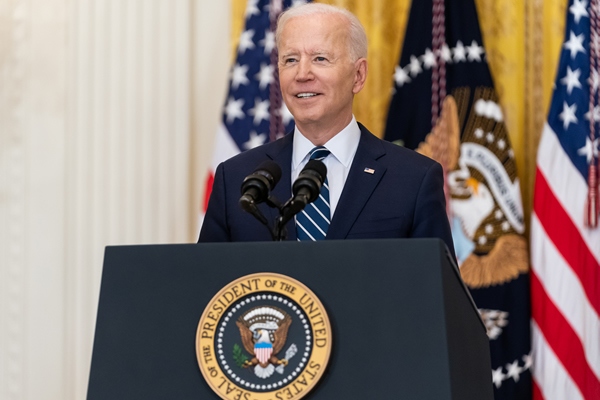 President Biden, in remarks delivered Wednesday at the White House in recognition of World AIDS Day, said to advocates in the fight against HIV/AIDS the end to HIV transmission was near.
"It's because of you and it's not hyperbole to suggest that we are within striking distance of eliminating HIV transmission, within striking distance," Biden told attendees in the East Room.
Joining Biden in the East Room were Secretary of Health & Human Services Xavier Becerra and Gabriel Maldonado, an HIV/AIDS Advocate and founder of TruEvolution, a Riverside, Calif.-based LGBTQ group.
Biden also during his remarks touted having made the appointment of Harold Phillips to lead the White House Office of National AIDS Policy — a position that had gone vacant throughout the entirety of the Trump administration.
Notably, Biden talked about the Ending the HIV Epidemic plan, an initiate health officials started in the Trump administration, by saying was to beat HIV domestically by 2030. That was initial target date when the initiative, but Biden had campaigned on defeating by HIV by 2025 to the skepticism off observers.
Watch Biden full remarks below: