Calendar: Events through Oct. 24
Parties, exhibits, concerts and more for the coming week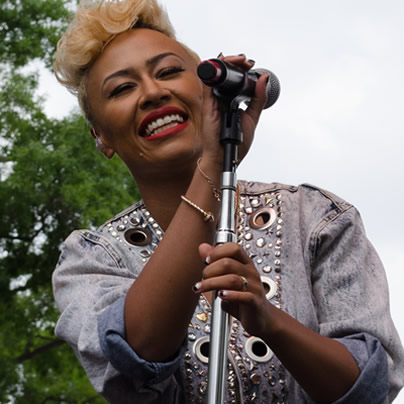 Friday, Oct. 18
DJ Joe Gauthreaux spins at Cobalt (1639 R St., N.W.) tonight. Free rail vodka drinks from 11 p.m.-midnight. Cover is $10. Admission is 21 and up. For more information, visit cobaltdc.com.
Town (2009 8th St., N.W.) hosts Bear Happy Hour tonight from 6-11 p.m. There is no cover charge and admission is limited to guests 21 and over. For more information, visit towndc.com.
Bachelor's Mill (1104 8th St., S.E.) holds a happy hour from 5-7:30 p.m. tonight with all drinks half price. Hip music begins at 11 p.m. Enjoy pool, video games and cards. Admission is $5 after 9 p.m. Must be 21 and over. For more details, visit bachelorsmill.com.
Saturday, Oct. 19
British singer-songwriter Emeli Sandé performs at Meyerhoff Symphony Hall (1212 Cathedral St., Baltimore) tonight at 7 p.m. Tickets range from $29.60-$40. For details, visit bsomusic.org.
The Birchmere presents 2CELLOS, a cellist duo, at the Lisner Auditorium at George Washington University (730 21st St., N.W.) tonight at 8 p.m. Tickets are $55. For more details, visit lisner.gwu.edu or call 202-994-6800.
The Bethesda Row Arts Festival runs today in downtown Bethesda (4841 Bethesda Ave., Md.) from 11 a.m.- 6 p.m. and Sunday from 10 a.m.-5 p.m.  Enjoy work from artists and crafters, listen to local music performances and participate in kid-friendly activities. The festival benefits NIH Children's Charities. Admission is free. For details, visit bethesdarowarts.org.
Burgundy Crescent, a gay volunteer organization, volunteers today for the Lost Dog and Cat Rescue Foundation at the Falls Church PetSmart (6100 Arlington Blvd., Falls Church, Va.) at 11:45 a.m. today. You will be paired with a dog on a leash to walk around and play with. Wear casual clothes. For more information, visit burgundycrescent.org.
The Arlington Gay and Lesbian Alliance (AGLA) hosts its monthly brunch event at Freddie's Beach Bar and Restaurant (555 S. 23rd St., Arlington, Va.) today from 11 a.m.-1 p.m. The brunch is an all-you-can-eat breakfast buffer with made to order omelets and Belgian waffles with coffee, soda or juice. Cost is $9.95. Fore details, visit agla.org.
The Hamilton (600 14th Street, N.W.) hosts a free screening of the cult classic "The Rocky Horror Picture Show" tonight at 10 p.m. Doors open at 9. Go here for details.
Sunday, Oct. 20
Organist Ken Cowan performs at First Baptist Church of Washington (1328 16th St., N.W.) today at 4 p.m. Admission is free but contributions accepted. For more details, visit firstbaptistdc.org.
Perry's (1811 Columbia Rd., N.W.) hosts its weekly "Sunday Drag Brunch" today from 10 a.m.-3 p.m. The cost is $24.95 for an all-you-can-eat buffet. For more details, visit perrysadamsmorgan.com.
Adventuring, an LGBT outdoors group, hosts its "Great Falls Difficult Run" hike through Great Falls Park (9200 Old Dominion Dr., Mclean, Va.) at 9:15 a.m. today. Alternately you can meet at the Tenleytown Metro (4530 40th St., N.W.) at 8:30 a.m. to carpool. The hike is 5.1 miles with an elevation gain of 250 feet. The walk has a view of the Falls from the Virginia side as well as the Potomac as it rushes through Mather Gorge below the Falls. The Difficult Run Trail has sustained flood damage and is steep and narrow. Bring water, snacks and bug spray. Cost is $2 for trip fee, $4 for the park entrance and $2 to reimburse the driver if you are carpooling from Tenleytown. For more information, visit adventuring.org.
Nellie's Sports Bar (900 U St., N.W.) hosts the final day of its silent shoe auction today. Come make your final bids on sneakers decorated by the community toe benefit the AIDS Walk. For details, visit nelliessportsbar.com.
Special Agent Galactica is at L'Enfant Cafe (2000 18th St. N.W.) tonight at 7 p.m. with Peter Fields. Details at pinkhairedone.com.
Monday, Oct. 21
Rainbow History Project presents "Prejudice and Pride," a panel discussion about discrimination against African Americans in the D.C. LGBT community in the 1970s and 1980s, at the Thurgood Marshall Center (1816 12th St., N.W.) today at 6:30 p.m. Admission is free. For more information, visit rainbowhistory.org.
Us Helping Us  (3636 Georgia Ave., N.W.) holds a support group for gay black men to discuss topics that affect them today, share perspectives and have meaningful conversations. For details, visit uhupil.org.
Tuesday, Oct. 22
Genderqueer D.C. holds a discussion group at The D.C. Center (13181 U St., N.W.) at 7 p.m. tonight. The group is for anyone who identifies outside of the gender binary as bigender, agender, genderfluid or any label outside of cisgender. For more information, visit thedccenter.org.
Whitman-Walker holds free HIV testing at Panam Supermarket (3552 14th St., N.W.) tonight from 7-9 p.m. For details, visit whitman-walker.org.
SMYAL (410 7th St., S.E.) hosts a "Rap Group" today from 5-6:30 p.m. Discuss stressful issues like school, bullying, getting into college or finding a job in this support group. For more details, visit smyal.org.
Mattilda Bernstein Sycamore will read from her memoir "The End of San Francisco" this evening at Busboys and Poets (1025 5th Street, N.W.) at 6:30 p.m. in the Cullen Room. More information at mattildabernsteinsycamore.com.
Wednesday, Oct. 23
The Lambda Bridge Club meets tonight at 7:30 p.m. at the Dignity Center (721 8th St., S.E.) for duplicate bridge. No reservations required and new comers welcome. If you need a partner, call 703-407-6540.
The D.C. Center and Pros in the City host "Forty Plus Gay Men Speed Dating" at Finn and Porter D.C. (900 10th St., N.W.) at 7 p.m. tonight. Speed dating will last approximately one hour. After enjoy a mixer with fellow speed daters. There will be a cash bar. Check-in is at 7 and dating begins at 7:20. You will be able to contact anyone you meet through an exclusive online messaging system 48 hours after the event. Tickets are $30. Three hour complimentary parking offered to guests who purchase two drinks or other items from the bar or restaurant. For more details and to purchase tickets, visit prosinthecity.com.
The HIV Working Group holds a meeting at The D.C. Center (1318 U St., N.W.) tonight at 7 p.m. The HIV Working Group is a volunteer-driven HIV/AIDS outreach, education, and advocacy initiative of the Center. For more information, visit thedccenter.org.
Thursday, Oct. 24
Washington Blade hosts its "2013 Best of Gay D.C. Party" at The Huxley (1730 M St., N.W.) tonight from 6-9 p.m. Winners of the "Best of Gay D.C." will be announced. You can also win a pair of tickets to see Cher. For details, visit facebook.com/washingtonblade/events.
Gays and Lesbians Opposing Violence (GLOV) holds a meeting at The D.C. Center (1318 U St., N.W.) tonight from 7-8:30 p.m. GLOV works to reduce violence against LGBT individuals through community outreach, education and assisting members of anti-LGBT violence. For more details, visit thedccenter.org.
Rude Boi Entertainment hosts "Tempted 2 Touch," a ladies dance party, at the Fab Lounge (2022 Florida Ave., N.W.) Doors open at 10 p.m. Drink specials $5 and vodka shots $3 all night. No cover charge. Admission limited to guests 21 and over. For more details, visit rudeboientertainment.wordpress.com.
The 'Spoiler' is you're going to cry
Love is worth it even when you know it's going to end badly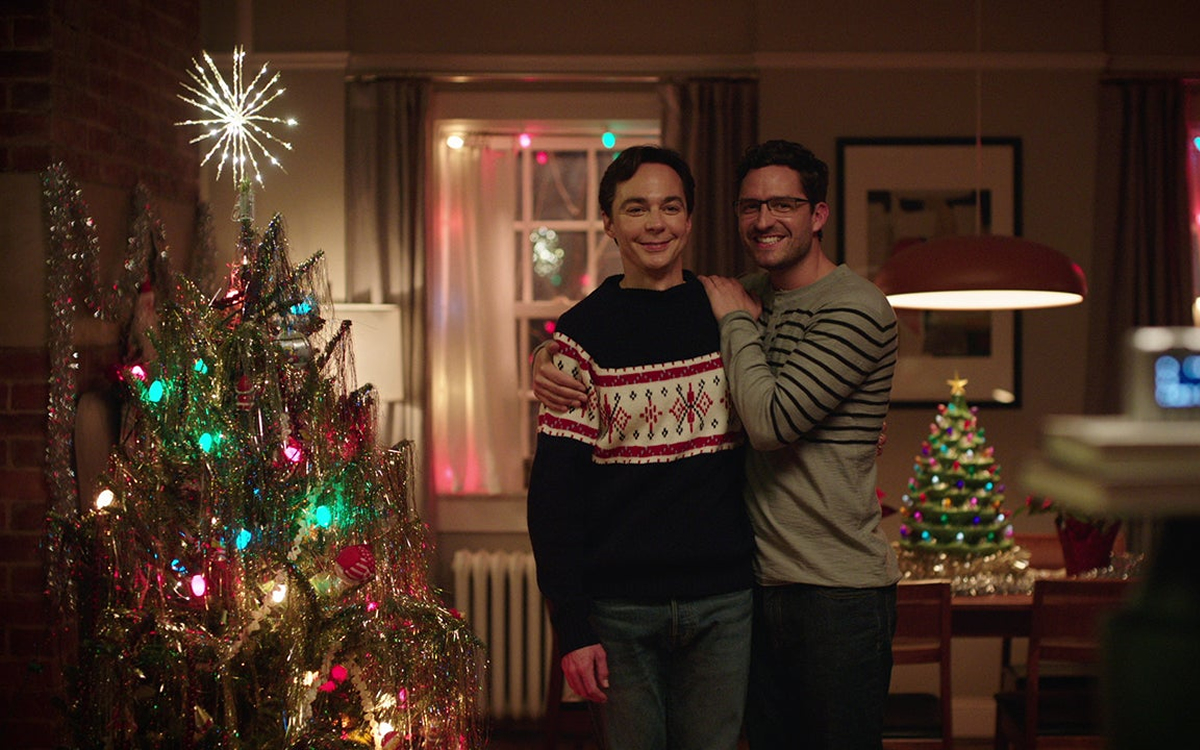 It's been a refreshing year for LGBTQ love stories on the screen. From "Fire Island" to "Bros," from "Crush" to "Anything's Possible," we've seen narratives that offer up hopeful and positive alternatives to the gloomy outcomes presented by movies of the past. Instead of stories that reinforce the tired trope of doomed queer romance, we're finally seeing ourselves get the same chance at a happily-ever-after ending as everybody else. 
It's been a welcome change – but just when Hollywood finally seems to have finally figured out that all our relationships don't have to end in tragedy, "Spoiler Alert" has come along to remind us that sometimes they still do.
Based on the best-selling memoir by Michael Ausiello ("Spoiler Alert: The Hero Dies") and directed by Michael Showalter from a screenplay by David Marshall Grant and gay blogger/author/pundit Dan Savage, it's the true story of a couple (Ausiello and his eventual husband, photographer Kit Cowan) who find love and build a relationship over the course of more than a decade only to face the heartbreak of Kit's diagnosis of – and his (SPOILER ALERT, hence the title) premature passing from – a rare form of terminal cancer. Though It's not exactly a rom-com, it does try to keep things light-hearted, and it aims for the uplift despite its foregone tragic conclusion.
That's a tough tightrope to walk. The book, penned by veteran television and entertainment journalist Ausiello, pulled it off successfully, becoming a bestseller – and not just among queer readers – with its warts-and-all celebration of what it truly means to commit to love. After all, we may adore our fairy tale fantasies, but we all know that even a couple's best-case scenario is guaranteed a sad ending; Ausiello's first-person written narrative managed to get the point across that it's all worth it, anyway.
Sometimes, though, a literary device that works on the page doesn't translate easily to the screen, and on film, Ausiello's "we-already-know-the-outcome" approach faces a more resistant challenge.
In the first act of the film, which details the meeting and early romance of its two lead characters (Jim Parsons and Ben Aldridge as Michael and Kit, respectively), our knowledge of the ending becomes an obstacle. This may be particularly true for more jaded viewers, who are apt to be keenly aware of the emotional payoffs being set up in advance. Heartwarming moments can easily come off as deliberate, even manufactured, and one might sense an obvious bid to force our identification with the characters in the movie's deployment of all the standard "new gay relationship" tropes. In reading, it's easy to personalize such universal moments through our own imaginations, which can fill in the spaces (and the faces) in a way that rings true for us. On film (this film, at least), such communally identifiable experiences run the risk of feeling manipulative: a little too perfect, a little too pat, a little too "meet-cute," and a little too… well, precious.
The dissonance between formulaic fantasy and genuine lived experience is sometimes made even more obtrusive by occasional flashbacks to Michael's childhood, framed as excerpts from an imagined '90s sitcom, which distance us further from the story – a stylistic ploy that seems intended to keep the tone of the narrative as far from tragic as possible.
When it's time to get real, however, Showalter's film lands on more solid ground. Once the blissful "happy-ever-after" couple-hood of the two men is established, the movie takes us into deeper, more mature – and therefore, less predictable – territory. Things don't end up being perfect in Michael and Kit's ostensible lover's paradise: jealousies, self-esteem issues, and the inevitable individual growth that sometimes drives wedges between us in our relationships take their toll. As any successful long-term couple – queer or otherwise – is bound to discover, relationships take a lot of work, and seeing the two protagonists confront that seldom-told part of the story goes a long way toward making their experience more relatable for those who are looking for more than mere aspirational fantasy.
So, too, does the acting from the two leads. Parsons, who struggles against the obvious artificiality of playing against being two-decades-too-old in the film's earlier scenes, blossoms once the story moves ahead in time to deliver an emotionally brave and affectingly authentic portrait of a man overcoming the baggage of his awkward and socially isolated youth (there's a Smurf addiction involved, need we say more?) and finding the resilience to weather a battle for his lover's life. Aldridge, a Brit flawlessly playing American, is perhaps even better – not that it needs to be a competition – as Kit, whose easy-going self-esteem masks a world of unresolved insecurities and makes an almost-too-good-to-be-true character endearingly real; perhaps more importantly, the emotional journey he's tasked with portraying requires an absolute dedication to unornamented truth, and he delivers it impeccably.
It helps that the two actors, who carry most of the movie's running time, have a convincingly natural chemistry together that gradually persuades us to invest in these characters even if we had resisted becoming invested in them before. Bolstering the emotional solidity even further is the presence of seasoned pros Sally Field and Bill Irwin as Kit's parents, who deepen this not-as-clueless-as-they-seem pair beyond the familiar stereotype they represent and raise them above the easy sentimentality they might otherwise have carried into the story's already-poignant mix.
These considerable advantages are enough to help us forgive the movie's contrived expository beginnings, though its ongoing sitcom conceit for childhood flashbacks – as well as its occasional fourth-wall-breaking interruptions from Michael's TV obsessed imagination – continue to feel a little gimmicky, especially after the plot has passed the point where such amusements are welcome or even necessary.
Still, the movie's fortunate choice to play against its tearjerker underpinnings – such as when it undercuts a particularly histrionic scene of hospital drama by calling itself out on its own shameless nod (which any gay movie buff will surely already recognize) to an iconic moment from a cinema classic – keeps the tears which finally come from feeling as though they've been shamelessly manipulated out of us. It's this quality that marks the best entries in the tearjerker genre; the thing that movies like "Terms of Endearment" and "Steel Magnolia" have in common (besides Shirley MacLaine) is their ability to lean fully into the artifice of their own weepy, sentimental style without sacrificing the sincerity of their emotional payoffs. Films like these don't play their big moments for drama, or even for laughs, to keep us involved – they play those moments for truth. "Spoiler Alert" clearly aspires to the same standard.
It mostly succeeds, after an awkward start; though some viewers might find its quirkier narrative conceits to be an overcompensation for its weepy ending, its characters are real enough to get past all that and win us over. And though it's hard to deny that it's ultimately another tragic gay love story, it manages to remind us that love is worth it even when you know it's going to end badly.
After all, just because a romance is doomed doesn't mean it has to be a downer.
Protester with Pride flag disrupts World Cup game
Protest took place during match between Portugal and Uruguay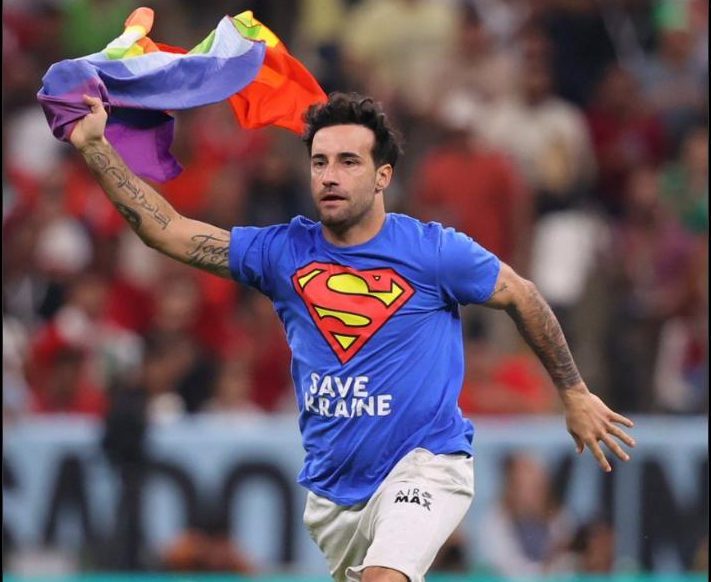 During a World Cup match between Portugal and Uruguay Monday, a lone protester ran across the field waving a Pride flag moments after the second half kickoff.
Video and still images show the man wearing a blue T-shirt emblazoned with the Superman symbol and the phrase "Save Ukraine" on the front and "Respect for Iranian Woman" on the back.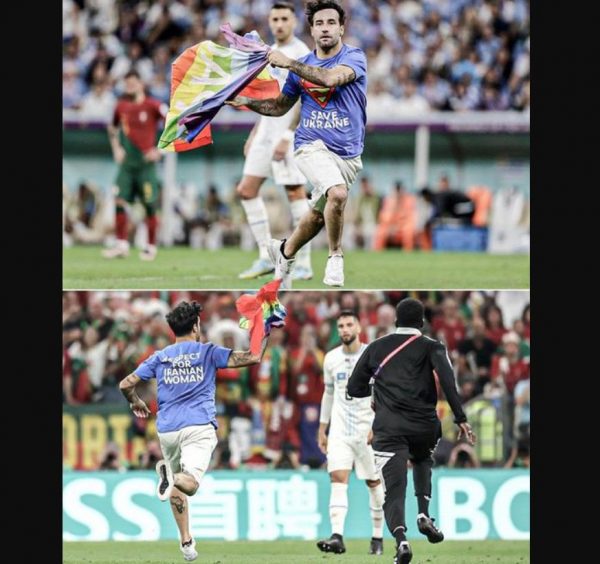 Qatari security personnel chased him down and then marched him off the playing field. Israeli Public Radio correspondent Amichai Stein tweeted video clips of the incident:
World Cup: A protester ran into the game holding a rainbow flag – with a 'Save Ukraine' and 'Respect For Iranian Women' shirt – @OrryLavie pic.twitter.com/s6dIcZLkQz

— Amichai Stein (@AmichaiStein1) November 28, 2022
FIFA had no immediate comment on the incident, the Associated Press noted reporting that in the first week of the tournament in Qatar, seven European teams lost the battle to wear multi-colored "One Love" armbands during World Cup matches. Fans also complained they weren't allowed to bring items with rainbow colors, a symbol of LGBTQ rights, into the stadiums of the conservative Islamic emirate.
Qatar's laws against homosexuality and treatment of LGBTQ people were flashpoints in the run-up to the first World Cup to be held in the Middle East. Qatar has said everyone was welcome, including LGBTQ fans, but that visitors should respect the nation's culture.
The death of Irene Cara and the broken promise
Singer inspired a generation of gay men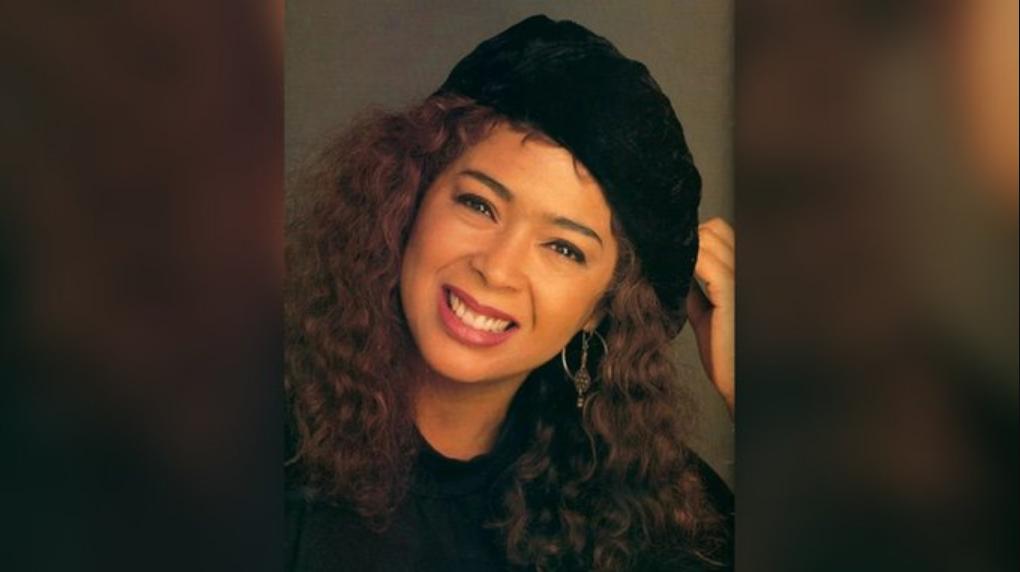 As I walked down the dark alley towards the glowing light, the opening bridge of the song called to me. "Baby, look at me and tell me what you see, You ain't seen the best of me yet, Give me time, I'll make you forget all the rest, I got more in me…" 
The movie "Fame" had just come out and its anthem theme song was HOT. The glowing light that night was a gay disco, tucked away from heterosexual view, while gay bashers circled in trucks a few blocks away. That safe haven in the dark alley allowed me, a 20-year old youth, a path out of the closet in which I emotionally and sexually had residence. To me, the words of the song "Fame," and its overwhelming delivery, was my inner drive and conviction that I could be me, and my own personal superstar.
The young woman delivering the song was barely an adult herself. Irene Cara had been a child performer and was now breaking into the fame she was singing about. She was "instantly" famous thanks to "Fame." Amongst other accolades, she was nominated for a Best New Artist Grammy. The song itself won the Oscar that year.
The Grammy nomination put a public trapping on what we all knew: She was a star, and had all the makings to become a superstar, an icon.
For LGBTQ people, her work that year spoke to our souls and our optimism. As "Randy 503" shared on the Joe.My.God site, "I was a deeply closeted and lonely kid in my early 20s. Not lonely because I didn't have friends (had tons of them,) but lonely because I refused to admit I was gay and kept away from all that. I saw the movie and was transfixed. Bought the album and played it all the time, especially her songs. Her voice was so strong, and so expressive, it really touched me." 
Cara's second song in the movie also resonated with the gay audience. While "Fame" spoke to the sassy optimism of embracing our outstanding selves and taking the world by storm, "Out Here On My Own" spoke to the dark loneliness of the closet. "Sometimes I wonder where I've been, who I am, do I fit in … when I'm down and feeling blue, I close my eyes so I can be strong and be with you … I dry the tears I've never shown, Out here on my own."
Randy points out, "Out here on my own always left me in tears. It hit so close to home, and I could feel sadness on it. It's a great song sung by one of the best."
After the success of "Fame," Cara ventured into a sitcom pilot and a freshman album, "Anyone Can See." Neither caught the world on fire, as apparently only some of us could actually "see" her real worth.
It was not long after however, where Cara's apparent life mission to deliver culture changing anthems, came calling again. She was recruited to help out with the new "Flashdance" movie, and to work with iconic gay producer Giorgio Moroder for its theme song. Cara was reportedly reluctant. She had already been criticized as a second tier Donna Summer with "Fame," and was hesitant to get into that musical lane. Later she would work with John Farrar whom she credited as being responsible for ALL of Olivia Newton John's hits. It seems that her superstar aspirations were more to be Pop Princess than another Queen of Disco.
She did sign on board with Moroder and "Flashdance," and made history. Her song "Flashdance… What a Feeling" went to #1 for six straight weeks. It affected American culture in style, attitude and substance. On Academy Awards night, Cara made history again. (She had already made history in a minor way a few years before as the first person to ever perform two nominated songs in one evening.) This time, she became the second African American woman to win an Oscar – the first being "Gone With the Wind"'s Hattie McDaniels. 
Cara was the first African American woman to ever win a non-acting Oscar ever.
The anthem "Flashdance…What a Feeling" spoke to LGBTQ audiences of the 80s, in a way that "Fame" had. "First when there's nothing but a slow glowing dream that your fear seems to hide deep inside your mind. All alone, I have cried silent tears full of pride in a world made of steel, made of stone, Well, I hear the music, close my eyes, feel the rhythm wrap around, take hold of my heart. What a feeling, being is believing I can have it all.."
Online, Joe.My.God reader BearlvrFl shared, "LUV the song "Out Here On My Own" I call 'Flashdance: What A Feeling' my coming out song, popular on the dance floor very close to the time I finally came out at the age of 22. I could relate to "Take your passion/And make it happen." Super simple lyric, but it's timing was everything for me, having been closeted for so long."
This time, AIDS had brought a very dark cloud over the community, however. Its ravage was starting to take widespread hold. It made the line in the song "now I'm dancing for my life" even more poignant and relevant.
The darkness that was falling over the LGBT world was on a parallel track in Cara's own life. As she picked up Oscars and Grammys, there was a sadness in her eyes above the smile on her face. She shared later that the public glory was matched with a behind-the-scenes horror story. Her record company was keeping her from garnering any success from her accomplishments. Columnist Liz Smith stated in a 1993 piece that Cara earned only $183 in royalties.
Cara inspired women of her generation. Patti Piatt shared on Twitter, "I am from a generation of women who thought anything was possible because of Irene Cara. She gave us so much joy. We all danced to her songs, didn't matter if we could dance, we danced because she made us want to dance."
In spite of singing THE anthem of women empowerment, Cara became an example of a woman destroyed by the male dominated music industry. As she fought back for earnings due her, she became black-listed, and her trek to superstardom halted. They made her all but disappear. A decade later, she won, but by that time, the damage had been done.
Her final solo album subconsciously called out her professional demise with songs titled "Now That It's Over," "Get a Grip" and the ultimate defeatist title "Say Goodnight Irene."
"I know well enough this is going nowhere … Might as well say goodnight, Say Goodnight, Irene."
In the end, she seemed to find peace. Her final professional projects were gifts to other women musicians of color. She comfortably settled into what she called "semi-retirement" and her Florida home with a steady stream of funds from her hard-earned residuals.
The promise of becoming a superstar eluded her, but she busted the ceiling so it might not elude others. Painfully for fans, the promise from the song "Fame," "I'm gonna live forever" also did not come true. 
Let's instead, think of her making "it to heaven" and lighting "up the sky like a flame."
For those trying to find final meaning from her life, and the un-fulfilled promise of what could have been for her and for us, may do so in the words from her lesser-known anthem. Here we swap out a promise instead for "The Dream": 
"We can all be free, we hold the key, if we can see what we want to be. Life is never easy, you get no guarantees, why not give your all and see what you can find?"
And, yes.
Irene Cara, we will always remember your name.
"The Dream"
*************************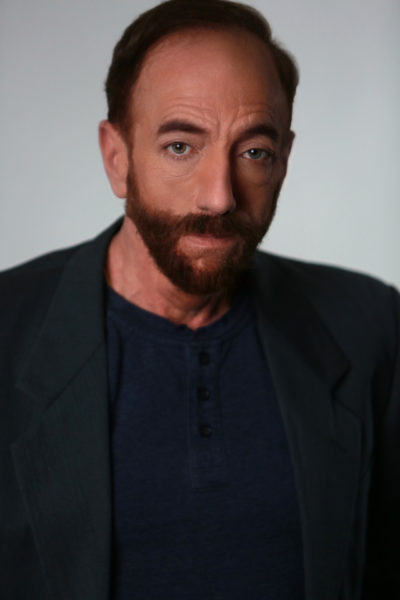 Rob Watson is the host of the popular Hollywood-based radio/podcast show RATED LGBT RADIO.
He is an established LGBTQ columnist and blogger having written for many top online publications including Parents Magazine, the Huffington Post, LGBTQ Nation, Gay Star News, the New Civil Rights Movement, and more.
He served as Executive Editor for The Good Man Project, has appeared on MSNBC and been quoted in Business Week and Forbes Magazine.
He is CEO of Watson Writes, a marketing communications agency, and can be reached at [email protected] .