Best of Gay D.C. 2013: People
Our favorite singers, drag performers, actors, bartenders and more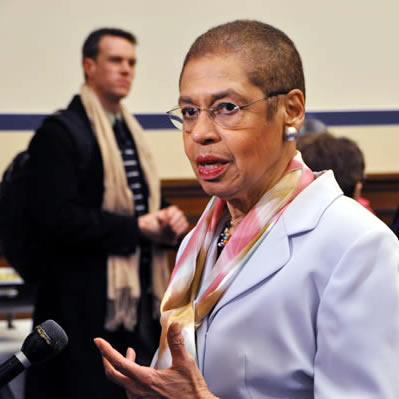 Best singer or band:
Wicked Jezabel
Runner-up: Tom Goss
Best bureaucrat:
Eric Fanning
Runner-up: Nancy Sutley
As acting secretary of the Air Force, Eric Fanning personifies the service motto of "Aim High … Fly-Fight-Win."
He's the highest-ranking openly gay civilian official in the U.S. military, overseeing procurement and operations for a $140 billion department at the Air Force. Fanning wins the 2013 award for Best LGBT Bureaucrat or Federal Worker and is the first-ever winner from the Washington Blade in this new category.
Fanning, 45, has had a long political career in D.C. After his initial work on Capitol Hill, Fanning worked during the Clinton administration at the Pentagon and the White House. Once President Obama assumed office, Fanning went to work within the Department of the Navy and continued in that role until he was nominated as Air Force under secretary.
Although the Senate confirmed Fanning for the lesser role as under secretary for the Air Force, Fanning became acting secretary when Michael Donley retired. Since that time, he was among the speakers at an LGBT Pride celebration at the Pentagon in June.
In an interview with the Washington Blade, Fanning said he left the Pentagon after "Don't Ask, Don't Tell" was implemented in the 1990s and didn't want to come back until a president was elected who would end it.
"It was very difficult when we were getting to the end of the first two years and it wasn't clear if we were going to be able to repeal 'Don't Ask, Don't Tell,'" Fanning said. "I didn't know what I was going to do if we didn't get the repeal through because some people couldn't work because they were openly gay or lesbian." (CJ)
Local heroine:
Eleanor Holmes Norton, D.C.'s long-serving congressional delegate and a longtime proponent of LGBT equality.
Runner-up: Katy Ray
Local hero:
Dave Perruzza
Runner-up: Freddie Lutz (Freddie's Beach Bar)
Dave Perruzza, perhaps best known as manager of JR.'s, also devotes much time to organizing the annual 17th Street High Heel Race. The 27th annual race is scheduled for Oct. 29. After serving in the U.S. Navy, Perruzza began working at the well-known Dupont Circle gay bar in 1996, handling coat check. He soon worked his way up to the top spot at the 17th Street, N.W., bar known for its friendly environment and popular theme nights. Readers from near and far appreciate that Perruzza strives to make everyone feel welcome and at home, whether you're a local headed to happy hour after a long day on the Hill or a tourist looking for a friendly face.
Best drag king:
Xavier Bottoms
Runner-up: Sebastian Katz
Best Realtor:
Mark Rutstein
Runner-up: Ray Gernhart
Mark Rutstein is a repeat winner in this category. He works both as manager of Cobalt and as a Realtor for Coldwell Banker on 17th Street.
Best DJ:
DJ Wess
Runner-up: Chord Bezerra
Best drag queen:
Heidi Glum
Runner-up: Ba'Naka
For Heidi Glum (aka Miles DeNiro), drag was a ticket out of a miserable job.
"I was a shampoo person at a salon," she says. "It was a terrible job. I was essentially a maid. So I quit and all I do now is drag. I've been busting my ass to make it a career."
Glum (pronounced "gloom") started drag about five years ago in New York where she says she was a long-time "club kid." Back in D.C. the past two years, Glum has several monthly gigs — a drag bingo at Mellow Mushroom, Gay Bash, WTF and Crack and "a lot of stuff in New York too."
At times it's been rough going. Glum was attacked by two patrons at Manny & Olga's, a pizzeria on 14th Street in June after a Black Cat performance. Glum was beaten and called "tranny" and "faggot" in an incident captured on video.
She says her philosophy of great drag means infusing feeling in the work.
"You can tell when someone is really feeling it," she says. "It comes up from somewhere inside you. You either have it or you don't, this sort of spark. You can tell some of them are just dressed up for the hell of it." (JD)
Best businessperson:
Ed Bailey (Town Danceboutique)
Runner-up: Karen Diehl
Best massage:
Eddie Weingart
Deep Knead Massage Therapy and Body Work
Runner-up: The Legendary Dave
For Eddie Weingart, "making people feel whole is the number one thing," in his massage work.
Having survived a serious car accident in 2001, he knows first-hand about pain management. He says his work, which incorporates both ancient and modern techniques, is tailored to "bring a wellness of body, mind and spirit."
Weingart is gay and is based in Silver Spring, though he has many clients in D.C. He guesses about 95 percent of his clients are LGBT. He's been in the area three years and averages 50-60 massages per week. (JD)
Best visual artist:
Denis Largeron
Runner-up Lisa Marie Thalhammer
Digital photographer Denis Largeron has been shooting part-time professionally for about three years. By day, he works at World Bank.
He focuses on commercial work and does weddings, portraits, what he calls "boudoir" photo and various gay events.
"I think last year I shot about every gay circuit party there was on the East Coast," he says. "Most of the time, it's promoters who hire me to shoot their events but I also shoot for some magazines as well."
Largeron is gay and came to the U.S. about six years ago to be with a then-boyfriend.
"For me, it's all about having a client and meeting their specific need," he says. "Every client has a different expectation and that's what I like about it. You have to adjust." (JD)
Best personal trainer:
Bethany Carter Howlett
Runner-up: Drew McNeil
Finding the motivation to maintain a healthy lifestyle can be difficult. Bethany Carter Howlett makes it easier with her fitness expertise.
Howlett is a professional fitness athlete, formerly a body builder and registered dietician. She holds multiple certifications and trains anyone from children to professional athletes. She also owns four gyms in Virginia.
"I feel being a trainer who practices what she preaches by competing, training and living the healthy lifestyle of a professional athlete allows for a strong advantage in my favor among other personal trainers in the area," Howlett says.
Her training programs are diverse from one-on-one sessions to group classes. Howlett can train people in person or even online. Her diet plans are specially made to suit the needs of the individual from their genetic lineage to their health history.
A Virginia native, Howlett began gymnastics at age 3. As an undergraduate at the University of Virginia, where she received her bachelor's degree in molecular biology, she was a cheerleader.
Howlett is married to Jason Rowley and they are expecting their first child. Howlett has continued training clients and working out throughout her pregnancy. She hopes to be back in the gym two weeks after she gives birth. (MC)
Best TV personality:
Bruce DePuyt WJLA, News Channel 8
Runner-up: Chuck Bell, NBC4
"News Talk with Bruce DePuyt" on News Channel 8 remains among the metropolitan area's most influential local news programs.
D.C. Mayor Vincent Gray, D.C. Del. Eleanor Holmes Norton, Virginia Attorney General Ken Cuccinelli, D.C. Police Chief Cathy Lanier, Maryland state Del. Heather Mizeur (D-Montgomery County) and other politicians and officials frequently discuss the important issues of the day. LGBT-specific topics that include the implementation of the U.S. Supreme Court decision that found a portion of the Defense of Marriage Act unconstitutional, efforts to repeal Virginia's gay nuptials ban and Russia's LGBT rights record are also a regular part of the weekday talk show's line-up.
"I've been a loyal reader of the Washington Blade for 30 years, so this is a very special honor," DePuyt said upon learning he had won.
DePuyt has been with News Channel 8 since 1993.
He covered Maryland politics extensively until he became the host of "News Talk" in 2002.
"I also want to acknowledge my employer of the last 20 years, WJLA/NewsChannel 8 for always being in my corner," DePuyt said.
DePuyt was a reporter and anchor at WVIR in Charlottesville, Va., before he arrived at News Channel 8. He also produced an award-winning weekly talk show, "21 This Week" on "Cable News 21" in Montgomery County, Md.
"News Talk" airs on News Channel 8 weekdays live at 10 a.m. (ML)
Best actor:
Logan Sutherland
Runner-up: Will Gartshore
At just 22, Logan Sutherland is at the beginning of his acting career and he's already winning awards. "This is an incredible surprise," he says. "I didn't even promote myself. I've been way too busy!"
After graduating from American University's musical theater program in the spring, Sutherland began landing acting gigs straight away beginning with multiple roles in the Source Festival at Source Theatre in June. Shortly after, he drew praise for his showy turn in this summer's Fringe Festival favorite "One Night in New York."
"It was like Disney had made a big gay musical about a guy coming to New York looking for love," he says. "I played Andy, one of the bitchy people that he met in Chelsea. He was like the Regina George [from "Mean Girls"] — a real bitch."
A genuine triple threat, Sutherland has been performing since he was a kid in small town Schwenksville, Pa. Currently the out actor is understudying for "Lulu and the Brontosaurus" at Imagination Stage in Bethesda. Later this season he will appear in Woolly Mammoth's "The Summoning of Everyman," a morality play that now reads as satire.
When not acting, Sutherland works as a server at Founding Farmers three blocks from the White House.  He's considering film work, which may involve a move to New York or California in the future. But for now, the Dupont Circle resident says he's learning a lot and happy to be a part of the D.C. theater scene. (PF)
Best actress:
Jessica Thorne
Runner-up: Holly Twyford
Jessica Thorne is a fresh and definitely welcomed face on the local theater scene. The self-described straight LGBT ally initially left her native Georgia for D.C. to attend Catholic University's musical theater program. After graduating in 2011, she immediately began performing with Synetic Theatre Company, the never boring movement-based troupe based in Crystal City.
"I'm incredibly grateful to Synetic. They changed me as an artist," says Thorne who remains a member of the company. "As an actor it makes you incredibly comfortable with your body and who you are in space and time. It was a great experience and very singular to the company."
Last season, Thorne was an ensemble member in director Ethan McSweeney's gorgeous production of "A Midsummer Night's Dream" at the Shakespeare Theater Company. And more recently she shone as wholesome Janet in Studio Theatre's "Richard O'Brien's The Rocky Horror Show."
As a freshman in high school, Thorne was certain she wanted to pursue a career in theater. She is grateful to her mother and grandmother for supporting her choice to study theater in college. "They've been there every step of the way," she says. "For me, that support has been really imperative in becoming an artist. You base a lot of your success on the people who are backing you." She also thanks her colleagues in the D.C. theater community whom she describes as incredibly supportive and generous.
Currently studying voice in New York with singer/composer Marisa Michelson, Thorne considers D.C. home and is slated to perform here in two shows this spring (about which she cannot yet reveal details). We promise to keep readers posted. (PF)
Best Hill staffer:
Kat Skiles
Runner-up: Guy Cecil
Best straight ally:
President Barack Obama
Runner-up: Brooke Jordan
Best bartender:
Carlos Arroyo (JR.'s)
Runner-up: Liz Warner-Osborne (Cobalt)
Carlos Arroyo says the relaxed atmosphere at JR.'s makes it a great place to work.
"It's a great vibe overall," he says. "The clientele is super awesome. We have amazing regulars and people just go there to have a great time. It's not pretentious. They leave work and everything at the door. … It's probably one of the most relaxed bars I've worked in."
Arroyo has been in D.C. about 13 years and has dabbled in theater, communications work, personal training, catering and more. He also helps his partner with a photography business and says the two "travel quite often."
Arroyo previously worked at Number Nine on P Street for about a year and a half, but moved over to JR.'s. He's quick to assert he has enjoyed working at both hotspots.
"When JR.'s comes calling, you can't turn them down," he says. "It's one of the busiest gay bars in D.C." (JD)
Best Rehoboth bartender:
Jamie Romano (Purple Parrot)
Runner-up: Chris Chandler (Blue Moon)
Jamie Romano is a repeat winner, having taken this prize two years ago. He reclaims it this year in a close contest with Chris Chandler. Romano has an uncanny ability to remember his customers' favorite drink and often has one at the ready before you sit down. You can find him behind the main bar at the gay-owned Purple Parrot and at the popular outdoor bar in back, known as the Biergarten.
Most committed activist:
Josh Deese
Runner-up: Halley Cohen
Florida native Josh Deese knew he wanted to make a difference in the LGBT community after being bullied for his sexuality growing up led him to attempt suicide.  His experience drew him to The Trevor Project's Youth Advisory Council (YAC).
"Just having a feeling that people don't appreciate you and that you're worthless takes its toll on you," says Deese. "It only takes one, a friend, parent or ally to stand up and save someone's life and let them know they aren't alone."
Deese, who cites Harvey Milk as one of his heroes, has spoken with The Trevor Project about LGBT youth suicide, most recently at The National Cathedral with Judy Shepard, Matthew Shepard's mother. He also serves as the Neighboring Commuter Representative on the University of Maryland Government Association.
In the future he plans to work in real estate in the D.C. area and eventually would like to run for the U.S. House. He hopes his efforts to help the LGBT community will lead to LGBT youth feeling safer and appreciated in the future. He says he wants them to understand life is an option.
He's a sophomore at the University of Maryland majoring in government and politics with a minor in LGBT studies. (MC)
Best gay politician:
Del. Heather Mizeur (Maryland)
Runner-up: Sen. Tammy Baldwin (D-Wis.)
Del. Heather Mizeur has represented Takoma Park and Silver Spring in the Maryland General Assembly since 2006. But she's best known now as the openly gay candidate for governor. She faces current Lt. Gov. Anthony Brown and Attorney General Doug Gansler in the contest. She would make history as the state's first female governor and the country's first openly LGBT elected governor if she prevails next year.
"Diversity is enormously important," she told the Blade. "Not simply to have a gay governor, but to have a governor who can represent the voices of people in communities that have not always had a voice in the process."
Best trans advocate:
Allyson Robinson
Runner-up: Ruby Corado
It was a difficult year for Allyson Robinson, who stepped down from her position as executive director of OutServe-SLDN in June. Robinson, who led OutServe-SLDN for nine months, was the only openly transgender leader of a national LGBT rights organization. A new group, Servicemembers, Partners and Allies for Respect and Tolerance for All (SPARTA) announced its formation in July, following the turmoil at OutServe-SLDN. Robinson remains a prominent voice for transgender rights and LGBT equality.
Best amateur athlete:
Martin Espinoza (Stonewall Kickball)
Runner-up: Julie Olsen
Best stylist:
Diego Orbegoso, Bang Salon
Runner-up: Dmitri Lords, Zoe Salon & Spa
Diego Obregoso says the best part of being a stylist is "the magical boosting of people's energy by making them feel good."
With a background in makeup and cosmetology, Obregoso has been at Bang Metropole (1519 15th St., N.W.) for six years. He's gay and estimates about 60 percent of his customers are LGBT.
A native of Lima, Peru, Obregoso has been in the U.S. 11 years. (JD)
Best clergy:
Rev. David Lett
Runner-up: Rabbi Shira Stutman
Sometimes Saturday is a very short night sleep-wise for David Lett. He's often out until the wee hours hostessing (as Lena Lett) the drag show at Town Danceboutique. Sundays are often spent doing spiritual duties as supply clergy with the North American Old Catholic Church, an LGBT-affirming offshoot of the Roman Catholic Church where years ago, Lett went to seminary and studied in Rome.
Lett says the two roles aren't as dissimilar as they might seem.
"To be a drag performer, you have to be confident and you have to be able to put yourself in front of people and …. take them from wherever they are to a new place. A priest does a lot of the same things, there's just not as much liquor going around. … The basic tenets of the role are identical. It's just the means by which they are done that is completely different."  (JD)
Lifetime achievement award:
Rev. Dean Snyder (Foundry United Methodist Church)
Rev. Dean Snyder has been an LGBT ally for 40 years and he is the inaugural recipient of the Blade's Lifetime Achievement Award.
He has fought to change his denomination's ban on same-sex marriages being performed by the church's ministers. In 2010, the Foundry congregation voted 367-8 to allow same-sex marriages to be performed in the church.
A large portion of Foundry's congregation is LGBT, including couples that have been in committed relationships for decades. This brought Snyder to question the church's laws.
"We started doing services to honor gay and lesbian committed relationships, which we argued were not a violation of the rules because we weren't actually consecrating a marriage," Snyder told the Blade. "But then … when it was clear marriage was going to become legal in Washington, D.C., then we couldn't fudge anymore. It was either marriage or it wasn't."
Put this out gay trailblazer's supportive coach in your bracket
'Coach Willard's awesome,' says Derrick Gordon of Maryland's Kevin Willard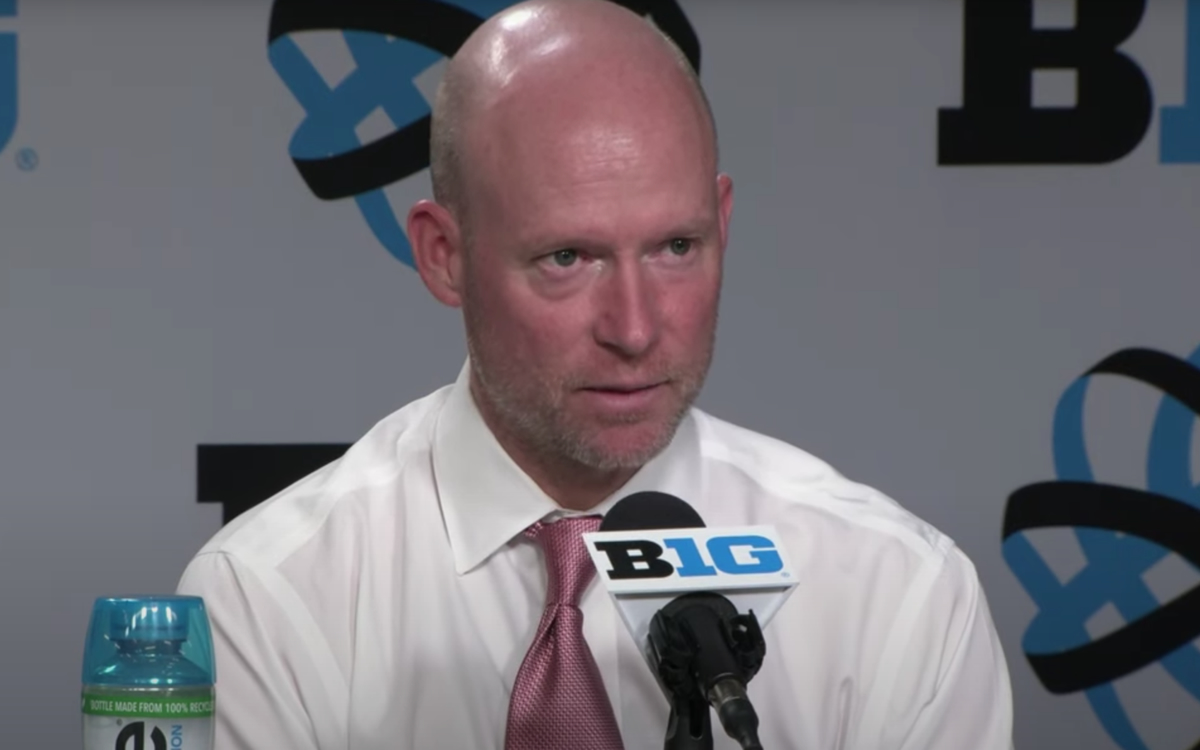 When the 8th seeded Maryland Terrapins faced off against No. 1 Alabama in the second round of the NCAA Men's Basketball Championships last weekend, it wasn't just the players on the hardwood who were working hard for the win. Nate Oats coached the Crimson Tide to a 73-51 victory less than an hour from their home court. And on the other side was Kevin Willard, who is not just a seasoned coach, but a strong LGBTQ ally.
Willard was Derrick Gordon's coach at Seton Hall when he transferred from UMass in 2015, a year after he came out as the first out gay Division I Men's basketball player in the NCAA.
Gordon has credited Willard with creating a comfortable environment, after he "bumped heads" with former UMass coach Derek Kellogg during his two seasons with the Minutemen. In contrast, he said he instantly connected with Willard, and told his teammates and Willard following his final season at Seton Hall that he wished he had another year of eligibility remaining. He's said he considered Willard the best coach he'd ever played for.
"He just made it comfortable for me," Gordon told Glenn Clark Radio in an interview broadcast on March 22, 2022. "He said, 'You know what, we're more focused on who you are as a person and a basketball player and what you bring to the team.' He voiced that over and over again. When I went on my visit, I just felt even more comfortable, met a couple of the guys. They made me feel right at home as well, so it was kind of like an easy decision. Coach Willard's awesome. He's an amazing guy."
If you don't believe Gordon, ask the West Virginia Mountaineers, who lost to the Terrapins in the first round 67-65. Maryland's win "took the paint off the floor at Legacy Arena" in Birmingham, Ala., as Brendan Quinn wrote in The Athletic. He described Willard's style of coaching this way:
"Willard paced the sideline, as he does. The man is intense. Doesn't suffer fools. Serious stuff. No BS. Black eyes screwed deep in a bald head, no pupils. He regards things sideways, incredulous toward anyone who doesn't come correct. It's his whole thing. If Guy Ritchie cast a college basketball coach, it'd be Willard."
Gordon told Glenn Clark Radio that he particularly recalled the kind of support Willard gave him in one practice early in his Seton Hall career, according to Press Box Online.
"I remember a particular situation that happened in practice — came down the court and I was wide open and I didn't shoot it," Gordon said in the 2022 interview. "[Willard] stopped practice and he said, 'You're not at [UMass] anymore. I trust you. I believe in you. Shoot the ball.' Ever since then, my confidence was through the roof, especially dealing with I had to deal with when I was at UMass with that coach to playing under Coach Willard and him telling me that specifically, he just let me play my game."
Last July, Gordon posted on Instagram that after playing a few seasons in Europe for Cyprus and Germany, "I decided to end my career as a professional athlete."
Gordon is now 31, and he told his followers he is working on a book about his life "on and off the court," in hopes he might "help gay young people, student athletes in particular and others who are struggling to pursue careers in professional sports or any career paths they chose without fear or shame."
Since Christmas, he's been sharing posts that include photos with his boyfriend, actor Scott Backman of Los Angeles, including one from last week, captioned: "Every time we're together, it's like falling in love all over again."
10 LGBTQ events this week
Drag, dancing and kite flying among highlights
Below are our picks for some of the most fun and creative things to do this week in the DMV that are of special interest to the LGBTQ community.
---
Drag Queen Trivia Tuesday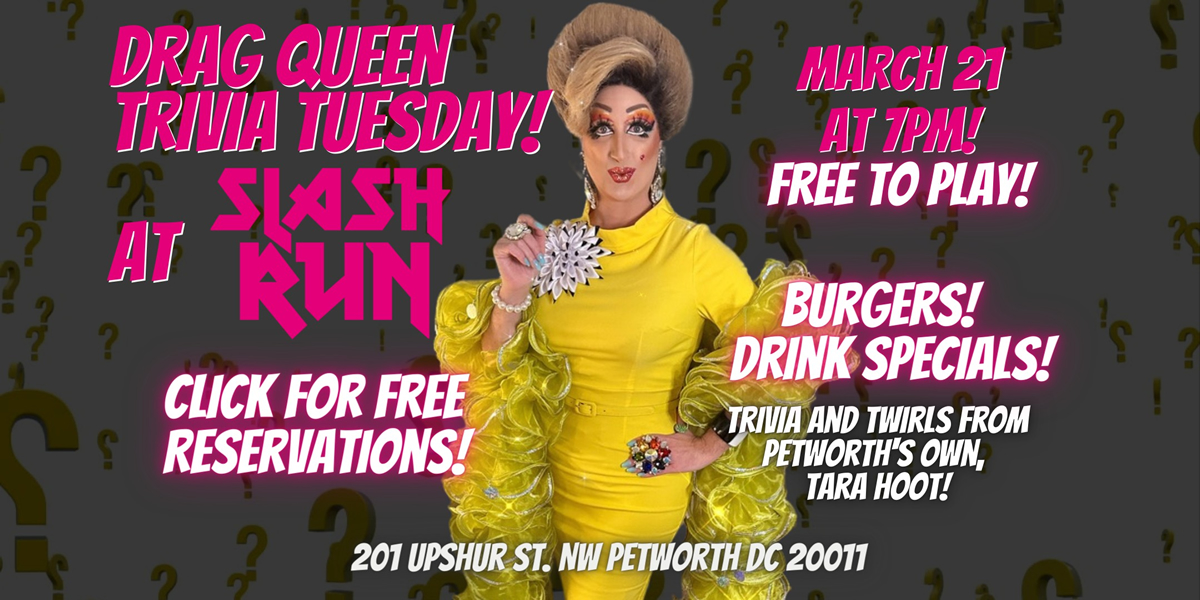 Tuesday, March 21
7 p.m.
Slash Run
201 Upshur Street, N.W.
Facebook | Reservations
Tara Hoot leads a game of trivia at Slash Run on Tuesday.
---
Daddy Issues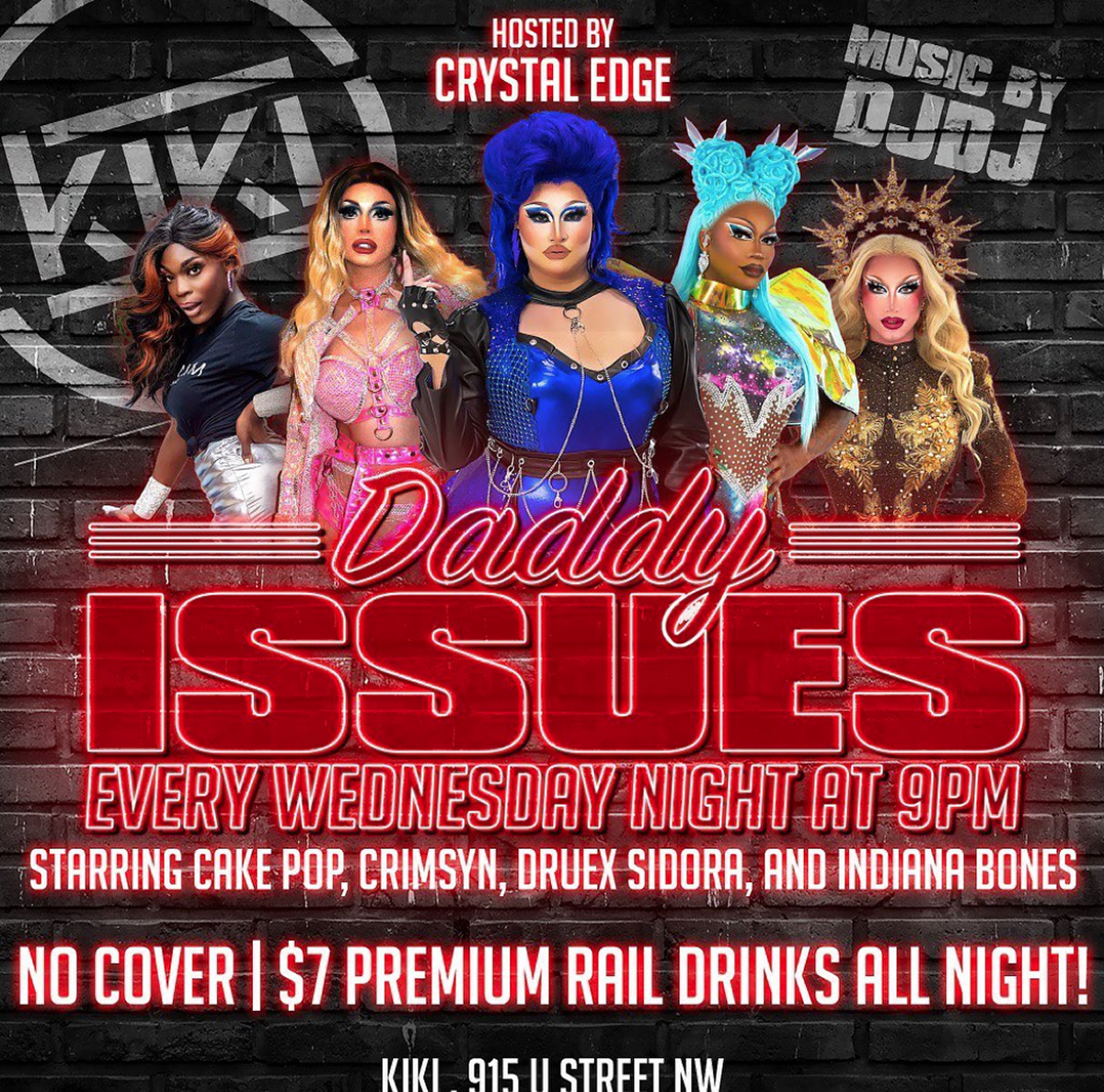 Wednesday, March 22
9 p.m.
Kiki
915 U Street, N.W.
Instagram | Website
Crystal Edge leads the weekly drag show at Kiki on Wednesday.
---
DC Boys of Leather – March Happy Hour

Thursday, March 23
6-9 p.m.
Trade
1410 14th Street, N.W.
Facebook
Grab your gear and make your way to Trade for the March Happy Hour of the DC Boys of Leather.
---
RuPaul's Drag Race Viewing Party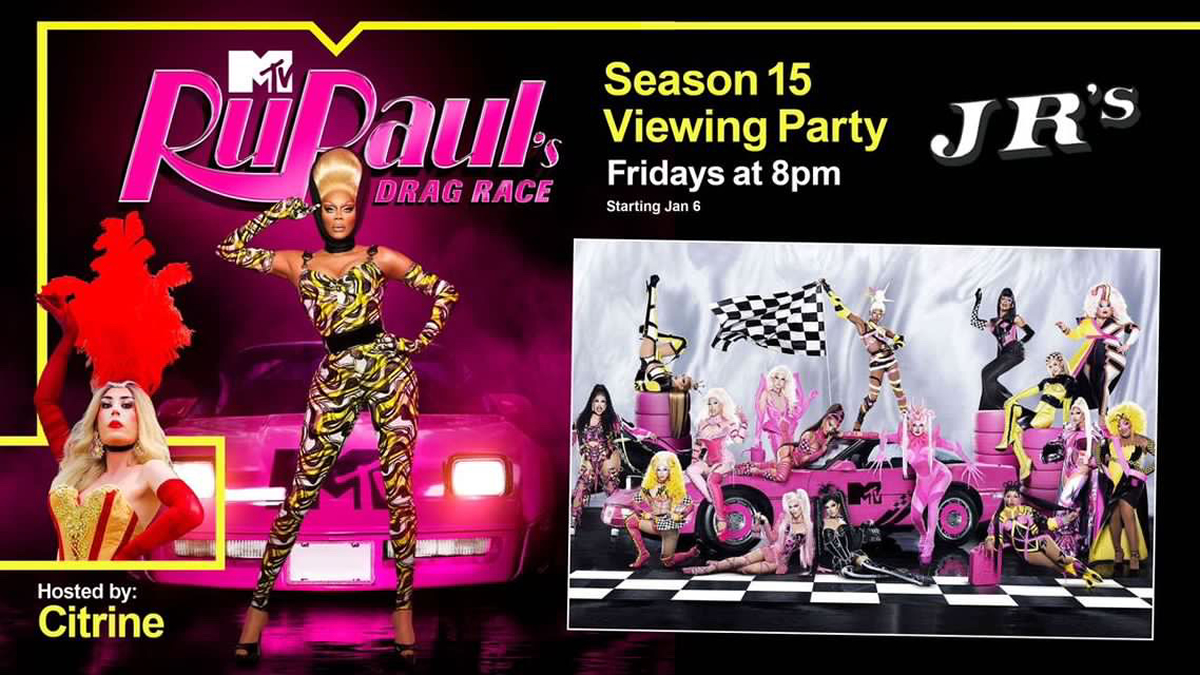 Friday, March 24
8 p.m.
JR.'s Bar
1519 17th Street, N.W.
Facebook
Citrine leads the RuPaul's Drag Race Season 15 Viewing Party at JR.'s Bar on Friday.
---
Kicks & Giggles Glow Crazy! Blacklight-Glow Paint Party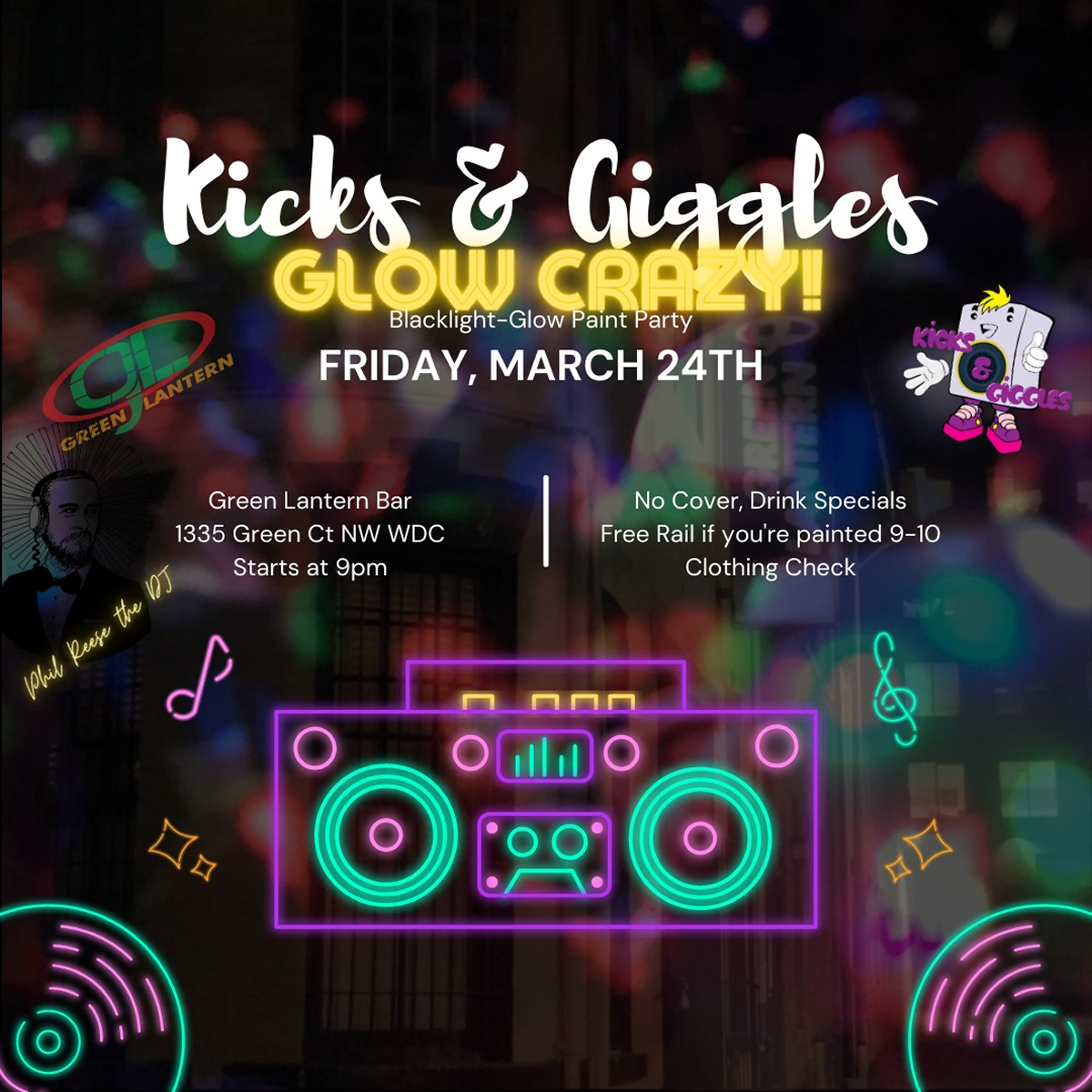 Friday, March 24
9 p.m.
Green Lantern
1335 Green Court, N.W.
No cover
Facebook
Kicks & Giggles bring you a glow-tastic time on Friday with a blacklight-glow paint party at the Green Lantern. There is a clothes check and there are free rail drinks if you are painted with glow paint between 9 and 10 p.m.
---
Good Times (Disco House Party)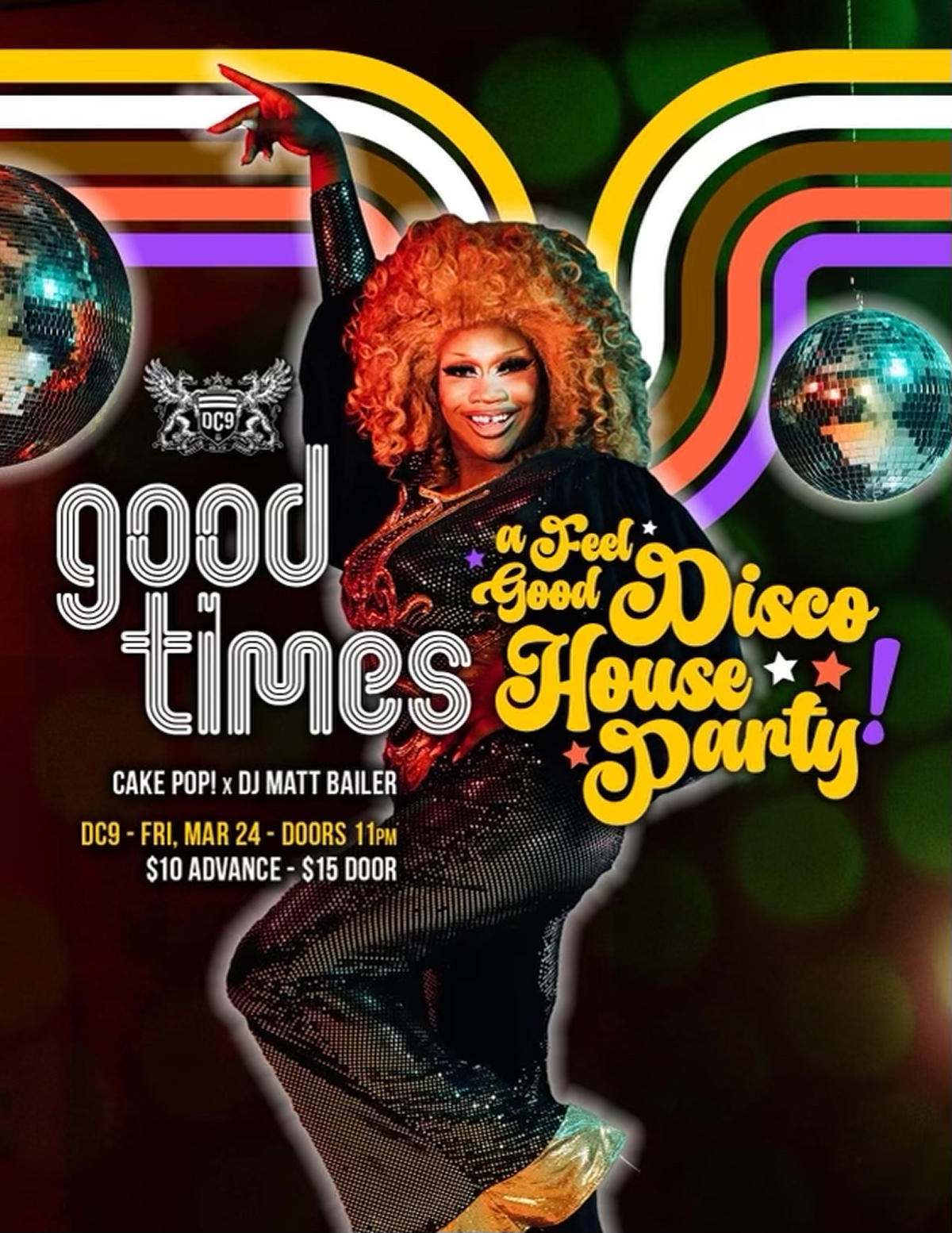 Friday, March 24
11 p.m.
DC9 Nightclub
1940 9th Street, N.W.
$10 advance / $15 door
Facebook | Eventbrite
Cake Pop! and DJ Matt Bailer entertain on Friday with a feel good Disco House Party at DC9 Nightclub.
---
Candela! UPROAR's Latinx Party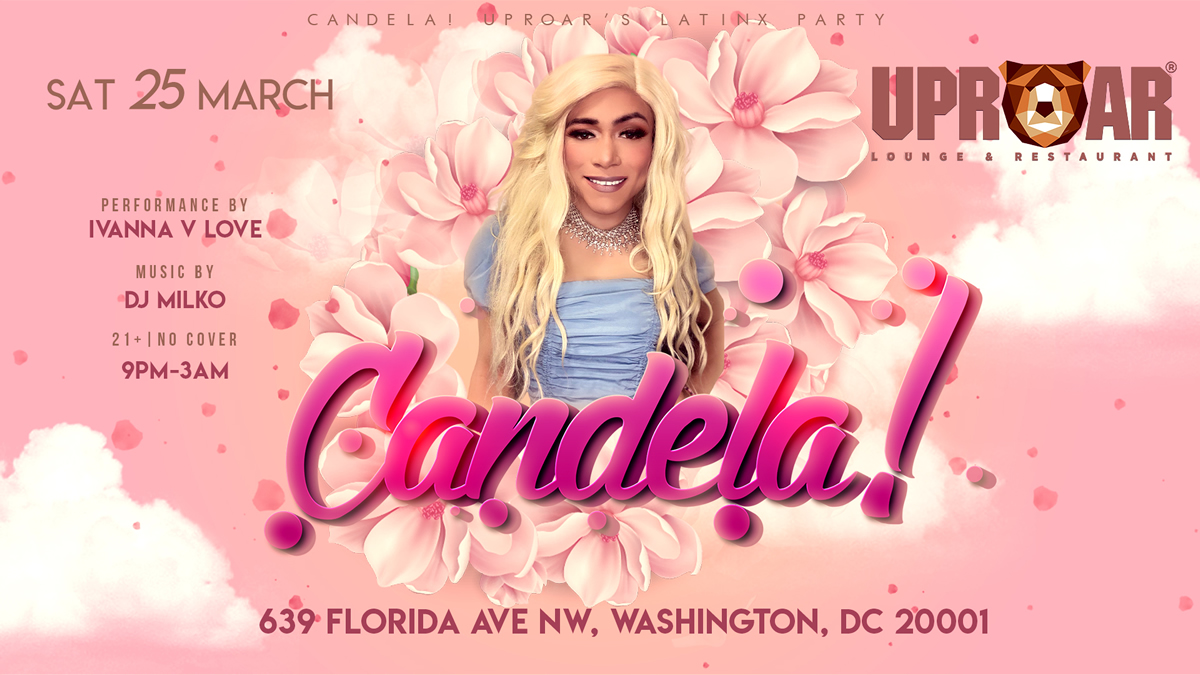 Saturday, March 25
9 p.m.
UPROAR Lounge & Restaurant
639 Florida Avenue, N.W.
Facebook
UPROAR Lounge & Restaurant hold a Latinx party on Saturday with a performance by Ivanna V Love.
---
Cherry Blossom Kite Festival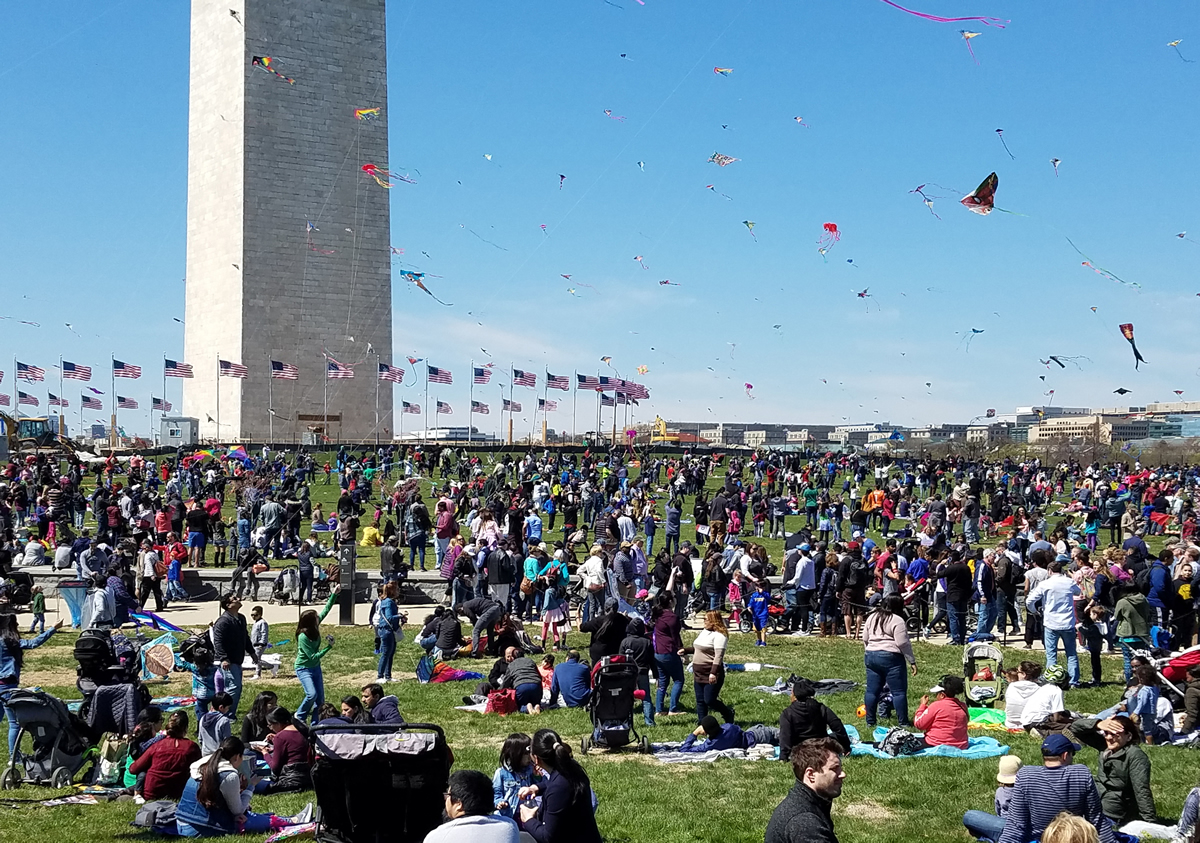 Saturday, March 25
10 a.m.-4:30 p.m.
Washington Monument
Facebook | Website
The annual kite festival is back on Saturday by the Washington Monument.
---
Cambria Drag Brunch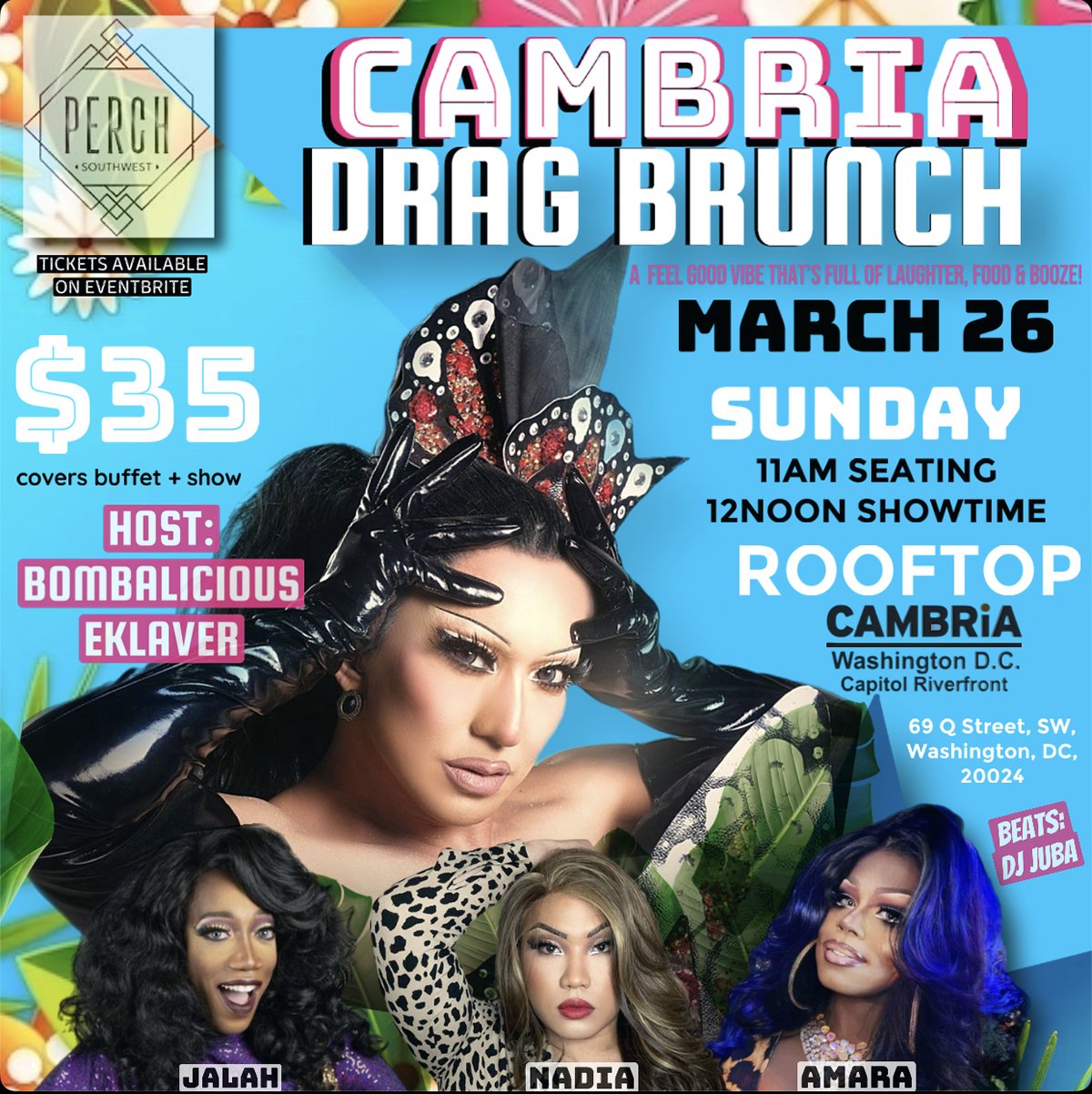 Sunday, March 26
11 a.m.
Rooftop Cambria Capital Riverfront
69 Q Street, S.W.
$35
Eventbrite
Bombalicious Eklaver leads a fun drag brunch on Sunday with performers Jalah, Nadia and Amara. $35 covers the buffet and show, but bring your dollar bills to show your support to the performers.
---
Drag Show for Charity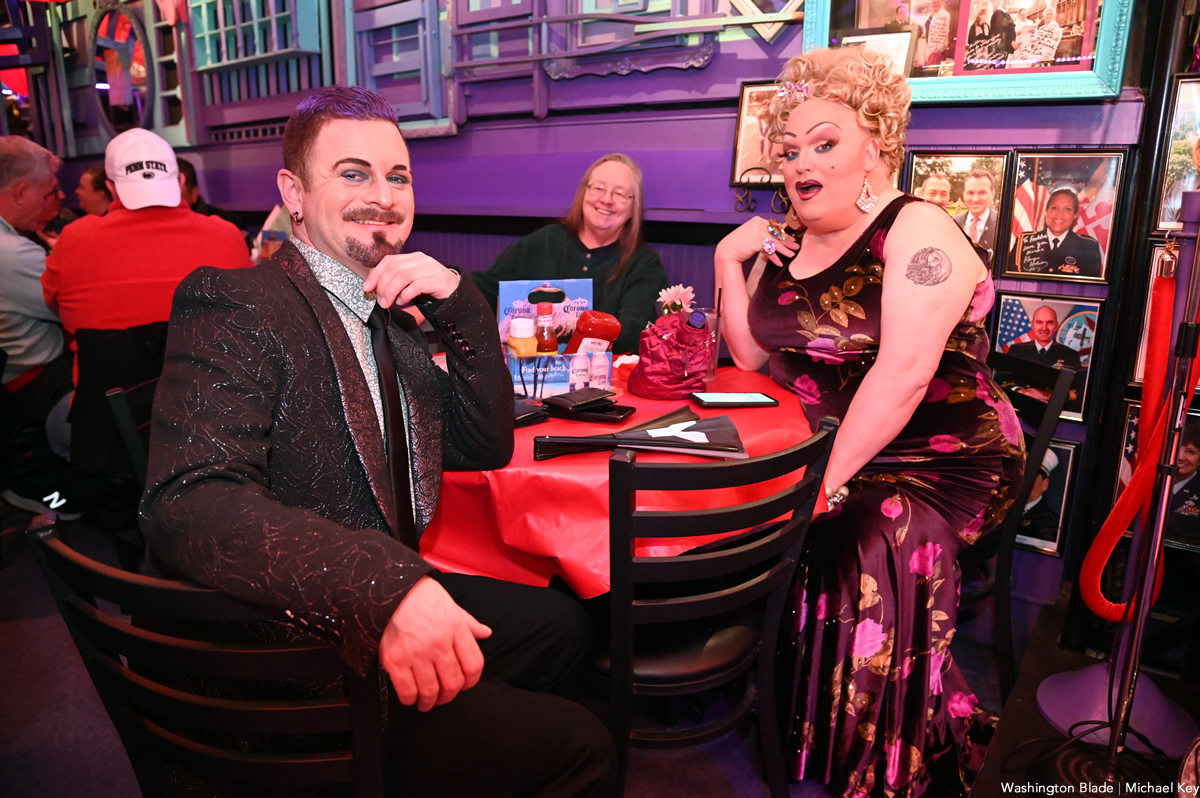 Sunday, March 26
8-10 p.m.
Freddie's Beach Bar
555 23rd Street S
Arlington, Va.
Facebook
AGLA and Go Gay DC present a drag show for charity at Freddie's Beach Bar on Sunday.
PHOTOS: Freddie's Follies 20th
Arlington drag show celebrates milestone
Freddie's Follies had a 20th anniversary show at Freddie's Beach Bar in Arlington, Va. on Saturday, March 18. Performers included Destiny B. Childs, Monet Dupree, Patti Lovelace, Sasha Adams Sanchez and Ophelia Bottoms.
(Washington Blade photo by Michael Key)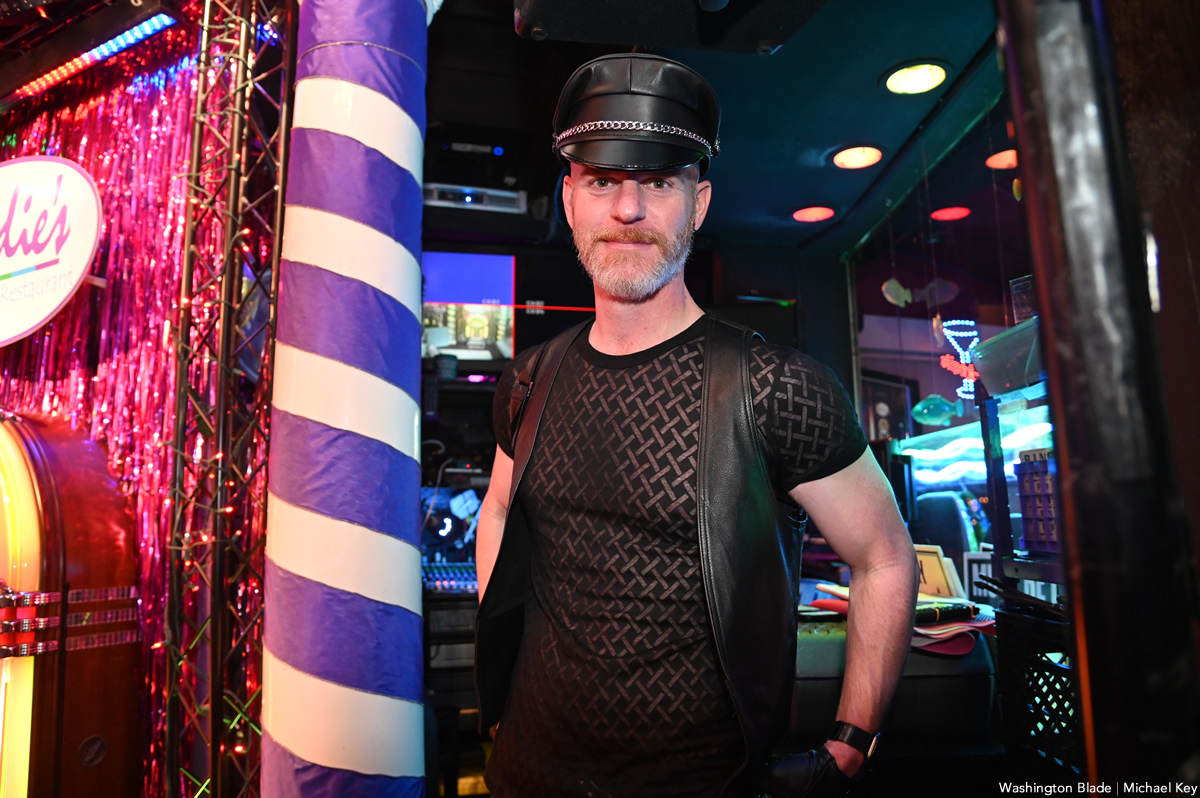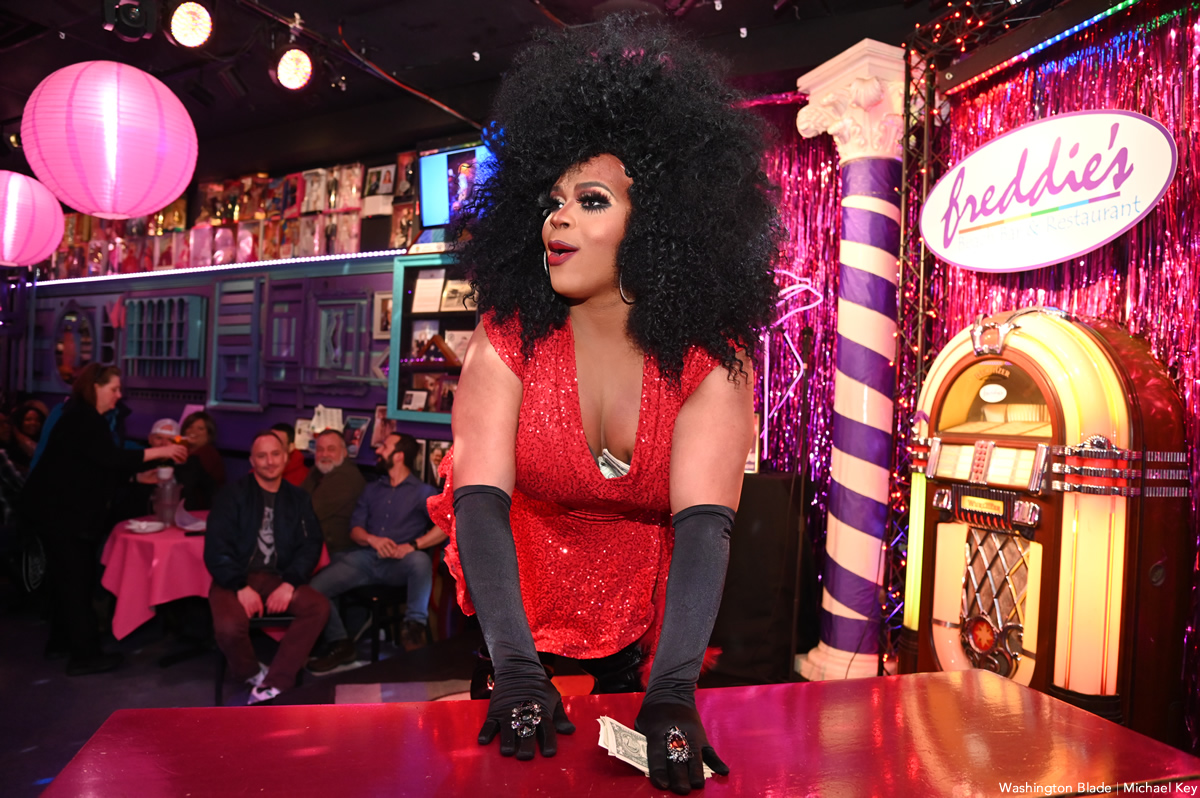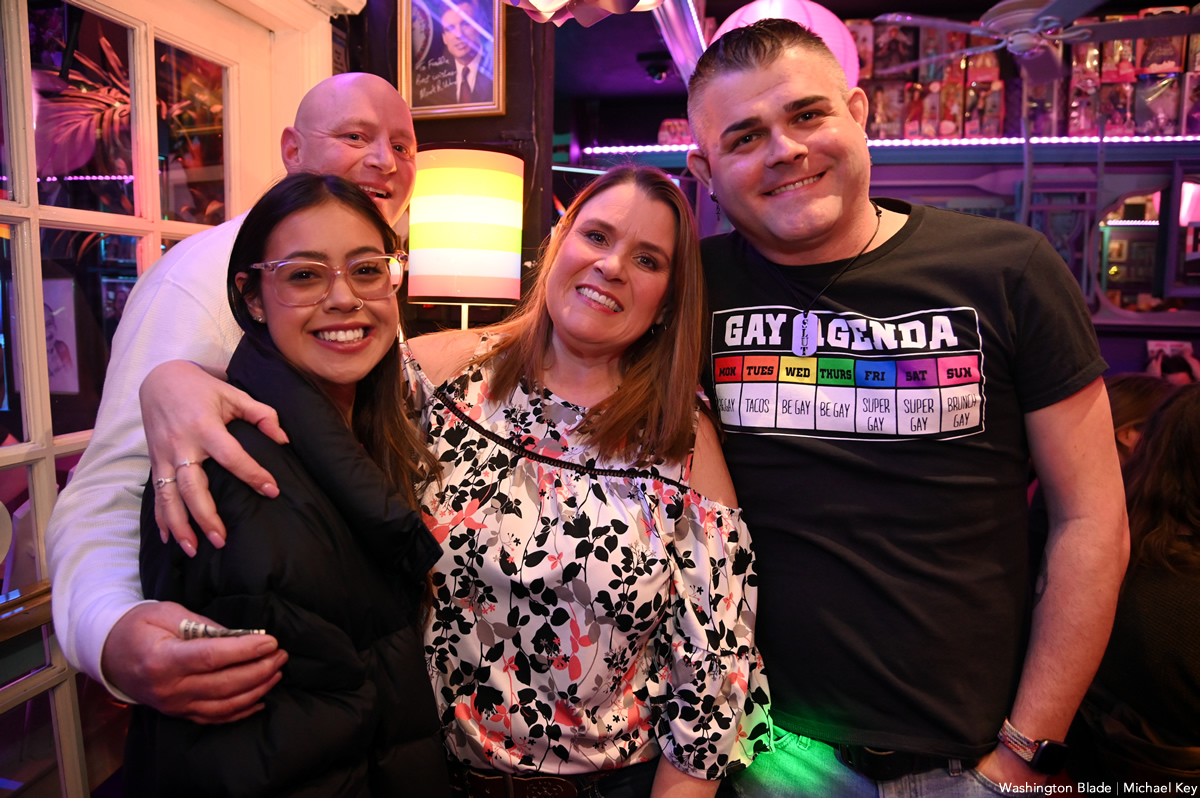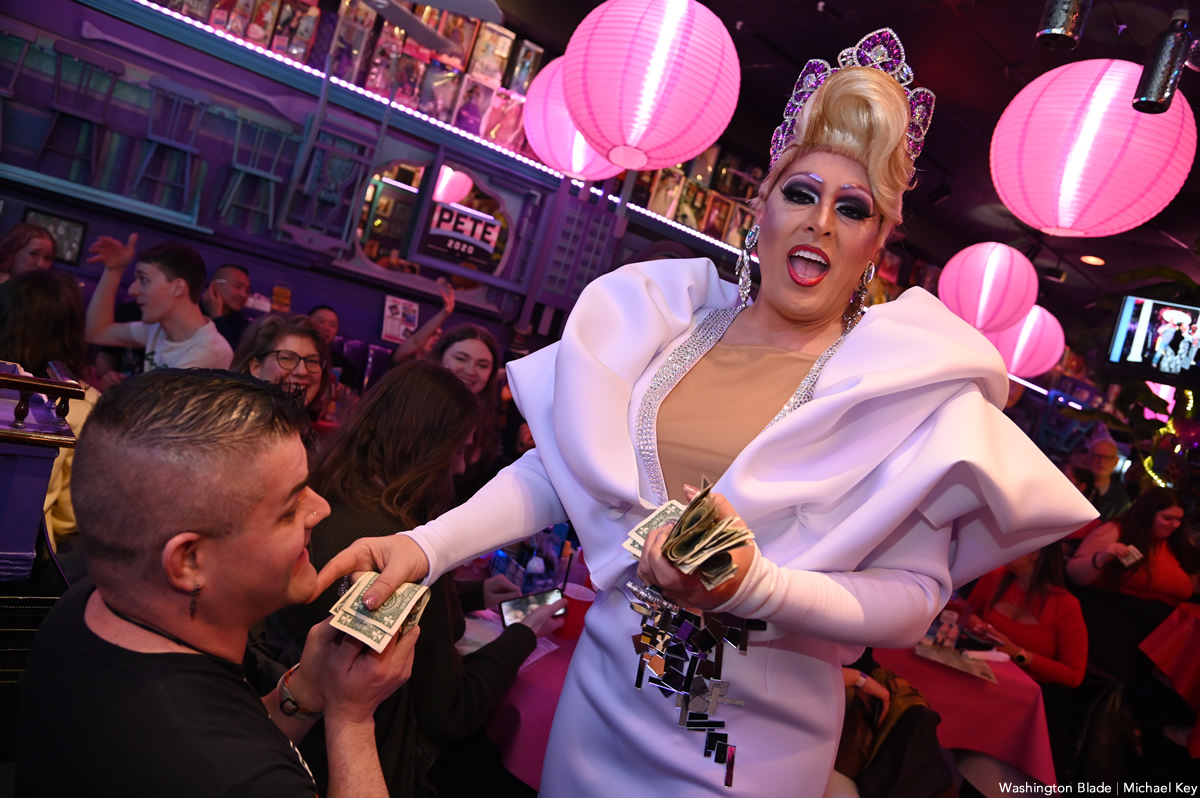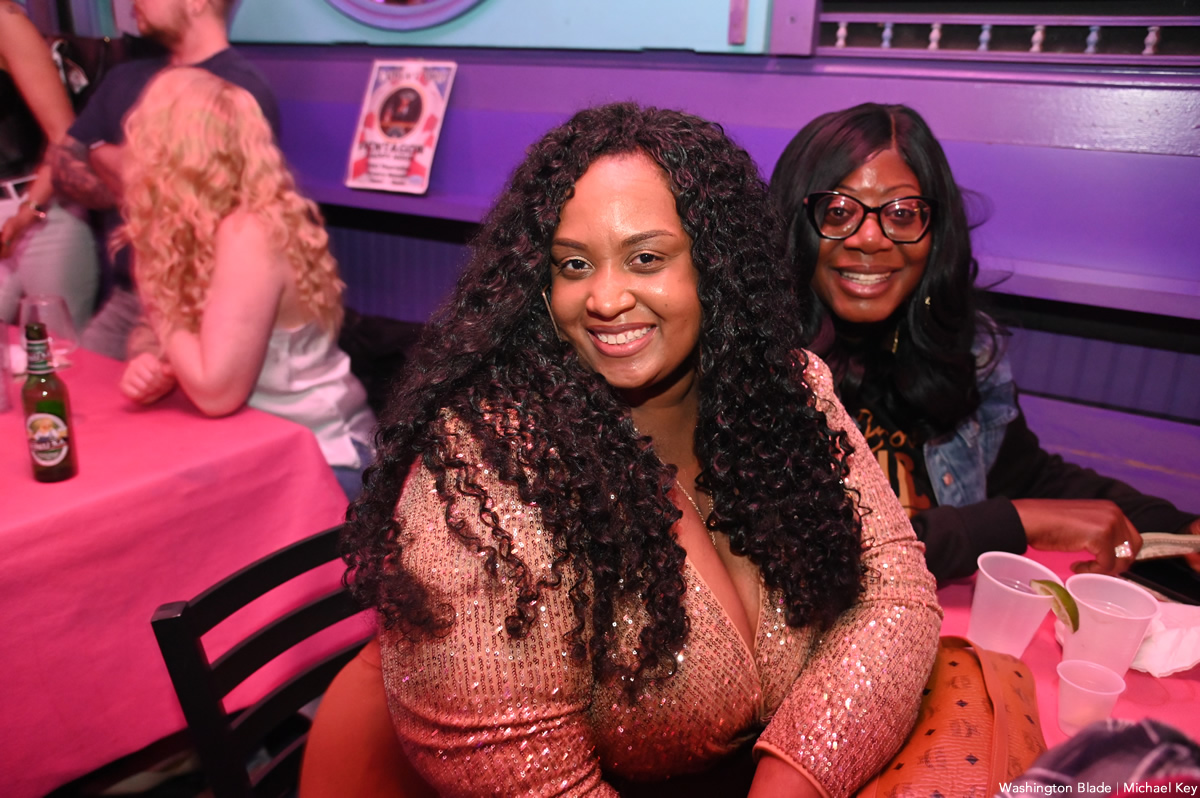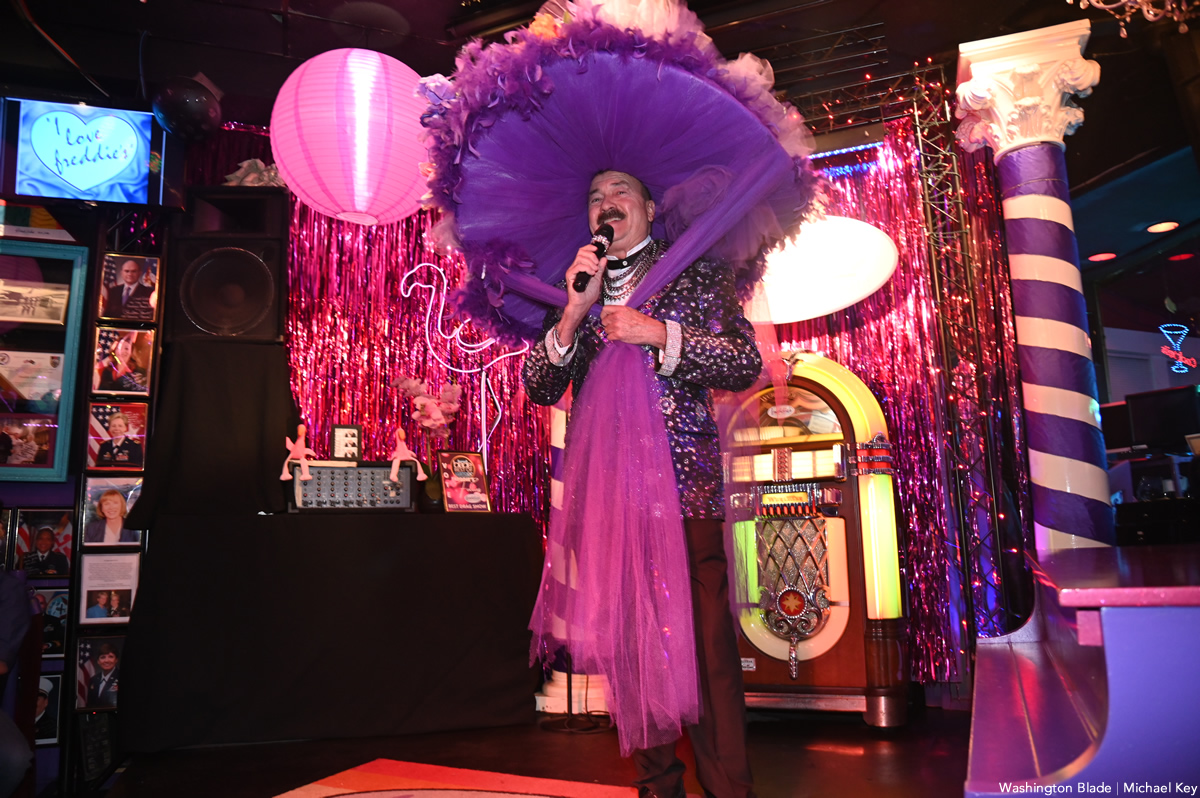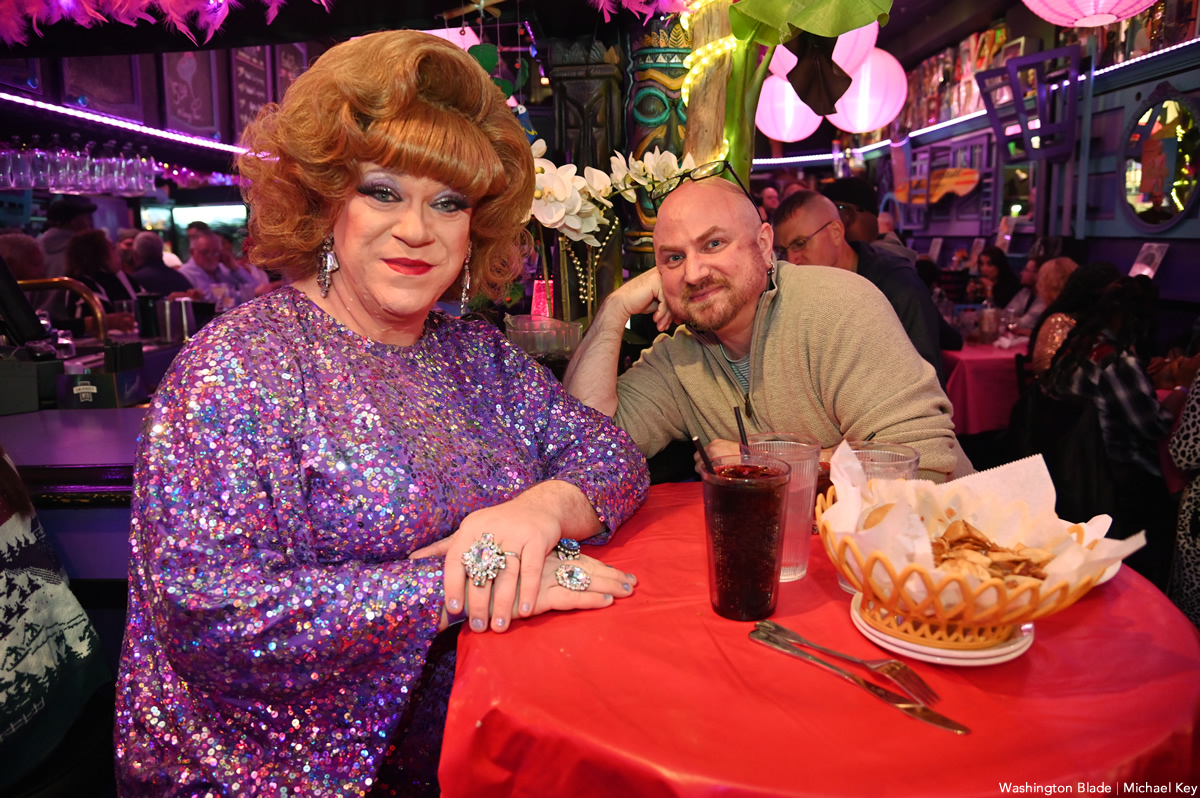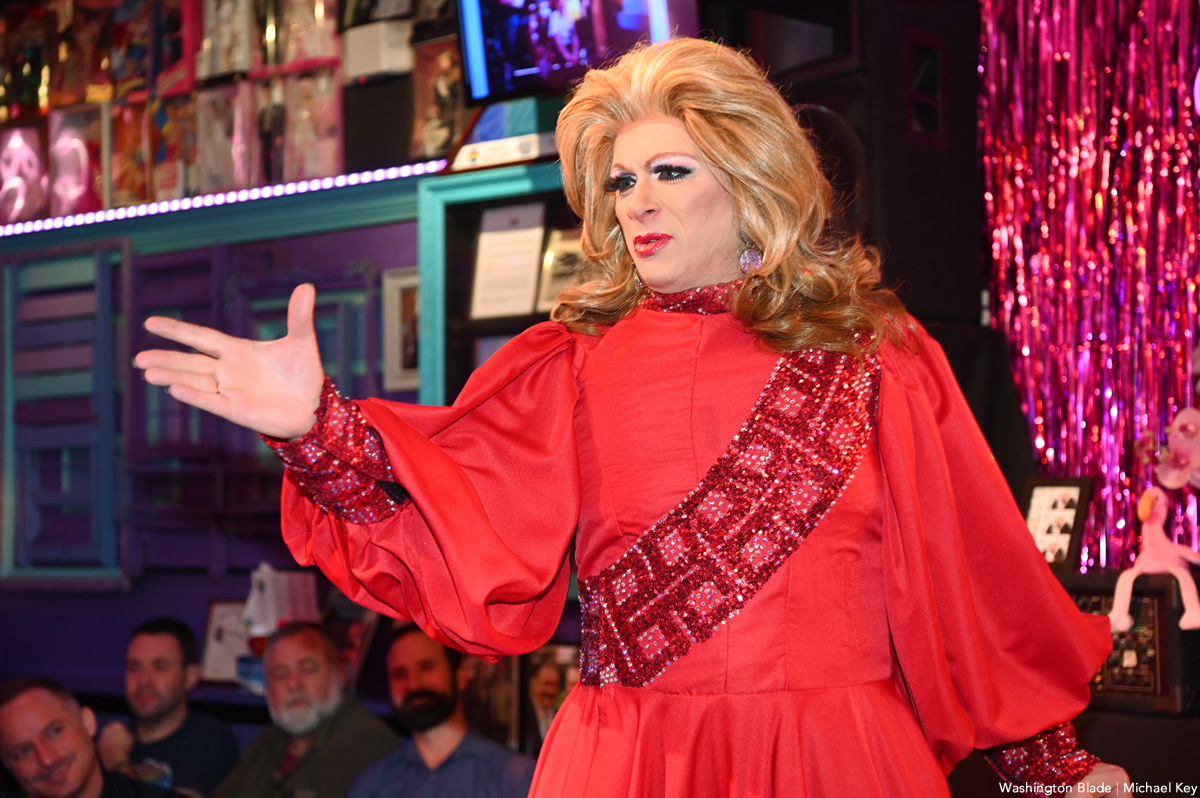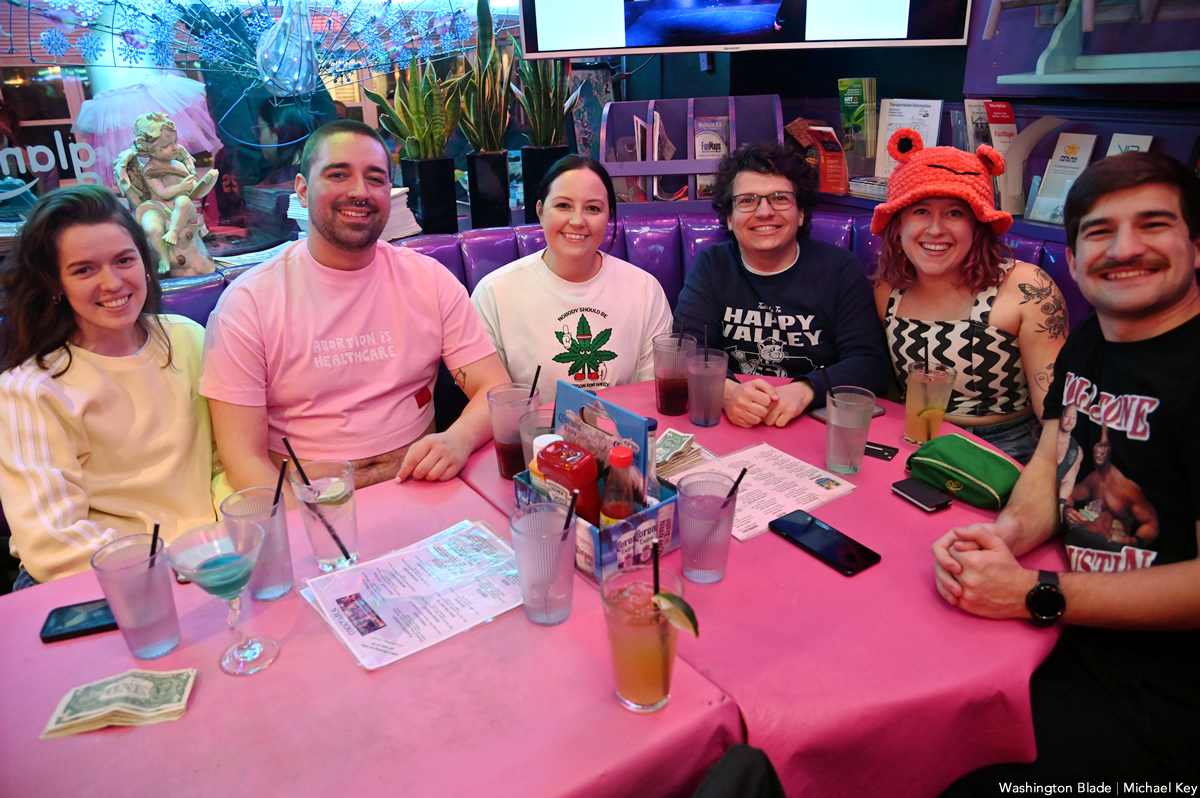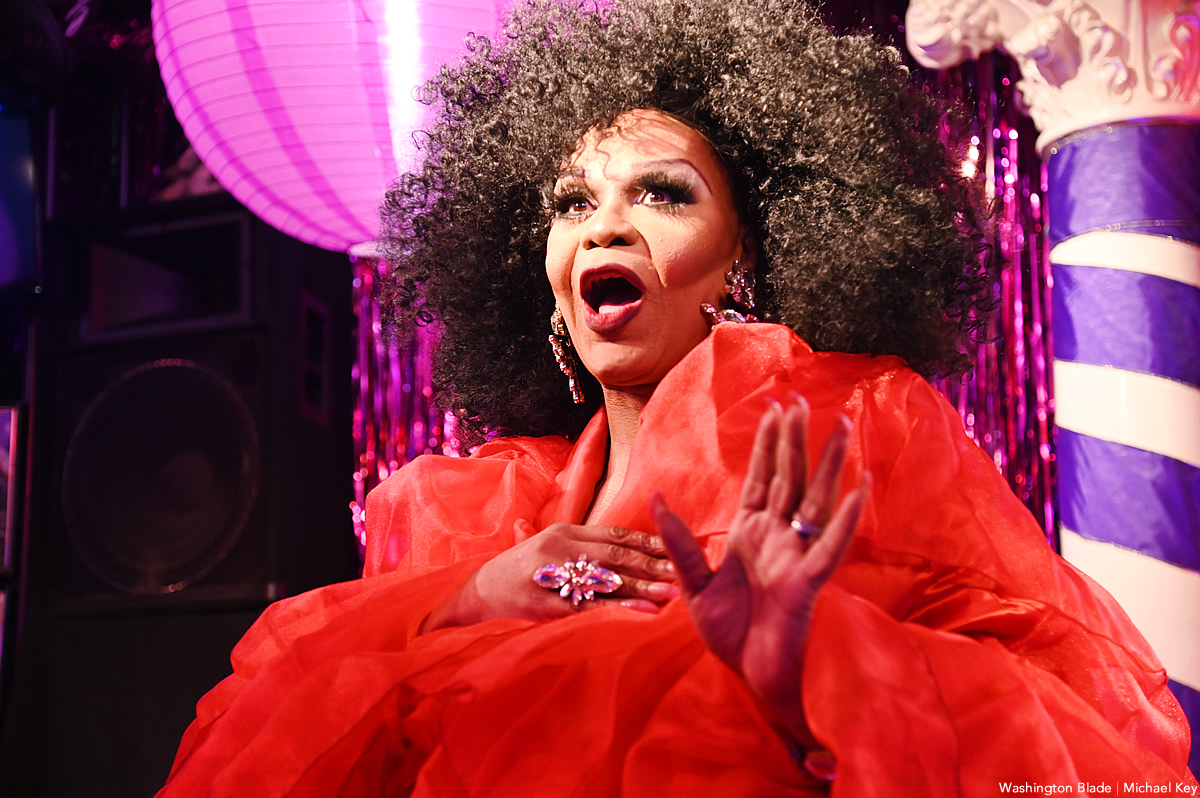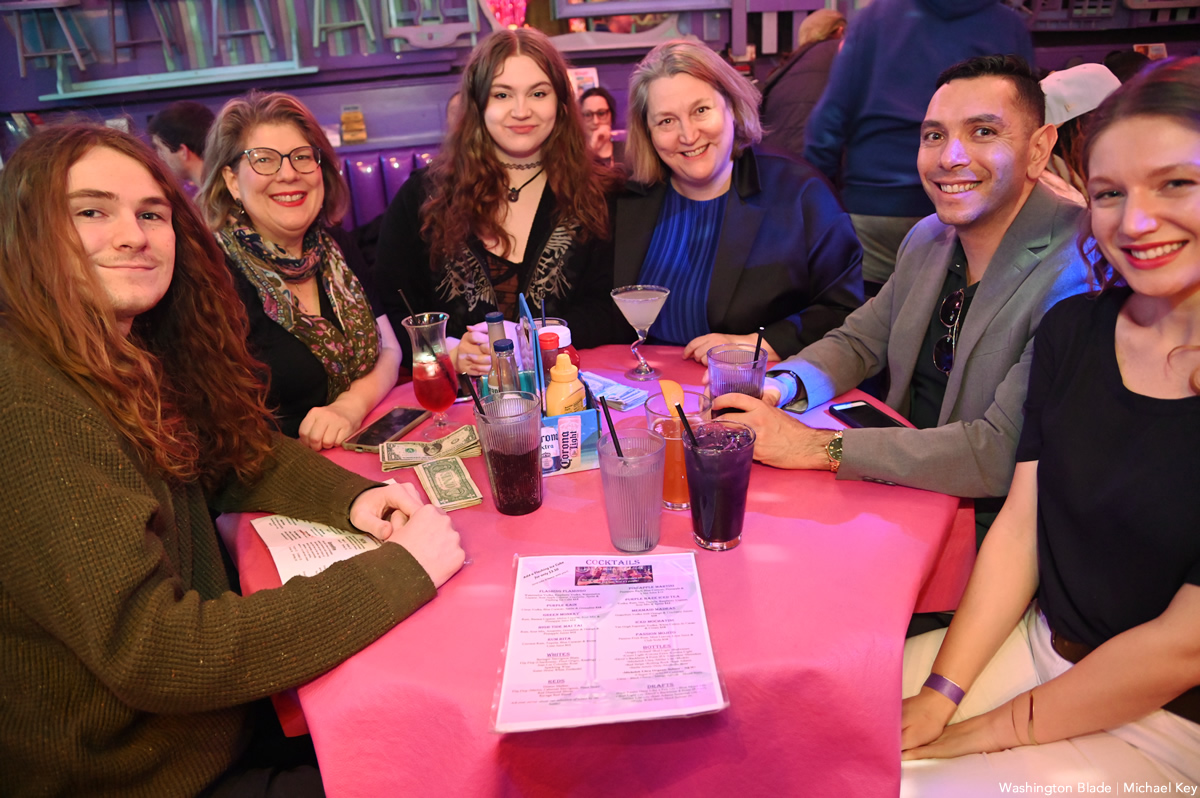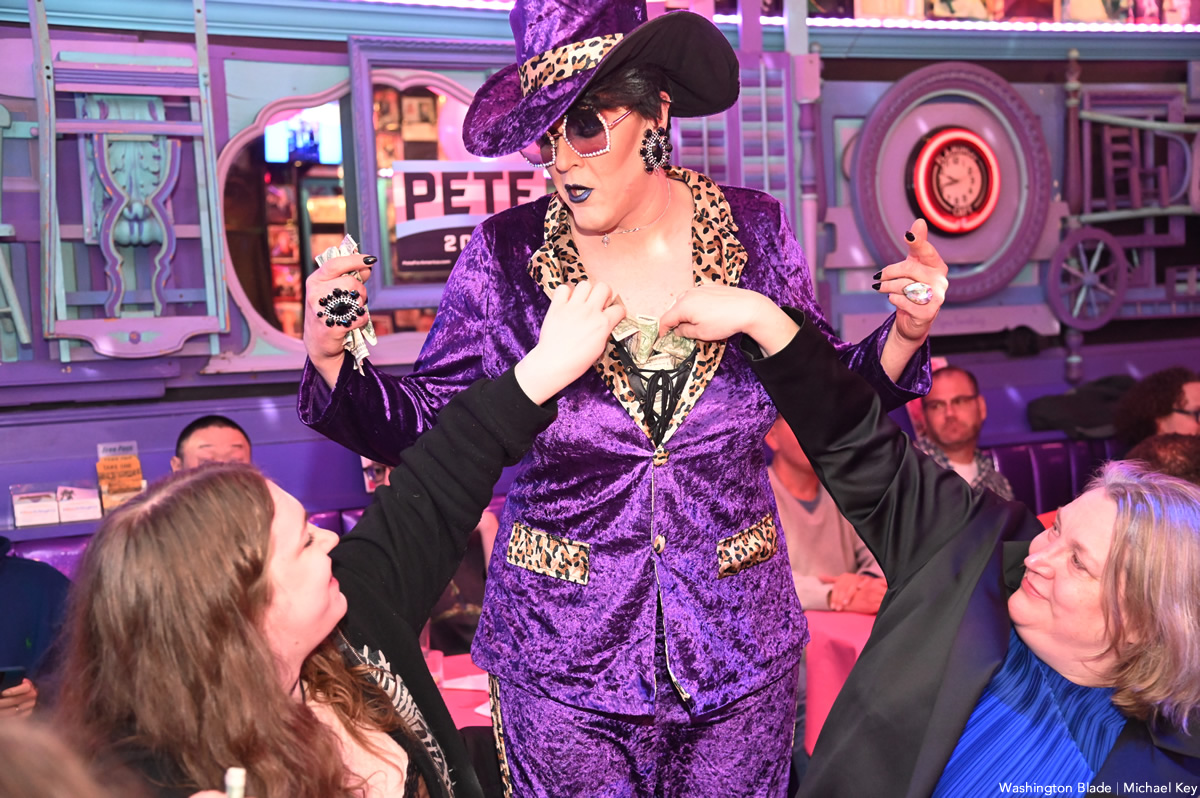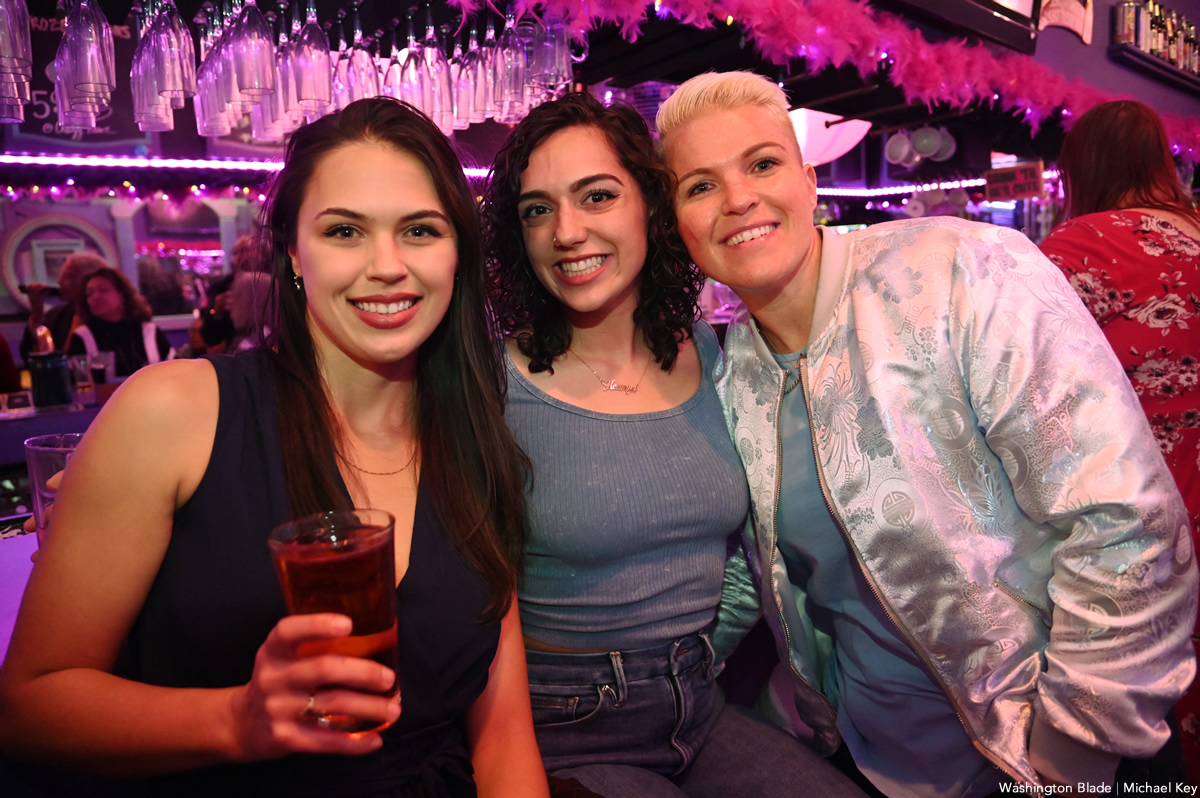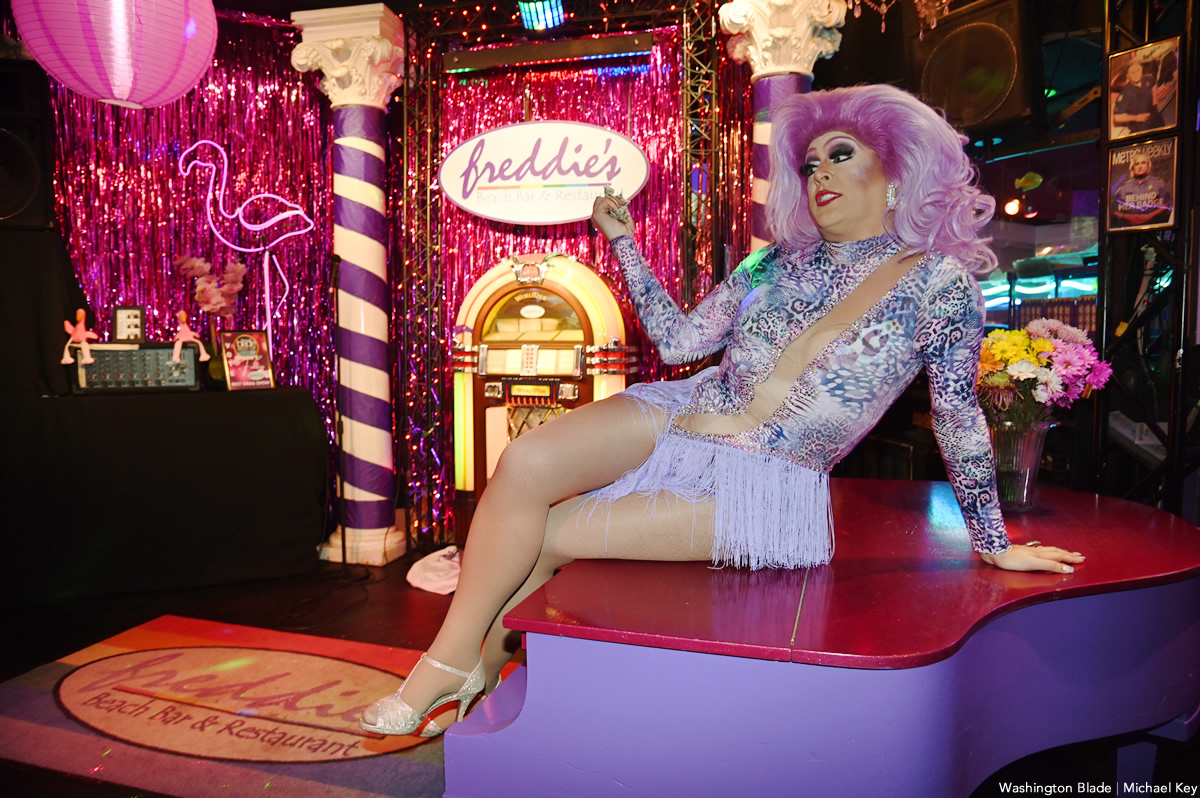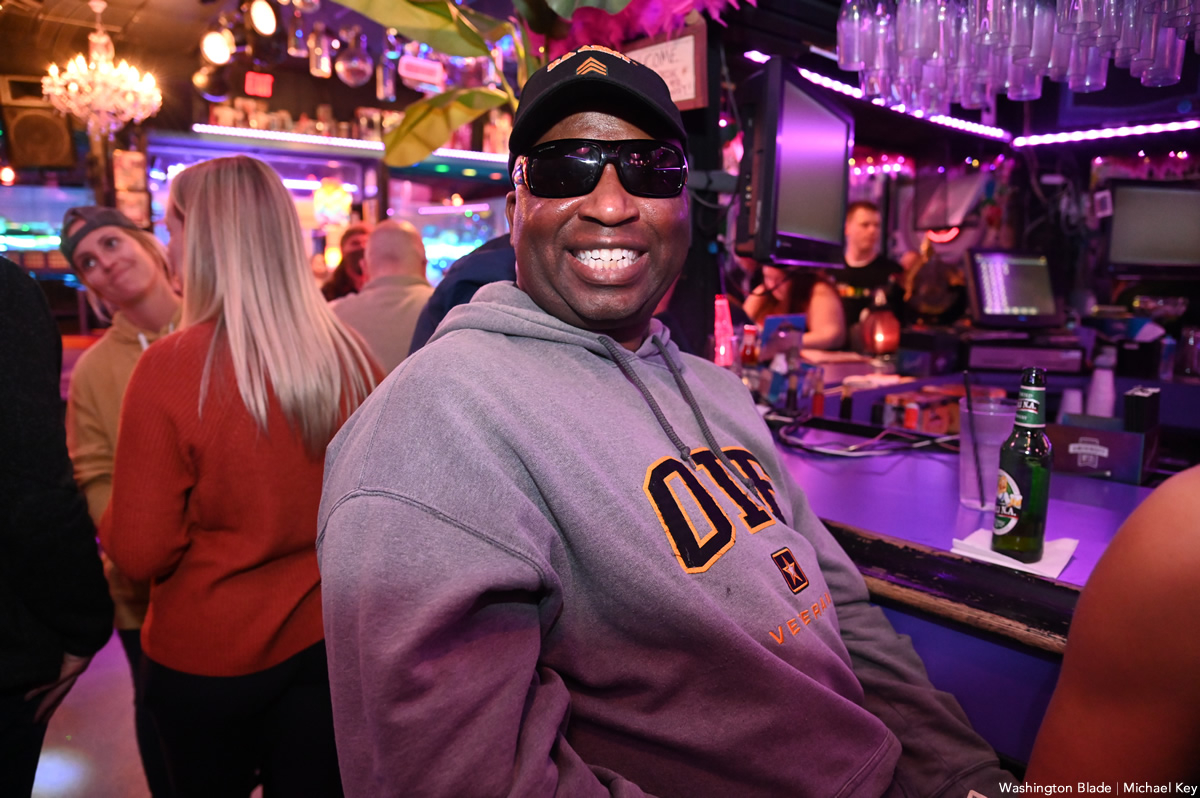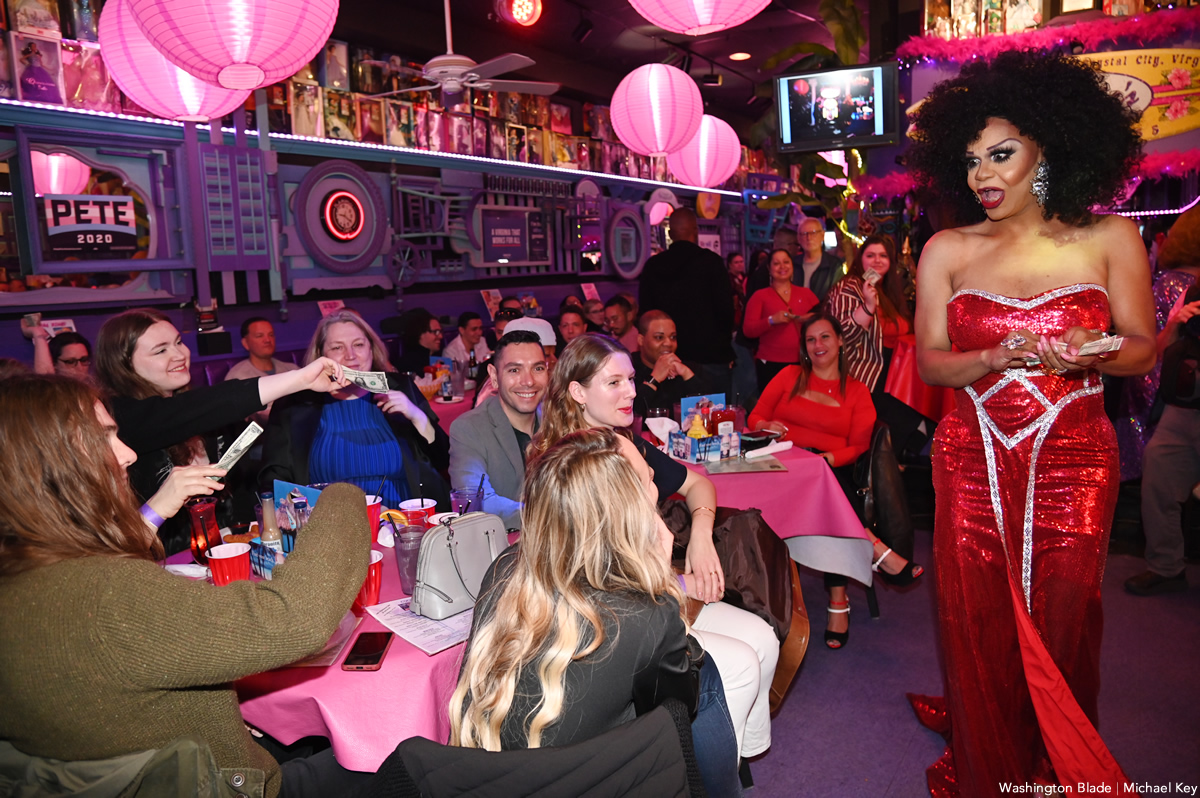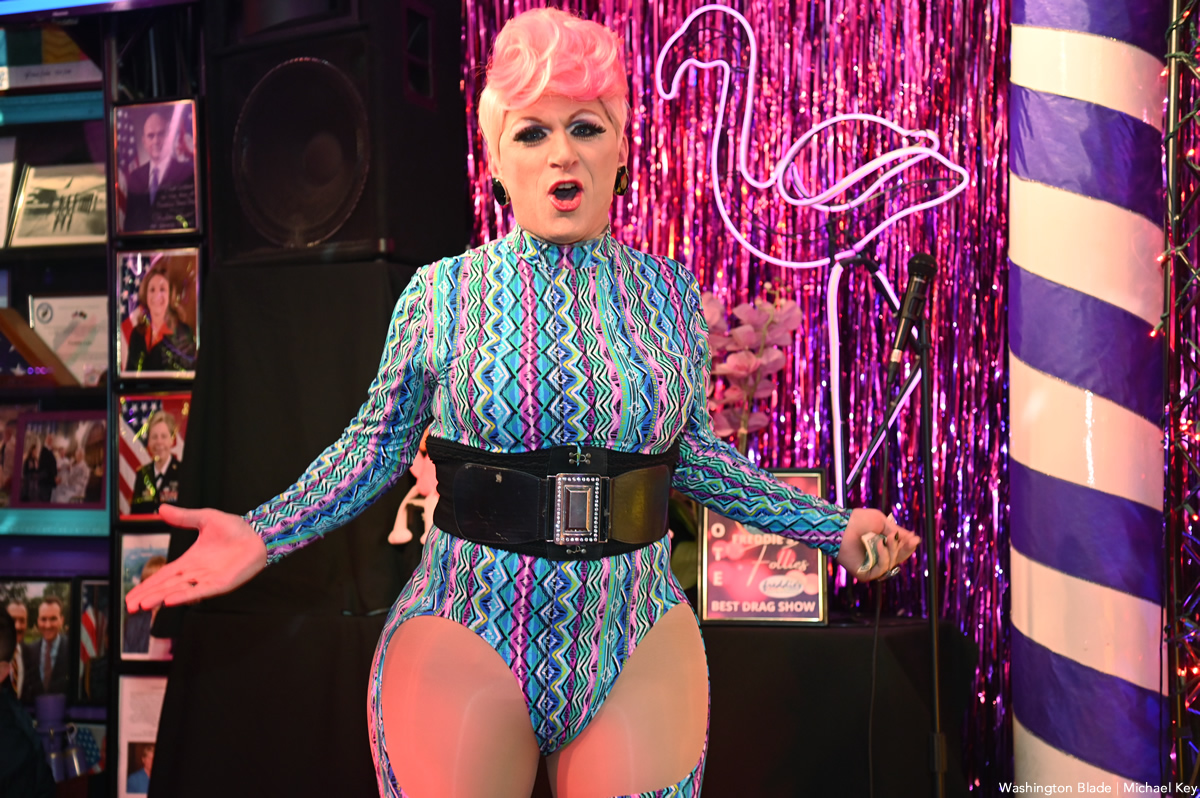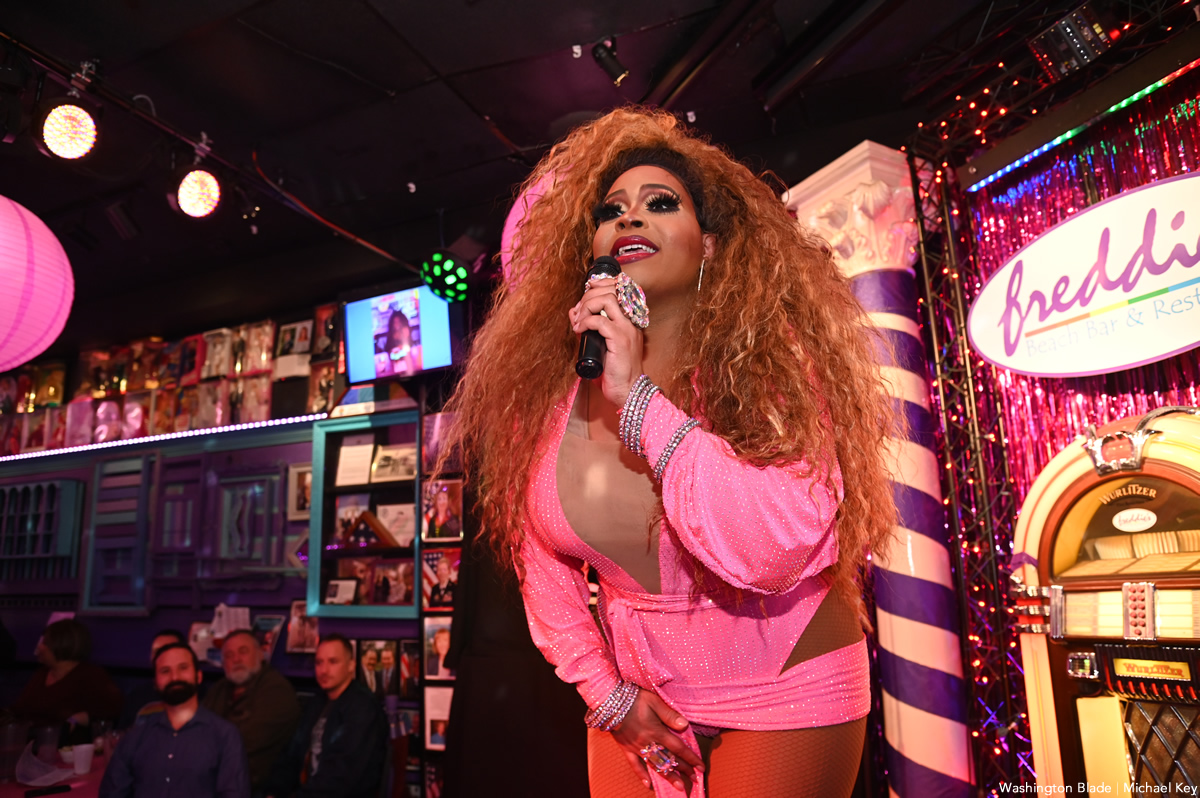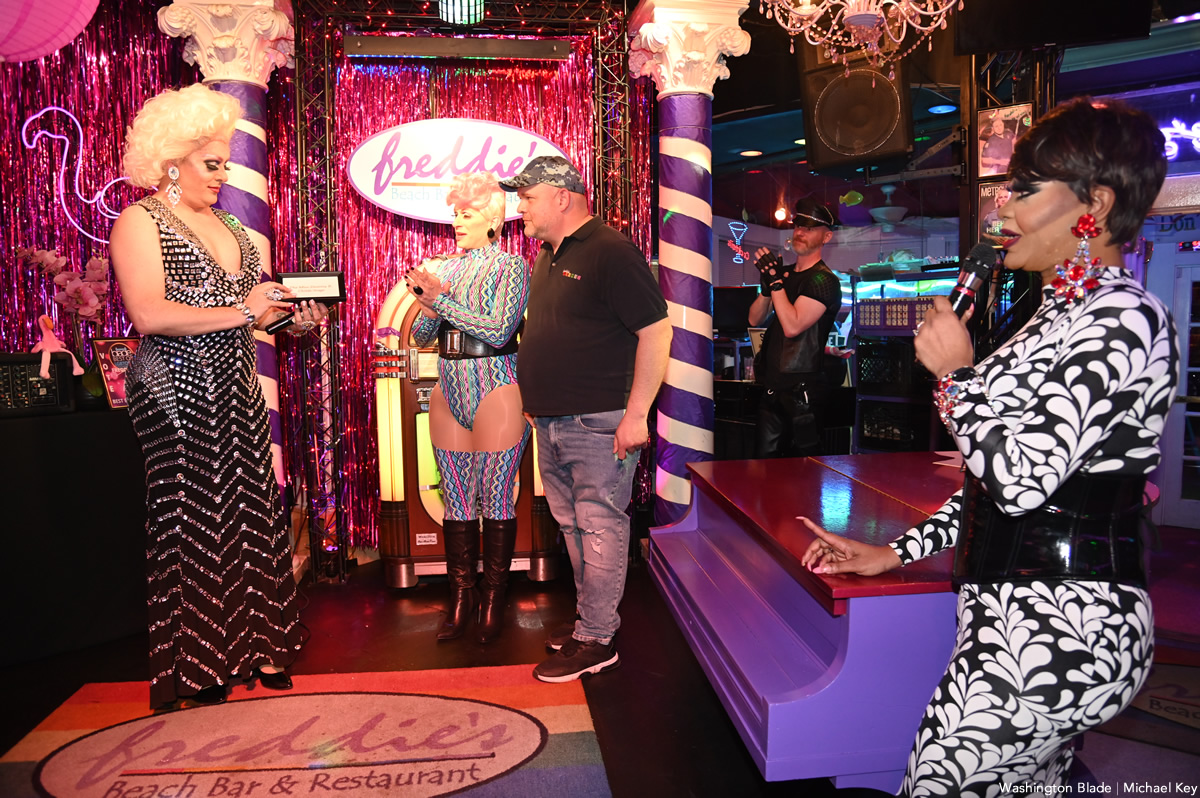 Covering Freddie's Follies 20th Anniversary for @WashBlade . @DestinyBChilds performing: pic.twitter.com/urpHgiMZ05

— Michael Patrick Key (@MichaelKeyWB) March 19, 2023