Education Dept. to count married gay couples for financial aid
Duncan says move ensures 'every single American is treated equally'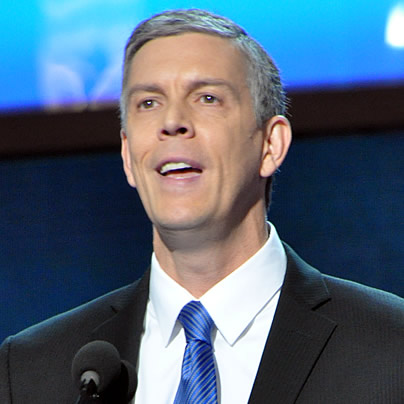 The Obama administration extended on Friday a policy counting same-sex marriages as equal to opposite-sex unions for the purpose of federal student financial aid, although the change could increase the amount of money a student would have to contribute toward an education.
The policy, announced by the Education Department, is the latest in a series of policy developments bringing the Obama administration into alignment with the U.S. Supreme Court decision striking down Section 3 of the Defense of Marriage Act.
Under the new guidance, a student or a parent of a student, will be considered legally married if they're in a same-sex marriage when applying for aid through the Free Application for Federal Student Aid, or FAFSA. The new policy applies to a same-sex marriage included on the application even if the applicant lives in a non-marriage equality state.
Education Secretary Arne Duncan said in a statement the new policy helps ensure equality for students seeking financial aid.
"We must continue to ensure that every single American is treated equally in the eyes of the law, and this important guidance for students is another step forward in that effort," Duncan said. "As students fill out their FAFSA this coming year, I'm thrilled they'll be able to do so in a way that is more fair and just."
The information provided by applicants on the FAFSA is used to determine a student's expected family contribution, which determines the student's eligibility for federal need-based student aid.
Although the change means equal treatment for same-sex and opposite-sex married couples, it also could trigger a greater family contribution by making it seem like a student has access to more resources.
An Education Department official, speaking on condition of anonymity, acknowledged that the applicant in LGBT families would have to pay more for their education under some circumstances.
"It is possible, but at the end of the day, what is important is that we're doing it in a way that treats everyone equally," the official said. "We don't know for sure. Every case is different. It is possible that the contribution level would be higher, meaning less federal support. But I can't say that with certainty."
The change will be reflected in the 2014-2015 FAFSA form, which is set to use terms like "Parent 1 (father/mother/stepparent)" and "Parent 2 (father/mother/stepparent)" instead of gender-specific terms like "mother" and "father." The new FAFSA form will come out Jan. 1.
But the new change also has an impact on the 2013-2014 FAFSA. If the student hasn't yet submitted that form for this school year, he or she is expected to respond to all questions related to marital status in accordance with the updated guidance. A student who previously submitted a 2013-2014 FAFSA may elect to submit a correction in light of the change
The new policy builds off an earlier announcement from the Education Department in April prior to the court ruling against DOMA requiring FAFSA to count the resources of same-sex parents for a student, if those parents live together, when determining eligibility for financial aid.
Michael Cole-Schwartz, a spokesperson for the Human Rights Campaign, said his organization is happy with the new policy.
"We're pleased that the Department of Education, like other federal agencies, has taken steps to ensure that same-sex spouses are fully and equally recognized, regardless of where those couples live," Cole-Schwartz said. "This policy will ensure that students in same-sex marriages and the children of married same-sex couples are treated fairly and equally under the federal financial aid system."
Colombia's first leftist president takes office
Gustavo Petro has pledged to support LGBTQ, intersex rights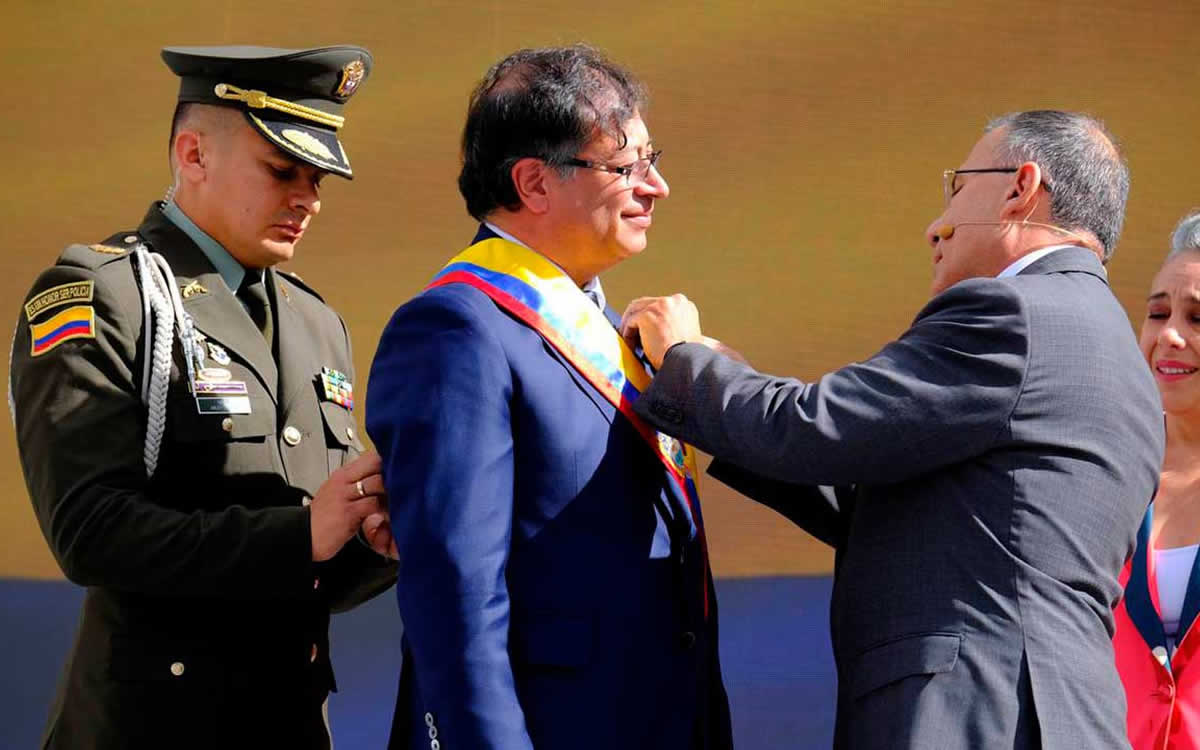 Former Bogotá Mayor Gustavo Petro on Sunday took office as Colombia's first leftist president.
The former Colombian senator who was once a member of the M-19 guerrilla movement that disbanded in the 1990s, in June defeated former Bucaramanga Mayor Rodolfo Hernández in the second round of the country's presidential election. Petro's running mate, Francia Márquez, on Sunday took office as Colombia's first female vice president of African descent.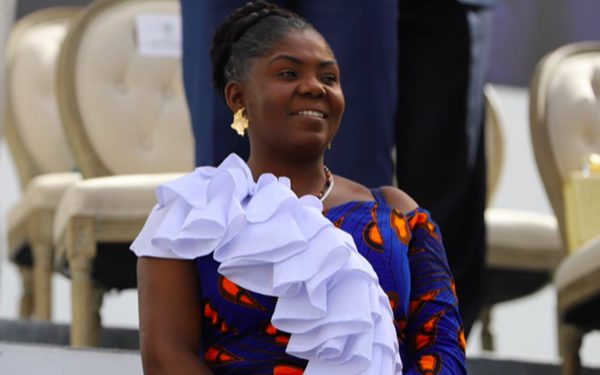 Petro before his inauguration named Néstor Osuna, an openly gay man, as the country's new justice minister.
"I am honored and thankful to President Gustavo Petro for the appointment as Colombia's justice minister," tweeted Osuna on Sunday. "I commit myself to working with your team to achieve the change for which so many of our compatriots yearn."
Me siento muy honrado y agradecido con el Presidente @petrogustavo por el nombramiento como @MinjusticiaCo. Asumo el compromiso de trabajar en su equipo para lograr el cambio que anhelan tantos millones de compatriotas.

— Néstor Osuna (@osunanestor) August 7, 2022
Petro in his inaugural speech did not specifically reference LGBTQ and intersex Colombians, but OrgulloLGBT.co, the Washington Blade's media partner in the country, published pictures that show LGBTQ and intersex people were among those who attended the inauguration.
#Historico Por primera vez vídeo Himno Oficial de la República de Colombia 🇨🇴 incluye escenas de activismo LGBTIQ 🏳️‍⚧️ 🏳️‍🌈

Imágenes quedaron en minuto 1:29 aproximadamente, fueron grabadas en #MarchaLGBTBogota https://t.co/1hux0BDRCk @MesaLGBT pic.twitter.com/ZSaUpQ06wT

— OrgulloLGBT® 🏳️‍🌈🏳️‍⚧️ (@OrgulloLGBT) August 8, 2022
Petro during the campaign pledged to fight violence and discrimination based on sexual orientation and gender identity and to implement policies "for the reaffirmation of gender and sexual orientation identities without barriers for all nonbinary and transgender people in Colombia." Márquez noted LGBTQ and intersex Colombians after she and Petro won the election.
Wilson Castañeda, director of Caribe Afirmativo, an LGBTQ and intersex rights group in northern Colombia, told the Blade after Petro and Márquez won the election that the campaign held "various meetings" with advocacy groups. Castañeda also noted that Petro, among other things, named Tatiana Piñeros, a transgender woman, to run Bogotá's social welfare and tourism office when he was mayor.
Castañeda and U.S. Agency for International Development Administrator Samantha Power are among those who attended Sunday's inauguration that took place in Bogotá's Bolívar Square.
"Full squares; happy faces; the flags of Colombia, Bogotá; rural, indigenous and LGBTI communities received the president and the vice president in an emotive and historic act that inaugurated the first popular and leftist Colombian government," tweeted Bogotá Mayor Claudia López on Sunday.
López is married to Angélica Lózano, a bisexual woman who in 2018 became the first LGBTQ and intersex person elected to the Colombian Senate.
Plazas llenas, caras felices, las banderas de Colombia, Bogotá, las comunidades campesinas, indígenas y lgbti, recibieron al Presidente y la Vicepresidenta en un acto emotivo e histórico para inaugurar el primer gobierno popular y de izquierda de Colombia!#ComienzaTuGobierno pic.twitter.com/qF6Ho5bGNp

— Claudia López Hernández (@ClaudiaLopez) August 8, 2022
Lozano in March won re-election in the country's national elections. Colombians also elected five openly LGBTQ and intersex people to the country's House of Representatives.
Tamara Argote in March became the first non-binary person elected to the Colombian Congress.
Landmark intersex rights law takes effect in Kenya
Activists praise Children Act 2022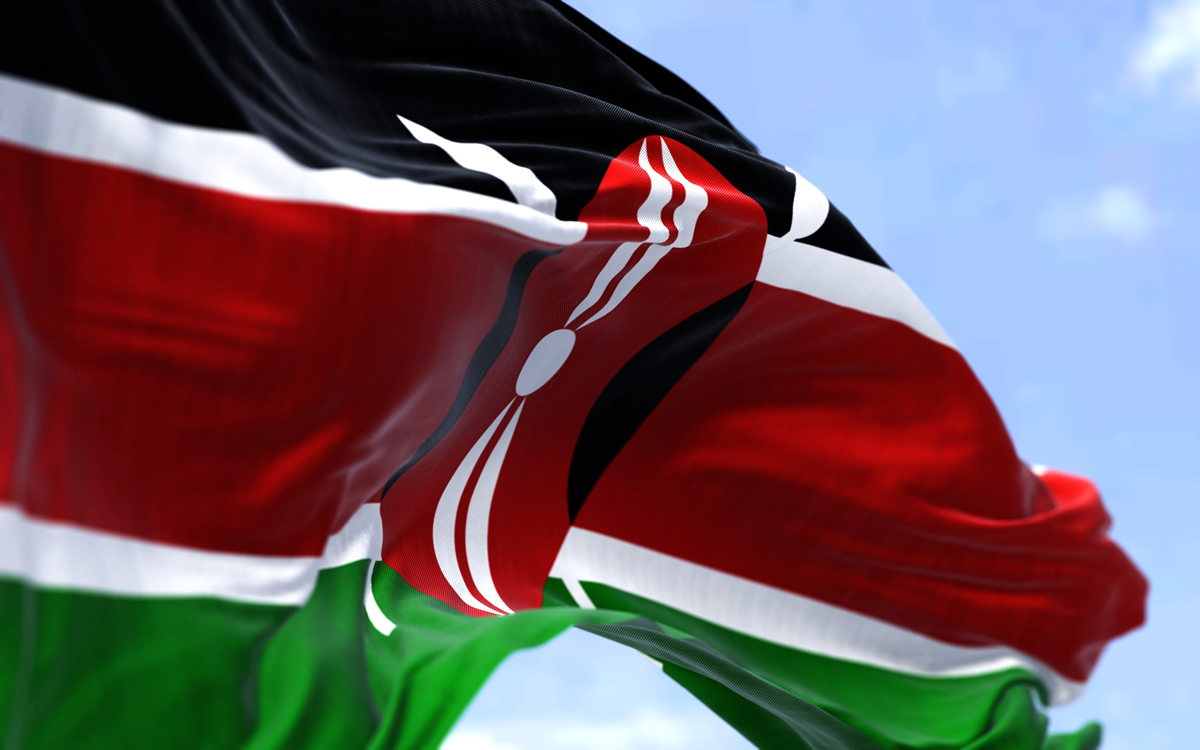 A new law that took effect late last month in Kenya has granted equal rights and recognition to intersex people
Intersex people are now recognized as Kenya's third gender with an 'I' gender marker in response to the Children Act 2022. Kenya is the first African country that has granted the intersex community this universal right.
The new law requires intersex children to be treated with dignity and have equal access to basic services like medical treatment and education, in addition to social protection services as a special need. It also requires the accomodation of intersex children in child protection centers and other facilities.
Courts are also required to consider the needs of intersex children who are on trial — including the calling of an expert witness — before they issue any ruling. The law further stipulates that anyone can be a foster parent without restrictions of gender, age or marital status.
It also protects intersex children from so-called sex normalization surgeries, and such procedures will only be done with a doctor's recommendation. Those who violate the law will face at least three years in jail and a fine of at least $5,000.
"This is a great and major milestone globally for Kenya. We are now way ahead and can teach our neighbors and the whole globe good practices," said Jedidah Wakonyo, a human rights lawyer and former chair of the Intersex Persons Society of Kenya.
The long journey for recognition started dramatically in 2006 when some human rights organizations petitioned courts about a detainee who had been accused of a violent robbery.
Authorities perceived the suspect was a man after police strip-searched him before he entered prison.
This followed numerous court battles by intersex people who demanded the right to recognition as another gender in their birth certificates.
Being denied birth certificates from the discriminatiory law that only recognized male and female genders further limited their access to national identity cards, passports and other crucial documents and government services.
The Births and Deaths Registration Act under the new law's Section 7 (3) "shall take measures to ensure correct documentation and registration of intersex children at birth."
Intersex people commonly have a combination of male and female gonads (ovaries or testicles) or ambiguous genitalia.
Wakonyo, who also chaired the Intersex Persons Implementation Coordination Committee and was named the International Court of Justice's 2020 jurist of the year, describes the law's enactment as a historic moment because of its comprehensive definition of an intersex person.
It defines an intersex child as "a child with a congenital condition in which the biological sex characteristics cannot be exclusively categorized in the common binary of female or male due to inherent and mixed anatomical, hormonal, gonadal or chromosomal patterns which could be apparent before, at birth, in childhood, puberty or adulthood."
Kenyan law considers anyone under 17 to be a child.
"Defining an intersex from a child's perspective while taking care of many aspects and not just the physical notion of being intersex is the best practice because in future they don't find themselves in the state of gender confusion between males and females like the current situation," stated Wakonyo.
This provision essentially protects intersex persons from being deprived of their constitutional rights of gender recognition under the country's Bill of Rights.
Veronica Mwangi, the deputy director at Kenya's National Commission on Human Rights, that helped secure the law's implementation, said it addresses issues for which the intersex community has been fighting for years.
"It is very progressive and we are glad about the gains because it provides for the existence of the intersex which all state actors have to accept. Full implementation is what we now need to focus on," she said.
The law took effect roughly five years after Kenya became the first African nation and the second country in the world after Australia to count intersex people in a Census. The 2019 survey showed 1,524 Kenyans were intersex.
Intersex rights groups had initially petitioned the courts for a total ban of surgeries on intersex children unless they were a medical emergency.
Wakonyo backs the provision for a doctor's approval on grounds that the surgeries will only be done "in the best interest of the intersex child, informed consent of the parents and the participation of the child depending on the age." Wakonyo and other activists say the relaxation of the requirements for adopting intersex children not only seeks to end the problem of neglect and abandonment but also the stigma that has left some to die by suicide.
The law safeguards adoptive parents' rights and parental responsibility and intersex children from child labor, online expuse and other forms of exploitation.
"Intersex children who are just like other children will no longer be killed at birth because of their gender ambiguity," said Wakonyo.
Despite the law's huge benefits for the intersex community, Wakonyo notes it is a "very significant foundation" for the group because gender-specific accommodations in social gatherings and facilities remain needed.
Another historic win for intersex Kenyans this year was the Kenyan National Commission on Human Rights' decision to hire an intersex commissioner.
"Dr. Dennis Wamalwa applied as an intersex (person), interviewed as an intersex (person), and the shortlist comprised male, female, and 'I' gender for intersex. He emerged (at the) top and his intersex friends and associates came to witness his swearing," stated Wakonyo, who also served as a Kenyan National Commission on Human Rights commissioner.
AIDS Action Baltimore to honor John Waters at 35th anniversary commemoration
Honorees to include John Waters and Pat Moran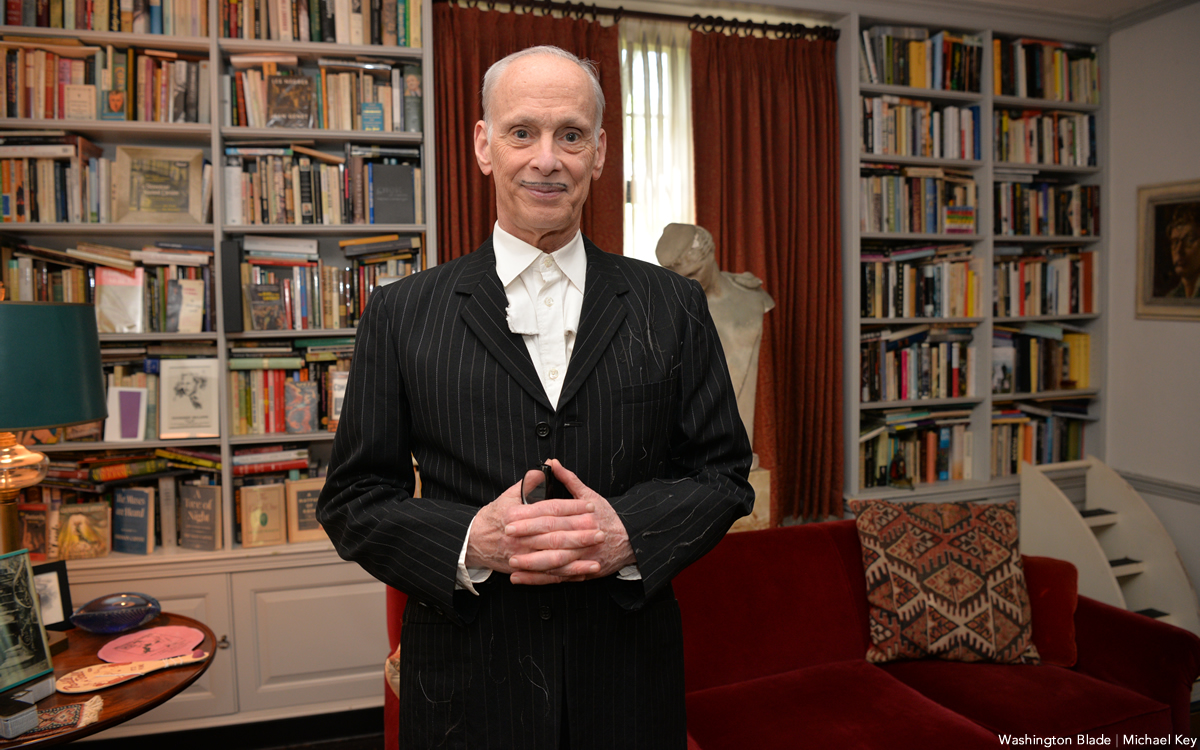 AIDS Action Baltimore will mark 35 years of service next month by paying tribute to six people who have helped keep it in operation, including filmmaker John Waters and his friend and movie industry colleague Pat Moran.
AIDS Action Baltimore's 35th Anniversary Commemoration, planned for Sept.18, is a cocktail reception and brunch that's also a fundraiser for the non-profit organization, which was started in 1987 to fight HIV/AIDS and provide a safety net for people living with HIV/AIDS and experiencing a financial emergency.
"John has supported us from the beginning," said Lynda Dee, co-founder and executive director of the organization. "All of his movie premieres benefitted AIDS Action Baltimore. Without his help, we wouldn't be here today."
Waters has directed 16 movies and written 10 books, and he was named in June to receive a star on the Hollywood Walk of Fame. Based in Baltimore, he has two museum exhibits coming up, "Coming Attractions: The John Waters Collection," an exhibit of art from his personal collection that he's donating to the Baltimore Museum of Art, at the museum from Nov. 20, 2022, to April 16, 2023, and "Pope of Trash," a career retrospective at the Academy Museum of Motion Pictures in Los Angeles next summer.
Moran is a three-time Emmy Award-winning casting director who has worked closely with Waters and others on films and television shows made in Baltimore. She is one of three co-founders of AIDS Action Baltimore, along with Dee and Garey Lambert, who passed away in 1987.
Waters said he's pleased to support AIDS Action Baltimore.
"I'm really happy to be involved," he said. "Pat was one of the first people that started it. I've been a supporter always just because I believe I'm lucky I didn't die of it. Plain and simple. I give money as a superstition that I won't ever get it. And Lynda Dee is a tireless AIDS warrior. The gay community owes her great, great credit … It's an organization in Baltimore that has kept many, many people alive … I'm just honored to help them in any way I can."
Other honorees include:
Richard Chaisson, professor of medicine at the Johns Hopkins University School of Medicine and principal investigator of the Hopkins Center for AIDS Research;
Carla Alexander, assistant professor of medicine at the University of Maryland School of Medicine, a fellow of the American Academy of Hospice and Palliative Care, and an internationally recognized expert for those living with HIV disease;
Debbie Rock, a disco singer-turned-HIV activist who is the founding CEO of LIGHT Health and Wellness, a non-profit that provides a range of services for children, families and individuals in Baltimore affected by poverty, addiction, mental illness, HIV/AIDS and other chronic illnesses, including day care and respite care for children with HIV/AIDS; and
Carlton Smith, a community health worker with the state of Maryland, founder of the Center for Black Equity, and chair of the Ryan White Planning Council, which provides medical care and support services for people with HIV in Baltimore. 
Since 1987, AIDS Action Baltimore has helped more than 8,750 people, distributing $3.145 million in assistance for items such as rent and utilities. It also has a number of programs to fight HIV, from town hall meetings to testing assistance to prevention campaigns, including outreach efforts to at-risk populations.
According to the Centers for Disease Control and Prevention, 31,676 people aged 13 and older were living in Maryland with diagnosed HIV at the end of 2020, and an estimated 3,559 people in Maryland were living with undiagnosed HIV at the end of 2019.
Dee wrote in June that the COVID-19 pandemic has made it more difficult for AIDS Action Baltimore to provide the services it does.
"COVID-19 is eating a large percentage of U. S. Health and Human Services funding," she wrote she in an open letter to friends of the organization. "We are in danger of losing all our hard-won treatment and prevention gains. Because of COVID-19, it is much harder to obtain the money we need to fight HIV."
That's why AIDS Action Baltimore holds events such as the one next month, she added: "We are still doing our best to help ourselves."
AIDS Action Baltimore's 35th Anniversary Commemoration will be held at the Belvedere (1 E. Chase St.) in Baltimore, from 11 a.m. to 2 p.m. on Sept. 18. Tickets cost $175 per person or $1,750 for a table of 10. They're available at aidsactionbaltimore.org or by calling 410-437-AIDS.