Mormons make case for Utah, Okla. marriage bans
LDS Church joins other religious groups in legal filing before Tenth Circuit
The Mormon Church joined other major Christian groups on Monday in filing a legal brief supporting bans on same-sex marriage in Utah and Oklahoma, although they rely on a study that authors say shouldn't be used as evidence against same-sex marriage.
The 53-page document urges the U.S. Tenth Circuit Court of Appeals to uphold bans on same-sex marriage on the argument that children are better off when raised by opposite-sex parents.
"Every child has a father and a mother," the brief states. "Procreation within a stable male-female marriage gives a child a uniquely full human context that accounts for both the child's biology and the deeper intentions and commitments of the child's parents. The male-female ideal in marriage and parenting provides children security and other irreplaceable benefits."
To bolster this argument, the brief on page 24 relies on a 2002 study from the D.C.-based non-profit Child Trends, titled "Marriage from a Child's Perspective: How Does Family Structure Affect Children and What Can We Do About It?" The study makes no explicit reference to same-sex marriage.
But anti-gay groups have cited this study before in separate briefs filed before the Supreme Court last year in favor of California's Proposition 8 and the Defense of Marriage Act — much to the objection of its authors who say their research says nothing about same-sex marriage.
Frank Walter, a spokesperson for Child Trends, reiterated that objection Tuesday in an email to the Washington Blade.
"Child Trends has been diligent in noting that it is inaccurate to make conclusions about the well-being of children being raised in same-sex households based on our study on heterosexual households," Walter said. "As noted, this was not part of the study. In fact, we made this case in parliamentary hearings on this issue in Ireland when we were alerted that our information was being misrepresented."
The study was also cited in the legal brief that the state of Utah filed last week before the Tenth Circuit in favor of its ban on same-sex marriage. The research also comes up in at least one other friend-of-the-court brief that was signed by social scientists and Mark Regenrus, who produced a discredited study against same-sex parenting.
Major psychological and family groups have disputed the notion that gay parents aren't as fit as straight parents in raising children. Last year, the American Academy of Pediatrics came out in support of same-sex marriage.
Walter encouraged experts on the issue to research the issue of same-sex parenting because of the prevalence of LGBT families.
"We do not have data on children in same-sex families but hope research will be done in this area given the significant number of gay and lesbian families raising children," Walter said.
The brief was filed in two separate cases related to same-sex marriage: one is the case filed against Utah's ban, known as Kitchen v. Herbert, the other is the case filed against Oklahoma's ban, known as Bishop v. Smith.
In addition to the LDS Church, other groups listed on the filing are the United States Conference of Catholic Bishops; National Association of Evangelicals; the Ethics & Religious Liberty Commission of the Southern Baptist Convention; and Lutheran Church—Missouri Synod.
The LDS Church is joining others in filing the brief despite an earlier media report from local Salt Lake City affiliate FOX 13 saying the church wouldn't issue a filing in the case. The church didn't immediately respond to a request for comment on why it was participating in filing despite this report.
Additionally, the brief cautions the court against striking down marriage bans on the basis that they adhere to the traditional concerns of morality, suggesting they should be upheld on the basis of freedom of religion.
"It follows that subjecting marriage laws and amendments to unusual constitutional scrutiny because they coincide with traditional morality would also raise grave First Amendment concerns," the brief states. "Though differing religious groups may align on different sides of the marriage issue, judges cannot pronounce the religious beliefs of one set of voters progressive and another ignorant or hateful."
The brief is along the lines of similar filings that the Mormon Church and other religious groups submitted before the U.S. Supreme Court last year when California's Proposition 8 and the Defense of Marriage Act were before the court.
But there's a key difference: even though the earlier filing included other groups, the only law firm in that document was the Salt Lake City-based Kirton & McConkie, which handles legal matters for the LDS church. Now, Anthony Picarello, general counsel for the U.S. Conference of Catholic Bishops, has joined that firm in signing the document before the Tenth Circuit.
Furthermore, the brief disputes the assertion often made by LGBT advocates (and courts) that bans on same-sex marriage were motivated out of animus toward LGBT people — a key consideration in determining the measures are unconstitutional.
"The accusation is false and offensive," the brief states. "It is intended to suppress rational dialogue and democratic conversation, to win by insult and intimidation rather than by reason, experience, and fact. In truth, we support the husband-wife definition of marriage because we believe it is right and good for children, families, and society."
John Gustav-Wrathall, senior vice president of the LGBT Mormon group Affirmation, said he concurs with the view the church isn't motivated by animus in its opposition to same-sex marriage.
"There may be animus within the Mormon population, just as there is in the population at large," Gustav-Wrathall said. "Some of that animus may fuel fervor for political activism against same-sex marriage. But generally we've seen tremendous progress in the understanding of LGBT people and of same-sex relationships in the church within recent years."
The Mormon Church has been a key opponent of same-sex marriage after taking a lead role in passing Prop 8 in 2008. Although the church, with a few exceptions, largely stayed out the ballot fights in 2012, it was vocal against the legalization of same-sex marriage in Hawaii and has participated in legal cases to defend bans on same-sex marriage.
Comings & Goings
Jennings named director of Manhattan Theatre Club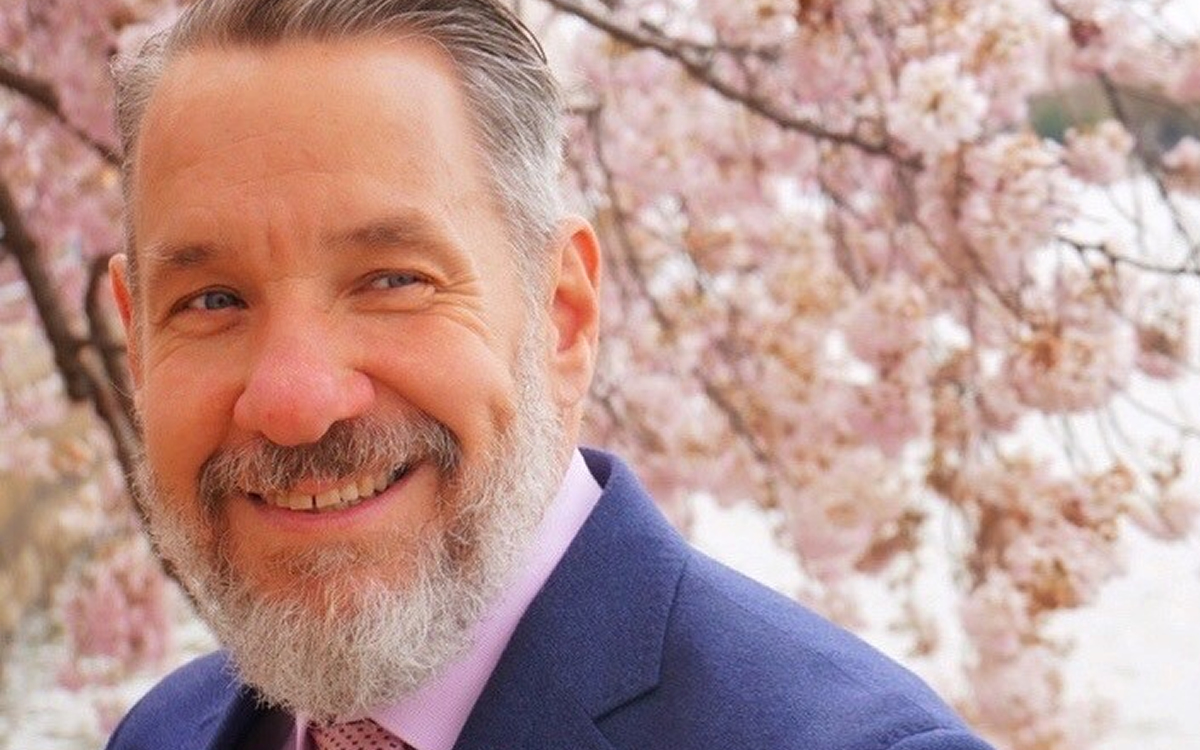 The Comings & Goings column is about sharing the professional successes of our community. We want to recognize those landing new jobs, new clients for their business, joining boards of organizations and other achievements. Please share your successes with us at [email protected].
 The Comings & Goings column also invites LGBTQ college students to share their successes with us. If you have been elected to a student government position, gotten an exciting internship, or are graduating and beginning your career with a great job, let us know so we can share your success. 
Congratulations to Chris Jennings on being named Executive Director of the Manhattan Theatre Club (MTC). David C. Hodgson, chair of the MTC board of directors said, "Chris Jennings brings a wealth of experience to his new role at MTC. After a broad national search, Chris stood out for his strong theater chops, the quality of his body of work at Shakespeare Theatre Company, and familiarity with MTC from his time with us as an Administrative Fellow here in 1996. The board is eager to begin our new partnership with him."
Upon accepting the position, Jennings said, "I'm thrilled to return home to MTC, where I began my career and was mentored by Barry Grove. I'm truly excited to partner with Lynne Meadow in building on her success and helping to continue to create an artistic home for the most talented artists working in the theatre today. It is thrilling that in the first few months alone, we'll be working on new plays by Jocelyn Bioh, Qui Nguyen, John Patrick Shanley, and more. It is with mixed emotions that I take this next step after 19 seasons with STC. My time here has meant more to me than words can say. STC is well positioned for the future with dynamic artistic work and the most dedicated and talented staff."
Jennings is completing his 19th season with Shakespeare Theatre Company, having produced 120 shows. Highlights of Jennings's time with STC include the construction and opening of Sidney Harman Hall in downtown Washington, D.C., receiving the 2012 Regional Theatre Tony Award, leading the artistic transition from founder Michael Kahn to Artistic Director Simon Godwin, and successfully guiding the company through the difficult periods of the 2008 recession and the COVID-19 pandemic.
Notably, returning to live performances after the COVID lockdown, he developed a celebrated collaboration with the Nederlander Organization to premiere "Once Upon a One More Time," which became the biggest-selling show in STC history and is now in previews on Broadway. Under his leadership, STC toured productions to Macau, the Middle East, and the United Kingdom, including to the RSC Complete Works Festival. He has built international collaborations, annually importing high-profile productions from South Africa, France, and the UK, most recently represented by the critically acclaimed and sold-out production of "The Jungle" this spring. During his tenure, STC launched District Shakespeare, a model accessibility program providing every 10th grader from all 53 D.C. schools the opportunity to experience Shakespeare live on stage. Jennings is currently leading a mixed-use real estate project, The Bard, to provide consolidated support including actor housing with an anticipated groundbreaking later this year.
Jennings has served on numerous boards, including Theatre Washington, D.C. Downtown BID, THE ARC Community Center, and the D.C. Arts Collaborative. Before joining STC he served as General Manager of Trinity Repertory Company and Theatre for a New Audience. Chris held positions with Yale Repertory Theatre, Manhattan Theatre Club, and Dougherty Arts Center. Jennings was a recipient of an Arts Administration Fellowship from the NEA.
Jennings earned his BFA in Theatre/Music, University of Miami; and MFA in Theatre Management, Yale School of Drama.
Anti-LGBTQ conservative Christian activist Pat Robertson is dead at 93
Televangelist was infamous for making outrageous and offensive statements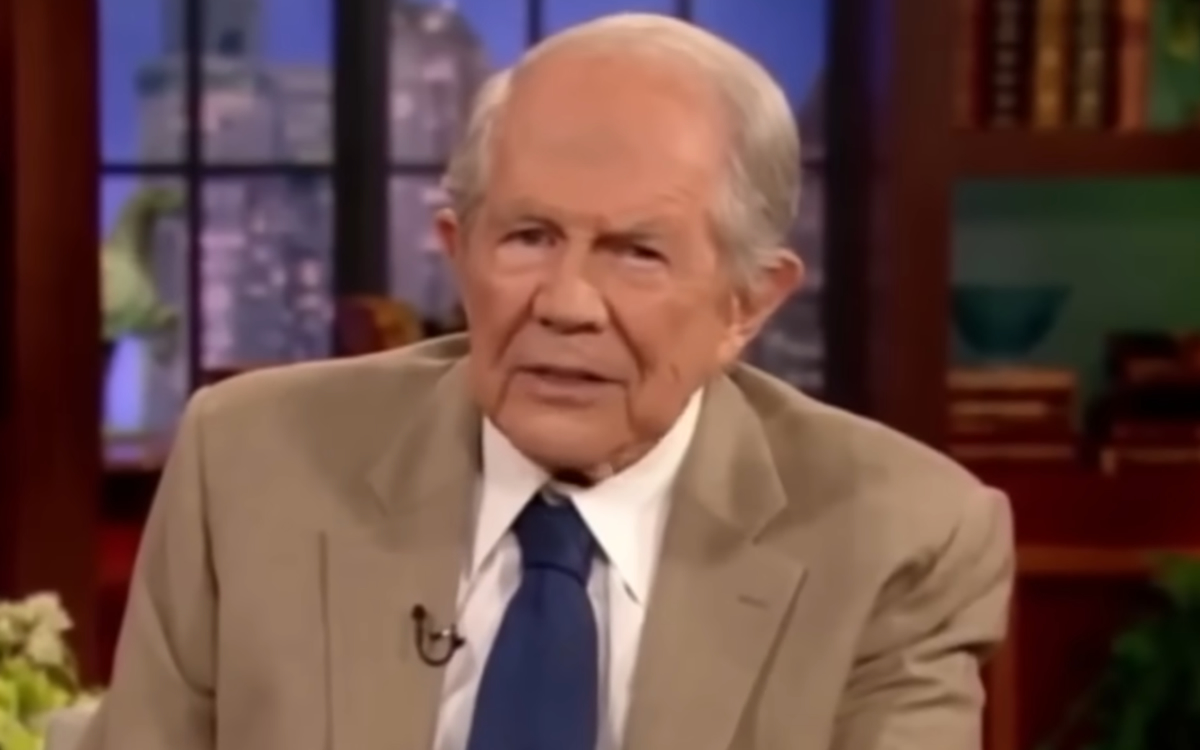 Anti-LGBTQ Christian-media mogul, televangelist, conservative political activist, and evangelical Southern Baptist minister Pat Robertson died at 93, representatives from his Christian Broadcasting Network confirmed on Thursday.
A public figure who was active in American politics since the 1960s, Robertson became as known for making Christianity central to the Republican Party as he was for his outrageously offensive comments targeting LGBTQ people as well as Haitians, Black People, Muslims, Jewish people, Buddhists, and many others.
When fellow anti-LGBTQ evangelical televangelist and erstwhile rival Jerry Falwell appeared on his flagship television program The 700 Club on the week of September 11, 2001, Robertson replied "I totally concur" when Falwell laid blame for the terror attacks on "the ACLU" along with "the pagans and the abortionists, and the feminists, and the gays, and the lesbians."
In 2020, Robertson falsely predicted that "without question Trump is going to win the election," going on to support efforts to keep Trump in office and vowing that "God himself would intervene" on the former president's behalf.
"These people are crazed fanatics," Robertson said on the 700 Club, talking about Muslims, "and I want to say it now: I believe it's motivated by demonic power. It is Satanic and it's time we recognize what we're dealing with."
Three years later, in 2009, he said, "Islam is a violent – I was going to say, 'religion', but it's not a religion; it's a political system. It's a violent political system bent on the overthrow of the governments of the world, and world domination."
Feminism, Robertson famously wrote in a 1992 fundraising letter, "is about a socialist, anti-family political movement that encourages women to leave their husbands, kill their children, practice witchcraft, destroy capitalism and become lesbians."
After the U.S. Supreme Court's 2015 ruling in Obergefell v. Hodges, which established the constitutional right to same-sex marriage, Robertson warned Christian business that gay customers will "make you conform to them": "You're gonna say that you like anal sex, you like oral sex, you like bestiality," he said. "Sooner or later, you're going to have to conform your religious beliefs to the group of some abhorrent thing. It won't stop at homosexuality."
In 1998, Robertson said divine retribution would soon ensnare the city of Orlando as punishment for Disney World's Gay Days, in the form of "earthquakes, tornadoes and possibly a meteor."
"This is a devastating blow to religious freedom and to the sanctity of America," he said in 2019 in response to the U.S. House's passage of the Equality Act, which would codify nondiscrimination protections for LGBTQ people. He continued, "If you want to bring the judgment of God on this nation, you just keep this stuff up. You know, I was reading in Leviticus where it said, 'Because of these things, the land will vomit you out.' Vomit you out. I think God will say, 'I've had it with America, if you do this kind of stuff, I'm going to get rid of you as a nation.'" Robertson then warned of "the potential of atomic war" and the possibility of an attack on the country's electric grid.
In 2006, on his website Robertson began claiming that he could leg-press 2,000 pounds through training and an "Age-Defying energy shake."
The following year, commenting on people who have had too much plastic surgery, Robertson said "they got the eyes like they're Oriental" and manually stretched his eyelids.
Another of his more infamous rants came in 2010, when Robertson claimed on The 700 Club that the earthquake in Haiti that year — which killed hundreds of thousands and impacted millions — was caused because Haitians made a deal with the devil when the country won independence from French colonial rule in 1791.
When a viewer called in to The 700 Club in 2012 to request advice, complaining that his wife did not respect him, Robertson said the caller could move to Saudi Arabia and become a Muslim so he could beat her.
Discussing AIDS in 2013, Robertson said, "You know what they do in San Francisco, some in the gay community there they want to get people so if they got the stuff they'll have a ring, you shake hands, and the ring's got a little thing where you cut your finger," Robertson said. "Really. It's that kind of vicious stuff, which would be the equivalent of murder."
In 2021, Robertson said critical race theory will give people of color "the whip handle" over white people.
When a gunman killed 60 people and wounded hundreds more in Las Vegas in 2017, Robertson blamed "disrespect" for then-President Donald Trump and the practice among professional football players and others of taking the knee during the national anthem to protest racial injustice.
In February of 2022, Robertson said Russian President Vladimir Putin was "compelled by God" to invade Ukraine to fulfill the "end times prophecy" in Israel.
Likely one of the ugliest hate-mongering statements he made, and which especial condemnation was leveled at him, occurred in the aftermath of the June 12, 2016, massacre when 49 LGBTQ+ people were killed at Pulse, an LGBTQ+ nightclub in Orlando, Florida, by a shooter who'd pledged allegiance to a radical form of Islam.
Robertson told viewers on his religious 700 Club broadcast the following day that Americans should just let LGBTQ+ people and Muslims kill each other:
"The left is having a dilemma of major proportions, and I think for those of us who disagree with some of their policies, the best thing to do is to sit on the sidelines and let them kill themselves," he said.
DC Front Runners Pride 5K to take place as scheduled
Air quality improved overnight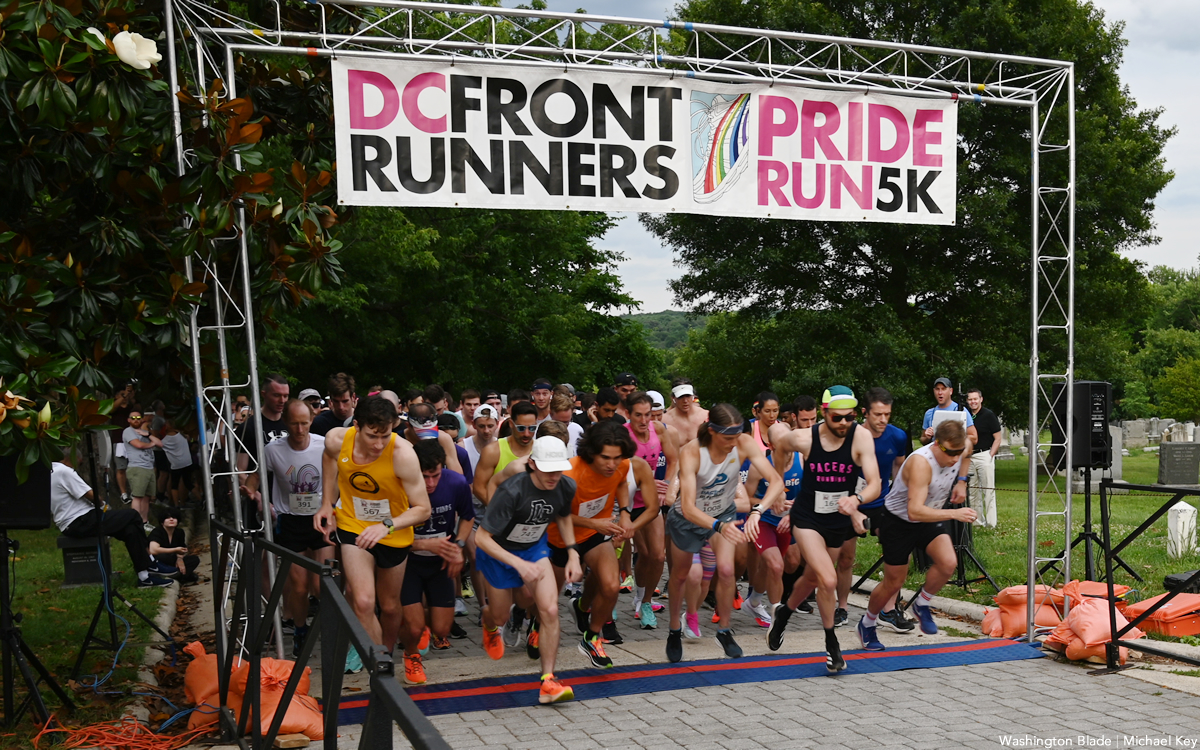 The D.C. Front Runners' annual Pride Run 5K will take place as scheduled at Congressional Cemetery on Friday.
The Blade Foundation, SMYAL, the Wanda Alston Foundation, Team DC, Teens Run DC, Pride 365 and Ainsley's Angels of America are among the race's beneficiaries. Wegmans, Shake Shack, Knead Hospitality and Design, Choice Hotels and Capital One Café are among the sponsors.