Gardening oasis in Shaw
Old City Farm and Guild proprietor grows an urban garden and nursery center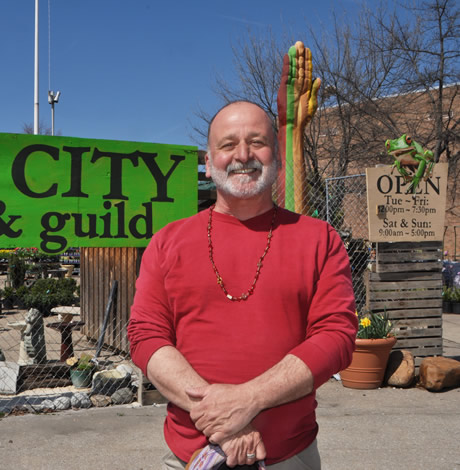 At first glance it appears incongruous to see Old City Farm and Guild founder and entrepreneur Frank Asher working atop a concrete urban plaza. Except it's not.
Asher relocated his popular "full-fledged garden and nursery center" to a spot abutting vacant Shaw Middle School near 9th Street on the busy Rhode Island Avenue thoroughfare in Northwest Washington last year. Opening on the official first day of spring, the non-profit retail operation will soon blossom in vivid colors as the scents of summer become pervasive and the weather warms.
Initiated six years ago in a trash-strewn empty lot across from his nearby home in the rapidly developing Shaw neighborhood, Asher's enterprise is rooted in a larger philosophy. "It's very important as the city evolves and grows that we stay connected to green space and the earth," he says.
True to that mission, a D.C. education grant has enabled creation of an on-site gardening program at Seaton Elementary School a block away. "We teach students to both grow and sell," Asher proudly says, "connecting them with urban gardening." Citywide school groups frequently tour the nursery.
The place "where people and plants come together" additionally serves as a community gathering spot, hosting performances by local musicians in a step-down oval space serving as an amphitheater for outdoor neighborhood dances and movie nights projecting films onto a whitewashed wall. Locals can rent an equipped lounging and grilling spot for social gatherings.
Open every day except Mondays at 925 Rhode Island Ave., N.W., Asher and a revolving crew of eight welcome both novice and experienced gardeners from the surrounding neighborhood and throughout the District to the high-profile site. The knowledgeable and personable staff is on hand Tuesday through Friday from noon to 7:30 p.m., and weekends from 9 a.m. to 5 p.m.
A large hand-painted wooden sign affixed to a wire fence enclosing the area beckons customers and curious alike to the oasis inside. Gardening aficionados or aspirants find everything they need – including a wide variety of seedlings, perennial and annual flowering plants, vegetable plants, fruit trees and vines, edible area-native plantings, shrubs, pre-bagged organic mulches and soils and compost, gardening supplies, propane, pots, garden artifacts and other accoutrements.
The nursery team maintains a small farming operation providing local restaurants with fresh organic produce. They hope to grow this new component by signing on additional establishments. During the winter holiday season, they reopen as a Christmas tree lot.
"Unlike large retailers," Asher points out, "85 percent of all monies stay in the neighborhood." Everything is sourced exclusively from organic D.C.-based city farmers and small local producers. A robust assortment of blueberry, raspberry, pomegranate, native currants, grape vines, fig and persimmon and apple and pear trees are available. Okra, tomato, tomatillo, basil, bell pepper, arugula, eggplant, leek, Brussels sprouts and a selection of herbs are among the popular garden offerings.
Asher, a California native who moved to D.C. 20 years ago as a conference organizer, began tending to sidewalk "tree boxes" near his then Dupont Circle home. Storefront merchants would soon reimburse the "guerilla gardener" for supplies, supporting his streetscape labor of love.
"I discovered my bliss was playing in the dirt," the unexpected green thumb now says. Pleasure with plants would land him a job managing a floral shop. Asher's newfound profession later led to start-up of landscaping business Fairies' Crossing, specializing in residential, rooftop and commercial installations.
As Asher's nursery grows, he balances landscaping projects with managing the enterprise. "What keeps me motivated," Asher says, "is the appreciation of the community" and joining together to make "the urban environment more responsible and encouraging green space."
Mark Lee is a long-time entrepreneur and community business advocate. Follow on Twitter: @MarkLeeDC. Reach him at [email protected].
Protected: New Workforce Program Aims to Help Expand Economic Opportunity for the Trans Community
There is no excerpt because this is a protected post.
Optimism prevails among minority business owners: survey
Entrepreneurs faced a Goliath during pandemic and won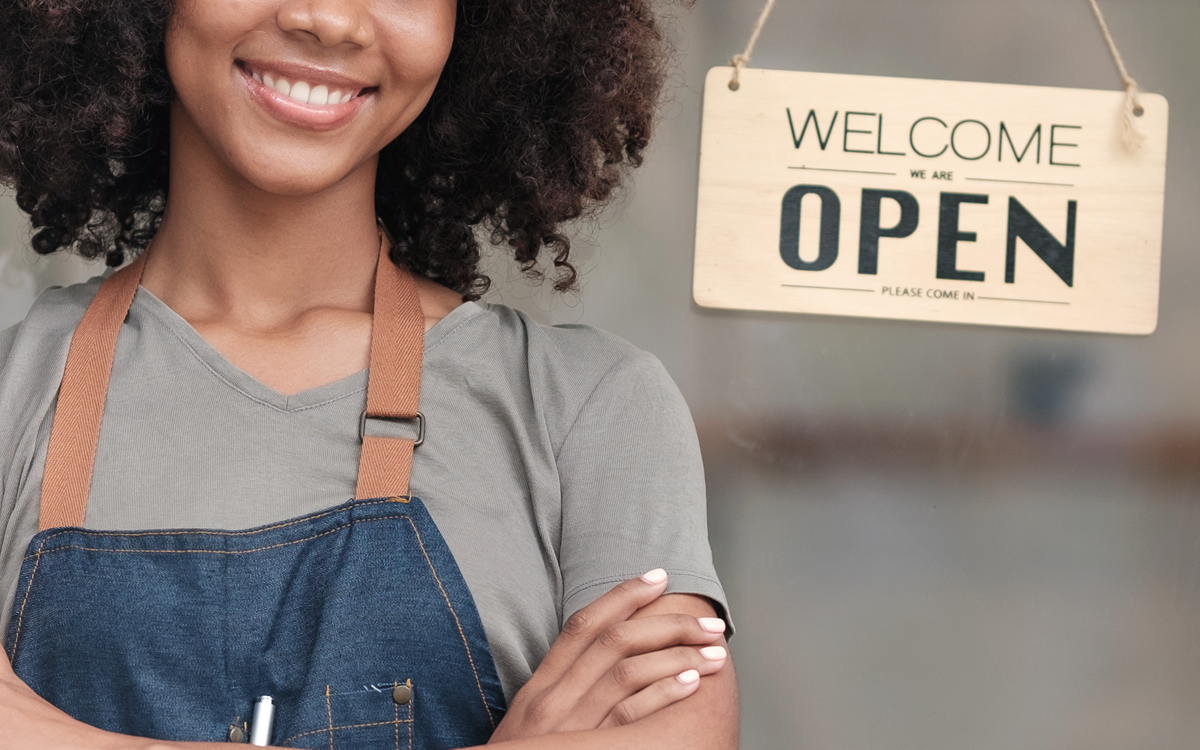 (StatePoint) — Even as minority business owners face new economic challenges, including supply chain disruptions and inflation, results from PNC's recent Economic Outlook survey show an impressive resiliency and positive mindset among these business leaders, according to Marshalyn Odneal, national sales executive for Minority Business at PNC Bank.
According to PNC's survey, more than two-thirds (68%) of minority business owners feel highly optimistic about the prospects of their own company in the next six months, compared to just 60% of non-minority-owned businesses.
While business owners as a whole remain cautious about the national economy, the gap between optimism among minority business owners for their own company versus the broader U.S. economy is 40 percentage points, significantly higher than the 31-point difference among non-minority owners.
"I have no doubt that minority business owners who were able to manage through the pandemic had to make unprecedented decisions related to staffing, business models and pricing. In doing so, they faced a Goliath – and won. It's unsurprising that their mindset about the future of their businesses, despite current economic challenges, is optimistic," Odneal said.
According to PNC's survey, 65% of Black- and Hispanic-owned business owners stated they have a business plan suited to the current direction of the economy, significantly more than non-minority owned businesses (55%). This highlights the importance of access to crucial resources for these business owners. The survey reinforces this point, showing that 86% of Black- and Hispanic-owned businesses interacted with or leveraged resources from the Small Business Association (SBA), a local chamber of commerce or a community economic development organization. Only 69% of non-minority business owners reported doing the same.
"The truth is that the unique financial challenges minority-owned businesses have long faced were amplified during the pandemic. As a result, more minority business owners are now seeking Minority Business Enterprise (MBE) certification, which is also an important and needed resource," Odneal said.
Businesses that become MBE-certified gain exclusive access to premium networking events, affordable consulting services and technology programs, among other benefits, according to the National Minority Supplier Development Council.
"Our survey revealed that 87% of Black-owned businesses are now MBE-certified, up from 69% last year. Three-quarters of Hispanic-owned business are MBE-certified, compared to 67% last year. Of MBE-certified businesses, 80% of Black- and 84% of Hispanic-owned businesses said that certification has been a helpful business development tool," Odneal said.
PNC has taken significant steps in doing more for minority-owned businesses and providing necessary resources to help them overcome roadblocks.
As a part of its Small Business organization, PNC's Minority Business Development Group's mission is to deliver solutions and resources that foster financial wellness for small businesses within diverse communities. They've been able to do this, in part, through the PNC-Certified Minority Business Advocate initiative, a voluntary advocacy program that helps PNC employees understand the challenges facing minority-owned business owners.
"If the optimism of these entrepreneurs is realized and the U.S. business landscape prospers further down the road, minority business supporters must continue to execute against their mission and accelerate their efforts. The outlook is bright, but we must continue to do our part to advocate for these entrepreneurs and help their communities thrive," Odneal said.
Tips to build a stable financial future for your family
Accumulate, preserve, and protect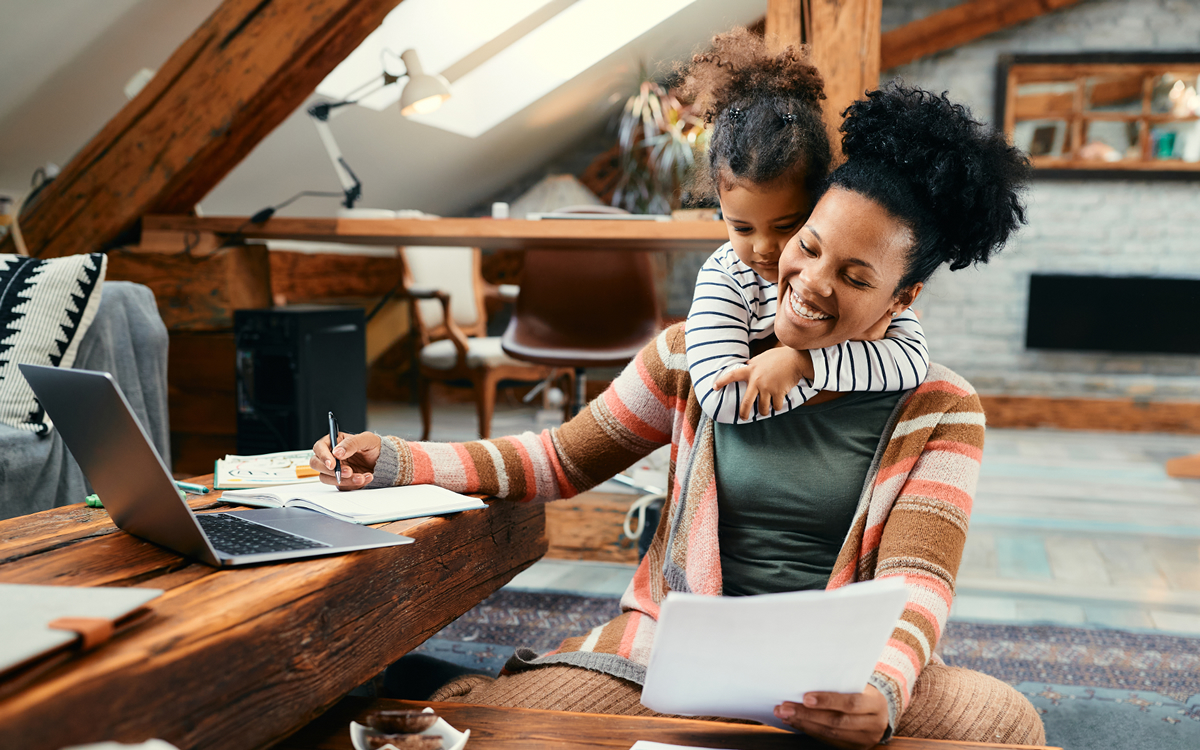 (StatePoint) — Building wealth is not as easy as it sounds. It can take time, discipline and a plan to keep those dollars protected. However, if done correctly, it can provide security for your family for years to come.
No matter where you are in your personal financial journey, there are steps you can take to help build a financially secure future. Although your approach should be personalized to your specific situation, Freddie Mac suggests building your plan on three main pillars: accumulate, preserve and protect what you've built.
Accumulate
The first, and one of the most challenging steps, is saving for your future while covering basic expenses. Establishing and working toward defined financial goals in the short-, medium- and long-term is a good place to start. Also, understanding your money mindset can help you identify opportunities to create healthier spending and saving habits.
Over time, it's important for you to position yourself to take advantage of opportunities to raise your income. Consider discussing a raise with your current employer, taking a job opportunity with higher pay or starting a side business to supplement your income. You should also begin to build an emergency fund, which will better position you to weather unexpected financial emergencies. In general, you should save enough in this fund to cover three to six months of your typical monthly expenses.
In addition, if you are financially prepared for it, purchasing a home can help you build wealth in ways that renting cannot.
Preserve
Once you've begun to accumulate wealth, the next step is preserving it. You can accomplish this by protecting and growing your money over time.
Managing your debts and expenses is paramount. Pay down debts in high-interest accounts and prioritize other expenses that require immediate attention.
Your credit score is a critical part of this equation, and the time to improve it is right now. A strong credit score can help you receive a better interest rate and loan terms when working with lenders, as well as provide a host of other long-term benefits.
Protect
Lastly, you should have a plan in place to eventually transfer the wealth you've built to family and loved ones.
CNBC reports that an estimated $68 trillion will be passed down from the baby boomer generation between 2019 and 2044. Having an estate plan can give you peace of mind that your assets will be allocated according to your wishes when the time comes.
In the meantime, you should also protect your assets from the unexpected. In addition to taking steps to safeguard your property from natural disasters, you should invest in a comprehensive renter or homeowner insurance policy. And always be mindful of the wide variety of scammers and hackers looking to access your resources.
Education has power. As you begin your journey, you can build your financial savviness with Freddie Mac CreditSmart Essentials, a suite of free education tools and information covering topics like how to buy a home or car, how to improve credit and how to build wealth. To learn more, visit creditsmart.freddiemac.com.
Building wealth doesn't happen overnight. With consistency and commitment, and the right knowledge and mindset, you can create a stable future for you and your loved ones.