Wheelchair theft prompts support for D.C. gay man
Social media fundraiser yields $7,300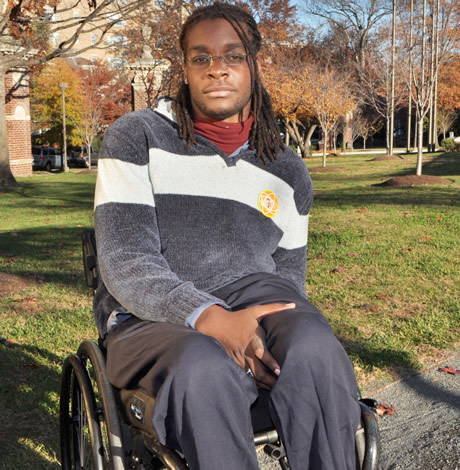 A 28-year-old gay man who is wheelchair bound due to cerebral palsy became the beneficiary of an outpouring of community support last week after his custom-made, lightweight wheelchair was stolen outside the Logan Circle home of a friend.
D'Arcee Neal, who works for the national disability group United Cerebral Palsy and sings with the Gay Men's Chorus of Washington, said the theft of his wheelchair effectively left him immobilized, unable to perform basic daily tasks and unable to travel to and from work at his downtown D.C. office.
He said the customized wheelchair, which gave him both mobility and the dignity of being self-sufficient, would cost about $5,000 to replace.
Knowing the predicament he faced, his friend Nicole Marissa Yates took it upon herself to create a page on the fundraising website GoFundMe without telling Neal she had done so.
"I don't know what it feels like to have your mobility taken away from you, but I imagine that even though he's a strong, vibrant individual, he feels violated," Yates wrote in a message posted on the fundraising site. "As his friends and family, we can come together to show him that we love and support him by funding his new chair," Yates wrote. "Thank you for your contribution – anything helps!"
According to a report on the website, 155 people contributed a total of $7,300 in five days. Yates said the effort received a boost when Channel 4 News reporter Jackie Benson did a story about the wheelchair theft that included an interview with Neal on the evening news.
Neal told the Blade he's grateful for the support he received from members of the community along with friends who contributed to the fund. He said the funds enabled him to purchase a temporary $400 wheelchair for his immediate use while he arranges for another custom made, lightweight and high-speed chair to be made. That could take as much as a month or more, he said. He plans to donate the temporary chair to a local charity.
He said he left the chair that was stolen in what he thought was an inconspicuous spot near the steps to the basement apartment at his friend's place while apartment sitting for the friend. He isn't able to drag or move the chair up or down steps, he said, in a world in which very few private residences are wheelchair accessible.
According to Neal, he prides himself on keeping in good physical shape by crawling up and down entrance steps – both at his friends' homes and his own basement apartment in Anacostia, where he keeps his wheelchair outside in a concealed location.
"There are handicapped accessible apartments and homes but the rent is thousands of dollars a month more than I can afford," he said.
Activists, policy makers mark Celebrate Bisexual Day in D.C.
BiPlus Organizing US hosted event at HRC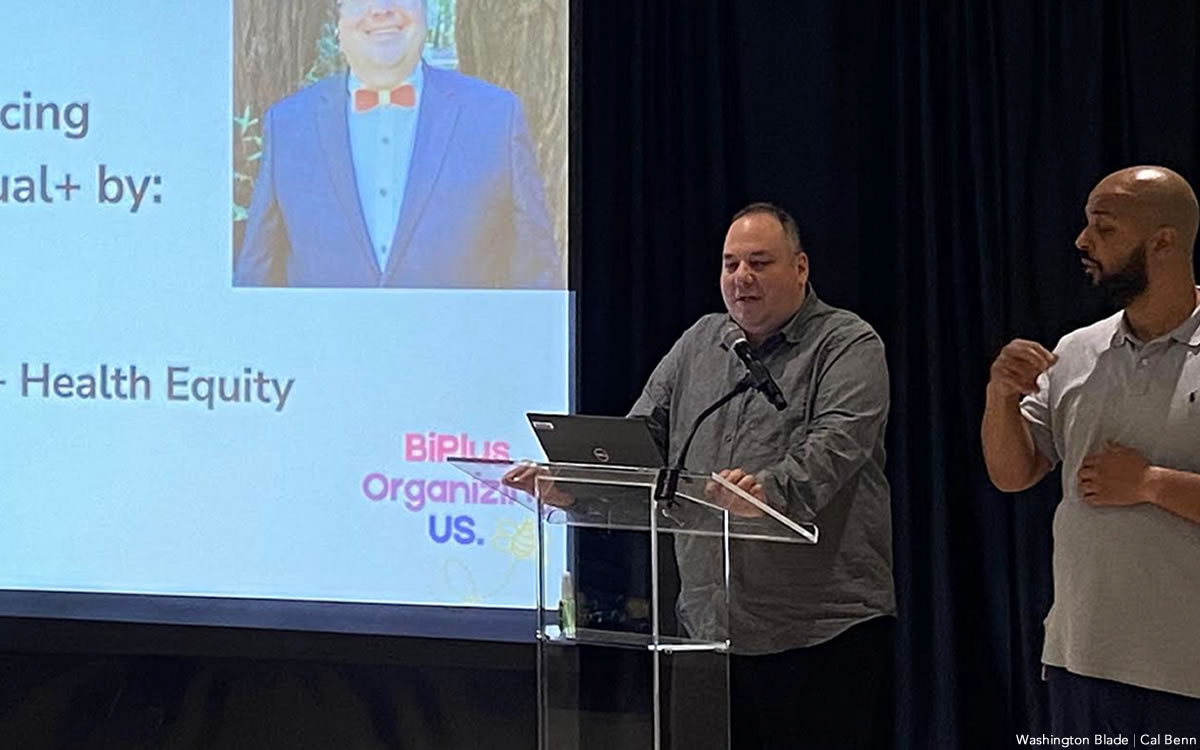 BiPlus Organizing US on Saturday hosted a Celebrate Bisexual Day event at the Human Rights Campaign.
Fiona Dawson, co-founder of BiPlus Organizing US, and Mélanie Snail, committee member of the organization, emceed the event. HRC Senior Vice President of Diversity, Equity, Inclusion and Belonging Rebecca Hershey welcomed attendees.
Heyshey discussed her journey as a bisexual, mixed race, Jewish woman. Hershey paraphrased Adrienne Maree Brown, stating "change is coming, we are creating change."
PFLAG Learning and Inclusion Manager Mackenzie Harte gave a presentation on the history of bisexual identities, defined terms surrounding gender and sexuality and went over statistics of discrimination and health disparities that bisexual individuals face.
Harte's presentation noted 48 percent of bisexual individuals reported an annual income of less than $30,000, compared to 30 percent of gay men, 39 percent of lesbians and 28 percent of all adults in the U.S.
Harte went on to say 28 percent of bisexual students report having attempted suicide; and bisexual people have a higher risk of mood disorders, substance abuse and mental illness than their lesbian, gay, or straight cohorts. Bisexual people of all genders face higher rates of sexual assault than those same peers. One reason for these statistics is isolation: 39 percent of bisexual men and 33 percent of bisexual women report not being out to any health care provider, and only 44 percent of bisexual youth report having an adult they could turn to if they were sad.
Harte also spoke about the Bisexual Manifesto, which the Bay Area Bisexual Network wrote in 1990.
"The bisexual manifesto very intentionally was not binary," Harte said.
They said the text works against the stigma and stereotypes that claim bisexuality is confined to "male, female." 
Tania Israel, a bisexual advocate and psychology professor at the University of California, Santa Barbara, shared some of her bisexual haikus, which she calls, "bikus."
Dawson moderated the next panel.
Panelists included Nicole Holmes, a bisexual advocate and public health professional, National Center for Transgender Equality Communications Director Leroy Thomas and NCTE Policy Counsel Kris Tassone.
The panel talked about how shame and stigma drive the statistics that negatively impact the bisexual community. Another word that came up as a driving force was "intersectionality."
Holmes said that when it comes to intersectionality, it's important to not just "list identities," but to look deep into "the purpose behind why we are talking about intersectional identities" in the first place.
Adrian Shanker, senior advisor on LGBTQ+ Health Equity for the U.S. Department of Health and Human Services, spoke about health equity for the bisexual community.
"Striving for health equity remains a core priority. It also remains an unmet dream," said Shanker. "Queer people have always had to be our own health advocates." While health equity may not be here yet, Shanker says there is much in the works for the LGBTQ community, bisexuals specifically.
Shanker cited a National Cancer Institute funding opportunity that invites research proposals to cancer care for sexual and gender minorities, stating bisexual specific proposals are welcome. The impending potential government shutdown may postpone it.
The Biden-Harris administration is also working to ban so-called conversion therapy at the federal level. Additionally, 988, the national suicide prevention hotline, began a program to offer specialized support for LGBTQ youth and young adults last year.
Shanker said bisexual people should prioritize preventative screenings for skin cancer, oral cancer, lung cancer, regular cervical and anal pap tests, mammograms, prostate exams and colonoscopies.
"If you have a body part, get it screened," said Shanker.
Megan Townsend, senior director of entertainment research and analysis for the GLAAD Media Institute, did a presentation on bisexual representation in the media and opportunities for advancement.
 "I want to see bi+/pan colors displayed on the White House," said Dawson. "I want every national LGBTQIA+ organization to be talking about us, to put our concerns front and center."
The data presented can be found here.
Flight attendants union endorses Sarah McBride
Del. lawmaker would be first transgender member of Congress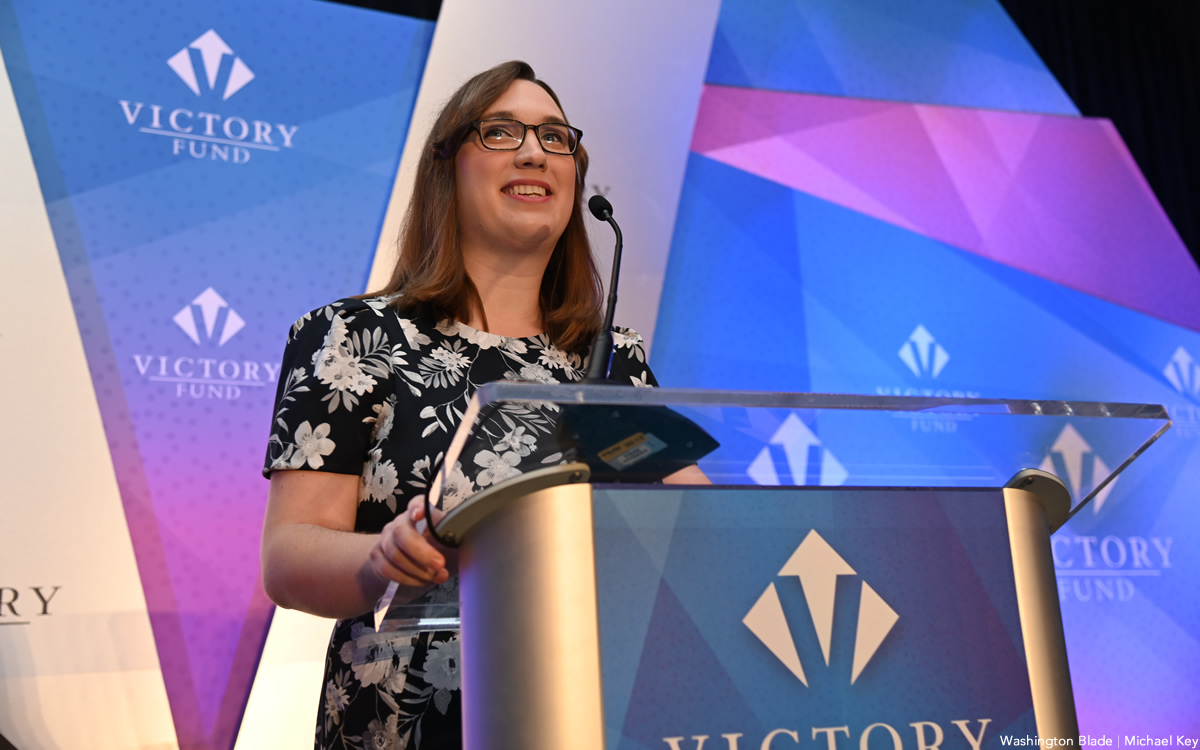 Delaware congressional candidate Sarah McBride has earned the support of the Association of Flight Attendants, the nation's most prominent flight attendant union.
It's the second big labor endorsement for McBride after the United Food and Commercial Workers Local 27's endorsement. The Association of Flight Attendants praised her for spearheading efforts to bring paid family and medical leave to Delaware, which will take effect in 2026.
"Sarah's record in the Delaware Senate shows that she understands how to work collaboratively, build power and make big things happen," the union's president, Sara Nelson, wrote in a press release shared exclusively with the Washington Blade. "That's the kind of leader we need in Congress, and we're proud to endorse her candidacy."
McBride also announced her support for creating a list of abusive passengers and banning them from flying. Each airline has a list of passengers banned from flying, but airlines don't share the lists with each other, though Delta Air Lines has asked them, because of "legal and operational challenges," as a representative for the airline industry trade group Airlines of America told a House committee in September 2021.
"Right now, someone can be violent towards a flight attendant or another passenger and walk directly off of that flight and onto one with a different airline to endanger more people," an Association of Flight Attendants spokesperson wrote in a statement.
The Protection from Abusive Passengers Act would put the Transportation Security Administration in charge of building the database of passengers fined or convicted of abuse and has bipartisan support but has sat idly in committee since March. It failed to pass last year, and civil rights groups including the American Civil Liberties Union have charged that the list would disproportionately target people of color and strip and a better step to reducing hostility would be making flights more comfortable. Reports of defiant and unruly passengers have more than doubled between 2019, before the COVID-19 pandemic, and 2022.
"I thank the Association of Flight Attendants for endorsing our campaign," McBride wrote in the press release. "It's important that we recognize and celebrate the symbiotic relationship between strong, unionized workforces and the continued growth of employers here in our state."
The union representing 50,000 flight attendants across 19 airlines is putting pressure on airlines to grant union demands in contract negotiations. At American Airlines, unionized flight attendants voted to authorize a strike — putting pressure on the airline to accede to its demands. Flight attendants at Alaska Airlines say they are ready to strike but have not voted to authorize one yet. United Airlines flight attendants picketed at 19 airports around the country in August, ratcheting up the pressure.
The union's endorsement adds to a growing list of McBride endorsements, including 21 Delaware legislators, the United Food and Commercial Workers, the Human Rights Campaign, EMILY's List, and Delaware Stonewall PAC. McBride, who would be the first openly transgender politician in Congress, has powerful connections in Washington — including with the White House — and is favored to win Delaware's lone House seat.
A poll commissioned by HRC shows her leading the pack of three candidates vying for the seat — 44 percent of "likely Democratic voters" told pollster company Change Research, which works with liberal organizations. The poll of 531 likely Delaware Democratic primary voters, though, was conducted only online — meaning those with less familiarity or access to the internet may not have been counted — and Change Research's methodology for screening likely voters is unclear. The company also did not provide a breakdown of respondents by age, gender, and race, but says it uses an algorithm to make the results representative.
Nelson said McBride's time in Delaware's state Senate shows her prowess in building power and working collaboratively.
"That's the kind of leader we need in Congress, and we're proud to endorse her candidacy," she wrote.
Lawsuit seeks to force Virginia Beach schools to implement state guidelines for trans, nonbinary students
Va. Department of Education released new regulations in July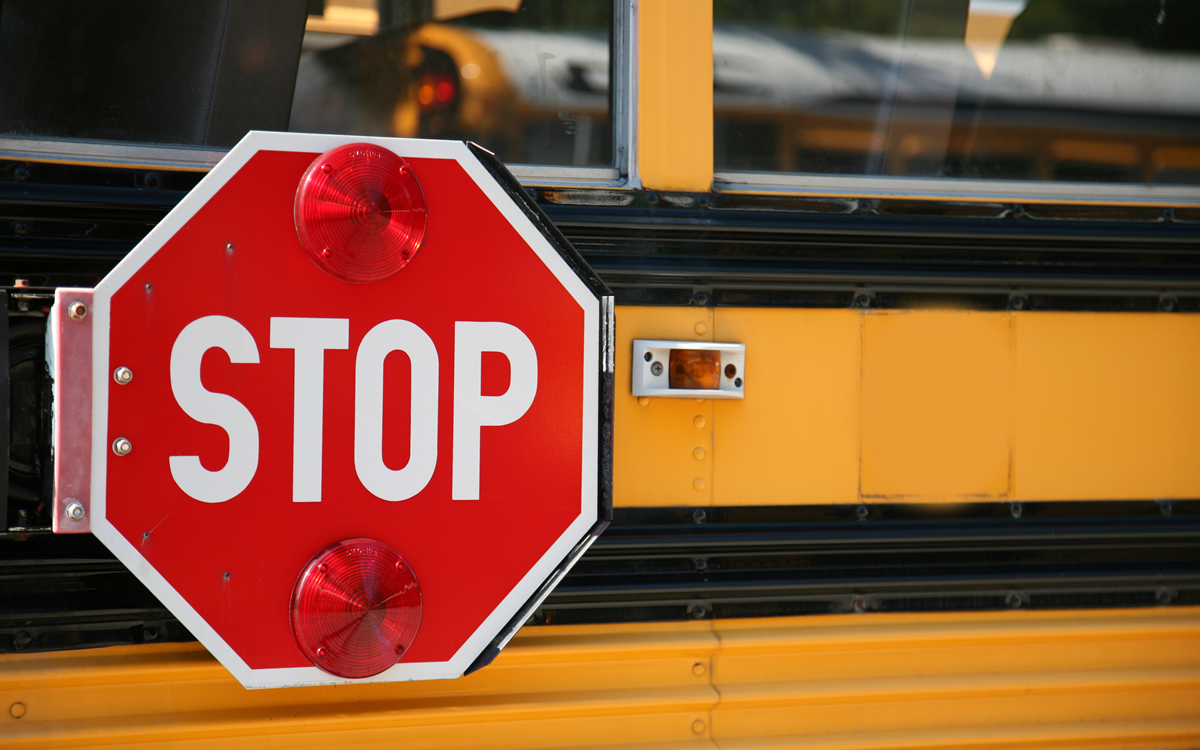 Two parents in Virginia Beach have filed a lawsuit that seeks to force the city's school district to implement the state's new guidelines for transgender and nonbinary students.
NBC Washington on Friday reported Cooper and Kirk, a D.C.-based law firm, filed the lawsuit in Virginia Beach Circuit Court.
The Virginia Department of Education in July announced the new guidelines for which Republican Gov. Glenn Youngkin asked. Arlington County Public Schools, Fairfax County Public Schools and Prince William County Schools are among the school districts that have refused to implement them.