Loosey-goosey summer theater
Gay actors, directors let hair down in wide range of shows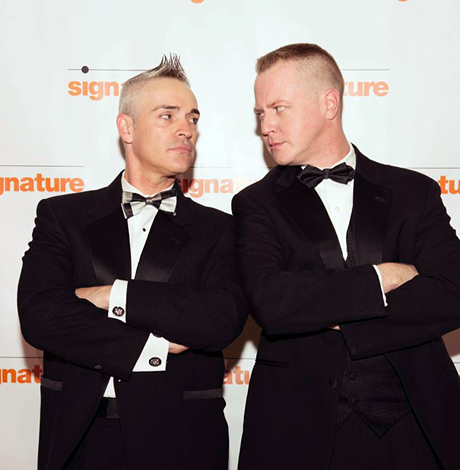 Let theater be a part of your summer staycation. All the adventure of a getaway but without the sunburn, bug bites and travel costs. Here are 10 things to experience, and all are just a taxi ride away.
For good cabaret this summer you don't need to hop the Acela to Manhattan. Out actor/singer Will Gartshore and Alyssa Wilmoth Keegan are joining forces with "Fear No More: A Courageous Cabaret" (July 14) part of Signature Theatre's Sizzlin' Summer Nights series. Cabaret is a bit of a departure for Wilmoth Keegan who's known mainly known for her formidable acting prowess, Gartshore says. But she wanted to do this for a while so they're making it happen.
"The cabaret's theme is courage and things that scare you. It's kind of inspired by Alyssa's wanting to throw caution to the wind and so something she'd never really done," Gartshore says. And like all of his cabarets, this one will also be an eclectic evening of humor and cheekiness along with an earnest deep dive into some thematic variations. The evening's eclectic pop/rock/show tune roster includes Sondheim, Gershwin, Kander & Ebb, Guettel, the Beatles, Sia, Kate Bush, Death Cab for Cutie, Gilbert & Sullivan, Shakespeare and Donna Summer.
Husbands Matt Conner and Stephen Gregory Smith are combining their musical talents with "Dreamland" (Aug. 19-20) part of Creative Cauldron's exciting summer cabaret series. The pair promise a revue of music from 10 years of Creative Cauldron shows including "Turn of the Screw," "Monsters of the Villa Diodati," "Sleepy Hollow," "Night of the Living Dead" and the company's youth productions "Peter Pan," "The Wind in the Willows" and "The jungle Book."
For those seeking summer thrills, Taffety Punk if offering "Bootleg Shakespeare Henry VI, part 1" (July 18). I say thrills because the company will stage the entire play, battles and all, in a single day. Helen Hayes Award-winning cast member Kimberly Gilbert, a "Bootleg" vet, describes the experience as "terrifying but incredibly exhilarating." Also, six of the seven women in the show are playing male characters.
This summer Studio Theatre presents Robert Askin's Broadway hit "Hand to God" (through Aug. 7), the story of a Christian ministry in Texas that spreads the good word using sock puppets. Things go hilariously awry when one of the puppets takes on a "demonic foul-mouthed life of its own."
There are quality offerings for young audiences too. Adventure Theatre MTC, located in historic and fun Glen Echo Park, Md., is presenting the world premiere play "Jumanji" (through Aug. 28) based on the book by Chris Van Allsburg. It's about two kinds who become trapped in a board game and find themselves up close and involved with lions, monkeys and volcanoes. Staged by out director and parent Serge Seiden, the production is intended for ages 4 and up.
"Because of the beloved 1996 movie, parents and kids will enjoy this classic story together," says Adventure's Artistic Director Michael J. Bobbitt, also a parent. "Not to mention the 4-D immersive experience. Seeing this hilarious show with your child will be a 'forever" memory.'"
In addition to theater, Glen Echo features lots of family fun attractions including a gorgeous vintage carousel and a newly opened hands-on aquarium with a Chesapeake Bay focus.
Bethesda's Imagination Stage in collaboration with the Washington Ballet presents Hans Christian Andersen's "The Little Mermaid" (through Aug. 14). Staged by Kathryn Chase Bryer, the production uses dance, puppets, music and singing to faithfully retell the classic fairytale in which a young mermaid trades her voice for legs.
Washington Improv Theatre's Summer Camp is offering a romp of unscripted summer fun skits as well as their own improvised slasher movie "Die! Die! Die!" Summer just wouldn't summer without a slasher flick.
Round House Theatre's production of "The Who & The What" (through June 19) tells the story  Pakistani-American novelist Zarina who after meeting intriguing convert Eli, is forced to reexamine her relationships. This 2014 work comes from Ayad Akhtar, the Pulitzer Prize-winning writer of "Disgraced."
Synetic Theater is reprising its 1920s-set, silent screen inspired take on "Twelfth Night" (through Aug. 8). The movement-based company's wordless and delightful production stars co-founder and resident choreographer Irina Tsikurishvili as Viola and out actor Philip Fletcher as Orsino.
And what's summer without a big top circus? Or in this case "Cirque du Soleil: Kurios" (July 21- Sept. 18) housed in its grand chapiteau. This addition to the legendary franchise is a Victorian carnival with a steampunk vibe brought to life by the usual hard bodied cast of mind-blowing contortionists. It's staged by out director Michel Laprise.
Local holiday theater season sparkles with expectation
Classic tales, modern retellings, Cirque Du Soleil, and more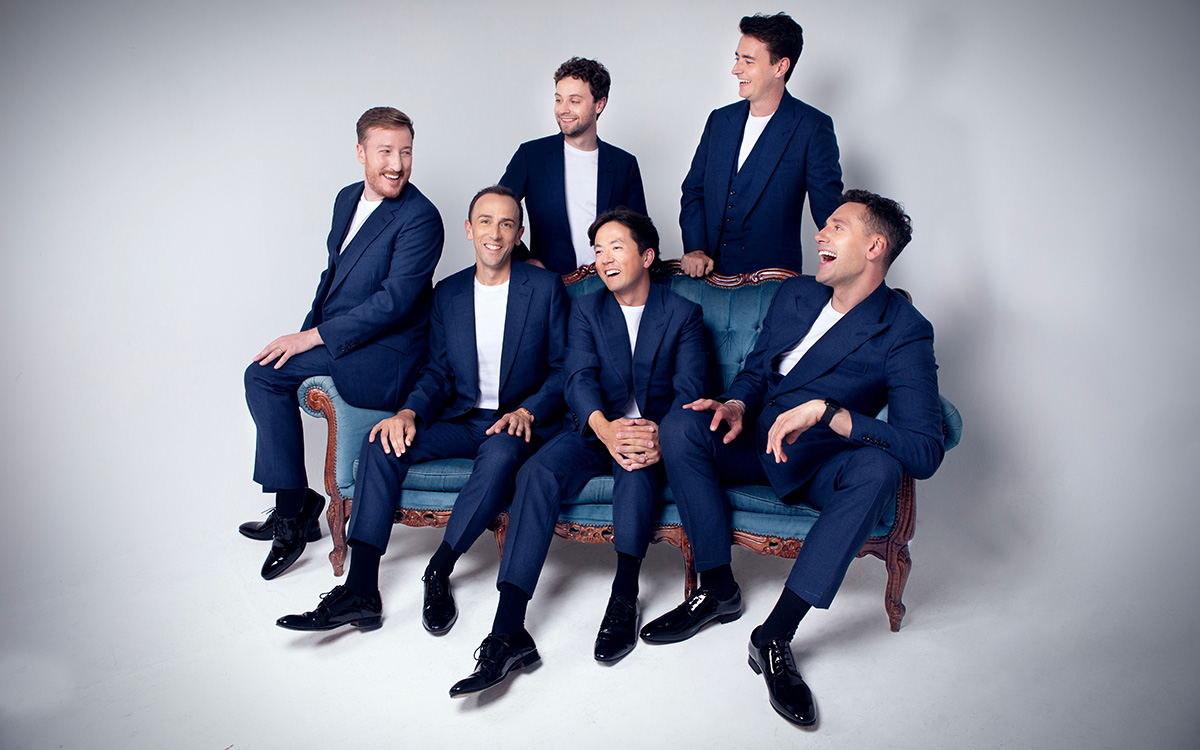 Like Christmas itself, the local holiday theater season is filled with tradition, excitement, and sparkling expectation. And whatever way you might celebrate the holidays, the DMV theater scene has scores of options to treat you and yours to something special. Here's a taste.
Beloved British ensemble The Kings' Singers are booked at the Washington National Cathedral for one night only (Dec. 15). The proposed song list promises a mix of "Christmas favorites, popular familiar tunes, and some surprises."
Earlier this year, the popular a capella group made headlines when a bigoted Florida Christian college shamefully cancelled a performance by the musical sextet over 'concerns' about the sexual orientation of its members. But that's in the past, and now the six good-looking blokes are celebrating the season in one of the nation's foremost places of worship. Tix.cathedral.org
Baltimore's gorgeous Hippodrome Performing Arts Center hosts the eye-popping Cirque Du Soleil production "Twas the Night Before," Nov. 24-Dec. 3
Synetic Theater in Crystal City is bringing back "Snow Maiden" (Dec. 9 – Jan. 6), a dazzling movement piece based on a 19th century folk tale about a lonely boy who builds a girl from snow. Performed by Maryam Najafzada and Vato Tsikurishvili and created by Helen Hayes Award-winning choreographer and Synetic co-founder Irina Tsikurishvili. Synetictheater.org 
In Falls Church, Creative Cauldron presents "Madeline's Christmas" (Dec. 1-17), a charming musical based on the classic book by author and illustrator Ludwig Bemelmans. "Madeline's schoolmates and tutor are all sick in bed on Christmas Eve, unable to go home for Christmas to be with their families. So, it's Madeline to the rescue! And with the help of a magical rug merchant, she takes her friends on a Christmas journey they will never forget." Matt Conner directs. Creativecauldron.org
Rehoboth Beach's Clear Space Theatre Company presents "Estella Scrooge," Nov. 24-Dec. 10. It features Ebenezer Scrooge's great great granddaughter in a modern retelling of the classic Christmas tale. clearspacetheatre.org
Olney Theatre Center spices up the season with "Drag the Halls" (Dec. 8 and 9), a holiday spectacular with fabulous queens Echinacea Monroe (Solomon Parker III), Evon Michelle (Baltimore's Drag Performer of the Year) and Tiara Missou. Olneytheatre.org
Whether handed off discreetly in a sedate ivory envelope or placed under the tree in a silvery wrapped box, theater tickets make a great holiday gift.
For a terrific kids' prezzie, you might give the hour-long musical experience of "A Year in the Life of Frog and Toad" (through Jan. 7) at Imagination Stage in Bethesda. The endearing title characters are played by Deimoni Brewington and Casey Evans, respectively. Imaginationstage.org.
At Theater J there's another show for kids, "Tiny Lights: Tales for Chanukah" (Dec. 3, 9, 10), created by Aaron Posner and Erin Weaver. "Taking inspiration from the great Chanukah tales of master storyteller Issac Bashevis Singer, our theatrical storytellers will weave tales out of words, a few simple props, and theatrical devices — and then teach you and your young kids how to do the same." Sounds fun. Theatrej.org
 The Washington Ballet presents "The Nutcracker" at the gilded Warner Theatre (through Dec. 30). With Tchaikovsky's timeless music and splendid choreography by Septime Weber, this 1882 Georgetown-set production features historical figures including George Washington and King George III, along with the usual suspects like children, rats, fairies and a mysterious godfather. Washingtonballet.org
Bethesda's Music Center at Strathmore is bringing back "The Hip Hop Nutcracker" (Dec. 19-22), Tchaikovsky's classic re-imagined with MC Kurtis Blow ("White Lines"). Strathmore.org  
Undeniably the lynchpin of D.C. holiday theater is the historic Ford's Theatre version of "A Christmas Carol" (through Dec. 31), a popular Washington tradition for more than 30 years. Conceived by Michael Baron, this beautifully staged take on the Dickens' classic features Craig Wallace as Scrooge who after a night of ghostly visits, rediscovers Christmas joy.
Joining the cast this holiday season is versatile D.C. actor Kimberly Gilbert as the Ghost of Christmas Present. The Helen Hayes Award-winning Gilbert says, "I have been wanting to join this show for years and am so over the moon that I get to be a part of the 'beautiful machine.' This kind of process is the most unique I have embarked on in my twenty years on DC stages. Its intricate structure is so well-tuned, which surprisingly means it was flexible enough to allow a maniac like me into the mix.
For Gilbert, taking on Christmas Present has proved a joy. She says, "I don't show Scrooge my powers by anything other than small gestures: a larger goose, an oil can, a few more coins in someone's pocket. And I think that is quite purposeful as I am teaching him that it doesn't take much to create a ripple effect of good on this Earth. That's a huge lesson for all of us right now."
On a personal note, Gilbert adds, "my performance is in honor of my amazing mother, Catherine Gilbert, who we lost in January of this year. My family's holidays were so magical because of my mother, and I will bring her spirit on stage with me every night." Fords.org
And not to be missed, the Gay Men's Chorus of Washington is back with "The Holiday Show" (Dec. 2, 9, and 10) at the historic Lincoln Theatre where they promise to break out the sparkle, reindeer antlers along with glorious music, new jokes, and loads fun. Gmcw.org
Memories of time spent in India revealed in 'Public Obscenities'
An inspiring production from writer-director Shayok Misha Chowdhury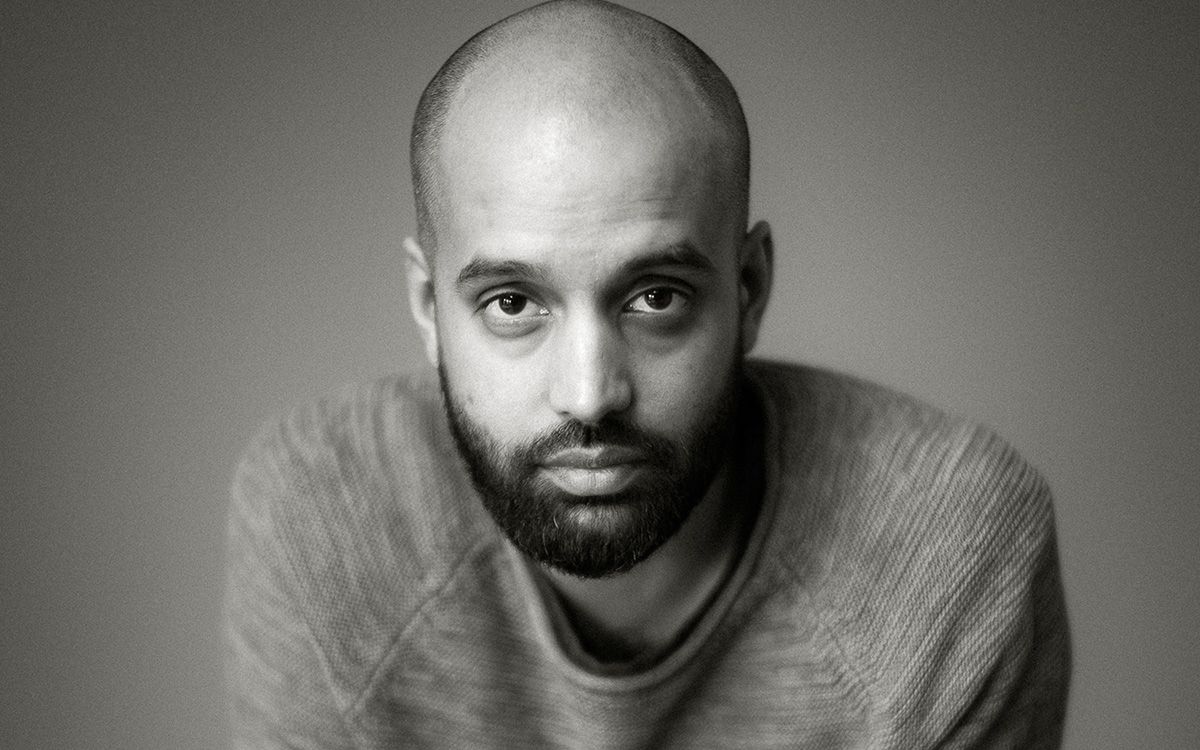 'Public Obscenities'
Through Dec. 23
Woolly Mammoth Theatre Company
641 D St., N.W.
$52-$85
Woollymammoth.net
For writer-director Shayok Misha Chowdhury, the memories and imaginings of time spent in India are revealed in "Public Obscenities," an inspiring new production currently playing at Woolly Mammoth Theatre. 
Born in India, raised in Boston and now living in New York, Chowdhury, 38, has visited his native country often over the years. Those visits serve as a connection to family and himself. "I was trying to a write a thing that reflected the intense specificities of my life as a uniquely situated gay man," he explains. "It's filled with intersecting longings among diasporic gay folks and those on the subcontinent."
A Woolly co-production with Theatre For A New Audience (in which four of the seven characters are queer), "Public Obscenities" follows Indian born Choton (Abrar Haque) as he returns to Kolkata on a research trip with his Black American boyfriend Raheem (Jakeem Dante Powell). While visiting his family home, Choton acts as translator (Bangla and English) and interviews queer locals all while showing Raheem his world.
In the past, Chowdhury, 38, has written musical experimental pieces but had never written a solo author naturalist play. "This is my debut as a playwright. What's more, I'm directing something that I've written for the first time." But being a director is squarely in his wheelhouse.
WASHINGTON BLADE: How much of "Public Obscenities" is about you, Misha?
SHAYOK MISHA CHOWDHURY: The plot isn't autobiographical, but the circumstances are. My partner is an African-American video artist and I'm more words driven. We've travelled many times. Unlike Choton, I don't have a Ph.D.
Definitely Choton's a character close to my skin. He lives in states robust fluency in mother tongue and feels a longing for what might had been had he remained.
He feels very much at home being gay in Kolkata. He can desire and be desired by people who look like him and speak to them in his mother tongue. There's a cross connection: He likes what they have and they like that he lives in America with accepting parents and can easily have a relationship with a Black man. 
BLADE: It is also a bilingual piece?
CHOWDHURY: Entirely bilingual in a very natural way. Characters speak either Bangla or English given circumstances. Choton's partner doesn't speak Bangla so the main character is translating in real time. When Bangla-speaking characters are in a scene, the audience is reading supertitles.
BLADE: Is it tough casting a bilingual piece?
CHOWDHURY: Yes, more than anything it was a casting challenge. Finding these actors is what made the piece possible. I'm very glad we had the muscle to find these folks and keep them in the production by flying them in and housing them.
BLADE: And place is very important?
CHOWDHURY: The house is a character in the play. Very much a scenic replica from real life; I've spent time in that house. For the Woolly production, the scenic designer has added a meta conceit: You enter through a movie theater and behind the screen of the cinema hall that house is revealed. But once there, it will feel the same.
"Public Obscenities" has been described as theater verité. The aesthetic leans into documentary precision and mimics the rhythms of real life. There's been a rewrite for this latest iteration. We have the same cast that appeared at Soho Rep in New York. They were assembled from a wide-ranging casting search. Specificity is required in terms of performance, language, and gender.
BLADE: But it's not the usual queer story
CHOWDHURY: It's not a coming out story; not a family conflict, it's more about the main character working so hard to prove that he's native to this place yet still himself.
BLADE: Is it hard to be objective when directing your own work?
CHOWDHURY: That's always a question you have to ask yourself. Here my proximity was a gift. The nature of this project involved precise vision.
New play explores love through unique, years-long journey
Spooky Action's 'Agreste' highlights powerful voice from queer Brazilian theater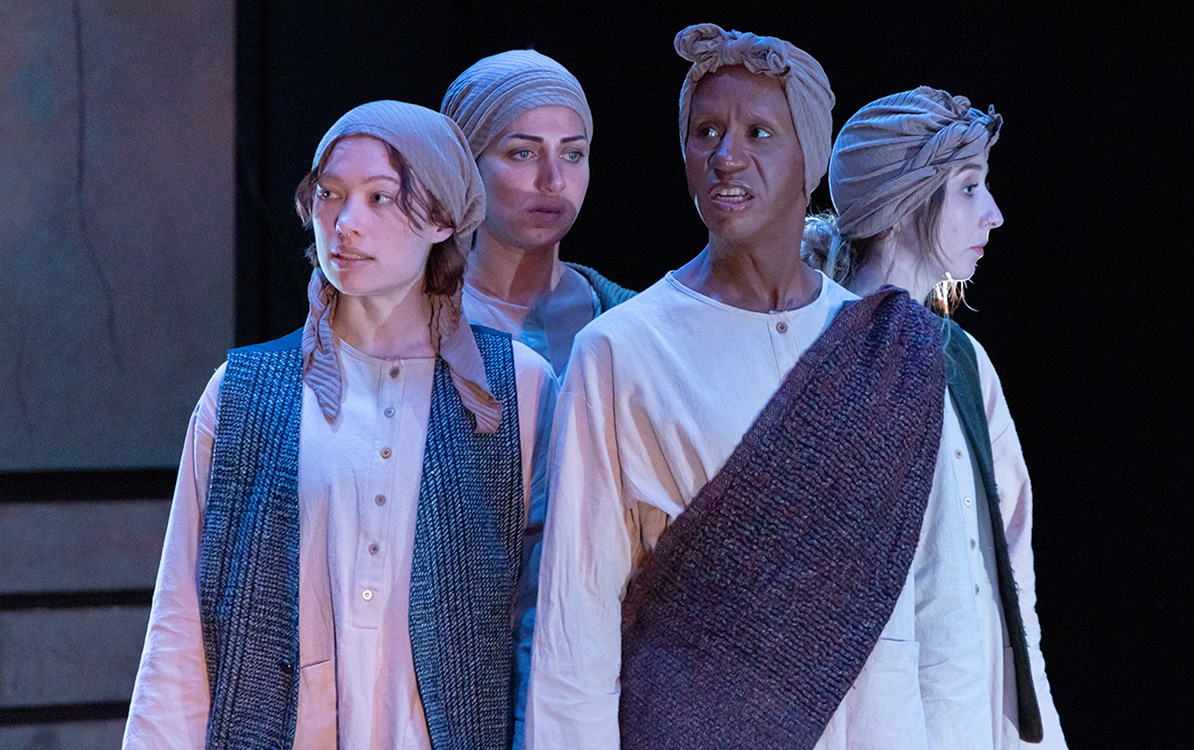 Agreste (Drylands)
Through Nov. 12
Spooky Action Theater
1810 16th St NW (the Universalist National Memorial Church)
$37.50
Spookyactiontheater.org
From the sidelines, love can be misunderstood, attacked, celebrated, or simply accepted and left alone.
In "Agreste (Drylands)," a queer story penned by gay playwright Newton Moreno, one of the most powerful voices in the queer Brazilian theater, love is explored through a unique, years-long journey currently being recounted at Spooky Action Theater in Dupont.
It's the tale of Maria and Etevaldo, star-crossed kindred spirits who fall in love from opposites sides of a fence. From a distance their feelings grow; when they can, they leave flowers and pieces of cloth on the fence, mementos of their love. Eventually they boldly come together living happily as a romantic pair for 22 years in the arid northeast part of Brazil. Their bliss is interrupted by unexpected tragedy and further destroyed when locals unleash a torrent of hate and bigotry on what remains.
Spooky's exquisite offering (the first professional U.S. premiere of Moreno's play) is both directed and translated from Portuguese to English by Danilo Gambini. Like the playwright, Gambini is gay and Brazilian. He's also the new associate artistic director at Studio Theatre.
Agreste is performed in Spooky's welcoming home in the Universalist National Memorial Church at 16th & S Streets, N.W. Its serviceable, intimate, subterranean space is configured as an alley with seating on both sides, making an ideal runway for scenic designer Giorgos Tsappas' stunning amalgam of scorched earth and subtle yet ravishing monumentality. Colin K. Bills' brilliant lighting design effortlessly summon expanses, domestic scenes, fires and escape hatches; and sound designer Aria Velz adds to the atmosphere with jarring bell tolls and the sound of falling water, a precious commodity in this parched part of the world.
In less than an hour, Gambini's precisely staged mythic account (reportedly based on true happenings) explores themes of intolerance and understanding, as well as violence toward the LGBTQ+ community and perhaps pathway to overcoming that viciousness.
Dressed in loose tunics, headscarves, and rustic boots (compliments of costume designer Danielle Preston), the most appealing cast of four — Raghad Almakhlouf, Irene Hamilton, Kate Kenworthy who is nonbinary, and Miss Kitty, a nonbinary/genderqueer/transfemme performer — fearlessly rise to the challenge. As told by a choric quartet sharing parts, main and ancillary, the love story is crammed with passion, sadness, and wonderful whiffs of saucy vivacity.
While there is striking cohesion among the players, each adds their strengths to the piece. And though "Agreste" isn't a musical or even a play with music per se, at the top of the show Miss Kitty serves up a memorable rendition of "Nature Boy" made famous by Nat King Cole, and further along Almakhlouf delivers a haunting melody.
Spooky Action's artistic director Elizabeth Dinkova is kicking off her inaugural season with Agreste, and it's a good move. She's titled the season "Beyond Borders," acknowledging her own status as the first immigrant to helm Spooky as well as her vision of a future world made limitless through art. In spring, Dinkova directs Phillip Howze's Frontières Sans Frontières, a funny take on cultural imperialism.
Something terrific for now, and something promising to look forward to.