Vandals target LGBT-friendly church
Fire extinguisher sprayed on sanctuary, pews, prayer books and hymnals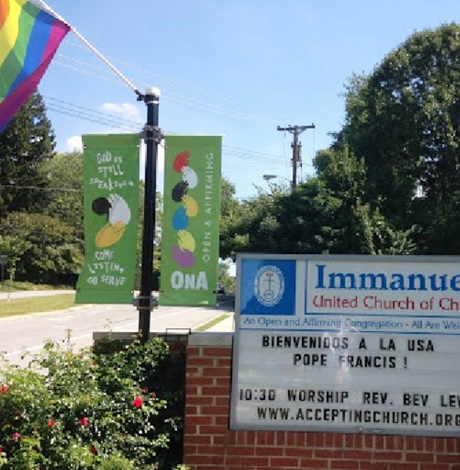 LGBT-friendly Immanuel Church of Christ, located in a peaceful, leafy neighborhood in Catonsville, Md., has been vandalized once again.
Last August, a rainbow flag that the church flies outside was stolen after a street signboard was posted that read, "Black lives matter and bullets can't stop God's love." Weeks later, the church's board read, "Refugees are people, not just a crisis." Vandals left letters cut from black paper that read, "Have you forgotten 9-11? This church did," according to WBAL-TV.
In the latest incident, vandals broke in through a first-floor window and sprayed a fire extinguisher on the sanctuary, pews, prayer books and hymnals. Electronic equipment was stolen and church offices were vandalized.
In addition, graffiti scrawled on a dry-erase board in the church music room had such messages as "666," "Hail Satan," "WTF Jezus (sic)" and "Death 2 All."
Baltimore County Police, who believe the church's acceptance of LGBT people could be a motive, told local media that they are investigating the incident as a possible "bias crime." Police spokeswoman Elise Armacost later told the Blade that the terms "bias crime" and "hate crime" are "interchangeable."
"Immanuel United Church of Christ has a profound commitment of support to and solidarity with the LGBTQ community," Rev. Bev Lewis, the church's pastor for more than three years, told the Blade. "We firmly believe in the UCC's belief in extravagant welcome for all of God's people whoever they are and wherever they are on life's journey."
Lewis said the attacks would not deter her or the church's mission.
"We won't stop our work of restorative social justice across the U.S. and with our global mission partners. We are going to take this blow and turn it into good. Our rainbow flag isn't coming down," she said.
Police believe the vandalism, discovered by the church custodian, occurred between 7:30 p.m. June 29 and 9:40 a.m. June 30. No suspects have been identified. Any information on this case should be reported to Baltimore County Police at 410-307-2020.
Lewis estimates the damage to be more than $25,000 with a $5,000 insurance deductible.  Furthermore, security equipment must be installed and that hasn't been priced out yet.
She said that anyone wishing to donate to help with the losses could do so by mailing a check to: Immanuel Church of Christ, 1905 Edmondson Avenue, Catonsville, MD 21228.
Vandals target 2 Rehoboth Beach LGBTQ-owned businesses
Staff discovers graffiti on walls, doors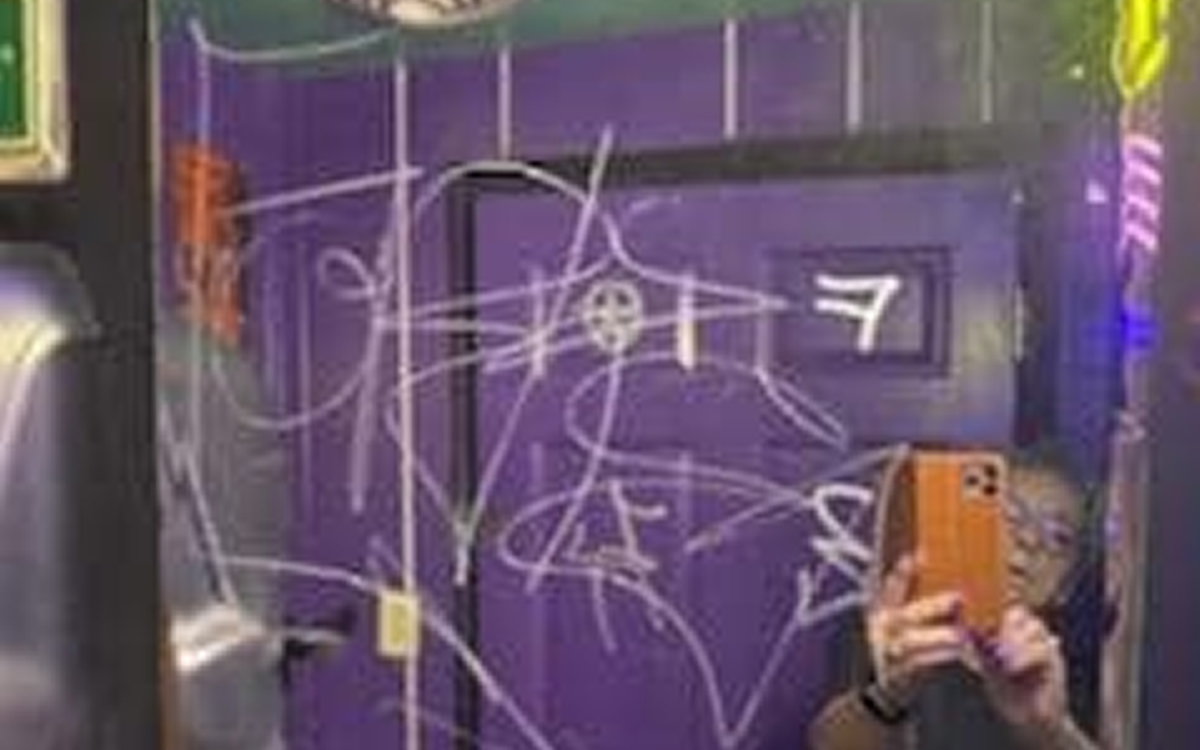 Freddie's Beach Bar and the Purple Parrot — two LGBTQ+ bars and restaurants in Rehoboth Beach — discovered that their establishments had been vandalized on Monday, according to a series of posts to the Purple Parrot's Facebook page made by Hugh Fuller, the restaurant's owner.
The vandal, whose identity remains unknown, painted on the walls and carved graffiti into the mirrors of the Purple Parrot's bathroom, and painted graffiti on the front door of Freddie's Beach Bar, the posts recounted. The establishments have since filed police reports with the Rehoboth Police Department.
Tony Rivenbark, a manager at Freddie's, said that a staff member first noticed the vandalism around 10:30 a.m. on Monday, and that it was dry to the touch, leading restaurant management to believe it was painted early in the day. Upon discovering the graffiti, restaurant staff reported it to local police and were told that other nearby locations had similarly been vandalized, he said.
Between its Rehoboth and Arlington, Va. locations, Rivenbark has worked at the establishment for almost two decades, and added that this was the first instance of vandalism at the Rehoboth venue, which has been open for less than one year. He noted that Freddie's management is currently reviewing security footage for further information, and is likely to soon install additional security cameras.
At the establishment's Arlington, Va., location, "we've had some minor spray painting done, we've had some rocks thrown at windows," he recounted. "Mostly I have attributed it to drunken antics, not so much hate. Hopefully that's the case here as well."
Rivenbark added that Freddie's staff remains positive despite the circumstances. "It doesn't seem like a huge issue. It's something we'll probably just paint over tomorrow," Rivenbark said. "I'd much rather it be some kid that's got a new little airbrush … than it being somebody that's targeting LGBT businesses."
The Rehoboth Beach Police Department declined to comment or to confirm details of the reports filed.
Pride Run returns after two-year hiatus
1,500 participants to join 10th annual event on June 10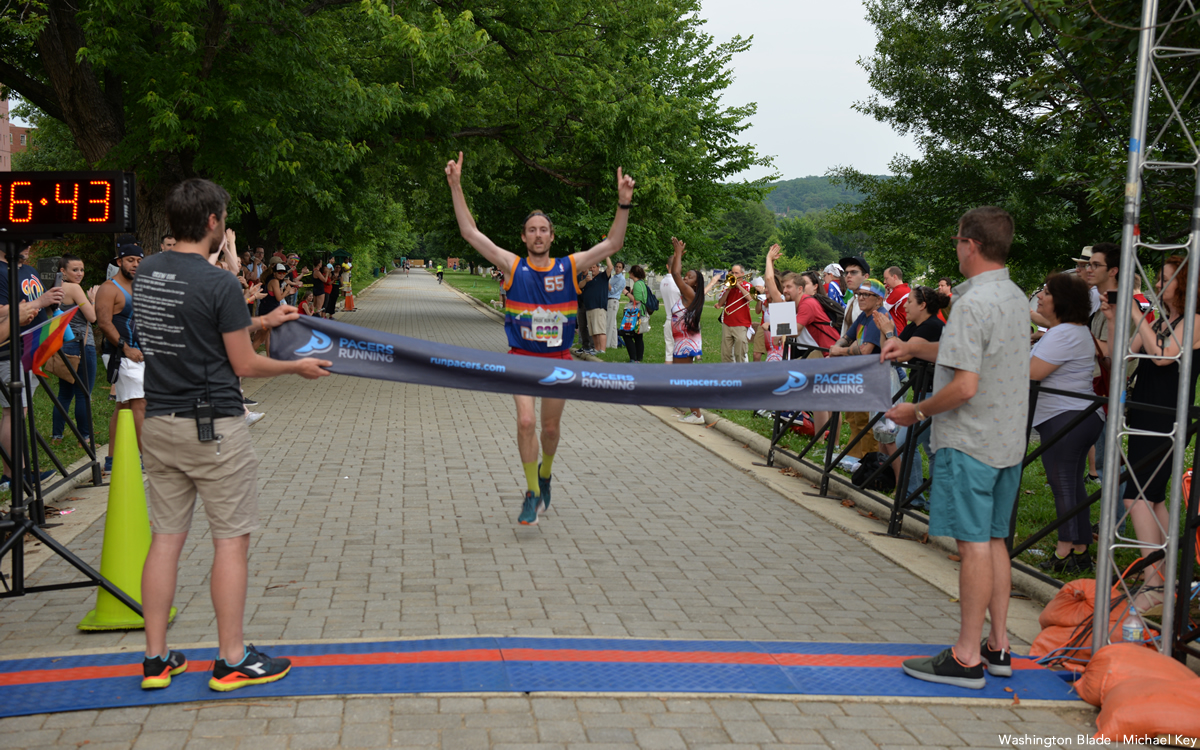 After a two-year pandemic hiatus that saw the Pride Run go mostly virtual, the DC Front Runners Pride Run 5K is elated to once again welcome nearly 1,500 runners, walkers, volunteers, and spectators back to the Historic Congressional Cemetery for their Tenth Anniversary Race on Friday, June 10.
As an official Capital Pride Partner Event, the Pride Run 5K kicks off Capital Pride weekend with a bang. Well perhaps more of a "On your mark, get set, GO!"
Join us as we run, walk, skip, shantay, and sashay on a course that starts near the cemetery's "Gay Corner" where many LGBTQ rights activists, such as Leonard Matlovich, are interred. The race then winds along the Anacostia Riverwalk Trail to finish where you started.
Gates open at 5 p.m. for packet pickup with the race beginning at 7 p.m. The post-race party includes beer and hard seltzer provided by DC Brau along with a DJ playing music until 9 p.m. Be sure to check out the return of the DCFR dance troupe performing to a hyped-up crowd.
Race proceeds benefit the following local LGBTQ and youth-supporting organizations via the Pride Run Foundation: Ainsley's Angels (National Capital Region), Casa Ruby, Team DC Student-Athlete Scholarship, SMYAL, The Wanda Alston Foundation, The Blade Foundation, and Teens Run DC. You can help support these amazing charities by registering for the race or donate directly at DCPrideRun.com.
A special thanks to the presenting sponsors, Capital One Café, Choice Hotels, KNEAD Hospitality + Design, Shake Shack, and Wegmans Food Market to the premier sponsors DC Brau, Pacers Running, and Wilkinson Barker Knauer, LLP, and our elite sponsors, AHF Healthcare Centers, Avalon Bay Communities, Casey Trees, Endorphin Fitness, and Starbucks, and of course our special partner the Historic Congressional Cemetery. Last, but not least, a big thank you to all individual donors who contribute via the race website directly to our incredible charity partners. Together, we proudly celebrate who we are in a festive, safe, and inclusive event.
Mattachine Society of D.C. donates documents to William & Mary
New LGBTQ archive established at Swem Library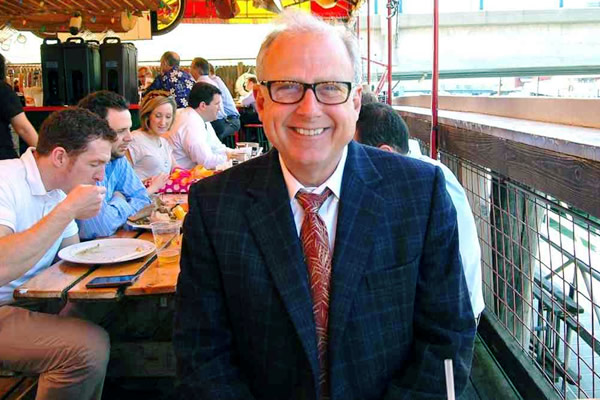 The Mattachine Society of Washington, D.C., the group that collects historic documents related to the federal government's discrimination against and persecution of LGBTQ people in past years, announced this week that it is donating all its documents to a newly created Archive of American LGBTQ Political and Legal History at the College of William & Mary.
The Williamsburg, Va., based college announced last week that its new LGBTQ archive is being established at its Swem Library in memory of the renowned gay historian John Boswell, who was a 1969 Bachelor of Arts graduate in history at the College of William & Mary.
"There are many fabulous collections of LGBTQ historical materials in libraries across the country, but this archive will have a unique focus on the political and legal architecture of the movement," said Carrie Cooper, dean of University Libraries at William and Mary.
"Our motto 'Archive Activism' brings us to this decision to donate all of our collection to William and Mary, for the benefit of historians, researchers, and students nationwide," said Charles Francis, co-founder of the reestablished Mattachine Society of Washington, D.C. The group was originally founded by D.C. LGBTQ rights pioneer Frank Kameny in the early 1960s as D.C.'s first politically active LGBTQ organization.
"This exciting new archive will collect materials that illuminate the history of LGBTQ Americans' struggle to secure their rights through the political process and legal systems of the nation," according to LGBTQ rights advocate and former William & Mary Rector Jeff Trammell.
Trammell is donating to the new archive material collected from his tenure as the first openly gay board chair of a major public university, a statement released by William & Mary says. It says Trammell's donation is the second donation after the Mattachine Society of Washington, D.C., which made the first of what is expected to be many more LGBTQ-related documents to be donated to the new archive.
The Mattachine donation includes "original, declassified documents obtained by meticulous research into sources such as the Library of Congress, the National Archives and Records Administration, numerous presidential library archives, and public and university libraries, to name just a few, according to attorney Pate Felts, the other Mattachine co-founder.