February 2, 2017 at 12:14 pm EST | by Mariah Cooper
LGBT protestors plan to 'werk' at Trump Hotel
After the wildly successful queer dance party outside of Vice President Mike Pence's Chevy Chase home in January, the party will continue at the Trump International Hotel.
WERK for Peace, an LGBT grassroots organization, is hosting "WERK in Solidarity: Celebrating Intersectionality & Resistance," a follow-up dance protest on Friday 6-9 p.m. The protest starts outside of Trump Hotel and will move into a parade towards the White House.
According to the event's Facebook page, the protest hopes to let President Donald Trump know "discrimination, bigotry, and hate are not tolerated in our country. "
In an interview with the Huffington Post WERK for Peace founding organizer, Firas Nsar, says the dance protest is in response to the executive orders Trump has passed in his first few days of office.
"We believe that any attempt to marginalize or attack any one community is a direct attack on all of the diverse communities in the U.S.," Nsar told The Huffington Post. "In response, we choose to use love and connection to uplift our communities, celebrate our intersectionality and differences, and come together as one unified coalition. We want to send the message that we will not allow discrimination, bigotry, or hate against any community in our country to break us apart. We celebrate together."
The event page encourages participants to bring biodegradable glitter and rainbow paraphinalia.
WERK for Peace was created following the Pulse Nightclub massacre and uses dance to promote peace.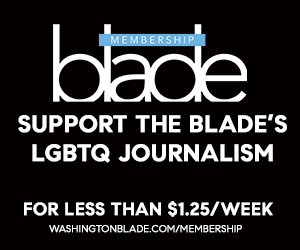 Sign Up for Blade eBlasts