Maryland Film Festival, Washington Jewish Film Festival gear up with queer content
Dutch doc 'Genderbende' follows five genderqueer youth in early 2000s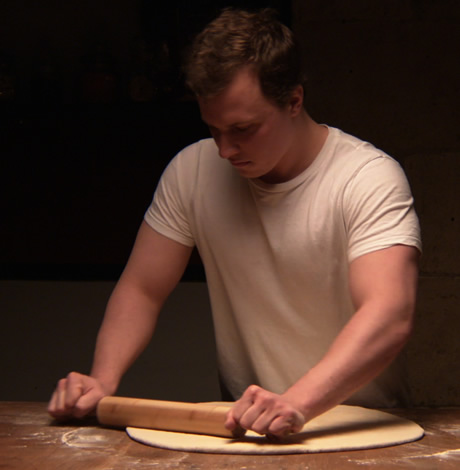 Two of the region's most popular film festivals return this week. As usual, both feature thought-provoking and entertaining programming including several features with strong LGBT content.
Running May 2-6, the Maryland Film Festival is celebrating "20 years of film for everyone." The festival includes 40 feature films and 10 programs of shorts that span all cinematic genres with works from all over the world. Movies will be screened throughout the Baltimore's Station North Arts and Entertainment District with the award-winning SNF Parkway serving as the artistic and social hub.
As always, the festival will feature a film selected and introduced by legendary Baltimore filmmaker, artist and visionary John Waters. This year Waters has selected  "I, Olga Hepnarova" which he describes as "a hypnotic black-and-white docudrama based on the case of a pretty, 22-year-old, chain-smoking lesbian from Prague who in 1973 hopped in a truck and mowed down 20 pedestrians on a sidewalk. Deadpan indeed."
The LGBT feature films include "The Miseducation of Cameron Post," already a hit on the festival circuit, and "We the Animals" based on the award-winning semi-autobiographical novel by openly gay author Junot Diaz. Directed by Desiree Akhavan ("Appropriate Behavior'), "Cameron Post" stars Chloë Grace Moretz as a high school girl who is caught in the back seat of a car on prom night with another girl. She is quickly shipped off to a conversion therapy center where she is subjected to outlandish discipline and earnest Christian rock songs, but where she also finds an unlikely gay community.
"We the Animals" stars Evan Rosado as Jonah, the youngest child in a dysfunctional Puerto Rican family who is slowly discovering that his love of art and literature and his sexuality are dividing him from his family. Raúl Castillo ("Looking") plays Jonah's abusive macho father.
Two documentaries also examine diverse elements of the LGBT community. The moving Dutch documentary "Genderbende" follows five genderqueer youth as they proudly define and defend their identity. Distilled from 400 hours of raw footage, "Shakedown" looks at the clientele and culture of the Los Angeles urban lesbian strip club scene in the early 2000s.
The festival opens with a program of innovate shorts, including "The Jump Off," about a young man and his closeted lover and closes on May 6 with "Won't You Be My Neighbor?" a charming documentary by Academy Award-winning director Morgan Neville about beloved TV host Fred Rogers.
And for the 16th year, the Alloy Orchestra comes to the festival to perform a live, original score to accompany "A Page of Madness," a masterpiece of the Japanese silent cinema. Full details at mdfilmfest.com.
Running May 2-13, the Washington Jewish Film Festival is an international exhibition of cinema that celebrates the diversity of Jewish history, culture and experience through the moving image. One of the highlights of the festival is the RATED LGBTQ strand, movies screened throughout the festival that explore the intersection of faith and sexuality.
One of its Spotlight features (and part of RATED LGBTQ) is "The Cakemaker." After his Israeli lover dies, German baker Tomas travels to Jerusalem and finds work with his lover's widow, but decides to keep his identity a secret. Both mourning the same man, the survivors stave off loneliness by finding common cause in the kitchen, but their fragile friendship is threatened by suspicions, jealousies and cultural differences.
RATED LGBTQ also includes: "Saving Neta," about four women whose lives are changed by a chance encounter with a mysterious drifter named Neta; "The Strangest Stranger" about the mysterious relationship between Joni Waka, a Jewish man living in Tokyo and a new arrival named Johnnie Walker; and "Summer" and "Sunset," two tender shorts about sexual awakening.
Other highlights of the Festival include the opening night film "Sammy Davis, Jr.: I've Gotta Be Me," a new documentary about the ground-breaking African American performer who converted to Judaism, and the closing night film "The Invisibles," about the 7,000 Jews who remained in Berlin after the Nazis declared the city Judenfrei ("free of Jews"). Other Spotlight movies include "RBG" about the amazing career of Justice Ruth Bader Ginsburg, "An Act of Defiance" about Nelson Mandela, and "Shelter," an international espionage thriller.
The Jewish festival will screen movies at the Washington D.C. Jewish Community Center, the AFI Silver and the Bethesda Row Cinema. 
Tribeca fest yields must-see queer documentaries
Compelling films on Leonard Bernstein, Marin Alsop among top fare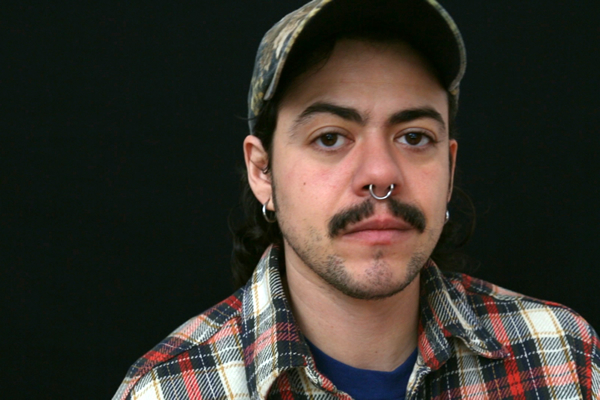 If you're a film fanatic, chances are pretty good you are already aware that the Tribeca Film Festival took place this month.
One of the most prestigious events on the festival circuit, this New York City cinematic staple was founded in 2002 by Robert De Niro, Jane Rosenthal, and Craig Hatkoff, as a means of revitalizing the economic and cultural landscape of lower Manhattan in the wake of the Sept. 11 terrorist attacks. It's become a mainstay of the city's annual calendar, providing a high-profile platform that has brought visibility to hundreds of independent and international films – as well as to the artists who made them – across the 20 years since its inception.
Although Tribeca is not an LGBTQ+ film festival, it's always been inclusive of LGBTQ+ films – after all, it is held in the middle of Pride month. The 20th anniversary edition, which was held June 9-20 and featured both virtual and in-person screenings, offered a particularly impressive crop, especially among the documentary lineup. That means fans of queer docs will surely be keeping an eye out for them as they make their way into general release over the next few months.
Not to worry, the Blade has you covered. Here's a sampling of some of the titles included among the LGBTQ+ themed documentary features that premiered during the festival. There are no official release dates yet – but with the Tribeca pedigree behind them, these enticing gems are sure to be heading to your screens very soon.
"BERNSTEIN'S WALL"
Leonard Bernstein was one of the greatest classical music figures of the 20th century, the child of a Russian Jewish immigrant who rose to become not only conductor of the New York Philharmonic but a respected composer in his own right, a kind of musical ambassador who became a household name by educating millions of viewers about symphonic music on TV. He was also a gay man. In this documentary from filmmaker Douglas Tirola, we are given a comprehensive look at a life lived both in and out of the concert hall and intertwined with key historical moments. Illuminated by a rich trove of interviews, television appearances, home movie footage, photos, and letters, the film covers musical triumphs like "West Side Story" but also documents Bernstein's pushing-the-edge activism, such as his protesting of the Vietnam War and his support of the Black Panthers. It also delves into the complexities of his personal life, exploring his fraught relationship with his father, his marriage and family life, and his struggles to find peace with his sexuality. The result is an enlightening portrait of a beloved American icon as both an accomplished musical artist and an important public figure during one of the most tumultuous eras in American culture.
"BUILDING A BRIDGE"
Prompted by the apparent apathy of his peers in the wake of 2016's horrific Pulse nightclub shooting in Orlando, New York-based priest, author, and journalist Father James Martin wrote a book. After it was published, "Building a Bridge: How the Catholic Church and LGBT Community Can Enter into a Relationship of Respect, Compassion, and Sensitivity" led to appearances on outlets from Colbert to Fox News, and he became something of a celebrity – but though he may have been lauded by many for the acceptance espoused in his views, he was also denounced as a heretic by many others. This documentary, directed by Evan Mascagni and Shannon Post (and executive-produced by notable Catholic Martin Scorsese) follows the "outspoken but good-humored" priest as he speaks before packed houses, faces protesters, consoles queer youth and their struggling parents, and makes a journey to Rome. After this year's March 15 Vatican statement barring priests from blessing same-sex unions, this one seems particularly timely.
"THE CONDUCTOR"
Internationally renowned conductor Marin Alsop has smashed a lot of glass ceilings. She was the first woman to serve as music director of the Baltimore Symphony Orchestra, the São Paulo Symphony Orchestra, and the Vienna Radio Symphony Orchestra, rising to the top of a profession that had always been dominated by men. Director Bernadette Wegenstein charts that rise in this "exhilarating" documentary, filmed with "unprecedented access" to its subject and a "backstage pass" to her world, by telling the openly lesbian Alsop's story through a combination of interviews and shared moments, encounters with musical "cognoscenti," previously unseen archival footage with her mentor Leonard Bernstein (yes, him again), and scenes of her teaching a next wave of young conductors who, like her, were being excluded from the classical music canon. The articulate Alsop is a charismatic protagonist, and her story makes for an inspiring and triumphant film about overcoming discrimination – and about pursuing your talent, against all odds.
"NORTH BY CURRENT"
A complex, experimental-leaning documentary from filmmaker Angelo Madsen Minax, this meditation on "the relationships between mothers and children, truths and myths, losses and gains" began to take shape when Minax returned to his rural Michigan hometown in the wake of his young niece's death to make a film about the family's wrongful persecution. Before long, he found himself expanding his scope to explore a web of themes of generational addiction, fervent Christianity, and trans embodiment – all while participating in the evolving dynamic of a family trying to repair itself. Finally, the filmmaker turned the camera toward himself. The resulting film is a deeply personal meditation on identity, familial roles and responsibilities, and the challenges of learning to accept one another.
"NO STRAIGHT LINES: THE RISE OF QUEER COMICS"
Adapted from Justin Hall's anthology of the same name, this fun documentary spotlights five LGBTQ+ comic book artists – Alison Bechdel ("Fun Home"), Jennifer Camper ("Rude Girls and Dangerous Women"), Howard Cruse ("Gay Comix"), Rupert Kinnard ("B.B. And The Diva") and Mary Wings ("Come Out Comix") while showcasing the evolution of the comic book side by side with the history of the LGBTQ+ rights movement. This celebratory film from director Vivian Kleiman blends art, comedy and politics to entertain while also schooling audiences about some important milestones of queer representation and the challenges faced by the community along the way.
"PRAY AWAY"
From director Kristine Stolakis comes this provocative documentary about Exodus International, an organization that was started in the 1970s by five men who were struggling with being gay in their Evangelical church. Organized as a Bible study group to help people "leave the homosexual lifestyle," it grew to become the largest and most controversial conversion therapy organization in the world. In this frank exposé, Stolakis introduces us people like self-identified "ex-trans" Jeffrey, who says "I lived transgender, but I left it all to follow Jesus," and Julie, who spent a decade going through intensive counseling to "become straight" – but also to former leaders in the conversion therapy movement who have now embraced their sexuality, coming out as LGBTQ themselves and disavowing the movement they helped to start. This one will be coming to Netflix in August.
Legendary activist gets his due in 'Hating Peter Tatchell'
'Don't accept the world as it is'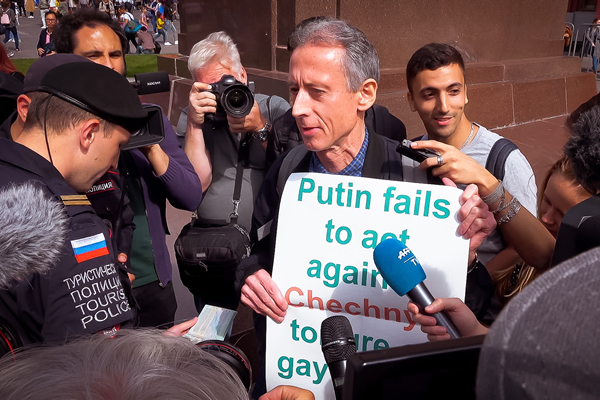 Looking at the fight for LGBTQ equality from inside the bubble of the United States, it's easy to get the impression that the movement essentially started at Stonewall, and that most of our progress is the result of work from our own homegrown activists. That's obviously not the case; though there have been plenty of American heroes that have done more than their fair share in the effort, the contributions of others who join the fight on the international front deserve recognition, too.
"Hating Peter Tatchell," available now on Netflix, is a great introduction to one of them.
It's a documentary from director Christopher Amos that chronicles the life and work of a tireless champion for LGBTQ rights – and human rights in general – whose six decades of campaigning have made him simultaneously one of the most lauded and loathed men in the world. He has shaken up the British establishment with his radical acts of civil disobedience, aggressively pushed for change in global attitudes about homosexuality, and stood up against tyrannical world leaders – and he's done it all from the front lines.
Amos' brisk but informative film takes us on a tour of Tatchell's career, bolstered by plenty of archival footage (much of which only exists because Tatchell saved the VHS tapes himself) and given perspective through evocative interviews with the likes of activist Angela Mason, actor Stephen Fry, and Tatchell himself, who also engages in an ongoing conversation with actor and fellow LGBTQ activist Ian McKellen about what motivates his lifelong fight for equality. Along the way, we get insights into Tatchell's personal life, in particular his relationship with his deeply religious mother. The film culminates with his riskiest crusade yet, the disruption of 2018's FIFA World Cup in Moscow to draw attention to the persecution of LGBTQ+ people in Russia and Chechnya.
Tatchell, we're happy to say, survived that journey, and is still fighting tirelessly through the Peter Tatchell Foundation, a small London-based human rights organization that also supports democracy, LGBTQ+ and human rights movements in countries like Russia, Uganda, Iran and Pakistan. But busy as he is, he took time to join director Christopher Amos for a conversation with the Blade about the film.
BLADE: Peter, a lot of hard-working activists often struggle with burnout. How do you find a balance between your activism and your day-to-day life?
PETER TATCHELL: My life has been tough. I've campaigned 12+ hours a day for 54 years, been violently assaulted over 300 times and still receive masses of hate mail and death threats, mostly from homophobes and far right extremists. I'm perpetually tired. It's made relationships difficult to sustain. But I love the human rights work that I do. What motivates and sustains me is my many successes and the positive feedback from the 20,000+ individuals and campaigners that I've helped over the last five decades.
BLADE: Your activism even extends into your relationship with your mom.
TATCHELL: I've seen my mother's regressive views as a challenge and never ceased engaging with her. As a result, she's been on a journey of growing understanding and acceptance. Although homosexuality is against her Christian beliefs, she doesn't see it as a major sin. Moreover, she mostly supports my LGBTQ+ work, says LGBTQ people should be treated with respect and has accepted my partner. It shows that patience and perseverance can change hearts and minds.
BLADE: On that subject, the movie features a lot of footage from an era when a lot of people were opposed to your confrontational methods. Some of that persists even in the contemporary interviews. Christopher, was that an intentional choice?
CHRISTOPHER AMOS: As much as I support Peter's work, achievements, and sensibilities, I knew it was important to also present opposing opinions. It's important, for progress, to listen to opinions that are different from our own, even when we disagree. And it's important that we don't hide history, we can learn from it. When I was watching the hundreds of hours of archives, I was shocked by some of the views which made it onto television talk shows at the time. Hindsight is a powerful way of highlighting just how much progress has been made.
BLADE: In this case, it certainly highlights that some of Peter's more "radical" positions have been vindicated over the years, in spite of the naysayers.
AMOS: Peter was ahead of his time. He has a natural instinct for what is fair and equal in society.
BLADE: Is that what drew you to him as a subject for a film?
AMOS: Peter's activism inspires me, and perhaps identifying with the journey of an Aussie moving to London made his story especially significant to me. We first met in 2000, when I was editor of Bent magazine, and Peter regularly contributed articles. I was always surprised by how many of the LGBTQ community derided his work, despite the huge contribution he was making to advancing our rights. This struck me as an interesting premise for a story about his life, something which adds a layer to the biographical account of his life. I wanted to highlight his achievements but also explore his motivations.
BLADE: What do you want audiences to take away from his story?
AMOS: Peter's journey over the past half-century highlights the advances in the gay liberation movement. That gives me hope for the future and I hope will give others hope too. But it can also inspire us to take action, to use our voice. I want viewers to be moved, but also feel motivated to carry on this fight for equality. Many people often ask what they can do, but Peter doesn't wonder, he just does something.
BLADE: Peter, is there an action you've taken that you are particularly proud of?
TATCHELL: I don't spend much time relishing my successes. Once a victory has been secured, I focus my mind on the next challenge. But I'm pleased that I ambushed Mike Tyson and got him to express his opposition to homophobic discrimination, and that I staged the first LGBT+ protest in a communist country (East Germany, 1973). And also, I twice attempted a citizen's arrest of the Zimbabwean dictator and homophobe, Robert Mugabe.
BLADE: What do you think is currently the most crucial fight or fights for the future of queer rights?
TATCHELL: In the West, the biggest battles are to ban conversion therapy, defend the trans community and support other progressive movements, like Black Lives Matter and #MeToo. Globally, the main challenge is to decriminalize homosexuality in the 70 countries that still outlaw it, and then to secure legislation against anti-LGBT+ discrimination and hate crimes.
BLADE: What would you say to people who want to become more involved but don't know where or how to start?
TATCHELL: Join a LGBT+ organization. There is strength in numbers. All our gains are the result of our collective efforts. Don't accept the world as it is. Dream of what the world could be — and then join with others to help make it happen.
AFI Docs presents a hybrid in-person, virtual festival
2021 slate generous to LGBTQ, BIPOC directors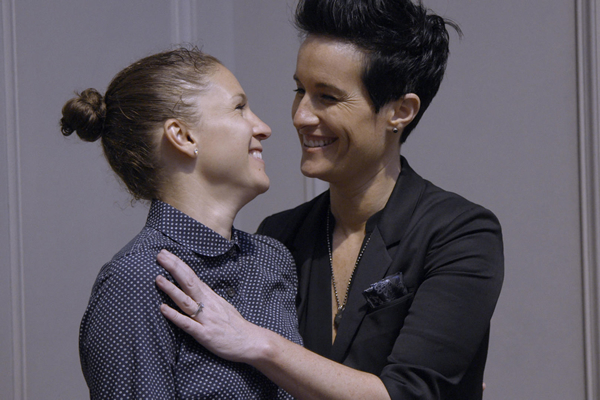 AFI DOCS 2021 kicks off Tuesday and will showcase a diverse collection of films like features on historical figures Pauli Murray and Anthony Bourdain, and shorts capturing an annual prom at an LGBTQ retirement home and the life of a Jewish, trans, South African artist.
The annual celebration of documentary filmmaking hosted by the American Film Institute will run June 22-27, with films available to view online as well as in-person screenings at the AFI Silver Theatre and Cultural Center in Silver Spring.
The festival will feature more than 70 films from 23 countries, including four world premieres. In the lineup, 52% of films are directed by women, 40% by BIPOC directors and 18% by LGBTQ directors.
"We are living in the Golden Age of documentary film," said Sarah Harris, AFI Festivals Director of Programming, in a press release. "At AFI DOCS, we are proud to celebrate excellence in the films of 2021 – connecting audiences across the nation, engaging them in lively conversation and inspiring them with both the unprecedented challenges and the breathtaking beauty of the world around us."
Like in previous years, AFI DOCS will feature a variety of films on LGBTQ themes and figures. "Pray Away," directed by Kristine Stolakis, dives into the harmful past and present of the "pray away the gay movement" through interviews with ex-leaders, survivors of conversion therapy and one active participant in the practice.
Stolakis's uncle went through conversion therapy after coming out as trans in the '60s and she witnessed the "traumatic aftermath" and tremendous pain it caused him, she said.
"A lot of people think conversion therapy is a thing of the past. And that is not true," she said in an interview. "We know conversion therapy continues on every major continent."
"Pray Away" will be available to stream on Netflix in August. Ryan Murphy also serves as an executive producer.
"My Name is Pauli Murray" directed by Julie Cohen and Betsy West follows the life of the queer writer, human rights lawyer, priest and poet Pauli Murray. Described in the film as ahead of their time, Murray accomplished many firsts: the first African American to earn a law degree at Yale and the first African-American woman ordained as an Episcopal priest.
Murray also drafted the basis of landmark legal arguments used in overturning Plessy v. Ferguson. They also co-wrote a law review used by Ruth Bader Ginsburg to convince the Supreme Court that the 14th Amendment's Equal Protection clause applies to women.
The Academy Award nominees Cohen and West discover Murray's story when working on their 2018 documentary "RBG."
"We want people to know about Pauli Murray," West said. "We would like people to understand the impacts that Pauli had on our world, on the Civil Rights Movement, on the women's movement."
West and Cohen said they wanted to highlight Murray's struggles with gender and sexuality in the early to mid-20th century, and the film features Murray's inability to undergo hormone therapy and their romantic relationships with women.
"There was no understanding for what Pauli was going through," West said. "Going to doctors and and basically being dismissed for raising the fact that Pauli felt like a man. And that was just something people couldn't deal with. I think it's been empowering and perhaps infuriating for the people to learn the way Pauli was treated."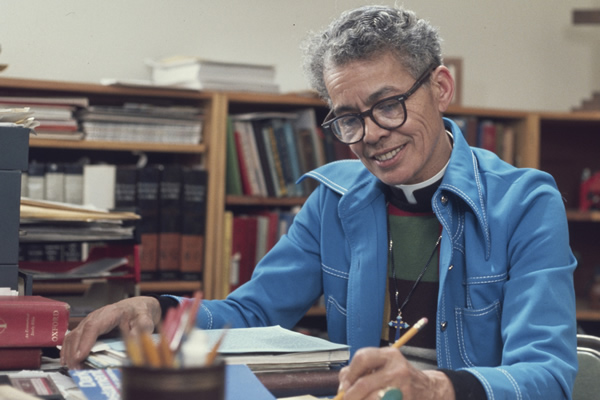 The short film "Coded" directed by Ryan White explores the life of gay illustrator J.C. Leyendecker, and the history of his subtle, coded advertisements in the 20th century.
Leyendecker lived a semi-out life in the roaring '20s but was forced to hide his identity after the Great Depression as society "moved backward," the film outlines.
"I think there's a beautiful character film here about this man who's never been recognized for his art," he said. "I also think there's a real cautionary tale about how, no matter how much progress we've achieved, that that can always be dialed backward." 
The film will open in theaters this fall.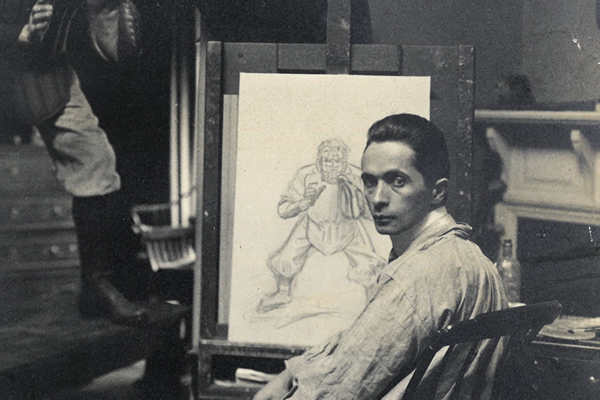 "Scum Boy" is a short that follows the life of a South African, Jewish, transgender Gen-Z 3-D artist. Director Allison Swank met Scum Boy, Oliver Hunter Pohorille, when he was a teenager at a casting for a music video.
"I was inspired by my friendship with Scummy," she said. "I started realizing like every conversation I was having with him I was learning new things. I just felt like it was time for him to share his message with the world and I can help with that."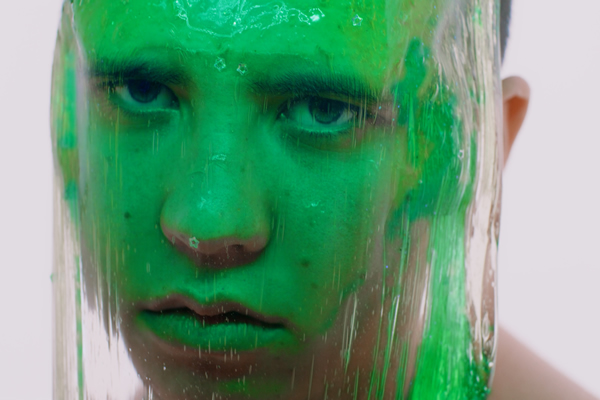 "Senior Prom," directed by Luisa Conlon, is a short showcasing the annual "senior" prom at an LGBTQ retirement home in Los Angeles. The film also follows the story of specific LGBTQ elders and their experiences being LGBTQ in the 20th century.
"The most important thing with this film is I think it has an opportunity to create sort of an intergenerational environment, and that's not happening," Conlon said. "The film is very accessible. It has this reference point for young people, which is what's supposed to be a very classic coming-of-age experience."
Feature film "North By Current" directed by trans filmmaker Angelo Madsen Minax follows his own family as they process the aftermath of the inconclusive death of his young niece. Minax documents the trauma, addiction and complexity in the years that follow.
"Unforgivable (Imperdonable)" directed by Marlén Viñayo spotlights an 18th Street hitman serving time in an evangelical Salvadoran prison. He's not only guilty of his crimes but of being gay in a conservative, religious environment.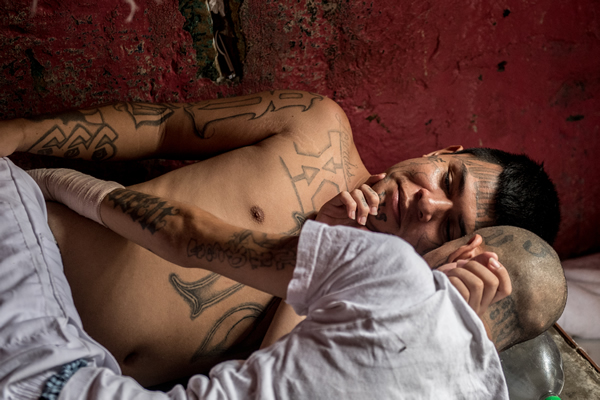 "No Straight Lines" directed by Vivian Kleiman dives into the colorful history of queer comic artists and "Trade Center," a short film directed by Adam Baron, highlights the stories of gay men who cruised for sex in the World Trade Center in the '80s and '90s.
The Charles Guggenheim Symposium is on Wednesday, June 23, and will honor celebrated filmmaker Dawn Porter. Her most recent project, "Rise Again: Tulsa and the Red Summer" will be screened.
AFI will open on Tuesday, June 22 with the world premiere of "Naomi Osaka," an intimate look inside the life of one of today's most gifted athletes. The festival will close Sunday, June 22 with "Cusp," a coming-of-age documentary about three teenage girls in a Texas small town as they come to understand adulthood, especially as young women. The centerpiece screening on Friday, June 25 is "Roadrunner," which follows the life of chef and storyteller, Anthony Bourdain.
The complete AFI DOCS schedule and information on festival passes and individual tickets can be found at docs.afi.com.