Kavanaugh shifts to Masterpiece when queried on gay marriage ruling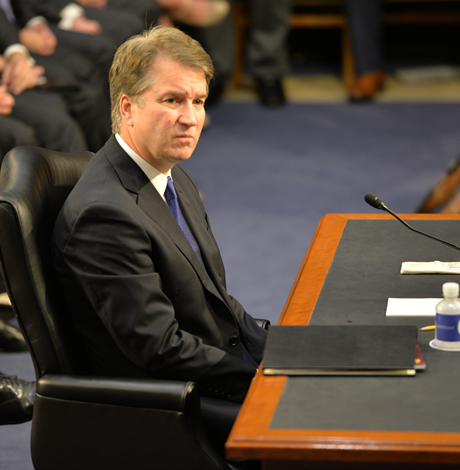 President Trump's nominee to the U.S. Supreme Court Brett Kavanaugh shifted to the ruling in the Masterpiece Cakeshop case — which came down in favor of a Colorado baker who refused to make a custom-made wedding cake for a same-sex couple — when asked Thursday whether he supports the historic ruling for same-sex marriage nationwide.
Under questioning from Sen. Kamala Harris (D-Calif.), Kavanaugh refused to say whether he thinks the Supreme Court's 2015 decision in Obergefell v. Hodges was correctly decided.
Kavanaugh cited a practice of nominees to refuse to comment on personal views or precedent set by the high court. That's consistent with his responses to questions on other decisions, including Roe v. Wade.
Instead, Kavanaugh referenced five cases on LGBT rights written by former Associate Justice Anthony Kennedy, whose seat he'd occupy on the high court, counting among them the Masterpiece Cakeshop decision narrowly in favor of Jack Phillips.
As Kavanaugh proceeded to enumerate the rulings, Harris interrupted and said "if we could just talk about Obergefell, that would be great," redirecting the nominee to address Obergefell. But Kavanaugh noted each of the decisions, the 1996 ruling in Romer v. Evans, the 2003 ruling in Lawrence v. Texas, the 2013 decision in Windsor v. United States, the 2015 decision in Obergefell v. Hodges, and the 2017 decision in Masterpiece Cakeshop v. Colorado Civil Rights Commission.
Kavanaugh said he wanted to read a statement from Masterpiece Cakeshop, but Harris insisted he address the Obergefell decision, calling it a "yes or no" question. Nonetheless, Kavanaugh pressed forward with the statement from the Masterpiece Cakeshop decision.
"In Masterpiece Cakeshop, and this is, I think, relevant to your question, Justice Kennedy wrote in the majority opinion joined by Chief Justice [John] Roberts and Justice [Samuel] Alito and Justice [Neil] Gorsuch and Justice [Stephen] Breyer, the days of discriminating against gay and lesbian Americans as inferior in dignity and worth are over," Kavanaugh said.
Asked by Harris if he agrees with that statement, Kavanaugh replied, "That is the precedent of the Supreme Court."
When Harris followed up by asking Kavanaugh again if he agrees with Obergefell, Kavanaugh dodged.
"Each of the justices have declined as a matter of judicial independence, each of them, to answer in that line of questions," Kavanaugh said.
Harris pointed out Kavanaugh once said the ruling in Brown v. Board was one of the greatest moments in the court's history and asked the nominee whether he thinks the same about Obergefell, but the nominee refused to say.
"I've said, senator, consistent with what the nominees have done, that the vast swath of modern case law, as Justice Kagan, you can't as a nominee in this seat, give a thumbs up or thumbs down," Kavanaugh said.
Pressed again by Harris on whether Obergefell was a great moment, Kavanaugh again referred to Masterpiece.
"Justice Kennedy wrote the majority opinion saying the days of treating gay and lesbian Americans, or gay and lesbian couples, as second-class citizens or inferior in dignity or worth are over in the Supreme Court," Kavanaugh said. "That's a very important statement."
Chad Griffin, president of the Human Rights Campaign, criticized Kavanaugh in a statement for refusing to support the Obergefell decision.
"Brett Kavanaugh's refusal to answer very basic, very direct questions about the Supreme Court's historic ruling bringing marriage equality nationwide is alarming and completely unacceptable," Griffin said. "The Obergefell decision is settled law. If this nominee cannot so much as affirm that or the fundamental equality of LGBTQ people and our families, he should not and must not be granted a lifetime appointment to our nation's highest court."
Gregory Angelo, president of Log Cabin Republicans, on the other hand said Kavanaugh's response was worthy of praise.
"A Supreme Court nominee who declares that 'the days of discrimination against gay and lesbian Americans are over' is someone every LGBT American should celebrate — without exception," Angelo said. "Even Ruth Bader Ginsburg refused to make such an assertion during her hearings, and she was confirmed by a vote of 96 to 3."
Puerto Rico activists condemn police raid on LGBTQ-friendly bar
More than 20 officers descended on Loverbar near the University of Puerto Rico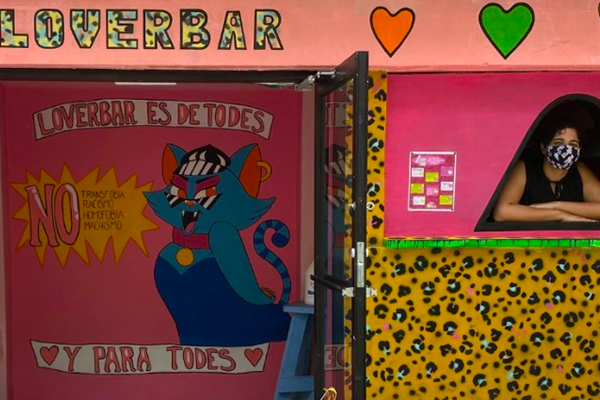 Activists in Puerto Rico have condemned a police raid on an LGBTQ-friendly bar that took place on Thursday night.
Local media reports indicate more than 20 officers with the San Juan Municipal Police Department entered Loverbar, which is near the campus of the University of Puerto Rico, at around 11 p.m.
A video posted to social media shows that some of the officers who entered the bar were armed with what appear to be shot guns.
Video de La Police entrando.
¿Cuál es la necesidad? Cualquiera juraría que esto es un raid a un punto pic.twitter.com/MkFVHfVFsE— ✨ A d o n i s ✨ (@MrWolfheart) July 23, 2021
Media reports cite local authorities who said Loverbar did not have the necessary permits to operate as a bar, and the officers arrived there to fine them. San Juan Mayor Miguel Romero in a statement said officers fined Loverbar and seven other businesses in the city on Thursday for either not having the necessary permits or excessive noise.
Comparto mis expresiones sobre la intervención de anoche de la Policía Municipal de San Juan y la Oficina de Permisos en negocio de Río Piedras. pic.twitter.com/PxKMVNuR68— Miguel Romero (@Miguel_Romero_) July 23, 2021
"The Municipal Police of San Juan led by Miguel Romero intervened last night with a queer bar," tweeted Pedro Julio Serrano, founder of Puerto Rico Para [email protected], a Puerto Rican LGBTQ advocacy group. "This reminds us of a time when LGBTQI+ people were prosecuted, criminalized and villified."
"We won't tolerate homophobia and transphobia in San Juan," added Serrano.
The Municipal Police of San Juan led by @Miguel_Romero_ intervened last night with a queer bar.

This reminds us of a time when LGBTQI+ people were persecuted, criminalized and vilified.

We won't tolerate homophobia and transphobia in San Juan. pic.twitter.com/MkcE2t2Nup— Pedro Julio Serrano (@PedroJulio) July 23, 2021
Comité Amplio Para la Búsqueda de Equidad (CABE), another Puerto Rican LGBTQ advocacy group, has called for an "exhaustive and independent investigation into the excessive use of force and intimidation by the Municipal Police of San Juan last night" at Loverbar.
Two injured in gunfire outside crowded 14th Street restaurants
Witnesses say 20 shots fired near Blade, Whitman-Walker offices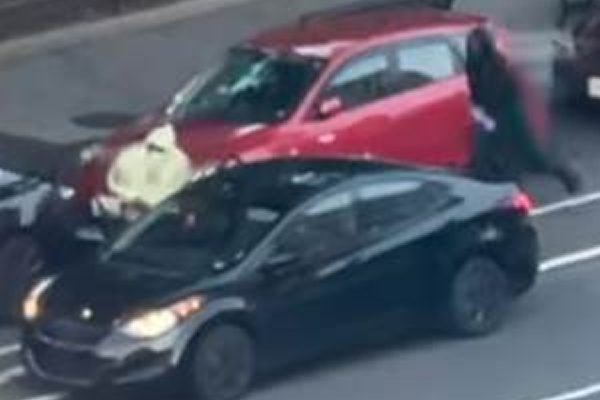 D.C. police are seeking the public's help in identifying at least three suspects involved in a shooting in which two men were wounded shortly after 8 p.m. on Thursday, July 22, on the 1700 block of 14th Street, N.W. where the offices of the Washington Blade and Whitman-Walker Health, the LGBTQ supportive health center, are located.
The shooting occurred while dozens of people were dining at restaurants along the bustling street in the heart of the city's Logan Circle nightlife area.
Police released a video showing two men – one wearing a white hooded sweater or sweatshirt and the other wearing a dark colored similar hooded shirt running along the street and entering the front and rear passenger doors of a black car double parked on the street that police described as an older model Honda Civic with D.C. license plates.
The video shows the car driving away at a fast speed with a third person driving the vehicle.
"Detectives from the Metropolitan Police Department's Third District seek the public's assistance in locating suspects and a vehicle in reference to an Assault with Intent to Kill (Gun) offense," a statement released by D.C. police says.
"At approximately 8:20 p.m., members of the Third District heard the sounds of gunshots and responded to the listed location," the statement says. "Upon arrival, members located two adult male victims, both conscious and breathing, suffering from gunshot wounds," according to the statement. "DC Fire and Emergency Medical Services responded to the scene and transported the victims to area hospitals for treatment of non-life-threatening injuries."
The shooting incident took place at a time when many city residents and police were on edge following the fatal shooting of a 6-year-old girl on July 16 in Southeast D.C. and the firing of gunshots last Saturday outside Washington Nationals Stadium during a game, which prompted people inside the stadium, who heard the gunshots, to duck for cover.
D.C. Police Chief Robert Contee, who was accompanied by D.C. Mayor Muriel Bowser at a news conference at the scene of the shooting on Thursday night, said investigators believe one of the two men wounded by the gunfire was a target of the shooting. Contee said police believe the second victim was hit in the crossfire.
"We've got to make sure we're doing everything we can as an entire system here in the District of Columbia to hold offenders accountable when these things happen in our community," Contee said. "This is unacceptable. That's the bottom line. It is totally unacceptable behavior," he said.
"I'm asking the community to take a look at these videos," he told reporters at the press conference. "If you know the person or the vehicle or somebody who is in that – there is one individual with a very distinctive hoody that he was wearing – please look at that very closely," he said. "We're asking for the community's help."
When asked by a reporter to comment on expressions of outrage by members of the community over the widespread outbreak of gun violence in the city, Bowser said she shares that concern.
"Well, I'm outraged. The chief is outraged. And the community should be outraged," the mayor said. "What we saw tonight and unfortunately what we saw over the last several days is an illegal firearm brazenly used on D.C. streets," Bowser said.
"And we know that our investigators and detectives are going to track down every lead. Our citizens have already been helpful in supplying leads and video and anything else that they saw so that we can get these individuals off the street and hold them accountable," the mayor said.
Witnesses have said the Thursday night shooting on 14th Street reportedly occurred at the intersection of Riggs Street outside the Mexicue Restaurant, which is located at 1720 14th Street, N.W. The Blade office is located just a few doors down and Whitman-Walker's Elizabeth Taylor building is a short distance away across the street at 14th and R Street, N.W.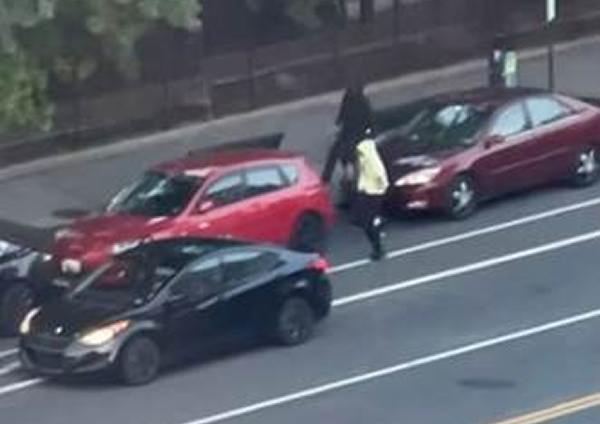 Senate confirms lesbian, trans nominees to high-profile defense roles
Skelly is second out transgender appointee to obtain confirmation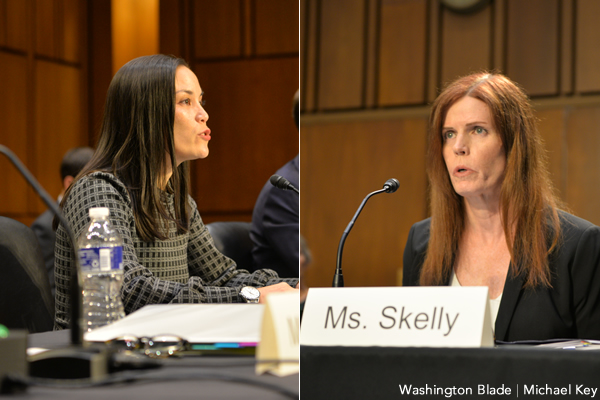 The U.S. Senate confirmed on Tuesday two Biden nominees — one lesbian, another transgender — for high-profile positions at the Defense Department by unanimous consent.
Gina Ortiz Jones, a lesbian former Air Force pilot and Texas congressional candidate, was confirmed as under secretary of the Air Force, and Shawn Skelly, a transgender 20-year U.S. Navy veteran and a defense appointee in the Obama administration, was confirmed as assistant secretary of defense for readiness.
For the second time in U.S. history, the Senate has confirmed an openly transgender person as a presidential appointee — and did so without controversy by unanimous consent.
Just months ago, Rachel Levine was confirmed as assistant secretary of health on a party-line basis after enduring rude, invasive questioning from Sen. Rand Paul (R-Ky.) during her confirmation hearing on transgender health care.
Jones has also made an achievement through Senate approval: She's the first out lesbian to win confirmation to serve in a high-level defense position.
The Senate confirmation of the nominees by unanimous consent is consistent with their confirmation hearing, which both Jones and Skelly breezed through without hostility.
Annise Parker, president of the LGBTQ Victory Institute, pointed out in a statement the two newly confirmed presidential appointees both served in the U.S. military under bans against LGBTQ people in the armed forces.
"Gina and Shawn served their country when living openly could result in discharge and a lost career, so their ascension to key leadership positions is a powerful moment for those servicemembers who served or continue to serve in silence," Parker said. "Their confirmation will transform perceptions of LGBTQ people within the ranks of the U.S. military, but also among the leaders of militaries we work with around the world."
Another out LGBTQ person nominated by Biden for a high-profile defense role is Brenda Sue Fulton, whom Biden nominated to become assistant secretary of defense for manpower and reserve affairs. Her nomination, however, has not even had a hearing in the Senate Armed Services Committee. It's unclear why her nomination hasn't moved forward.