Woodward book: Trump surprised top staff with trans military ban
'They're getting clipped' — Book details anti-trans comments made by Trump, Bannon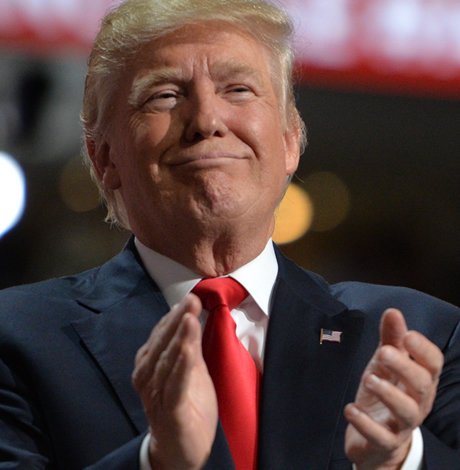 The new book by journalist Bob Woodward depicting chaos in the White House asserts President Trump announced his transgender military ban before hearing from officials during a planned meeting as he privately made anti-trans remarks describing gender reassignment surgery as "getting clipped," according to a report in the Washington Examiner.
When Trump announced in a tweet in July 2017 he'd ban transgender people from the U.S. military "in any capacity," he said he'd consulted military experts on the issue. However, the book — "Fear: Trump in the White House" — reportedly says Trump made the announcement before a planned meeting with top officials on options for transgender service.
Trump delivered the tweets reportedly about an hour before he was set to meet then-White House Chief of Staff Reince Priebus and adviser Steve Bannon in the Oval Office to discuss those options, which were made by the National Security Council.
According to the report, the council had no clear consensus from on transgender service and Priebus warned an all-and-all out ban would trigger lawsuits. Therefore, the ban on transgender service members "in any capacity" was surprising.
"What'd you think of my tweet?" Trump reportedly asked Priebus later.

"I think it would've been better if we had a decision memo, looped [Defense Secretary Jim] Mattis in," Priebus replied.
Priebus' reported prediction on lawsuits came to pass. LGBT legal groups sued Trump over the ban and successfully enjoined the military from carrying the policy. Four federal courts have ruled against the policy and two appellate courts have upheld those decisions, although the litigation continues to make its way through the judicial system.
Although Trump said he consulted experts on that day and White House Press Secretary Sarah Huckabee Sanders said in the daily briefing he gave a heads up to Defense Secretary James Mattis, the book reportedly says the Pentagon chief to the contrary was caught by surprise because he was vacation at the time on West Coast and was concerned about the impact of the tweet on transgender service members.
Sally Donnelly, an aide to Mattis at the time, called Bannon and said the defense secretary opposed the decision by Trump and would try to reverse it.

"Hey, we've got a problem with the boss," she reportedly said. "We can't stand by this transgender decision. This is just not right. They are American citizens."
The book reportedly says Bannon responded to Mattis pleas with defiance and anti-trans comments.
"These guys are coming over to get full surgery. We're supposed to pay for that?" Bannon told her. "You've got to take one for the team."
Although Mattis reportedly expressed sympathy for transgender troops, that didn't stop him from reaffirming the policy months later. After Trump directed Mattis to review transgender military service in a subsequent memo, the Pentagon chief issued recommendations earlier prohibiting transgender service with limited exceptions. That policy remains on hold thanks to court orders against the ban.
Although Trump reportedly didn't consult with military advisers before the tweets, he was under pressure from the Freedom Caucus in the U.S. House, which reportedly threatened to vote against the budget if the administration didn't cut back on military funding for gender reassignment surgery.
Rep. Vicky Hartzler (R-Mo.), an anti-LGBT lawmaker, had at the time introduced to the House floor an amendment banning the Pentagon from paying for transition-related care after making false claims about exorbitant costs of the procedure. Despite her efforts, the measure couldn't pass the U.S. House even with a Republican majority.
Those false estimates reportedly somehow got to Trump, who made anti-trans remarks about service members getting clipped in response.
"What the fuck? They're coming in here, they're getting clipped," Trump reportedly told Bannon, a reference to enlisting and undergoing surgery. "Not going to happen."
According to the book, general counsels from the military services had met on the issue. Although they didn't agree on a way forward, they prepared four options for Trump: Keep the Obama policy allowing transgender service; allow Mattis to come up with his own plan; issue a presidential order permitting transgender troops already in service to remain; or ban all transgender troops from service.
On the day of the tweets, Priebus presented the options to Trump via speakerphone and promised to flesh them out at the scheduled meeting later in the morning.
"I'll be down at 10," the president said, according to the book. "Why don't you guys come and see me then? We'll figure it out."
Although Priebus reportedly believed the Trump administration "had found an orderly process on at least one controversial matter," the former chief of staff shortly thereafter received the notification on his phone about Trump's tweets and found the decision was made.
The White House has lambasted the Woodward book, which stirred coverage in the media as Trump scandals grow, as a work of fiction.
"This book is nothing more than fabricated stories, many by former disgruntled employees, told to make the president look bad," Sarah Huckabee Sanders said in a statement. "While it is not always pretty, and rare that the press actually covers it, President Trump has broken through the bureaucratic process to deliver unprecedented successes for the American people. Sometimes it is unconventional, but he always gets results."
Mara Keisling, executive director of the National Center for Transgender Equality, said in revelations of the book speak volumes about the transgender ban, the people working for Trump and the nomination of Brett Kavanaugh to the Supreme Court.
"The details unveiled by this book confirm what we already knew about this president and those working for him," Keisling said. "Not a single member of his staff was willing to defend the honor of thousands of transgender troops by standing up to the president's dangerous whims and blatant prejudice. Instead, they rolled over and accepted a ban they knew was immoral, illegal and dangerous to our national security. As senators consider President Trump's nominee to the Supreme Court, they should ask themselves if Judge Kavanaugh will have any less deference and blind loyalty to the president who nominated him."
Biden condemns signing of Uganda's Anti-Homosexuality Act
National Security Council 'to evaluate' law's implications, U.S. engagement with country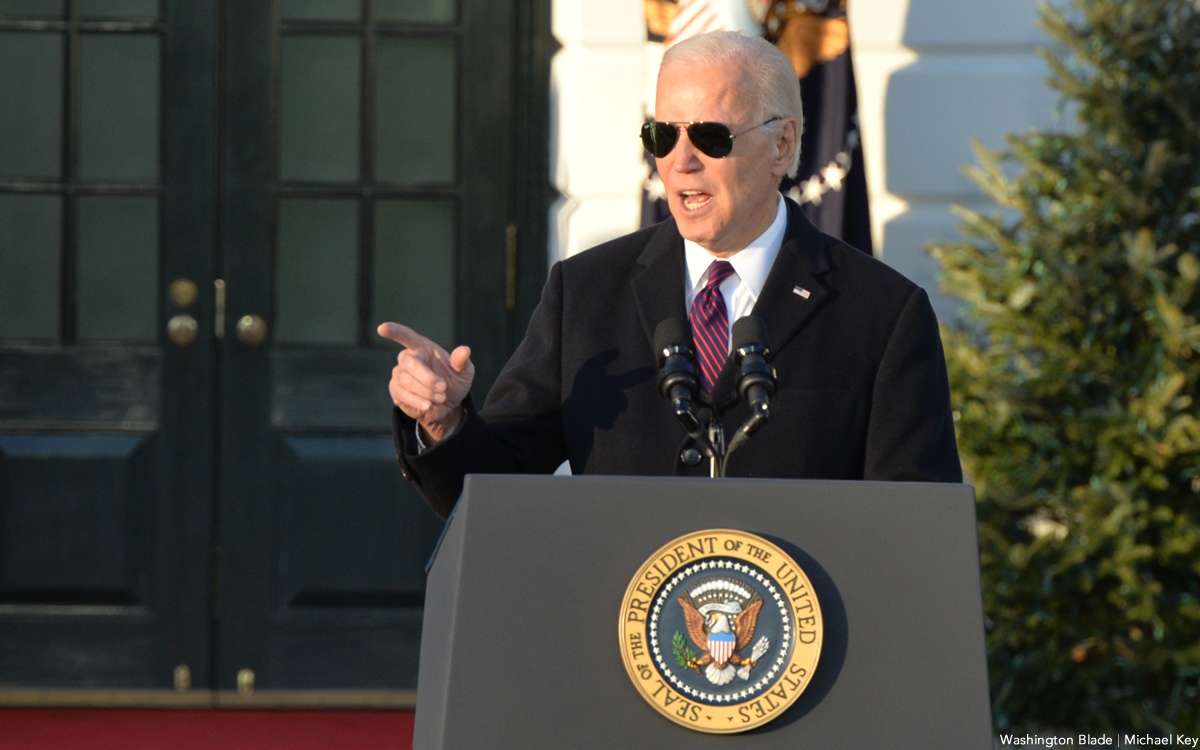 President Joe Biden on Monday condemned Uganda's Anti-Homosexuality Act that the country's president has signed.
"The enactment of Uganda's Anti-Homosexuality Act is a tragic violation of universal human rights — one that is not worthy of the Ugandan people, and one that jeopardizes the prospects of critical economic growth for the entire country," said Biden in his statement. "I join with people around the world — including many in Uganda — in calling for its immediate repeal. No one should have to live in constant fear for their life or being subjected to violence and discrimination. It is wrong."
Biden notes "reports of violence and discrimination targeting Ugandans who are or are perceived to be LGBTQI+ are on the rise," since MPs introduced the Anti-Homosexuality Act.
"Innocent Ugandans now fear going to hospitals, clinics, or other establishments to receive life-saving medical care lest they be targeted by hateful reprisals. Some have been evicted from their homes or fired from their jobs. And the prospect of graver threats — including lengthy prison sentences, violence, abuse — threatens any number of Ugandans who want nothing more than to live their lives in safety and freedom," said Biden.

"This shameful Act is the latest development in an alarming trend of human rights abuses and corruption in Uganda. The dangers posed by this democratic backsliding are a threat to everyone residing in Uganda, including U.S. government personnel, the staff of our implementing partners, tourists, members of the business community and others," added Biden. 
The version of the Anti-Homosexuality Act that President Yoweri Museveni signed contains a death penalty provision for "aggravated homosexuality."
Biden in his statement notes he has "directed my National Security Council to evaluate the implications of this law on all aspects of U.S. engagement with Uganda, including our ability to safely deliver services under the U.S. President's Emergency Plan for AIDS Relief (PEPFAR) and other forms of assistance and investments. My administration will also incorporate the impacts of the law into our review of Uganda's eligibility for the African Growth and Opportunity Act (AGOA)."  
"We are considering additional steps, including the application of sanctions and restriction of entry into the United States against anyone involved in serious human rights abuses or corruption," he said.
Ugandan media reports indicate the U.S. has revoked Parliament Speaker Anita Among's visa.
"The United States shares a deep and committed partnership with the people of Uganda. For more than 60 years, we have worked together to help millions of Ugandans live healthier, more productive lives," said Biden in his statement. "Our programs have boosted economic growth and agricultural productivity, increased investments in Ugandan businesses, and strengthened our trade cooperation. In total, the U.S. government invests nearly $1 billion annually in Uganda's people, business, institutions, and military to advance our common agenda. The scale of our commitments speaks to the value we place on this partnership — and our faith in the people of Uganda to build for themselves a better future. It is my sincere hope that we can continue to build on this progress, together and strengthen protections for the human rights of people everywhere."
 
Ugandan president signs Anti-Homosexuality Act
Law calls for death penalty for 'aggravated homosexuality'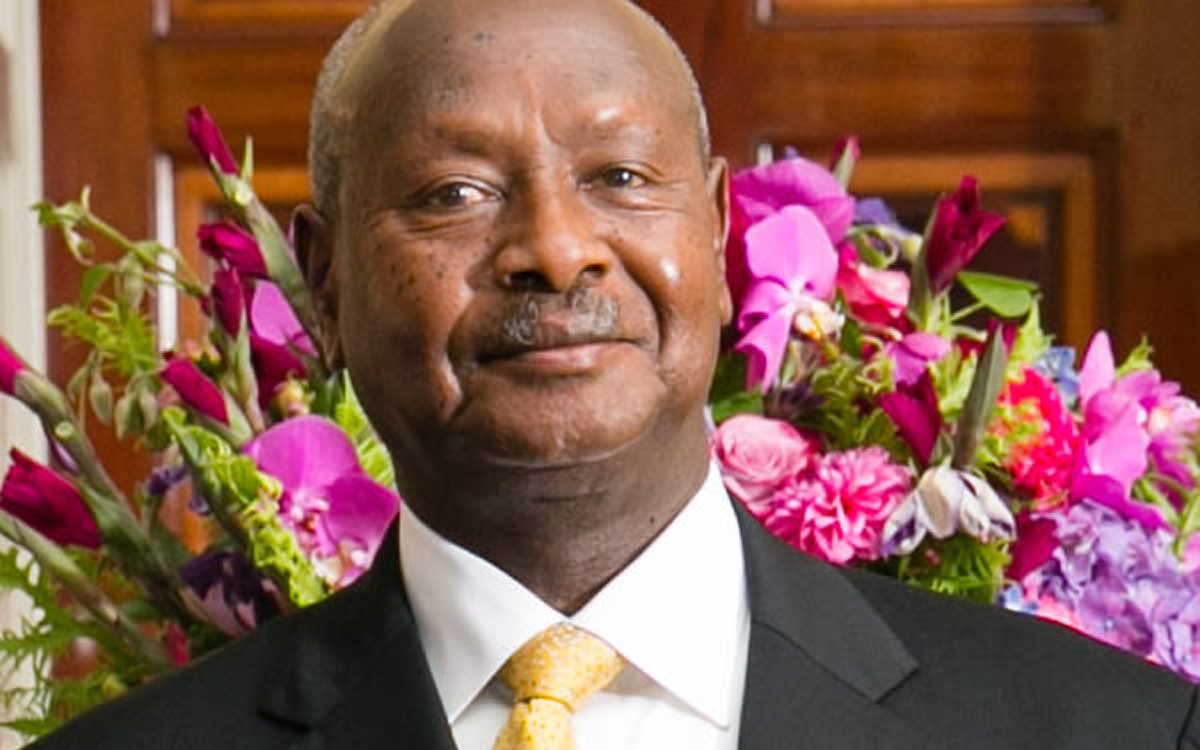 Ugandan President Yoweri Museveni on Monday signed his country's Anti-Homosexuality Act into law.
MPs in March approved the Anti-Homosexuality Act, but Museveni on April 20 sent it back to Parliament for additional consideration.
Lawmakers earlier this month once again approved the measure without provisions that would have required Ugandans to "report acts of homosexuality" and would have not criminalized LGBTQ people simply because of their sexual orientation or gender identity. The second version of the Anti-Homosexuality Act that MPs passed calls for the death penalty for anyone found guilty of "aggravated homosexuality."
"As the Parliament of Uganda, we have answered the cries of our people. We have legislated to protect the sanctity of family as per Article 31 of the Constitution of Uganda," said Ugandan Parliament Speaker Anita Among in a statement after Museveni signed the bill. "We have stood strong to defend our culture and aspirations of our people as per objectives 19 and 24 of national objectives and directive principles of state policy."
Jacqueline Kasha Nabagesara, a Ugandan LGBTQ and intersex activist, described Museveni's decision to sign the Anti-Homosexuality Act as a "dark day for human rights of LGBTQIA+ and allies."
Anti homosexuality bill signed into law by President. Dark day for human rights of LGBTQIA+ and allies.https://t.co/UD3jvVARdi

— Bombastic Kasha (@KashaJacqueline) May 29, 2023
Human Rights Campaign President Kelley Robinson in a statement condemned the law.
"This new law to restrict the rights of LGBTQ+ Ugandans is by far the most horrific display of bigotry we have seen in recent memory in Uganda, and in all of Africa," said Robinson. "The Ugandan Parliament should be ashamed of themselves for considering this draconian law that erases the internationally recognized rights of LGBTQ+ Ugandans, and President Museveni should be condemned for not using the full power of his position to stop it. We at the Human Rights Campaign stand in solidarity with human rights defenders and the LGBTQ+ community in Uganda."
The U.S. President's Emergency Plan for AIDS Relief, UNAIDS and the Global Fund to Fight AIDS, Tuberculosis and Malaria in a joint statement said they "are deeply concerned about the harmful impact of the Ugandan Anti-Homosexuality Act 2023 on the health of its citizens and its impact on the AIDS response that has been so successful up to now."
"Uganda's progress on its HIV response is now in grave jeopardy," reads the statement. "The Anti-Homosexuality Act 2023 will obstruct health education and the outreach that can help end AIDS as a public health threat. The stigma and discrimination associated with the passage of the act has already led to reduced access to prevention as well as treatment services. Trust, confidentiality and stigma-free engagement are essential for anyone seeking health care. LGBTQI+ people in Uganda increasingly fear for their safety and security, and increasing numbers of people are being discouraged from seeking vital health services for fear of attack, punishment and further marginalization."
Museveni, with the support of anti-LGBTQ evangelicals from the U.S., in 2014 signed a version of the Anti-Homosexuality Act that imposed a life sentence upon anyone found guilty of repeated same-sex sexual acts. The law was known as the "Kill the Gays" bill because it previously contained a death penalty provision.
The U.S. subsequently cut aid to Uganda and imposed a travel ban against officials who carried out human rights abuses. Uganda's Constitutional Court later struck down the 2014 Anti-Homosexuality Act on a technicality.
The U.S. last month postponed a meeting on the PEPFAR's work in Uganda in order to assess the potential impact the Anti-Homosexuality Act will have on it. Jessica Stern, the special U.S. envoy for the promotion of LGBTQ and intersex rights, and other American officials have said the Biden-Harris administration is considering "the potential impact of the Anti-Homosexuality Act on U.S. foreign assistance."
Nabagesera and Sexual Minorities Uganda Executive Director Frank Mugisha are among those who challenged the Anti-Homosexuality Act in the Ugandan Constitutional Court after Museveni signed it.
Texas attorney general impeached, suspended pending outcome of Senate trial
Ken Paxton over the last decade has targeted LGBTQ people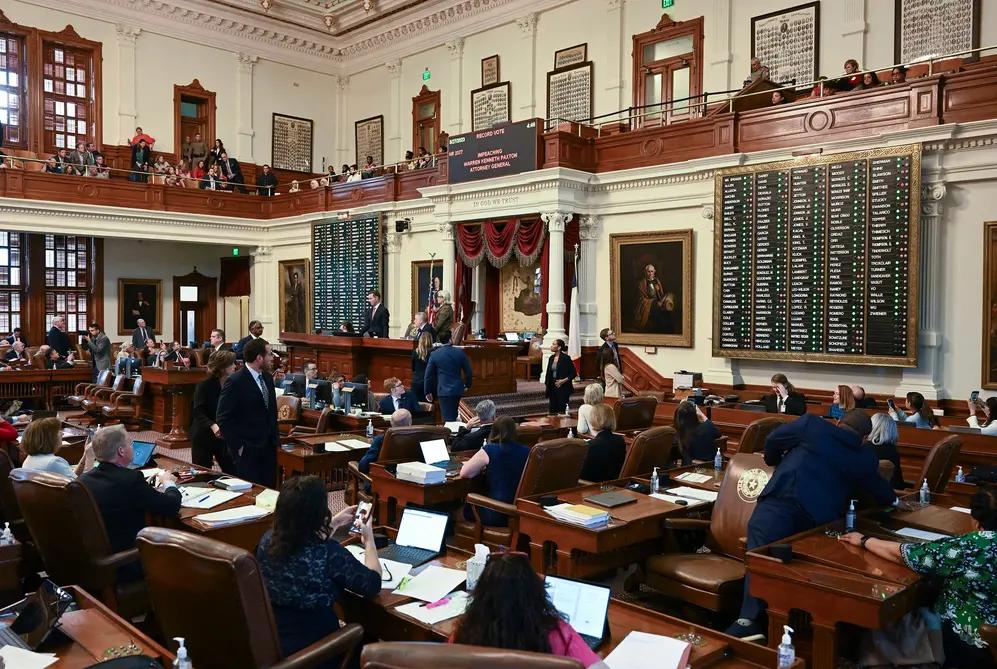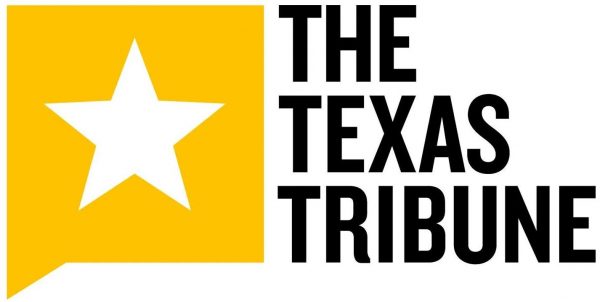 Editor's note: For the vast majority of the past 10 years the Texas attorney general has waged a relentless campaign to limit the rights and equality of LGBTQ Texans, especially transgender Texans. Today's vote is significant in terms of the possibility that a Senate conviction would offer a potential respite from Paxton's attacks on the LGBTQ community.
By Zach Despart and James Barragan AUSTIN, Texas | In a history-making late-afternoon vote, a divided Texas House chose Saturday to impeach Attorney General Ken Paxton, temporarily removing him from office over allegations of misconduct that included bribery and abuse of office.
The vote to adopt the 20 articles of impeachment was 121-23.
Attention next shifts to the Texas Senate, which will conduct a trial with senators acting as jurors and designated House members presenting their case as impeachment managers.
Permanently removing Paxton from office and barring him from holding future elected office in Texas would require the support of two-thirds of senators.
The move to impeach came less than a week after the House General Investigating Committee revealed that it was investigating Paxton for what members described as a yearslong pattern of misconduct and questionable actions that include bribery, dereliction of duty and obstruction of justice. They presented the case against him Saturday, acknowledging the weight of their actions.
"Today is a very grim and difficult day for this House and for the state of Texas," Rep. David Spiller (R-Jacksboro), a committee member, told House members.
"We have a duty and an obligation to protect the citizens of Texas from elected officials who abuse their office and their powers for personal gain," Spiller said. "As a body, we should not be complicit in allowing that behavior."
Paxton supporters criticized the impeachment proceedings as rushed, secretive and based on hearsay accounts of actions taken by Paxton, who was not given the opportunity to defend himself to the investigating committee.
"This process is indefensible," said Rep. John Smithee (R-Amarillo), who complained that the vote was taking place on a holiday weekend before members had time to conduct a thorough review of the accusations. "It concerns me a lot because today it could be General Paxton, tomorrow it could be you and the next day it could be me."
Saturday's vote temporarily removes a controversial but influential Republican figure in Texas and nationally. He has led an office that initiated lawsuits that overturned or blocked major Biden and Obama administration policies, sought to reverse Trump's electoral defeat in 2020, aggressively pursued voter fraud claims and targeted hospitals that provided gender care to minors.
The Legislature had impeached state officials just twice since 1876 — and never an attorney general — but the House committee members who proposed impeachment argued Saturday that Paxton's misconduct in office was so egregious that it warranted his removal.
"This gentleman is no longer fit for service or for office," said committee member Rep. Ann Johnson (D-Houston). "Either this is going to be the beginning of the end of his criminal reign, or God help us with the harms that will come to all Texans if he's allowed to stay the top cop on the take, if millions of Texans can't trust us to do the right thing, right here, right now."
Rep. Charlie Geren (R-Fort Worth), a member of the investigative committee, used his presentation time to criticize Paxton for calling representatives as they worked on the House floor to "personally threaten them with political consequences in the next election" if they supported impeachment.
Speaking against impeachment, Rep. Tony Tinderholt (R-Arlington), called the process "wrong."
"Don't end our session this way. Don't tarnish this institution," Tinderholt said. "Don't cheapen the act of impeachment. Don't undermine the will of the voters. Don't give Democrats another victory handed to them on a silver platter."
The vote came as hardline conservatives supportive of Paxton's aggressive strategy of suing the Biden administration were lining up in support of him. Former President Donald Trump — a close political ally to Paxton — blasted the impeachment proceedings as an attempt to unseat "the most hard working and effective" attorney general and thwart the "large number of American Patriots" who voted for Paxton.
Trump vowed to target any Republican who voted to impeach Paxton.
As lawmakers listened to the committee members make their case, Paxton took to social media to boost conservatives who had come to his defense, including Trump, U.S. Rep. Marjorie Taylor Greene (R-Ga.) and conservative radio host Grant Stinchfield, who tweeted, "Kangaroo Court in Texas."
About 90 minutes into the debate, the official Twitter account of the Texas attorney general's office began tweeting at members of the committee to challenge some of the claims being made.
"Please tell the truth," the agency's account said.
Because Paxton was impeached while the Legislature was in session, the Texas Constitution requires the Senate to remain in Austin after the regular session ends Monday or set a trial date for the future, with no deadline for a trial spelled out in the law.
Impeachment represents the greatest political threat to date for Paxton, who has been reelected twice despite a 2015 indictment for felony securities fraud and an ongoing federal investigation into allegations of official misconduct that began in 2020.
The impeachment vote, on the third-to-last day of the regular legislative session, capped a tumultuous week at the Capitol. From Tuesday to Thursday:
Paxton abruptly accused House Speaker Dade Phelan of presiding over the chamber while drunk and demanded that he resign.
The House General Investigating Committee revealed it had been investigating Paxton in secret since March.
The committee heard a three-hour presentation from its investigators detailing allegations of corruption against the attorney general.
The committee's three Republicans and two Democrats voted to forward 20 articles of impeachment to the full House.
Paxton, who was comfortably elected to a third term last year, made a rare appearance before assembled reporters Friday to criticize the process, saying he was not given a chance to present favorable evidence. He called impeachment an effort by Democrats and "liberal" Republicans to remove him from office, violating the will of voters and sidelining an effective warrior against Biden administration policies.
"The corrupt politicians in the Texas House are demonstrating that blind loyalty to Speaker Dade Phelan is more important than upholding their oath of office," Paxton said. He added, "They are showcasing their absolute contempt for the electoral process."
Many of the articles of impeachment focused on allegations that Paxton had repeatedly abused his powers of office to help a political donor and friend, Austin real estate developer Nate Paul.
In fall 2020, eight top deputies in the attorney general's office approached federal and state investigators to report their concerns about Paxton's relationship with Paul.
All eight quit or were fired in the following months, and most of the details of their allegations against Paxton were revealed in a lawsuit by four former executives who claim they were fired — in violation of the Texas Whistleblower Act — in retaliation for reporting Paxton to the authorities. Paxton's bid to dismiss the lawsuit is awaiting action by the Dallas-based 5th Court of Appeals.
According to the lawsuit, the whistleblowers accused Paxton of engaging in a series of "intense and bizarre" actions to help Paul, including intervening in an open-records case to help Paul gain documents from federal and state investigations into the real estate investor's businesses. They also accused Paxton of directing his agency to intervene in a lawsuit between Paul and a charity, pushing through a rushed legal opinion to help Paul avoid a pending foreclosure sale on properties and ignoring agency rules to hire an outside lawyer to pursue an investigation helpful to Paul's businesses.
In return, the whistleblower lawsuit alleged, Paul paid for all or part of a major renovation of a home Paxton owns in Austin. Paul also helped Paxton keep an extramarital affair quiet by employing the woman Paxton had been seeing, the lawsuit said, adding that the attorney general may also have been motivated by a $25,000 contribution Paul made to Paxton's campaign in 2018.
In their report to the House General Investigating Committee on Wednesday, the panel's investigators concluded that Paxton may have committed numerous crimes and violated his oath of office.
Investigators said possible felonies included abuse of official capacity by, among other actions, diverting staff time to help Paul at a labor cost of at least $72,000; misuse of official information by possibly helping Paul gain access to investigative documents; and retaliation and official oppression by firing employees who complained of Paxton's actions to the FBI.
The articles of impeachment accused Paxton of accepting bribes, disregarding his official duties and misapplying public resources to help Paul.
The articles also referred to felony charges of securities fraud, and one felony count of failing to register with state securities officials, that have been pending against Paxton since 2015, months after he took office as attorney general. The fraud charges stem from Paxton's work in 2011 to solicit investors in Servergy Inc. without disclosing that the McKinney company was paying him for the work.
The impeachment articles also accused Paxton of obstruction of justice by acting to delay the criminal cases with legal challenges and because a Paxton donor pursued legal action that limited the pay to prosecutors in the case, causing further delays "to Paxton's advantage."
Taken in total, the accusations showed a pattern of dereliction of duty in violation of the Texas Constitution, Paxton's oaths of office and state laws against public officials acting against the public's interest, the impeachment resolution said.
"Paxton engaged in misconduct, private or public, of such character as to indicate his unfitness for office," the articles said.
An attorney general had never before been impeached by the Legislature, an extraordinary step that lawmakers have reserved for public officials who faced serious allegations of misconduct. Only two Texas officials have been removed from office by Senate conviction, Gov. James Ferguson in 1917 and District Judge O.P. Carrillo in 1975.
If Paxton is to survive, he will need to secure the support of 11 senators. With the 12 Democratic senators likely to support his removal, votes for acquittal would need to come from the 19 Republican members.
None has publicly defended Paxton. In a television interview Thursday, Lt. Gov. Dan Patrick, who presides over the Senate, said merely that he believed senators would be responsible jurors and "do their duty."
A complicating factor is Sen. Angela Paxton (R-McKinney), Paxton's wife. State law requires all senators to attend an impeachment trial, though whether she will recuse herself from voting is unclear.
Paxton's political base lies in the far-right faction of the Republican Party, where he has positioned himself as a champion of conservative causes and a thorn in the side of Democratic President Joe Biden. Paxton has criticized his opponents as RINOs (Republicans in name only) who "want nothing more than to sabotage our legal challenges to Biden's extremist agenda by taking me out."
He also retained the backing of the state Republican Party, led by former state Rep. Matt Rinaldi, who frequently attacks Republicans he considers to be insufficiently conservative. On Friday, Rinadi said the impeachment was Phelan's fault for allowing Democrats to have too much influence in the House.
"The impeachment proceedings against the Attorney General are but the latest front in the Texas House's war against Republicans to stop the conservative direction of her state," Rinaldi said in a statement.
Paxton also has maintained a close relationship with Trump and filed an unsuccessful U.S. Supreme Court challenge to the 2020 presidential election. Paxton also spoke at Trump's rally on Jan. 6, 2021, shortly before the president's supporters attacked the U.S. Capitol.
Related:
***************************************************************************************
***************************************************************************************
The preceding article was previously published by The Texas Tribune and is republished by permission.
**********************
The Texas Tribune is a nonprofit, nonpartisan media organization that informs Texans — and engages with them — about public policy, politics, government and statewide issues.
Quality journalism doesn't come free
Perhaps it goes without saying — but producing quality journalism isn't cheap. At a time when newsroom resources and revenue across the country are declining, The Texas Tribune remains committed to sustaining our mission: creating a more engaged and informed Texas with every story we cover, every event we convene and every newsletter we send. As a nonprofit newsroom, we rely on members to help keep our stories free and our events open to the public. Do you value our journalism? Show us with your support.