February 22, 2019 at 3:59 pm EDT | by Mariah Cooper
Ellen Page claims Hollywood forced her to stay closeted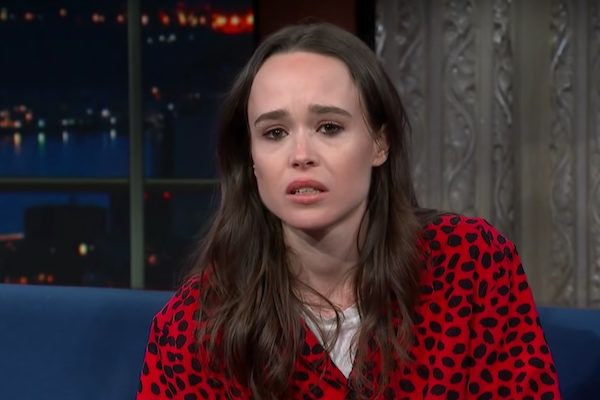 Ellen Page opened up to PorterEdit about the early days of her career when she claims Hollywood execs forced her to stay in the closet.
The 32-year-old actress gained fame from her major film debut "Juno" in 2007. As she went on to appear in other films such as "Whip It," "Inception" and "The East," Page says she "was distinctly told by people in the industry," that "'People cannot know you're gay.'"
She also claims she had to dress a certain way so she wouldn't raise suspicion.
"I was pressured—forced, in many cases—to always wear dresses and heels for events and photo shoots," Page told PorterEdit. "As if lesbians don't wear dresses and heels. But I will never let anyone put me in anything I feel uncomfortable in ever again."
While she was still closeted, Page recalls how speculation around her sexuality was "was very detrimental to my mental health."
"I was 20, I had just fallen in love for the first time with a woman, and I was still navigating my own stuff, while people were writing articles headlined: 'Ellen Page's sexuality sweepstake,' " Page says. "There was a tabloid magazine that I saw at every checkout, in every gas station, with a picture of me on the cover, and the question: 'Is Ellen Page gay?' "
Page has accused director Brett Ratner of outing her on the set of "X-Men" when she was just 18 years old. In a Facebook post, Page accuses Ratner of turning to a woman standing near Page and saying "You should f–k her to make her realize she's gay."
She continued that being in her early 20s she felt it was "impossible" for her to come out.
"But, over time, with more representation, hearts and minds have been changed," Page said. "It doesn't happen quickly enough and it hasn't happened enough, particularly for the most marginalized in the community. But things have got better."
Page publicly came out in 2014. She married her partner, dancer and choreographer Emma Portner, in 2018. Now, Page says she's focused on being creative in a way that matters to her.
"I want to make queer content," Page says. "I want to be able to help in any way I can."