2019 DC Brau & Washington Blade Pride Can Design Contest Finalist Voting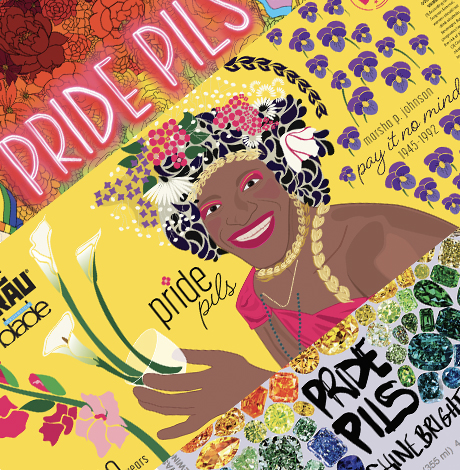 DC Brau Brewing Company and The Washington Blade are excited to announce the Top 3 designs for a special can of Brau Pils to be released during this summer's Pride celebration. This year's release is extra special as the LGBT community celebrates 50 years since Stonewall, as well as the golden anniversary of The Washington Blade, the nation's oldest LGBT newspaper.
Voting on the Top 3 designs will be open to the public through March 7, 2019. Approximately 1,200 cases of Brau Pils will be re-packaged as PRIDE PILS for distribution during PRIDE 2019 this June in Washington, D.C.
Finalist #1: Maggie Dougherty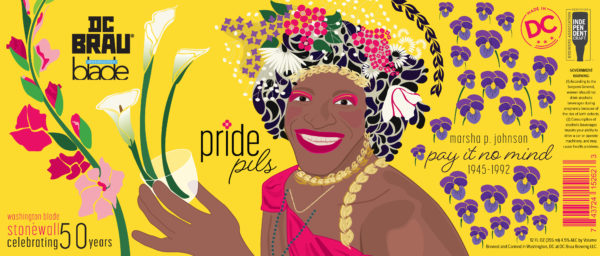 This design is about celebrating 50 years of incredible progress, while acknowledging the inequality that still exists and recognizing the need to address it. When I was reading about Stonewall to get inspiration for this project, I learned about Marsha P. Johnson. Not only was Marsha beautiful and striking, but she was a badass. When people asked her gender, she would reply flippantly, "Pay it no mind." She was a leader during Stonewall and worked with the Gay Liberation Front to improve conditions for LGBTQ citizens by ending homophobic legislation. She started Street Transvestite (now Transgender) Action Revolutionaries (STAR) which is still active today and helps homeless LGBTQ youth. She was active during the early 1980s when AIDS was ravishing the gay community, protesting to increase accessibility to new HIV/AIDS medication for all. She did it all.
As an African American transwoman, sex worker and drag queen in the 60s, 70s, 80s and early 90s, Marsha faced incredible discrimination, marginalization, sexism, violence and barriers to employment and mental health. Marsha, unfortunately, died mysteriously in 1992. Originally ruled a suicide, Marsha case has recently been re-open. The actual cause of death is still unknown.
What struck me deeply as I thought about Marsha, was how transgender people still face many of the same challenges and barriers today. And – horrifically – the same violence. In 2018, 26 transgender people were killed by violence. In 2019, there's already been one reported death. According to HRC, "…fatal violence disproportionately affects transgender women of color, and that the intersections of racism, sexism, homophobia and transphobia conspire to deprive them of employment, housing, healthcare and other necessities, barriers that make them vulnerable."
This same sentence could have been written in Marsha's time. It's important to celebrate all that's changed in the 50 years since Stonewall, but it's also important to recognize what hasn't and reprioritize that as we go into the next 50 years.

Finalist #2: Sarah Muse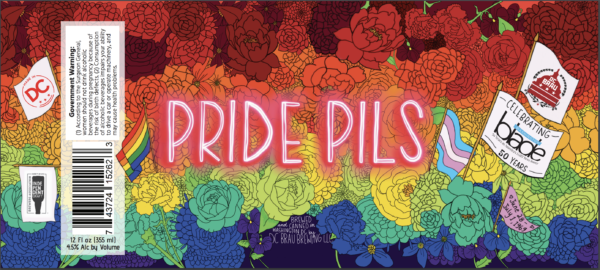 The design for this Pride Pils 50th Anniversary celebration can is inspired by images of bouquets of various flowers, flags and tokens left at the Stonewall Inn in NYC and the beautiful flowers that adorn the archway and gardens at Stonewall National Monument across the street. Visitors from all over the world travel to these special places to remember and to honor those that started the modern fight for LGBTQ rights. The neon letters of the name are representative of the neon sign that glows brightly in the window of the Stonewall Inn. I imagine anyone who holds this celebration can to be remembering and honoring what happened at Stonewall in the summer of 69, and also taking and active part in the pride celebrations that continue, 50 years later.
Finalist #3: Wenny Dong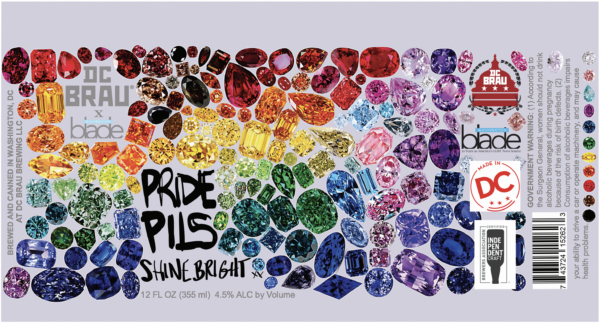 The jewel-encrusted PRIDE beer can pays tribute to resilience and strength under pressure, irreverent glamor, and the power of crafting one's identity. Inspired by drag queens, club kids, and artists, the DIY design plays on shapes, colors, and volume—transforming a muted 2-dimentional background with bedazzled movement and vibrancy. Each gem is unique. The forms flow into, envelop, and even run up against another; they celebrate the LGBTQ community's diversity, complexity, and ongoing dialogue. An eye-catching display and conversation piece, it embraces big personalities and hearts, as well as creative possibilities in the everyday.
Warner Bros. cancels Batgirl, along with first trans character
Regardless of movie quality, the cancellation of Batgirl causes an irreversible loss of a rare LGBTQ+ character.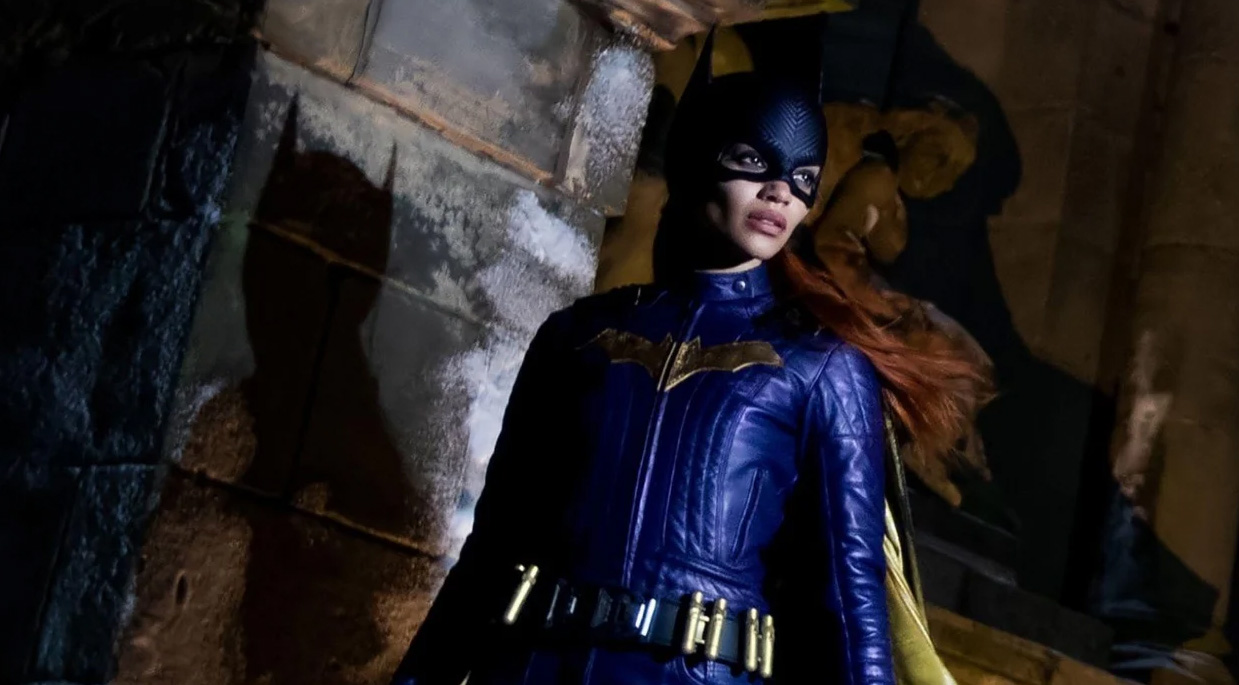 Warner Bros. on Tuesday canceled the "Batgirl" film, both in theaters and on HBO Max, marking the erasure of the first trans character in the cinematic universe, Batgirl's best friend Alysia Yeo played by Ivory Aquino. 
The cancellation of "Batgirl" marks the loss of a rare LGBTQ character. According to Variety, the role is groundbreaking since "this is the first time a live-action feature film adaptation of a DC Comics title will feature an openly trans character played by a trans actor."
Known for work in "Lingua Franca," "When We Rise," and "Tales of the City," Aquino had officially headed into the DC universe but now her performance will likely never come to light. 
The change of leadership at Warner seems to be the main drive behind the cancellation. After the project was approved in 2021, David Zaslav took over as the Warner Bros. Discovery CEO. Instead of focusing on streaming projects as previous CEO Jason Killar did, Zaslav shifted emphasis to cost-cutting measures and theatrical productions.
On the other hand, the budget of "Batgirl" increased to $90 million because of COVID-19 protocols, $10 million above the initial estimate. Warner also shelved "Scoob!: Holiday Haunt," with a budget of about $40 million.
"The decision to not release Batgirl reflects our leadership's strategic shift as it relates to the DC universe and HBO Max," said a Warner Bros. spokesperson in a statement. "We are incredibly grateful to the filmmakers of Batgirl and Scoob! Holiday Haunt and their respective casts and we hope to collaborate with everyone again in the near future."
Despite Warner clarifying that the cancellation was not due to its poor quality, New York Post reported that the moviegoer feedback in the screening tests was so bad that "Batgirl," if released, would be "a DC disaster." 
Director of 'They/Them' on queering the horror genre
John Logan puts conversion therapy where it belongs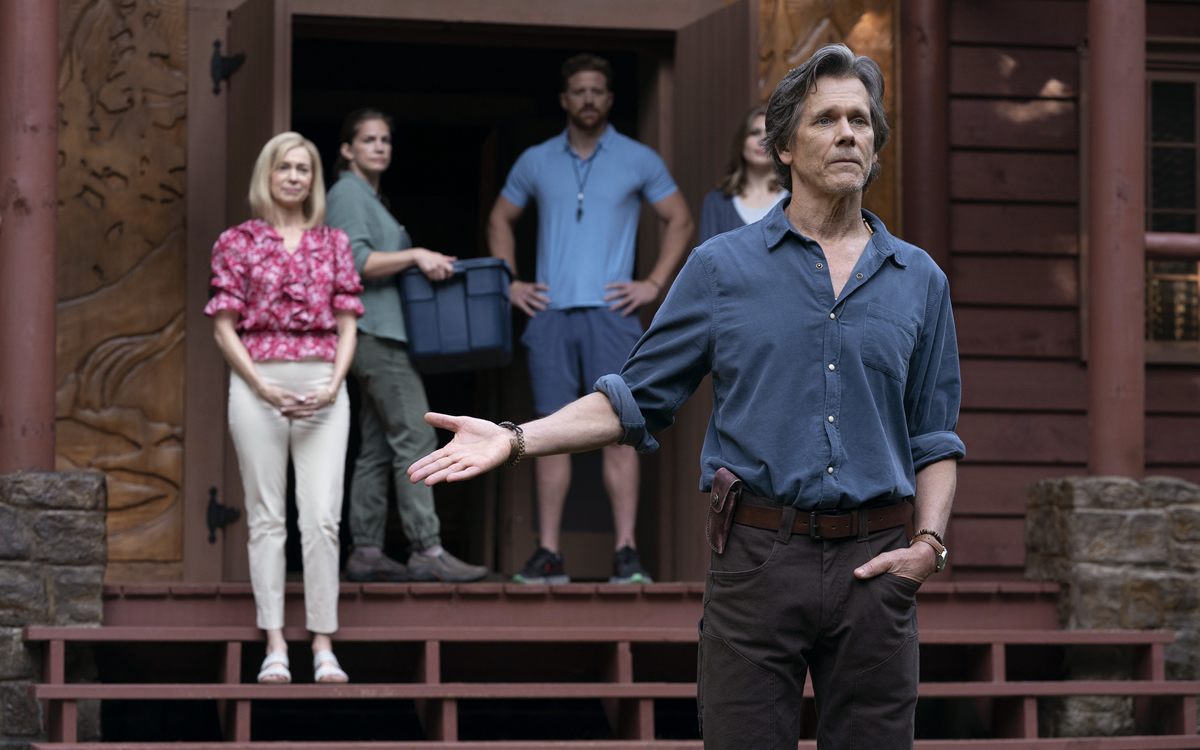 Even if you've never heard of John Logan, the odds are pretty good you've heard his words.
That's because the former playwright, now writer and director of the new horror film "They/Them" (premiering on Peacock Aug. 5), has been bringing his literate sensibilities to Hollywood screens for more than two decades now, earning three Oscar nominations during a career that has included screenplays for movies ranging from "Gladiator" to "Sweeney Todd" to "Star Trek: Nemesis," not to mention a pair of James Bond blockbusters ("Skyfall" and "Spectre"). He's also the man behind "Penny Dreadful," Showtime's Victorian horror "mashup" series that became a cult sensation during its all-too-brief three season run.
Now Logan has returned to the horror genre he loves to make his debut as a feature film director, and he's brought more than just a queer sensibility. He's brought a whole bloody queer story, as well.
Diving headlong into classic '80s slasher movie territory from its very first frames, "They/Them" brings together a collection of queer teens at a retreat deep in the woods – the Whistler Camp, run by third-generation proprietor and chief counselor Owen Whistler (Kevin Bacon) – where their parents have sent them in hopes of making them straight. Though the staff seems friendly and understanding enough at first, it's not long before the "therapy" starts to become more aggressive; to make matters worse, a sinister outside presence seems to be menacing the camp, and the campers, led by trans nonbinary rebel Jordan (Theo Germaine), are soon fighting for their lives as well as their identities.
Apart from the genius of putting conversion therapy into a horror movie where it belongs, Logan's movie scores high points all around for solid LGBTQ representation. Indeed, it's as much a rousing queer empowerment story as it is a horror tale, and though hardcore horror geeks might find its scares to be relatively tame, it reaches beyond shock value to turn the genre itself into a vehicle for cinematic queerness – something long overdue for the countless queer audiences who have always been drawn to horror.
The Blade talked with Logan about his vision for "They/Them" on the eve of the film's world premiere at LA's Outfest. Our conversation is below.
BLADE: Queer audiences have always loved horror movies, but horror movies haven't loved them back until recently. Is that part of the reason behind this one?
JOHN LOGAN: That was the entire reason behind this one. When I was a kid, it would have meant so much to me to see a gay hero in a horror film. It's a genre that SHOULD celebrate queerness, because horror is about the "other" – about the realization that people are not all the same. But queer characters in the '70s and '80s were mostly nonexistent, or they were jokes, or victims, or killers. They were never admirable people you'd aspire to be. And horror cinema has always had a very complicated relationship with gender and sexual identity, even back to the 1930s and the classic Universal cycle of horror films – except for "Frankenstein," made by a queer filmmaker, where the most sympathetic character is the monster.
When we engage with storytelling in cinema, we want to see ourselves represented in some way. I wanted to write the movie that I didn't get to see when I was 14 or 15 years old.
BLADE: You mentioned wanting to see a gay hero. One of the things that stands out about your movie is that none of these kids are "scream queens." They're all pretty heroic.
LOGAN: We wanted to take the tropes and subvert them completely. So, we have joyously celebrated things like, "There's the camp in the woods, and it's scary, and there's a masked killer, and the killer uses different weapons," and all the things I personally love about slasher movies – but it's all in service of the great subversion, which is that these kids are not victims. They are not running and hiding, they are fighting for their identities. They are heroes.
BLADE: Speaking of subversion, the setting isn't the only "camp" in the movie. There's a lot of humor in it, from a certain perspective.
LOGAN: [Laughs] I would like to think there's a "raised eyebrow" throughout. I mean, we have a singing and dancing musical number in it, we have some outrageous humor in it, as well. It's meant to be a sort of exuberant exploration of the queer lifestyle in all its forms, from the most extravagant to the most romantic to the most erotic – as extreme as we could possibly get it. But it's all played very straight, which is a testament to the actors, really.
BLADE: That's another thing that stands out. You have a terrific cast, and Theo Germaine is a charismatic lead.
LOGAN: Thank God Theo fell into my lap. The movie begins, essentially, with Jordan's face and it ends with Jordan's face, so I knew it was really going to be important to find the right actor. Theo is so extraordinary, they're so accessible to the audience. My heart breaks watching that character, because they're emotional, but they're empowered and strong – and that's all from Theo.
Also, I'm not trans, I'm not nonbinary, and I'm also 60 – so I had to ask Theo to help me understand this character – not just the language around them, but how this young, trans, nonbinary human being moves through the world. And not only Theo, but Quei Tann and all the other actors were very generous with their own experiences, which is what, for me, makes them seem very authentic on screen, because they are playing versions of themselves that they can believe in.
BLADE: That's the difference authentic representation can make.
LOGAN: Yes, and it also helped that the process of shooting really mirrored the story, in a way. None of the actors knew each other, and they were suddenly in Georgia, all slammed together in the middle of nowhere with no phone reception – and gradually, they built this tribe, this family, going through an experience much like the campers in the film go through. It was amazing to watch how they bonded and got together.
BLADE: One last thing – for the cinema buffs among our readers, it will be impossible not to notice shots and references that seem like nods to some of their favorite classics of the past. Are those on purpose?
LOGAN: All intentional. I may never direct another movie as long as I live, so I want to tip my hat to all the movies I love. There are shots that are a direct mirror of 'Psycho,' for example, or 'Blue Velvet,' or obscure slasher movies like 'The Burning' that nobody would know but me – and I worked really close with my DP, Lynne Moncrief, to find those moments. It felt important for us pay homage to the whole continuum of horror movies behind us, because we are building on all those as we try to step gingerly – or bravely – into a future where queer horror is finally the popular mainstream entertainment it deserves to be.
'Six' an empowering musical remix of English history
Wives of Henry VIII tell their own stories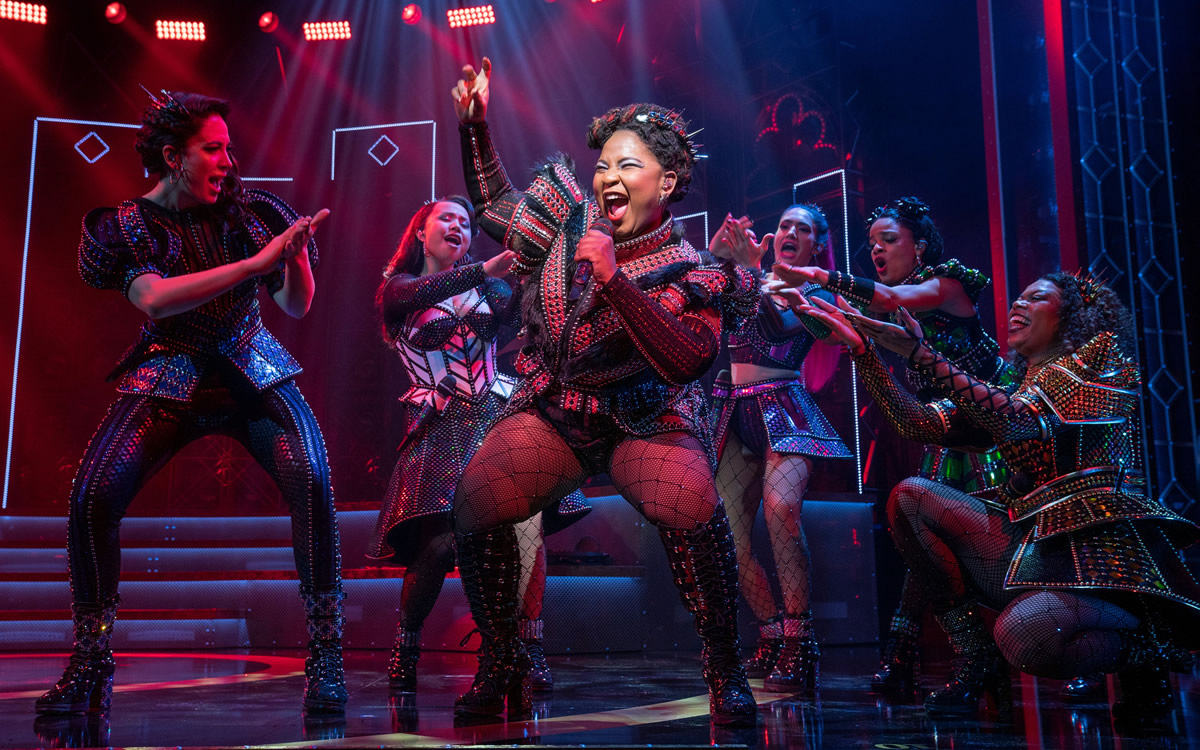 'Six'
Through Sept. 4
National Theatre
1321 Pennsylvania Ave., N.W.
$65-$150
BroadwayAtTheNational.com
Typically, the wives of Henry VIII are cast aside as headless footnotes. But in "Six," an empowering and fun musical remix of English history (now playing at National Theatre), they tell their own stories.
Conceived by Brits Toby Marlow and Lucy Moss, the Broadway hit is a fast-paced 85-minute pop rock musical presented as a contest in which Henry's wives compete for diva status by proving who's been treated the worst by the monarch, and considering Henry's vile track record, the competition is unsurprisingly stiff.
History and music unfold chronologically as the royal consorts, backed by "The Ladies in Waiting," (four musicians led by Jo Ann Daugherty), briefly but trenchantly share their experiences in a madly entertaining way.
After collectively introducing themselves and their respective fates with "Ex-Wives" ("Divorced, beheaded, died! Divorced, beheaded, survived!"), Henry's first queen, Catherine of Aragon (Khaila Wilcoxon), a devout Catholic and a true Spanish princess who despite many tries was unable to provide her philandering husband with a surviving male heir, steps out of the line and states her case with a power-pop song titled "No Way."
Then one-by-one the remaining five — fabulously costumed in glittery short-skirted concert gear with Tudor flourishes by Gabriella Slade — get their turn in the spotlight. Storm Lever, as Anne Boleyn, Henry's beguiling six-fingered second bride, wittily reminds the other women that she suffered far more than simply divorce and humiliation in "Don't Lose Ur Head."
The evening's liveliest number "Get Down," replete with a saucy costume reveal, belongs to Anna of Cleves played Olivia Donalson. Thrown over by Henry because her looks didn't live up to a Holbein portrait sent in advance (a still all-too-common problem), the German princess managed to keep her head and her money, proving you can be Henry's ex and still have a good time. Her situation was unpleasant, yes, but certainly not the worst.
In a clever move, the composers have sought "queenspiration" from contemporary artists. For instance, Jane Seymour (Jasmine Forsberg), best remembered as "the only one he ever loved" is drawn from Adele and Sia. Forsberg conveys the story's sadness with the sorrowful ballad "Heart of Stone."
Henry's victimized teenage wife Katherine Howard (Didi Romero) who was beheaded on Tower Green is drawn from Ariana Grande and Britney Spears; for Catherine Parr (Gabriela Carrillo), an independent thinker and the wife who survived Henry, inspiration comes from Alicia Keyes and Emili Sandé.
Sounds like big stilettos to fill? Don't worry, the cast is more than up for it — its six talented young women possess pipes, timing, and presence to spare.
Staged by Lucy Moss and Jamie Armitage with choreography by Carrie-Anne Ingrouille, the production is intriguing. At first look, it's everything some theatergoers might not like: really loud and very Vegas residency, but as the show opens up it proves delightfully smart, substantive, impeccably researched, and succeeds at cleverly melding the past and present.
The show has a strong following – the kind that feel it's OK to sing along with the actors onstage. But it's also appealing to history buffs and old-fashioned musical theater fans alike. "Six" is a crowd pleaser and deservedly so.
Back to the queen contest. The obvious choice for Henry's most consequential spouse is either Catherine of Aragon, the true queen, or maybe Anne Boleyn, the second wife for whom he parted with Rome and the mother England's greatest monarch, Elizabeth I. But the show gives each woman her due, and they bare their souls. Whether they were dragged into Henry's orbit because of beauty, ambitious family, or simple accidents of time and place, no one escaped unscathed. Who suffered the most? That's something you'll have to decide for yourself.