June 27, 2019 at 1:07 am EDT | by Chris Johnson
Warren strong in debate as Booker knocks Gabbard for trans exclusion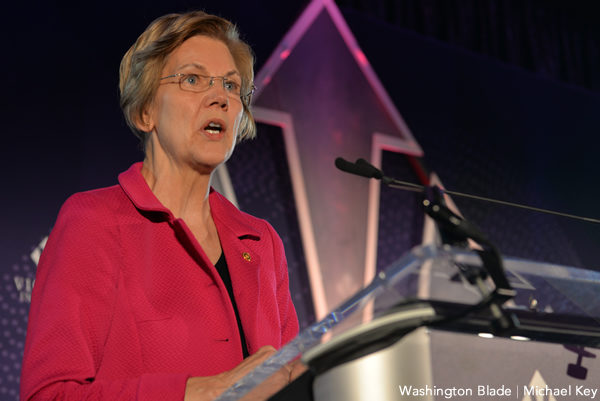 Immigration and corporate power shaped the Democratic presidential candidate debate Wednesday night as Elizabeth Warren delivered a strong performance and Cory Booker criticized Tulsi Gabbard for not being trans-inclusive in her vision for LGBT rights.
Warren delivered comprehensive answers that helped her stand out on the debate stage in Miami, including her plan for why an economic shakeup is needed amid a strong economy.
"Who is this economy really working for?" Warren said. "It's doing great for a thinner and thinner slice at the top. It's doing great for giant drug companies. It's just not doing great for people who are trying to get a prescription filled. It's doing great for people who want to invest in private prisons, just not for the African Americans and Latinx whose families that are torn apart, whose lives are destroyed, and whose communities are ruined."
As a photo this week went viral of a father and daughter, Oscar and Valeria, who drowned after being refused access to a port of entry under the Trump administration's restrictions on asylum, Democratic candidates also pledged to make changes to ease the burden on undocumented immigrants.
Julian Castro said the images are "heartbreaking," but at the same time "should also piss us all off."
"If I were president today — and it should spur us to action," Castro said. "If I were president today, I would sign an executive order that would get rid of Trump's zero-tolerance policy, the remain in Mexico policy, and the metering policy — this metering policy is basically what prompted Oscar and Valeria to make that risky swim across the river."
Also enumerated by Castro was the idea of a Marshall Plan in Central America similar to post-World War II spending that rebuilt Europe "so that people can find safety and opportunity at home instead of coming to the United States to seek it."
When Beto O'Rourke said the United States should not turn its back on the father and daughter and "accept them into this country and follow our own asylum laws" and "spare no expense" to reunite families the Trump administration separated at the border, Castro challenged his fellow Texan.
Castro asked O'Rourke if he'd commit to repealing Section 1325 of the Immigration & Nationality Act, which he said is responsible for the separation. The section is the component of U.S. law that makes illegal entry into the United States a misdemeanor.
O'Rourke wouldn't make that commitment, telling Castro he's "looking at just one small part of this" when a comprehensive rewrite is needed. Castro replied that's "not true."
"And you said recently that the reason you didn't want to repeal Section 1325 was because you were concerned about human trafficking and drug trafficking," Castro said. "But let me tell you what: Section 18, title 18 of the U.S. code, title 21 and title 22, already cover human trafficking. I think that you should do your homework on this issue."
At least three of the presidential candidates — Julian Castro, Cory Booker and Beto O'Rourke — addressed the audience in Spanish at various times in the debate.
Corporate power was a key topic during the debate and provided a mark of distinction between Booker and Warren. Although Warren is on record in favor of breaking up major tech companies like Facebook, Amazon and Google, Booker has expressed different views.
Nonetheless, Booker during the debate said he doesn't think they disagree because "we have a serious problem in our country with corporate consolidation."
"We see that because consumer prices are being raised by pharmaceutical companies that often have monopolistic holds on drugs," Booker said. "And you see that by just the fact that this is actually an economy that's hurting small businesses and not allowing them to compete."
Booker also stood out by being the only candidate on stage to say he wouldn't seek to put back in place the Obama administration's Iran nuclear deal, saying he wants to make the best deal possible if elected president.
"We need to renegotiate and get back into a deal, but I'm not going to have a primary platform to say unilaterally I'm going to rejoin that deal," Booker said.
New York City Mayor Bill de Blasio said Americans are told immigrants are responsible for their problems, but "the big corporations did that to you."
"The 1 percent did that to you," de Blasio said. "We need to be the party of working people, and that includes a party of immigrants. But first we have to tell working people in America who are hurting that we're going to be on their side every single time against those big corporations who created this mess to begin with."
Climate change was another issue that was a focal point for the candidates, who each called for immediate action to confront the issue. Warren touted a plan for U.S. investment in green technology that could be exported across the world, citing a $23 trillion global market. Washington State Gov. Jay Inslee, who made climate change the focus of his campaign, concluded with comments on the issue.
In terms of LGBT issues, the main event was a question Chuck Todd posed to Rep. Tulsi Gabbard (D-Hawaii) about the anti-LGBT views she held in the past for which she has since apologized.
Touting her support for the Equality Act to ban anti-LGBT discrimination, Gabbard said no government should tell anyone who they should "be allowed to love or who they should be allowed to marry."
"Maybe many people in this country can relate to the fact that I grew up in a socially conservative home, held views when I was very young that I no longer hold today," Gabbard said. "I served with LGBTQ service members, both in training and deployed down the range. I know they would give their life for me, and I would give my life for them."
But Gabbard made no explicit reference to the transgender community in her response, which Booker pointed out after saying her response was "not enough."
"We do not talk enough about trans Americans, especially African-American trans Americans, and the incredibly high rates of murder right now," Booker said.
Booker also cited a statistic that 30 percent of LGBT kids don't go to school because of fear.
"It's not enough just to be on the Equality Act," Booker said. "I'm an original co-sponsor. We need to have a president who will fight to protect LGBTQ Americans against violence."
But other candidates integrated LGBT people into their responses. When asserting his health plans would cover abortions, Castro urged individuals to remember transgender people who are poor and elect to have an abortion.
Rep. Tim Ryan (D-Ohio), one of the few Democrats who did not vote on the Equality Act, talked about the need to protect workers whether they're gay or straight, and protect America whether they want to be called a man or a woman.
Sarah Kate Ellis, CEO of GLAAD, commended debate organizers and candidates for their inclusion of the LGBT community in their questions and responses.
"GLAAD commends tonight's inclusion of LGBTQ issues by debate moderators in this first debate of the 2020 presidential cycle," Ellis said. "Putting LGBTQ-specific issues front and center stands in stark contrast to the rhetoric and record of the Trump administration, which has put a target on the backs of LGBTQ people and other marginalized communities since the day he took office."