August 14, 2019 at 10:31 am EDT | by Kevin Majoros
Trans swimmer: 'Why fight them when you can lead them'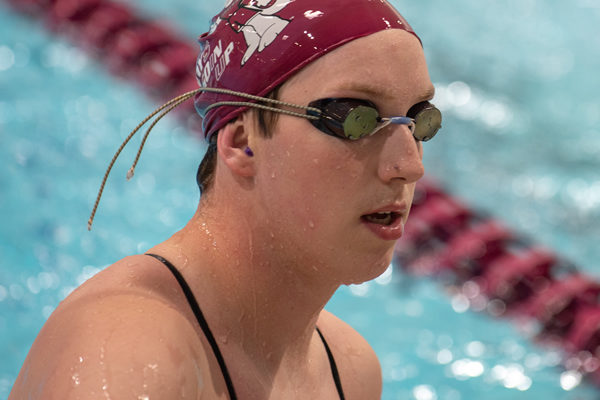 Two weeks before the start of the 2018 Mid-American Conference Men's Swimming & Diving Championships, Natalie Fahey began taking hormones. It was her junior year at Southern Illinois University, and she was cutting it close to the championships so it wouldn't affect her performance on the men's swim team.
"Overall I was pretty happy with the way I swam, but I had a moment at the end of the conference meet. I knew I would never swim that fast again. It was bittersweet," says Fahey. "I began to feel trepidation because I didn't know what was coming next."
What ended up coming next was Fahey's transition and her becoming the first male to female swimmer to compete on an NCAA Division 1 team. It was a process that was supported by her teammates and her coach, Rick Walker.
Growing up in Waukesha, Wisc., Fahey was active in football, soccer, baseball and swimming. In her freshman year of high school, she was a starting right guard on the football team and ended up joining the cross-country team to compliment her swimming.
She made the varsity swim team her sophomore year and podiumed every year at the state swimming championships. She also went to the state championships in cross country.
"I really thought I was hot shit in high school," Fahey says.
In the middle of her sports accomplishments, little things were popping up – indicators that would evolve over the next few years.
"I identified as a cis guy and my outlook was that I was going to question it, but not explore. I didn't know what was happening," says Fahey. "There was ongoing depression, but swimming kept me busy. It was my coping mechanism."
Fahey flourished in the men's swimming program under Coach Walker in her freshman year and dropped eight seconds in her 500 freestyle.
"It is a fantastic program and I started to see the fruits of my labor," Fahey says. "I was working on every aspect of swimming and I was totally in love with all of it."
One constant that accompanied her achievements in the pool were thoughts of transitioning. By her sophomore year, she began researching the NCAA rules on transgender athletes.
"There were so many variables to think about. I wanted to keep swimming, but I struggled to accept that I would get slower if I started taking hormones. It was also going to be very public," says Fahey. "My swimming career was incongruent with transitioning. I kept wondering where I could squeeze in a year."
The summer before her junior year, she painted her toenails for the first time and began asking friends to use she/her/hers pronouns. That fall, she spent a weekend with her parents in St. Louis before college move-in day and had a big announcement for them after a few beers at a local brewery.
"The words just came out – I'm trans, I'm a girl," Fahey says. "They didn't disown me, but it was uncomfortable. I did not go about it in a healthy way."
Back in the pool for her junior year, Fahey tweaked her shoulder at a home meet before Thanksgiving. The injury only allowed for kicking during her swim training. For the first time, she had serious thoughts of quitting so she could begin transitioning.
"I pushed those thoughts back to the dark recesses of my mind," says Fahey. "By Christmas break I decided to tell my coach; I want to transition, and I want to keep swimming."
Coach Rick Walker assured Fahey that she wasn't recruited for her times but for who she is as a person. Her spot on the men's team was confirmed for her senior year.
That summer before her final year of NCAA eligibility, she started an internship in Indianapolis as an RV technician at a dealership and began experimenting with presenting as female.
"An RV dealership in Indiana isn't the most comfortable place to present as a trans woman. There were shouts from cars – 'You're still a dude'," Fahey says. "I am pretty thick-skinned and didn't let it hit me hard."
Fahey showed up for her senior year on the men's team after six months of estrogen. She was out of shape, overweight and had lost a lot of strength from the hormones. She was competing on the men's team in a women's suit because of breast development.
"I swam slow at our first swim meet and went home and cried. I battled all season with not comparing myself to my previous self," says Fahey. "It was a tough pill to swallow knowing I was never going to improve again."
Fahey began focusing on other small victories – that feeling after a great workout, the team atmosphere, community events with her teammates and mentoring the incoming class of swimmers. She was able to rediscover her love for the sport of swimming.
Throughout the regular season, Fahey was competing with the men. At 6'2" tall, in a women's suit, she was still showing male traits. She says she didn't hear anything but positive remarks from teammates or opposing teams.
There was still one thing on her mind that she wanted to achieve before she completed her collegiate career.
"I had a lot of self-pride in the fact that I stuck through all the adversity and didn't quit the sport that I love," Fahey says. "Competing in just one meet on the women's team would be a personal victory."
After many discussions with her coach, it was decided that Fahey would compete at the 2019 Missouri Valley Conference Swimming and Diving Championships on the women's team. Even though it would have been legal for her to score points (she had completed 12 months of estrogen), Fahey was entered as an exhibition swimmer.
"We decided that doing it that way would be the best course. It would have been a fight and I would have been called a cheater. Why fight them when you can lead them," says Fahey. "I feel like I did a good job of introducing the NCAA to trans female swimming."
Fahey is still living in Carbondale and has one semester left at Southern Illinois University. She has switched her major from mechanical engineering to automotive technology. Her dream is to work at a major automaker in serviceability.
After 15 months of hormones, she is engrossed in the female lifestyle and out to everyone in her life. She wants to have as little surgery as possible and is having consultations while she is still a student. Her student insurance at Southern Illinois is comprehensive and will cover medical procedures.
"I can't tell you how many times I have thought back to where I was five years ago. Where I am at right now is amazing. My friends, girlfriend and family are all fantastic. I have very few complaints," Fahey says. "I have tried to be outspoken because I feel like I owe it to the community to be a proponent for trans rights."
Recently Fahey became scuba certified. During her dives down to submerged shipwrecks, she has begun scrawling 'Trans Rights' on every structure.
"I'm just doing my small part," she says laughing.