September 6, 2019 at 8:46 am EDT | by Lou Chibbaro Jr.
Norton demands answers from U.S. Attorney on D.C. hate crimes cases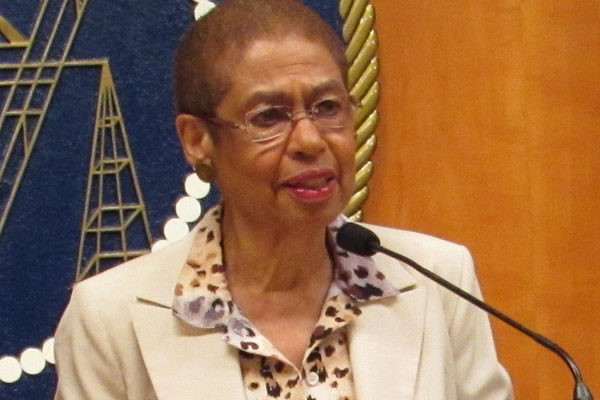 D.C. Congressional Delegate Eleanor Holmes Norton (D) on Tuesday released a strongly worded letter she sent to D.C. U.S. Attorney Jessie Liu asking why Liu's office has chosen not to prosecute the overwhelming majority of recent hate crimes cases in the District, including cases of anti-LGBT hate crimes.
Norton's letter comes after the Washington Post reported last week that in 2018, the U.S. Attorney's Office prosecuted only three of the 59 hate crimes cases for which D.C. police made an arrest and the office later dropped the hate crime designation for one of the three cases.
Among the 2018 cases for which the U.S. Attorney's Office dropped a hate crime designation made by D.C. police involved a lesbian who was shot in the chest by a male co-worker minutes after the co-worker demanded she have sex with him and after calling her anti-lesbian names.
The woman survived the shooting but has expressed outrage that prosecutors with the U.S. Attorney's Office dropped the hate crime designation as part of a plea bargain deal that resulted in the perpetrator being given a three-year jail sentence.
In her letter to Liu released on Tuesday, which is dated Aug. 19, Norton asks for an explanation for why the D.C. U.S. Attorney's Office appears to have declined to prosecute hate crimes cases brought by D.C. police during the past two years at a rate far greater than in previous years.
"I write to follow up on my July 17, 2019, letter, which I am attaching, where I asked you for information regarding hate crime prosecutions in the District of Columbia, especially those where members of the LGBTQ community were targets," Norton states in her most recent letter.
"My original letter followed my town hall meeting with LGBTQ residents who have been targets of hate crimes in D.C. more often than any other group of residents," she said. "I have received no response to my letter," Norton continued. "I remain interested in your response because you are a federal official confirmed by the Senate in the absence of a local prosecutor in the District."
Norton noted in her letter that a Washington Post investigation into hate crime prosecutions in D.C. in recent years found that D.C. has had a significantly greater number of hate crimes than other cities of comparable size, with anti-LGBT hate crimes making up about half of all D.C. hate crimes. Yet Norton pointed out that the Post analysis found that Liu's office prosecutes hate crimes at a far lesser rate than prosecutors in other cities.
"I am concerned about the low prosecution rates by your office compared to those of other cities," Norton says in her letter. "I would like an explanation for the very high declination rate for hate crime prosecutions by your office and whether these declination decisions stemmed from a lack of resources or from other causes," Norton wrote.
"I ask that you respond in writing within 15 days of the date of this letter," Norton says.
A spokesperson for the U.S. Attorney's Office couldn't immediately be reached by the Washington Blade to find out whether Liu has responded to Norton's letter or is preparing a response. A Norton spokesperson said no response had been received as of Sept. 5.
Liu and prosecutors in her office who work on hate crimes cases have stated in public meetings this year that the office carefully assesses all hate crime cases brought by D.C. police. Liu has said that decisions on whether the drop a hate crime designation are based on whether there is sufficient evidence to secure a hate crime conviction at a trial before a jury. She has noted that judges instruct juries that they must find "beyond a reasonable doubt" that someone has committed a crime with a hate-related motive before a guilty verdict can be rendered.
Liu has also said she has added a second hate crimes coordinator to the prosecution team that works on hate crimes to make sure all the hate crimes cases are properly vetted.